A Concert Becomes an Adventure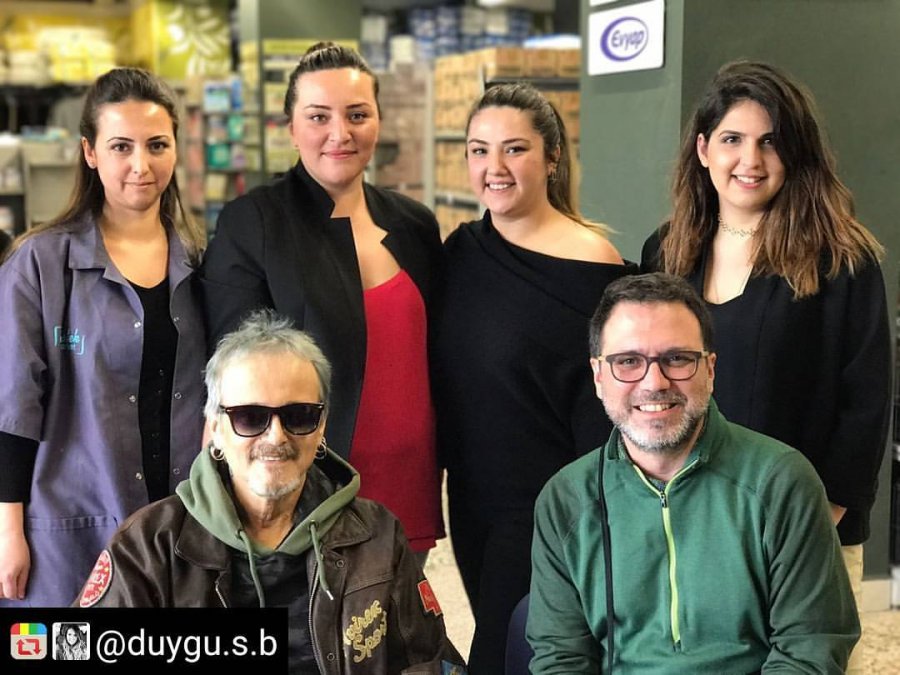 The Harun Kolçak concert held in the first week of April to benefit the Basic Necessities Association (Tider) was a huge hit in terms of the singer's amazing performance, the colorful guest artists and audience enthusiasm. However, the lead-up to the event was utterly nerve-wrecking and full of ups and downs, as such things often are in Turkey.
During an interview last week, I was asked: "Are the events you're organizing for your association the socialite kind, like ballets and concerts and such?"
The word "socialite" as used here is highly loaded and expresses a general and ongoing resentment of the wealthy. In Turkish, "socialite" is the word people reach for when they are offended by what they see as the extravagance of people who don't deserve to be rich. Another way to express this idea is to refer to someone as an "heir" or "scion," which signals profligacy and a lack of talent or brains. Despite my best efforts, I have been unable to prevent myself from being labelled a "scion" in interviews. Whether in the press, on TV or even at a conference I attended just last week, that is how they refer to me. These kinds of loaded terms grab attention and boost ratings. But it is both inaccurate and shameful to refer to me as a "scion" when taking into account my having been completely independent of my family's firm for the past five and half years, my having started my own companies and my contributions, along with my colleagues, to the economy. My skin crawls when "scion" and "socialite" – terms that directly contradict my way of thinking – are thrown around.
For more on this, please visit the links below:
http://serhansuzer.com/en/the-heavy-price-of-being-a-visionary-entrepreneur-in-turkey
http://serhansuzer.com/en/my-15-years-in-business-and-notes-on-the-future
The best response to the word "scion" can be found in an interview in Ekonomist magazine.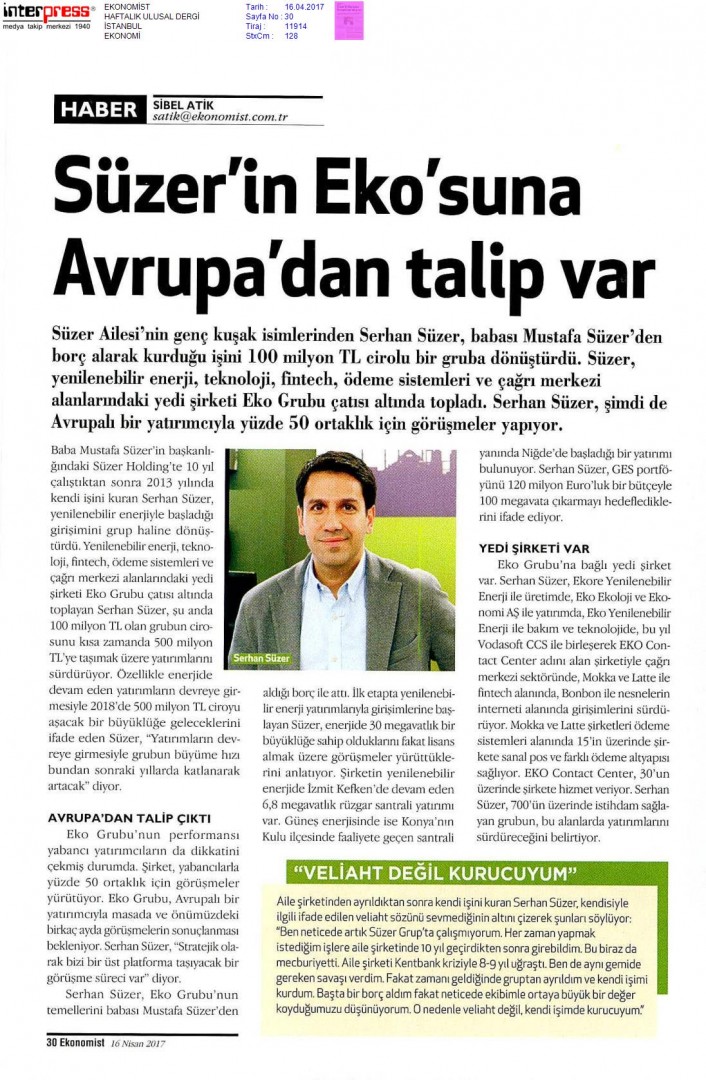 The article points out that I am not an hour, but the founder of my own business. Although the piece gets some of the details about my companies wrong, it was a good write-up and I'd like to thank its author.
Returning to the interview from last week and the word "socialite," I was certain the amiable interviewer meant well, so I smiled and responded as follows:
"Those aren't the kinds of events we hold. What we we've done so far is the Harun Kolçak concert in early April. Everyone had a great time, but we're new to this and not everything went exactly as we'd have wished. I expect we'll have better results next time."
Behind the scenes of the adventure-filled event

Let me share what it was like to organize the concert. At every association meeting in which it was discussed, the others said that we should organize events and sell tickets. And I responded every time by suggesting we find something less "old school". Finally, with the reflex of an entrepreneur, I said, "Okay then, let's try it and see." My colleagues went to work through various channels. One of the board members, a professional event planner, told us after a few days that Yaşar could be arranged to perform at the Bostancı Performance Center. We gave the green light.
Half of Yaşar's fee was paid as well as half of the venue fee. Everything was set as of the end of November. Then, for whatever reason, Yaşar's manager started worrying that the event would not be a success and informed us that Yaşar wanted out.
Yaşar is one of the four Turkish pop singers I like most, along with Tarkan, Kenan Doğulu and Nev. I was overjoyed when he agreed to give a concert for Tider and upset when he backed out just three weeks before the concert. We, as an association, asked for our money back and got it that same week.
Finding a different performer

We decided that the concert wasn't destined to be. Since we hadn't officially promoted the concert, we decided to pull out. When we called the Bostancı Performance center for a refund, however, we were told we couldn't get out money back. We tried to explain that we were an association and that it was wrong to sit on our funds, but to no effect. In fact, the person on the phone was extremely rude, blamed our board member, made demands that weren't in the contract, etc.
The dispute was threatening to spiral out of control, so we decided to hold the event at a later date, the first Sunday in April. That left us with one major problem: who would perform at the concert?
A few singers were mentioned and we spoke to some of them, but came up empty. Promises were broken. Nobody wanted to understand that this was a charity event, agreements were reached and broken and, for some reason, even though everyone expected us to want a discount, the fees requested by singers were still far too high. With all our wrangling, we made a name for ourselves in pop music circles.
The stars come out for Harun Kolçak...

Then a different member of our board was able to reach Harun Kolçak through Hande Tibuk's connections at Kral TV. I've loved Harun Kolçak since I was a child and always enjoyed his music. When they asked me if he would be a good choice, I instantly replied, "He'd be great." Negotiations were started with his managers. Despite his having the best-selling album in Turkey last year, they quoted us the lowest rate of them all. What's more, we were told that some of the singers who sang duets on Kolçak's album would also perform at the concert. In contrast to the other managers we'd spoken to, Kolçak's were reasonable and well-spoken. And they kept their promises.
Meanwhile, one of the doyens of the NGO sector, a friend of mine named Uygar Özesmi, has been supporting Tider part-time for the past months. Uygar's personal relationship with Kolçak smoothed along the process greatly. (Let me take this opportunity to wish Uygar a happy birthday, the day I wrote this piece.)
By the way, Harun Kolçak had previously visited Support Market. At the time, I was at an important financial meeting on the European side, so I was unable to be there. I'm grateful that Uygar and the rest of the team were there to welcome him. Here's a great photo from that day: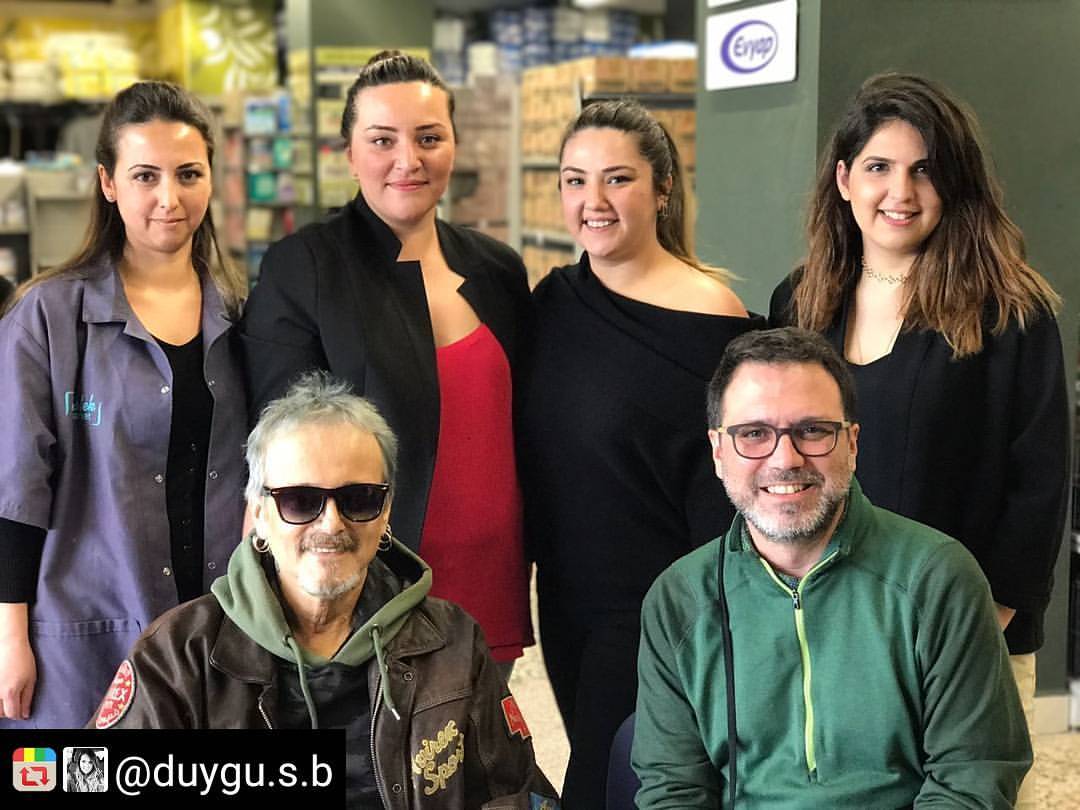 The people in the photo above, Selen, Duygu and Selin (right to left, from the second person) worked hard to make the concert a success and I'd like to thank them here. They pulled off the near impossible.
Once we were working with the right person at the right time everything started going right. We all heaved a sigh of relief. Haruk Kolçak and his friends would put on a concert that reflected well on our association. Here's a poster for the concert: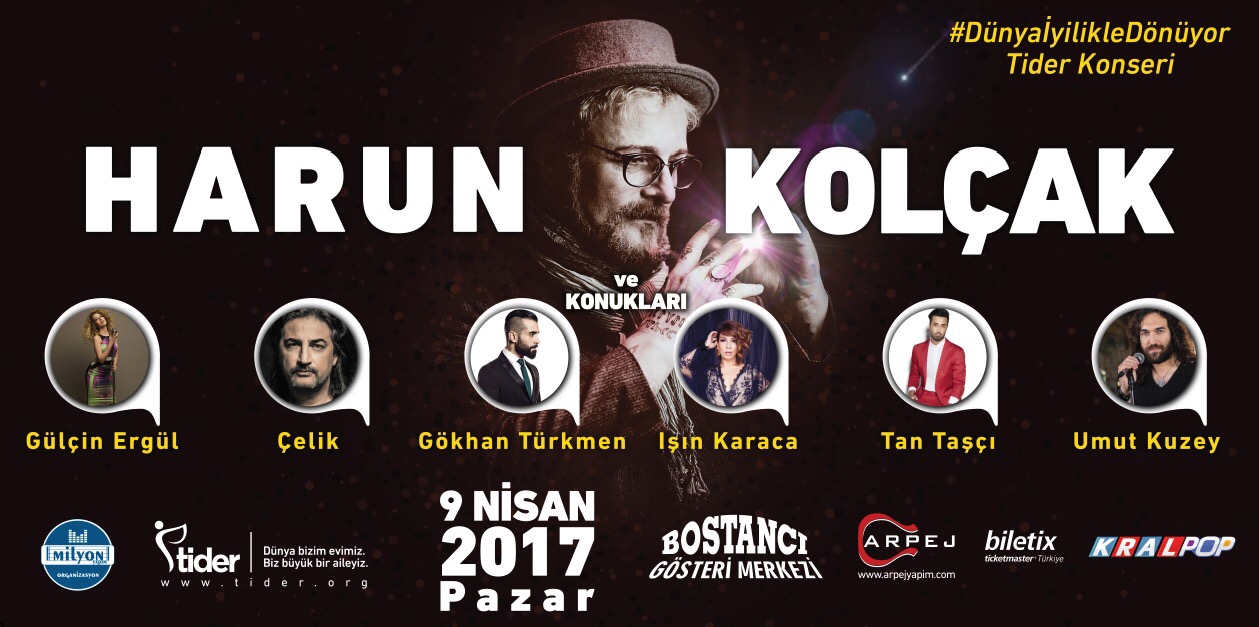 Filling the auditorium

All we had to do now was sell tickets. Despite my colleagues using all the channels at their disposal to promote the event, we were unable to drum up the demand we wanted. Someone with experience of such things said, "Don't worry. Our countrymen tend to wait until the last week. You'll sell plenty of tickets." Even so, we did what we could to ensure that happened. For example, we appeared on Kral TV in an interview. Announcements for a Harun Kolçak concert appeared in multiple magazines. Last of all, we reached agreement with Gurpanya. Although we had sold only 300 tickets going into the week before the concert, after our efforts that figure jumped to 950, not counting the seats reserved for our other supports, in an auditorium that seats 1000. Here are some of the articles about the concert: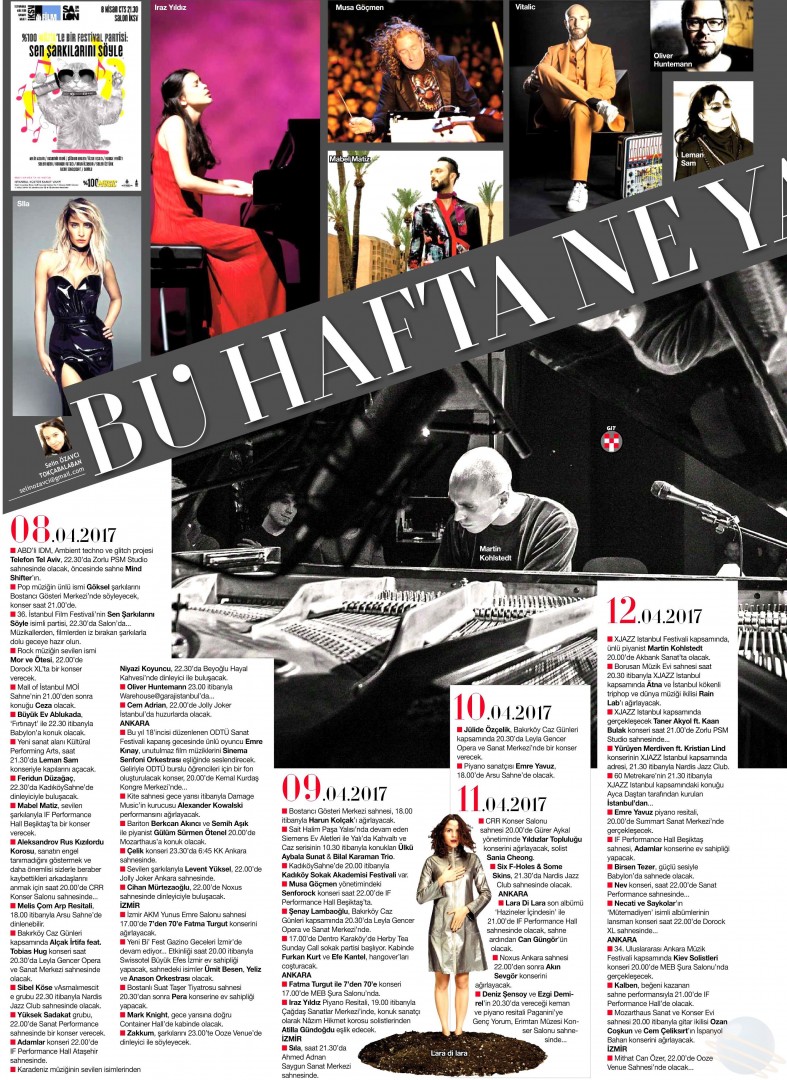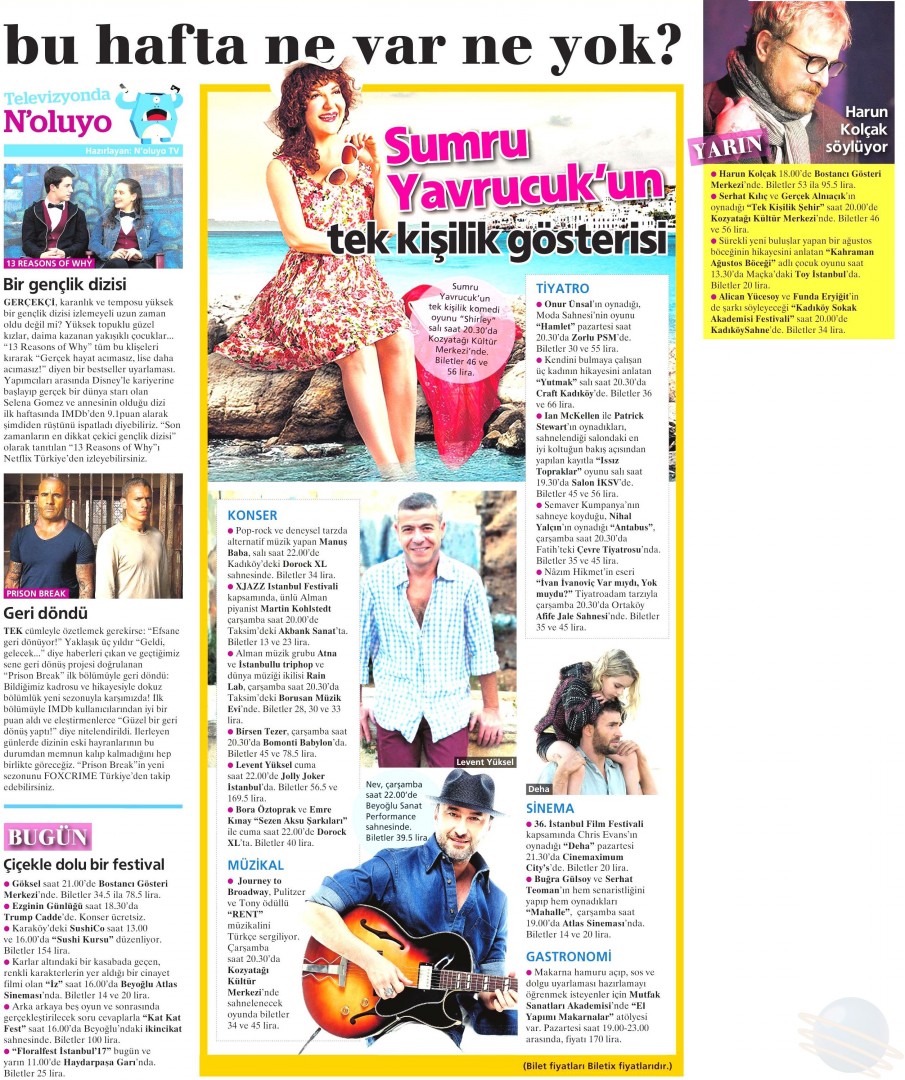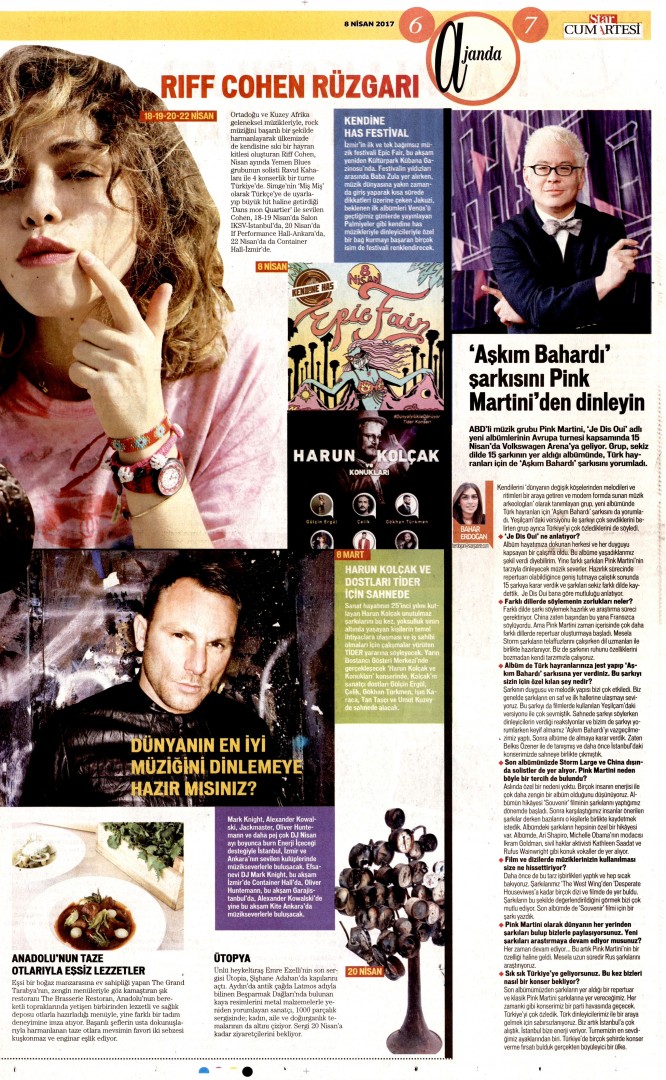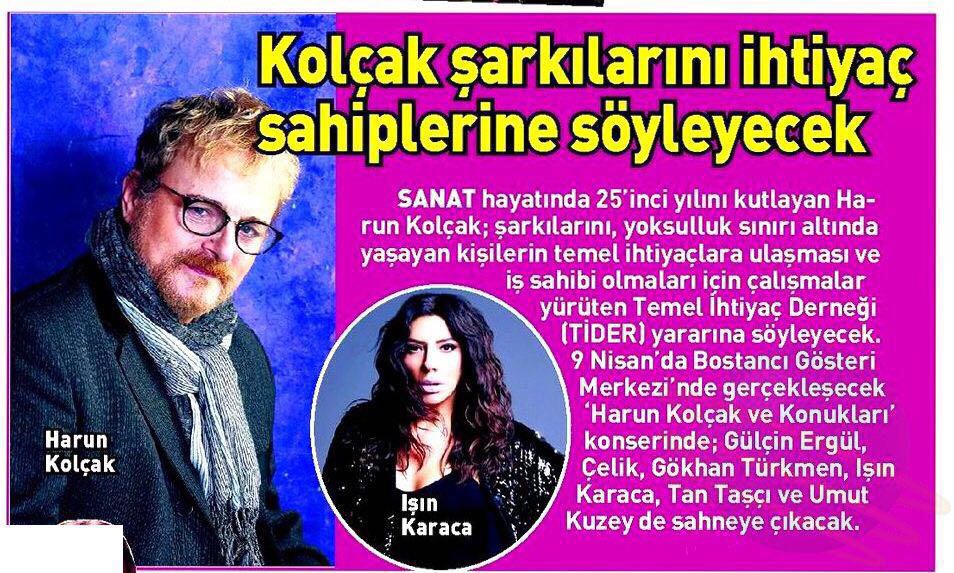 And I'd like to thank Kral TV for providing extensive coverage of the concert. Here are are some screen shots from TV: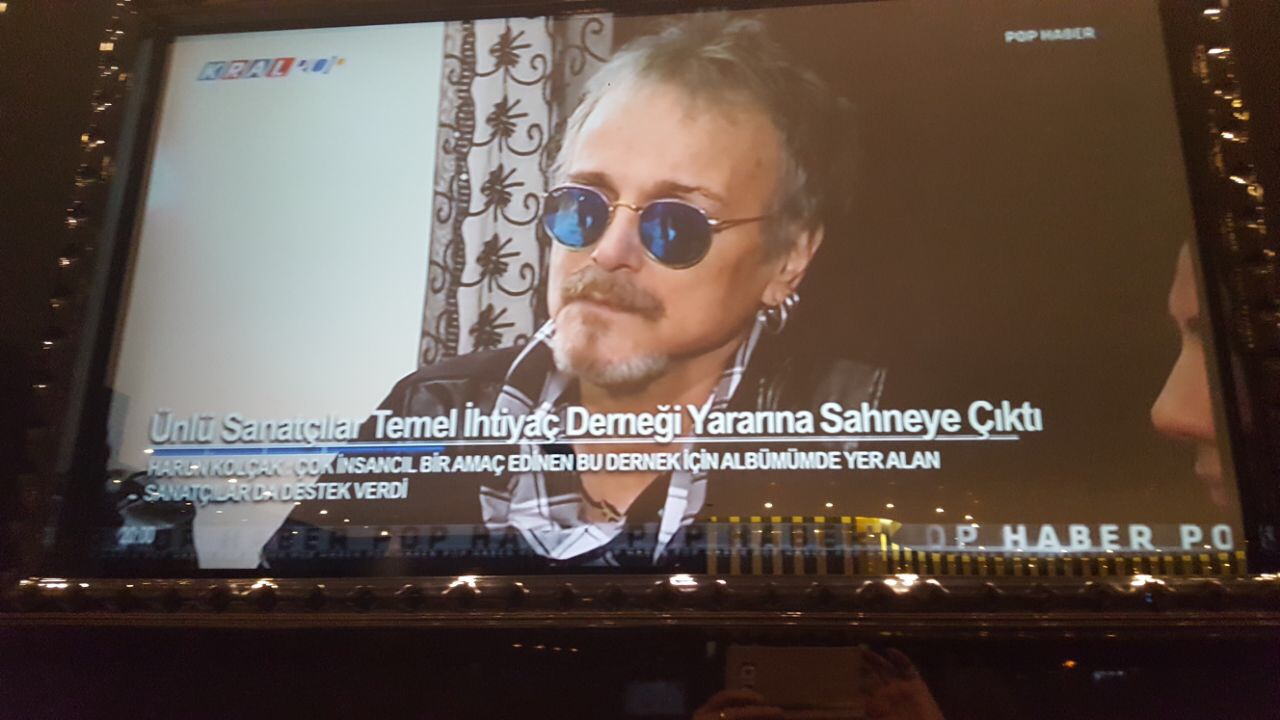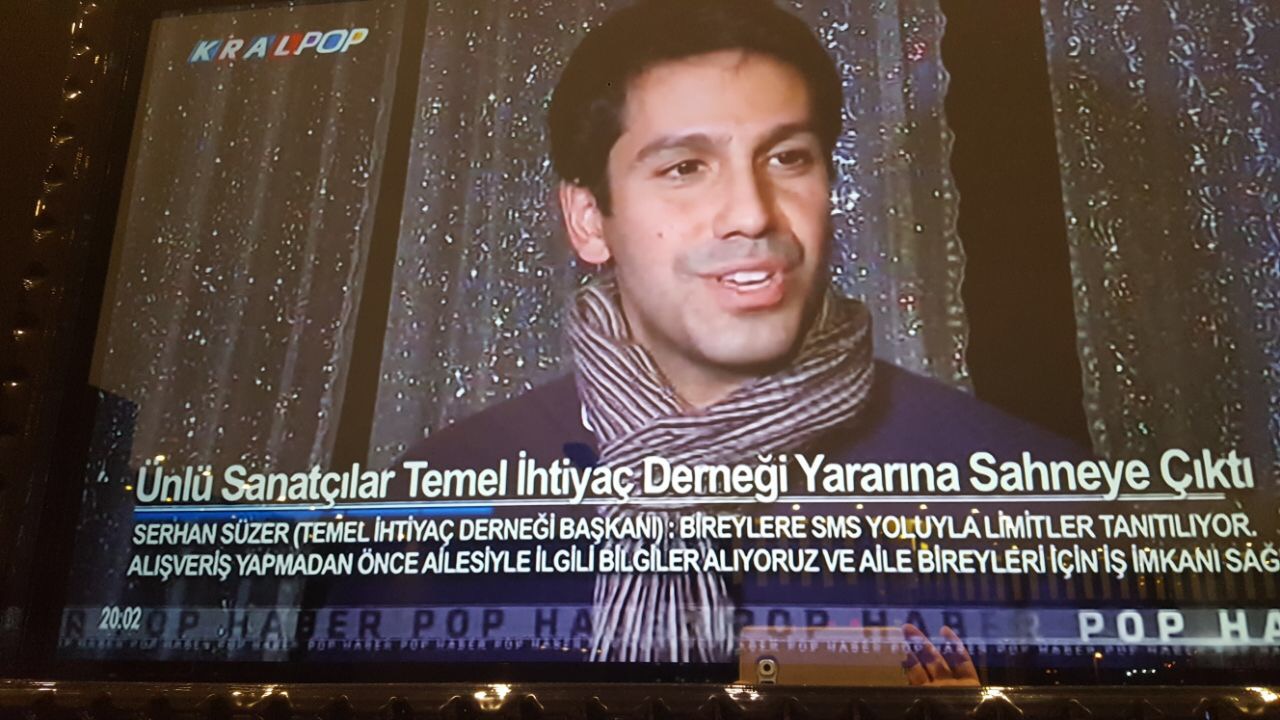 At first we encountered some of the standard issues. For example, the singers were late for the sound test so audience members were admitted at 18:15 instead of 18:00. Some protested by clapping. Others even blamed the association. I personally spoke to a few of them. Once everyone was seated, which took half an hour, some clapped from 18.45 until 19:00. Once the concert began, however, people sang along and stopped clapping. It's amazing how impatient some people can be. I suppose that's just part of our national character and makes us special. :)
Before the concert we also experienced some problems that could only happen in Turkey. For example, a visit from the municipality, hat in hand. (We explained that we were an association and that the concert was a charity event.) The air onditioning was turned on late, presumably to save the venue money. We had some complaints about the heat in the auditorium for the first 45 minutes and did all we could.
An emotional, musical festival

A good time was had by all. Çelik, Işın Karaca, Gökhan Türkmen, Tan Taşçı, Umut Kuzey and Gülçin Ergül all sang along with Harun Kolçak on duets. Deniz Arcak and Ümit Sayın made surprise appearances and contributed their energy. It was a great show. I don't know if you've listened to Harun Kolçak's latest album, but it features his greatest hits performed as duets with other artists and was the best-selling album in Turkey last year. This link will give you an idea:
isterim: https://www.youtube.com/watch?v=kkU42GTM1S0
I strongly recommend this album, "Çeyrek Asır/Quarter Century". Here's where you can buy it: http://www.dr.com.tr/Muzik/Ceyrek-Asir/Yerli-Albumler/Turkce-Pop/urunno=0000000711776?gclid=CMWK-770utMCFYVAGwod-mcCbw
It was amazing to listen live to the album. The concert reached a crescendo at the end, with everyone on their feet dancing. Here are some of the performances:
I also appreciated both Harun Kolçak for inviting me to the stage to tell the audience about Tider and Gökhan Türkmen for talking about the association as well.
I did my best to briefly describe Tider. Here it is:
Harun Kolçak is a special artist, and, as he put it, it is a great honor to have remained a musician. The fact that he would give a concert and invite his friends to perform as well, despite a recent serious illness, shows he's a special human being as well. In these trying times, we need people like Harun Kolçak more than ever.
Stay well.
Tag: sosyal sorumluluk