A single salve for three wounds: Support Project (1)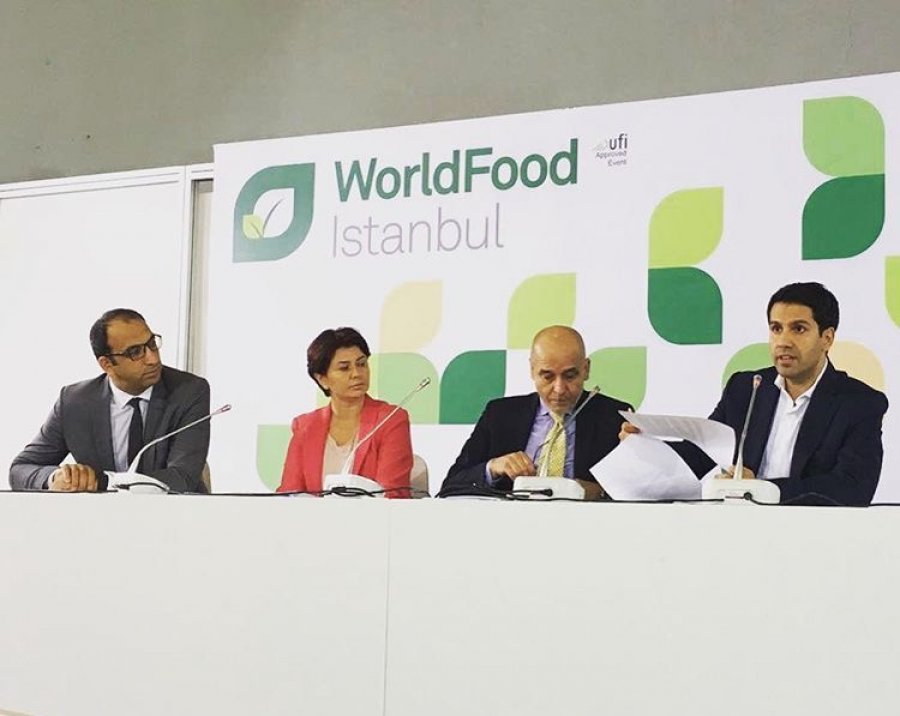 Run by the Basic Needs Association (TİDER), of which I am founder, the Support Project focuses on solving three of society's largest social problems by building constructive links between them. The problems I'm talking about are waste, poverty and unemployment. So the Support Project not only matches tons of wasted goods with people who need them, it also connects these people with job opportunities. And we see it as our responsibility to take the project countrywide. In my blog this week I'll be dealing primarily with the issue of waste and how to combat it.
I won't pull any punches here. In fact, I'm going to deliver what should probably be my closing line straight up to underline the importance of this piece. The Support Project is a national issue. It provides a solution to some of Turkey's most pressing social problems. Why? Because:
It's the most serious and systematic program undertaken in the prevention of waste.
It gives those in need the chance to shop for basic necessities such as food, cleaning products and clothing at a high-standard market, and to shop with dignity.
Most importantly, the association's primary mission is to provide for people to stand on their own two feet. It achieves this through an employment provision scheme run in the cities by Support Human Resources (Support HR) - TİDER will be operating rural development projects in areas outside the city following on from Yırca, a finished project that has now been turned over.
Given how important it is, we are keen to position the Support Project, an amalgam of the Support Market and Support HR, all over Turkey. Turkey and the wider world urgently need an integrated social system like this.
In this piece, I will set out what kind of solution the Support Project proposes in relation to waste, and talk about the scale of waste in Turkey and the world as a whole. So first, let me outline the speeches given at a panel discussion entitled "Food Banking: an Effective Collaboration Model in the Prevention of Food Waste" at last month's World Food Fair. The panel, which I moderated, was organized by TİDER (Basic Needs Association), attended by executives from Barilla and CHEP, two of our major donors, and FEBA (European Federation of Food Banks), an organization we have partnered with. The talks given on the panel made the scale of waste abundantly clear.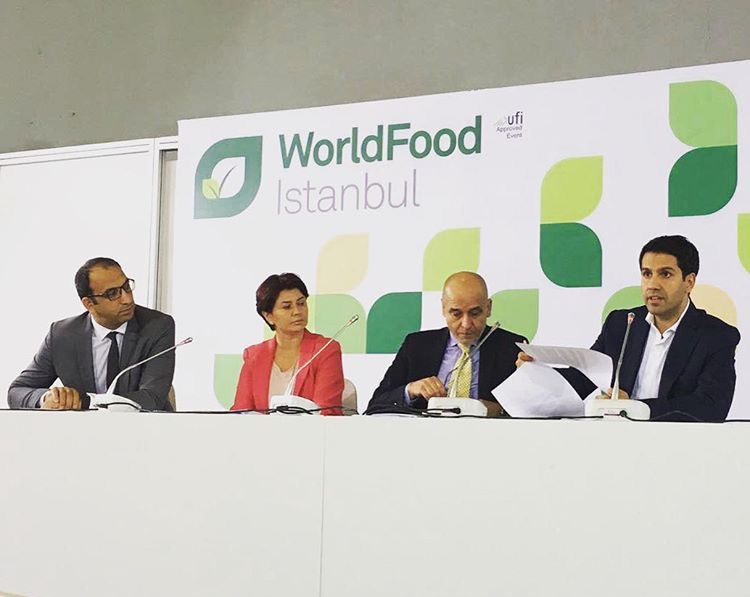 In mid-flow on the panel
The panel began with my presentation. After talking about TİDER and the Support project, I handed over to the first speaker, Dr. A. Hakan Göker, Director of Corporate Communications and Overseas Relations at Barilla.

"Good for you, good for the planet"

Dr. Göker made a great presentation in which he embraced the issue of waste in a truly personal fashion. To give a rundown of the presentation, he began by sharing the Barilla motto: Good for you, good for the planet. He followed this up right afterwards with the company's guiding principle: Not to produce anything that can't be fed to children.
Fantastic, isn't it? To tell you the truth, I've found it impossible to act impartially during supermarket shops since we started working with Barilla. When a company is backed by such a meaningful philosophy, its products seem that much more attractive. So I go for Barilla whenever I buy pasta.
Hakan Göker went on to share some crucial statistics and company information:
Around 800 million people in the world go hungry. On the other hand, more than 2 billion people suffer problems to do with overeating and malnutrition.

Every year 1.3 billion tons of food is wasted. This is enough to feed all the hungry in the world four times over. Because of wasteful consumption it is impossible to meet the needs of the hungry.

By 2050, if we continue with the same consumption model, not even three planet earths will be able to meet the needs of the total population.

Important steps are being taken to create solutions to these problems in the Milan Protocol, of which Barilla is a co-signatory. On this basis:

They seek to eliminate hunger.
They are looking for a sustainable agricultural model to be introduced.
They are taking critical steps towards preventing waste. (One of their aims, for instance, is to halve waste by 2020.)
Göker finished by revealing that Barilla Turkey had recycled close to 30 tons of edible goods by making them available to those in need.
The next speaker was Project Director for FEBA (European Federation of Food Banks), Yeşim Pekdüz Broet. A French woman of Turkish origin, Ms Broet started off with a series of key facts and figures from Europe, speaking in fluent Turkish with a delightful French accent. According to her briefing:
The hunger/waste paradox
Poverty is a major problem in Europe. Around 123 million citizens in the EU (i.e. one quarter of the total population) live below the poverty line. Some 48 million of them get to eat one meal per day. If there were no such thing as social welfare in Europe, it would be impossible for these people to get by. Nonetheless, 55 million tons of food is wasted every year.
Ms Broet went on to explain what was being done in the EU to prevent waste. The federation, which has been operating for 30 years, runs a number of initiatives in different areas. The following are some notes on FEBA's operation:

1) The FEBA model is based on not paying for food (in other words, unbeknownst to one another we have been applying the same model).
2) Finding volunteers is a struggle in some countries (finding volunteers in Turkey is incredibly hard; unfortunately the volunteering mindset simply doesn't exist among the vast majority of the community). The food items collected are distributed to food banks.
3) Every 1 Euro's worth of goods collected by FEBA members is the equivalent of 8-9 Euros' worth (the same multiplier effect applies for us). The multiplier effect arises because the goods are labeled at cost, in fact most of the time below cost.
Finally, Ms. Broet emphasized the importance of FEBA's work with long-term donors. The same is also true for us. Without them, this kind of work simply wouldn't be possible..

"Zero hunger" goal

The final speaker on the panel was Şafak Aktekin, the General Manager of CHEP Turkey, a company that contributes significantly to TİDER. CHEP Turkey provides pallet pooling services. The company's objective is to improve efficiency in the supply chain and to provide sustainable solutions geared towards lowering the high costs of pallet management. CHEP lists leading international companies among its client portfolio.
He covered the following points in his talk:
Mr. Aktekin pointed out that one of the 18 articles in the United Nations manifesto was the "Zero Hunger Challenge" and that this was feasible by preventing waste. Being in the pallet business, he is aware of, and troubled by the waste that goes on. In a move to take positive action in this direction, CHEP is working with FEBA in Europe and TİDER in Turkey. Indicating that fruit and vegetable waste has risen as high as 50% plus, he spoke of the support that CHEP currently gives and plans to give TİDER in future. This broadly includes:
Volunteering
Withholding rental charges from donating food companies
Donating to TİDER the same number of pallets as are used illegally
Incentivizing food companies during site visits and thereby playing an ambassadorial role for TİDER
Supporting interviews and other procedures at Support İK

The panel made waves in the press and was given extensive coverage in both the local and national media. Below are some of the news reports that came out: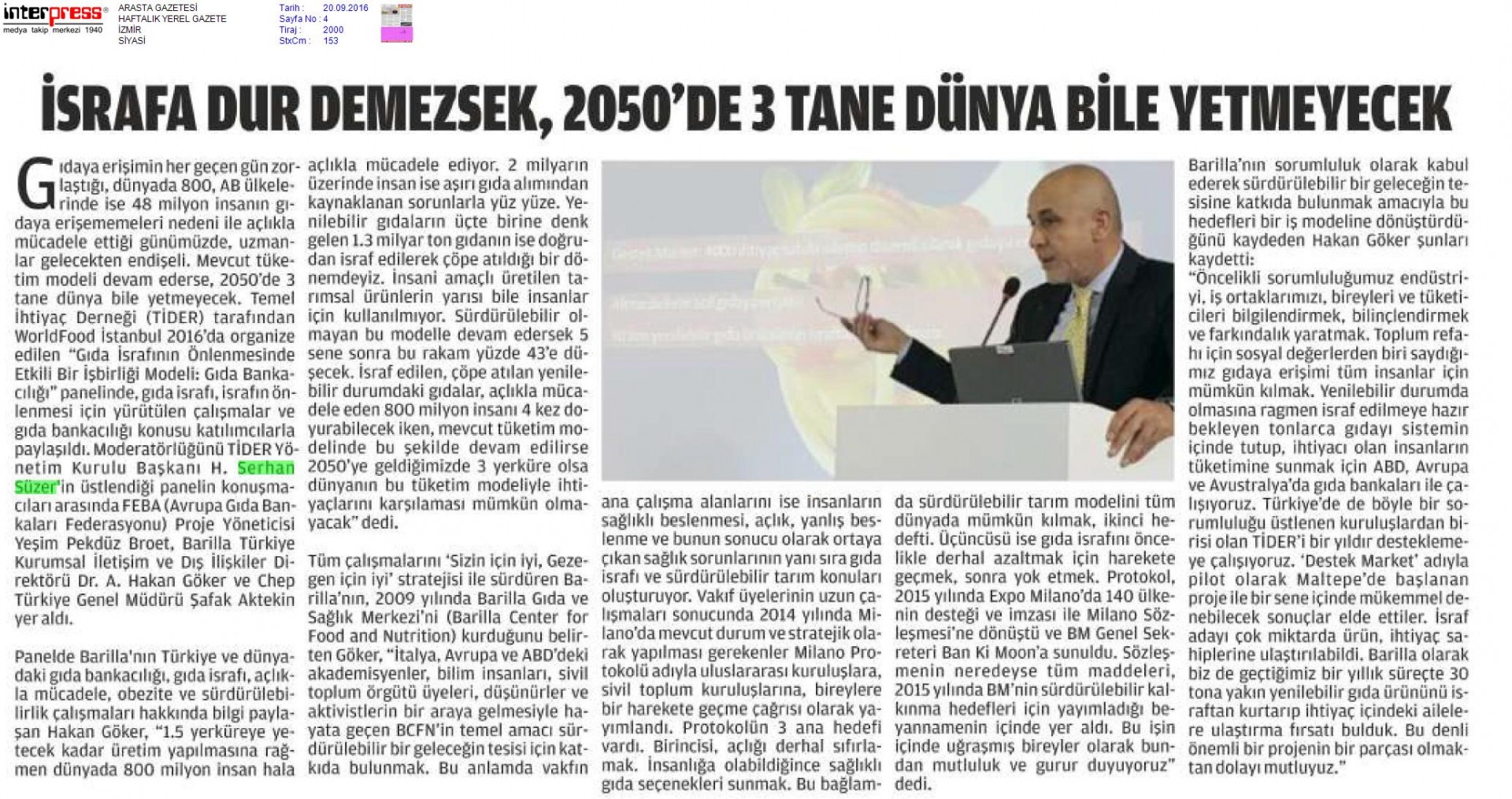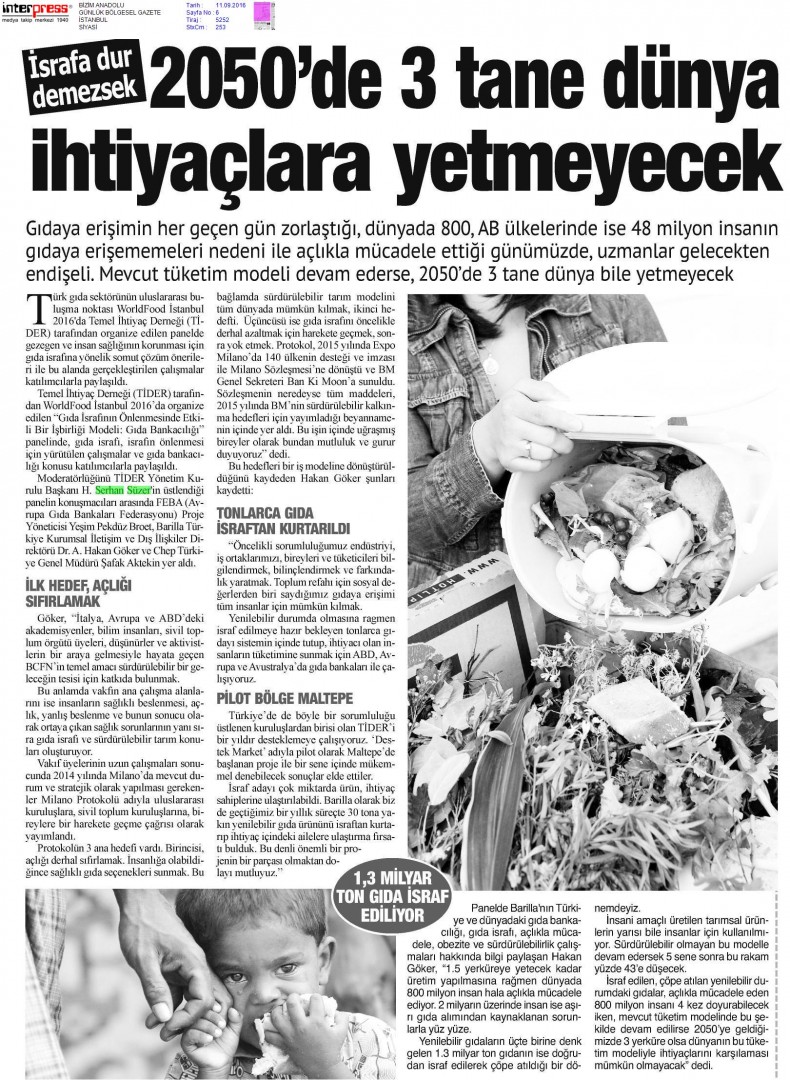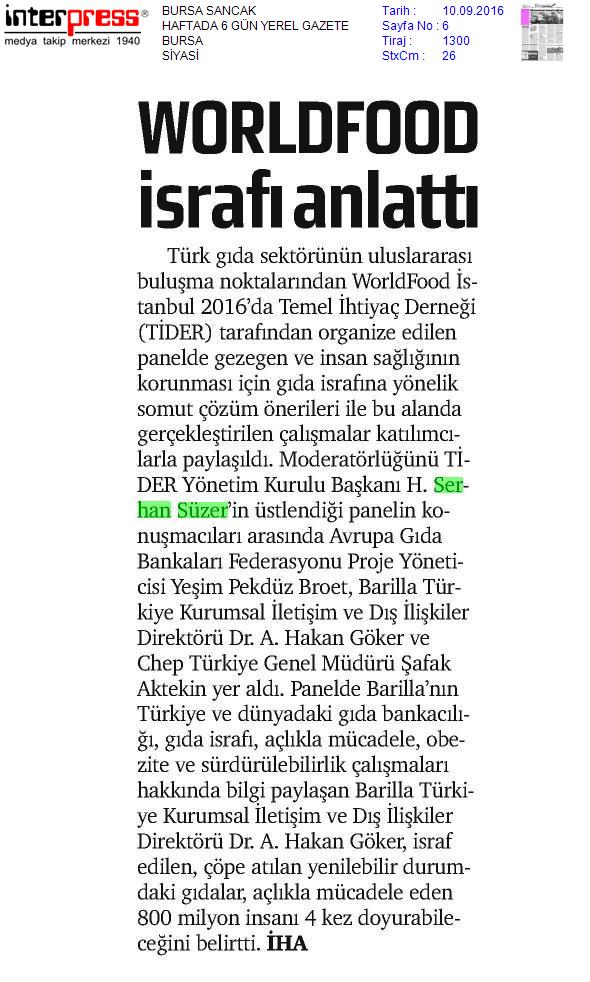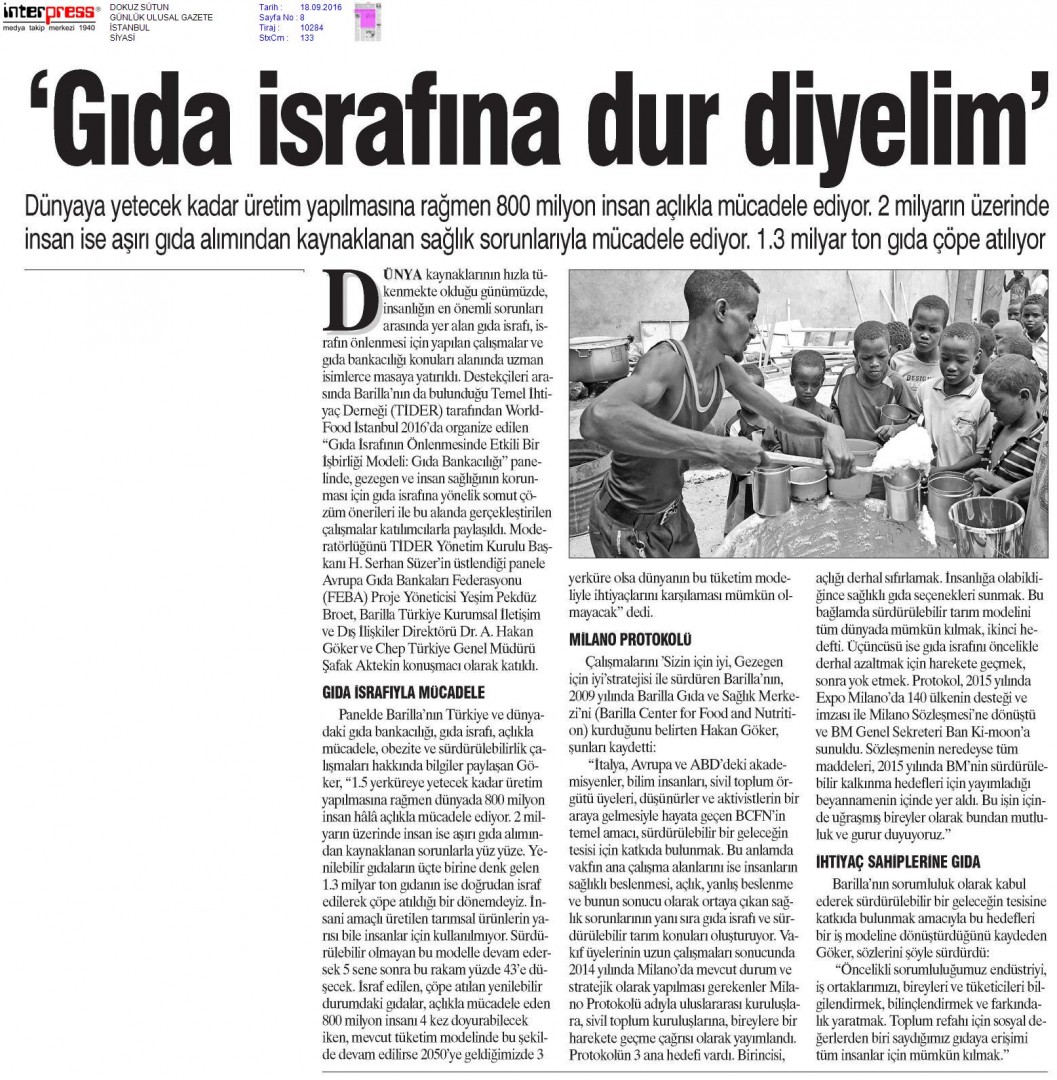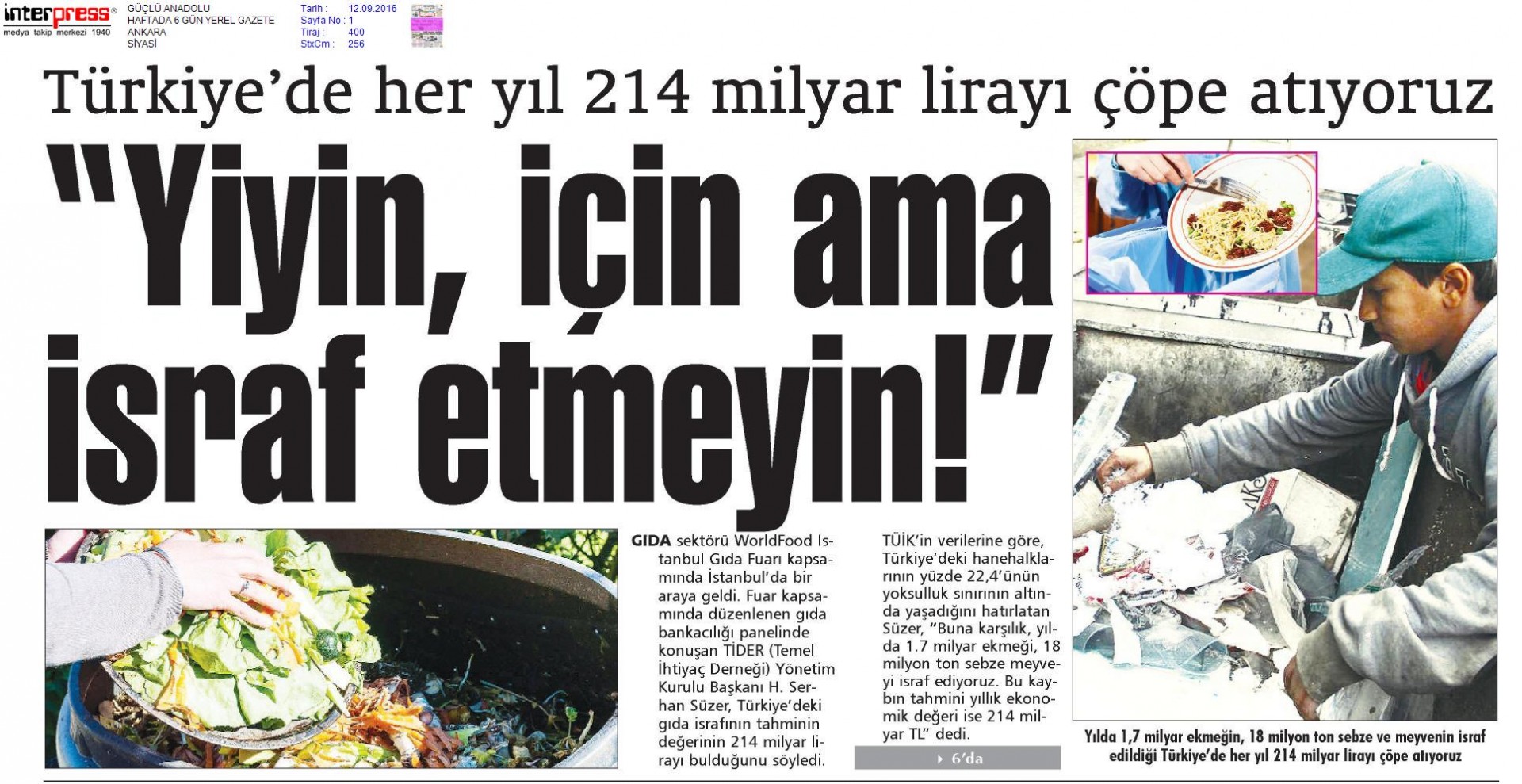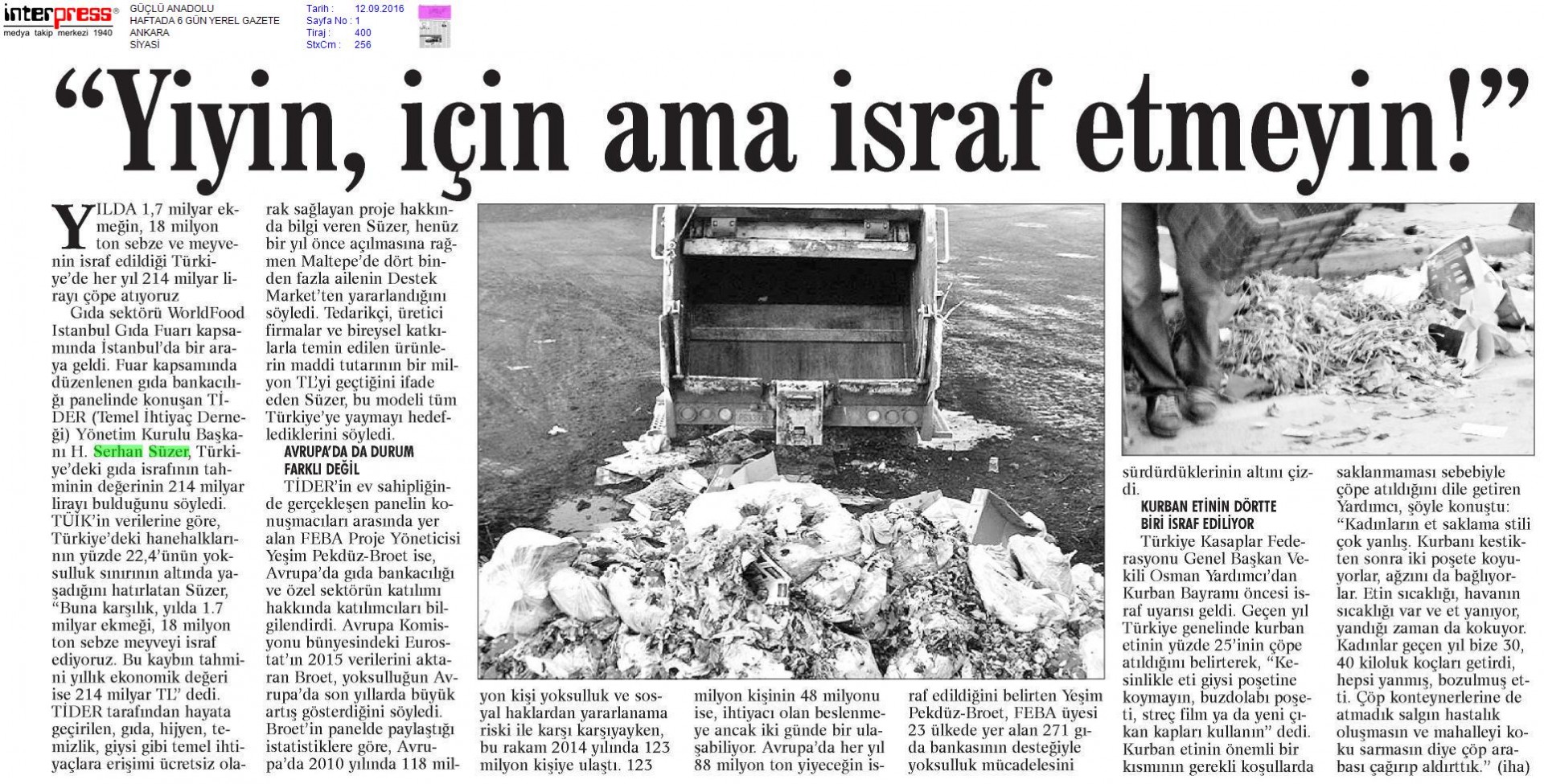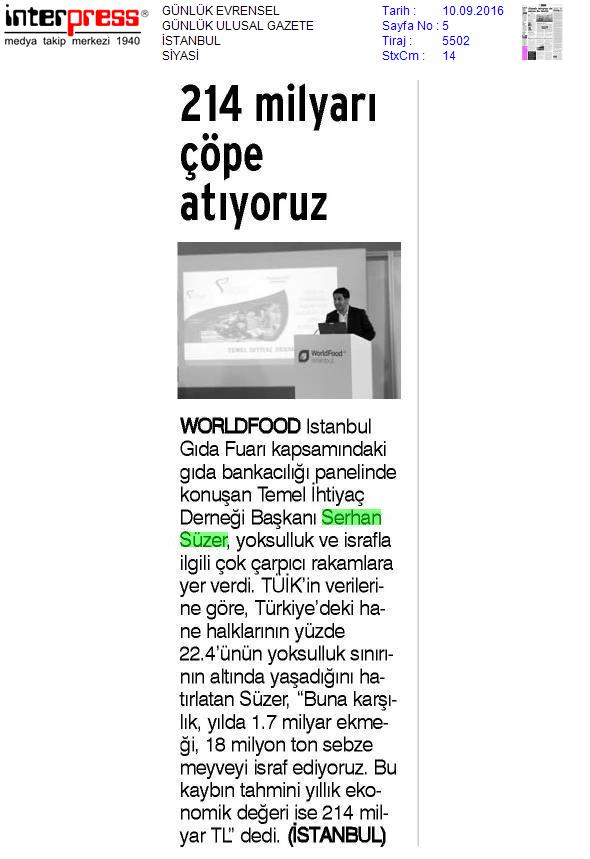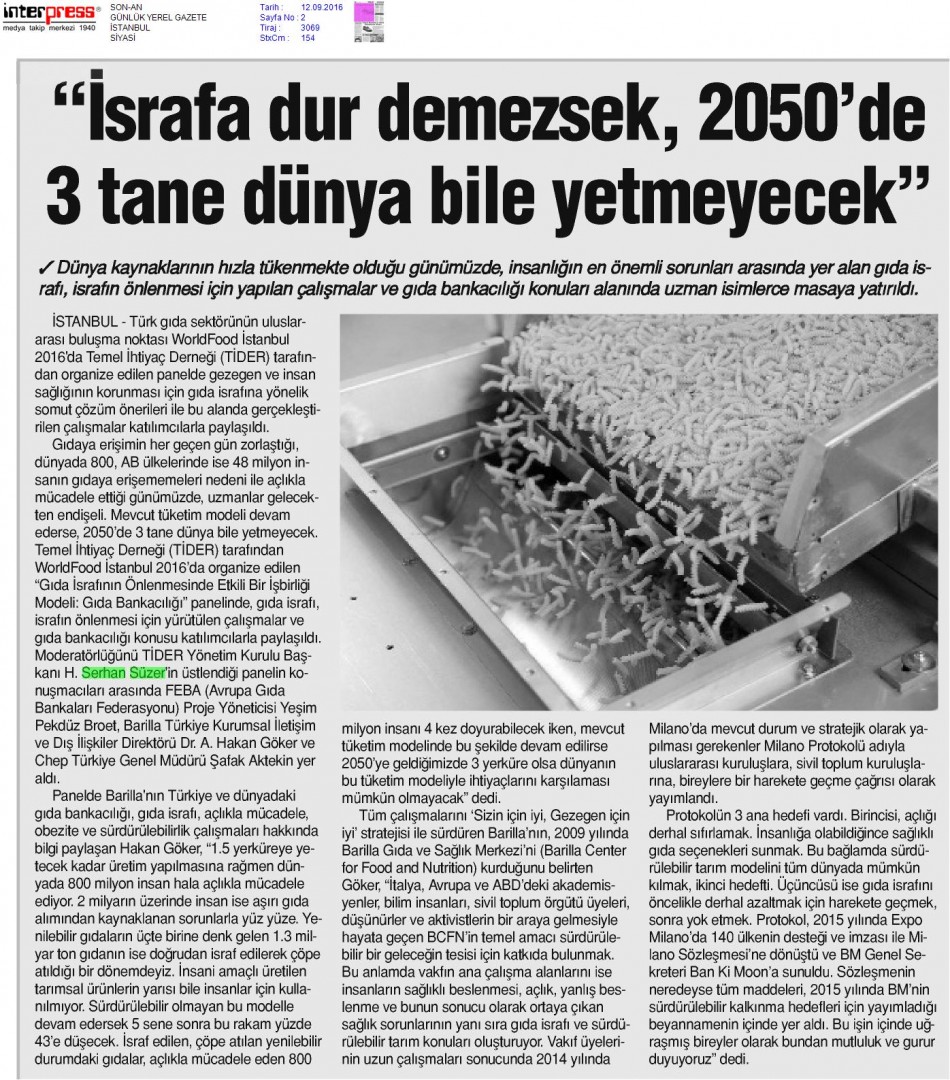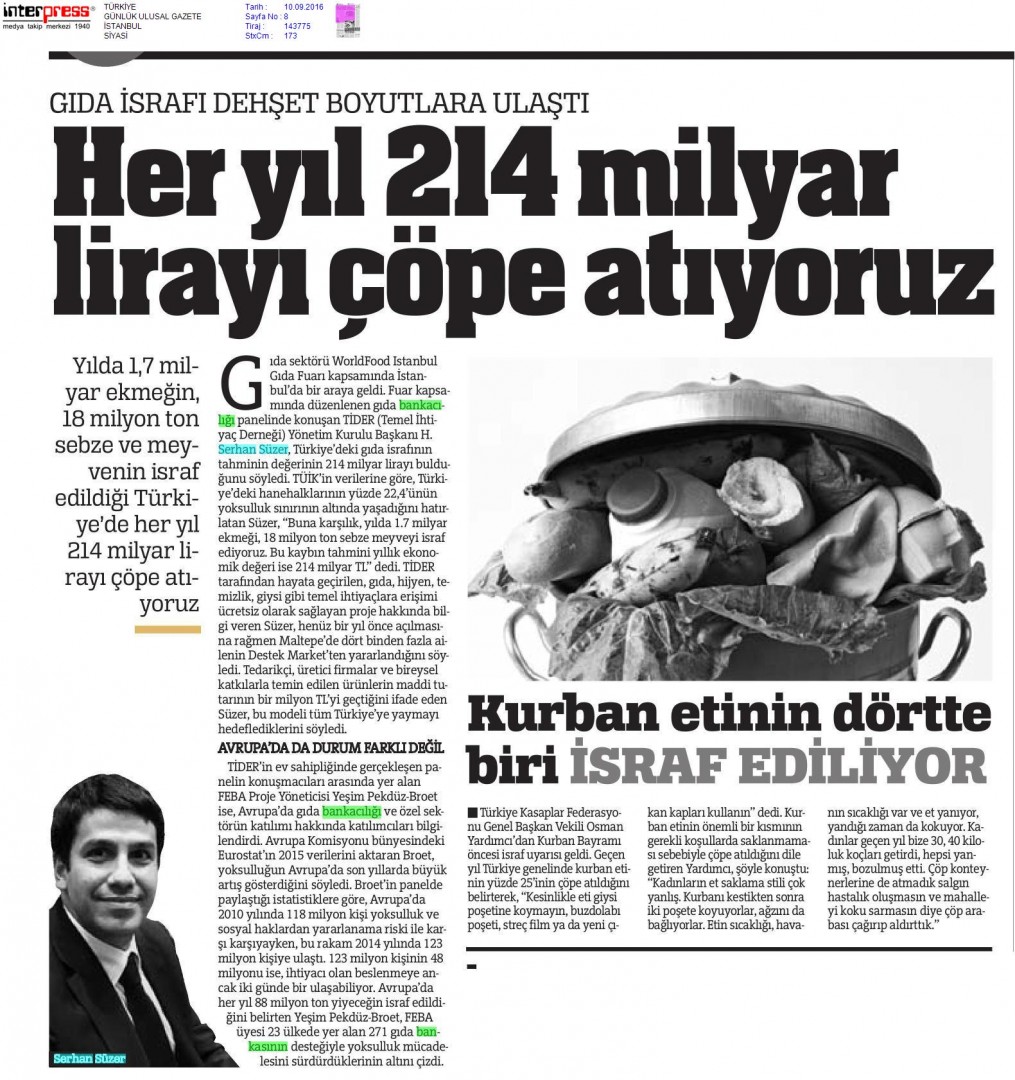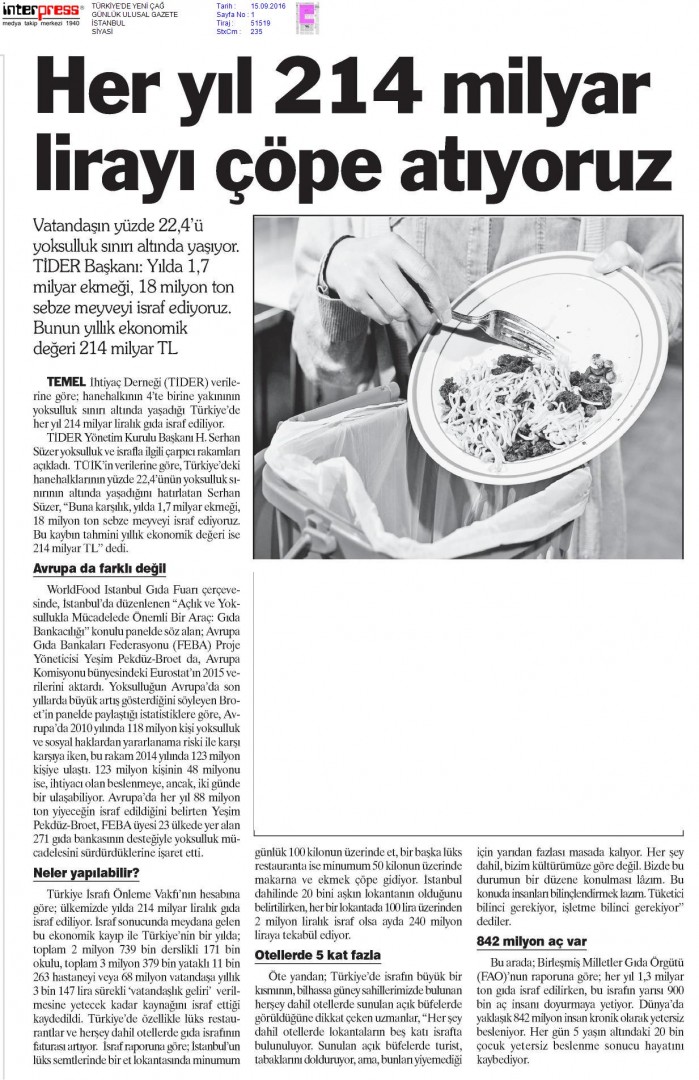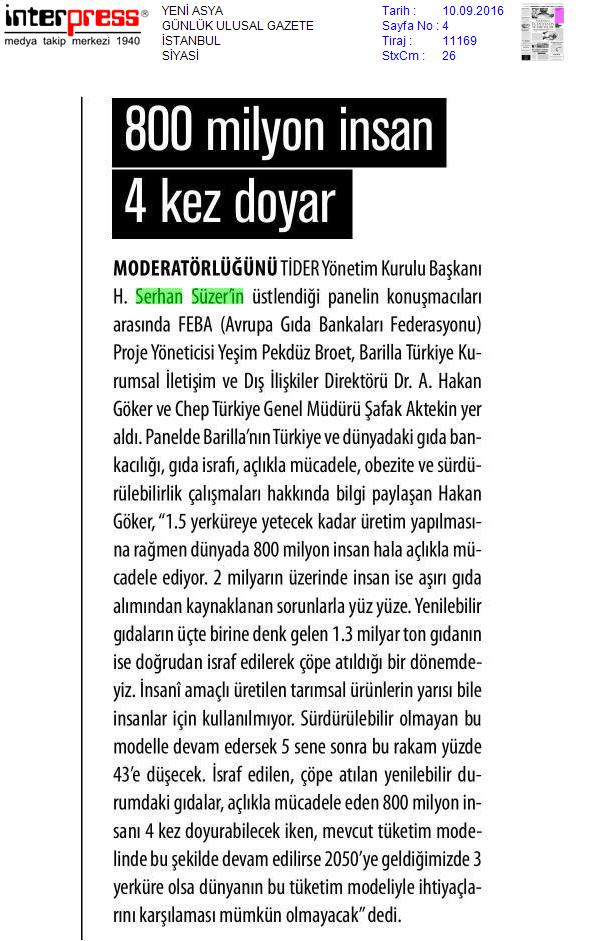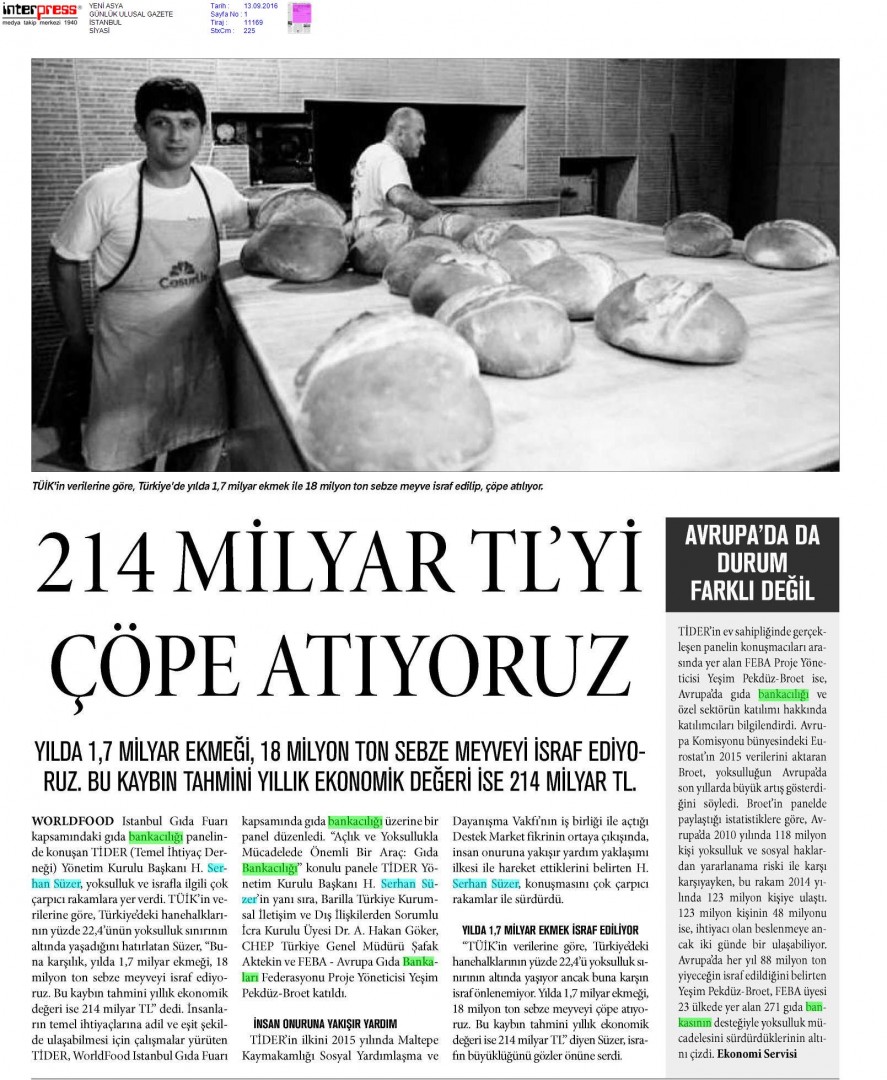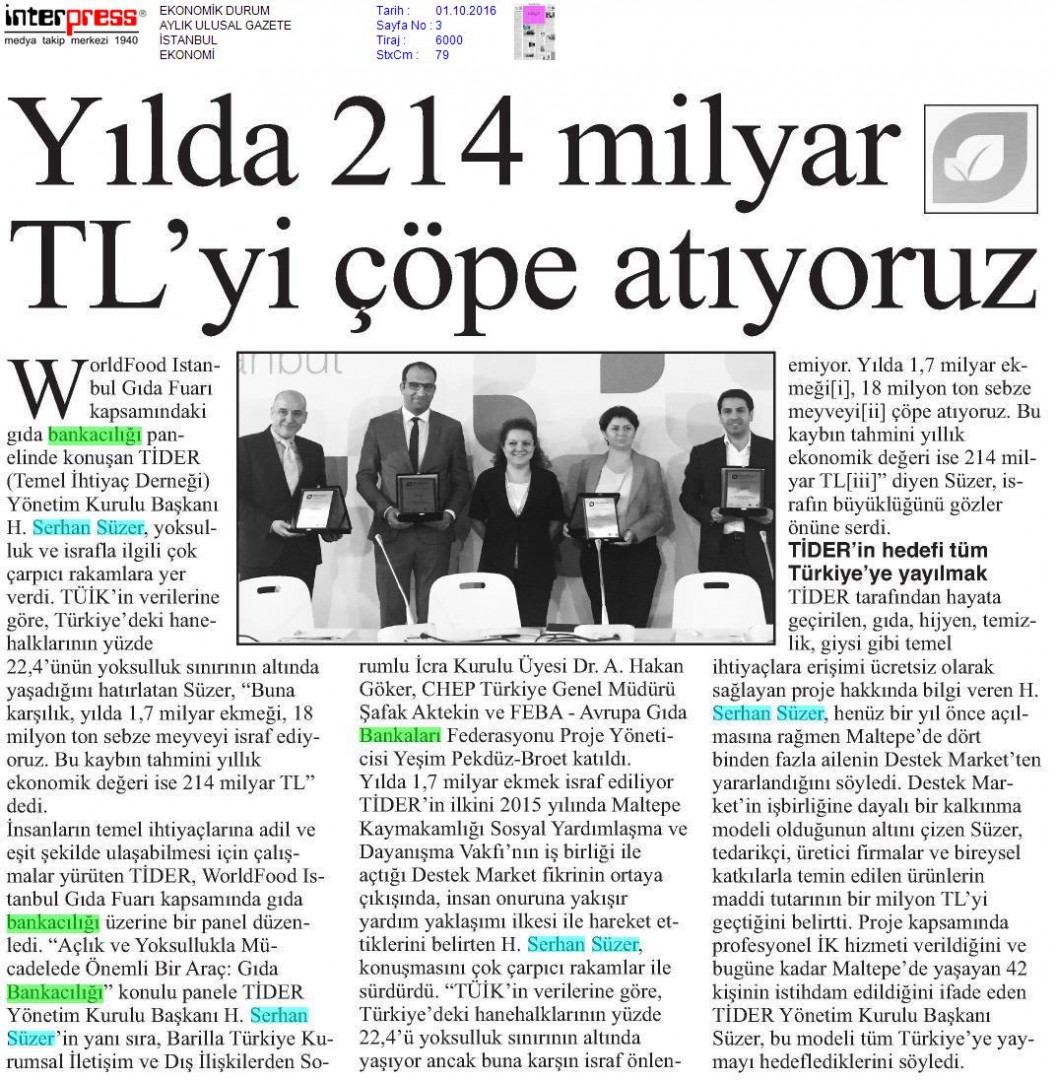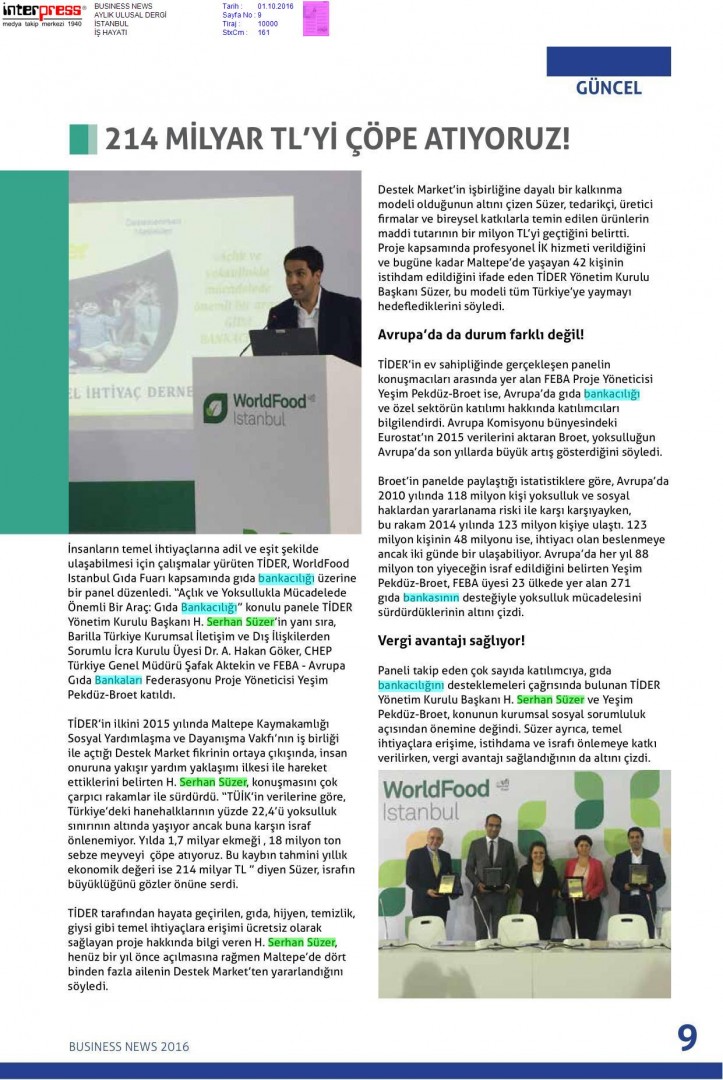 Thanks to CHEP, Barilla and our other key donors, thousands of people get to benefit from our Support Market. In the process, we are systematically preventing waste. We work closely and share information on an ongoing basis with organizations such as FEBA and GFN (the US-based Global FoodBanking Network).
Our race to multiply Support Market numbers

Manufacturers of food and cleaning products donate products nearing their use-by date, any surplus production, or products they wish to donate; and we, in turn, ensure that the products are consumed before their expiry date. The merchandise includes packaged products you can buy from supermarkets; dry foods such as flour and rice, or cleaning products such as detergent that we repackage because the outer packaging has been damaged, but the product inside is intact; and lastly basic necessities such as fruit, vegetables and bread. (I should also point out that we do our packaging of food and detergents in two separate rooms.)
Our first pilot market has proved a great success in Maltepe. As it's now time for us to break out and progress to the next level, we plan to open a Support Market in the Bağcılar-Esenler area, which possibly rates as Istanbul's biggest problem area on the European shore.
In this blog I have written about the scale of waste in Turkey and the world as a whole, as well as outlining how Support Markets can prevent waste. Support us in the Istanbul Marathon so that we can open a second large Support Market and make the progress required to prevent waste.
In my next piece, I plan to write about the second of three benefits of the Support Project: Meeting Basic Needs.
By the way, the deadline to register for the Istanbul Marathon has been extended to 15th October. Anyone who wants to support us should first register at http://www.istanbulmarathon.org, then go into the Run for Charity (İPK) Platform and seIect TİDER. Many thanks in advance for your support.
Take care for now.
Tag: sosyal sorumluluk