Best of Gökçeada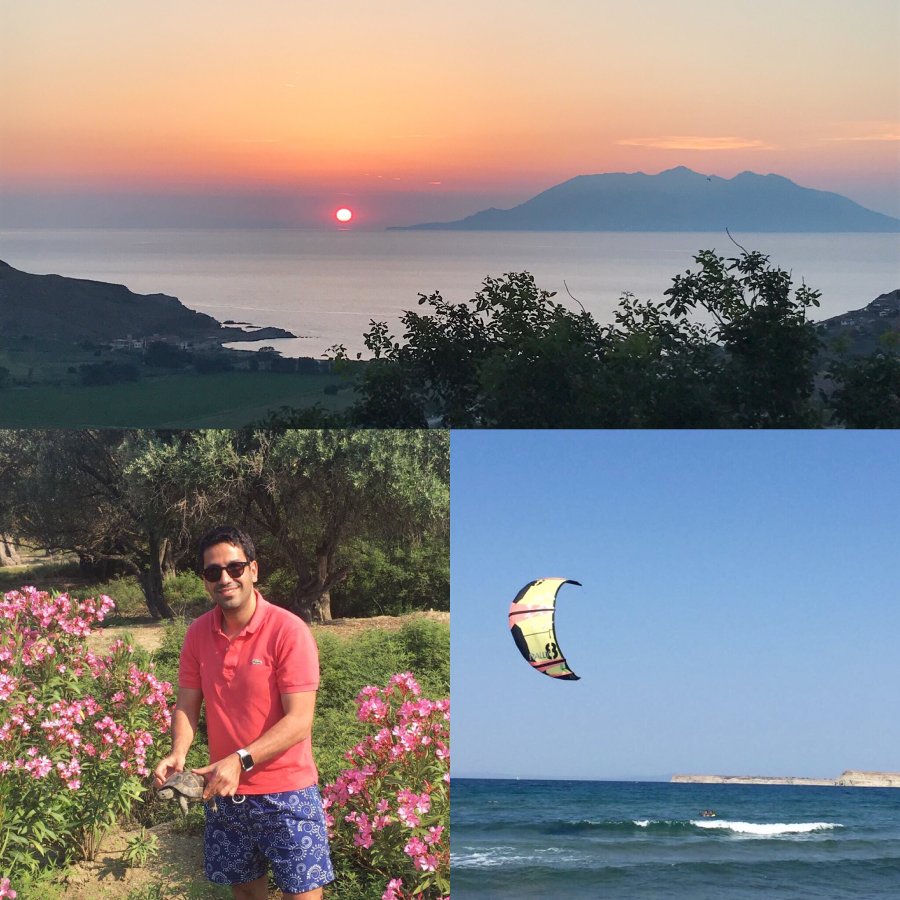 Everyone has a favourite holiday spot of relaxation in Turkey. And my most favourite place that I enjoy, that I can unwind and re-energise is Gökçeada. The difference between this island and other islands in Turkey is that the nature here is unbelievable. The island has its own water. It has wide plant bases and amazing beaches. It's a 'kitesurf' heaven and is an island where animals can roam free.
There are many things I can tell you about Gökçeada. This is another topic for another article. I won't digress but if one day you stumble upon Gökçeada, you can utilise the information below just like having a guide with you. These are my favourite places in Gökçeada and my recommendations:
The best hotel: Anemos
This was the first hotel I stayed in on the island. Since visiting this place for the first time 7 years ago, it hasn't changed its standards. It was setup as a Greek-Turkish partnership. You sense from the rooms and food that it has had a woman's touch. The decoration and food is very enjoyable. It has a nice pool. It has a rich breakfast menu. Stunning views. The quality of service makes you feel like you are at home. If there is room in this 24 bedroom hotel, I recommend you stay there.
Address: Yukari Kalekoy, No: 98 Gökçeada
Telephone: (0286) 887 37 29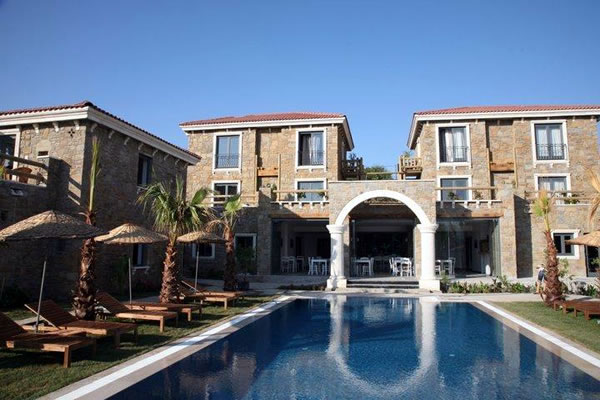 The pool garden of Anemos Hotel
The best fish restaurant: Eleni
Originally from Rize, Mr Bulent Hursutagaoglu, who had successfully run his fish restaurant in Istanbul, carried it over to the island. Stemmed as a family business, he has had great experience and although it has only been operating for 2-3 years, it is preferred over local restaurants. You can see the obvious differences. While other restaurants are empty, his restaurant is full. The meze's are fantastic. There are great fish varieties. The service is good. At this restaurant, Bulent visits everyone's table one by one and even if you've been there only once before, he'll remember you and continue the conversation where you left off last time. If you feel like fish, I recommend visiting Eleni restaurant which is found in Kalekoy cove. I also hope the other fish restaurants in the same vicinity can increase their quality standards.
Address: 17760 Kaleköy Köyü/Gökçeada/Çanakkale
Telephone: (0286) 887 24 44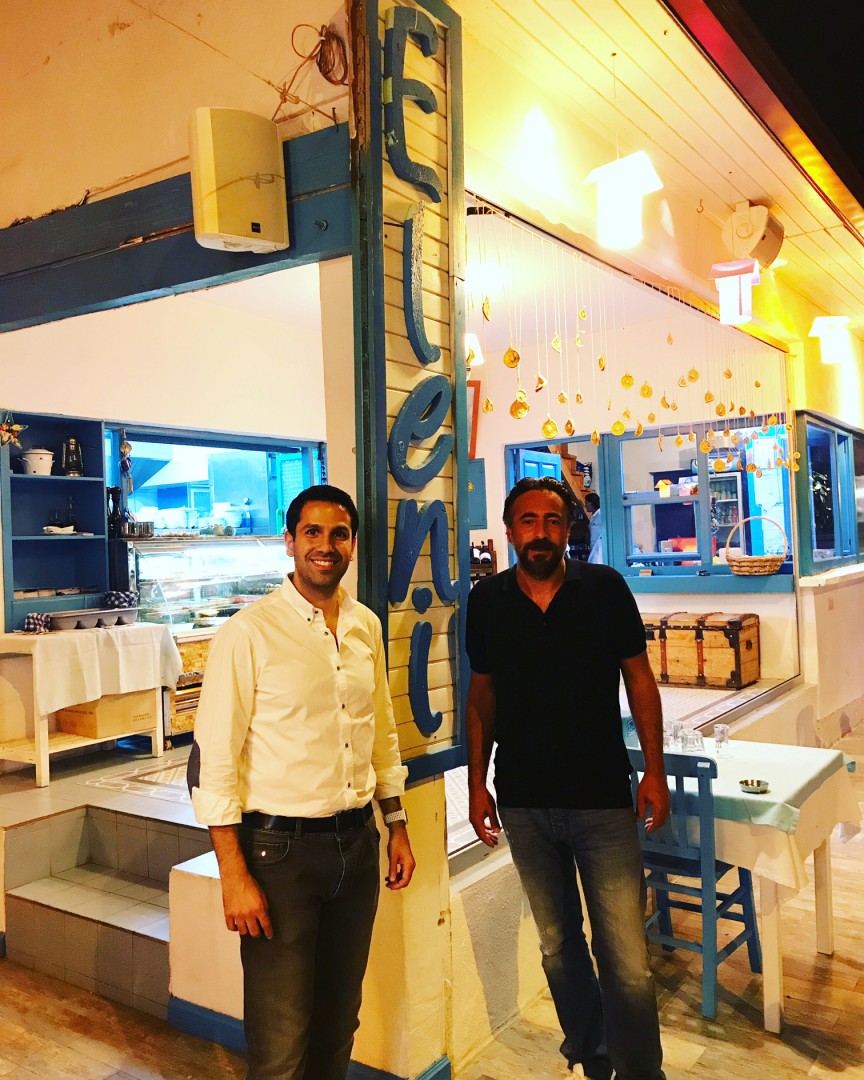 A photo taken with the owner of the restaurant, Mr Bulent Hursutagaoglu
The best local entertainment: BarbaYorgo
The BarbaYorgo tavern found in Tepekoy can be truly identified with the island. Everyone that visits this island needs to seriously come to this place that is run by Mr BarbaYorgo himself, being born and bred in Tepekoy. It has Greek based entertainment and also organises Sirtaki nights to cater for both the Greek and Turkish culture. For people who want to experience the islands original culture, they can have an entertaining evening here with great food. The last time I went there was on a Sunday night where they had a Sirtaki night. After we ate, we were on the dance floor the whole night. Not just us, but the whole restaurant. If you want to have fun in Gökçeada, go to Barba Yorgo.
Address: 17760 Tepeköy İç Yolu No: 13/Gökçeada/Çanakkale
Telephone: (0286) 887 42 47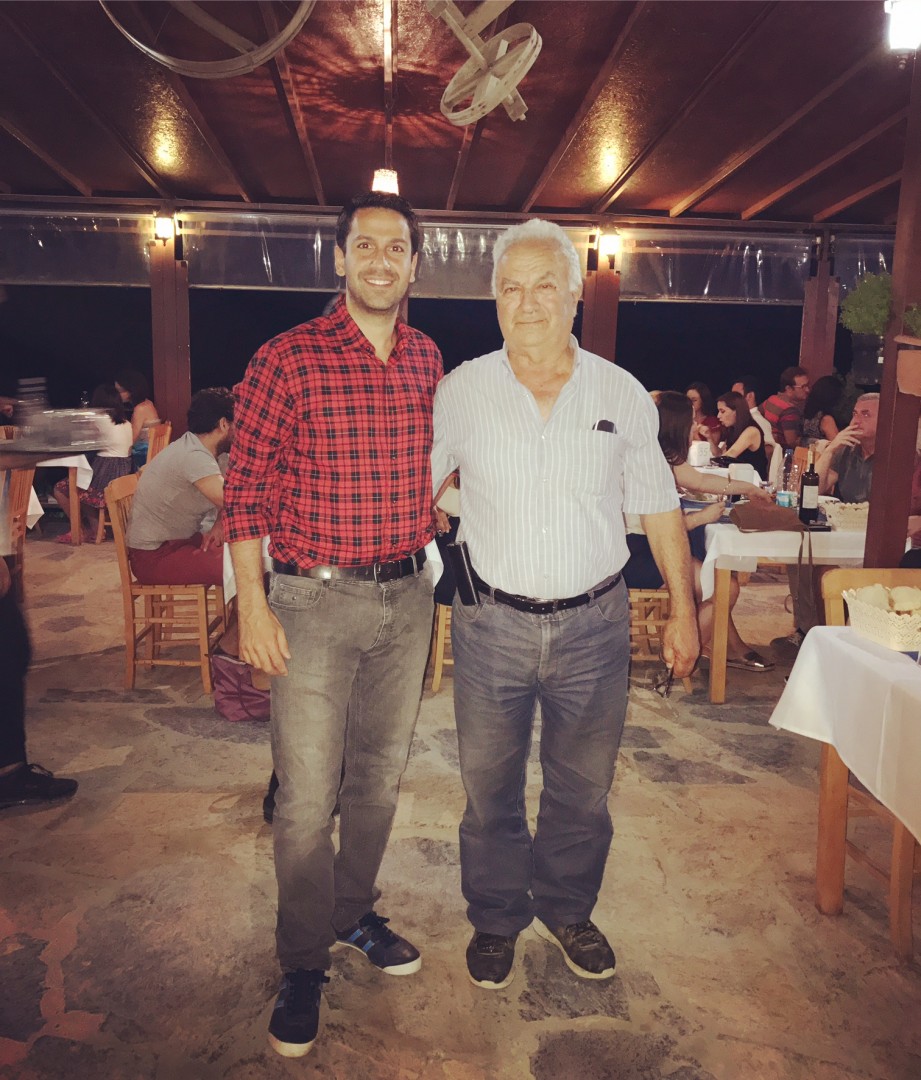 A photo with Yorgo right before the fun started. He is the man who put on a show later on in the night.
The best 'kitesurf' spot: Volkite
Everyone knows the name Volkan Gunel when you mention kitesurfing. Establishing this with his own efforts 10 years ago, it is one of the known schools in Turkey. The wind in Gökçeada is ideal for this sport. Unfortunately this sport is not recognised enough and doesn't get the support it needs. Regardless of this, Volkan tries his best to organise events for this sport to develop it and at the same time represents the island to the whole world. The 'Gazozuna Kapisalim' tour he organises each year has 150 competitors attending from all over the world. His YouTube videos are watched by millions. I take my hat off to Volkan and his team who make so much effort despite the difficulties. I recommend this sport which I recently started to everyone especially because of the experienced team and environment of Volkite at the island. If you haven't already tried it, I suggest you do this here with its beautiful nature backdrop. Although it may seem difficult at the start, it's amazing to be part of the wind, to try different combinations and reaching unbelievable levels of adrenaline for hours really is entertaining. I recommend kitesurfing to everyone.
Address: Çınarlı, Köy sokağı 104/1, Eşelek Köyü/Gökçeada/Çanakkale
Telephone: 0 (533) 241 15 10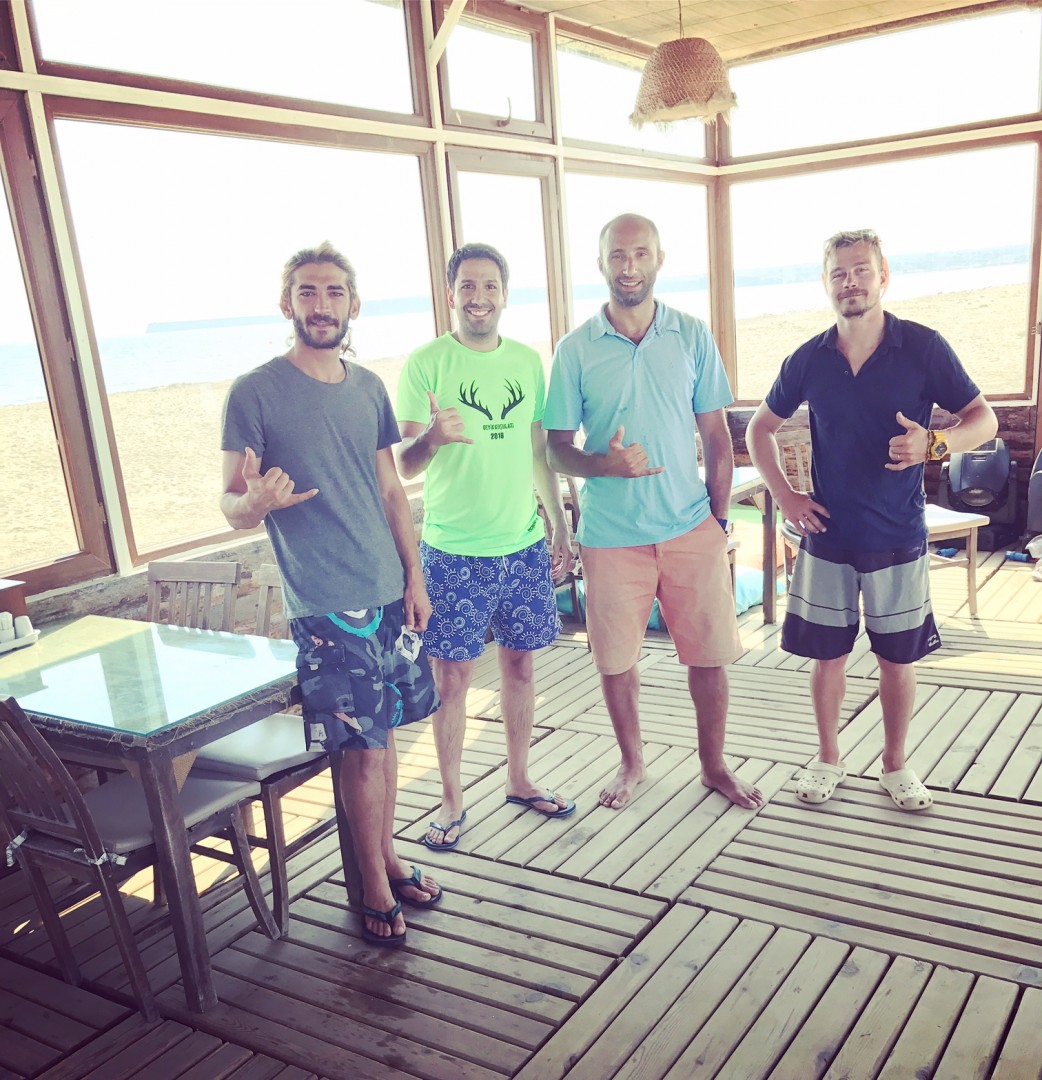 Greeting everyone with our Kitesurf instructors. From left to right: Emin, myself, Volkan and Anton.
The best café: Balbadem café
This café found in the centre of the island was an old stone house restored into a café. The decorations that warm your heart in this place is famous for its desserts. Especially the Ada Ruyasi sweet which will draw the attention of people who like to try new things. Also, the variety of coffees and visual richness give you quite a liking to this place. The general harmony of this island is also reflected in this café.
Address: Fatih Mahallesi, Yelda Sk., 17760 Gökçeada/Çanakkale
Telephone: (0532) 366 10 84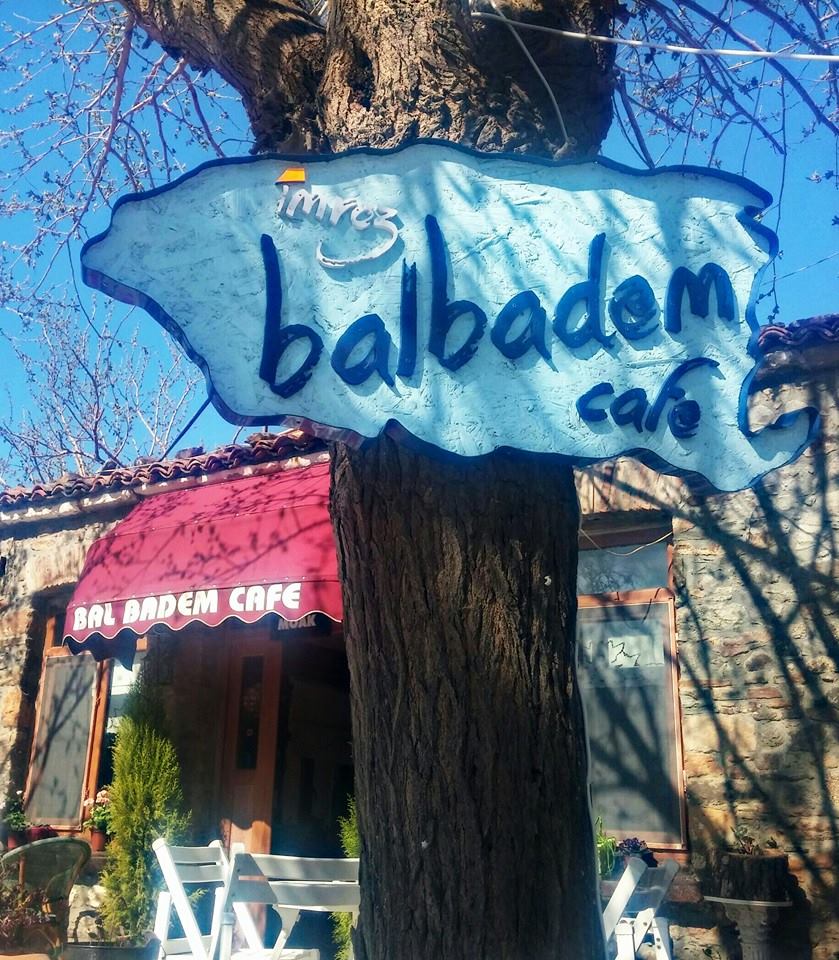 The best breakfast: Cugura Organik Ciftlik
The owners of this farm are a family who have brought to life the dream of owning a green grown farm. There is also agriculture on the farm. They use these fresh products everyday in their breakfasts. They also make jams from the produce and sell directly to the customers. You can have a really nice breakfast here, walk around the farm or buy organic products from the stores here on the island.
Address: Zeytinli Köyü, Köy Sokağı No 497 Zeytinli Gökçeada/Çanakkale
Telephone: (0533) 123 44 46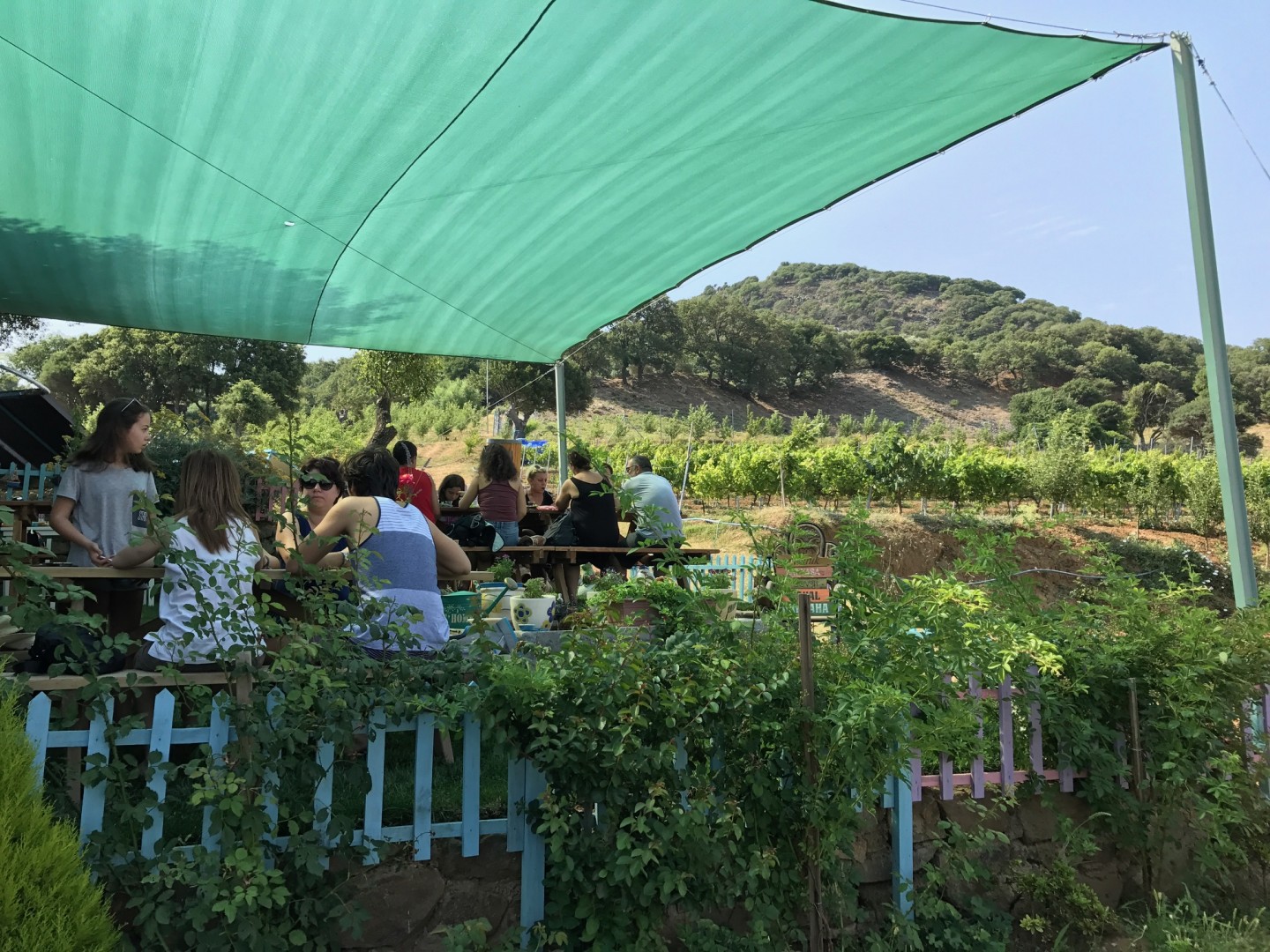 The best (entrepreneur) farm: Soykan Ciftlik
Bahadir, the owner of this farm, has an interesting story. Originally from Bursa, Bahadir grew up in Bakirkoy. Playing in the professional basketball league team Oyak Renault, after he got injured he left his career and worked at Beymen in Nisantasi as well as many other places in Istanbul. From the increasing unnecessary stress of the city, after completing his military service, he made a radical change and moved to the island. To make money, he worked in hotels in the summer while on the hunt for a farm. He met an 80 year old Greek farmer by the name of Panayotis who promised to sell him one of his lands. He then utilised the farm in both animal and agricultural purposes and as a young entrepreneur, he set himself up for the farm to be enough for him. The farm gets its energy from the sun and grows enough products to only be available in the restaurant on the farm. The food is delicious. The thing I like about Bahadir is the fact that he keeps improving himself; the fact that he grows everything on his farm and by doing continual research into animal farming and agriculture and by being in control of this. He has also taken his mother in so she can start a new life in Gökçeada which is another measure of how determined he is. I wish him the best.
Address: No:600/1, Zeytinliköy Yolu, 17760 Gökçeada/Çanakkale
Telephone: (0555) 222 55 74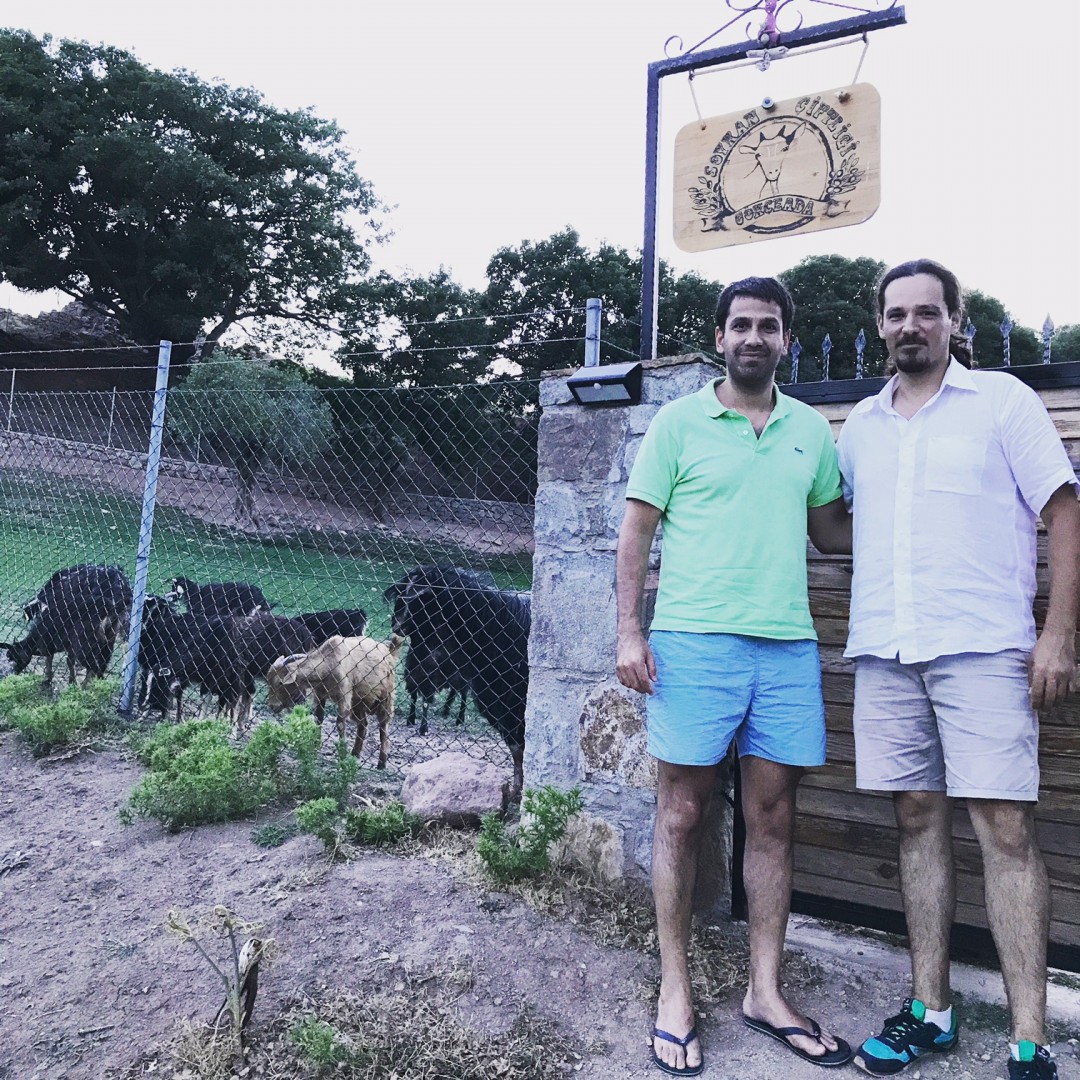 A photo we took with Bahadir
The best honey: Gokhanin Bal Ciftligi
The wide land found in the Eski Badem cove with an amazing view is where Gokhan has devoted himself to honey. He loves what he does and even likes entrepreneurs visiting him in which he likes to provide information to them. I recommend you try his award winning honey which Gokhan continues to conduct research on.
http://www.Gökçeadaimroz.com/tour/Gokhanin-bal-Ciftligi/
He lives with his wife, daughter and son on the farm he has in Eski Badem. There are some funny stories. He has a sweet and playful daughter. People who want to buy honey on the island should definitely visit Gokhan. Having coffee in their garden, which has fantastic views will be healing for everyone. Also, if you are a curious person like me, Gokhan will provide you detailed information on how the honey is produced. Of course, don't forget to buy some of the varieties before you leave.
Address: 17760 Bademli Köyü/Gökçeada/Çanakkale
Telephone: (0541) 459 75 16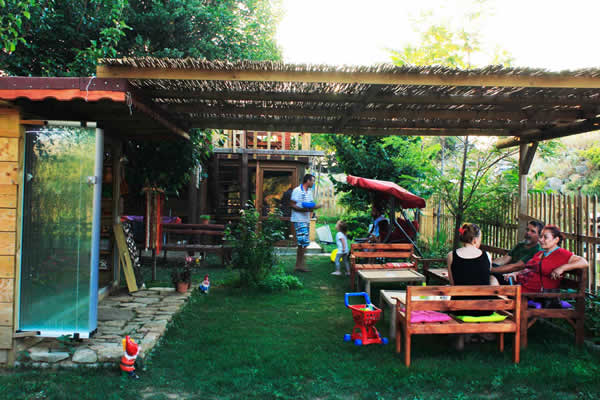 A photo from the garden. You can see Gokhan standing in the background
The best industrial product: Elta Ada (EkozeyGida)
A machinery engineer from Ankara, Mr Hidir, who set up this huge land on the island is of the biggest organic farms in Turkey. From small to large animal farming, you can find these products sold in all parts of Turkey.
http://www.milliyet.com.tr/turkiye-nin-en-buyuk-organik-ciftligi-gundem-1641081/
To be honest, before visiting the site, for years I had been buying the island branded yoghurt. I recommend these delicious tasting yoghurts and cheeses to everyone. The Elta Island products and its producers are a great example to the industry and pride of the island.
Address: Fatih Mahallesi, İnönü Cad. No:12, 17760 Gökçeada/Çanakkale
Telephone: (0286) 887 45 81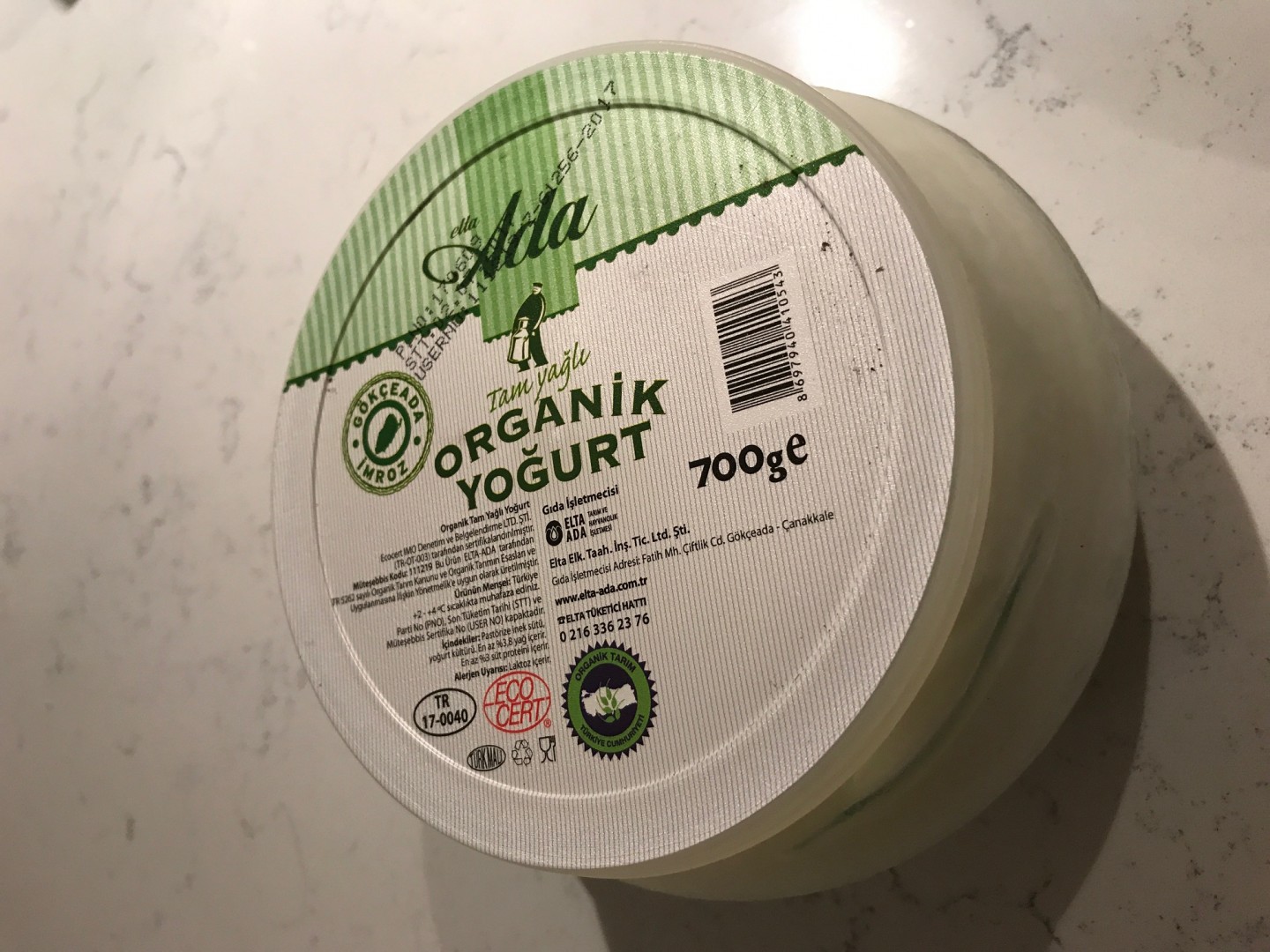 The Ekozey Gida branded Ada yoghurt that is produced in Gökçeada, which I buy on a weekly basis.
The best café/shop: Phaedra
It's a business operated by a sweet lady in Zeytinlikoy, in which you can try its Greek desserts, home made jams and buy some small souvenirs. Being close to the centre of Zeytinlikoy, Phaedra is operated by Greeks. They try as much as they can to speak Turkish but when possible, get people who can speak Turkish to come and translate. They are really sweet. Their products are of high quality.
Address: Zeytinli Köy Gökçeada/Çanakkale
Telephone: (0539) 938 30 60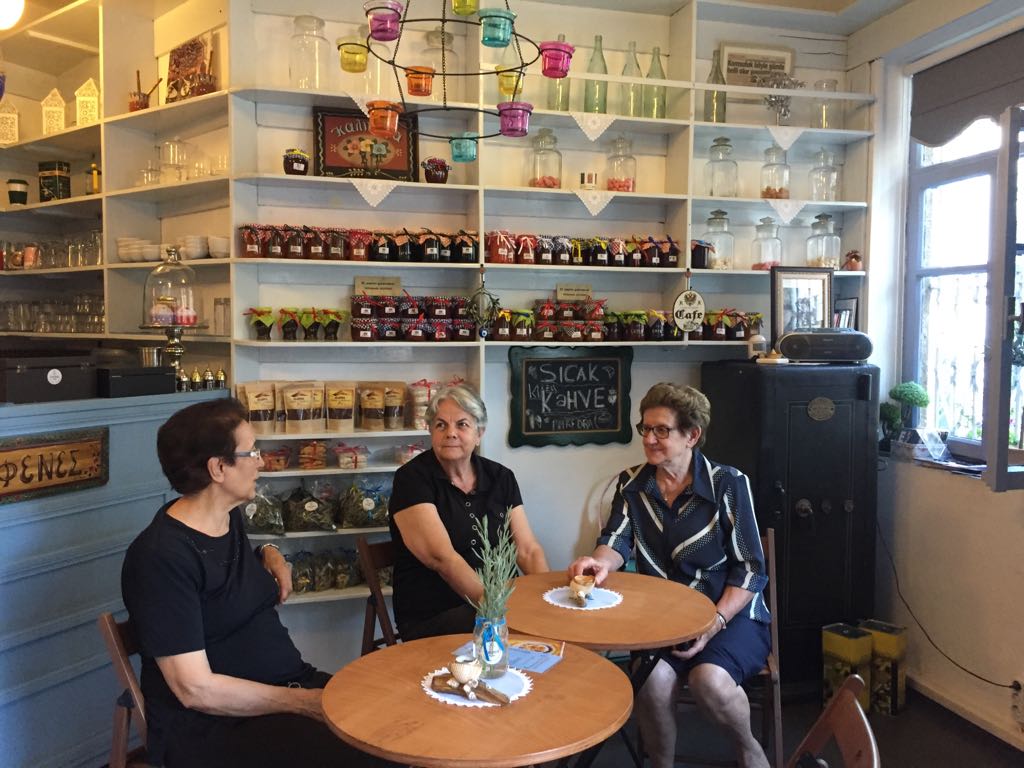 A photo from the inside. Some Greek ladies enjoying their coffee
The best organic brand of the island: Ada Ruzgari
By taking the notes of the Gökçeada guide, I'd like to share with you some information about Ada Ruzgari:
The one Gökçeada brand that stands out is Ada Ruzgari, which was setup by an Istanbul family and operating on the island for years. On a land near the north side of the island, they started to produce olive oil, then honey, tomato paste, jam and soaps. They then added cosmetic products, coffee and Turkish delight as well as lemon cologne and by this way, expanding its range and becoming a natural products brand on the island. The best seller in cosmetic products were its goats milk cream and shampoos.
It's cheese produced on the 'Mutlu Keciler Ciftligi' farm is made from 100% goats milk and produced as an organic product. There is no other example like this in Turkey.
If you think about what you can purchase in Gökçeada that is organic, then look no further; it's products are waiting for you on the shelves, which have been carefully chosen and packaged. You can also shop on their website: www.adaruzgari.com
Address: Çınarlı Mahallesi, Atatürk Cd. No:24, 17760 Gökçeada/Çanakkale
Telephone: (0286) 887 24 96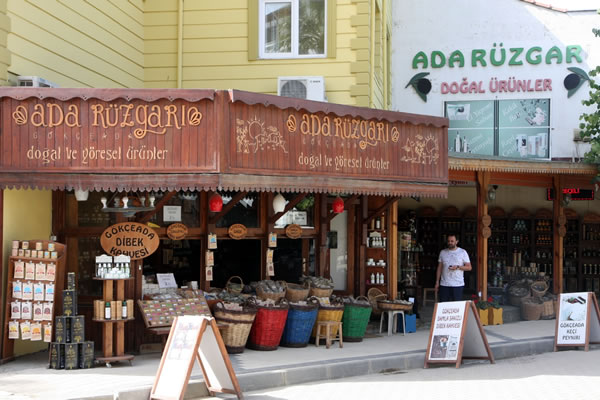 A photo of the Ada Ruzgari store in the city centre
The best souvenir shop: Kokina
Gökçeada is beautiful all round but the centre is quite the opposite for me. Along with Balbadem and Ada Ruzgari stores in the centre, the one favourite store is the souvenir store, Kokina. This store has specially designed souvenirs, jewellery and accessories.
The founder of Kokina is the Bolluk family, who moved to the island from Istanbul. They spend their winters here producing goods. Mr Onder makes wind boards and wooden troughs from market crates and Mrs Mine makes souvenirs from felt, which is a must see. The reason I have a soft spot for Onder is because he is the Akut representative on the island. On the other hand, he has devoted himself to life saving on the island.
Of course bedsides this specialty, when you look at the product range, it really is the best souvenir store. You can find waist cloths, fabric bags, soap, authentic jewellery, print based presents and much more.
Address: Çınarlı Mah. Kadri Üçok Sok.No:29 Gökçeada/Çanakkale
Telephone: (0532) 609 67 67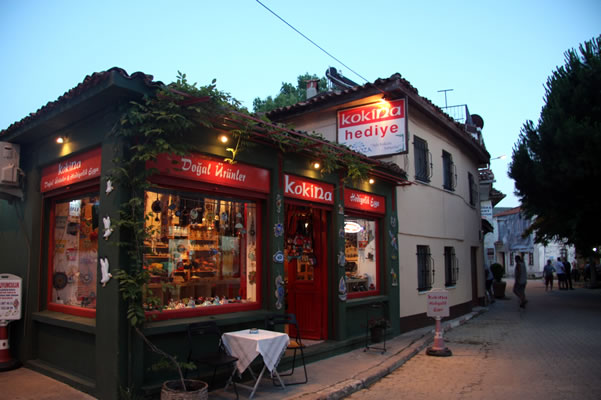 The look of Kokina from the outside
The café with the best view: Café Garaj
The café found in Zeytinli and run by a Greek local, you can find all the islands classics here. With its delicious beverages and sweets, you can enjoy the view. You can witness the natural beauties of the island while sitting at this café.
Address: 17760 Zeytinliköy Köyü/Gökçeada/Çanakkale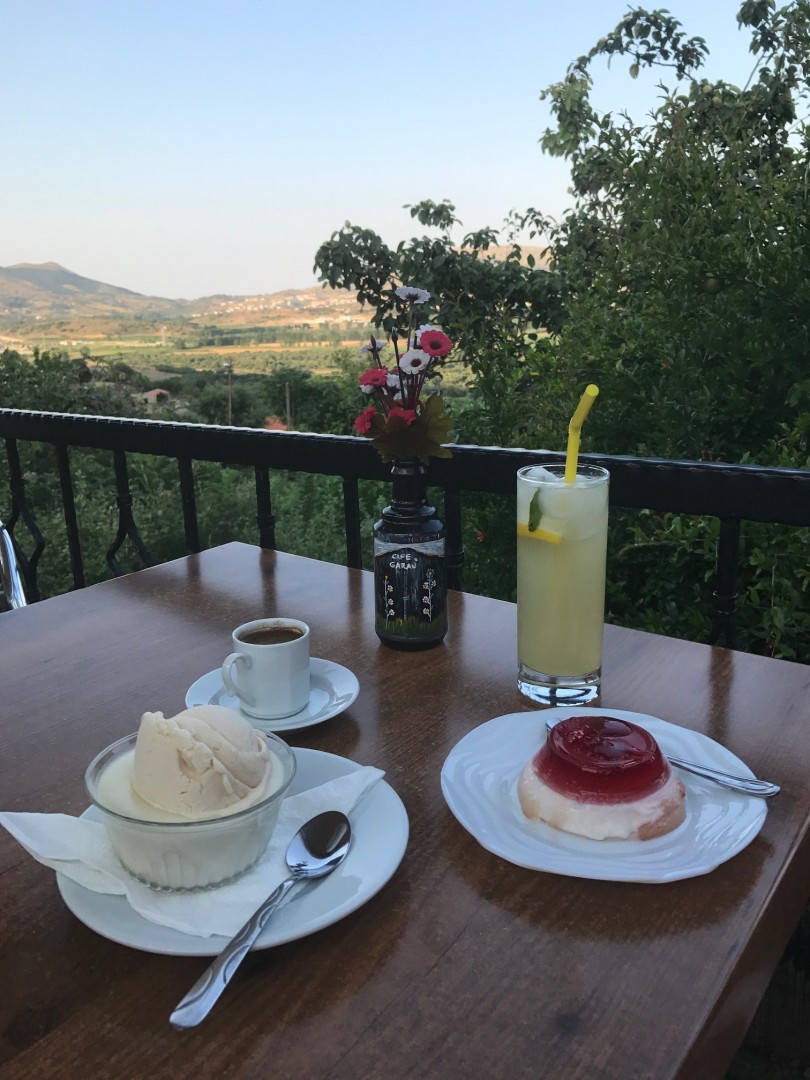 An island classic at the Café Garaj. It's Turkish coffee, mastic gum sweet with clotted cream ice cream, cherry dessert and lemonade
I wanted to share this guide written about this beautiful island with you all. While these may be some things that seem the same as other guides, it's good to get different opinions.
The list I gave you above can of course be expanded, other categories can be added. I'd also like to thank Ekin who helped me put this guide together. I wish all the people who help develop and grow this island the best. If you ever come across Gökçeada, make sure to follow my recommendations, you won't regret it!
In order to give you some ideas and understanding of the island, I'd like to share the below photos with you.
Take care.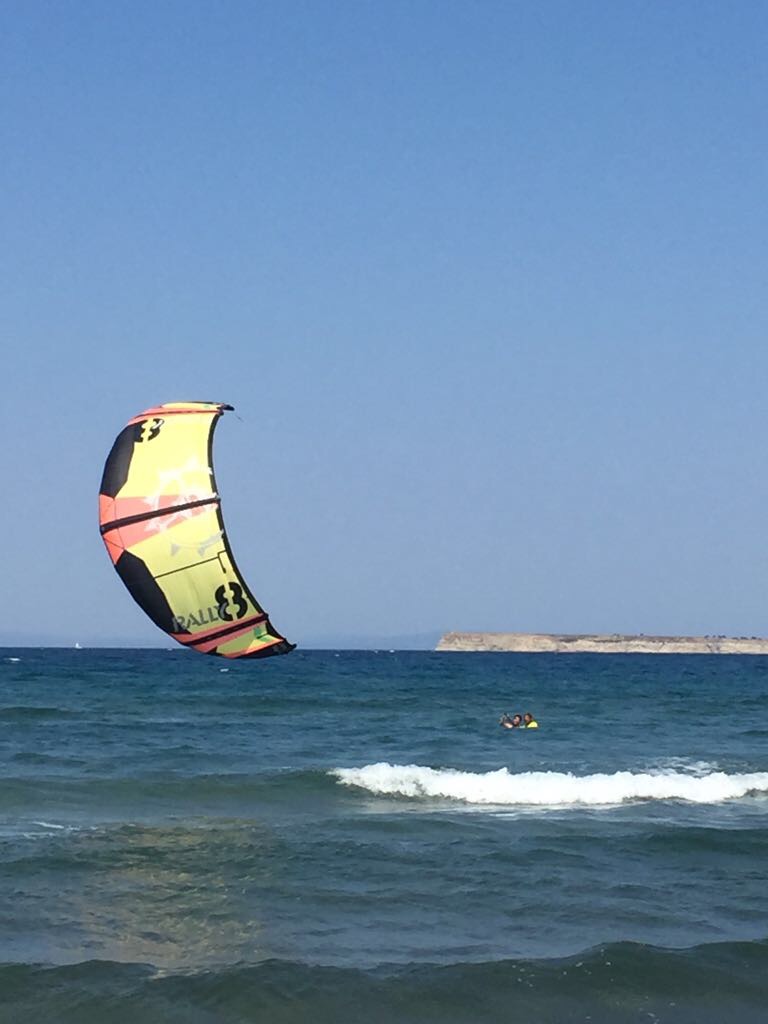 Getting trained on my first day of kitesurfing

Volkite and the view of the Kefalos beach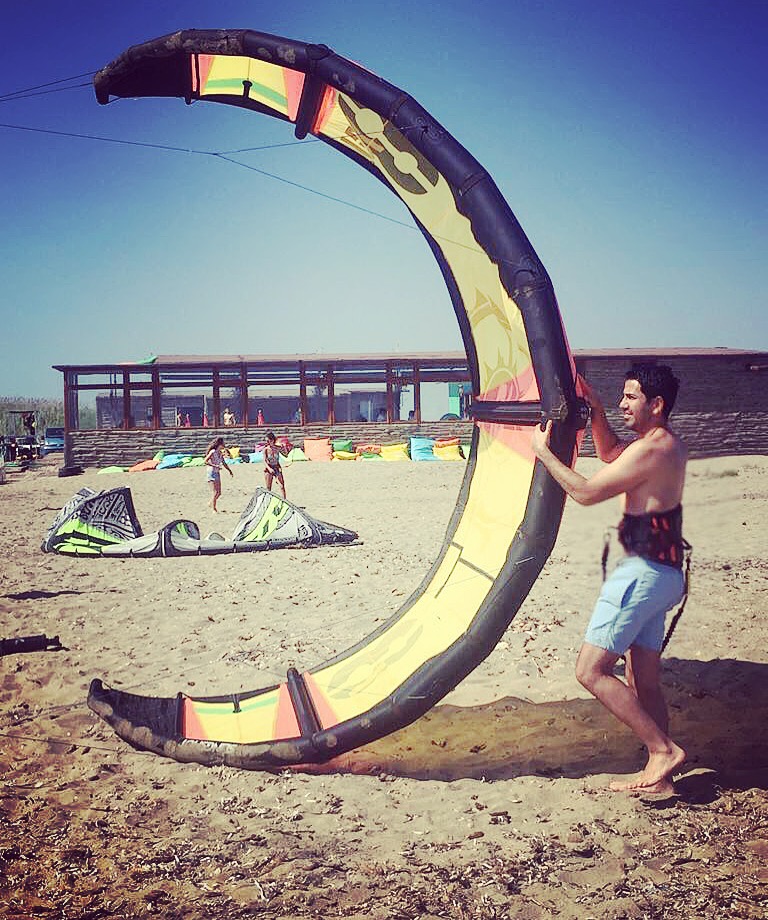 Second day of training while lifting the kite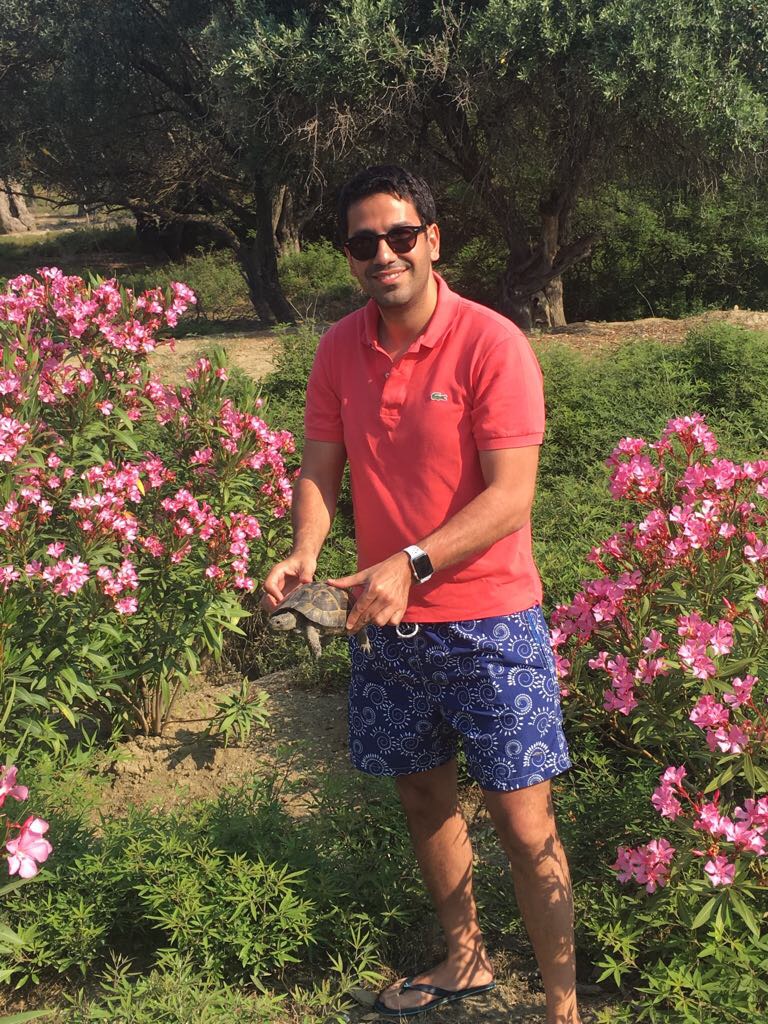 The firt day of Bayram, stuck on the road and me rescuing a second turtle crossing the road, facing the dangers of getting crushed. With much attention, stopping the traffic, rescuing the turtle and bringing it back to the wildlife.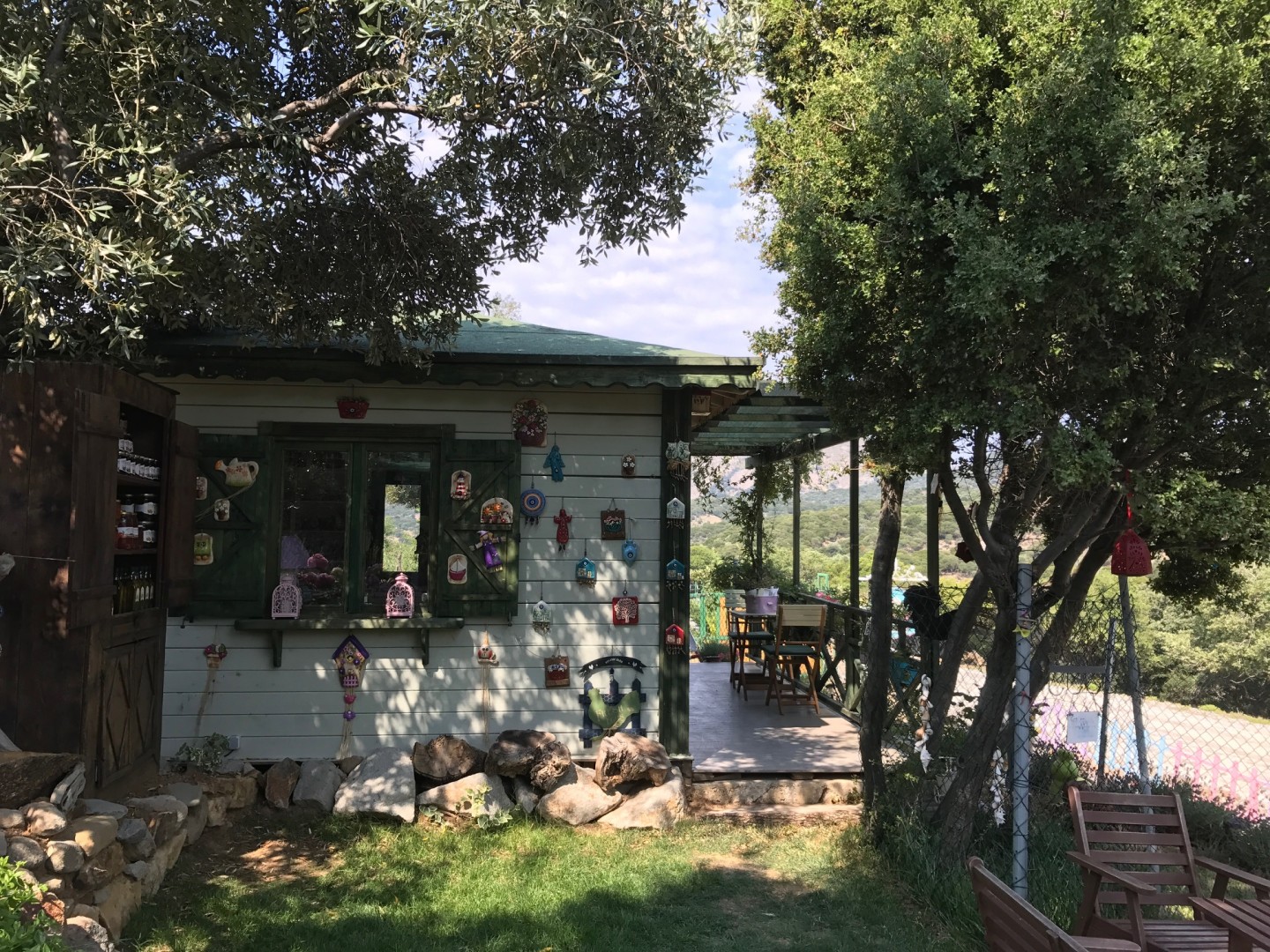 The shop found inside the Cugura Farm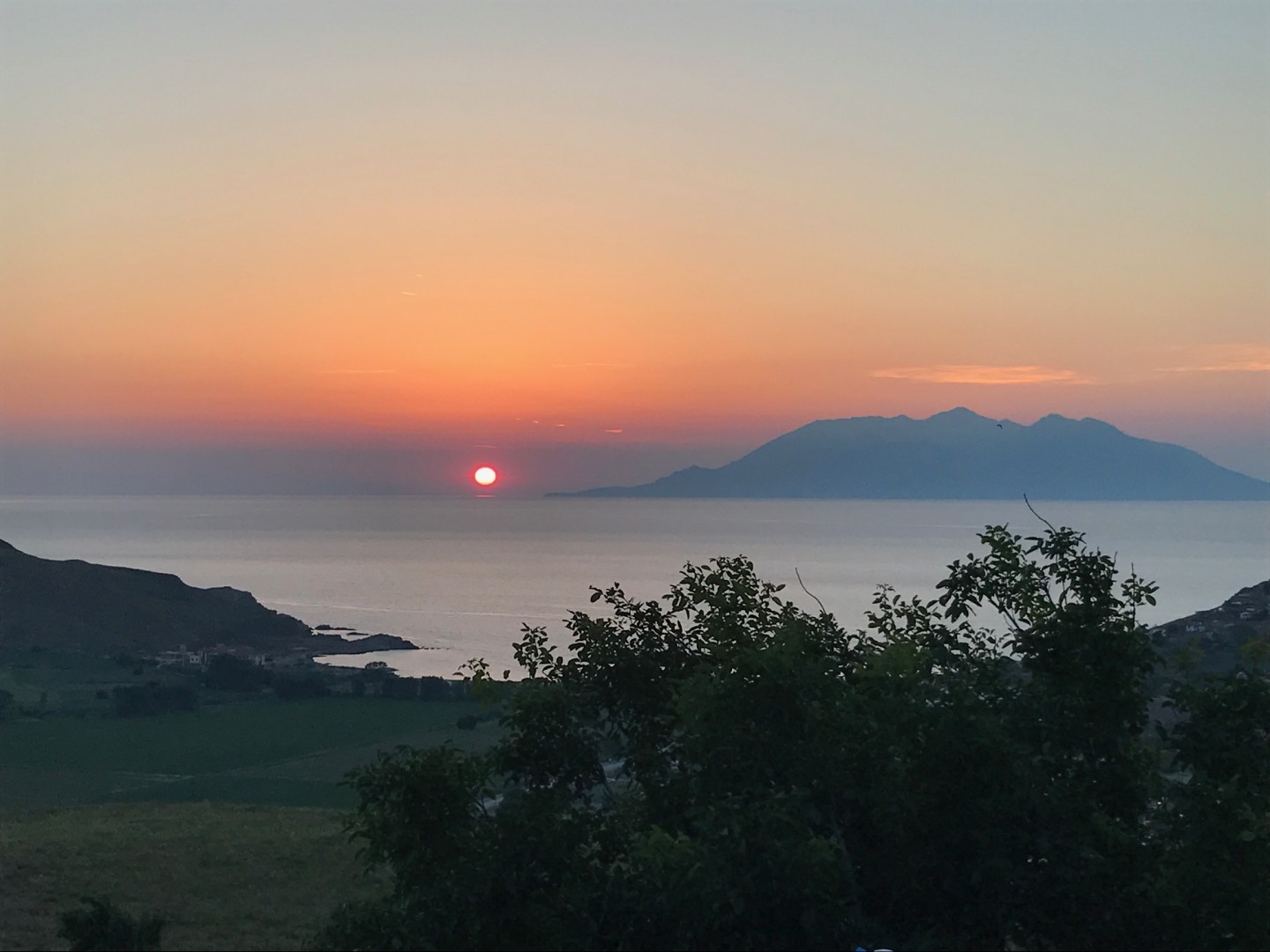 The sun setting on yhe island. I took this fantastic shot from the Eski Badem cove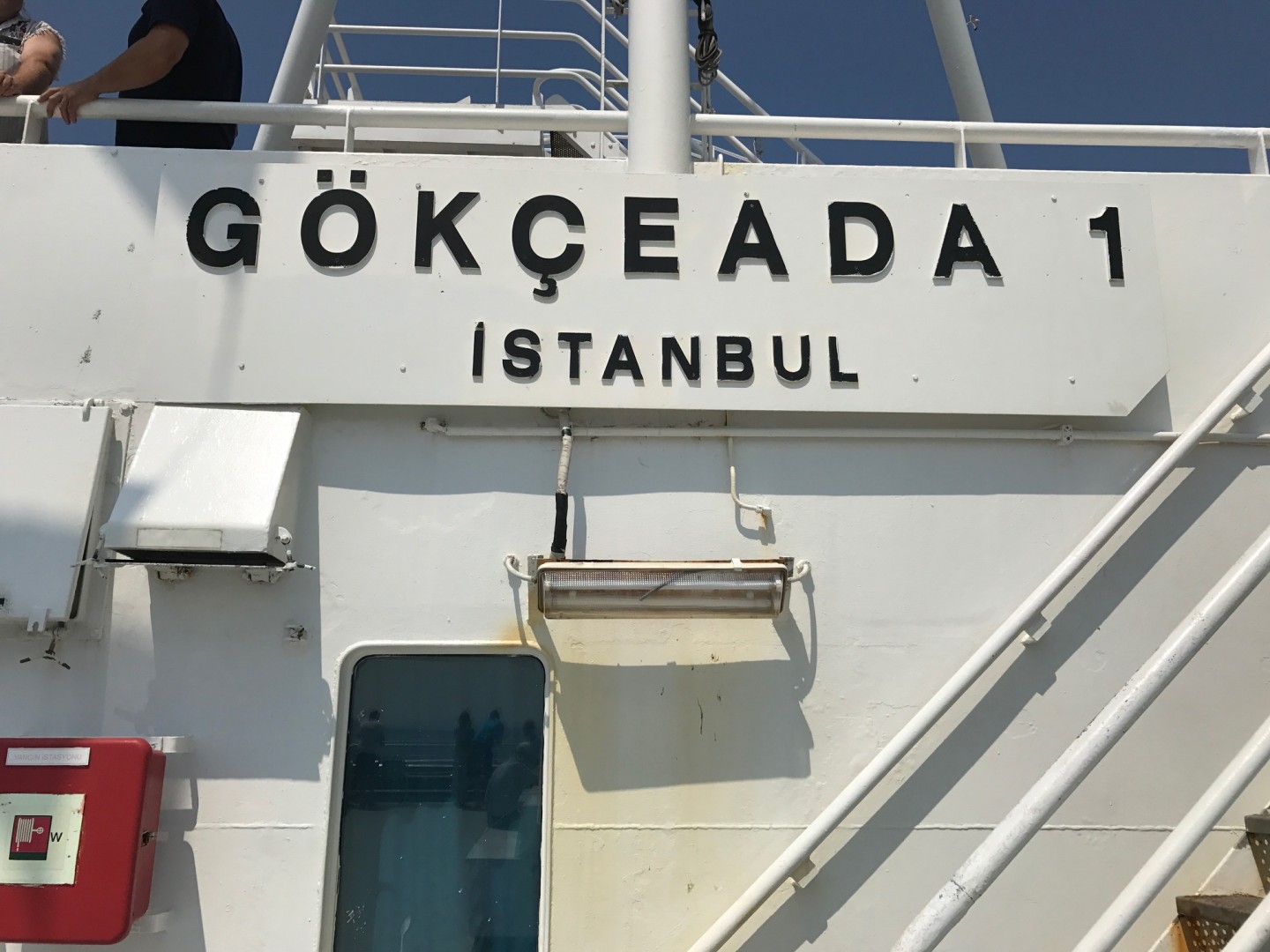 A shot taken from the ferry on the return home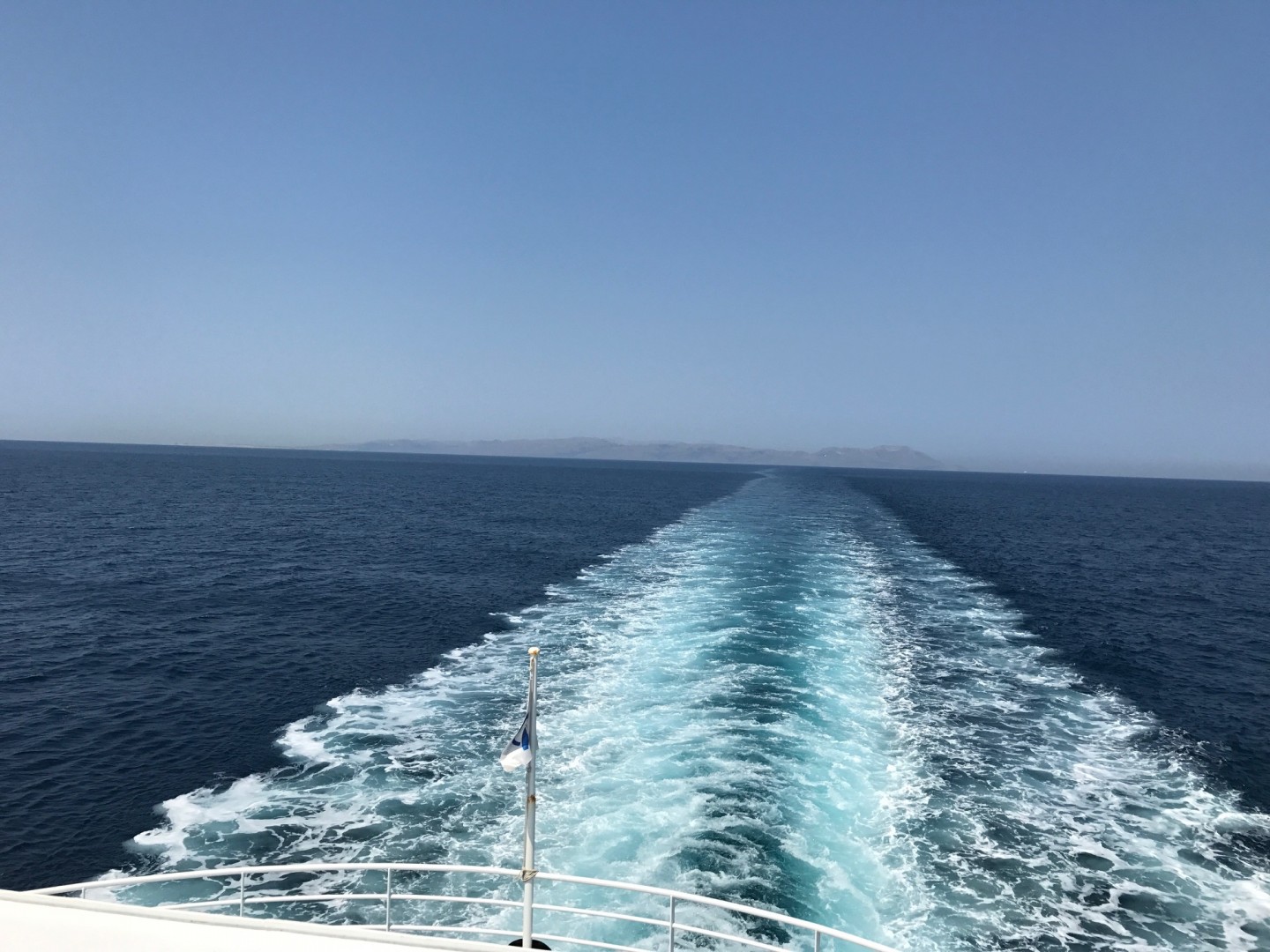 A view of the island from far
Tag: anı