Bonbon Tech prepares to break new ground in the analytical arena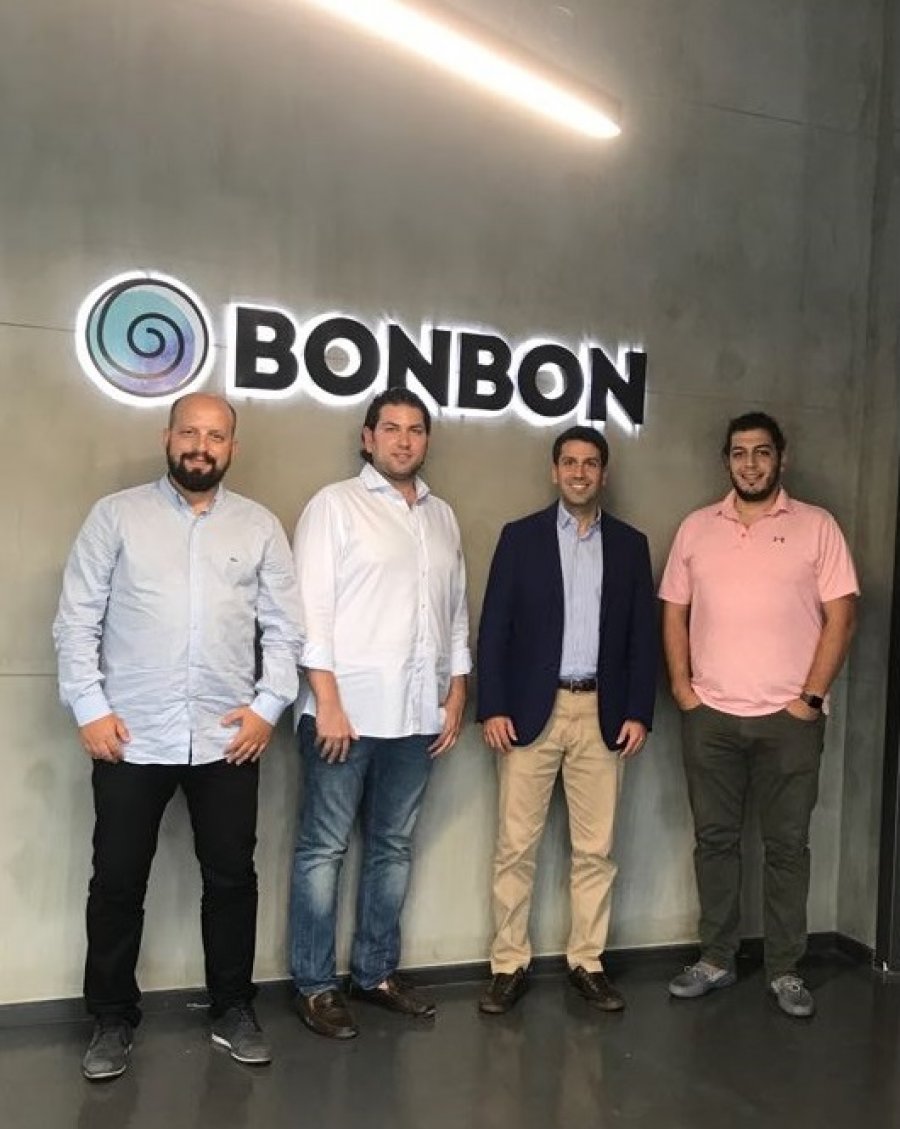 Our innovative technology firm Bonbon Tech is reaching out to the horizons of the future by guiding its analytical solutions for bank branches in shopping centres, from hospitals to chain stores with different measures and sectors, to radically increase the profitability and customer satisfaction of businesses. This week I am sharing with you the story of Bonbon Tech, an international firm, which has, in short time, taken on and lead a company mission.
In 2007, when I was working in the family business, Suzer Holding, the now CEO, Mr Sami advised my father that one of his friends son was going to present us with a project idea. Three days later, Mr Ergi Sener found himself in our meeting room ready to present.
To be honest, I dislike these kind of things, but I try hard not to be judgemental. This young guy who was studying at Sabanci University, made a great presentation. The presentation he made about the then 'card technology' started to get me excited.
From time to time, while working at the family company, I used to say that cash money will evenutally diminish and everything will become digital. I was excited about this, as I faced the things I used to say from the start of the 2000's, and at that time, I had drawn up a report stating that I supported this work model but we had to first be sure of the technology (software). In short, I said we definitely need to implement this and that we should as a corporation, start the digital era.
Definitely one day...
At the time, the priorities of the corporation were different. While trying to get over the banking crisis, and a strive to live, my family company was not being enthusiased by new projects. A few times after I handed in the report, I insisted 'please, lets go ahead with this project' but there was no point as we didn't go ahead with it. At that time, I said to our young friend Ergi 'the project can't go ahead as it wasn't accepted by our conjunctures, so for now we will leave it on the shelf' and added 'but one day we will definitely work with you'.
Once we got to 2013, the conditions had changed in many ways. It had been 2 years since I left the family business and I had made some serious developments in renewable energy. At that time, I crossed paths with Moka at the Keirestu Forum. I had shared a detailed article about this previously. You can read about it at this link: http://www.serhansuzer.com/en/charting-a-path-from-moka-to-bonbon
After hearing the presentation by Moka at the Keiretsu Forum in 2013, I called Ergi again. Hearing his voice for the first time in years on the phone, I heard the voice of a no longer young university student but of someone who knew where they were going and taking the right steps in the right direction. After his career at Turkcell and Mastercard, he was hoping to set up his own business. We touched on our conversations from 2007. We weren't able to get the right work model for Moka, the company that we established with Seyfi Erol and Levent İlhaner. However, we solved the issues and the system settled into place and Moka started to get onto successful projects.
Another flavoursome brand for Technology
While things were going well at Moka, we didn't cut ties with Ergi. He gave me recommendations of two friends in the field of analytics. He brought us together. After the idea of analyticals were set in my mind, with Ergi's two friends, Irem Korkmaz and Onur Isik, we setup our company Bonbon Tech last August.
I gave the company its name. It was a name that would be easy to pronounce on an international scale and also a name that would have a positive energy to it when said. One night I stayed at home and focused purely on this. At the end of the night, I came up with the name Bonbon. I wrote to my friends who were heloing me establish the company and said 'let it be Bonbon'. Everyone liked it. We named it 'Bonbon Tech'. I then sent them some examples of how the logo should be, espeically the idea of lollipops mixed with other candy ideas. By sticking to this concept, we handed the idea over to our designer Irem, who designed the logo. As a result, we ended up with a very entertaining name and logo combination.

Bonbon's logo
Beyond all this work done, Ergi joined us as a General Manager at the start of the year.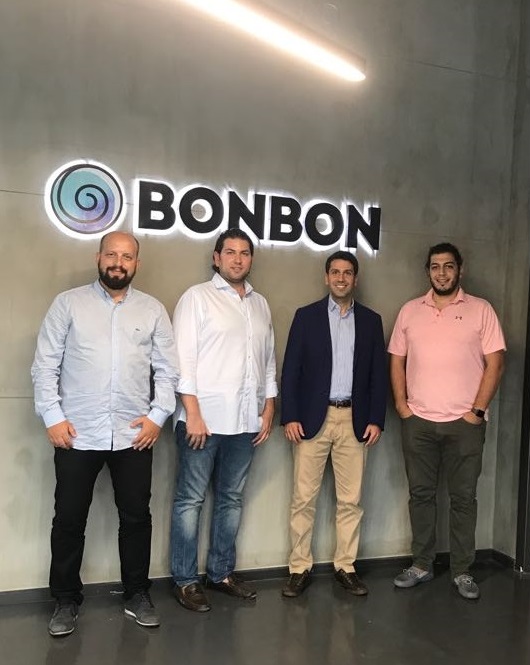 A photo taken with the partners of Bonbon. From left to right, Onur Işık, Ergi Şener, Serhan Süzer, Irem Korkmaz.
The story of Bonbon's establishment goes like this. Now I want to share with you what the established analytical firm Bonbon Technology does.
Bonbon Technology
About Bonbon Technology
Bonbon Technology is a new generation company focused on improving analytical solutions. Along with having global business experience, the founders of the company also have start-up experience, which puts Bonbon Technology in a different field of start-up technology in Turkey. Bonbon Technology's goal is to carry their innovative solutions abroad, while aiming to be a global brand.
The management team comprises of Ergi Sener (CEO), Onur Isik (CMO), Irem Korkmaz (CTO) (at the same time as partners), and along with me, not only just as the Bonbon Technology investment founder but also as a founding partner to help develop strategic business and also support in the area of management. Within less than a year from the establishment, Bonbon Technology successfully developed Turkey's most comprehensive cloud base and IoT based analytical network and today BonAir's product with 42 of its customers in over 400 locations, provides services to more than 1500 BonAir sensors. Bonbon Technology also provides services to 12 other countries besides Turkey.
BonAir: Analitik+
What is BonAir?
BonAir adds strength to its operations by finding analytical solutions to its clients behaviours and advanced level expectations and experiences. Being different to the standard analytical solutions, Bonbon Technology has developed predictive analysis, artificial intelligence integration and individually tailored reporting specialties, to provide the users to take the right actions at the right time and by this way, providing an unseen competitive advantage,which is named 'Analitik+'
BonAir's general analytics was designed by Bonbon Tech and during its patent application, was recognised with the collection of its data by the IoT sensors. With its detailed analytical platorm, BonAir can increase your companies profit and customer satisfaction, and deliver all data including statistics and smart analysis to your fingertips, to readily use and take action.
By installig BonAir sensors into special stores, BonAir can collect data about your customers, present detailed predictive analysis, and produce a report of expectations and complete this in the right place at the right time. Along with data like customers road map, frequency of visits, where they walk around in your store, it can also provide customer loyalty, potential client segregation and can enable to watch the performance of workers closely.
How does it work?
Data Collection: BonAir sensors are placed into specific locations by Bonbon Tech's team. BonAir's biggest feature is the fact that it doesn't require action by its customers. In order to collect data, BonAir doesn't require you to download a phone application, or to activate it via phone settings (which can be quite difficult), nor does it require you to open up your Bluetooth, or Wi-Fi connection. It's enough for the customers to have their Wi-Fi option open on their smart phones (from research conducted, especially on young professionals, students and workers, it shows that the Wi-Fi option is open 80% of the time. On a world scale, giants like Google and Facebook present developments like free Wi-Fi from space, and free Wi-Fi on all New York public transport by the council, at all pick-up and drop-off points, which increases the percentage of Wi-Fi always being on). There is also the option to have Beacon or GPS features as options with BonAir (during the ARGE period, the sensors developed also had features for heat, pressure and different lighting options).
Data Operation: the data collected by the BonAir sensors can be developed on behalf of Bonbon Tech's special analysis and algorithms and categorized and segregated in detail.
Reporting: with its user friendly panel, BonAir can cater for your needs and produce specifically requested reports.
Interaction: for those who have the mobile application or a consensual application, they can integrate BonAir SDK (software development kits) via iOS or Android communication systems, and connect with the customer at the right time, in the right location and depending on profile, send individually tailored messages to them. If requested, Bonbon can also develop a mobile application for this.
Product Features
With its innovative features 'Analitik+' differentiates itself from the generic product as BonAir enables the below advantages (the features not being static with continuous development, increasing its Bonbon user areas and varieties day by day):
Collection of passive data without a device: with the BonAir sensor medium, stores are oriented by location with mobile device regardless of branch, and with customers who have an active Wi-Fi connection, can gather detailed 'anonymous' analysis.
Stand -alone application: location and customer road map, frequency of visits, which aisles they visit, can be reported by profile and behavior measures without an extra mobile application need and report this anonymously.
Real time analysis and user friendly panel: customers activities can be analysed in real time, during sales or a specific time, and can be compared and watched via a real time heat map, along with the very best designed control panel which can be presented to authorized companies, along with a password. The control panel can be designed with the needs and choice specifications and branded specially, and can be set to show details set out for those authorized.
Heat map: thanks to real time heat maps, factors like store visit frequencies, day, time and promotion periods, window changes can be reported sources. Based on the internal designs in-store, guidance can be given.
Dynamic data management: in order to obtain detailed data analysis for brands, questionable criteria can easily be changed dynamically by brand representatives to enable a flexible platform.
Sensor control from a distance: control panels that can be set up for various devices can allow for control of sensors from far, and in times of connection problems, the authorized person can be notified.
Personnel management: by digitalizing personal identification cards with the BonAir system, a report can be provided with data showing personnel entry-exit times along with effectiveness, which can be integrated into the HR reports.
Segmentation: It can obtain data based on customer behaviors, use of device, visits and spending frequencies, along with building data on the basis of needs.
Real time one-to-one marketing: with the integration of mobile applications, personalized messaging can be made to customers at the right time and right place based on profile (of course once permission has been obtained by customers via the mobile application).
Wi-Fi services to customers: as long as it's required, via the Bonbon sensors, Wi-Fi services can be provided in specific places requested and identified.
Offline backup: where BonAir's sensors have been located, a system can be put in place during a connection loss to avoid data loss. By this way, no data can be lost and the correct analysis can be made.
Some benefits of BonAir
-real time count of customer presence
-percentage count of people walking by the store, the average visits to the store and the percentage of customers walking in and their purchase rates
-the average time spent in the store, reporting the busiest day and time
-real time heat maps and store busy periods analysis
-the preferred routes shown via footprint
-real sale rates of shelves located in the mid to lower range in stores and its sales targets
-with heat maps, placing personnel in the busier aisles of the stores to cater for the peak periods and customer needs
-managing personnel based on the busy periods of the store
-comparing the traffic, busy times and client frequency of chain stores and providing data and paying bonuses based on this
-digitalization of the entry-exit system of personnel
-informing management to control the store during peak periods
-to open up other cashiers during busy times of cashier use
-informing management of above normal peak periods
-inventory control
-start campaigns based on specific locations and its effects analysis
-to enable 'indoor navigation' integration of mobile application use
-based on location, enable mobile application integrated personalized messages to be sent
-analysis made on brands with a 'B2B' agreement and which firms have which campaigns
-to identify new locations of firms and an analysis list of ineffective branches
Benefits enabled to our business partners via system integration
Bonbon Technology has partnerships with huge firms like IBM and Turkcell and especially BonAir's continual development enables these worldwide accepted brands 'the best global application' to take place in solution integration. BonAir works in IBM's IoT platform in an integrated way and benefits from its cloud solution BlueMix and from the world's biggest artificial intelligence platform Watson; obtains support from the AI focused analysis and provides real time data like weather conditions, traffic and demographics, which IBM can enable better developed and targeted analysis on the data it owns. Bonbon provides data protection via a cloud based platform and holds its data anonymously via Amazon.
Examples of benefits provided via Bonbon's different integration methods
-due to the recent abnormal rain conditions in Istanbul, it provides its retail customers with notice of the rain conditions to come and suggests they put umbrellas in their shop windows. As a result, the store increases its umbrella sales by 150%
-providing chain stores with in-store customer behavior analysis and changing their shop fronts in order to attract and continually increase revenue
-providing chain stores with in-store customer behavior analysis and after changing its in-store layout and restoration, enables customers to spend 50% more time in-store
-after having an appointment with a doctor in a hospital, sending out a survey via a mobile application to the customer to obtain their satisfaction levels and see the increase in customer satisfaction results
-providing a detailed analysis of customers in an automotive showroom and how the sales person acted and treated the customer and the increase in customer satisfaction based on this.
Bonbon Tech's horizon at the beginning of its journey
I tried to explain to you what we do and how we develop technology, in which areas, on a technical level. Finally, I'd like to summarise Bonbon Tech's potential in short. We are talking about a technology which in areas of retail, health, automotive and tourism like industries and how cameras can integrate security and its important contributions. Bonbon, being the first representative of Big Data and IoT on a global scale, is attracting much attention. Our target is to bring Bonbon to an international firm scale.
I have many times before mentioned that I'd like to introduce a worldwide brand from Turkey as my main aim and objective. I won't be surprised if our youngest brand being Bonbon reaches success like our other brands EkoRE for renewable energy, Moka in the area of Fintech and in the field of CSO, Tider. I trust the team we have, are producing the technology to reach this vision.
Please continue to watch us in the areas we work in. Companies that are going to be sources of pride for Turkey are one by one coming to the surface.
Tag: iş dünyası