Cartagena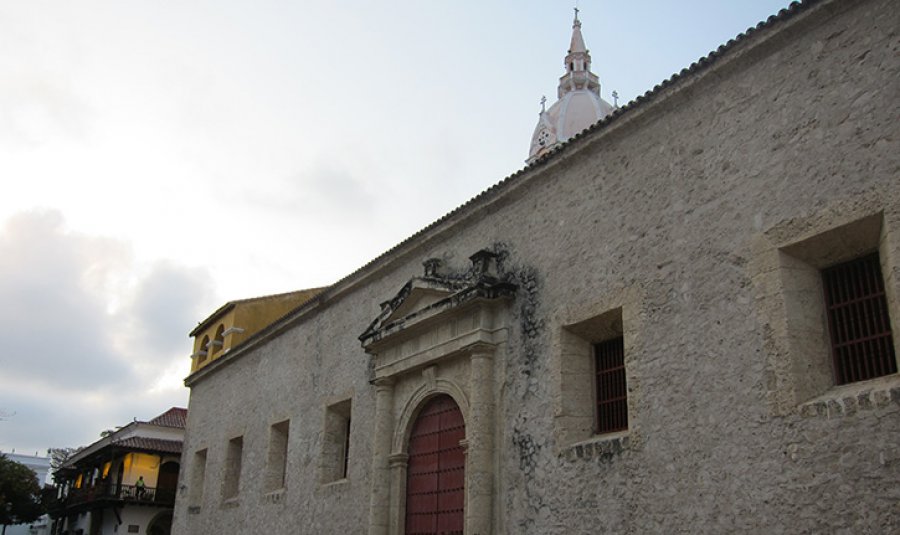 It was 2007, if I remember correctly, when I first went to Cartagena. I didn't want to miss the opportunity when my father asked: "I'm going to Colombia for the New Year holiday, come with me if you want to." It was the first time I heard the name of the summer city Cartagena of Colombia, the country I was really curious about.
Cartagena is a big city by the sea, north of Colombia. Until the Spanish came in 1533 to build the city and named the city after the Spanish city of Cartagena, dating back to 4000 BCE, Cartagena was inhabited by the natives. As I read about this city, I became more curious about it.
With his European group of friends, my father went to Cartagena. Two days later, I joined them as well. That year, New Years went considerably well. Two things happened in the New Year holiday in Cartagena which stayed in my mind.
We went to a Lounge Bar outdoors named Café Del Mar with friends. Café Del Mar is a great place of entertainment by the sea, located on the city wall. For you to picture it in your head, I want to share with you the pictures of it taken in daytime: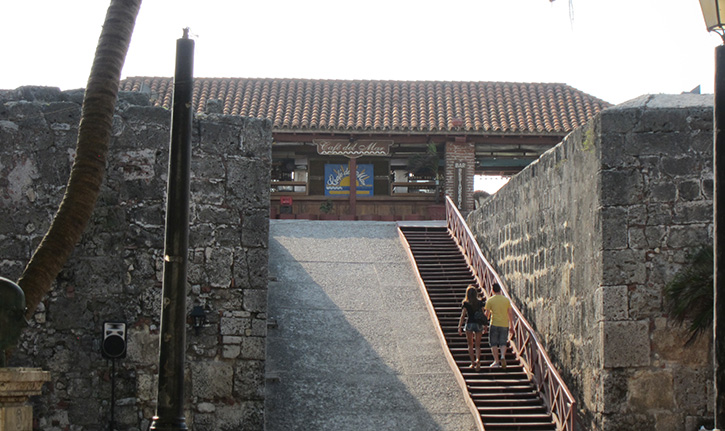 The entrance of Café Del Mar.
You have to climb the stairs to reach above the city wall.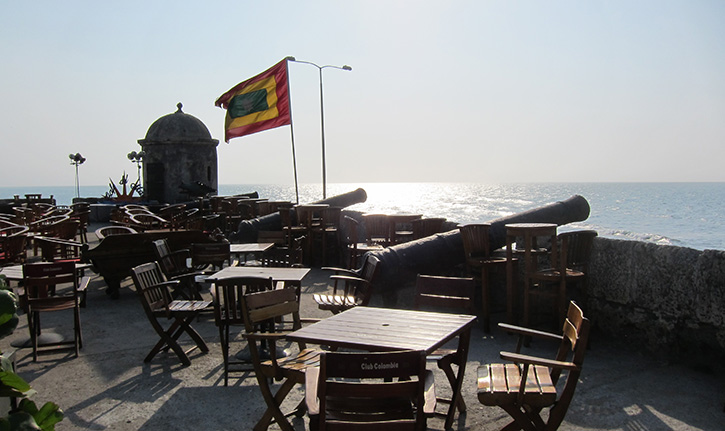 The view over Café Del Mar…​
While having a pleasant conversation with friends, an airy brunette at the end of her 20s entered the bar. When everyone in Café Del Mar stopped talking and looked at this woman, I couldn't help but asked my friends who she was. They told me that she was a very famous TV series actress and to joke with my friends, I asked them to go and introduce me to her, saying that a very famous actor came from Turkey to Cartagena and that he wants to meet her. The wife of one of my friends thought it was a great idea and stood up to go to her. It was too late when I said: "Wait a minute, I was joking, you don't have to say anything." She had already gone near her and later on she came back, smiling, to say that she wants to meet me. All in all, I found myself by this famous actress.
The following dialogue took place between us:
The Colombian Actress: How did you start your career on TV?
Serhan (after thinking how I could handle the situation as someone who can't lie): On TV about economy. (This was a fact. I had gone on TV many times for news channels about Economy.)
The Colombian Actress: Interesting. This is the first time I hear someone becoming an actor from TV about economy.
After saying these, we talked about many things from why I chose Cartagena to what I think of Colombia and Colombians. At one point, the wife of my friend came over to say that we were about to leave. I told her to give me five minutes and that I was coming right away. However, she insisted and told me, "We're leaving now Serhan," I said "OK" and said goodbye to the actress. Later on, they told me that this Colombian actress was very famous in Colombia but that she had a troublesome boyfriend and that this was the reason they had to cut our conversation. That night, the actress called the wife of my friend (they knew each other from before) and told her that she could organize a dinner where I'll also be present. To protect me, she told her that I was on my way back to Turkey and the dinner didn't take place.
The second thing I remember happened when the Cartagenans were gathered in a square, celebrating each other's New Year on New Year's Eve. Everyone was saying "FelizAños" to each other and telling their wishes for the coming year. In Spanish, the letter "ñ" corresponds to the "ny" sound. So, "FelizAños" is read "FelizAnyos." The positive energy was all over the place; everyone was hugging and wishing good things to each other. I got carried away by this atmosphere and wanted to convey my good wishes to others. To be able to communicate with all the Spanish friends around me, I wanted to do it in Spanish. I don't know how it happened, but the words "FelizAnos" came out of my mouth instead of "FelizAños." The entire crowd around me went silent in a minute. An elderly lady came by me and loudly said: "FelizAños, FelizAños no FelizAnos, por favor." The Colombian and American friends next to me started to laugh. It was obvious that I said something wrong. Since I couldn't understand what was going on, I asked the people next to me: "What did I say?" Laughing really hard, they told me that "Años" meant "years," but "Anos" meant "anus" in Spanish. I had said "Happy Anus" when I meant to say "Happy New Year." Frankly speaking, after understanding what I had said, I thought the Colombian lady was right in being angry at me. However, I didn't understand one thing: Most of the Colombians around me didn't speak English. Almost all of the new generation, well-educated Colombians spoke English, but the rest didn't speak any other language besides Spanish. This was the case in most of the places in Latin America. Jokingly, I told myself: "Serhan, you have to learn Spanish, otherwise you're going to get into some kind of trouble." When I turned back from that holiday, I signed up for Cervantes Institute and started to learn Spanish. Later, when I was appointed to Costa Rica Honorary Consulate, I realized that it was a right decision to learn Spanish. And of course, Spanish is spoken in 22 countries by over 500 million people. In at least 20% of USA, it's spoken as the mother tongue. I'm really glad that the barriers with the Spanish and the Latinos are lifted off. Latin Americans are so much like us. When we discard the language and religion differences, we live in a very similar culture with almost the same mentality. We have habits that are very similar to each other, such as our reactions from a Mediterranean point of view, our hospitability, rich cuisine, enjoying the moment etc. They are very similar to us physically as well. Whenever I go to Latin America, everyone thinks I'm coming from their country and they always speak Spanish to me. This was the case in Costa Rica, Colombia, Cuba, Brazil and Argentina. When I start answering in Spanish, they can't understand my accent and they ask me which Latin American country I'm from. It's always surprising for them when they learn I'm Turkish.
In the meantime, because of the uneasy atmosphere in our country, we're unfortunately rapidly becoming a tense, aggressive and intolerant society. It's possible to see its results in an article I read recently. The article said that the results of the Gallup International Global Barometer of Happiness were announced. In 54 countries worldwide, about 56 thousand people were asked how they felt in the last year. The results said that the ratio of the happy people to the total population was 53%, the ratio of the unhappy ones 13% and the ratio of those neither happy nor unhappy was 32%. According to Barem Research, who conducted the WIN/GIA Global Barometer of Happiness research in Turkey and interviewed with a thousand people, 40% of the Turkish population felt happy. The ratio of the Turks saying they were unhappy stayed at 17%, while ratio of those who said they were neither happy nor unhappy was 42%. The region of the Latin American countries had the highest rate of happiness in the whole world, with 78%. In Western Asia and Eastern Europe, where Turkey is, the ratio of happy people is 41%. This formed the region where the least happy people lived in. Do these statistics tell you something? Two societies, who are so similar to each other both in terms of character and in terms of physical appearance, one is the most happy and the other, the most unhappy. Considering that many people define the meaning of life as "living a happy life," we can say that somewhere, we're doing something wrong in our beautiful country.
As Cartagena, one of the most popular tourism destinations of Colombia, is a must-see place with its colonial architecture, city walls, warm people, music, dance and the rhythm of the city, I organized my second visit with great joy last month. I made my program so that I could visit two Latin American countries one after the other. After a very successful Costa Rica visit, I went to Colombia on the night of February 14 (Heaven knows why, I was traveling to Colombia from Costa Rica on Valentine's Day). This time, I went to Cartagena for a good reason. My friend Santiago was getting married with his girlfriend Sabina. Santiago is the son of Andrés Pastrana, Colombia's former President. The Pastrana family is very humble and they're very qualified people. I wanted to be next to Sabina and Santiago in this happy day.
First I took a flight from San Jose to Bogota. As my flight from Bogota to Cartagena delayed, I could arrive at Cartagena at 2 a.m. Ricardo welcomed me at the airport. Ricardo is the son of Gina Benedetti de Velez, Cartagena's former Mayor, and is a successful lawyer in Cartagena. They run one of the most important law offices over there with his father and brother.
I was in Cartagena after 6 years. When I entered through the city wall, I realized how much I missed this city and I thought of the pleasant days I spent here before. I checked in at Charleston Santa Teresa Hotel, one of Cartagena's most important hotel, one more time, but with one big difference this time: I was talking in Spanish with my friend Ricardo, the receptionist, the security, the bell-boy and everyone I encountered.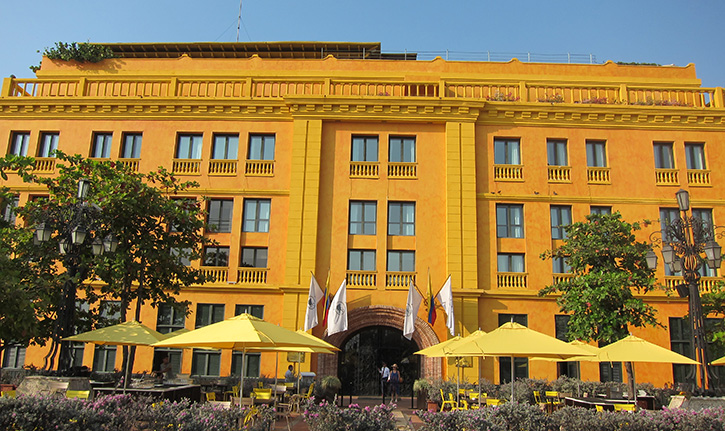 The outside view of Charleston Santa Teresa Hotel
The next day, after walking inside the city walls, we went to Cuzco Peru Restaurant with Ricardo. I enjoyed the seIected food of the Peruvian cuisine, which has a special place for everyone in Latin America. It was simply a feast. It's like when you eat very delicious food; you're full but you still want to continue eating…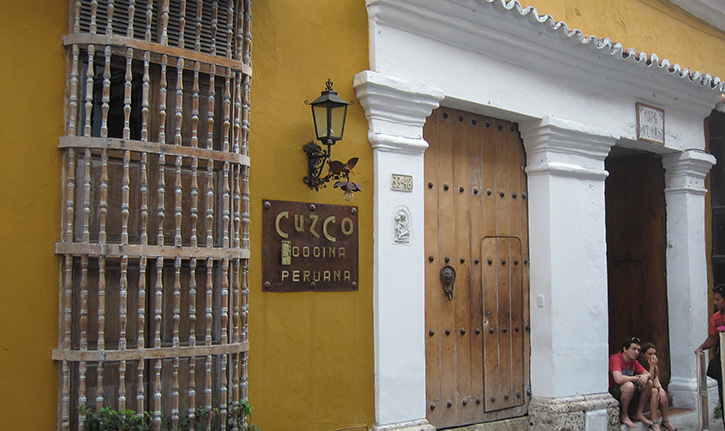 The entrance of Cuzco Peru Restaurant
After this feast, it was time to buy "guayabera" before the wedding, to fit the dress code. When I bought a guayabera shirt, white linen pants, light colored shoes and the remaining accessories from a store inside the city walls which Ricardo suggested, I was now ready for the wedding.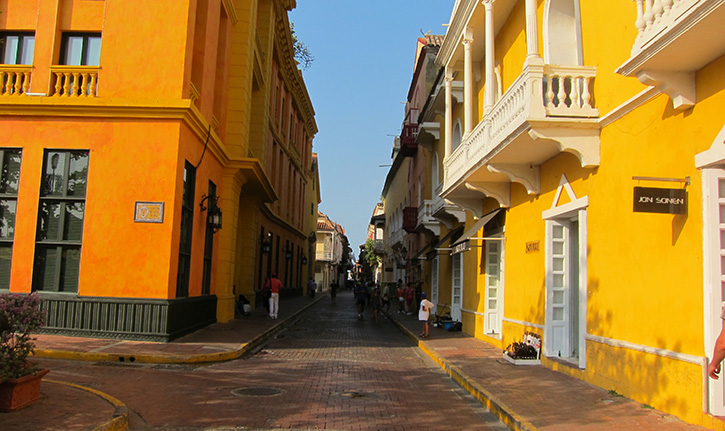 The store I bought guayabera
Later, I walked around in the Old City, meaning inside the city walls. Here are the streets of Cartagena: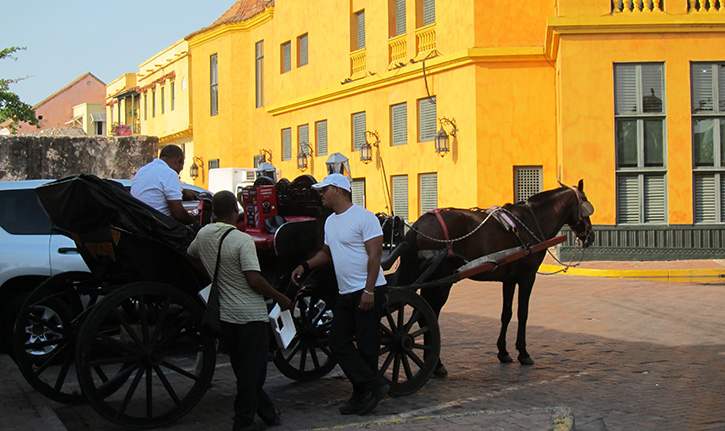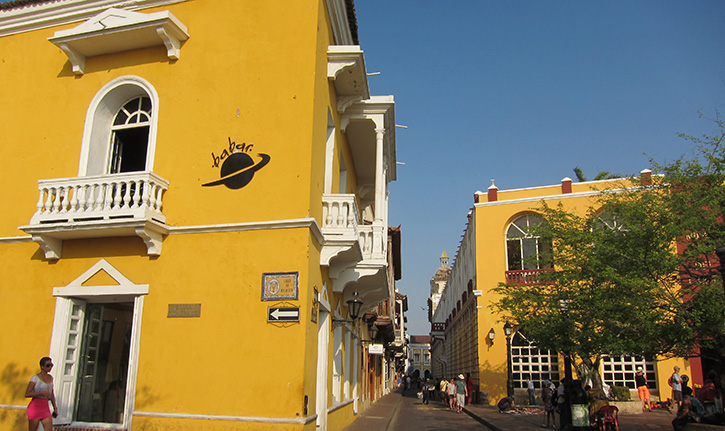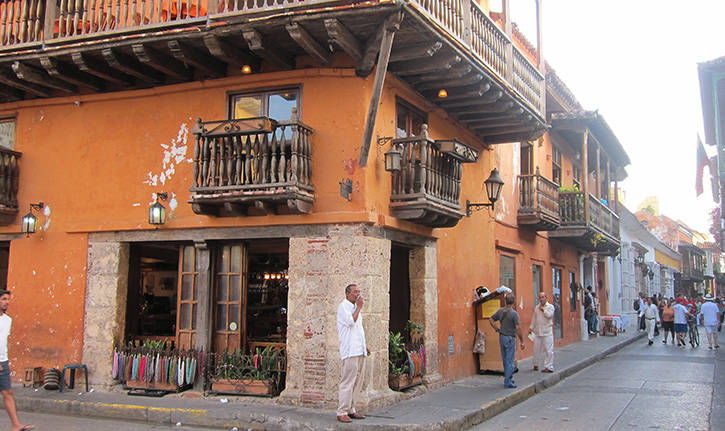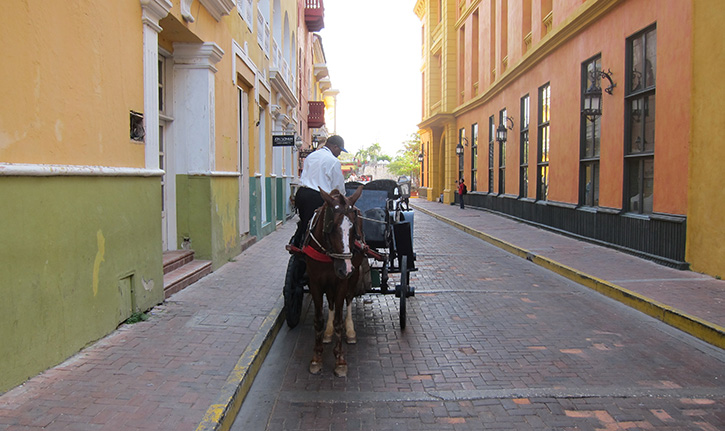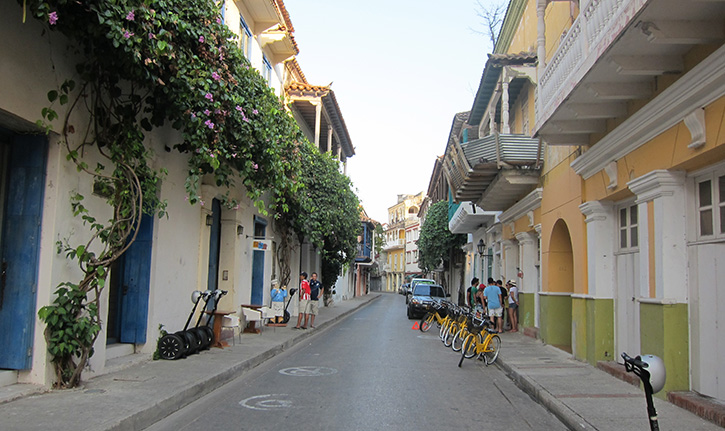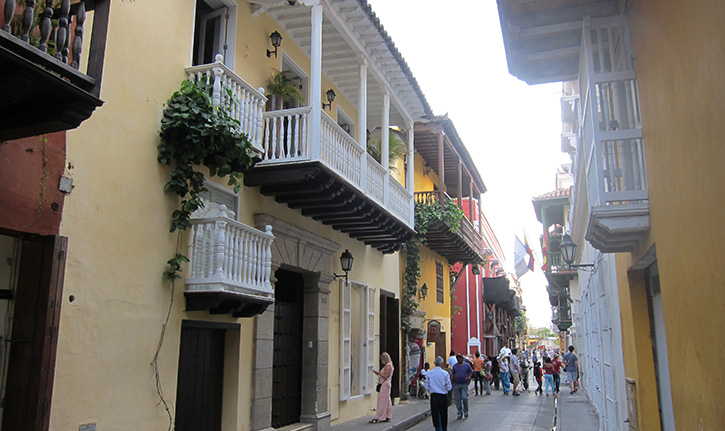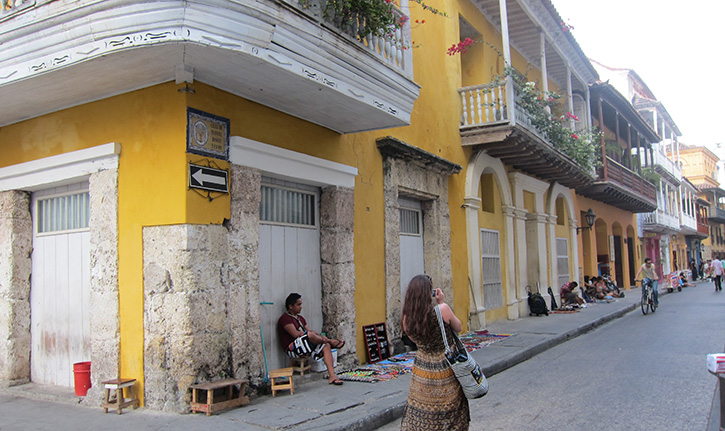 Before dinner, I attended the cocktail party of the Pastrana family. After this cheerful event to which guests from many different countries attended, I joined the Velez Benedetti family for dinner. We went to Café Del Mar first; it was nostalgia for me. Then, with a phaeton, we went to a Colombia restaurant inside the city walls. While enjoying the Latin cuisine, I was observing how this wonderful family held each other dear, how they enjoyed being together and their high family virtues.
The next day, Ernesto, from the Velez Benedetti family, took me to another typical Latin restaurant first. The restaurant was in a different part of the city and this time we ate seafood soup, shark, rice special to the Latinos and plantain (It's a kind of banana, but instead of the banana we're familiar with, the Latin Americans eat it like potato chips because they are sour in taste. They call sweet bananas female bananas and sour bananas male bananas). Here are some pictures from the restaurant: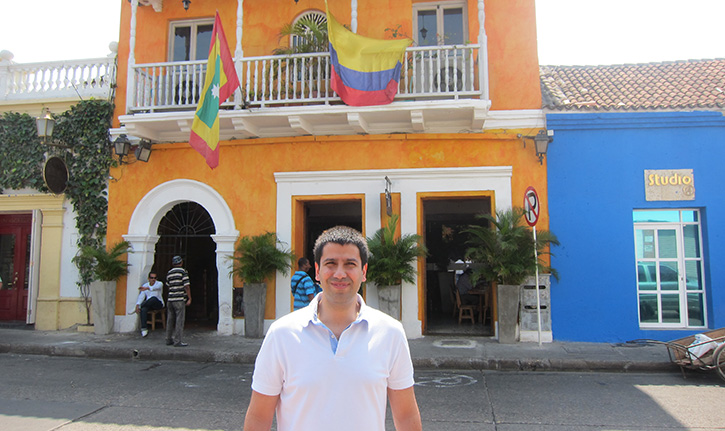 The picture taken in front of the restaurant​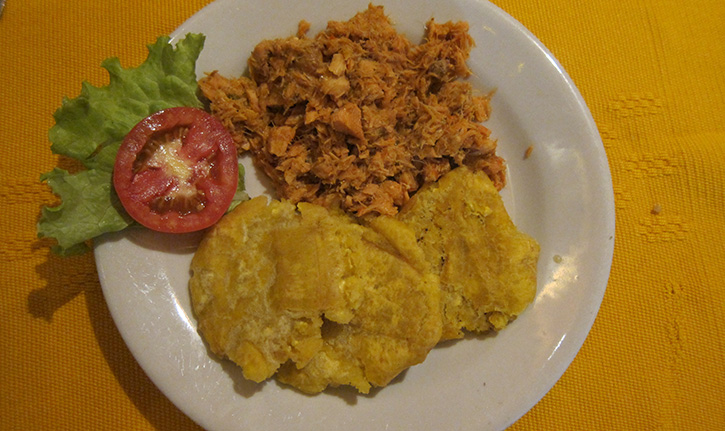 Shark (As you can see, it looks like tuna fish, but it tastes different) and plantain (it's tasty and tastes like potato chips)​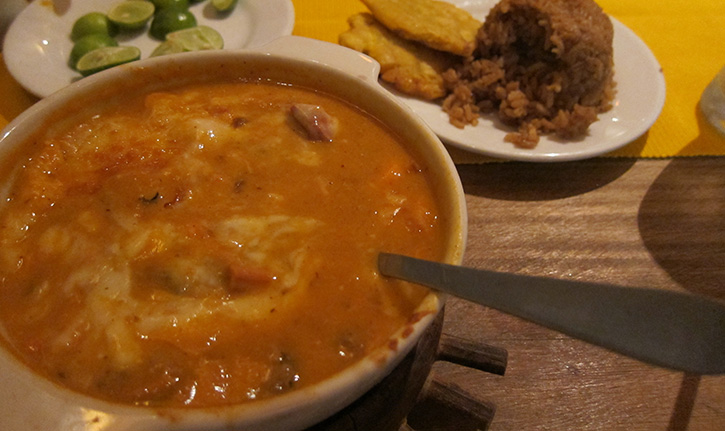 Seafood soup, rice cooked in Latin American style and plantain​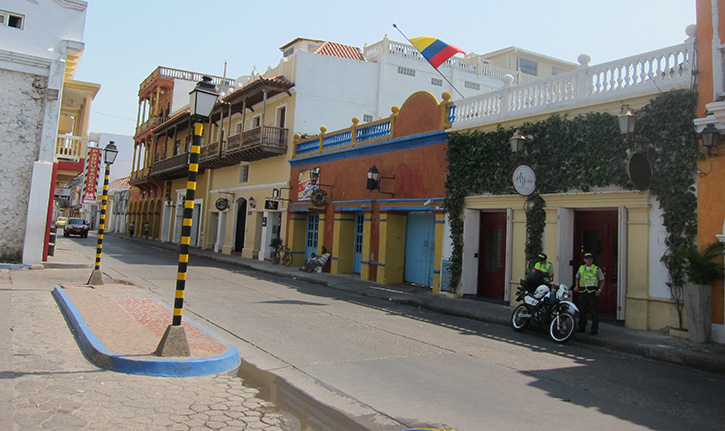 The street where the restaurant is located
After lunch, we went to the San Felipe de Barajas Castle together with Ernesto's wife Violetta, their son and a friend of their son. This castle has a big importance for Cartagena. The San Felipe de Barajas Castle is located on a hill at San Lázaro in a strategic location, where one can reach the city by land or sea. The castle was built by the Spanish in 1536 in the colonial era. With the historic center of the city of Cartagena, in 1984, UNESCO listed San Felipe de Barajas Castle as a World Heritage site. Since 1990, the castle served as a location for official social and cultural events, like the foreign delegations of the Colombian government, presidential summits and ministerial meetings. The castle is open for touristic visits. Here are pictures from my visit to the San Felipe de Barajas Castle: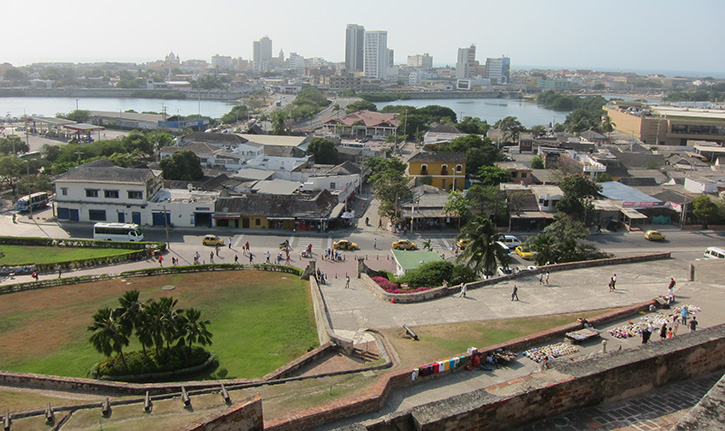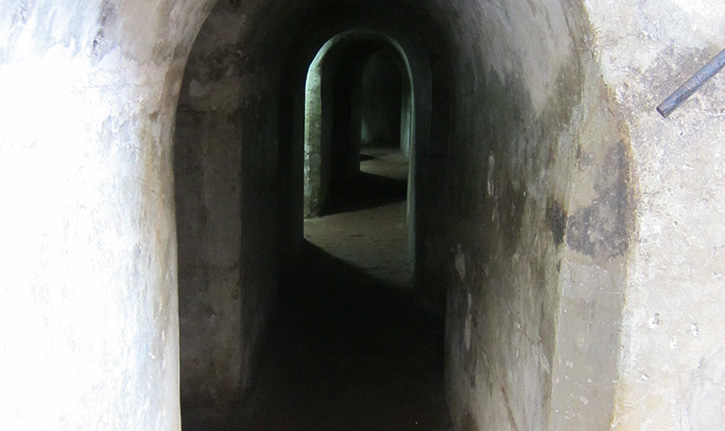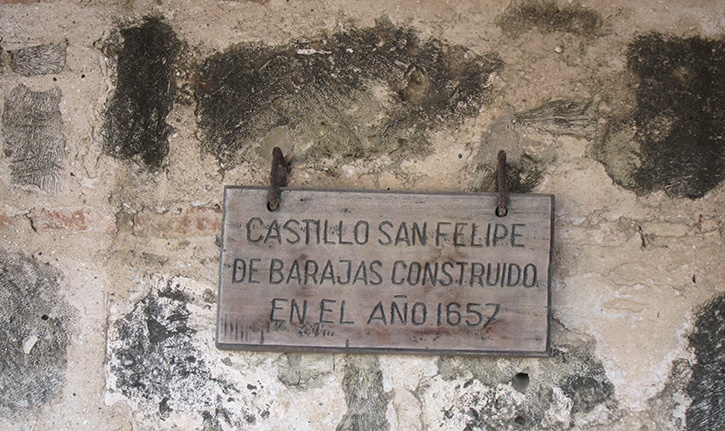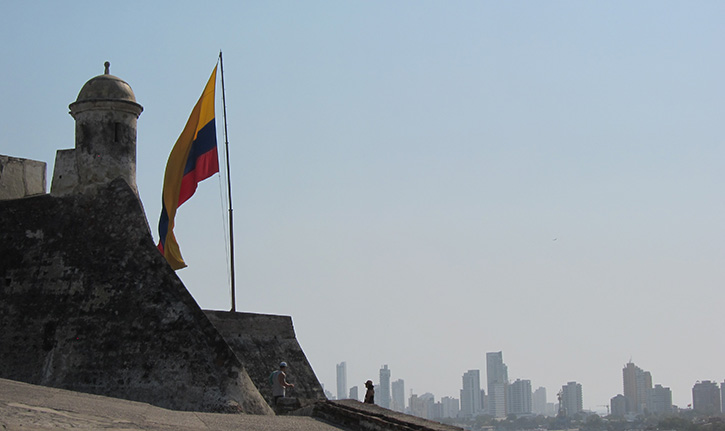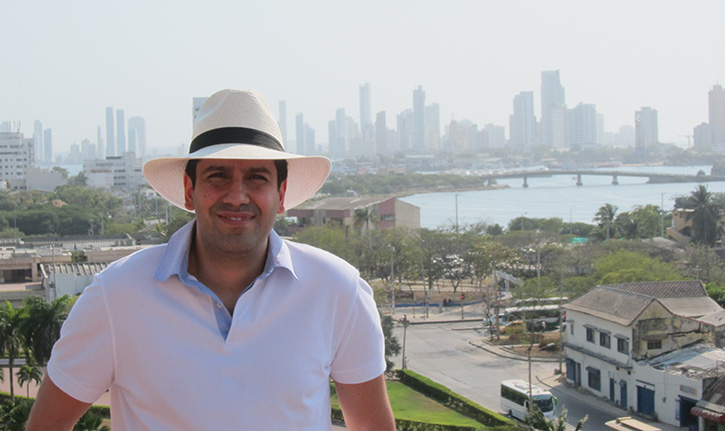 After the visit to the castle, I took the pictures of the city walls you can find below on my way back to the hotel:​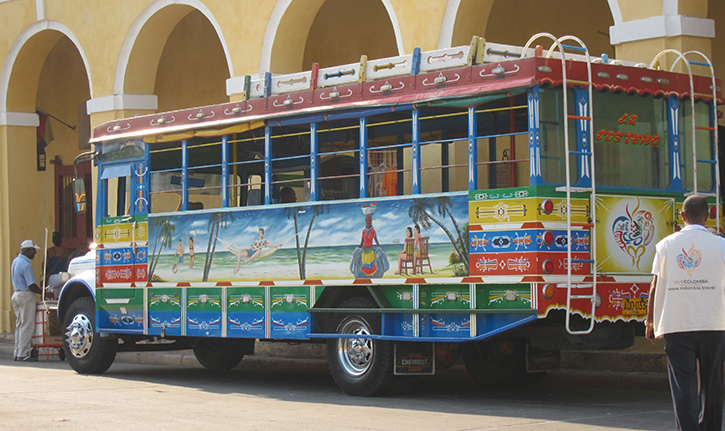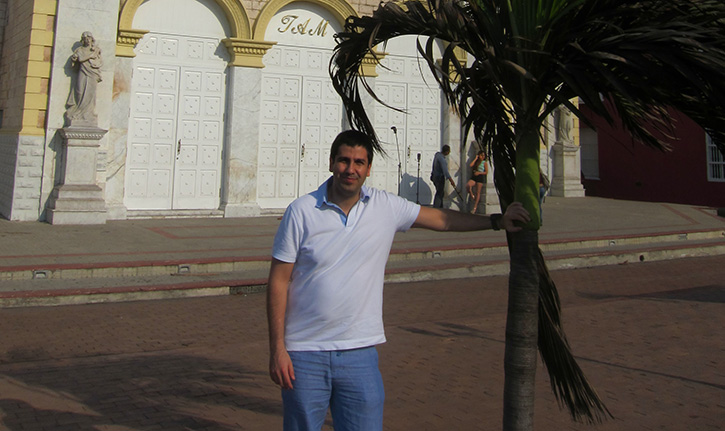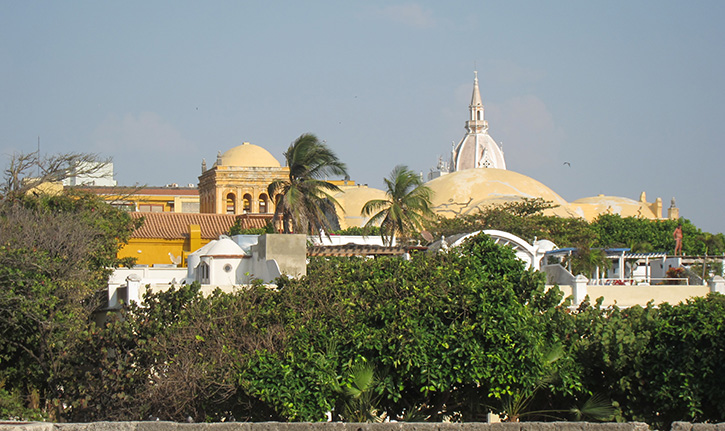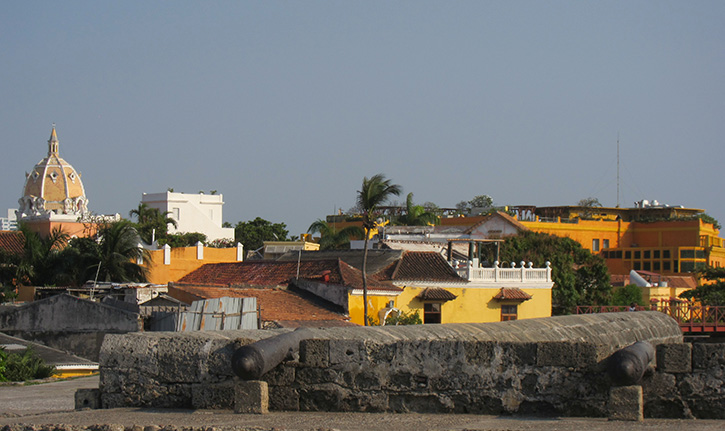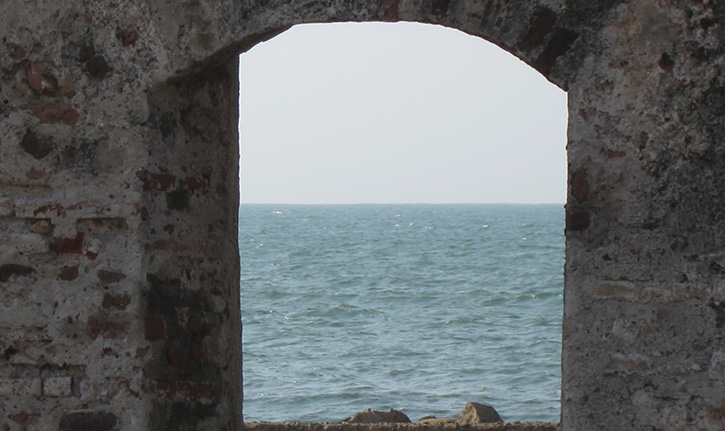 There was still time for the wedding when I came back to the hotel. I decided to walk around more inside the city walls and I took the pictures below:​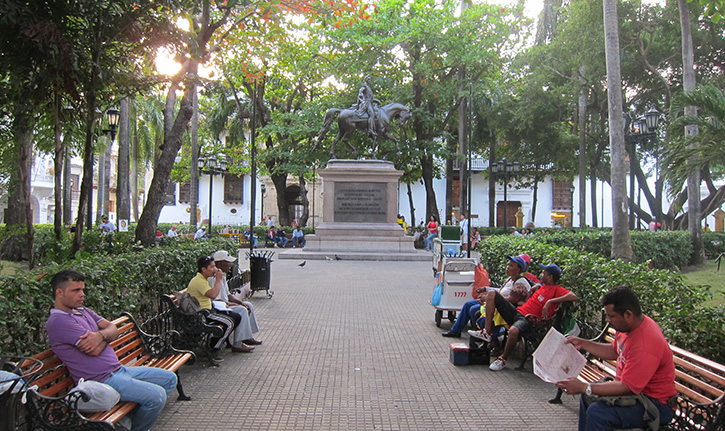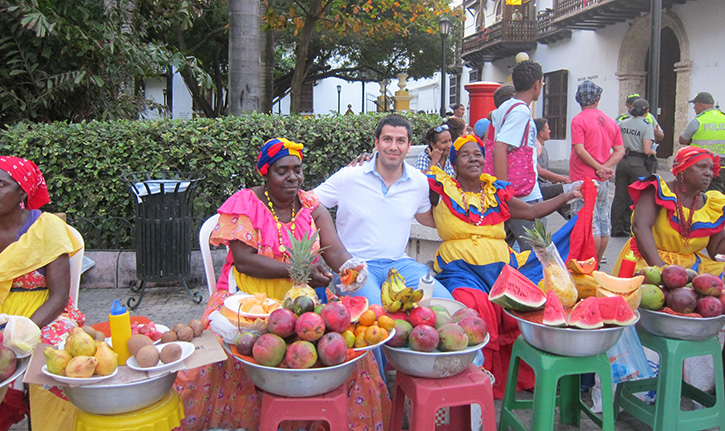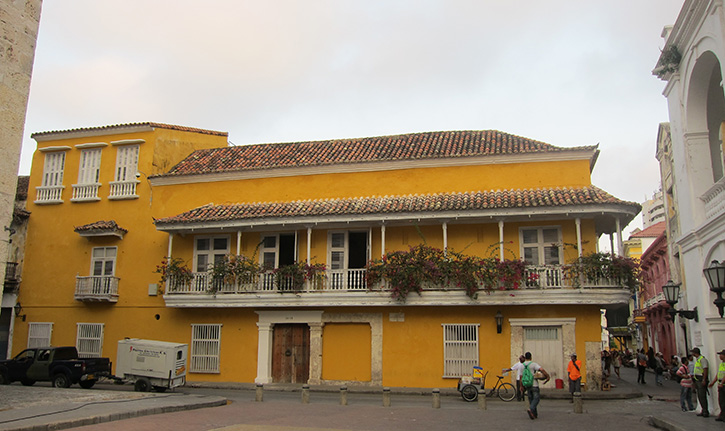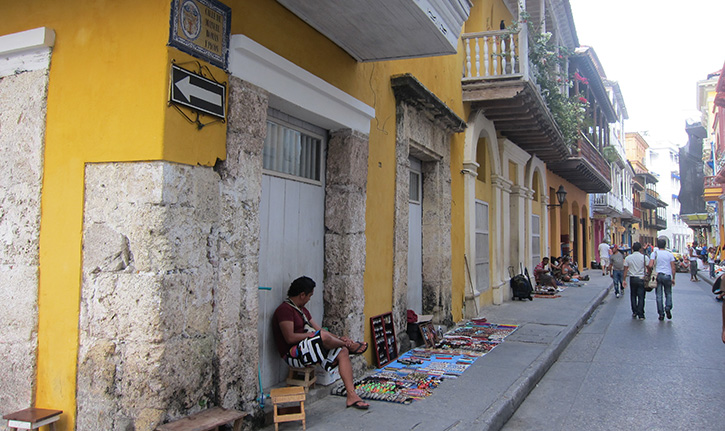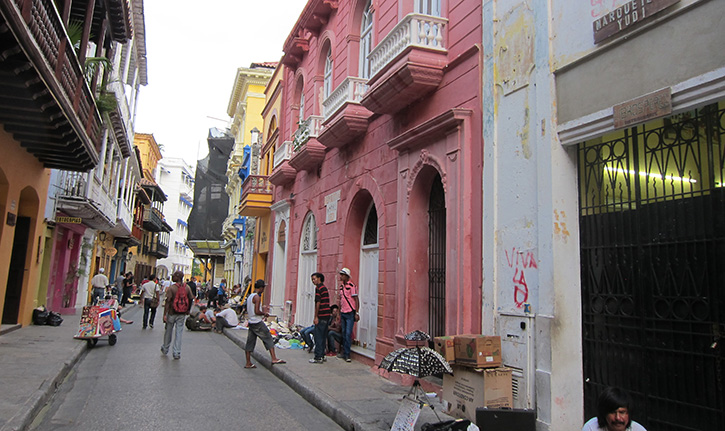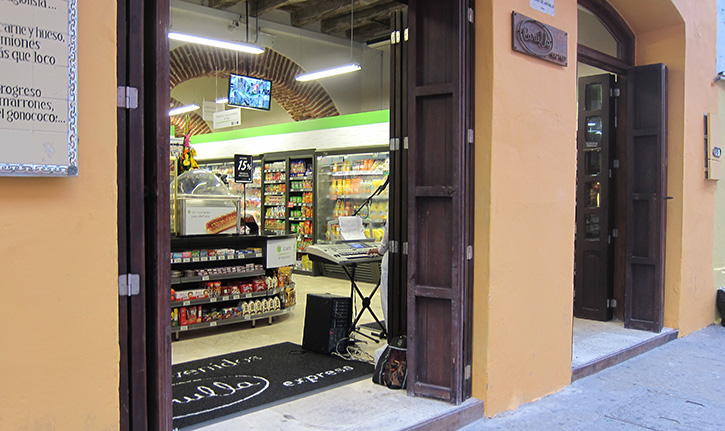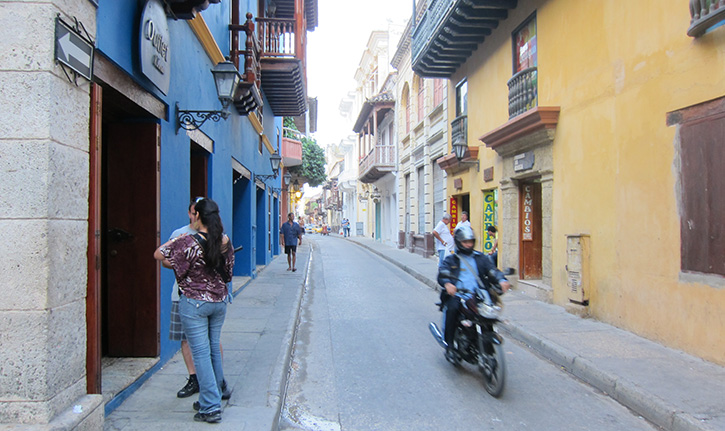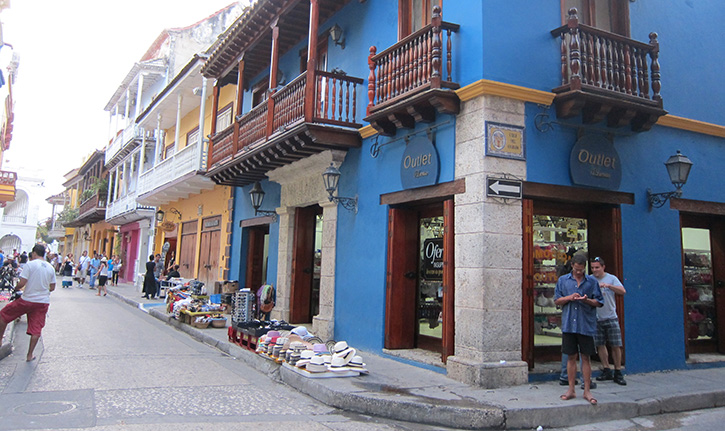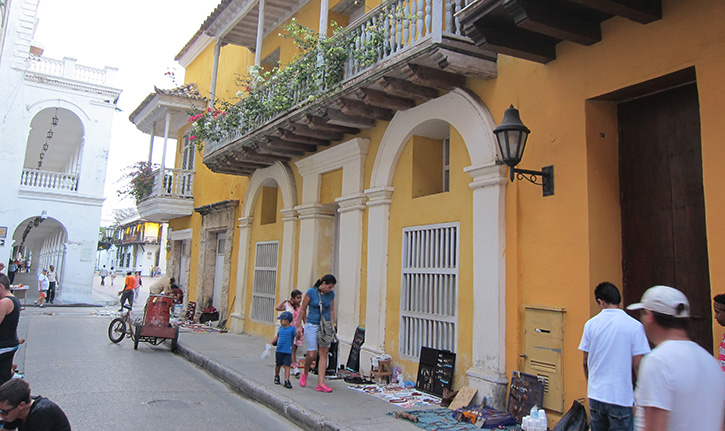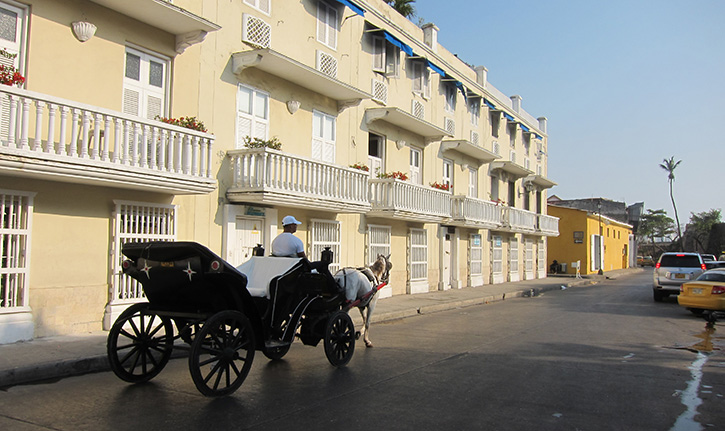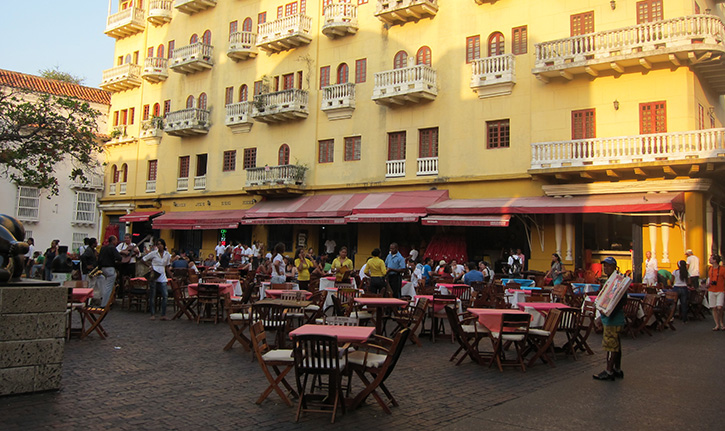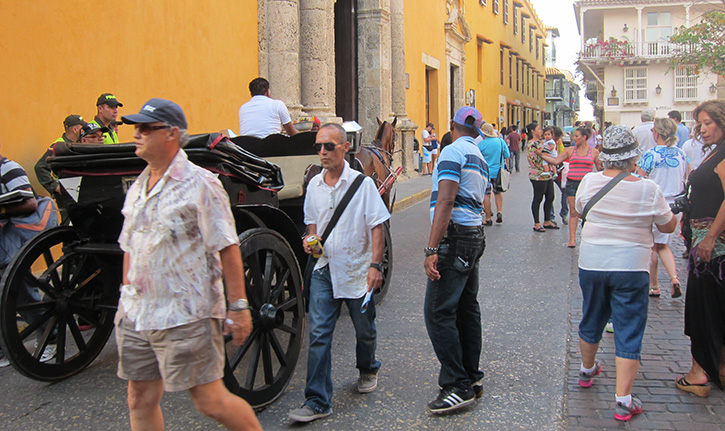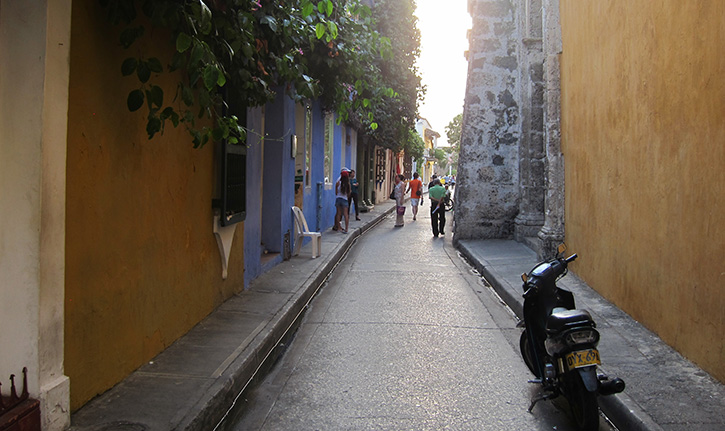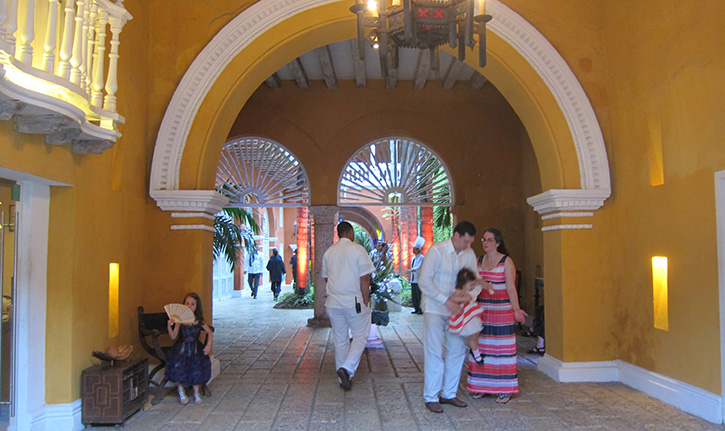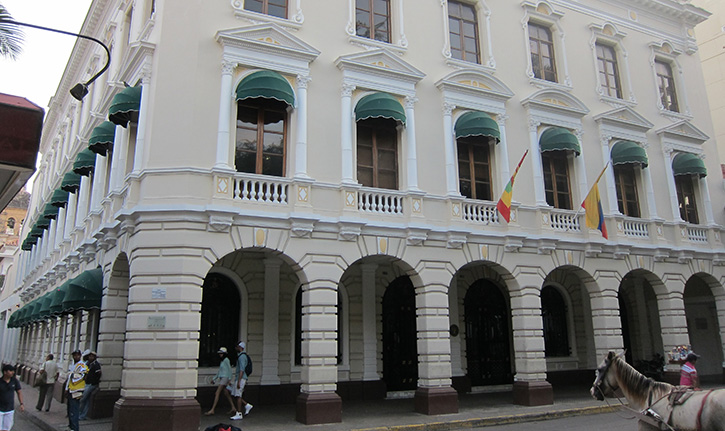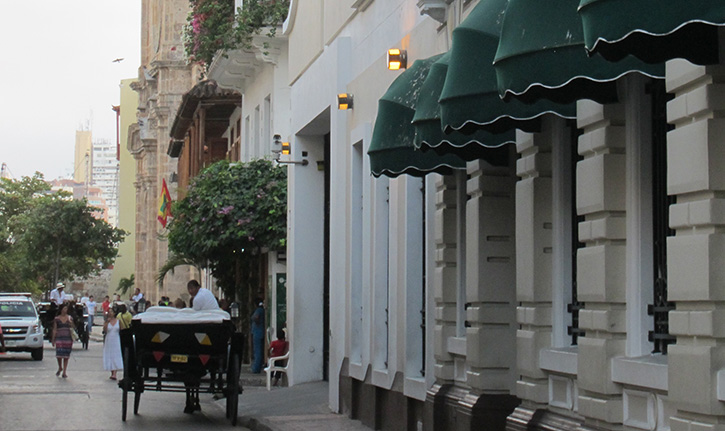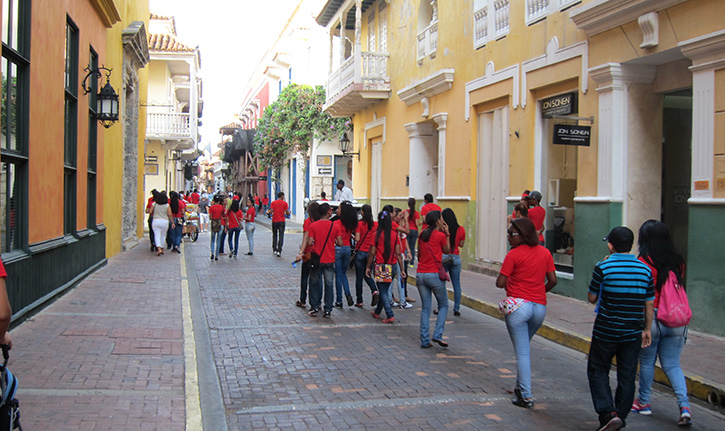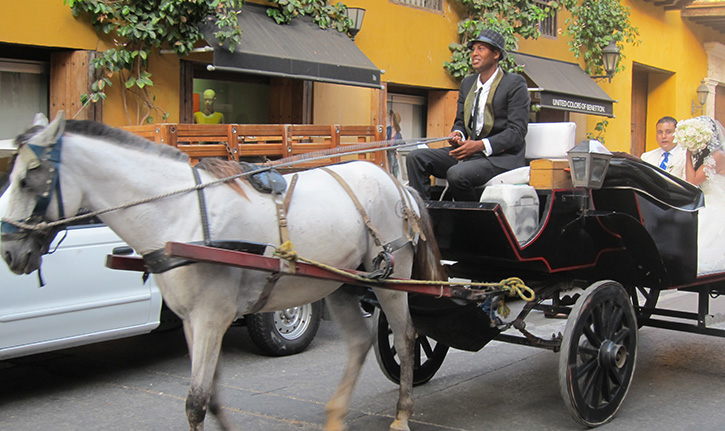 Have you ever seen a supermarket where there's live music? Here's a video of such a supermarket in Cartagena:
https://www.youtube.com/watch?v=CPH5U2RQxHo
To give you a better idea, I would like to share with you the videos I shot on the streets of Cartagena:
https://www.youtube.com/watch?v=-tu6onZ9kfw
https://www.youtube.com/watch?v=64irgd3namA
https://www.youtube.com/watch?v=Su59SYRKLAs
I came back to the hotel 2 hours before the ceremony in the church began and went down to the lobby when I was ready. When I saw Santiago, I went to him and we took the picture below one hour before the wedding ceremony: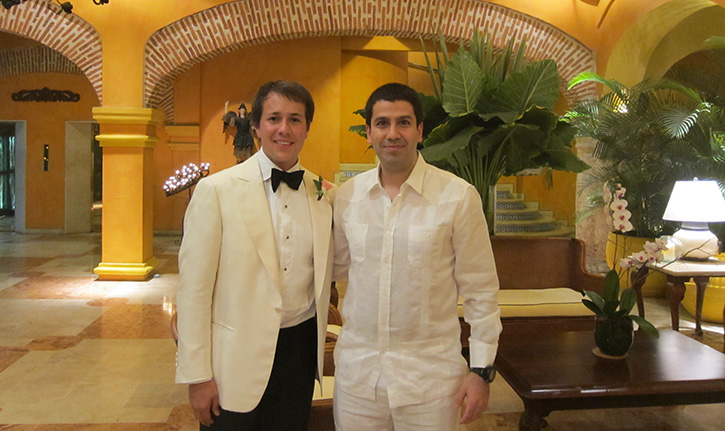 Later, we went to the church with the minibus of the Pastrana family. There was a good ambience inside. The orchestra located at the corner completed this mystical atmosphere. After waiting for half an hour, first the groom, then the bride entered, accompanied by their families. Here's the beginning of the ceremony:
https://www.youtube.com/watch?v=3Rrkt48l-Eo
After the ceremony in the church and the marital ceremony, it was time to have fun. In another wonderful place on the city walls, dinner left its place to an entertainment that would last until the first lights of the morning. Here's the short video (actually, we wanted to take a picture) of me, my sympathetic friend Santiago and his wife Sabina:
https://www.youtube.com/watch?v=oYH9x92t3ew
Just like how everyone jumps on the dance floor and starts dancing and belly dancing after the dinners at the weddings in Turkey, the Colombians, like other Latinos, jump on the dance floor and perform Latin dances like salsa and merengue very well. Once again, the Latin Americans showed their mastery in dancing, having fun and enjoying the moment. There was a magnificent atmosphere. The music was great. The Latinos, who are at the top of the World's happiness index, showed me once again that this was not a coincidence. There was no trace of those who act like big shots, the pretentious types or those who act as if always criticizing others. Everyone was there to have fun, enjoying the moment, without thinking what others might think of them. Including me…
The next day, it was time to turn back. I was sorry. I landed to New York from Bogota. While I was getting my boarding pass from Turkish Airlines, a 'big shot' coming from behind put his arm in front of me, his green passport on the counter and said to the officer who was about to give my boarding pass: "Hey, look here. Do you know Turkish?" The officer, surprised, said yes. Then he told her: "This woman doesn't understand what we're saying, she doesn't know Turkish, explain to her what we're saying."
Until that moment, I was in a very cheerful mood, with the Latin music from the previous night playing in my head. In 30 seconds, I left being a Latin American aside, became a pure Anatolian boy, looked daggers at him and said: "Right now, my boarding pass actions are carried out. Get in the line and say what you're going to say when it's your turn." Just when he was about to frown and say something inappropriate (I was keeping my guard), the officer carrying out my process stepped in, called for her superior so that her superior could intervene. Then he told he was sorry and gave me my boarding pass right away. After thanking the officer, who I understood to be Azerbaijani, I left. This jolted me out of my Latin American mood. I was on my way back to Turkey…
Tag: anı