Color Sky 5K Run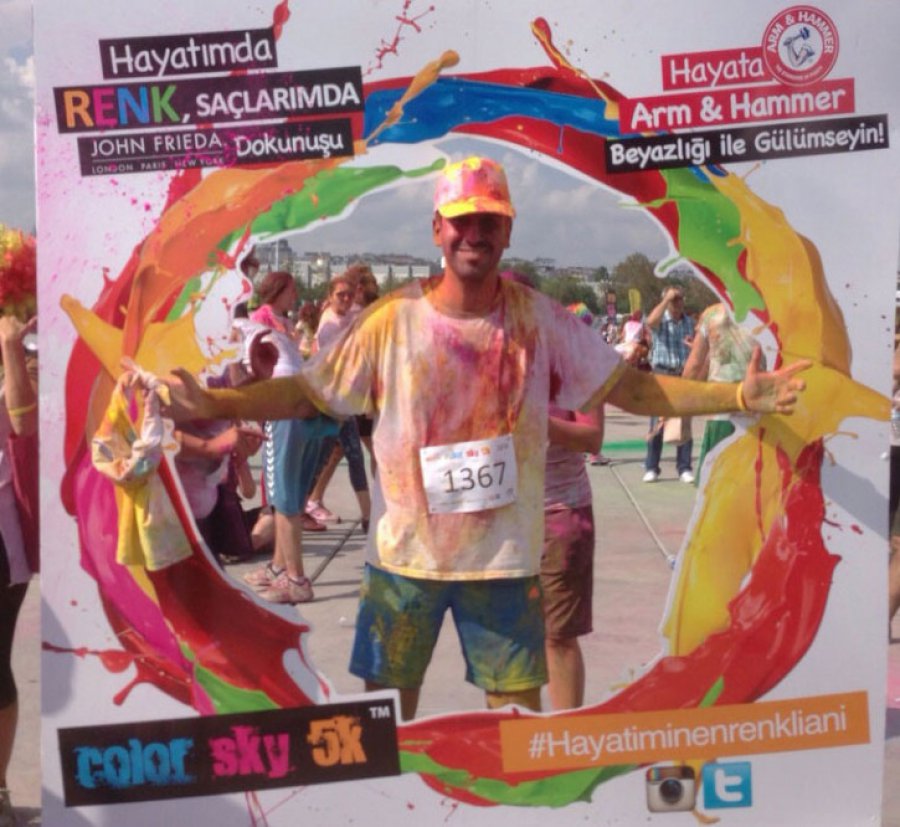 A colorful run, the joy that comes from having fun and giving back… I had a memorable experience last weekend, even if it did take some time to get rid of all those colors.
I've recently been participating in fun runs organized at weekends. It was an e-mail that tipped me off about the "Color Sky 5K." This fresh concept immediately got my attention.
First organized in America and subsequently held round the globe, this 5 km run is now being organized in cities across Turkey, chief among them Istanbul, Ankara and Izmir. Press releases described a colorful festival, emphasizing the fun participants of all ages and sizes would have as they completed the course at their own pace, either walking or running.
One of these runs was being organized at Istanbul City Park in Yenikapı. Prior to the race you're supplied with a white T-shirt, or you bring your own. At each of the 1k marks participants are doused with colorful powder made of 100% corn starch, and you end up crossing the kilometer painted a vibrant kaleidoscope.
The best part of all was that 5% of the proceeds from the race were to be donated to the Association for Solidarity with the Physically Challenged, known by the Turkish acronym BEDD. Post-race, the fun would continue with music.
It ticked off all the boxes and sounded like my kind of race: support for a leading charity, sport, fun and music. What more could I ask for?
I registered on the spot.
On Sunday, September 14th, I took a taxi to the race venue. Interestingly, my driver had no idea where the Yenikapı City Park was, and when he rolled down the window to ask another taxi driver for directions, that guy didn't know either. We ended up taking a turn when we saw a sign for Yenikapı. I got out and went straight over to the stands to buy a hat, intending both to generate a little revenue for BEDD and to keep my hair from getting painted. At just that moment, they announced that BEDD Chairman Kemal Demirel Bey would be making a speech. Here's a link for more information about Kemal Bey: http://www.bedd.org.tr/?p=hakkimizda&id=8.
It was a welcome coincidence. I'd met Kemal Bey just a few days earlier at his association headquarters, where I'd told him about our efforts after the mining disaster in Soma, and asked him to help in the care of two sisters named Didem and Sinem Uslu, who live in Elmadere village in Soma and are both afflicted with a genetic disorder.
In his pre-race speech Kemal Bey told us that there are 9 million physically challenged people in Turkey. He said BEDD were increasing their activities to support these people and to enable them to integrate more fully in society, and he thanked everyone who has contributed. He ended his talk by saying everyone should appreciate how precious good health is.
The music struck up the minute the talk ended, at which most people started dancing or painting each other. Even before the run began, people began opening the bags of colored powder we'd been given, pouring the powder over themselves and each other. We slowly gathered at the starting line. At the signal to start I began running at a medium pace, picking it up after about half a kilometer. The focus wasn't on race times, though; it was on having fun. As I joked with the nearby runners I got walloped with colored powder at the 1 km mark. And when I say "walloped," I mean just that. There were four people charged with the "color throw." I got past the first, then the second and third, before someone said, "He's still white as can be," and a handful of purple dust was flung at my face. I can't say I enjoyed this – my first – experience. Purple dust went into my eyes, my ears, my mouth and every pore of my face! "Why didn't they throw the powder at my T-shirt?" I muttered to myself as I tried to wipe the powder from my eyes so I could see what was in front of me. But I was soon back on track and as motivated as ever. When I noticed that some other participants had googles and earplugs I promised myself to do the same at my next run. I reached the 2 km mark I knowing to shut my eyes tight. I passed through a cloud of yellow powder, then one of green at the 3 km mark and red at the 4 km mark, before, at about 300 meters from the finish line, I spotted a friend. He was late, and was starting the race just as I was finishing. I jokingly told him to hurry up and warned him to close his eyes when he was doused with powder. Then I crossed the finish line and joined the others a little further along, where music was playing and we were greeted by streams of color blown through nozzles. Eventually, I met up with the friend who'd come late and we threw ourselves into the festivities. The pictures below are worth a thousand words:
http://colorsky5k.com/portfolio-type/2014-istanbul-kosusu/
Here are some of my photos: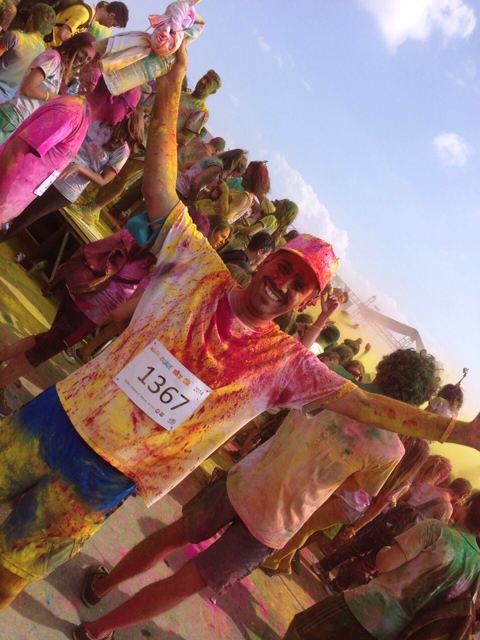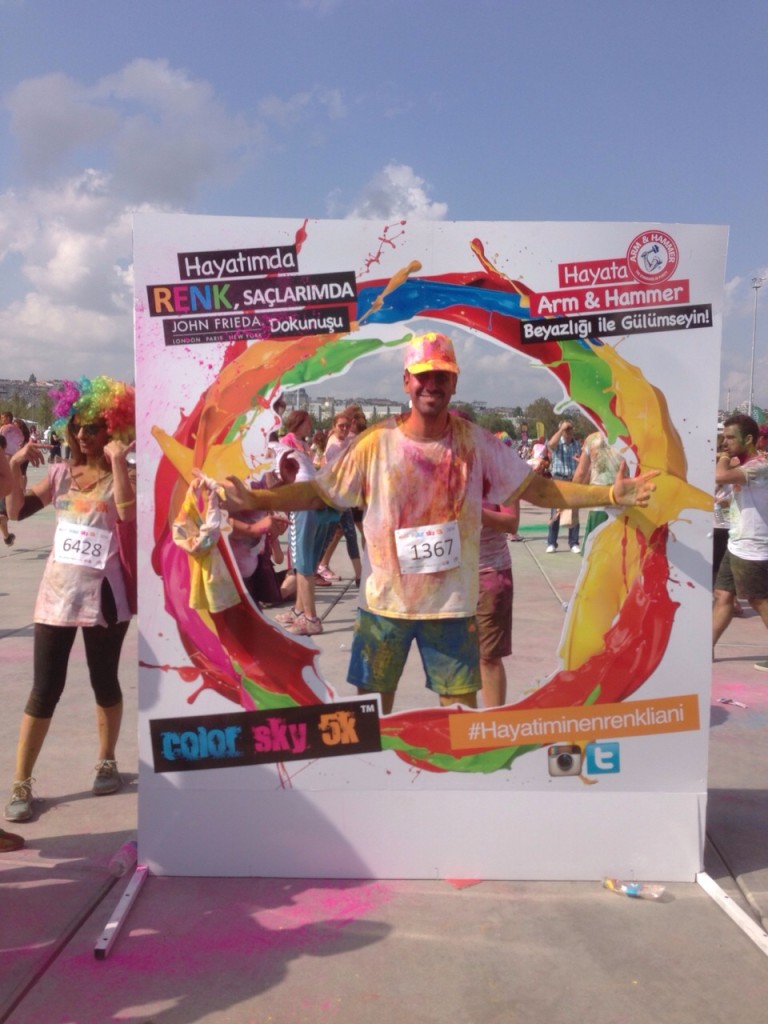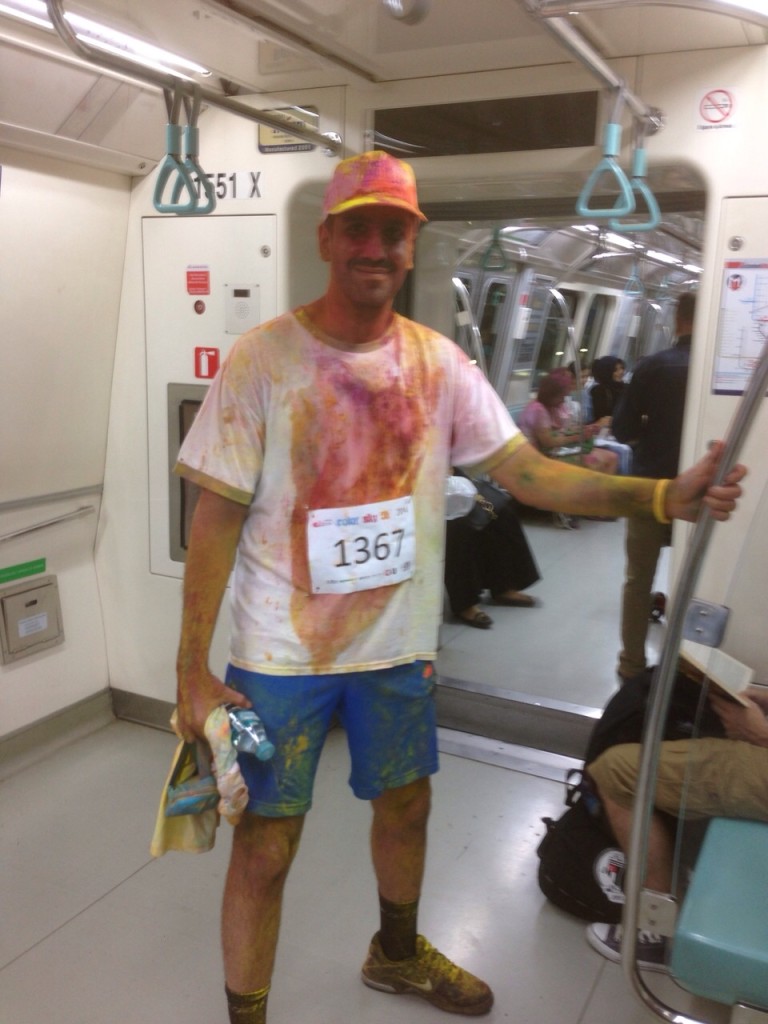 The funniest part of the day was the return home. Covered in gaudy powder, my friend and I got on the metro, where we were the center of attention. Some took pictures, others pointed and commented, while some spun round for a second look. I jumped in the shower the minute I got home. I had to lather up five or six times and shampoo my hair two or three times to get rid of the dye. Finally, I was color-free, except for a few stubborn stains here and there.
I stepped out of the shower, shaved and washed my face a few more times. Satisfied I'd done all I could, I made my usual Sunday visit to my family. The funniest reaction came from my father. "Son, have you been punched in the face?" he asked. I started laughing, then I told him, my grandmother and Baran all about the "Color Sky 5K" run. I also showed them the photos I'd taken to give them a better idea of the concept behind the event.
Finally, after some more lathering up and a long shower the following day, all traces of the dye were gone. All, that is, except for some purple in my ear that lasted throughout my five-day business trip to Croatia. A week later I was back to my normal color at last.
I have no regrets, though. I contributed to BEDD, did some sport and had a blast. In fact, it was so much fun that I'm even considering registering for the "Color Sky 5K" scheduled for İzmir on October 19th – but fully equipped with goggles, earplugs and a hat this time. In nay case, I was planning on visiting Manisa and Izmir that week for a business trip concerning our renewable energy and social responsibility projects in the Aegean Region.
Tag: sosyal sorumluluk