Congrats to Kartal from a Galatasaray supporter!
In line with my preference for keeping my blog topical and with an eye to current events and recent happenings, I've decided to write about Beşiktaş' championship win this week. I plan to write the second installment of my piece on the United Nations next week.
First of all, I, a staunch Galatasaray supporter, extend my heartfelt congratulations to Beşiktaş. I consider Beşiktaş to be a sister club, with about 70% of my family Galatasaray fans, 20% Beşiktaş fans, and the rest supporting Fenerbahçe, Trabzonspor and Gaziantepspor. What's more, Beşiktaş' stadium and Galatasaray High School, the birthplace of the football team of the same name, are in neighboring districts, making them the fraternal twins of Turkish football.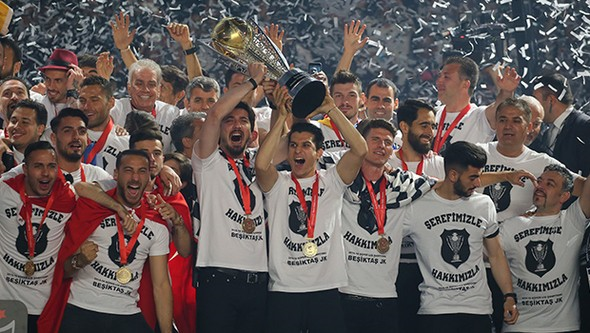 This great success was achieved under the stewardship of Şenol Güneş, whom I've often said is one of the finest technical directors Turkey has ever had. I've already written that it is no coincidence that he led Turkey to third place in the 2002 World Cup, that the South Korean team he managed won back-to-back championships and that he overcame adversity to work wonders with Trabzonspor.
Let me also congratulate Beşiktaş on their beautiful new stadium, the inauguration of which was crowned with their winning the championship. As the owners of the building located directly behind the stadium, we joined in the celebrations by illuminating our building with a special black-and-white LED color scheme the evening of the inaugural match. It was a striking sight. You can find more news on this in the article by Gökhan Karakaş that appeared in Milliyet.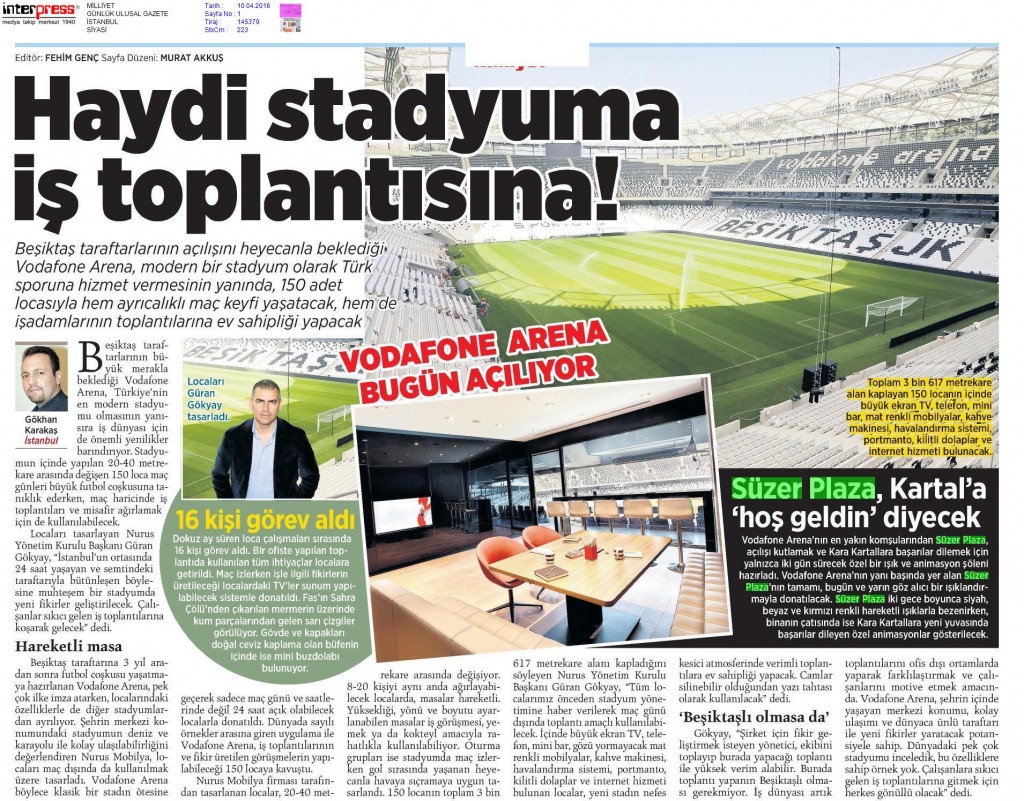 I'd also like to share a photo of the championship celebrations in which Süzer Plaza also appears.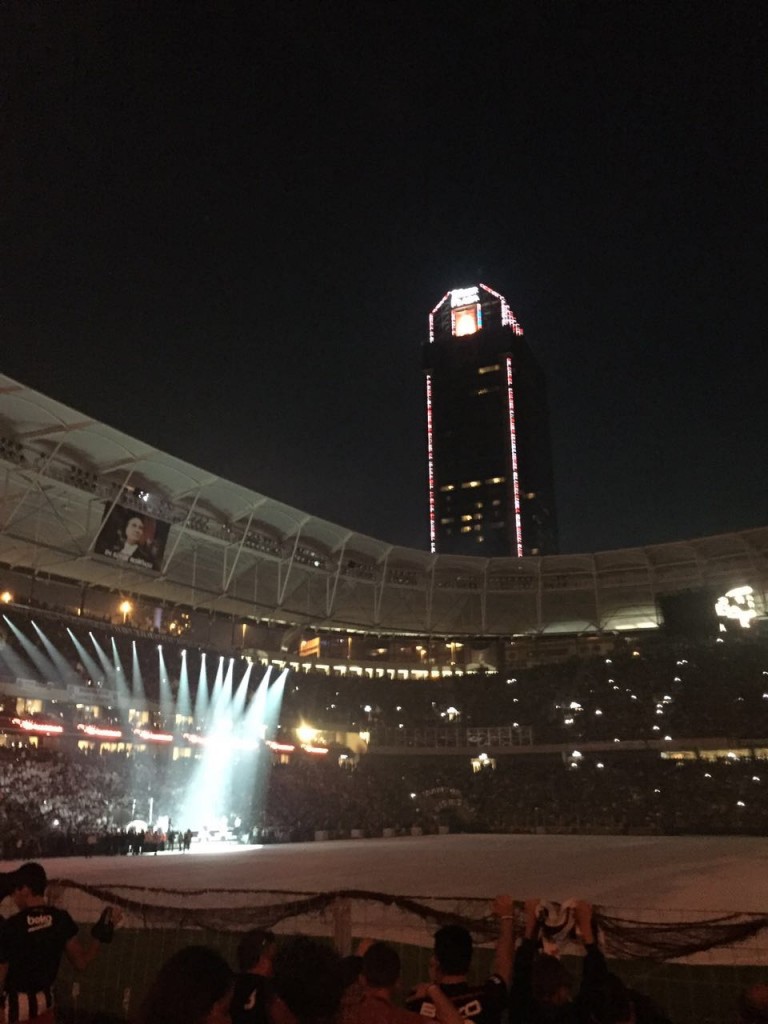 Max Zanard, the general manager of the Ritz-Carlton while Beşiktaş' stadium was being constructed right in front of the hotel, initiated an interesting tactic to deal with the blowback. While we were pleased that the construction company worked day and night to complete the stadium on time, the associated noises echoing inside the hotel was provoking some serious complaints from our guests. The hotel management responded by placing a card written by Zanard in each room. "You are witnessing history," it read. The Italian manager wrote about how important a club Beşiktaş was and what it mean to them to have a new stadium. The construction site visible from the hotel windows was described as "history in the making."
Max, who has a Turkish wife and has lived in Turkey for years, understands and appreciates the people of this country. He is fluent in Italian, Spanish, English, Portuguese and Turkish. What has contributed most to his becoming such a valued and effective manager is the fresh perspective and sense of aesthetics he brings everywhere he goes. I met Max over 10 years ago when he was the food and beverage manager at our hotel. He went on to work at a number of different positions at various hotels in the Ritz-Carlton group, until he finally came back to us as the general manager. But would Max's bright idea about the card work? I can say that it did, that it increased our guests' tolerance levels and seriously reduced the number of complaints we received.
Getting back to the subject of Beşiktaş, can we say that this championship represents a happy ending?
I think Beşiktaş still has a long way to go. Past deeds are in a sense a down payment on the future. The club has bother its admirers and its detractors, but all most agree that Beşiktaş Chairman Fikret Orman, the executive board and the team have done an outstanding job. They did what they needed to do with minimal errors and Beşiktaş is now heading for better days.
That isn't to say that everything is a bed of roses. If you ask me, there are some critically important things Beşiktaş must do. I present them below, item by item:
Creation of a model team in all aspects: Management should seIect teams that correctly represent the spirit of sport in all areas, improve national morale and set a good example for society. To do so, they need look no further than their former chairman, the great Süleyman Seba. His sterling character is a shining example for all. In order to create a sports club that also set an example in all ways, I suggest taking the following actions (this applies to all sports clubs, not just Beşiktaş):

Principles should be adhered to and tolerance should not be shown for even skilled players such as Gökhan who have the potential to behave contrary to the norms of sportsmanship.

There should be no repeats of conflict ridden general meetings. Beşiktaş is better than that. It is up to Beşiktaş Chairman Fikret Orman to ensure it does not happen again.

Cursing, fighting fans should be barred from the stadium. Like everyone else, Beşiktaş supporters love to have fun. That's normal and part of what makes sporting events enjoyable. However, fans who arrive drunk are liable to trigger unpleasant events inside the stadium. It should be emphasized that they will not be tolerated and that the stadium is a place where families too can come and watch the matches.

Matches are often immediately followed by efforts to blame the refs and to shape public opinion. That kind of behavior harms Turkish sport.
Improvement of the team's financial situation: For Beşiktaş, as well as for the other teams, this is the most important problem, in my opinion. Team continuity and sustainable success are only possible if finances are in order. Beşiktaş is criticized in general terms for being in debt to the tune of over TL 1.3 billion. As someone in business, I can't help but wonder what kind of juggling is going on to get this debt cleared, and I consider it essential that the necessary measures are taken immediately. I understand that the team needs increasingly larger budgets in order to be successful and to grow, and that they may even need extra recruits for next year's Champions' League. Even so, the budget needs to be balanced through wise management. I don't normally criticize unless I am able to suggest a solution. I have in mind certain useful and creative measures that can be taken to get the team out of the red. I've also found it odd that a sports club supported by millions can find itself in financial straits. Sports clubs need better management. In the past, any number of my ideas and business models were stolen by others, for which reason I will not share them here. If Galatasaray finds itself facing tough times and wants my assistance, I would be happy to help out. I believe the measures taken for Galatasaray would be a helpful model for other teams to adopt as well. That's all I will say for now.
Back to normal life: I'm one of the people living near Beşiktaş' stadium. For the last few weeks, as a result of the championship celebrations and such, they have been closing off the road on the coast along which traffic flows to the stadium. Istanbul traffic is already close to gridlock and this makes it that much worse. Beşiktaş is known for being a popular team close to "the people". The people's team should not be in the position of oppressing the people by making their lives more difficult by wasting their time and blocking access to their homes and their workplaces. It's time to end this arbitrary practice.
I don't want to end this piece without mentioning some of the important Beşiktaş fans in my life. Let me remember in particular those diehard supporters, my late uncles, Cengizhan and Hüseyin Süzer. May they rest in peace.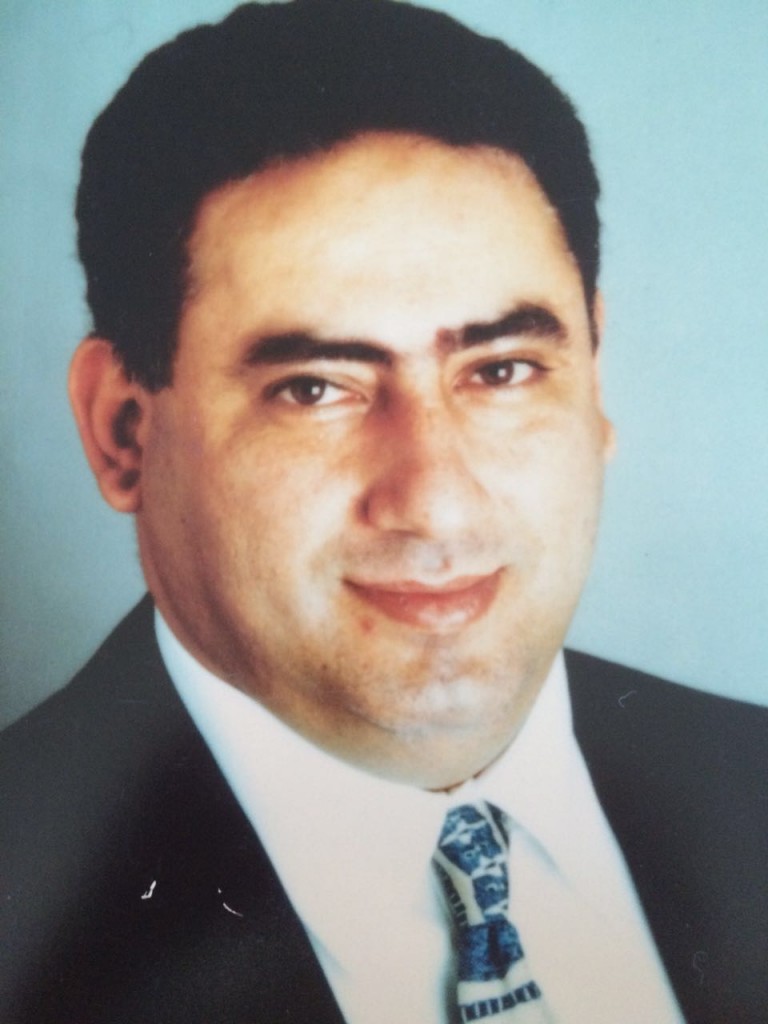 Cengizhan Süzer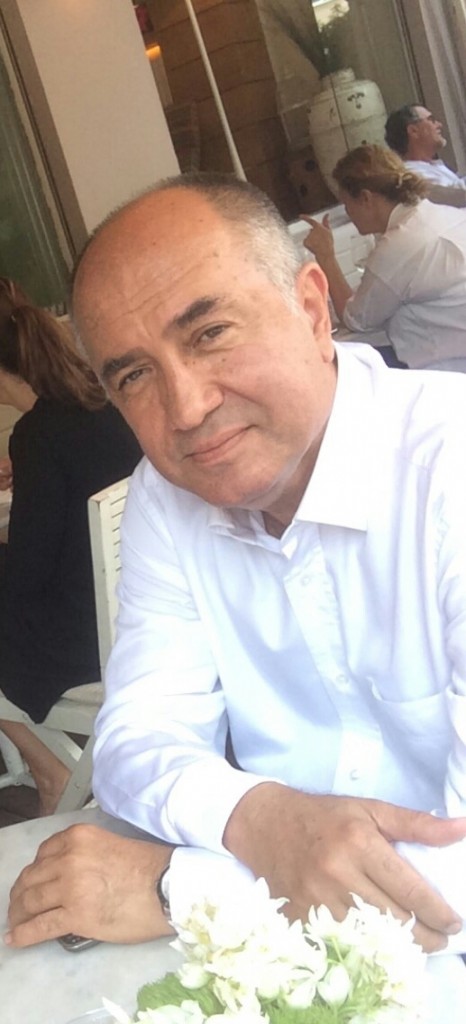 Hüseyin Süzer
I also want to take this opportunity to congratulate our family barber Turhal Bey and his brother Hüseyin Bey. We men go to the barber's not just for a trim and shave, but to chat, joke around and talk current events. Turhal Bey, my father's barber, has been cutting the hair of me and my brother ever since we were in short pants. Two generations of my family have known him, and he even gave my granddad a shave back in the day. He is a master of his craft and has a way with words. That's what make a session with him so special: he peppers his chats with literary, poetic references and quotes, and anecdotes. Turhal Bey's brother, Hüseyin Bey, is also a real gentleman and great conversationalist. Because his shop is located on a side street in Galatasaray, he has many customers from the nearby high school who support the Galatasaray club; Turhal Bey and Hüseyin Bey, however, are huge Beşiktaş fans much beloved even by supporters of rival teams. Let me congratulate them once again on their team's success.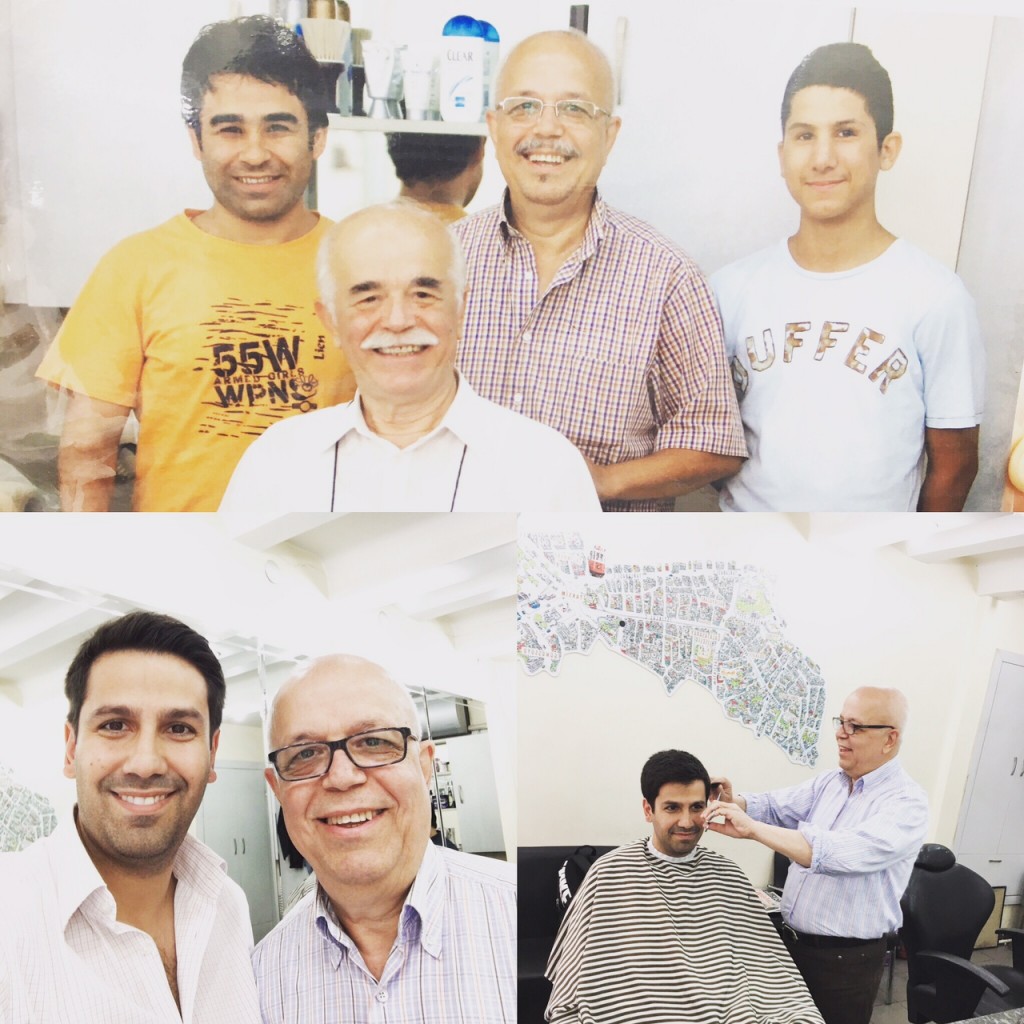 Barber Turhal and staff in a selfie of Hüseyin Bey giving me a shave.
It looks like it will take a long time for Galatasaray to right itself. We'll have to find consolation in the success of sister team Beşiktaş during this period.
Naturally, my greatest desire is for Turkish athletes in all branches of sport to enjoy international success and do their country proud.
This is a good time to wish everyone in Turkey a late, happy May 19th, the date on which we remember Mustafa Kemal Atatürk as we celebrate Youth and Sports Day.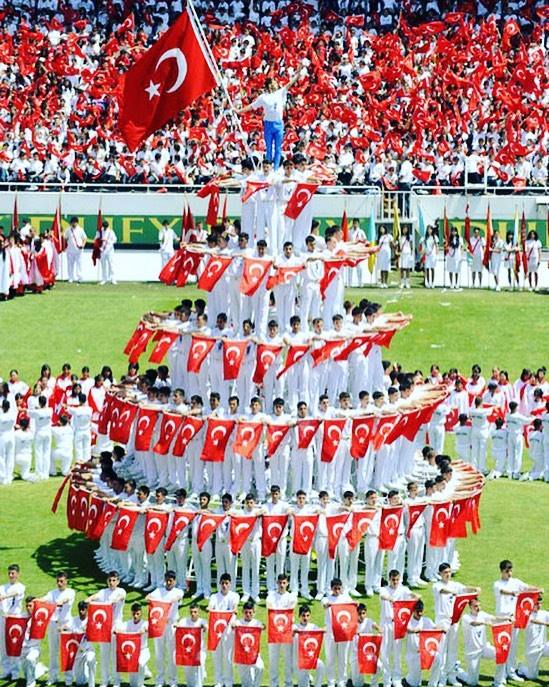 Tag: spor, özel günler