Costa Rica Honorary Consulate: Do I stay or do I go?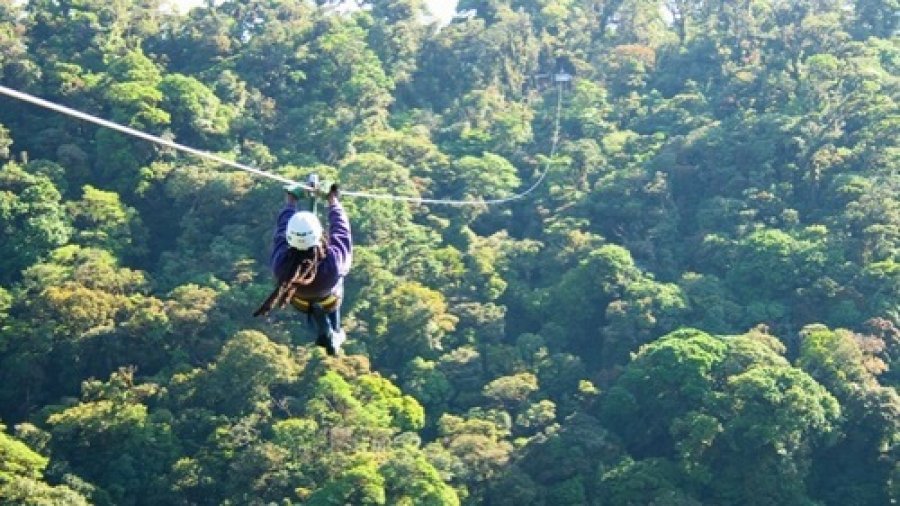 From the year 2008 and to date, I have taken on the role as Honorary Consul for Costa Rica, and I had written previously about the service I have given during the time I've held this position, and my thoughts about the possible redevelopments and the separation of our ways. I'd like to share with you my response to the final point we have reached and question of whether "I stay or go".
People who have been following me would know that since 2008, I have been running the Honorary Consul role for the Costa Rican Consulate. I'd like to remind you of some expressions I had made about Costa Rica in my previously written articles about Costa Rica: First, let me say that I consider the position of Costa Rican Honorary Consul to be a civil service. By providing this civil service to Costa Rica, I am also serving Turkey. I am providing a great contribution to the developments of better relationships between these two countries. I feel a great sense of pride and joy from doing this. However, like every civil service, this one also has designated time period. If you ask me, I think a duty of civil service should not go beyond 10 years. Unless there is a compelling reason (force majeure), it can be extended to 15 years. It's best to leave things with momentum and pass the baton onto someone else.
For this reason, I had written an article titled "Nearing the end as Honorary Consul of Costa Rica" (http://www.serhansuzer.com/en/nearing-the-end-as-honorary-consul-of-costa-rica) where I had indicated plans to leave.
In that article, I had written about how the ambassador of the United Arab Emirates, Francisco Chacón Hernández and how he had read about my blog last year (being undersecretary at that time) while travelling and how he got in touch with me. In summary, he asked me "are you planning on leaving the Honorary Consul duty?" to which I had replied that 'I had a thought like this running through my mind'. In our later correspondences, he had written how I was the face of Costa Rica in Istanbul and that he was touched by how I had written how honored I was to represent Costa Rica and how Costa Rica feels the same way about being honored by me, and further stating that at the age of 40 that I had served Costa Rica as Honorary Consul for 9 years and that this was already 25% of my life span; and the fact that I constantly use the 'Pura Vida' concept as my life philosophy and how it suits me to live it through and through and how I have become like an actual Costa Rican citizen and that it has now instilled into my DNA. Finally, he stressed that there was a need for me to continue to contribute to and spread the 'Pura
Vida' philosophy.
A meeting with the Minister
I thanked him for this fantastic feedback and added that Costa Rica was a perfect fit for me and if they asked me the question again, I would no doubt choose Costa Rica again. I also indicated that I have the same values of protecting the country and the peace and taking steps to look after our nature and that working with the Costa Rican people that they refer to as Tico was pure joy for me. I then noted however, that a civil service has a time life and that 10 years was the most I'd do and only in unforeseen circumstances that I would take it to 15 years. I noted that 9 years was already up (this year is the 10th year) and in the coming year (this year) I would pass the baton to someone else and I was open to his suggestions regarding this.
He then continued to say that he was happy that I was open to his suggestions and that in between his flights to Middle East that he will be in Turkey for 3 hours on the 16th of May to meet with the Foreign Affairs Minister of Costa Rica and that he also wanted to see me.
We later on confirmed the dates and last year on the 16th of May, I went to the airport to meet the Foreign Affairs Minister Mr Manual Gonzalez in the VIP area. As always, I went to greet and collect Minister Gonzalez and his Undersecretary Chacon from the plane. We then had a chat in VIP area designated for the minister.
Reaching a mutual point
He then responded that he was pleased I was open to suggestions and said he would be spending three hours in Turkey on 16 May in order to transfer from a Middle Eastern flight.
We later confirmed the day and hours he would be in Turkey. On 16 May I went to the airport to meet with FM Manuel Gonzales in the VIP area. As always, I was waiting to accompany Gonzales and Deputy Undersecretary Chacon from the plane. The minister and I sat in a private section of the VIP area and began chatting.
We discussed a lot of things during this three-hour talk. When the subject of my plans came up, Chacon spoke first, then the minister. I also related my thoughts on the matter.
The minister asked, "How can we find someone who shares your values, works the way you do and is always such an idealist?" After half an hour of discussing this, we reached a conclusion. I told them that I had had someone in mind, but that this person was now living overseas, adding: "Alright then. Let's not consider my resignation next year to be definite. I'll continue until a suitable replacement is found. How's that?" The minister nodded and shook my hand. I then accompanied him and the deputy undersecretary to the plane.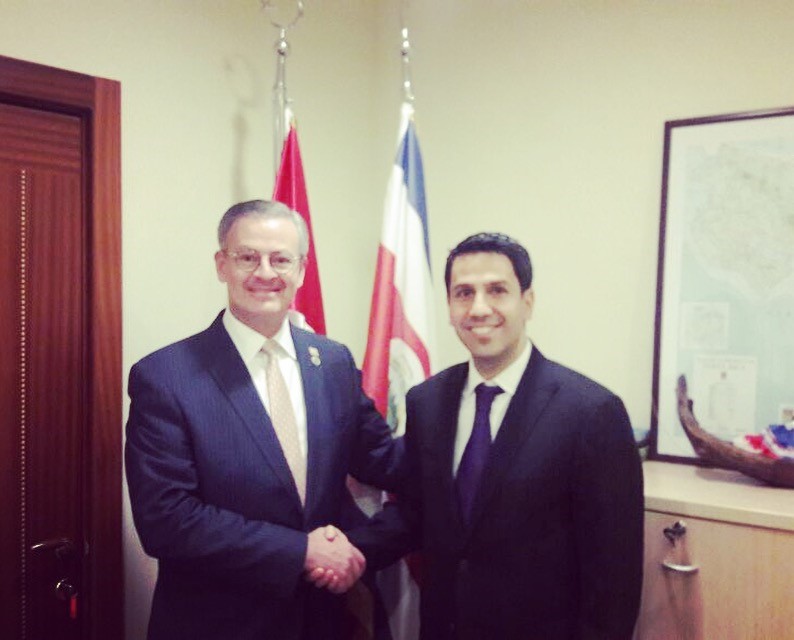 Foreign Minister Gonzalez during a visit to our Honorary Consulate.
I had then wrapped out the conversation outlined above like this:
"To be honest, the fact that they value me so much made me very emotional and increased my motivation. Until we find someone that can take over the baton, I will continue my role in this civil duty. I do truly hope to find this person within the next year. Because I believe we need to make way for fresh blood. However, if we cannot find that somebody, I will continue my role with the newly given motivation at hand".
I stand true to my word
Today, I still haven't found someone who can replace me. I did mention previously that there was someone in mind for this position who was living abroad. I spoke to this person and outlined all the details however he stated that he will continue to live abroad and that infact he recently got married and decided to continue his life with his partner so naturally this alternative was no longer available.
I stand behind my promise to Costa Rica. Therefore I am continuing my civil duty.
I put in a lot of effort for Turkey and Costa Rica regarding economic, political, diplomatic and cultural developments as Costa Rica's Honorary Consul. I had written a lot about the work I did for them and my thoughts too. To give you a brief idea of these, I have yet again shared the links:
http://www.serhansuzer.com/en/jose-sancho-exhibition-a-tale-of-art-and-friendship-
http://www.serhansuzer.com/en/my-pura-vida-bond-with-costa-rica
http://www.serhansuzer.com/en/the-past-5-years-as-costa-rican-honorary-consul-2010-2015
http://www.serhansuzer.com/en/2009-a-turning-point-in-relations-between-turkey-and-costa-rica
http://www.serhansuzer.com/en/my-experiences-as-costa-ricas-honorary-consul-in-istanbul
http://www.serhansuzer.com/en/costa-rica-in-the-world-cup
http://www.serhansuzer.com/en/pura-vida-or-endowing-life-with-meaning
From now on, until I hand over the baton to someone else, I will continue to fulfill my ambitions with the same excitement. I would like to remind you again of these.
Two important goals
My two major goals were regarding the areas of diplomatic and cultural. Diplomatically, my goal was to do the best I could to accomplish the bilateral agreements. Economically, my priority was to be able to open the gates to the "Free Trade Agreements". Like I had mentioned in the previous years, although this would not be easy to do; that I would do my best to accomplish this mission. Of course do this however, there would have to be an increased diplomatic traffic by both Costa Rica and Turkey.
My second aim however is, in order for both countries to become more familiar with one another, is to organise a "Latin American" event in Istanbul which will focus on Costa Rica's more important areas of music, art and kitchen. I would then prepare to organise the same like event in Costa Rica (most likely in the capital city of San Jose) but with a Turkish concept. But of course we need to do this in order to make sure they have a lasting effect. Therefore, once we leave our roles, these events need to continue to grow and represent each other.
In the wake of elections
We will see just how we can achieve these in the new term. You may already be aware. Costa Rica just came out of the elections. Carlos Alvarado was chosen as the new President.
The head of the supreme electoral council said that with 95 per cent of ballots counted, Carlos Alvarado of the ruling Citizens' Action Party had 60.8 per cent of the votes in the runoff election. His evangelical opponent, Fabricio Alvarado of the National Restoration party, had 39.2 percent.
The 38-year-old, a previous Novelist and former rock singer served as labor and social security minister in the former center-left government. He was a candidate for the Citizens' Action Party.
I hope that in the next 4 years, in order to have the best representation, that we can share our projects and receive the right support in this area from him and his new cabinet members.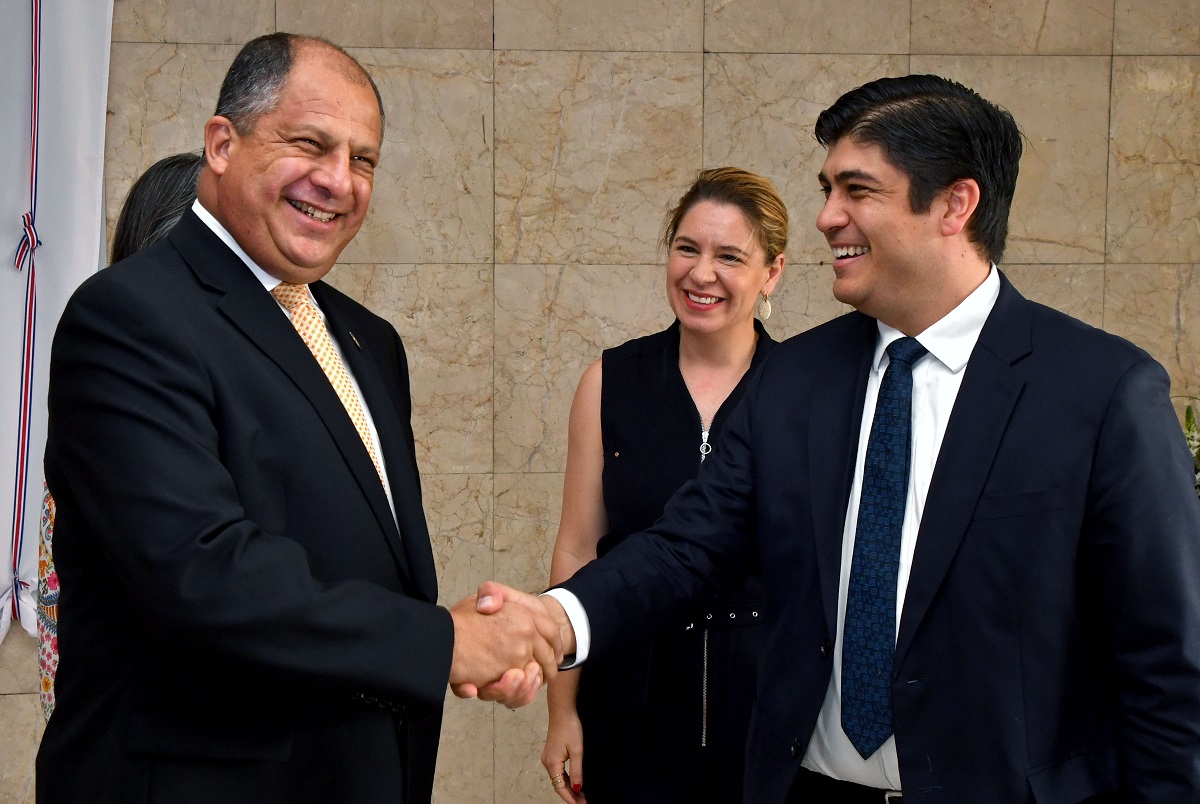 A photo of the newly elected President, Carlos Alvarado, who will take office officially in May, meeting with the previous President Luis Guillermo Solis at the Presidential Suite (Casa Presidencial).
An organisation & baton transfer
After vowing to continue my role, I would like to talk to you about the upcoming events and developments I mentioned regarding Costa Rica in Istanbul.
Firstly, at the organisation made by the Costa Rica Embassy on the 21st of March at the Cervantes Institute, Professor Roberto Fragomeno, Associate Professor and Director of the School of Philosophy, made a speech titled "The political thoughts of Latin America". He was accompanied by our ambassador on the panel, Mr Marcelo Varela-Erasheva.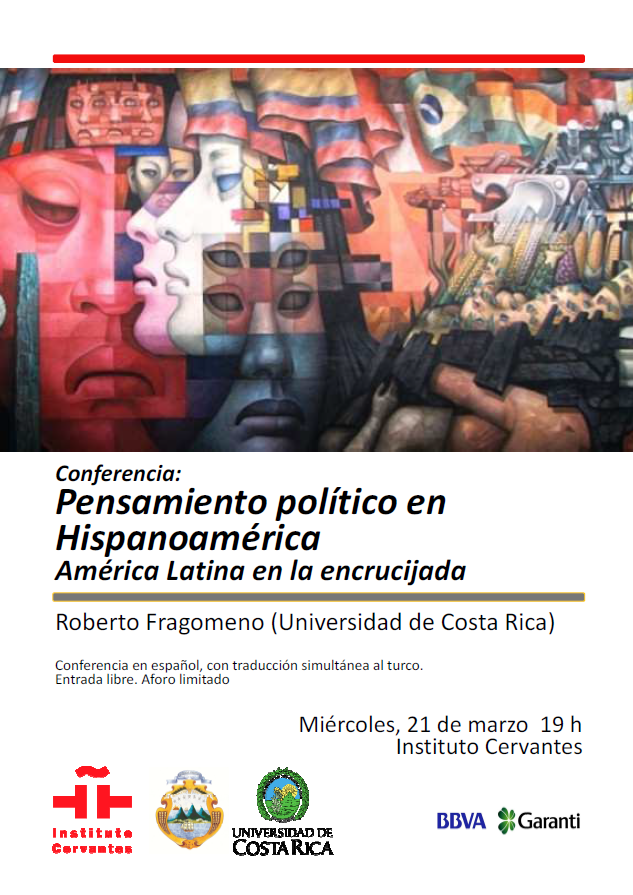 The advertisement of our panel
I will share the details and summary of the 2 hour conversation of this panel in my next article.
Finally, we are going to be changing the baton on the Costa Rica export and investment incentive which is the Costa Rican agent Procomer in Turkey. Ali Natour, who has been carrying out this position for 2 years, will hand over the baton. He will be marrying very soon, so I wish him the very best in his new life.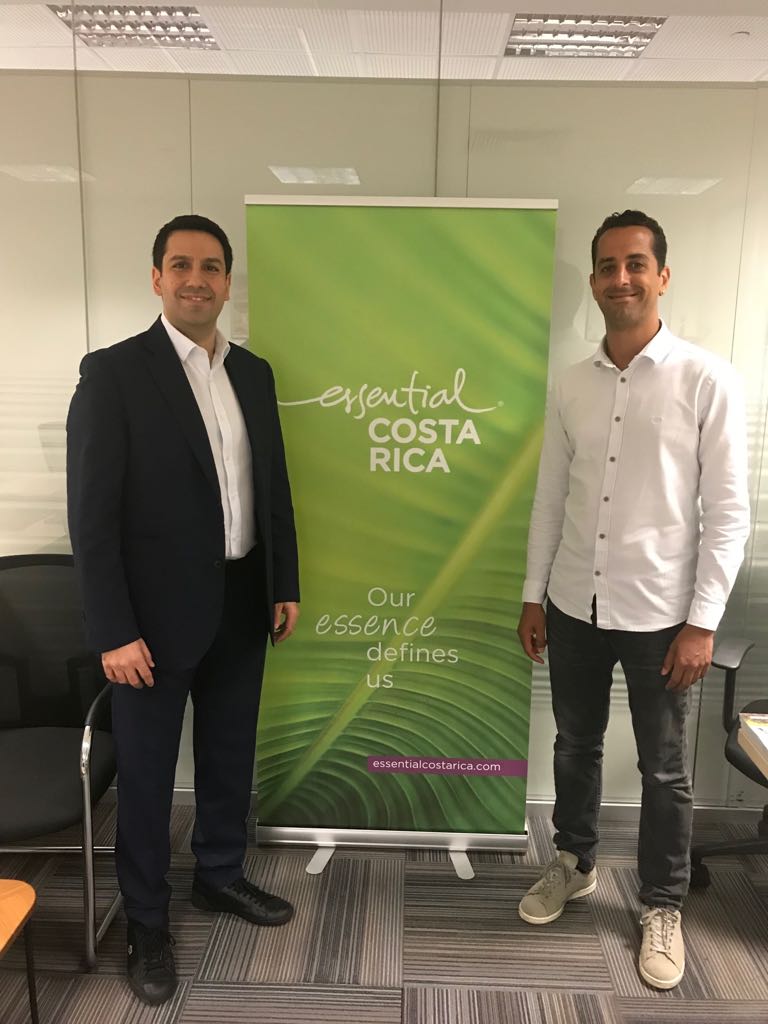 The last photo taken with Ali
I will also announce the person who will take over from Ali in my next article. We wish all the best.
Pura Vida!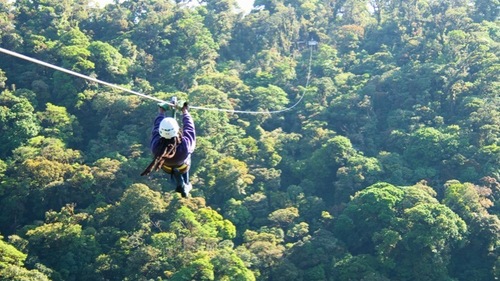 I attempt this extreme sport in Costa Rica which is often referred to as the "zip line" every time I visit. I am sharing this photo representatively. I am dedicated to continuing my role and completing my goals in the name of Costa Rica and Turkey.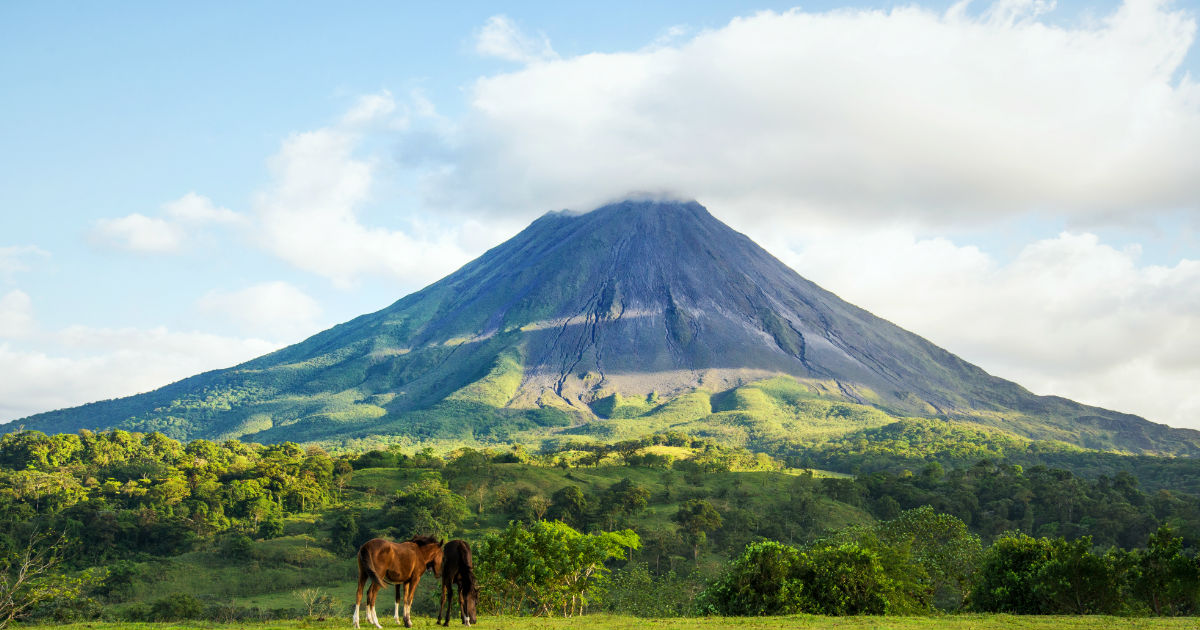 This is a photo of the symbolic volcanic mountains in Costa Rica, the Volcano Arenal. Enjoy…
Tag: kültür