Creation vs Destruction: The Battle for a Better World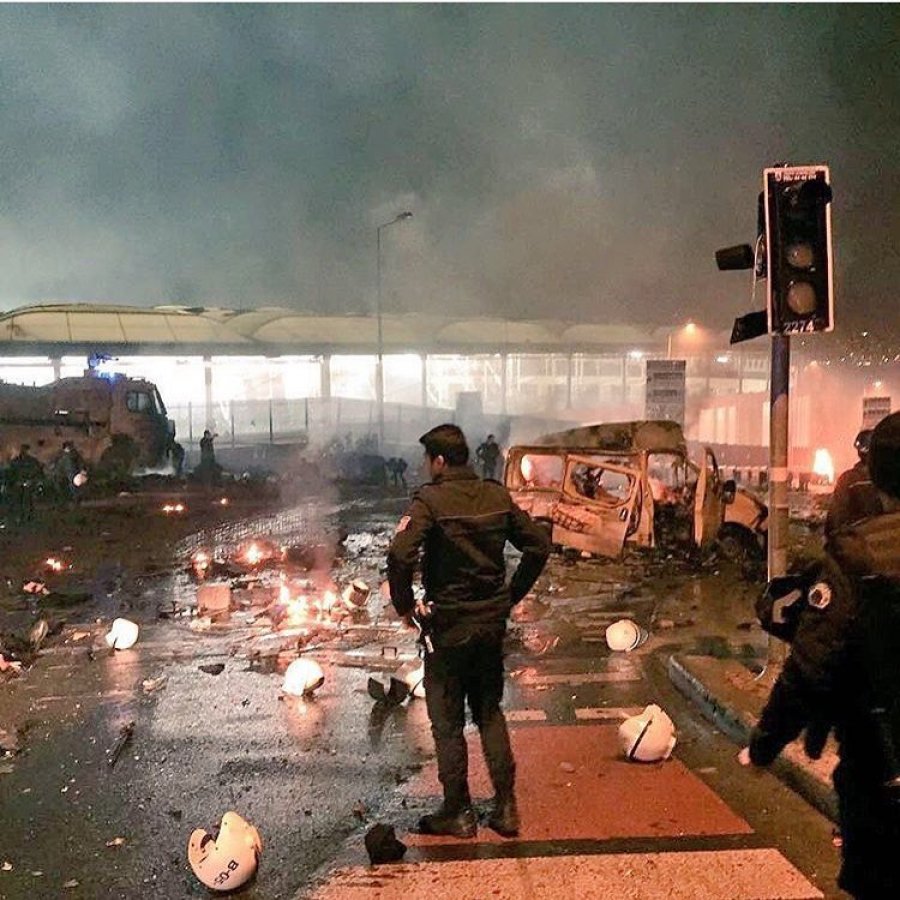 The recent terrorist attack outside a football stadium in Istanbul once again highlighted the horrific contrast between two very different groups: the people working with all their might to hand on a more livable world to future generations, which was the original subject of this post, and the monsters who mercilessly plan massacres to further their dark interests. We will never allow the second group to win this battle.
I was doing the final editing on a blog post about my appearance on the global broadcast of "24 Hours of Reality," during which I discuss climate change with former U.S. vice-president Al Gore and Yeşilist founder Ergem Şenyuva, when calamity struck. Shortly after the end of a Beşiktaş-Bursaspor football match, a car bomb targeting policemen along the street between the stadium and Süzer Plaza exploded. The explosion was so powerful that even friends on the Anatolian side of Istanbul heard it. In the neighborhood of Nişantaşı, especially the part nearest Maçka, all the windows violently shook.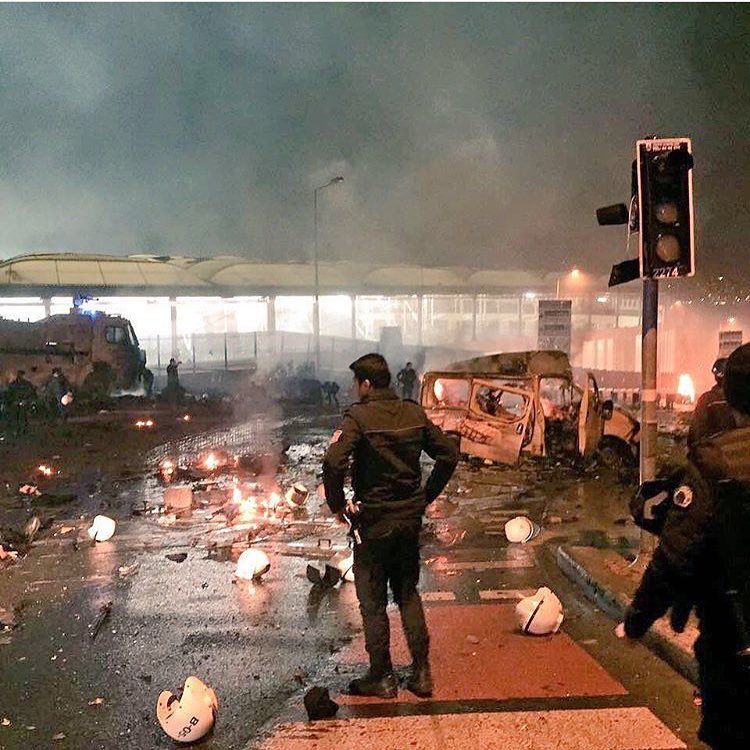 Some of the windows on the side of Süzer Plaza facing the stadium were shattered. Broken glass injured employees and hotel guests in the building. But the real disaster took place outside. We now know that 30 policemen and eight civilians were killed, and 166 people were injured. Let me express my condolences to the families of the killed and to all of us. We're all extremely upset. There are no words to describe it. Terrorism is now everywhere and has struck just meters away from us. For now, we can only hope that new anti-terrorism measures will prove to be more effective. Meanwhile, we'll continue to help in every way we can. hook.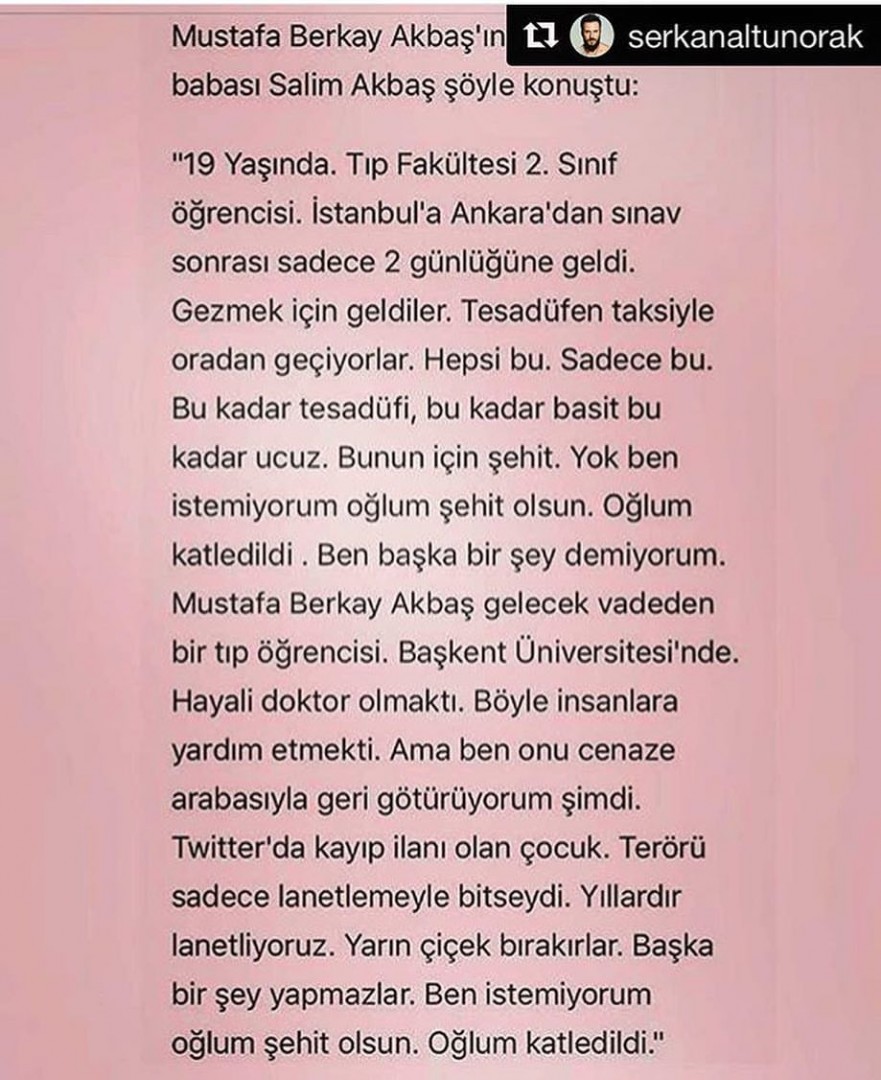 This cry of anguish from the father of a young man who died in vain at the scene was heart-rending. We are all utterly distraught.
I'd like to share an interview with Selin Akbaş, whose younger brother, a medical school student like herself, died aged 19 in the terrorist attack in Dolmabahçe.
http://www.hurriyet.com.tr/kardesim-ve-arkadasimdi-40309365
Some are doing all they can to spread misery and suffering. Others, as you'll see in the rest of this post, are striving to create a more livable world. Speaking for myself, I can say that I will not be deterred as I imagine and work for a better world. That is why, in order to move more quickly and to realize my dreams and contribute to a clean energy revolution, I decided some five years ago to leave the family company, start my own renewable energy business, and conceive and execute renewable energy projects. That is why we launched an organization like Tider and why we are doing what we can to help those in need. That is why I voluntarily attend conferences and university panels to increase awareness and offer guidance to our youth. That is why I went from Istanbul to Paris so I could appear on the "24 Hours of The Climate Reality" program and explain on an international platform the measures we can take against climate change. It is this last item that I would like to write about in this post.
Good4Trust
I met Ergem (Şenyuva Tohumcu), the person who recommended me for the program and who invited me to participate, through Good4Trust. Acting on the philosophy that "goodness is contagious," Good4Trust is a social network that connects people committed to a responsible approach to life, allowing users to share selfless acts and buy responsible products, both ecologically and socially. Ergem and I, as well as founder Uygur Özesmi, sit on the Good4Trust Council of 7. (https://good4trust.org/council)

Following the birth of her daughter after a successful banking career, Ergem charted a new course for her life. Like other responsible people, she felt something needed to be done about climate change; the difference is that she sprang into action. In 2009, she became the Turkish representative of The Climate Reality Project, Al Gore's association dedicated to fighting climate change. In 2010, she founded Yeşilist, a "platform for those who care about themselves, the environment and nature." Today, Yeşilist continues to raise consciousness and spread awareness on "ecology, life, mother-child, food, and a green life and the city." In her own words, she believes that "we can succeed in creating great things through the small steps we all take and we can pass on a more livable world to future generations." (www.yesilist.com)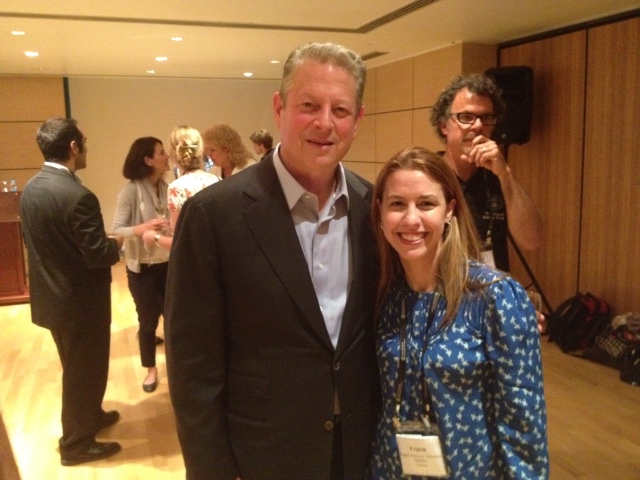 Al Gore and Ergem
Ergem sent me an text message in November and we later talked by phone. She invited me to the "24 Hours of Reality" international broadcast. This program aims to draw the world's attention to the wide-scale, multi-dimensional crisis posed to our planet by climate change. Because the invitation came from Ergen, I responded in the affirmative without a second thought.
(www.24hoursofreality.org)

A live broadcast from a Parisian rooftop
The producers of the program then called me to ask if I would be able to come to Paris to express my views during a live broadcast. I informed them that I could spend a day in Paris. I arranged my schedule to arrive in Paris on December 5th. Although it's not my favorite city and I hadn't visited it for two years, I realized I'd missed Paris. I made a reservation at my usual hotel, Sofitel Arc de Triomphe.
I know that area well and by chance the studio was on nearby Avenue Marceau. I have friends who live on that street and found the venue without a hitch. The broadcast was scheduled to begin at 15:00 local time. I was there by 13:00. After discussing some final details with the technical team, I had lunch nearby and returned to the studio. The team informed me that make-up would be applied. I'd expected a quick dusting of powder, like in Turkey, but was astonished to find a professional make-up artist and hairdresser standing by.
At 15:00 I was escorted to the rooftop of the studio, where my segment would be shot. I was positioned so the Eiffel Tower would be visible in the background. The schedule showed that Al Gore would speak first and that my slot would be between 15:18 and 15:28, after which Ergem would speak. I listened to Al Gore, but due to a technical issue it was full of static. At 15:18 I realized that the shooting schedule has been altered. Others spoke by link and then Ergem began speaking at 15:30. Although the sound was cut from time to time, I could hear most of her wonderful talk via my earphone.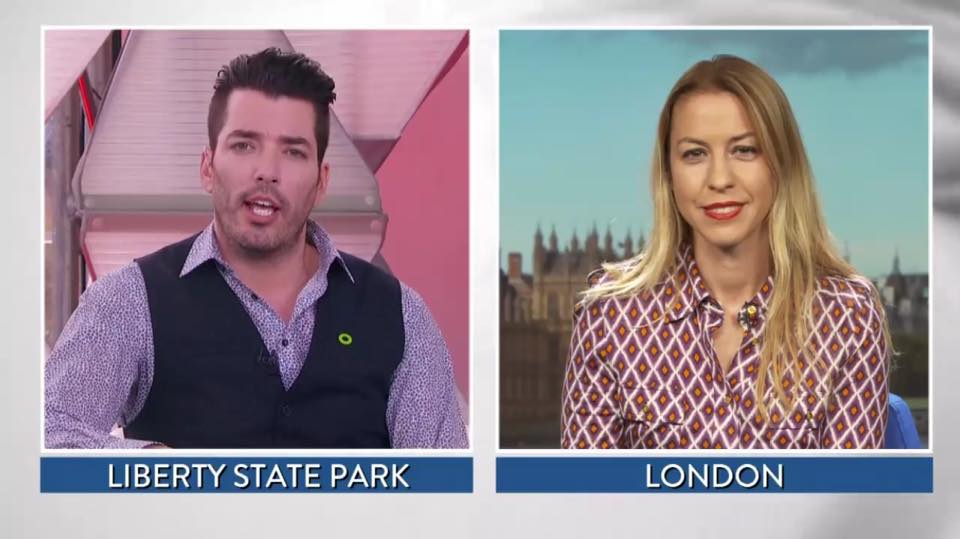 Ergem speaks during the Turkey Panel
Then the sound was completely cut, after which it was my turn to speak during the Turkey Panel. Audio issues prevented me from making out more than a few words of the first question directed to me, but I answered as best I could, hoping I was responding to what the moderator had actually asked. After five minutes, my segment was over.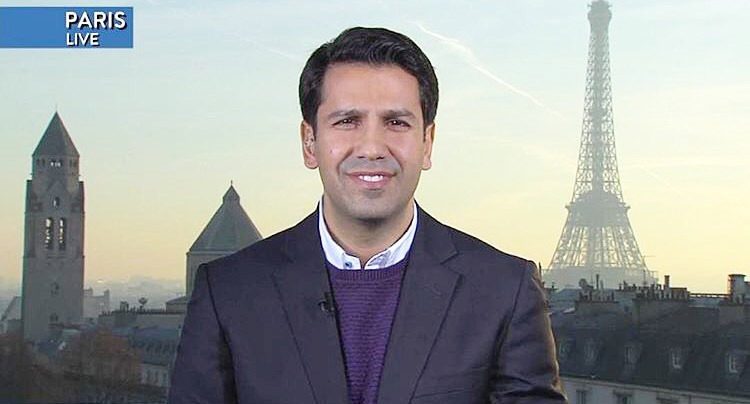 Squinting into the bright lights of the studio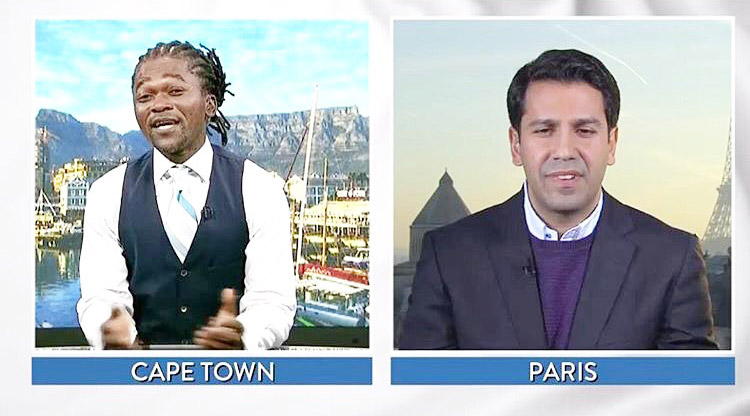 I had no idea I was interacting with this person in Cape Town as I answered the questions I heard in my earphone.
The technical team, too, had no idea why the shooting schedule had been altered at the last minute. Later, the studio head came up onto the rooftop to explain and apologize: "There was an audio problem in the link between Cape Town and Paris. We put you on last so we'd have time to solve the problem. But when it persisted, we had to end the segment early. We apologize. We never expected to have so many issues with Cape Town." I was stunned, and asked, "Do you mean I was talking with Cape Town?" I'd expected a link to America but the interview had been conducted in South Africa. ("Not Cape Town, again," I thought to myself. I'll explain what I mean by that in my next post.)
Still, all in all it was an enjoyable program. However briefly, I had been given the opportunity to relate my experiences to the world. For that, I thank Ergem. You can find a video link to my segment below:
After the program, Ergem and I spoke together and shared a press release. I'd like to share some sections of that to give you an idea of what was discussed on the program:
Turkey ranks 23rd in carbon emissions
Half of Turkey is undergoing desertification and the solution is solar energy!
"24 Hours of Reality," which explains the stark reality of the effects of climate change, reached millions of viewers this year in a live broadcast on 5-6 December. Founded by Nobel Laureate and former U.S. vice president Al Gore, "The Climate Reality Project" held the event to discuss solutions for the 24 countries with the highest carbon dioxide emissions. The hour devoted to Turkey featured appearances by Al Gore, Yeşilist founder and The Climate Reality Association's Representative for Turkey Ergem Şenyuva Tohumcu, and EkoRE CEO Serhan Süzer.
Al Gore: Half of Turkey could become a desert
Al Gore was the first speaker in the event's hour devoted to Turkey. Pointing out that Turkey is ranked 23rd in carbon emissions, Gore said that energy accounted for 73% of these emissions and called for reductions to be made in areas such as electricity, heating, manufacturing and construction, toward which important strides have been taken through the Paris Agreement that Turkey signed. Gore said Turkey, along with the rest of the world, has been impacted by climate change, which takes the form of not only warming but of extreme rainfall, such as that which led to flooding in Trabzon, Bartin and Edirne. Emphasizing that Turkey is among the countries threatened by desertification, Al Gore stressed that half of Turkey faces such a risk.
Ergem Şenyuva Tohumcu: Clean energy companies create opportunities, not costs
Ergem Şenyuva Tohumcu was the second speaker. Having received training on climate change from Al Gore in 2010, Tohumcu gives seminars around the world as a climate leader. Tohumcu said, "Turkey has begun transitioning to clean energy. However, to accelerate this process, government policies on climate change need to be more forward-looking. It is a fact that climate change is a crisis, and corporate actions to address this create opportunities, not costs. All we need to do is take the right steps."
Serhan Süzer: We're second in Europe in solar potential
The views of opinion leaders, politicians, scientists and experts were conveyed at the event. The final Turkey hour segment was conducted by EkoRE CEO Serhan Süzer. After Spain, the European country with the most potential for solar energy is Turkey, and, according to Süzer, all of the country's energy needs could be met through solar power alone. Serhan Süzer described EkoRE as one of the few companies in Turkey actively working in this area, saying, "Nature has presented us with this opportunity and we need to employ current technology to fully enjoy the benefits of solar energy. As a courageous investor, I first devoted my investments in this field to Concentrating Solar Power. I sold that venture to a foreign investor and founded EkoRE, a company that develops PV projects and provides EPC (engineering, procurement and construction) services. We continue to further develop every year through our strategic activities, and I am confident we will achieve our renewable energy targets."
After we sent off this bulletin, news of the event was featured on-line. Here are some examples:
http://yesilhaber.net/2016/12/09/turkiye-icin-korkunc-uyari/
http://www.borsagundem.com/anlik-borsa-haberleri/20161208131525
http://www.enerjihaber.com/turkiye-nin-yarisi-collesiyor-care-gunes-enerjisinde/4206/
http://www.yeniprojeler.com/enerji-sektoru/turkiyenin-yarisi-collesiyor-care-gunes-enerjisinde
http://www.nakithaber.com/gunes-potansiyeli-olarak-avrupada-ikinciyiz-7960h.htm
http://www.guneshaber.net/haber/2641-guncel-haberler-turkiye39nin-yarisi-collesiyor-care-gunes-enerjisi.html
http://www.elektrikhaber.com/2016/12/09/turkiyenin-yarisi-collesiyor-care-gunes-enerjisinde/
https://tasimapostasi.com/2016/12/11/turkiyenin-yarisi-collesiyor-care-gunes-enerjisinde/
http://www.palo.com.tr/a/t%C3%BCrkiye-nin-yar%C4%B1s%C4%B1-%C3%A7%C3%B6lle%C5%9Fiyor-%C3%A7are-g%C3%BCne%C5%9F-enerjisinde-2113706
http://www.turk-internet.com/portal/yazigoster.php?yaziid=54759

Future generations will have something to smile about

I'm happy to have played a part in "The Climate Reality Project," which is working to make the world a more livable place. I have become acquainted with many wonderful people, including my esteemed friends on the Good4Trust Council of 7, the dedicated professionals and volunteers working for Tider, my colleagues working so hard to develop new technologies and renewable energy projects at EkoRE, private sector individuals who coordinate with NGOs, and many others who strive to the best of their ability to make the world a more livable place. We will all continue to do our best. Now, more than ever, we need to be strong and determined as we battle those who seek only to destroy and to further their own dark interests. Do not allow yourself to become demoralized. In the end, we'll have much to smile about and so will future generations…
Tag: ekoloji