Earthquakes don't cause death, buildings do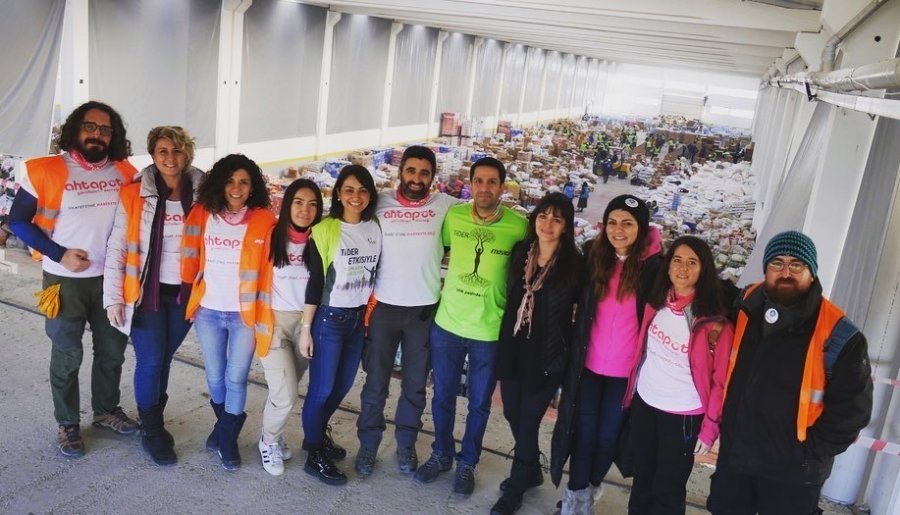 Last week, I wrote an article focused on the platform we established as NGOs, which exhibited exemplary cooperation and coordination in the Elazığ earthquake. In the picture above that we took on the first day that we went to Elazığ, you can see our friends of the NGO volunteers in the main warehouse, that we worked together with, head to head with the Chamber of Commerce and Industry. In this article, I include my experiences at the scene, what I have observed, and my suggestions for solutions that made me think once again.
When I went to Elazığ for the second time this past weekend, Burcu, a member of the board of directors of TIDER, and my documentary friend Serkan, accompanied me. We organized the hotel on the road. Ismail, who came with Ridvan from TİDER on the way from Malatya to Elazığ, called me and said that they reserved a place for us in the Divan Hotel and that the whole city was very full, and they could only reserve two rooms in this hotel. I told him that this was no problem, that we could stay in the same room with Serkan. After about a 2-hour journey to Elazığ via Malatya (there was serious case of ice on the Malatya side, where even trucks had entered the single barriers), we reached Elazığ.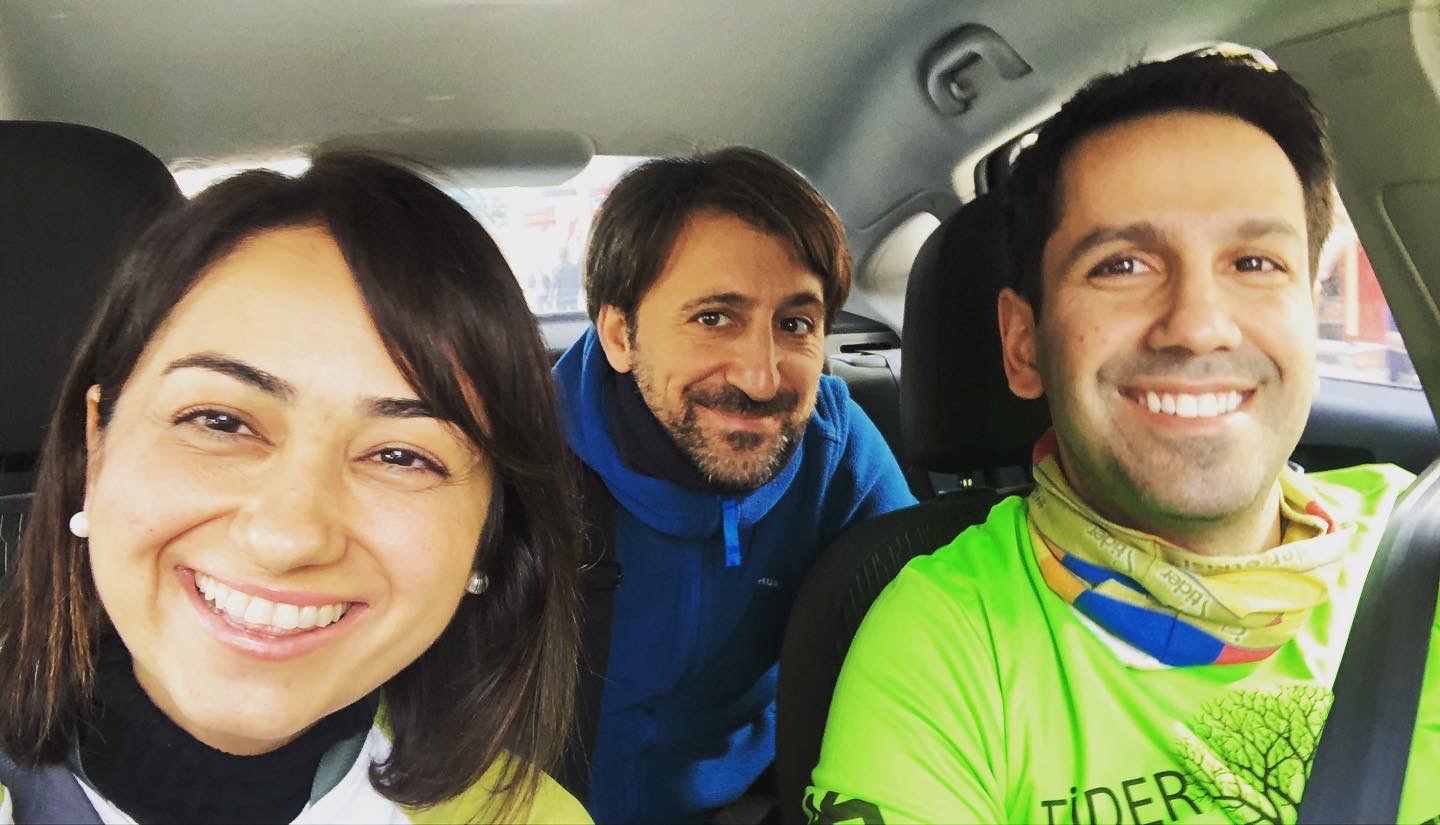 The selfie we took on the way from Malatya to Elazığ.
We were all surprised when we arrived at the Divan Hotel in the city center because this was not the Divan Hotel that belonged to the Koç Group. Yes, it was called Divan Hotel, but its building was very different and was more like a hostel resembling a hotel. Of course, when I entered the hotel, I made a joke by saying "Welcome to Özdivan Hotel". Before Burcu even entered the building, she asked "Should we stay in another hotel?". Serkan said to me in his gentle voice, "Serhan Bey, you know that I have children. There would be no problem in this building, right?". First, I thought he was joking, then I realized that he was serious. In fact, when you thought about it, you realised he may have been right. Serkan has a beautiful and sweet daughter and a son. He had to protect himself as the family's father. The building was really crooked.

Soul shattering questions
Burcu called several more places to book a room, and the city was quite literally booked out. Then I took the initiative and went in to speak with the receptionist. The man explained that the building was 50 years old, and nothing has happened to it in any earthquake that they've had. Then he used a sentence that makes me mad, "Of course, everything is at the discretion of Allah." So, I couldn't take it anymore and said, "What does God's discretion got to do with this? I do not like those who disrupt the balance of nature and build buildings that will endanger the lives of people". The man at the reception then said to me, "You are right my friend." Then I went upstairs. I looked at both rooms and said to Burcu and Serkan, "Let's manage here tonight." Thanks to both, they agreed. I said to Serkan, who entered the room with hesitation, mixed with a joke, "If there is an earthquake, we will jump out of the window at the worst, there is only one floor anyway". Then I looked at him and noticed he was looking at me with an anxious face and said, "Just joking, it's unlikely for anything to happen. The big earthquake has already happened, and even if it does, we will be exposed to the aftershocks. It won't destroy this building, don't worry." Serkan then encouraged me to enter the hotel as late as possible. Indeed, that was the case. We returned to the hotel at around 1.30am after visiting the tent of the TOG volunteers at around midnight. Having trouble entering the hotel, Serkan went to sleep in a snap from the moment he entered the room. At that time, although I tried to calm him down so we can enter the building, I cannot explain the bitterness I had inside of me. I was saying on the inside 'Why won't they build these buildings as they should? Why do they endanger people and make them nervous? Then, in our room where the heating was not working properly, I slept on the bed by the window in the sharp cold of Elazığ.

In my last article, I announced the Civil Society Organizations Disaster Coordination Platform with great pride. You can find this article at https://serhansuzer.com/en/elazigda-bizim-stklar-tarih-yaziyor. Our platform has done incredible work in Elazığ in terms of helping earthquake survivors. In cooperation with public institutions led by the Governorship, AFAD and Kizilay, the basic needs of a family such as food, warmth, clothing and cleaning materials were met for thousands of earthquake victims. Bellies were filled with cooked food every day. For now, I can say that we have overcome the acute period.
Of course, we were able to carry out all these works on behalf of different NGOs by working hard without hesitation each day and night. Here are some photos from a speech I made at a meeting held in the early hours of the morning before going to the field: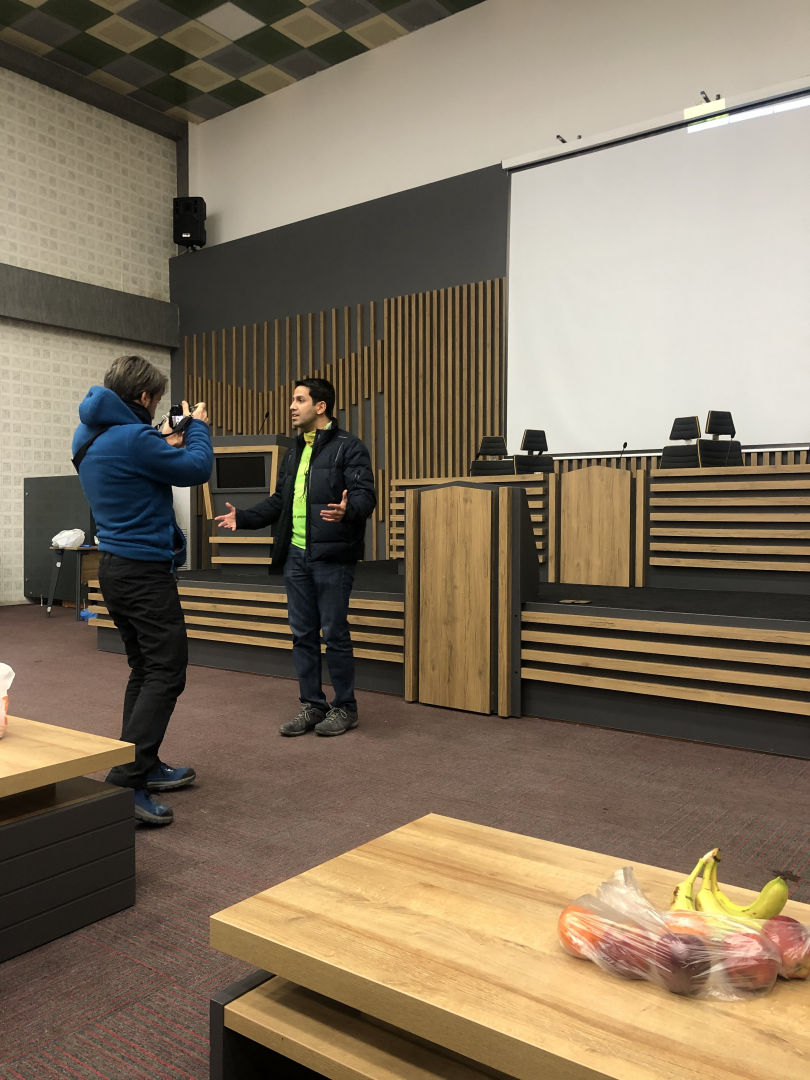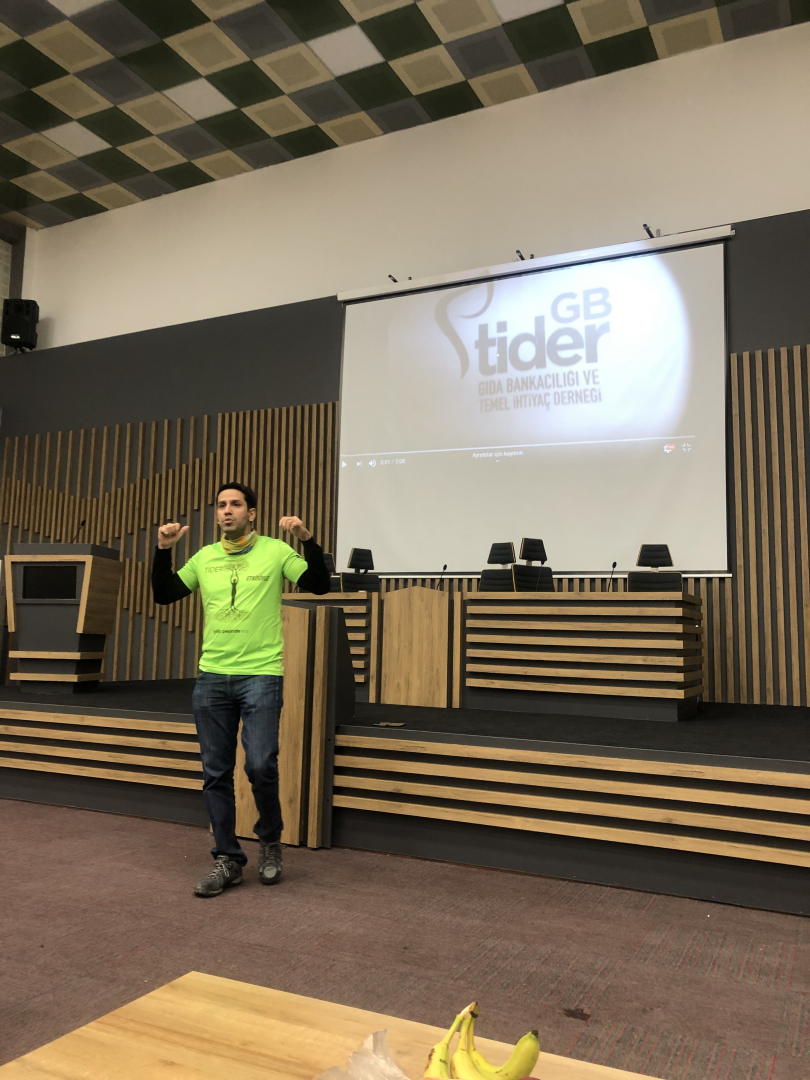 These are the shots we took during our visit to the TOG (Community Volunteers Foundation) volunteers after working hours: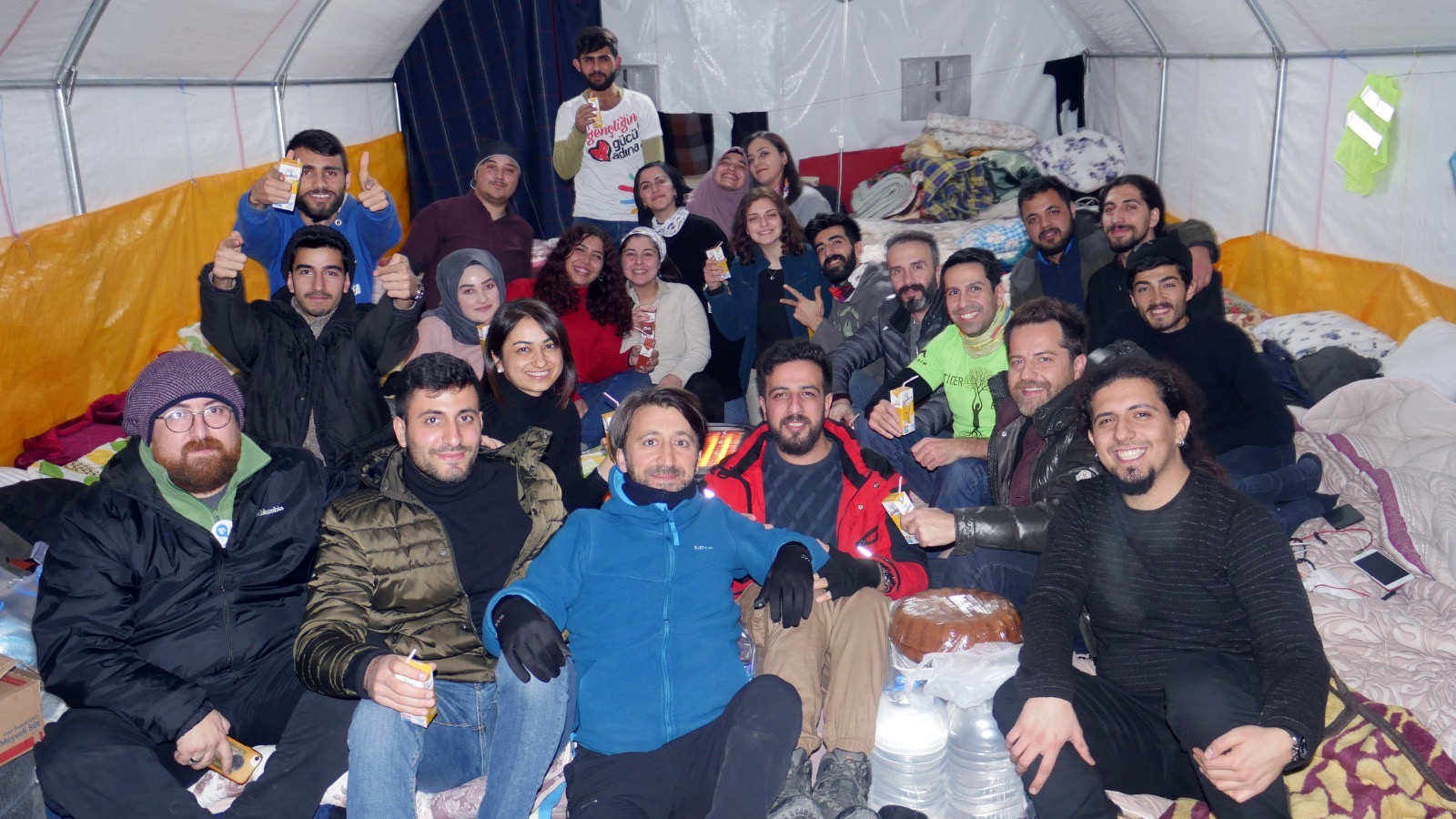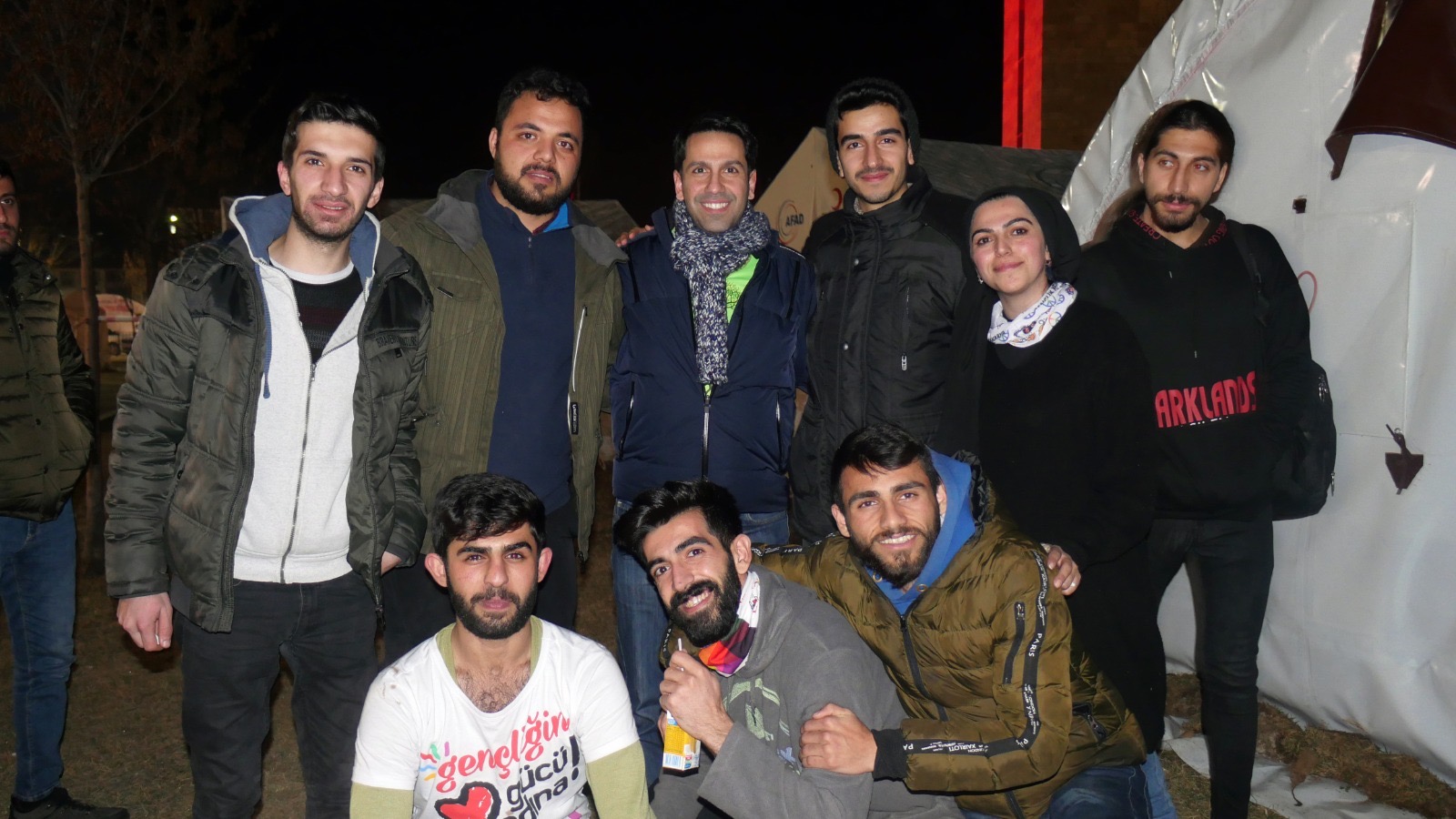 Seeking a formula for sustainable support
We are currently focused on meeting individual needs. However, there is still so much need. We are thinking about a structure that will ensure that these basic needs are constantly met and those in need can stand on their own feet. Our platform, in which tens of national NGOs act in a coordinated manner, plan to move on to the next stage by transferring its activities to local NGOs in February. I will write about what to do next, which aims to support the needy in a coordinated and sustainable manner.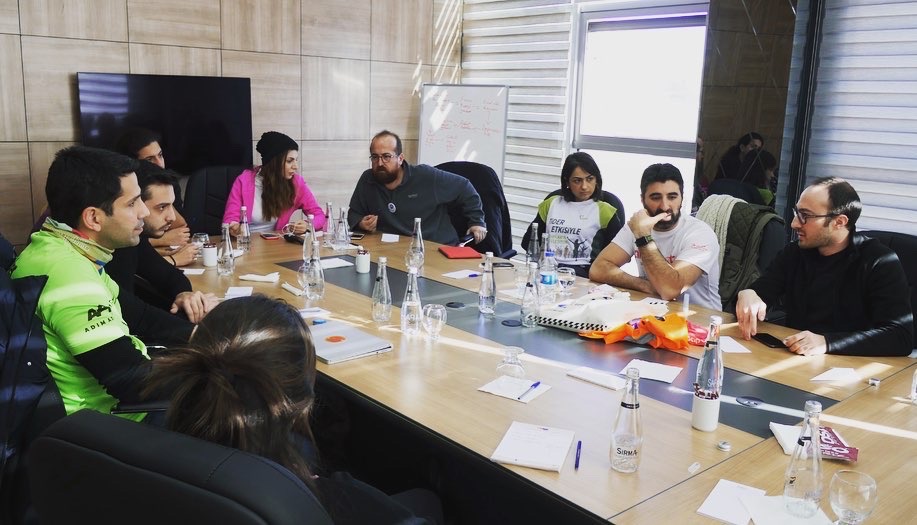 A photo taken at an NGO coordination meeting where we discussed these issues
So, is what we're doing enough? Of course not. Figuratively speaking, we are putting out the fire in cooperation with the public. The main purpose here is to ensure that the fire never occurs. This is what it looks like. The main mission of TIDER, the umbrella organization of food banking, is to eliminate poverty and ensure that nobody needs such an NGO. Only then will we accomplish our mission. If the NGO Disaster Coordination Platform also does not have a job for itself, then it will complete its mission. Of course, there can always be a disaster; we need to reduce their effects day by day and the main thing is to prevent loss of life whenever there is a natural disaster. For example, there are 100-odd earthquakes per year in Japan. Why is there no news of death from earthquakes in Japan? The answer is very simple. Because they make low-rise or high-rise buildings all earthquake resistant. So, it is not the earthquake that killed our people, but the buildings that were built against earthquake.
Post earthquake updates on my blog…

The citizens who managed to come out alive now have issues entering seriously damaged buildings. Everyone is experiencing the same uneasiness, just like Serkan and Burcu. Our citizens in the earthquake zones have difficulties with their shelter and heating needs. In other words, even if our citizens managed to save their own lives, they continue to suffer because they cannot enter their homes at this time. Thats when the public and NGOs keep trying to close this gap.
What a painful coincidence that the first article I wrote in my blog was about an earthquake. I have always wanted to write a blog like this since the early 2000s. The Van Earthquake triggered me to start such a blog, and I started my writing to convey my thoughts and experiences.
In this article I wrote after the Van Earthquake which ocurred on the 23rd of October 2011 but the one traumatic earthquake of my life was the first and biggest earthquake of August 17, 1999. You can read this article at https://www.serhansuzer.com/en/after-an-earthquake. In the last part of my article, I finish off my article with "Well, what should I do? I'll give you the answer to that later". However, I have just realized that I still did not provide an answer for this. It is my fault that all this time, I have not written the answer to this. Now I am answering this question. Things I believe should be done:

1) Robust building solutions
The first thing to do is very simple. We need to stop making bad reinforced concrete buildings that look alike, like matchboxes. We must build such buildings that our citizens should not experience any unease during the earthquake. Because we should know that even if an earthquake of 10 intensity occurs, there will be no problem in the building. This is possible in building techniques. Look at Japan. In Japan, where there are more than a hundred earthquakes per year, are buildings demolished like ours? In my opinion, we can even get better than the Japanese people in building techniques. As long as we set high standards and do not compromise on these standards no matter what. Let's focus on improving the technique constantly. In building techniques, it is necessary to determine the criteria as follows:
Materials such as steel, wood and hard plastic that can absorb and reduce shock and stretch must be used. Another feature of these materials is that they are suitable for the circular economy. So, if you want to change the house, you can recycle these materials and use them for another purpose.

It is necessary to give up building a multi-storey building. I think we need to focus on single, 2 or maximum 3-storey buildings.

Designing these buildings as self-contained buildings; that is, for example, there should be a solar panel on the roof of each building and certain standards must be followed in isolation. Another requirement is that in self-sufficient building designs, energy, water and food can be obtained from the building and/or its surroundings, respectively.
2) New city designs
It is necessary to design new cities, where the population will not exceed 1 million. The infrastructure of the city needs to be designed to provide a certain comfort and to withstand all possible disasters. To be more specific, it is necessary to take advantage of many empty regions in Anatolia rather than to concentrate everything on Istanbul and its surroundings, and even to plan new cities in Trakya (Thrace) suitable for its purpose. For example, it is possible to move textile factories and workshops from Merter in Istanbul to Adana and Şanlıurfa, where cotton, the raw material of this sector, is produced. There, they need to design buildings with 2-3 floors each, and to be self-contained. It is necessary to design cities with a population of gardens large enough to obtain agricultural products, with a population not exceeding 1 million. Of course, buildings such as hospitals, shopping malls and gyms should not be reproduced unnecessarily for rent and whatever is planned should be done exactly that way.

3) Real urban transformation
I just mentioned the need to design new cities with full infrastructure, solid buildings and a population not exceeding 1 million. So, what do we do with the current cities? We will subject them to true urban transformations. Instead of upgrading the buildings, they need to be lowered on the contrary. It is necessary to include apartments in newly designed cities so that no one can lose their rightful piece of land. In other words, instead of scattered flats in big cities, the owners can be given houses with gardens, which are self-sufficient and integrated with nature in different provinces which they prefer. Unfortunately, the current urban transformation has been a rhetorical transformation. This logic must definitely change. Yes, problem buildings need to be demolished. However, instead of building a higher mass housing, a stable and absolutely earthquake resistant, maximum 3-storey house can be built, and the balance can be achieved by offering housing options to those who are left out.
4) Engineer contractors
Instead of using contractors which have not graduated from primary/college/ high school, they need to use and employ building licensed civil engineers with a character that will definitely not break the standards. The rest should be prohibited from building. In order to become the head of a construction company, a civil engineer diploma must be stipulated. In the slightest mistake, it is necessary to establish a system where their licenses can be revoked and can never build again.
Engineering norms are very high, especially in some countries. The best example of this is Canadian engineers. In Canada, engineers have professional Code of Ethics, such as Doctors' Hippocratic Oath. Everyone who has this profession should learn the rules word by word and apply it to the core. For details, you can refer to the link https://engineerscanada.ca/publications/public-guideline-on-the-code-of-ethics. We have to set up a similar system for our engineers. They should also immediately ban the ones who do not follow these rules. Engineering is a serious business; human life is at stake after the completed works.

5) Planning a contemporary city
We really have no city planning abilities, either from close or afar. Urban planning has a rationale in developed countries. For example, in America, roads go parallel and leave square and rectangular areas at the intersection points. On the other hand, you will see a city planning based on the roads connected to certain centers in France. And we have an approach that whatever they see fit will be done and they will always take an opportunity to build up to get an extra floor. Our people immediately pour the concrete into the smallest piece of land they find. We need to change this backward system as soon as possible. Otherwise, our citizens, who have difficulties in finding a meeting area during the earthquake, continue to be exposed to irrelevant suggestions such as "Take shelter in shopping malls if there is no free space".

6) Disaster education
Every citizen of the Republic of Turkey definitely needs to get earthquake and first aid training. In fact, these trainings should be given from a very young age. It is never clear or known where and when it will be needed.
7) Building in the right place
Ground surveying is very important. There are millions of people who think that it will be worth re-constructing riverbeds and all places that will ruin nature. It is necessary to set strict rules in this regard. It is also essential that the buildings in the regions with very serious earthquake risks are made extra strong and the building density is reduced.

8) The public showing effective initiative
While visiting the field last weekend, I came across the authorities of the Ministry of Environment and Urbanization (MEU). We started talking somehow and this was the dialogue between us (I leave the commenting up to you):
Serhan: What investigation are you doing here?
MEU Official: We determine the damage situation of the buildings. We have 3 categories: 'Slightly damaged', 'Moderate damaged' and 'Very damaged'.
Serhan: : What investigation are you doing here?
MEU Official: We determine the damage situation of the buildings. We have 3 categories: 'Slightly damaged', 'Moderate damaged' and 'Very damaged'.
Serhan: How do you make these determinations? I do not see the use of any technical tools.
MEU Official: We make the determination by visually inspecting with our eye. For example, if we see cracks in the columns, we report it as very damaged.
Serhan: So, let's say you have given a very damaged report for a building, what happens after you report it?
MEU Official: We tell the people that are living in that building to leave.
Serhan: Where do those people then continue to live their lives? Whose responsibility is it to build the new building in place of that building?
MEU Official: We don't know. Our job is to only detect and report.
I think the public needs to behave much more effectively on these issues and take the initiative. There is a lot to be said about this. However, I won't say anything more and continue to watch this space without too much judgement.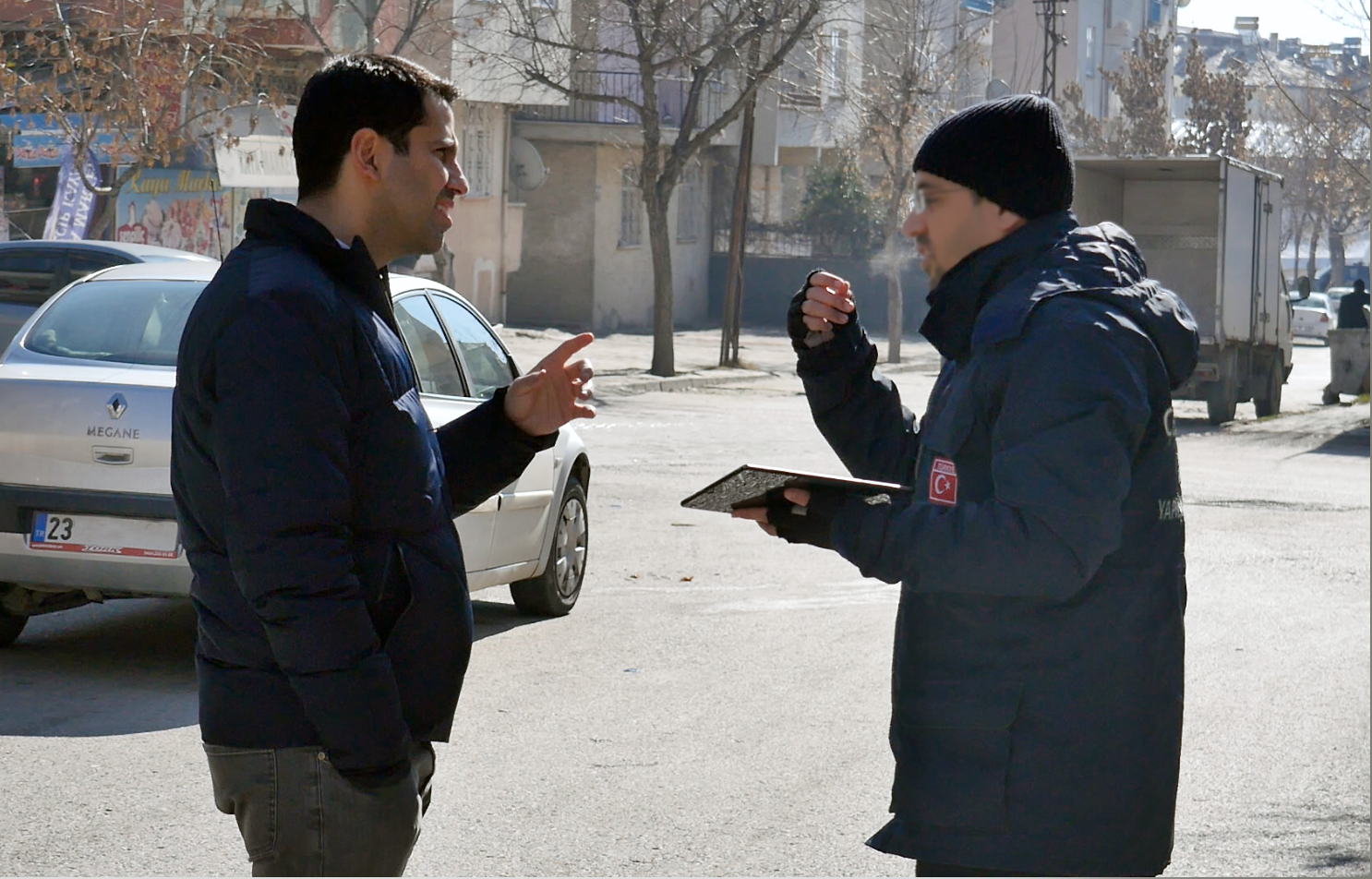 The moment when the above dialogue took place (Serkan took the picture without my knowledge)
9) Conducting audits without compromise
Strict inspections must be made before, during and after the construction of the buildings both by the public and by the relevant NGOs that have adopted this issue. If deviations from the smallest standards are detected in these inspections, the relevant interlocutors must be punished in the harshest way.
10) Support for R&D should increase
Apart from construction techniques and materials engineering, the studies to be carried out on earthquake prediction and simulations should be supported and further progress should be made. In other words, both public and private sectors should increase their R&D budget in order to support such technologies. And of course, result-oriented work should be done, and experts should be offered all kinds of opportunities.
11) Education is a must
I know it sounds very cliché but "education is a must!" Be as technically superior as you want, use the best technologies, you cannot do anything when the human element is negatively activated. If you want to make a difference, you need to take education very seriously so that people can insist and persist on finding the truth.
There is a lot to do in education in the short, medium and long term. In the short term, everyone can be trained on issues such as earthquake awareness and first aid training. In the medium term, you can embed to comply with the standards in any case during technical training. In the long term, you can also correct cultural shortcomings. For example, you can set up some basic principles, such as not lying, deceiving others, pursuing minor interests, and not playing with human health. In some subjects, you can achieve the desired result only when the generation changes. Still, it is necessary to start working today for change.
That's all I have to say for now. Finally, I would like to share an experience.

A very bitter event to witness
After working for a while as an Acute volunteer in the 1999 Gölcük Earthquake, we returned to Istanbul and gathered the team from the family-owned construction group and re-entered the region. As a serious need, we decided to deploy in Değirmendere as a team. When we went to that area, there was no one to be saved anymore, but the ruins of the buildings were so disastrous that people could not even remove the corpses of their relatives. Unfortunately, we removed dozens of corpses in our time in that region. Especially one I never forget.
In Değirmendere, a girl's hair could be seen coming out from the reinforced concrete blocks of a building that had collapsed layer by layer. Her father whose face was covered in rubble was cursing: "Save my daughter, save my daughter, do whatever you need to, someone help save my daughter!" The girl remained 6-7 layers under the concrete blocks and her long wavy brown hair was hanging between the two blocks. While her father was asking for help, he also kept her framed photo on his chest and occasionally showed it to us.
We were able to remove the corpse of the girl by breaking the concrete blocks after 1.5 hours of work. I can not tell you in words, the charred corpse of the 16-17-year-old girl, caused by jamming, the cry of the father and the general corpse smell in Değirmendere. The whole construction team was shocked, yet they did their job as required with professionalism. As a result of 3 days of work, when people removed dozens of bodies, they inevitably were worn out psychologically.
However, among all of these, the thing I was most confused about was how they could build such a building. I do not exaggerate, some of the concrete wasn't really concrete. It was falling apart immediately. Our construction team said that many things were done wrongly and by breaking standards. I was looking at the bigger picture as per usual.
In this country, construction technique, standards and urban planning should definitely change. Of course, I had thoughts about how this could happen.
The disaster in Elazığ, the hometown of my grandmother, made me really lose my mind. While walking around the field, all these painful memories came back to me. Today, I am in a very different position. Instead of the new graduate Serhan from the university, there is a Serhan capable of initiating these radical changes. I'm ready now. In spite of all the difficulties I have experienced, I will do and show what needs to be done to ignite change.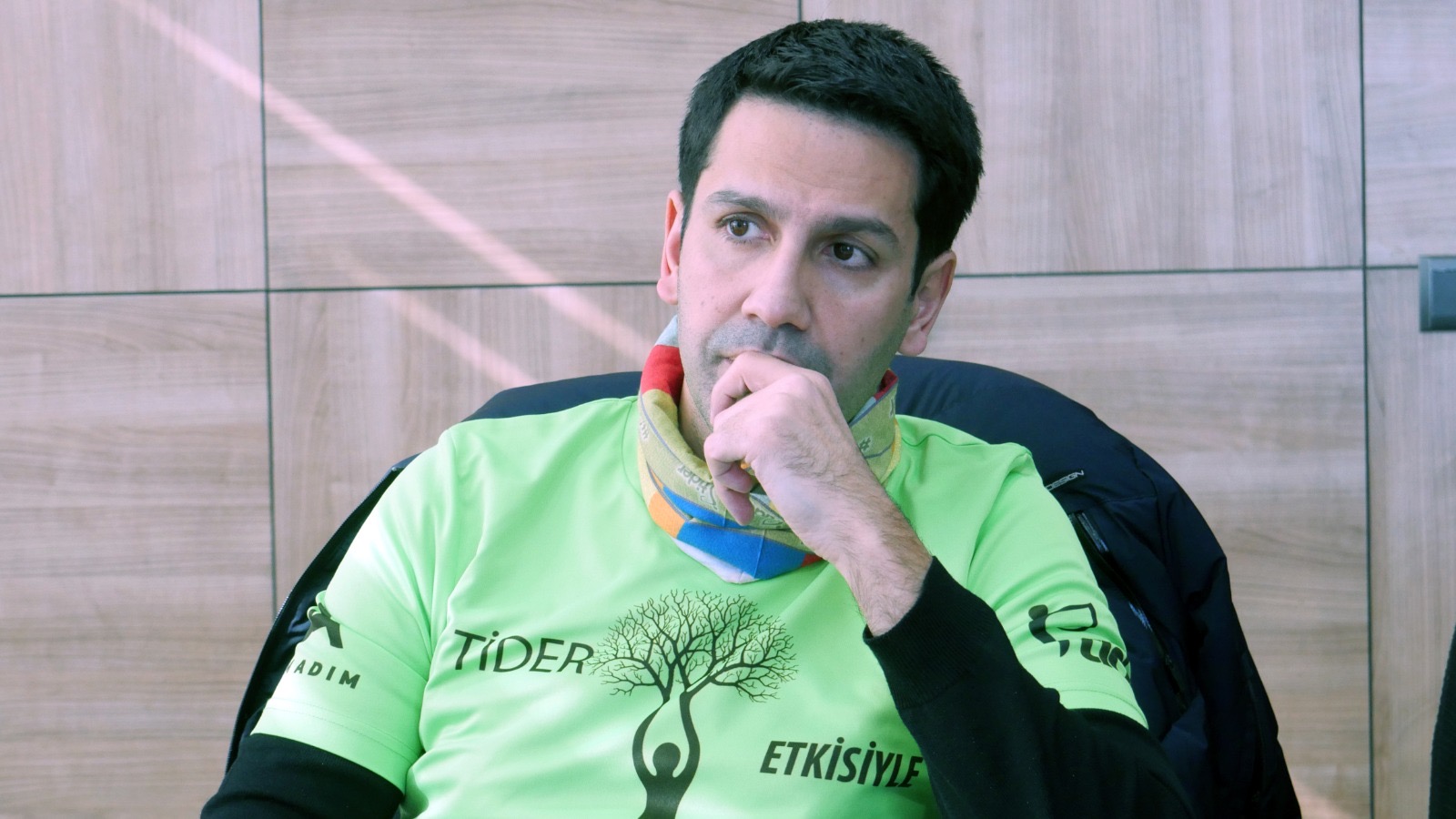 While I was thinking about all these issues in my head, Serkan captured this photo.
Tag: sosyal sorumluluk