Galatasaray makes history again!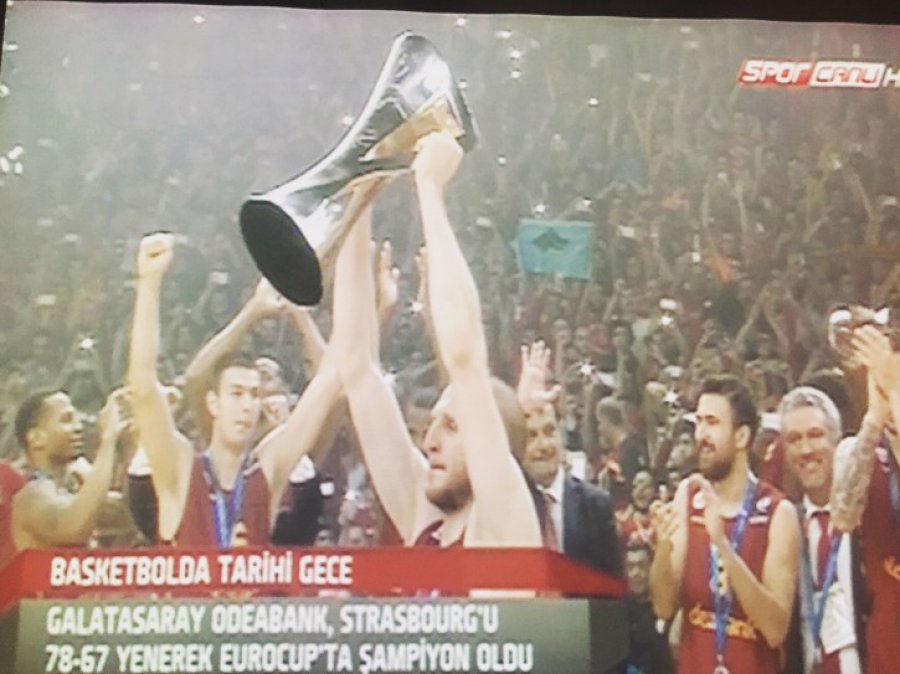 I had intended to share with you this week my impressions of the Paris Climate Treaty signing ceremony I attended as a guest of the United Nations. However, having decided I needed more time to write a detailed account of that ceremony and because the incredible Eurocup championship was recently won by Galatasaray in the meantime, I have decided to devote this week's post to emphasizing the lessons we can learn from this sporting achievement.
I returned home from dinner with two friends who had arrived from overseas and settled down in front of the television, exhausted. I was trying to finish writing my latest blog entry about the Paris Climate Treaty signing ceremony I had attended in New York as I watched Galatasaray play in the final match of Eurocup.
Truth be told, I was too caught up in the game to write even a couple of lines. Without realizing it, I'd cast my laptop off my knees during the last 3 minutes of the match and was jumping up every time a basket was made. The excitement mounted in the closing seconds as the score remained close, with each team moving into the lead in turns. And that is what makes basketball such a great spectator sport.
After the match ended I decided to write down my feelings while my feelings were fresh, postponing the Paris Climate Treaty until next week.
What happens when everything is done right? That's what we had just seen.
First, there was the man who led the team, Ergin Ataman… he is beyond doubt the best basketball coach Turkey has ever produced and has won 3 European cups. He won the Saporta Cup with Italian team Montepaschi Siena in 2002; then he and Beşiktaş claimed the FIBA EuroChallenge Cup in 2012; and now he had just made history by winning the ULEB EuroCup with Galatasaray. What's more, he had promised at the beginning of the season that he and his team would win that cup, and he had made good on his word.
https://www.youtube.com/watch?v=n1t4Zs9m2VE
Ergin Ataman speaks in the locker room after winning the championship.
The other heroes of this success are the lion-hearted basketballers who, along with Ergin Ataman, stuck with the team during a very difficult period for Galatasaray. Team captain Sinan Güler and players such as Vladimir Micov made up the backbone of the team this year.
Another major contributor to success was picking the right transfers. It was the addition to the team at the beginning of the year of pinpoint shooters McCollum and Lasme, as well as the mid-season addition of Chuck Harris, that raised the bar higher and led to the team's current strength.
Always playing a major role in this incredible success are of course the entire staff, manager Levent Topsakal and his extensive knowledge of the sport, and a basketball department that has overcome adversity.
The final actors in making history were those who laid the foundation for this team: former president of Galatasaray Duygun Yarsuvat and all of the administrators who worked with him.
Frankly, I'm happy to have become a member of Galatasaray while Duygun was president. I'd rather not have become a member either before or after he served. It was Duygun and his board that paved the way to today's championship by hiring and supporting Ergin Ataman as the team coach.

Ergin Ataman and Duygun Yarsuvat celebrate together after the match.
I have to admit that the match left me feeling quite emotional. It seems we as a nation and we as Galatasaray supporters have really missed the joy of winning a European cup. Here are some snapshots from Galatasaray's triumph: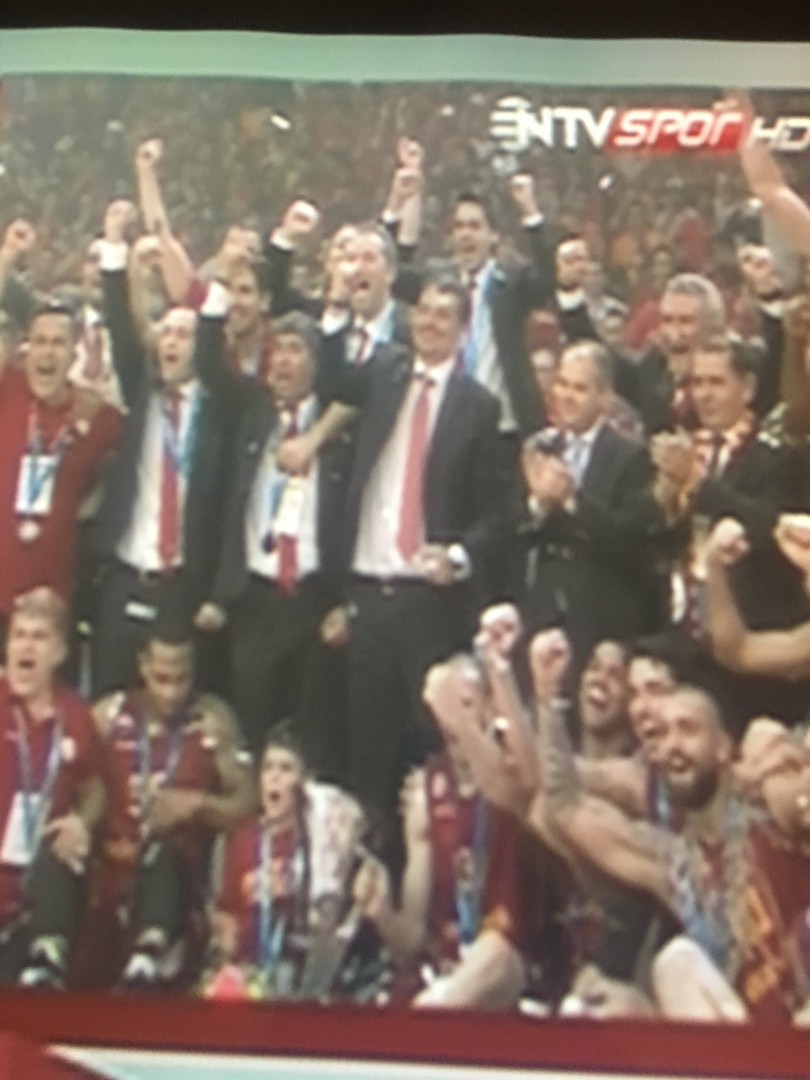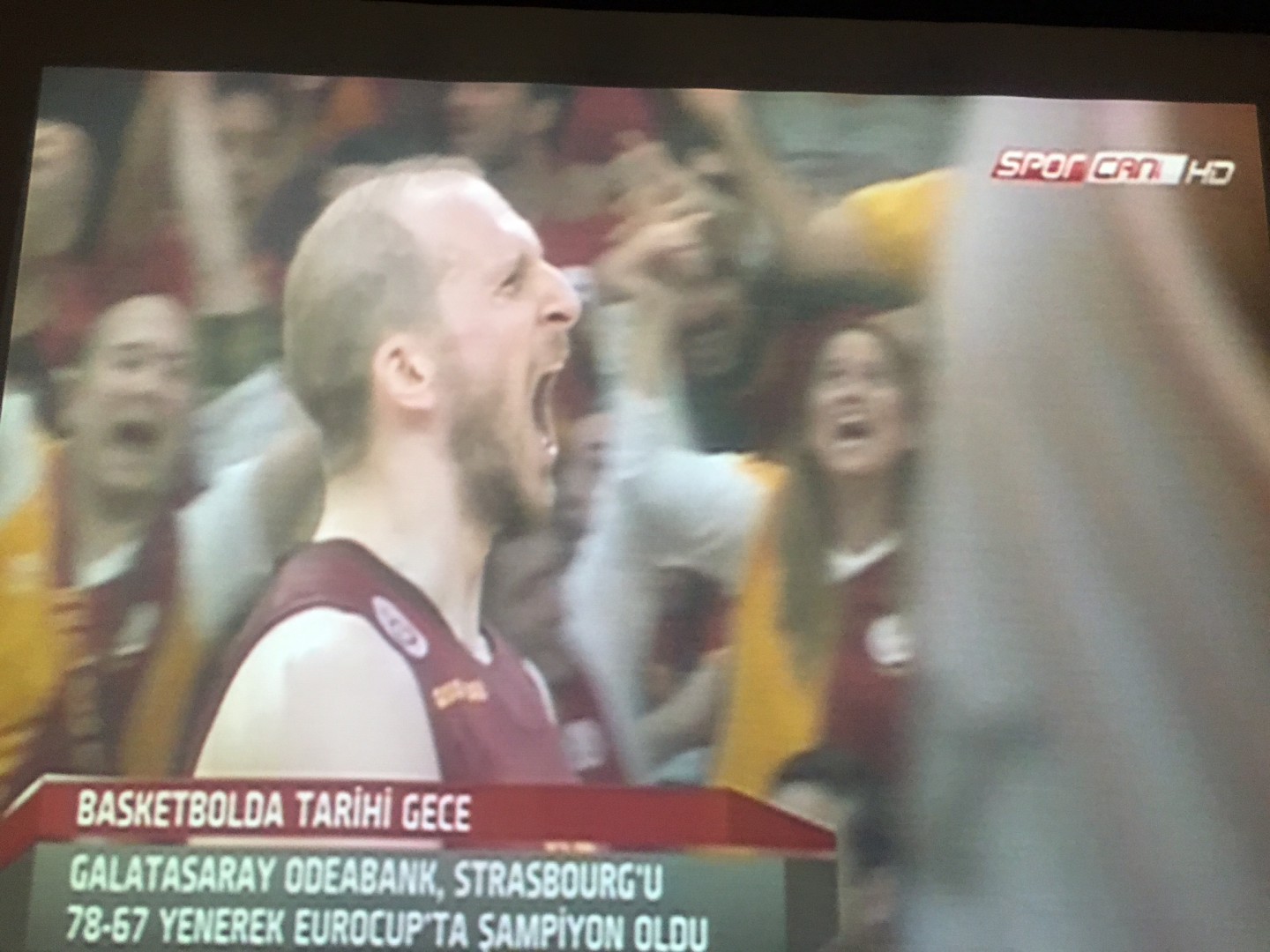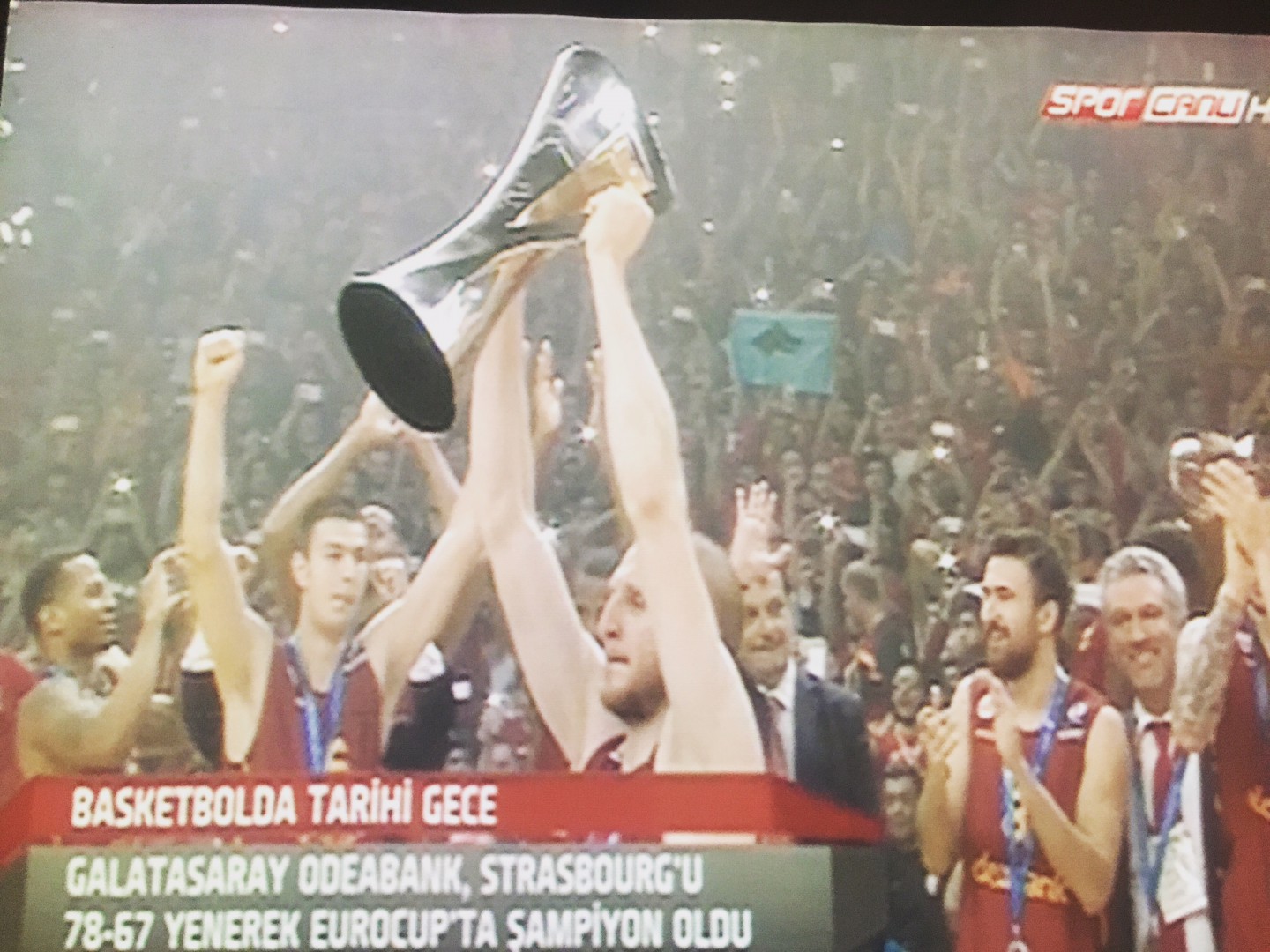 The last time I remember feeling like this was at the end of 2001. My family and I had gone to Copenhagen and the crowning touch to our trip, which had been a great holiday from the start, was the winning of the UEFA cup. Galatasaray has enjoyed the distinction of winning a European cup in 5 different divisions. Here's a breakdown of those five European victories:
2000 UEFA (Men – Football)
2000 Super Cup (Men – Football)
2009 Eurocup (Women – Basketball)
2014 Euroleague (Women – Basketball)
2016 Eurocup (Men – Basketball)
I hope that Galatasaray begins improving its financial situation and repeats in its other sports the success it has enjoyed in basketball.
I want to congratulate everyone who played a part in this victory and wish that Turkey continues to enjoy this kind of success. Like Coach Ergin Ataman, I wish our brothers at Fenerbahçe success in the Final Four of Euroleague. I hope they too bring home a championship and we as a nation can celebrate a double victory in basketball this year.
Galatasaray has made history again. Now it's Fenerbahçe's turn…
https://www.youtube.com/watch?v=nronE1GraR8
A riveting championship video prepared by NTV.
Tag: spor