Hungry for success, "Galatasaray are the Champions" with the Fatih Terim effect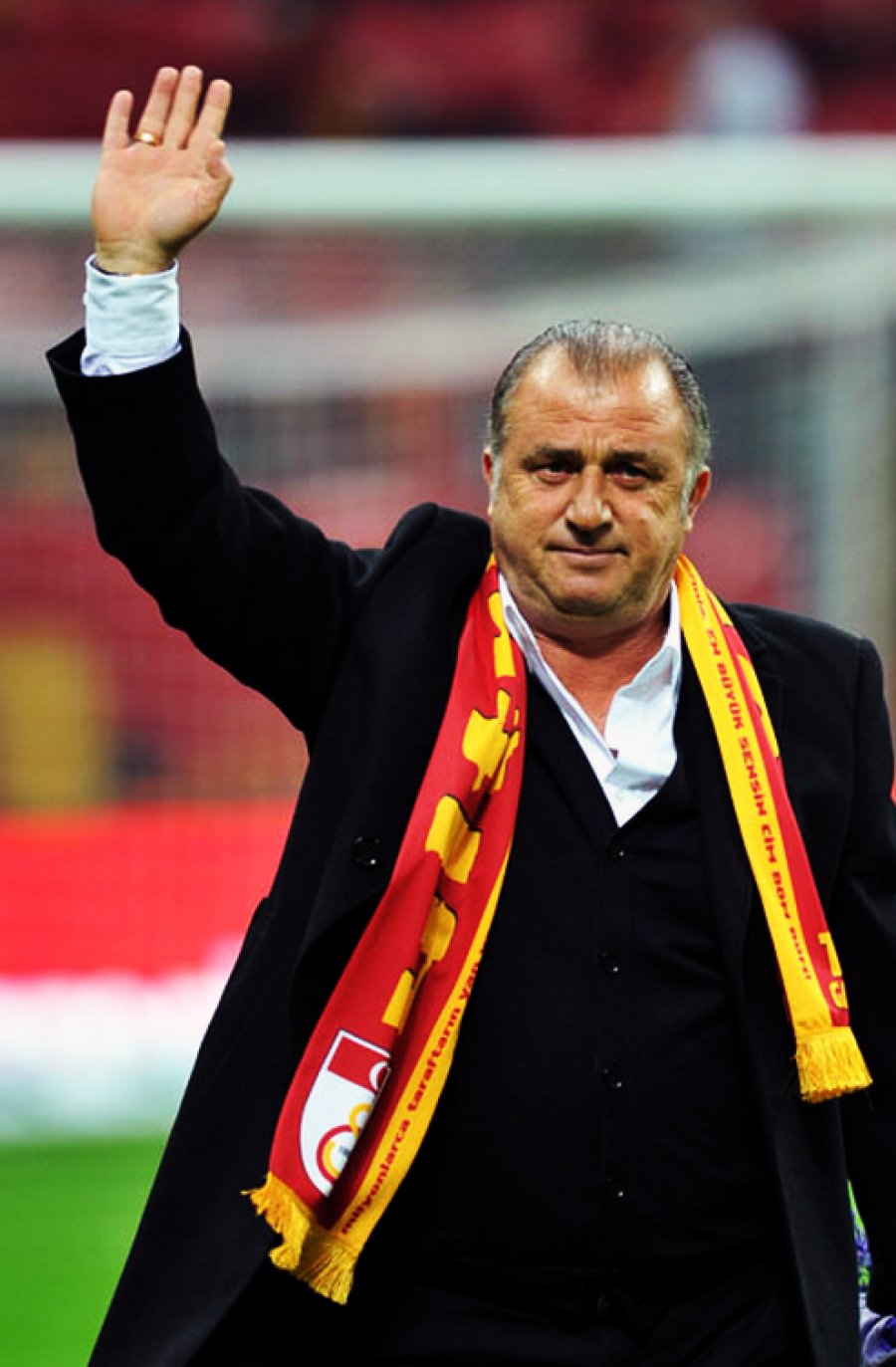 Yet another season has been left behind in the 2017-2018 Turkish Football Super league. What a season it was though. With constant dramas being witnessed in this years league, I can say that from my perspective it came to a happy ending with my team being the winners. However, there is so much more left to say...
In actual fact, from Galatasaray's perpective, the drama started for them before the start of the league. With the participation in the European Champions League, for the first time in its history, in July, Galatasaray got eliminated by Ostersund, a Swedish team. In the season before, winning the Swedish Cup, it made history with the biggest success and getting themselves a ticket in the European League, Ostersund FC, eliminated Galatasaray in the UEFA Europe Leagues in the pre-seIection stage, in which they then continued to write history with their success.
Galatasaray, the team with over 100 years of glory which we feel so proud of, got eliminated by the red and black colored Ostersund, which was established in 1996 with the formation of 3 clubs from its city and started its journey in 1997 in the third league of the Swedish football league.
In their first home game, they won Galatasaray 2-0. In their second game away from home, they drew 1-1 against Galatasaray and everyone's thoughts about this team having low chances of rising started to change.
Excessive form enhancements to the team in July
Actually, before this game, someone I knew, who in his past was a professional basketball player made some comments:
"I have been noticing that Tudor has been putting a lot of form enhancing pressure on the team. In the first few weeks that this pressure is given, there will be a significant drop in the footballers performance, but afterwards these professional players will eventually strengthen up and become seriously fit. I'm afraid that this significant drop in performance may be at the time they play against Ostersund, which means they can eliminate us. But then when the league commences, they will win against anyone that comes across them. This will take about 7-8 weeks. Later on with the body's natural reaction, all the effort it made which outclassed all their opponents will eventually break down and fall again. I hope that during those weeks, Galatasaray will make it through without any serious losses. And if the case, Galatasaray will be one of the strongest candidates".
Turns out that everything this person said, who has extensive knowledge about professional sport, were exactly what had happened.
The Galatasaray footballers had absolutely no ability to even lift their legs against the game with Ostersund. You could see how tired they were with your own eyes. Because the Swedish League correctly timed their early form enhancement training, Ostersund were able to stand strong against Galatasaray and rightly so, win and eliminate us.
From the beginning of the league however, like that friend said, in the first 8 weeks, Galatasaray only drew against Antalyaspor. They won the remaining games by scoring 20 goals. From the 9th week, they started losing form when they played against Fenerbahce. In order, we drew against Fenerbahce at our own ground 0-0. Then we lost against Trabzon in an away game 2-1. Afterwards, we suffered severe thrashings against our biggest competitors. In the 12th week, losing against Basaksehir 5-1 and Besiktas 3-0 upset our club and supporters immensely. Then losing against Yeni Malatyaspor in the 16th week was the final draw for us, which came with the decision to part ways with Tudor and take on Fatih Terim for the 4th time, who was the longest serving in the club in the past. This was promising.
Fatih Terim's biggest motivation was to "make up for his personal mistakes"
Because maybe this time Fatih Terim came to lead the team at a time it was most hungry for success.
If you remember, Fatih Terim was first worn down from the National Team due to the Arda Turan incident. It was argued that Arda was the villain who tip offed the media about bonus increases for players Burak Yilmaz and Selcuk Inan. I had written an article about Arda Turan: http://serhansuzer.com/en/tips-and-advice-for-arda-turan
After writing that piece, with the reach of some contacts, Arda advised that he wanted to meet me so he invited us to Barcelona, but unfortunately, with him being transferred to Basaksehir, this trip got cancelled. Arda did all the opposite of my recommendations. We also didn't get a chance to meet after he came back to Turkey. He needs time to pick himself up again. I believe his career has taken the wrong turns due to the wrong choices made.
Going back to Fatih Terim, after the Arda Turan incident, Fatih Terim also got himself tied into a scandal like situation. His past was already criticized as being aggressive and arrogant and with this, took his most negative steps in history.
Of course, we only read about this from the media: http://www.hurriyet.com.tr/gundem/kebapcida-yumruk-yumruga-1862017-40521357
Based on what was written, Fatih Terim's son in law, Ahmet Baran Cetin, opened up Beeves Steak House restaurant right next to the Cesme Alacati Yuzevler Kebab restaurant. When Cetin put a folding screen at the front of the restaurant, there were many objections made on the basis of it being "not suitable for the general landscape" style and was requested to be removed. Cetin then called his father in law Fatih Terim and request he assist with the matter. Fatih Terim then called the owner of Yuzevler Kebab restaurant, Mr Selahattin Aydodgu that night at 8.15pm and asked 'why are you trying to interfere! Don't make me come there'. Aydogdu then swore and said something along the lines of 'I dare you to come'.
After this exchange of words, Fatih Terim and his two son in laws, Ahmet Baran Cetin and Volkan Bahcekapali and his two private security guards got on the road at 9pm and went from Bodrum to Cesme Alacati. At 12.10am, Fatih Terim jumped over the Yuzevler Kebab restaurants wall and went inside to see Selahattin Aydogdu. He tried to punch Aydogdu but missed. Aydogdu then punched him back a few times. At this point, Terim's entourage jumped in including the waiters of the restaurant, which only made the situation worse. The fight which took 3-4 minutes saw tables, chairs and plates fly in the air. Terim and his entourage then left the scene.
Fatih Terim himself is from Adana and ironically, he attacked Selahattin Aydodgu who is also from Adana, who has also served in the Turkish Football Federation, and after this situation, he got pulled off being the manager of Galatasaray by the Turkish Football Federation. I'm not writing about this incident to hurt anyone but maybe there are other things about this incident that we don't know of. But from an outsider perspective I can comfortably say: for one of the two most successful technical directors (the other being Senol Gunes) getting involved in a situation like this did not play well with his profile. There is a serious level of significance in carrying the role of Turkey's Football League Directorship. The chances are they lit a fire below him which pushed him over the edge. Instead of going from Bodrum to Alacati, he could have got in touch with the right authorities and argued the reasons for Selahattin Aydogdu's objections. In short, this did no justice for Fatih Terim. And because he knows this himself, his attitude when joining the team this time is a lot more mature, hungry for success and he is very careful now of the way he talks and acts. This is a much better outlook.
Hungry for success, the Fatih Terim effect
He has infused the belief, motivation and passion that Galatasaray needs. The footballers displayed their best performances in the most important games and although there were some mistakes in the away games against Sivasspor, Kasimpasa and Genclerbirligi, we won all the games at home and collected all the points we needed in the last few weeks which gave Galatasaray its 21st Championship.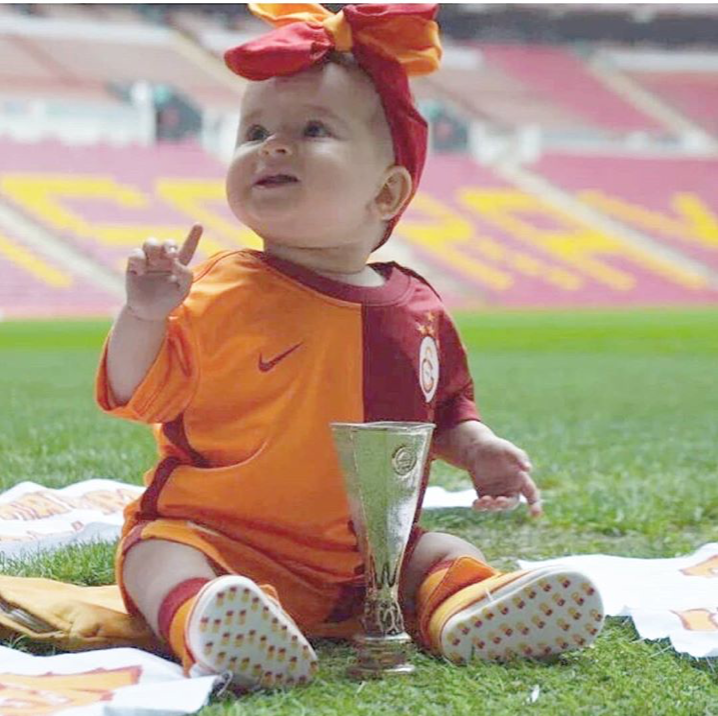 The sweetest expression of championship
The best part of this is being able to relay this in the best possible way to all the supporters. The best moment of the season was the fact that all the Galatasaray supporters filled the Turk Telekom stadium the day before the away game with Fenerbahce, to watch a simple training session, which showed just how far they'd go to support their team. Of course with this energy, Galatasaray almost won against their biggest opponent Fenerbahce at their stadium years later.
They defeated their biggest competitors Trabzonspor, Basaksehir and Besiktas by winning them 2-0 and won the championship in a way that no one could argue. I wish their whole camp the best of my wishes.
I'd also like to share with you the championship celebrations made at our stadium. We all share this amazing feeling: https://www.youtube.com/watch?v=khqC2UfSud8
I can say there are two very important people behind this championship. As you can tell from the title of this article, Fatih Terim is one of those most important people. However, maybe there is a much more important factor here than Fatih Terim. The person that we cannot deny of their contributions is of course, Galatasaray's old technical director Tudor and the close scout team that worked with Tudor who literally re-created the team from scratch. He didn't have much skill in being a technical director but he left Galatasaray as a successfully performing team. If there wasn't players in this team who had already proven themselves, if there weren't any with good characters, this championship wouldn't have come. Fatih Terim really utilized the strong foundation of the team. I hope Fatih Terim will continue to work with the same scout team.
The embarrassment of Turkish Footballers lacking in the team
I want to personally make a criticism about this topic. The fact that there is a lack of Turkish players in the team makes me very uncomfortable. In some games there are no Turkish players present and in some games 1 Turkish player, which clearly shows the downfall of the Turkish Football League. Imagine this, the supporters are constantly giving the team standing ovations in games by singing their championship anthem: "We are the champions over an over for the past 4 years, we have become the kings of Europe…. we have become the champions 4 years in a row, we have become the kings of Europe… History will write all the truth, and Ga-la-ta-sa-ray will write history"
I wrote the emotional filled chant above to give you an example. When Turkish Footballers get wound up with anthems like this, would they perform better? Of course. Well, would foreign footballers get worked up from anthems like this? Is it just our supporters that "sing anthems like this" and get caught up on this kind of emotion? The stadium comes to its knees with anthems like this winding up the whole crowd, but foreigners don't understand much about this kind of song banter. I just wanted to give this as an example of our passion.
I believe that except for the goal keepers, the rule needs to be adhered to by at least 50/50% in the Turkish Football league. What I mean is, at least 5 Turkish players need to be placed in the teams. Then we can call our teams Turkish teams. I don't want to hear the clichés about "industrial football is going places". We need to maximise the contribution to the sport with amateur and professionals players from our country. Otherwise there is no point of these sporting competitions. Therefore, I'd like to write about this to the mangers of the sporting clubs stressing over and over again: INVEST THE MOST IN THE FOUNDATION OF YOUTHS. AND MAKE THIS INVESTMENT WITH THE MINDSET OF KEEPING IT LONG TERM AND BE PATIENT! BRING THE MOST PROFESSIONAL OF MANAGERS WHO CAN CARRY OUT THIS ROLE TO THESE ROLES!
Apply models of Ajax and Barcelona. Develop new models to cover the whole of Turkey. Who knows what talents we are missing due to the non-systematic ways things are currently run.
Has Fatih Terim been acquitted since this championship?
Those around me have been arguing the point whether or not Fatih Terim has been acquitted or not since this championship. I believe that this championship has not acquitted Fatih Terim. It has only increased his popularity. In order to be acquitted, he needs to be found 'not guilty' in the name of law through the court system and then afterwards, act and display mature mannerism all the time.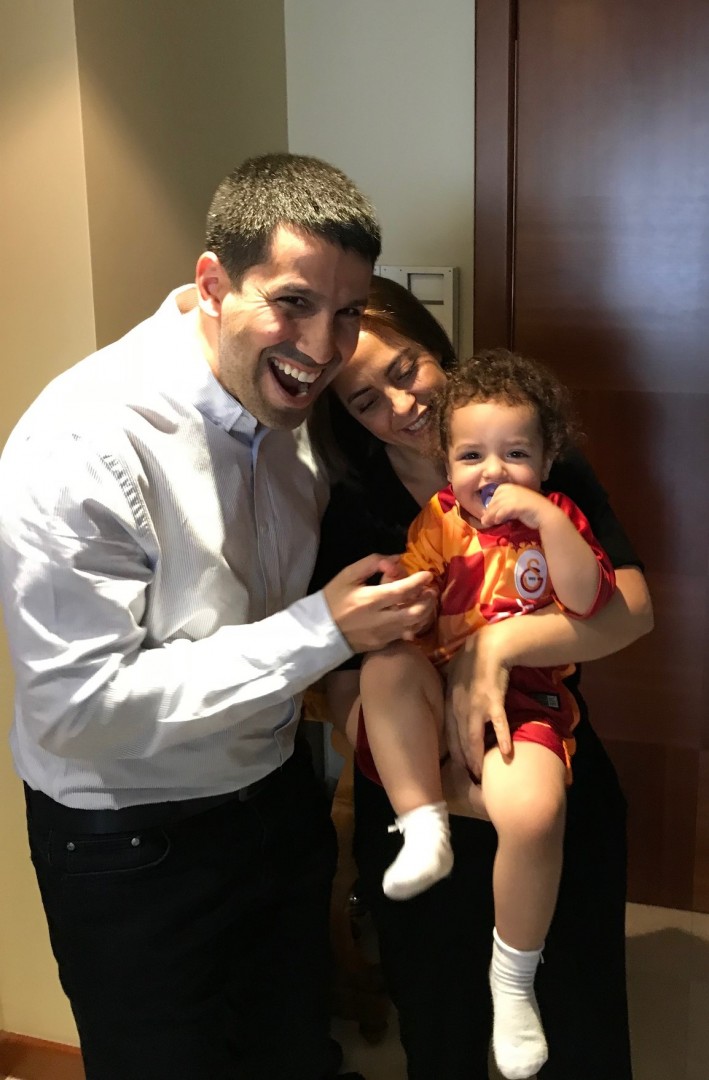 A photo with my cousin Bahar and her sweet daughter Noura at our celebration the day after the championship
The declarations made by Ali Koc
Finally, I'd like to state one more thing. The race for presidency in our long standing competing team Fenerbahce continues. This weekend, Ali Koc appeared on CNN Turk and stated that the federation and teams can come together outside of the field in order to stop the violence in football, "The environment we find ourselves in is full of violence and hatred. The violence between clubs must come to an end. The expression that "The Galatasaray club hates Fenerbahce and the Fenerbahce club hates Galatasaray" is quite widespread. It wasn't like this in the past. Outside of the field, the competition needs to be artificial. In order for change, Fenerbahce can be the locomotive" You can read the rest of the article at this link: https://www.cnnturk.com/spor/futbol/fenerbahce-baskan-adayi-ali-koc-cnn-turkte
I hope he was genuine with the things that he said. Because if this brotherhood and common sense comes into play, the major problems in the Turkish Football league will be solved.
As a fanatical Galatasaray supporter myself, I don't have hatred towards Fenerbahce. Infact, I genuinely support Fenerbahce in all its games that they play in Europe.
We wish that from now on the Turkish Football league is not perceived by one criteria which is championship, but also to be perceived as a country that has brotherhood in sport and the elevation of country through sportsmanship.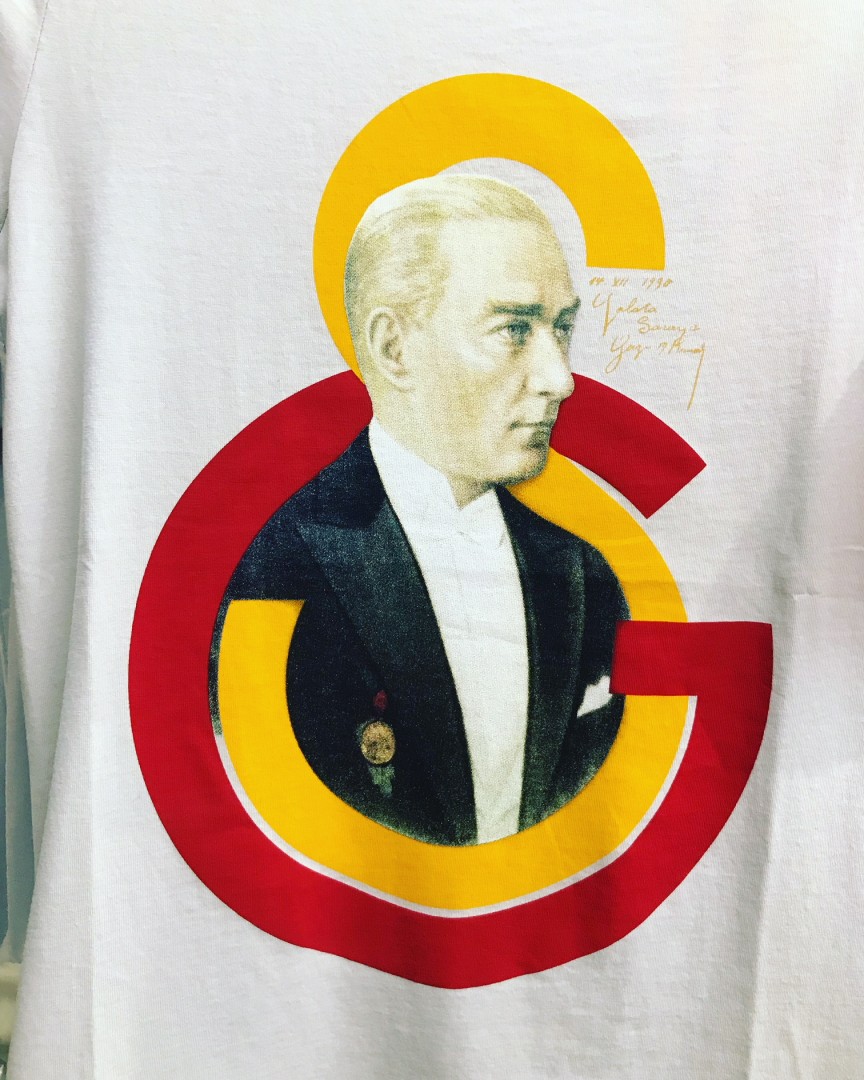 I would like to share with you a photo I took of a t-shirt I found in the Galatasaray Store. Turkish sports should be shaped in the way that Ataturk has said "I like sportsmen who are intelligent, agile as well as morally upright"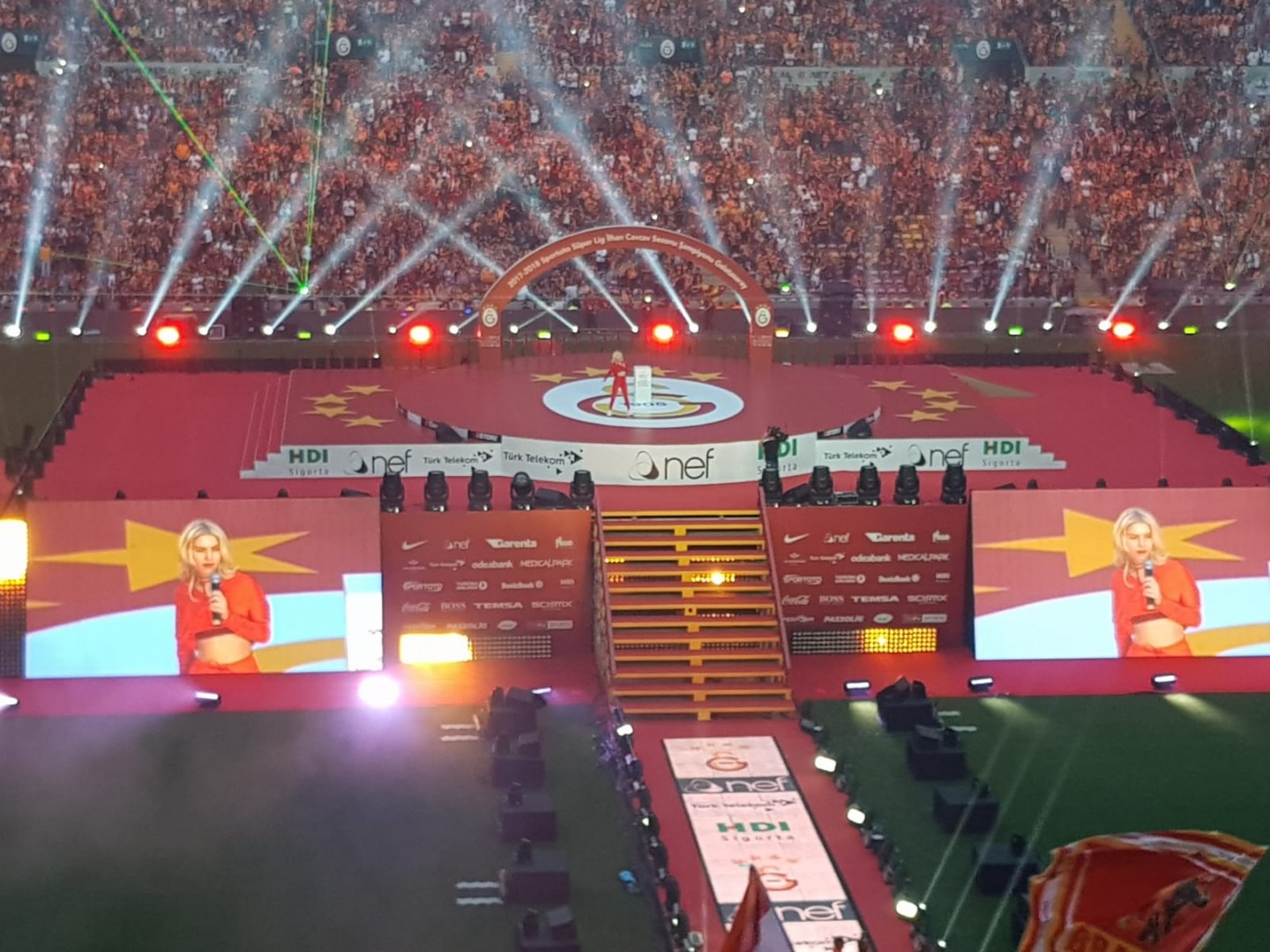 Tag: yaşam