In the honourable memory of Harun Kolçak...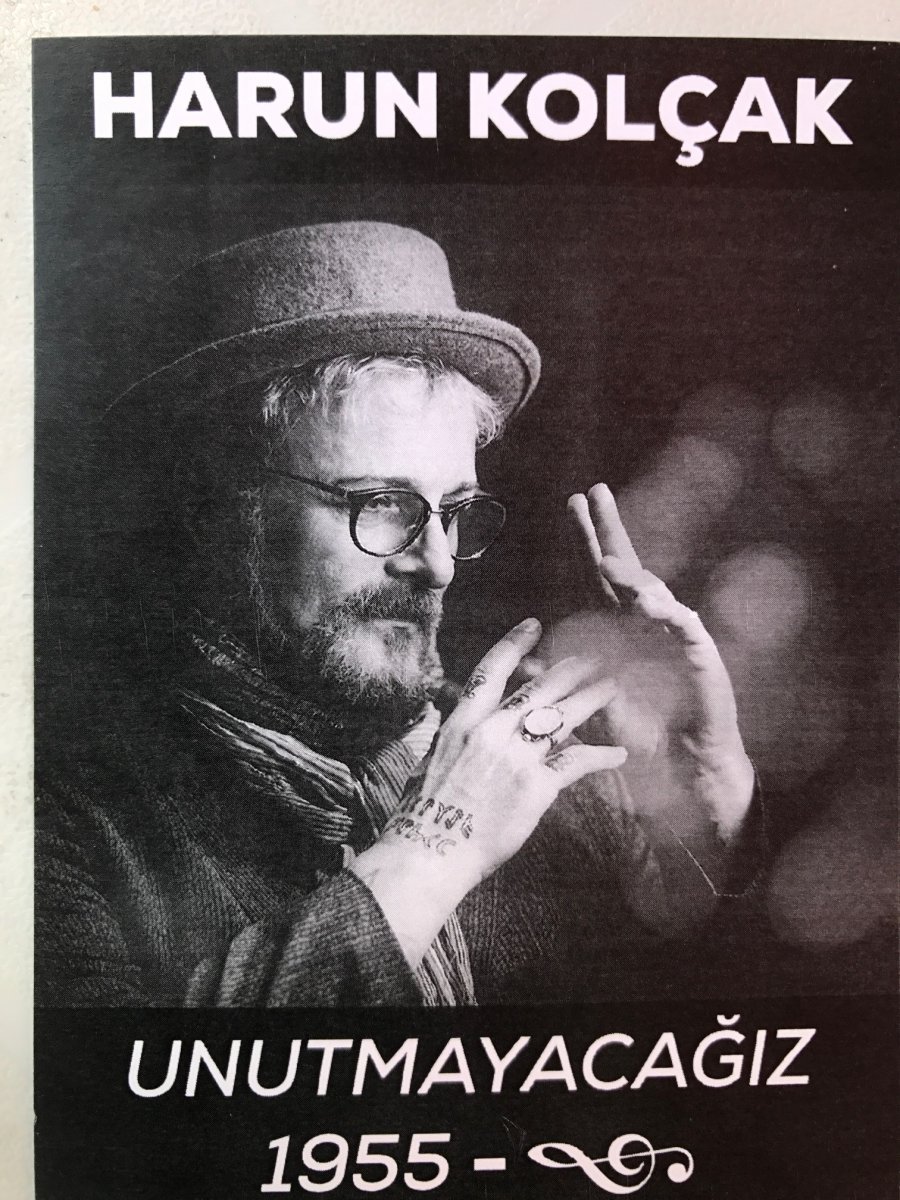 I was preparing to write a half year article, but unfortunately I got news that we had lost Harun Kolçak. I'm still living the grief of this. I wanted to put pen to paper about our valuable artist who shone like a star in the last big Tider organised event.
I had previously written about Harun Kolçak regarding the concert we had back in April. I had written how we were desperate and that Harun Kolçak had agreed to do this concert for Tider and as a result, a fantastic event was organised at the Bostanci Gosteri Merkez for all lovers of music. For details of this, please see the below link:
http://serhansuzer.com/en/a-concert-becomes-an-adventure
Some things that I didn't touch on in that article, I'd like to touch on now. The previous time that Harun Kolçak visited our club, unfortunately I didn't get a chance to meet him. I had to cross to the European side for a very important finance meeting. I really would have liked to be there. The photo taken at our club with Harun Kolçak was accompanied by our colleagues and my dear friend Uygar Ozesmi. It was also a coincidence that Uygar ended up being an old friend of Harun Kolçak. A photo full of positivity was captured as per below: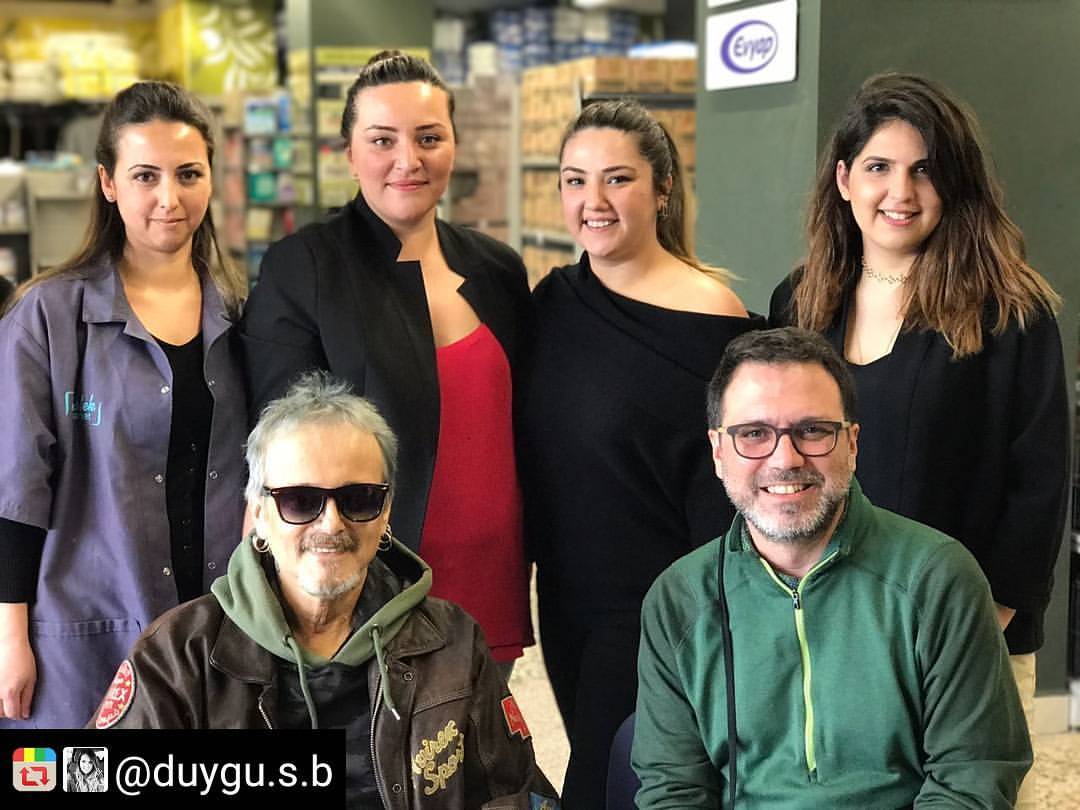 Fate allowed us to meet for the first time at this year's Tider organised concert, which was on the 9th of April. We came together backstage. From the moment he saw me, he said "I wasn't expecting a club president to be this young". Smiling, I said "Yes, I'm young but not that young" and continued to ask the classic question "How old do you think I am?" And he replied "Since you've put it that way, I assume you are older than you show, but you don't look older than 30". I then told him that I'll be turning 40 in November. And he said "As I predicted, you don't look your age, bravo!". I then thanked him and told him he looked healthy and in a classic way I said "we really appreciate the support you are showing to our club" and he stated that artists should support social responsibility projects and that it should be a part of our common responsibility and he added "I congratulate you in all the great things you are doing".
Chain concerts in his honour
After this enjoyable chat, I wished him the best and excused myself kindly. The concert was fantastic. Here are some photos taken from the concert: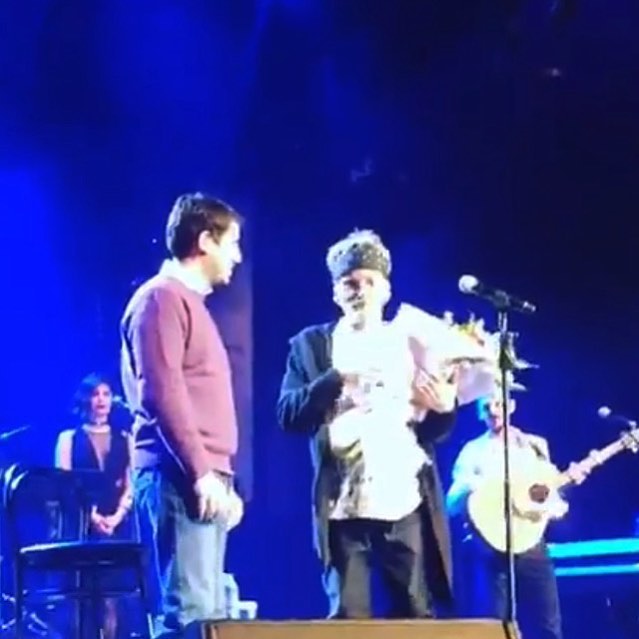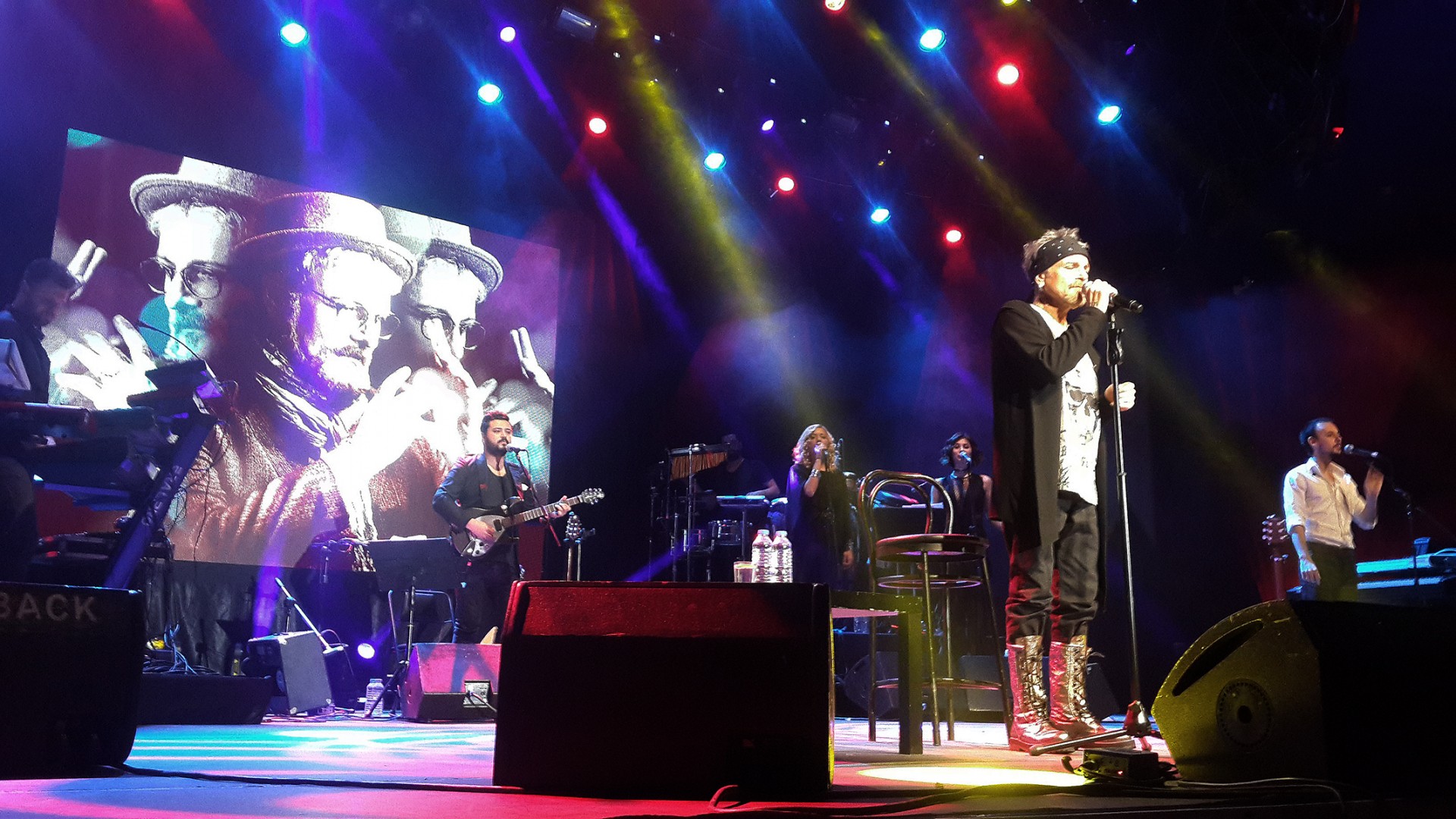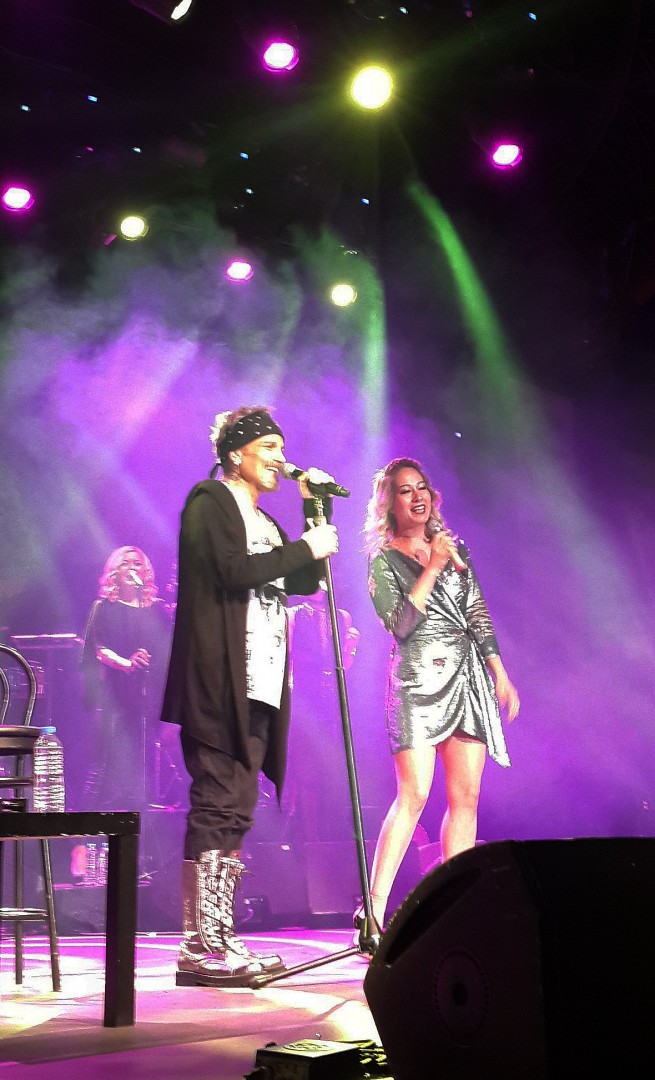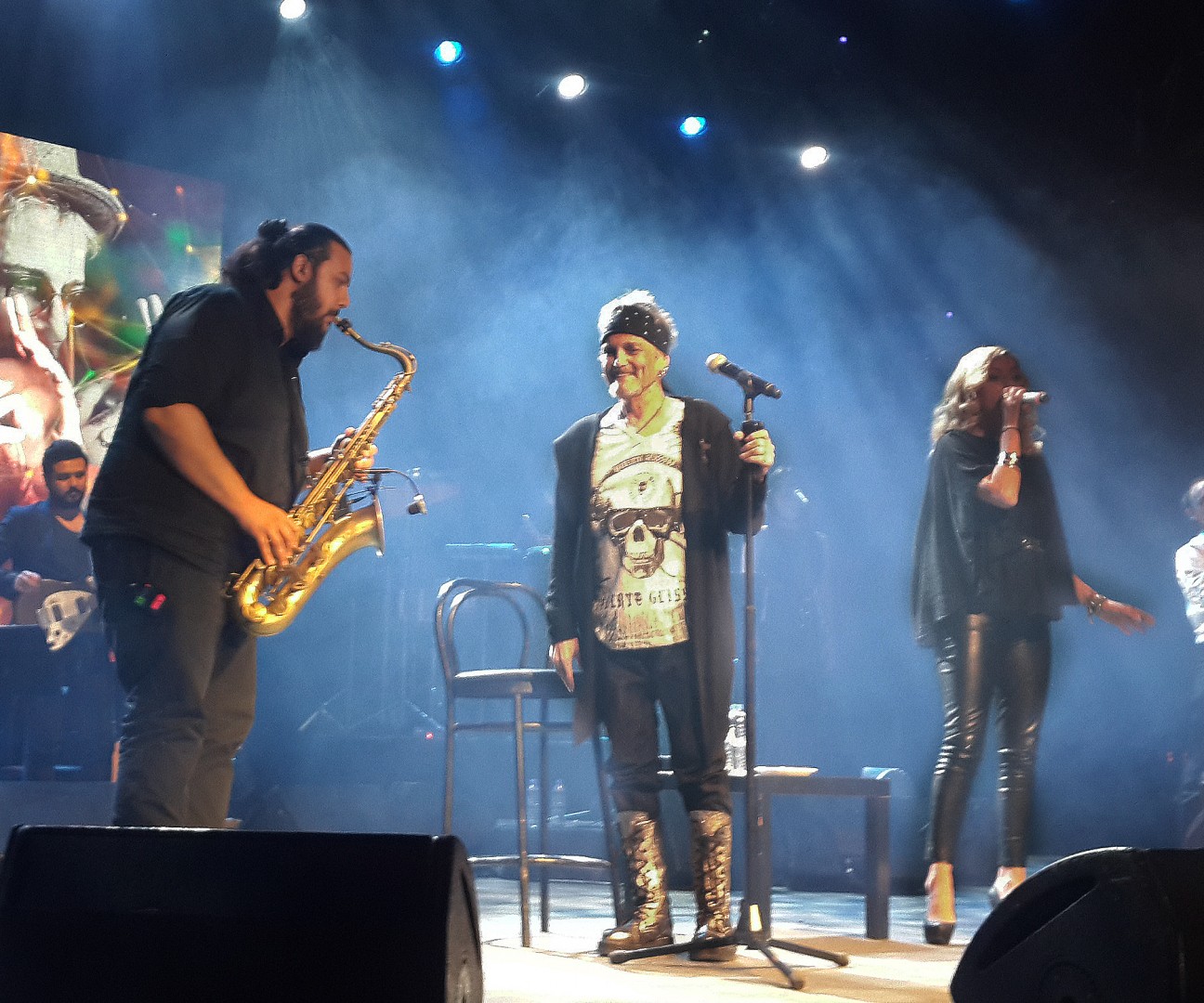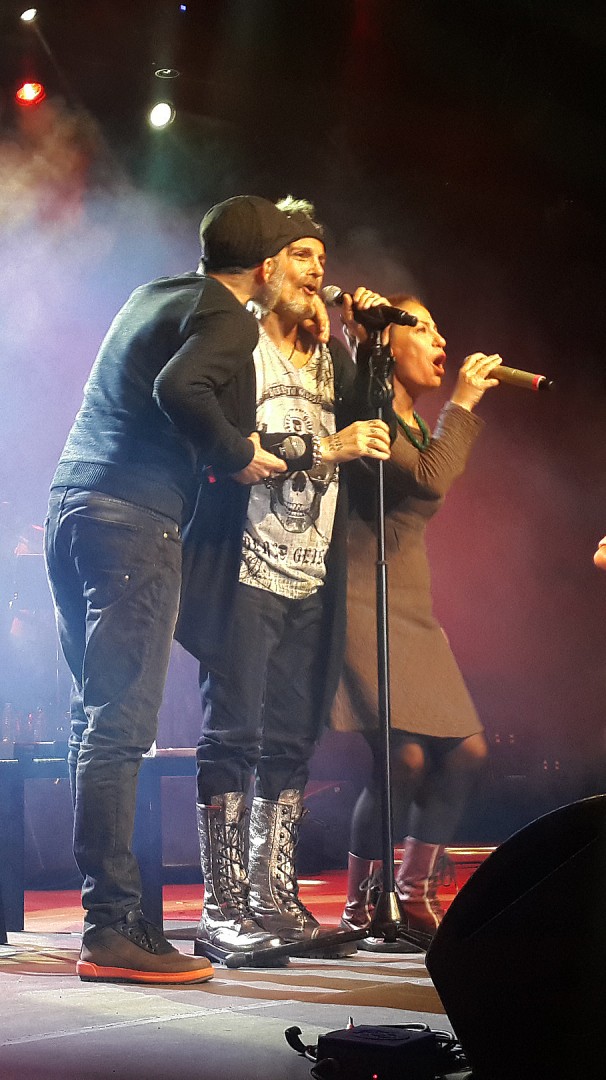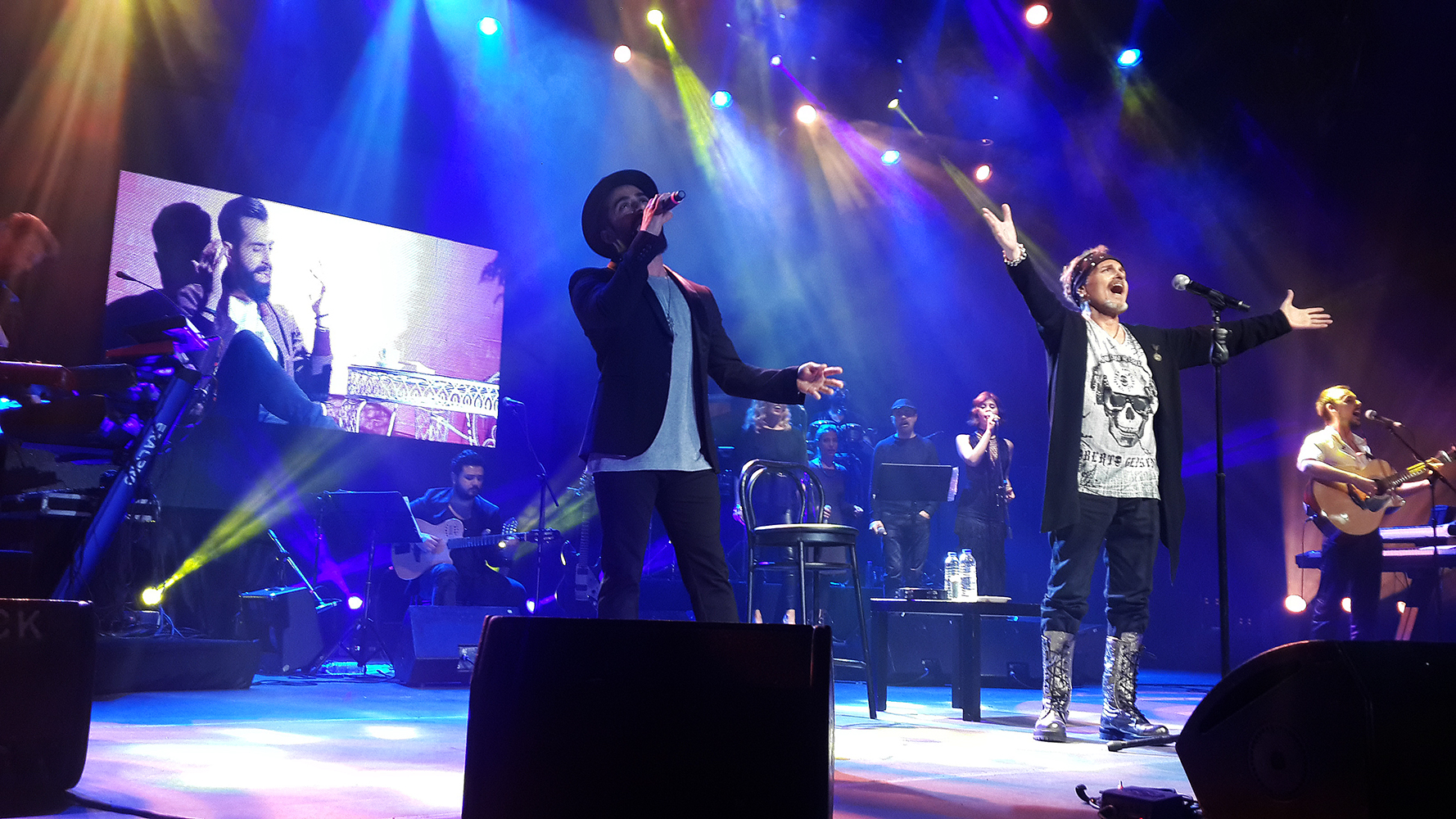 I saw him again after the concert. This time he was sitting backstage with his other artist friends (Çelik, Isin Karaca, Deniz Arcak and Umit Sayin), musicians and managers. When he saw me at the table he said "and this young man is Tider's president. We did the concert in the name of Tider", and introduced me to everyone. I then said "It was a fantastic concert, thanks to all your efforts. I'd like to thank you once again on behalf of the club". And he said he really enjoyed the concert too. His managers who were the first ones we got in touch with, Ozlem Ozbakan and Umut Kuzey were also at that table. Umut Kuzey, who also made a duet with Harun Kolçak, got into the conversation and mentioned that in support of Tider, they could do chain concerts all over Turkey. Harun Kolçak acknowledged this by shaking his head. And I said we could talk about this in more detail later and then left the table.
I will again speak to Ozlem Ozbakan and Umut Kuzey about conducting the chain concerts all over Turkey. I believe we could do these in honour of Harun Kolçak and for the benefit of Tider. We'll see…
We unknowingly achieved a lot of things at this concert successfully.Firstly, we were able to raise revenue for Tider's facility. Secondly, it was a great chance to introduce and represent the Tider name. We were able to inform everyone in the arena of the social media activities, and the support we give to thousands of people through the Support Market and Support HR program. Thirdly, we were able to re-connect Harun Kolçak with his Istanbul based fans. Fourth, alot of Harun Kolçak's friends were able to join him on stage. We were part of the reason for the coming together of valuable artists. Finally, we were the ones able to organise and put together Harun Kolçak's last big concert. If only the conditions were different and we could continue to organise concerts with him all over Turkey. That's fate.
Above everything, he was a good person and an important artist that Turkey was able to raise and for those that didn't know him, can read about him in his biography (taken from Hurriyet, 8th February, 2017)
http://www.hurriyet.com.tr/harun-kolcak-kimdir-kac-yasinda-40359653
Harun Kolçak's biography
He was born in Istanbul on the 15th of July, 1955 as Harun Kolçak, son to the cinema artist Esref Kolçak. The star who was educated at Saint Benoit started to play the base guitar during this time, and having such a passion for music, he spoke to his cinema artist father Esref Kolçak and advised he'd leave his studies to pursue a professional career in music. Known for multiple titles such as Turkish pop artist, composer, song writer and base guitarist, he took his first steps with Erkin Koray, who was known as the father of rock music. He was the base guitarist for Erkin Koray's album 'Tutkusu' released in 1977. He joined the Silahlipoda Ritm 68 orchestra as base guitarist in 1978, and on his return from military service, turned to jazz music. He worked with popular artists like Aydin Esen, Neset Ruacan-Nukhet Ruacan and Erol Pekcan, which increased his experience. At that time, Harun Kolçak received an offer to join the Onno Tunc orchestra. For 7 years he was the base guitarist, vocalist and solo artist for the Onno Tunc orchestra and then got awards for making duets with Zerrin Ozer and Askin Nur Yengi for the 'Kusadasi Altin Guvercin Muzik' competition and the Antalya 'Akdeniz Akdeniz Muzik' competition.
In 1991, he got huge recognition for the 'Beni Affet' album he produced in conjunction with Onno Tunc. The lyrics and music all belonging to him, and he also gave some songs to other artists. In 1996, he was chosen as the 'second best artist' in the 'Muzikos Festivalis 96' competition held in Lithuania, hosting 13 other countries. In 2012, he released the 'Yeniden Doguyorum' solo album. And as of October 2013, Harun Kolçak started up the 'Rock Off' named group. The group which consisted of Can Guney, Yusuf Tunceli and Orkun Gezer first performed on the 'Makina Kafa' named program hosted by Okan Bayulgen.
In 2014, Harun Kolçak got diagnosed with prostate cancer and therefore had an operation. With his words "death adds meaning to so many things. If we were everlasting, we'd never show each other value", he fought his battle with his illness, adding that he successfully bet cancer purely on spirituality and said he also started an alkali diet at this time.
Two unpleasant reflections
Unfortunately, we lost Harun Kolçak on the 19th of July. He had said in his last tweets to 'remember me from my songs'. I'd like to share the link of the duets Harun Kolçak made with many artists last year in his final album. Enjoy listening to these (it starts with the duet he made with Gokhan Turkmen 'Yanimda Kal', along with many others lined up on YouTube).
https://www.youtube.com/watch?v=RXN8S8vvFxw&list=PLOSxKvRJnFDyD4VcsJLYwzEdmmfh2T-4J
I want to mention that there were two things I didn't like after the passing of Harun Kolçak. Firstly was his fathers declarations. I don't know him but when I first heard his words, I thought 'he could have said more positive and nicer things about his son'. Due to my respect for Harun Kolçak, I will not go into further detail.
And the 'anything is permissible for ratings' mentality is not something I don't like about newspaper journalists. In this regard, the article that Cengiz Semercioglu wrote, titled 'Things are perceived differently once you've passed' was really a lot of bad luck. For those interested, I have shared the link to his article:
http://www.hurriyet.com.tr/yazarlar/cengiz-semercioglu/hayattayken-yazilanlar-olunce-karartiliyor-40527164
We'd need to ask him this "Did Harun Kolçak die from drugs and alcohol or from cancer? What did he achieve by bad mouthing him? Was it worth it?"
And I'd like to also say this to Cengiz Semercioglu too: people will remember others from the way they made them feel. We remember Harun Kolçak from his helpful character and how much of a great person he was and how his songs added life and colour to our lives and as one of Turkey's most valued musicians. The rest is unnecessary. Just wanted you to know.
On the way to his funeral, I made my way to Nisantasi and turned on Spotify and listened to his music just as he'd like us to. As Tider, we joined his funeral at Tesvikiye Mosque as a full group. Everyone was very sad.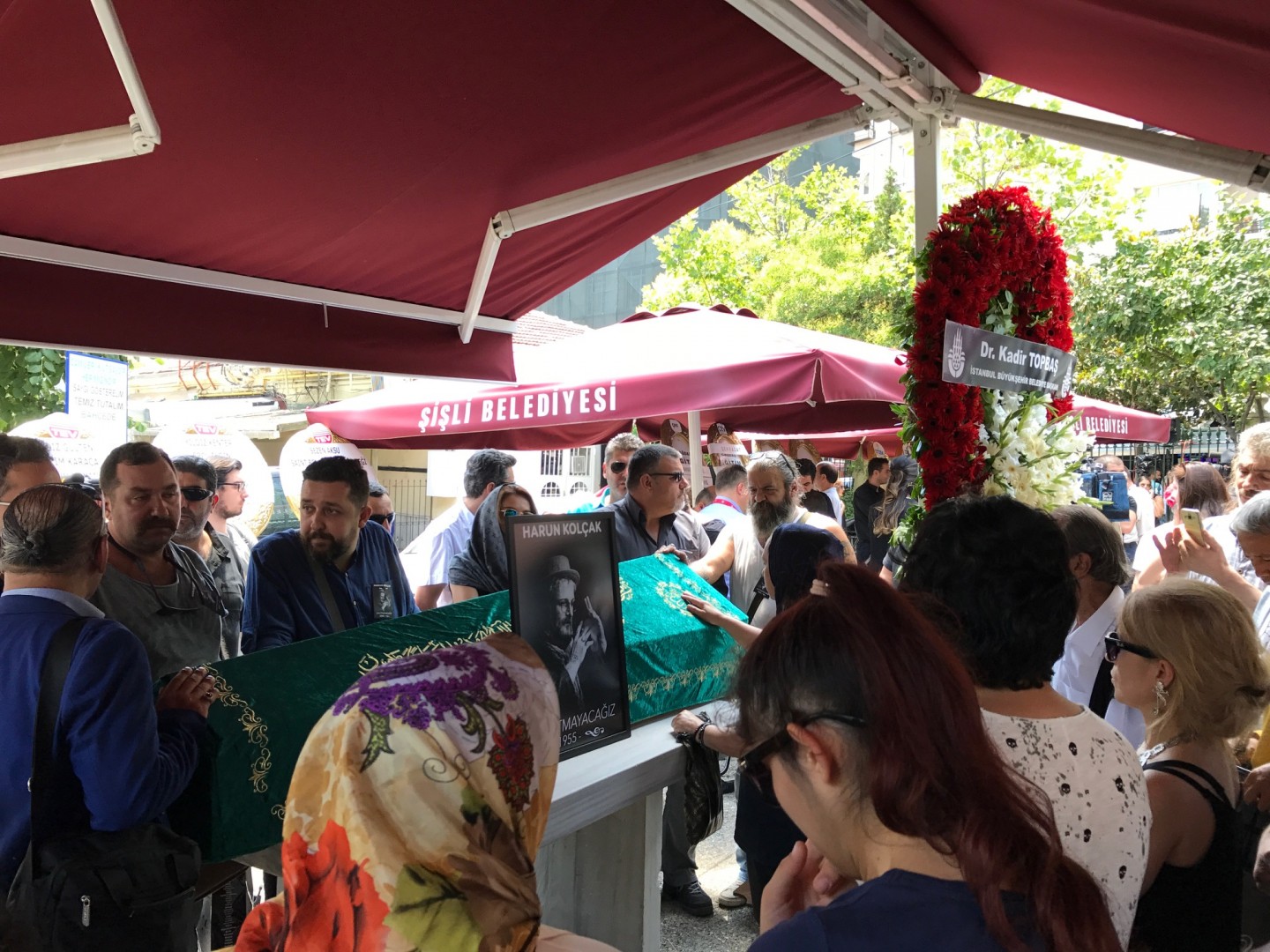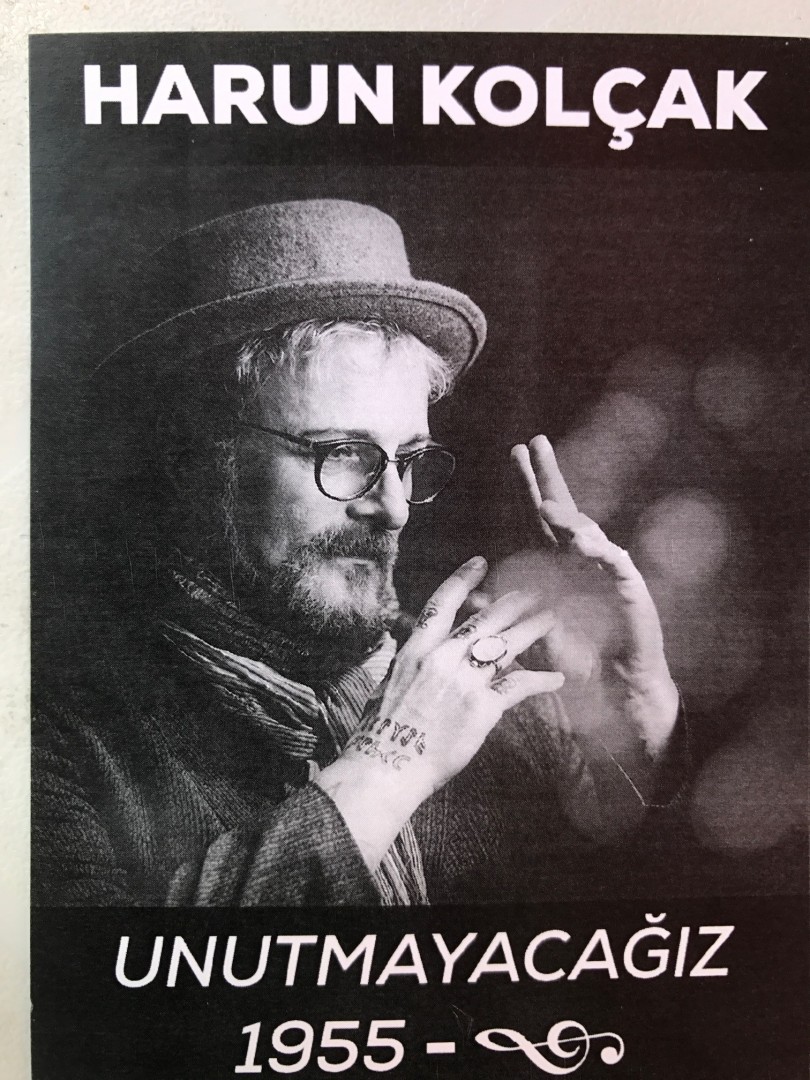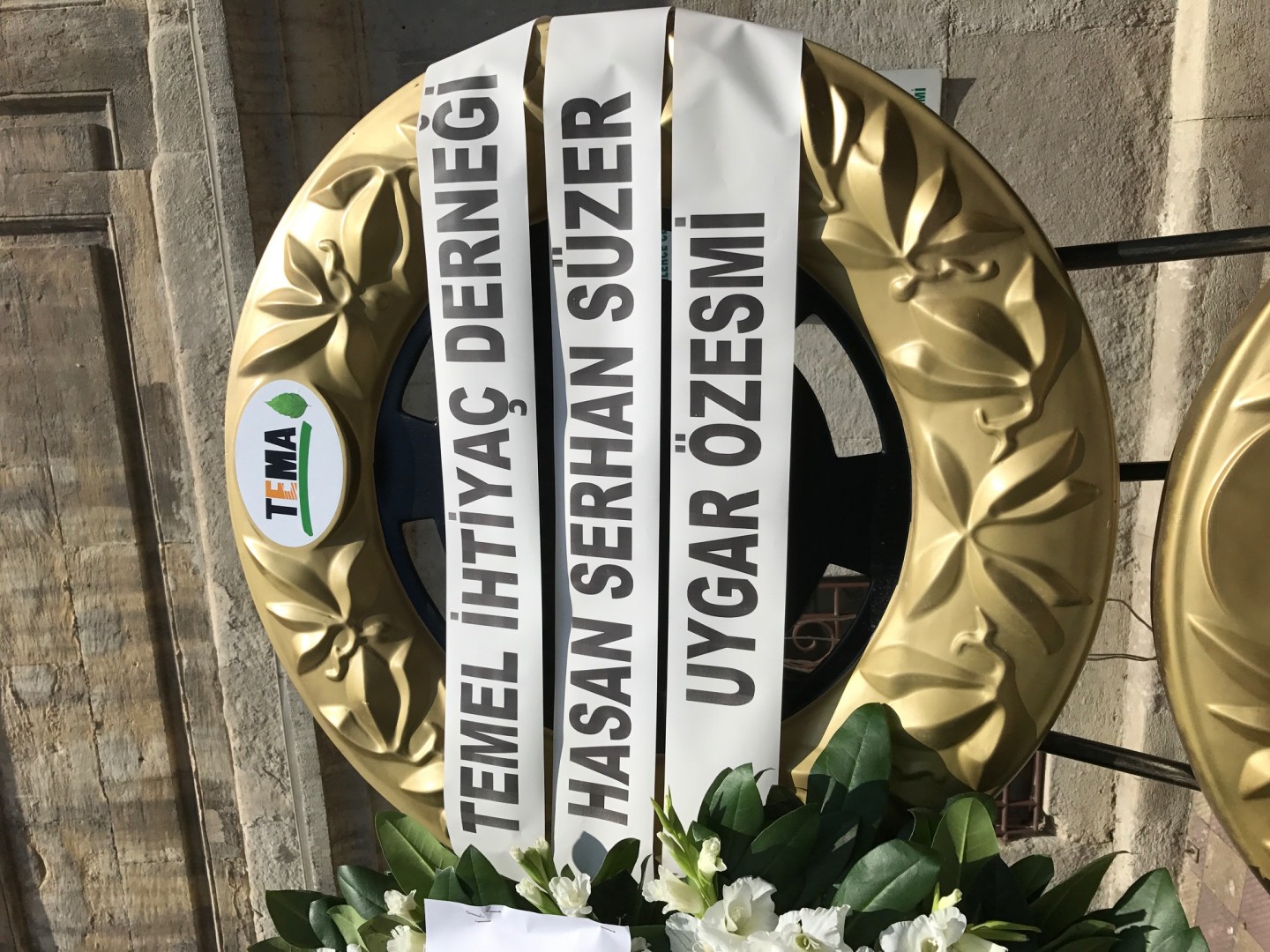 During the ceremony, I saw Umut Kuzey. We had the below dialogue:
our condolences. We are all very upset.
thank you and thanks for coming.
we are here as the full Tider team. All my friends are here.
nice to see you all.
thank God we did the concert in April.
yes, that was Harun Kolçak's last concert. Harun was very happy at that concert.
it was obvious how happy he was. There was a huge crowd and all his singer artist friends were there. It was fantastic. We had spoken about doing chain concerts that day. In Harun Kolçak's honour, shall we pursue this?
off course. Let's talk about this.
ok great. Speak soon, keep in touch.
Afterwards, the funeral car left the mosque and went to Bursa Gemlik in which we all farewelled him with applause.
May God bless his soul. May Harun Kolçak rest in peace.
I want to finish off my article with the words of my dear friend, Itir Erhart, who is the founder of Adim Adim. He shared this about Harun Kolçak on social media:
"When I met Harun Kolçak, I was about 16-17 years old. The communication he had established with his dog had really effected me. I had my first vegetarian meal at his place. I think I also heard the word 'vegetarian' for the first time from him. Harun loved all human beings… He liked civil societies (in which he did his final benefit concert in the name of Tider)… He loved to love. He was a very special person. Condolences to us…"
Tag: anı