Coronavirus is now a reality of our country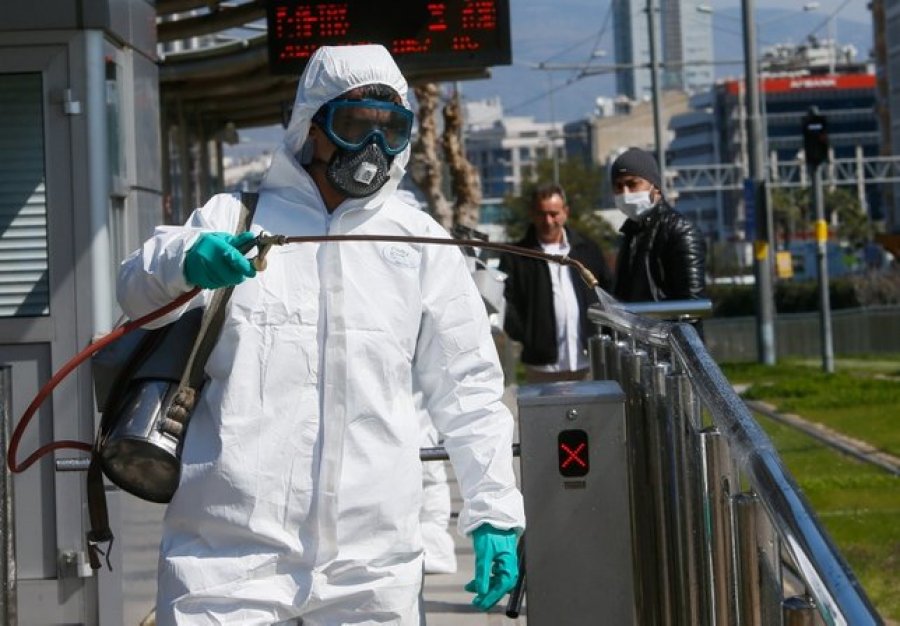 The COVID-19 epidemic, which started in China as the coronavirus and spread to Europe and all over the world in a short time, is now in our country. I devote my first article on this vital issue to my observations about the spread of the virus and the precautions that we need to quickly comprehend just how serious this is.
Last year I created a list. On this list, there are around 20 topics that I can write about if there are no current topics on the agenda. Interestingly, I cited a title "virus" among them. Let me tell you why. Those around me know, this virus issue is one I am obsessed with.
You ask why? Because viruses are microscopic infectious agents that can infect living cells and thus replicate (Wikipedia). Viruses can infect all kinds of living things, from animals and plants to microorganisms including bacteria and archaea. This means the following. Humans and other living things, made up of living cells, can become infected and die by viruses. In fact, they can become an epidemic like we live today due to the coronavirus and threaten the lives of millions of people. Even more extreme scenarios are; If precautions are not taken, a very deadly and rapidly spreading virus can wipe people from the earth. This is not a joke, it is real. As far as I have read the dangers of this from certain sources, I have been aware of it for more than 10 years and have expressed it in many conversations.

The pharmaceutical industry's attitude to pressure
The strangest part is that the pharmaceutical industry, which deals with these viruses that affect human life, generally focus on creating an industry of suppression instead of eliminating them. Let me give you two examples:
The first example; There was a basketball player named Magic Johnson when I was a teenager. Earvin "Magic" Johnson, one of the most important basketball players of the NBA, was the NBA's king of assists. Johnson had scored 17,707 points, 10,141 assists, 6,559 rebounds and 1,724 steals in his career. In fact, he is the player with the highest number of assists per game of all time in NBA history with 11.2 assists. When such a superstar announced that he was HIV positive in the 1991 season and that we learnt that HIV was a virus that turned into AIDS, it shocked everyone at that time. Everyone, including me, thought he had 1-2 years left to live.
Magic Johnson is still alive today. There are people in this world who have been living with HIV for longer than Johnson, who is 61 years old now. This was made possible by the HIV drug he took every day. The daily tablet taken prevents the HIV virus from turning into AIDS and Magic Johnson continues his life. After learning these details, the order established by the pharmaceutical industry immediately came to my mind. Can you imagine, until the end of your life, you take drugs in serious numbers every day and you suppress this virus, but you do not kill it. Why is that?
Why do they not aim to destroy it?
So according to my logic, pharmaceutical companies that succeed in suppressing this virus should be able to eliminate the same virus completely. So why do you think they don't? This time, I look at the business logic of this and I think of the cash flow and the incredible profit you get from a patient you have drawn in until the end of his life. However, if this patient took a drug that kills the virus as soon as he received the news about the virus, it would not create such a cash flow, would it?
Now I am sure there are objections to what I said from my friends who work in the pharmaceutical industry, I am sure they will tell me how costly it is to make R&D of these drugs. And I repeatedly say to them "But why don't you aim to kill? While you are suppressing this, you should be able to find a way to destroy this virus, especially when you have billions of dollars in funds, you should easily find a cure".
My grandmother and chicken pox
The second example is from my own experience. Two years ago, allergy-like lesions occurred on my grandmother's skin. When the doctors examined it, they said it was due to the chickenpox she had in her childhood. To put it more clearly, my grandmother somehow got the chickenpox virus as a child, technically known as "Varicella Zoster". We all know the chickenpox vaccine is a very unpleasant thing, but a vaccine is also necessary, because the chickenpox epidemic was also a serious problem at the time. Chickenpox usually occurs with water-filled blisters and rashes on the body and makes children weak and tired.
Can you imagine, my grandmother, who had chickenpox in her childhood, probably because of the decline of her immune system (none of us know why), chickenpox resurfaces after the age of 90. So, this means that the virus becomes active again.
That's why I have been obsessed with this virus, which I have been talking about for 10 or so years, and it has been on my mind for the last 2 years since my grandmother's incident. This virus problem has become personal for me now. In this regard I even thought, "I wonder if I reach the position I want in the future, if I aim to develop a system that can quickly present successful results to the public with sustainable R&D focused on destroying viruses?".

The severity of the epidemic
Returning to our topic, one of the many issues I had in my mind was viruses. When the first coronavirus news broke out in China, I said, "Oh, another dangerous virus has appeared", but I never thought it would be worse than SARS, and I can't lie, I remember saying to myself, "The Chinese will take care of it again." As I read the news about this coronavirus once a week, I started to get slightly worried. The fuss grew as we read about the Chinese establishing hospitals and all the serious steps they took. When I read that this virus got out of China, then the haste increased 10 times. But I still thought it could remain regional and would not turn into a global epidemic. I was saying to myself, "They kept Ebola in Africa, and COVID-19 in Asia." After the events had spread to Italy and other European countries and as I read about what they were going through, my idea of this changed and I began to say it was only a matter of time before this epidemic would arrive in Turkia. I even started to make small preparations and warn my environment about it.

During this period, interesting memes began to appear. Some of these were related to the new type of greeting: https://www.msn.com/tr-tr/video/haber/koronavirus-korkusu-ile-ortaya- out-yeni-selamlama-style/vi-BB10L4aE
Some of the jokes were peculiar to our country. Here are some of them: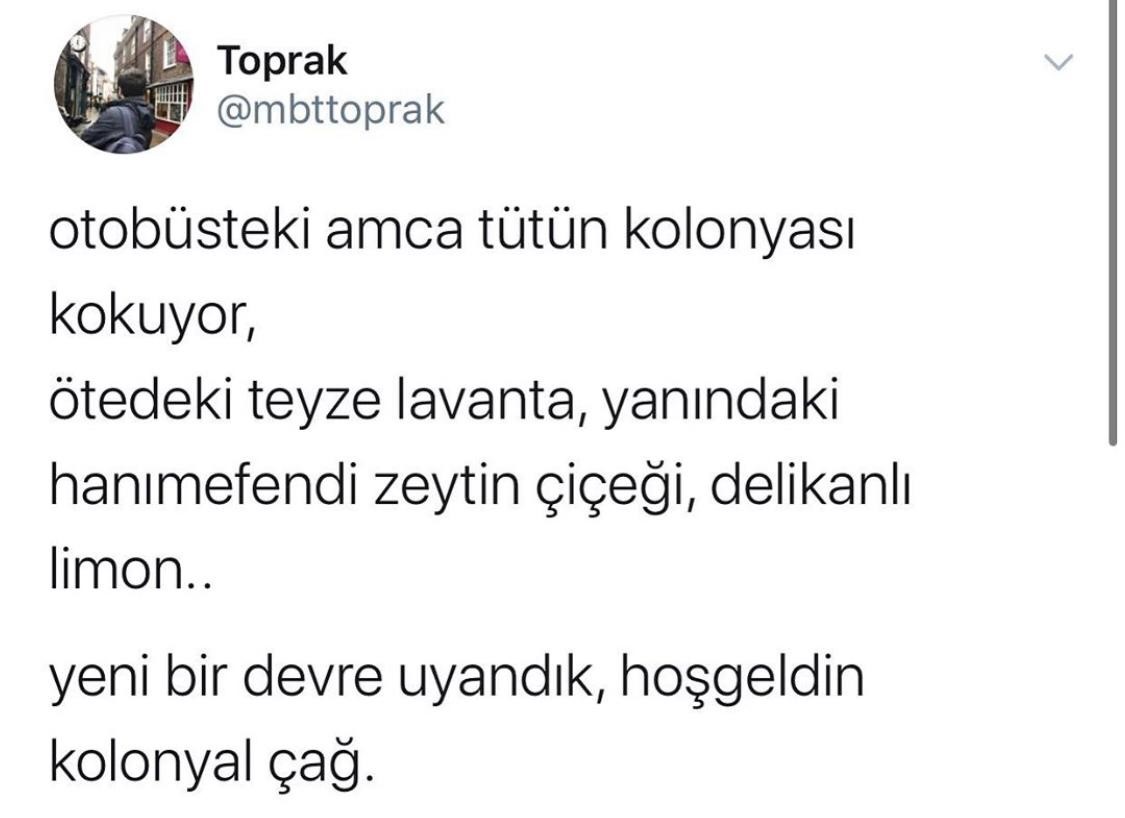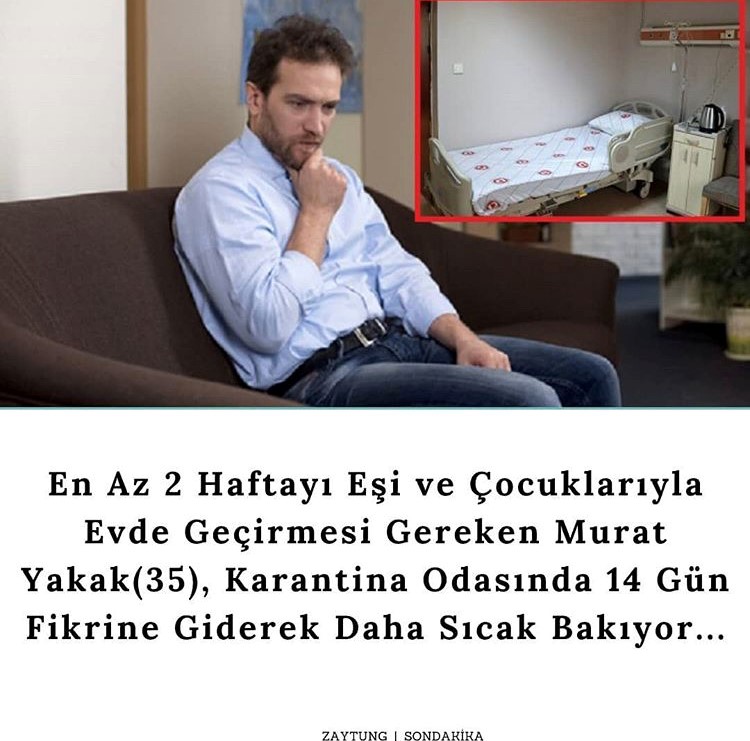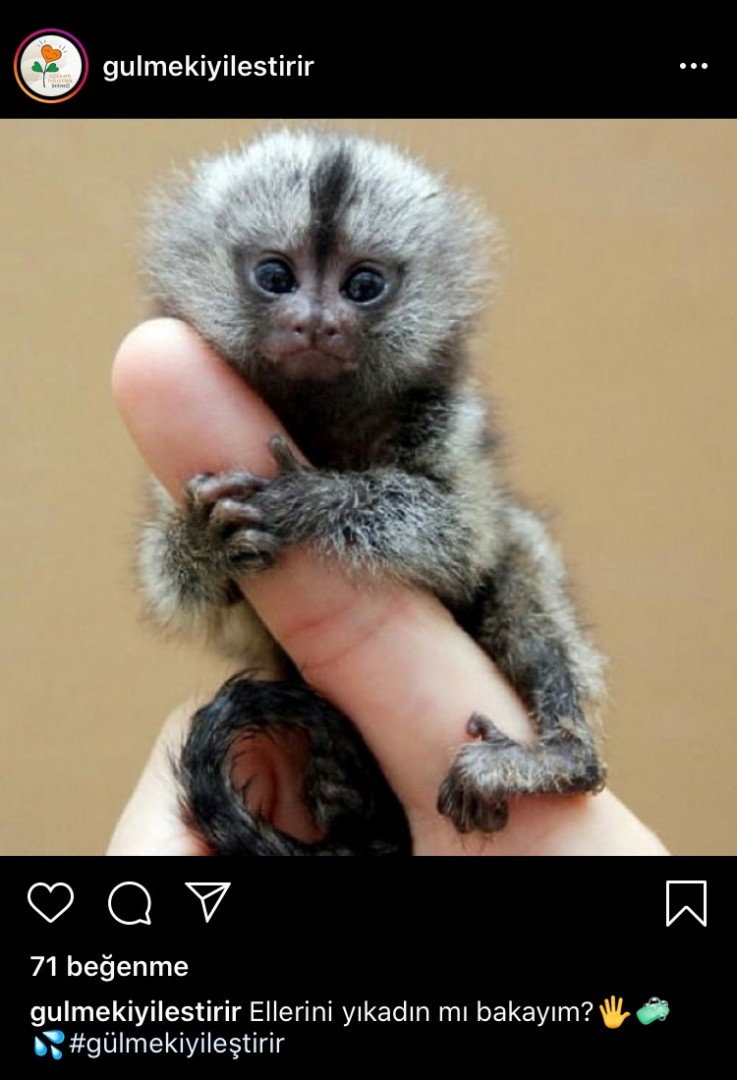 And it's finally in Turkia ...
Last week they officially announced that the pandemic had an outbreak in Turkia and after this, what I had guessed to be, quickly started to spread. On March 11, 2020, the Health Minister, Mr Fahrettin Koca, announced that a person was diagnosed with the Covid-19 in Turkia. Stating that the patient is male and in good general condition, the minister stated that the family of the person in question and all individuals in his immediate environment are also under surveillance. You can read the news at this link:https://tr.euronews.com/2020/03/10/sagl-k-bakan-koca-koronavirus-covid-19-salg-n-ile-ilgili-ac-klama-yap-yor.
Afterwards, I remember saying that this virus will spread very rapidly to my immediate surroundings because that consciousness has not yet been formed in the general public and I said, "I hope we will not be like Italy; we will control this epidemic as soon as possible." Of course, I can say that despite the delayed statements on some issues, our government is doing its best and is even more proactive than many governments in the world. However, is what they're doing enough and timely, this is a matter of debate.
I was disturbed by the attitude of our football federation, which has an autonomous status outside the government, is recognized and is a member of FIFA. Can you imagine, the epidemic has occurred in the country, its explosion is only a matter of time, and you decide to have a "competition without spectators". Come on, as a Galatasaray fan, we put aside the injustice of playing without the spectators in Sivas, which is one of the most difficult away games, and the Beşiktaş match, which is one of the most critical matches in our own home, without an audience. Except for football players, why do you risk the lives of technical delegations in the stadium, security and all officials assigned for the competition? Do you ever think about human health? The leagues in Europe, have been postponed, the 2020 European Championship has been postponed to 2021, and our federation still says, "They should play but without an audience." What a pity. This is also true for the basketball federation, which is another contact sport. Federations that do not consider human health have acted against the spirit of sports.
I also assumed that the public had no idea or awareness of the epidemic and that we may experience serious troubles. Still, the picture will be much clearer in the next 1-2 weeks.
Of course, there also is no panicking, and some videos have started to reach the experts such as the following, and these videos have prompted people to be even more relaxed:
https://www.instagram.com/tv/B9lj26PFWAa/?igshid=1r5eqcowbq41e
To explain how serious the situation is, other videos have started to reach me, as summarized by the young Cypriot below:


Interesting reactions that I didn't expect from some people
As I shared these with my immediate surroundings, the vast majority understood the gravity of the situation, but interestingly some of them were responding with, "Serhan, don't put everyone into a panic" or "don't share any unconfirmed information". I responded with, "I am sending this to you to be prepared, this is coming to Turkia. I am not sending this for you to panic, I am sharing them for your preparation". It was strange to get such interesting reactions from the educated community, even from the NGO community. After all, the biggest nightmare crisis that I can only see in movies is at our door, some still prefer to put their head under the sand like an ostrich. Whereas, opinion leaders like us need to take action and do what is necessary for themselves, their immediate surroundings, those in need and our people.
Also, no one in our country should say that this virus won't come to us. It is enough for an infected person to come into your personal space. It just takes for that person to be hugged by others, handshaking, then spread from him to another, from him to another, and then everywhere. In other words, it is very possible for this epidemic to spread to the farthest corner of the country in a short time. Especially the fact that "physical contact" is part of the culture therefore I cannot even imagine the rate of diffusion in a country like Turkia.
Speaking for myself, all offices affiliated to me started working from home as of March 16 (Monday). I constantly encouraged my close circle to do the same. Before this all started to get serious in Turkia, we had already started using sanitising gel and cologne in our offices. We also made a call to "Stay at Home" with other NGOs in the NGO Disaster Coordination Platform, with which I worked together at TIDER and in which I founded. Here is the "Stay at Home" call made by TIDER: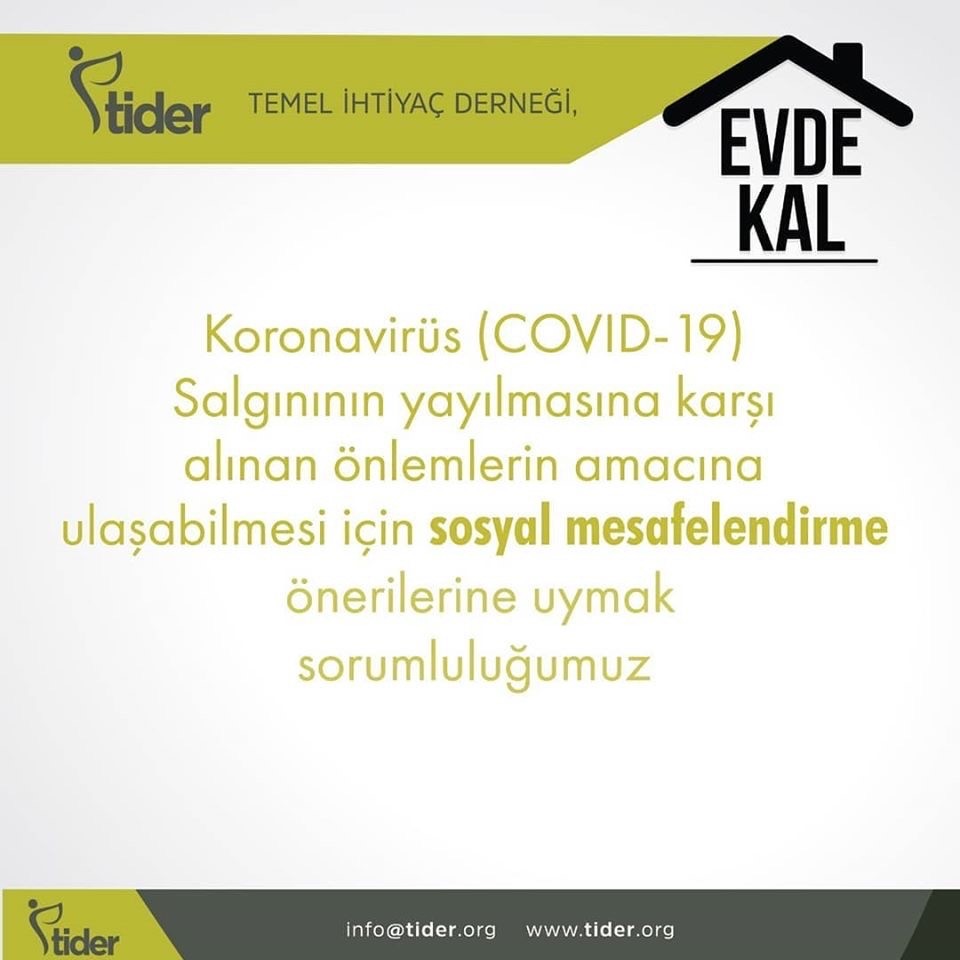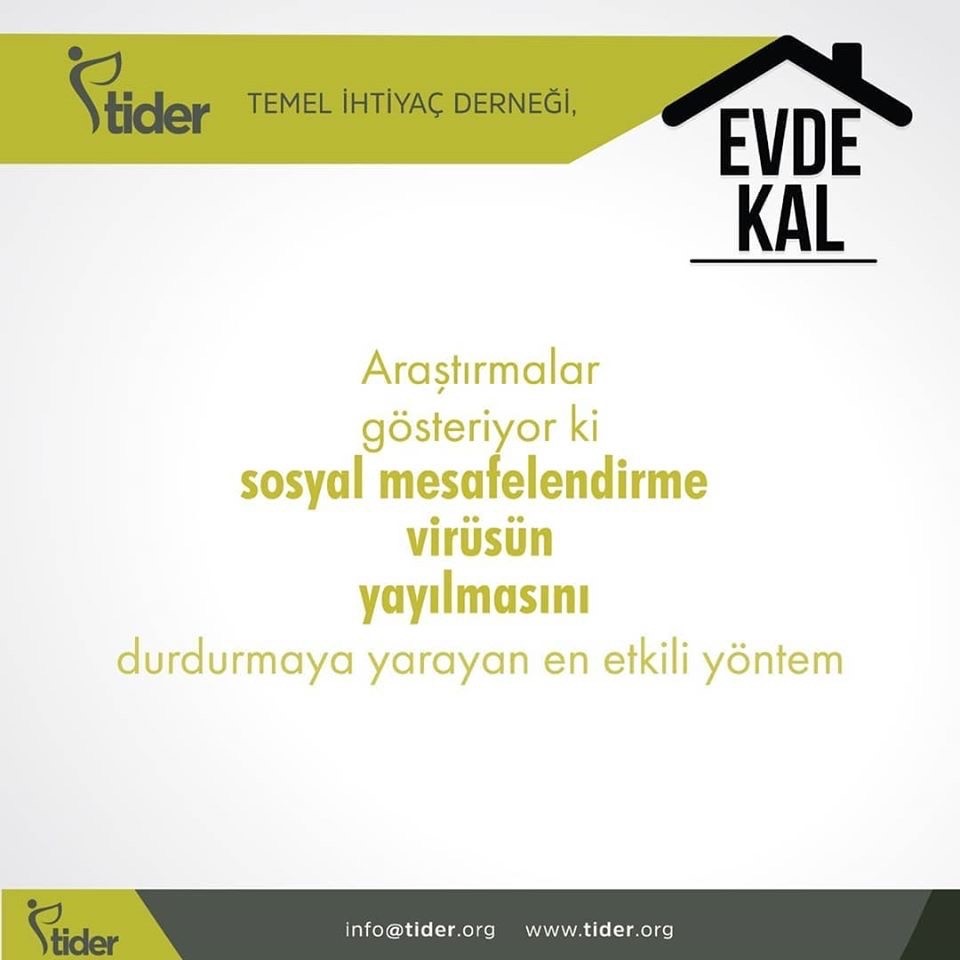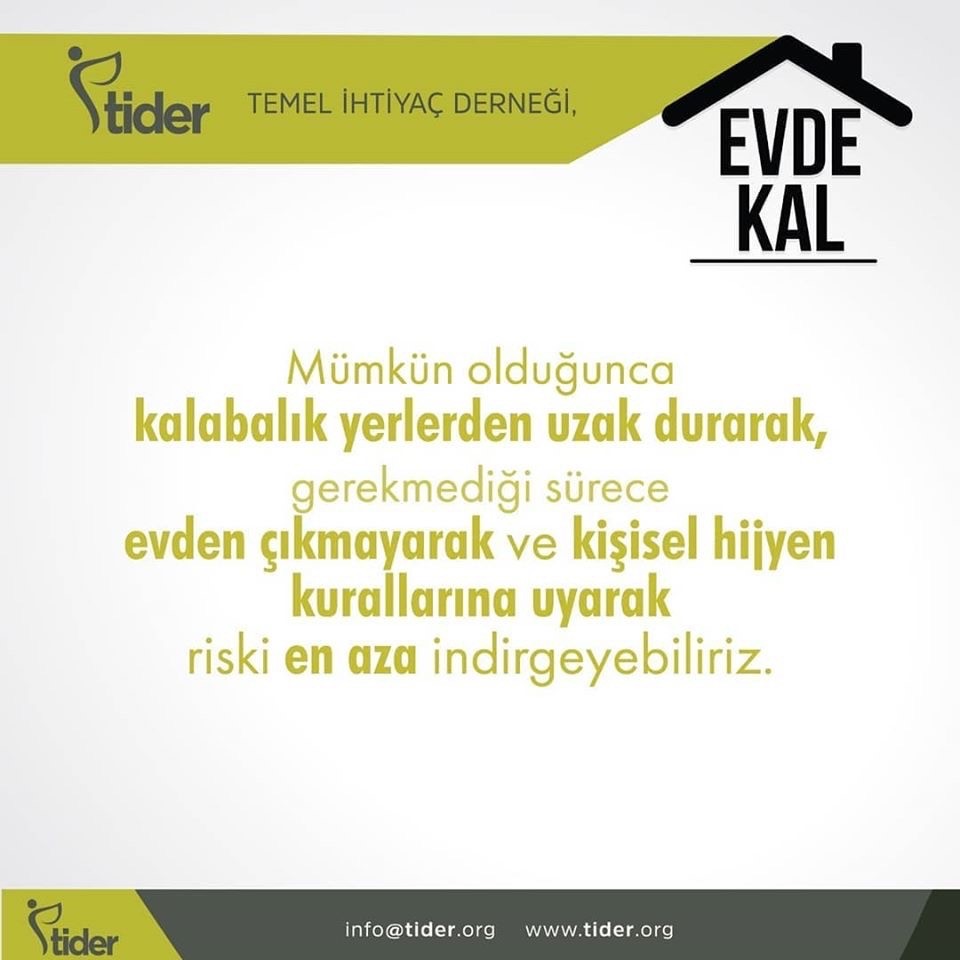 I also started working from home. I don't go out unless I really have to. I would like to state that I found our home residence management successful. I will share with you the announcement made by our home residence management. What is written here basically summarizes everything that needs to be done:
Home residence announcement
Dear Residents, Suppliers and Employees;
We need to share with you the measures we have taken in relation to the COVID-19 (Corona) virus; general information about the virus and necessary information to ensure your personal protection.
COVID-19 (Corona) virus; MERS being the common cold, Middle East respiratory syndrome, SARS and the severely acute respiratory failure syndrome being Coronavirus is a family of viruses.
According to research, the Corona virus is transmitted by contact from areas such as mouth, eyes and nose. In these studies, no results were obtained showing that the virus was transmitted by air.
The virus can be transmitted directly or indirectly by a sick individual sneezing or coughing on you or any surface that you may come into contact with. If you think you are sick, you should wear a mask to protect your environment.
As you know, Coronavirus (COVID-19) has become a worldwide epidemic.
The World Health Organization declared a pandemic regarding the coronavirus epidemic that is happening in the world and in the face of the measures taken in our country, by taking precautions, our valuable residents should also be cautious;
We recommend that your guests and suppliers coming from outside the gated residential area are taken to your residence after being disinfected, wearing masks and shoe covers.
It is recommended not to make any orders unless it is important and obligatory, and if the orders are made, these should be received with gloves, within the framework of the hygiene rules, the discarded pack or package should be placed in a garbage bag and left in front of the house with its top tied.
Stay home when you are sick.
When you have symptoms of high fever, coughing and shortness of breath, go to a healthcare facility without delay.
Wash your hands frequently with soap for at least 20 seconds. In the absence of water and soap, use alcohol-based hand cleaners.
Cover your mouth with the inner part of your elbow when sneezing and coughing.
Avoid touching your eyes, nose and mouth before washing your hands.
Frequently air out closed areas. Avoid close contact with elderly and chronic patients.
Uninfected people are to wear a mask as a precaution for the transmission of the virus.
In case of an allergen, it is of great importance for people with symptoms of disease to wear a mask.
Contact with the outer surface should be avoided.
Measures should be taken within the scope of the recommendations of the Coronavirus Scientific Committee established by the Ministry of Health. You can find these measures in the below article.
It is known that the virus, whose global risk level was raised from "high" to "very high" by the World Health Organization, has the potential to spread very rapidly in indoor spaces. It is recommended to stay away from crowded and closed places.
It is difficult to detect people who are not sick and carry the virus because they do not show any symptoms. For this reason, it is beneficial, at the discretion of you, our residents, to postpone gatherings and meetings for the next three weeks, unless necessary, as a precaution, to ensure that both your colleagues and suppliers are protected from the virus.
We kindly request that this announcement be submitted to the knowledge and appreciation of our home site residents, suppliers and staff.
Regards.
Here are the 14 rules declared by the Minister of Health, Dr. Fahrettin Koca: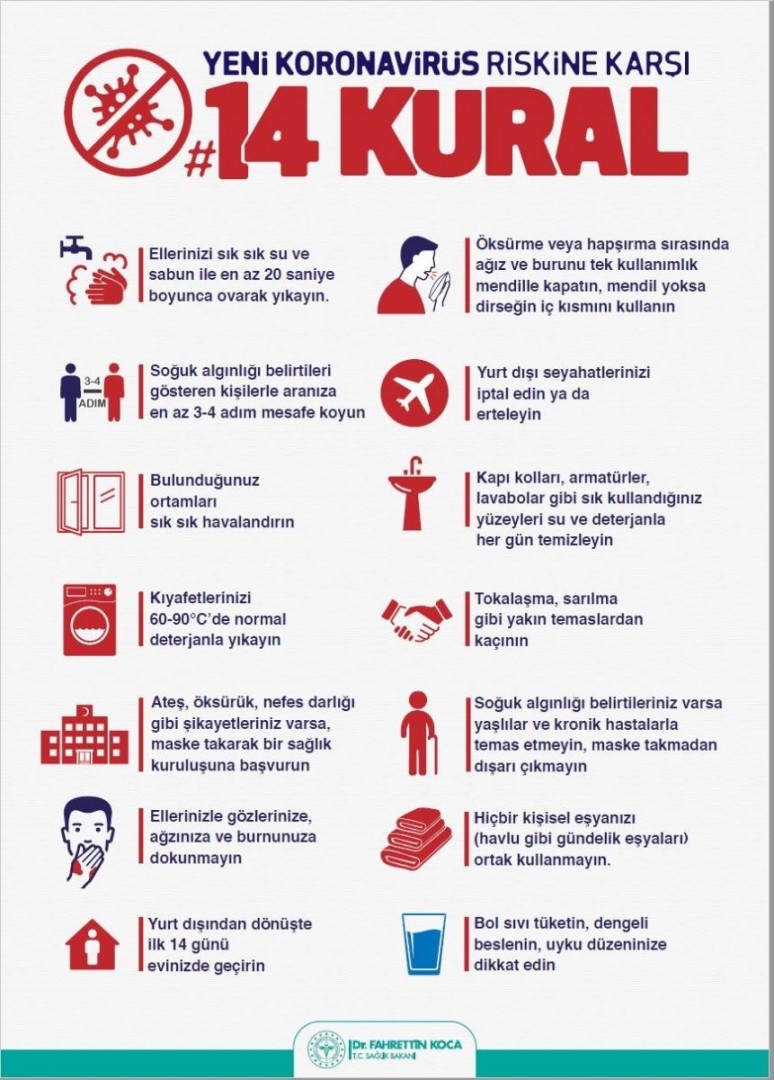 Social isolation and hygiene
In fact, this virus, which has now turned into an epidemic (a worldwide epidemic), has become a major tragedy in many countries. High fever, shortness of breath, cough and feeling of suffocation… We read a lot of news that there aren't enough artificial respiration devices. The healthcare sectors of some countries have serious difficulties in treating patients which are growing like an avalanche. Of course, it is admirable that healthcare workers put their lives in danger and wage this war on behalf of humanity on the front line.
This epidemic is currently in our own country. The numbers reached hundreds in a short time. It is also possible for them to reach thousands in a short time because the disease spreads very quickly. The measures you take in the early stages of the disease may delay or prevent the virus from landing in the lungs. Here's an image about it: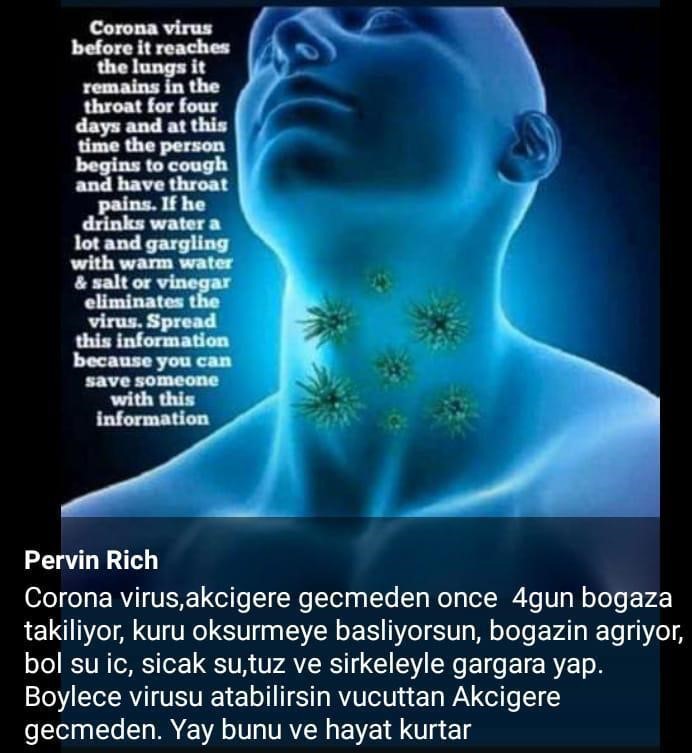 You can read all the detailed information about the COVID-19 virus, which is a member of the coronavirus family, the precautions taken for the epidemic and what should be done on the official website of the Ministry of Health: https://hsgm.saglik.gov.tr/tr/covid19

At this stage, I would like to underline this matter: Older people in particular are at risk. Please let's be mindful of the elderly.
Speaking for myself, the first day I learnt that the epidemic had spread to Italy, I called my aunt and suggested that no one should go near my grandmother. I call my grandmother every day, and I always tell her why I can't go to see her. It will be like this for a while. Her presence is very valuable to us.
You should follow social isolation and hygiene rules for yourself and your loved ones. Be careful with the elderly people in your close environment, do not bring anyone close to them. Animal lovers also have a fair reaction point. According to the misconception, they say that this virus will not be transmitted to cats and dogs. Here is a related image: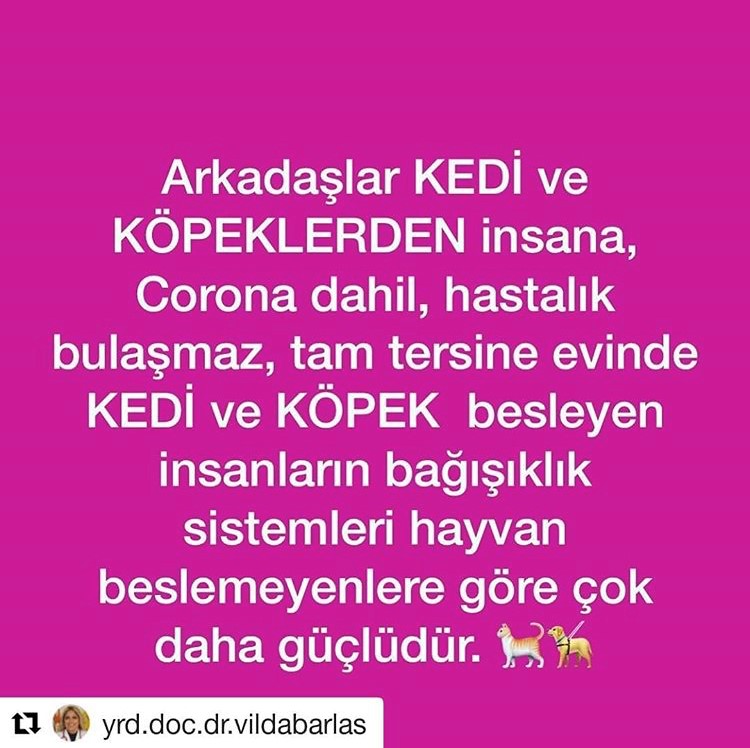 In my next article, I will give more details about the coronavirus and talk about examples from the world.
I wish to God that firstly the essential health care workers, and then all of Turkia are given strength and power to cope with the outbreak of the coronavirus.
Stay well.
*Banner photo source: Ege Haber
Tag: sağlık