Are the Chinese the only culprits of the global epidemic?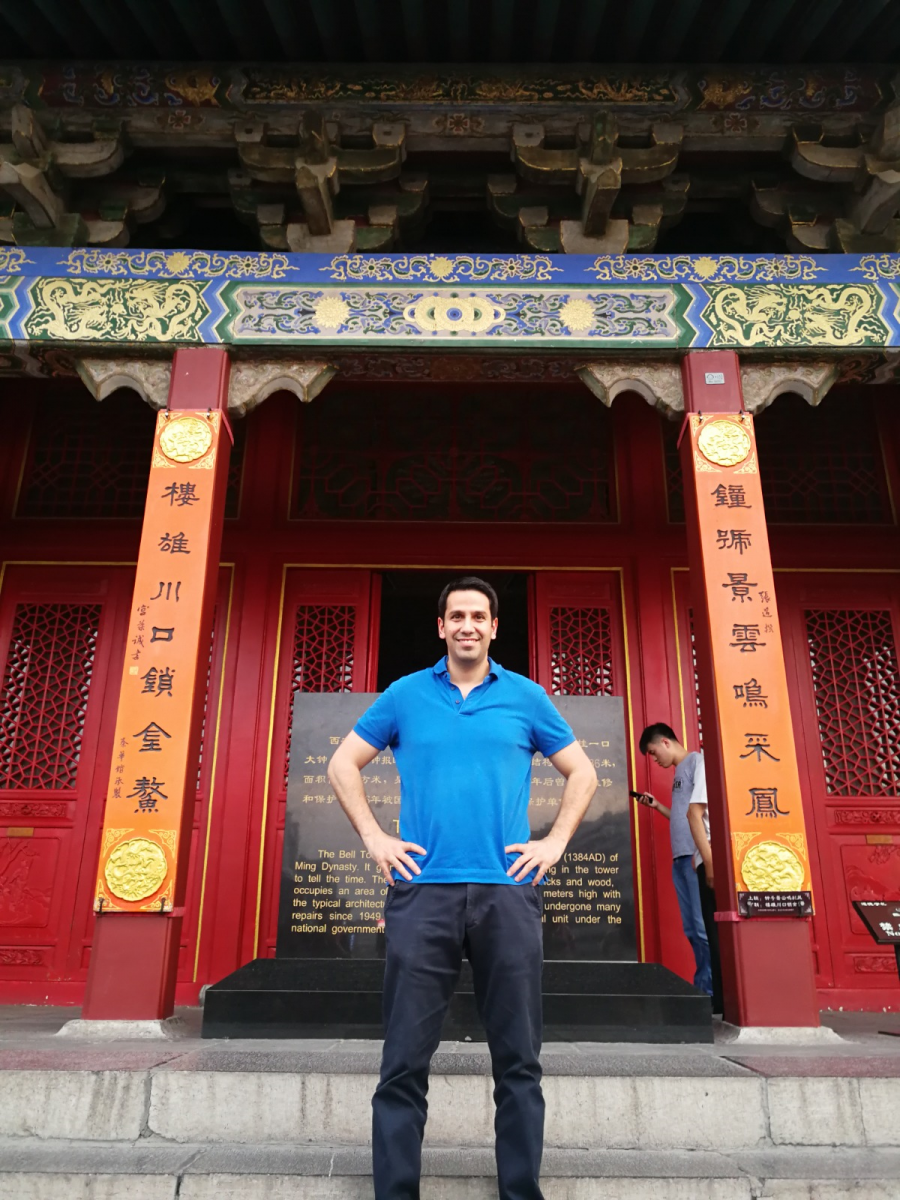 I went to China for the first and only time in my life in June last year. SNEC, the world's largest solar energy fair, is held every year in Shanghai. Stakeholders of the solar energy sector from all over the world come together at this fair. In my article this week, I will also mention this trip and will include the internal assessments we need to make as humanity regarding the Covid-19 outbreak.
Last year, I attended this event held on June 4-6, with two of my colleagues, with a very busy meeting agenda. One is Zineb, our technical consultant on solar panels of Moroccan origin and a German and French citizen, and the other is our sales marketing director Simay. Since Simay had lived in China for 3 years, she accompanied us there like a guide. In order for you to visualise our team participate at SNEC, I would like to share a photo taken at Intersolar, where we participated in Germany last year: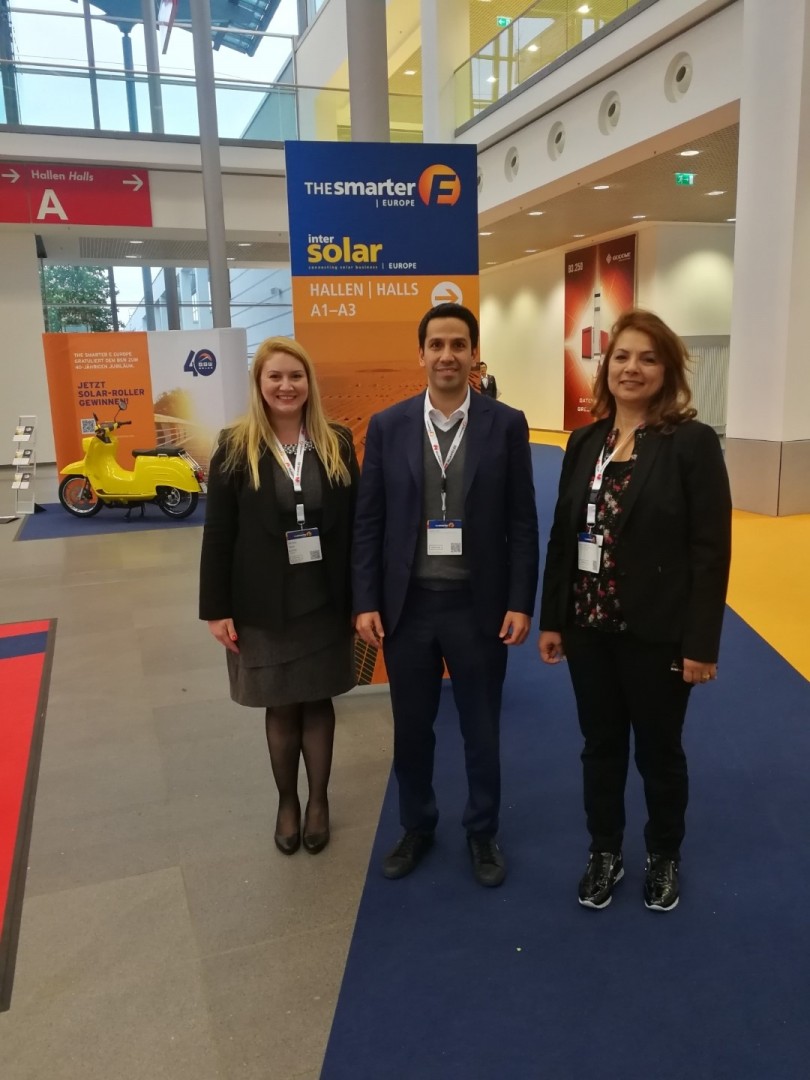 I am sharing the blog post I wrote about SNEC as a reminder: https://www.serhansuzer.com/en/cine-ilk-gidisimde-gunes-enerjisi-etkinliginde-yaptigim-konusma
As you can read in my article on the link above, we arrived safely on a Sunday at the Radisson Blu Shanghai Pudong Jinqiao in Shanghai city. In the evening of that day, I went down to the densely populated port area with my teammates and went to the Uighur restaurant called Yershari Xinjiang, inside the Super Brand Mall in the Lujiazui (Financial District) area on the banks of the Huangpu River to eat. After dinner, we returned to the hotel and settled in.
The next day, we attended a lunch event where the leaders of the solar energy industry came together. After this lunch we had some discussions with some people and then we returned to the hotel.

Zineb starts to get unwell
After returning to the hotel, Zineb told me that she was not feeling well in the afternoon while she was preparing to go out again to attend the event of Meyer Burger, Europe's major solar energy machinery and equipment provider. Sometimes travelling can wear you down. I thought it might be from the tiredness of travelling, so I told her that after a good night's sleep, the next day she might bounce back and gave her a little positive morale.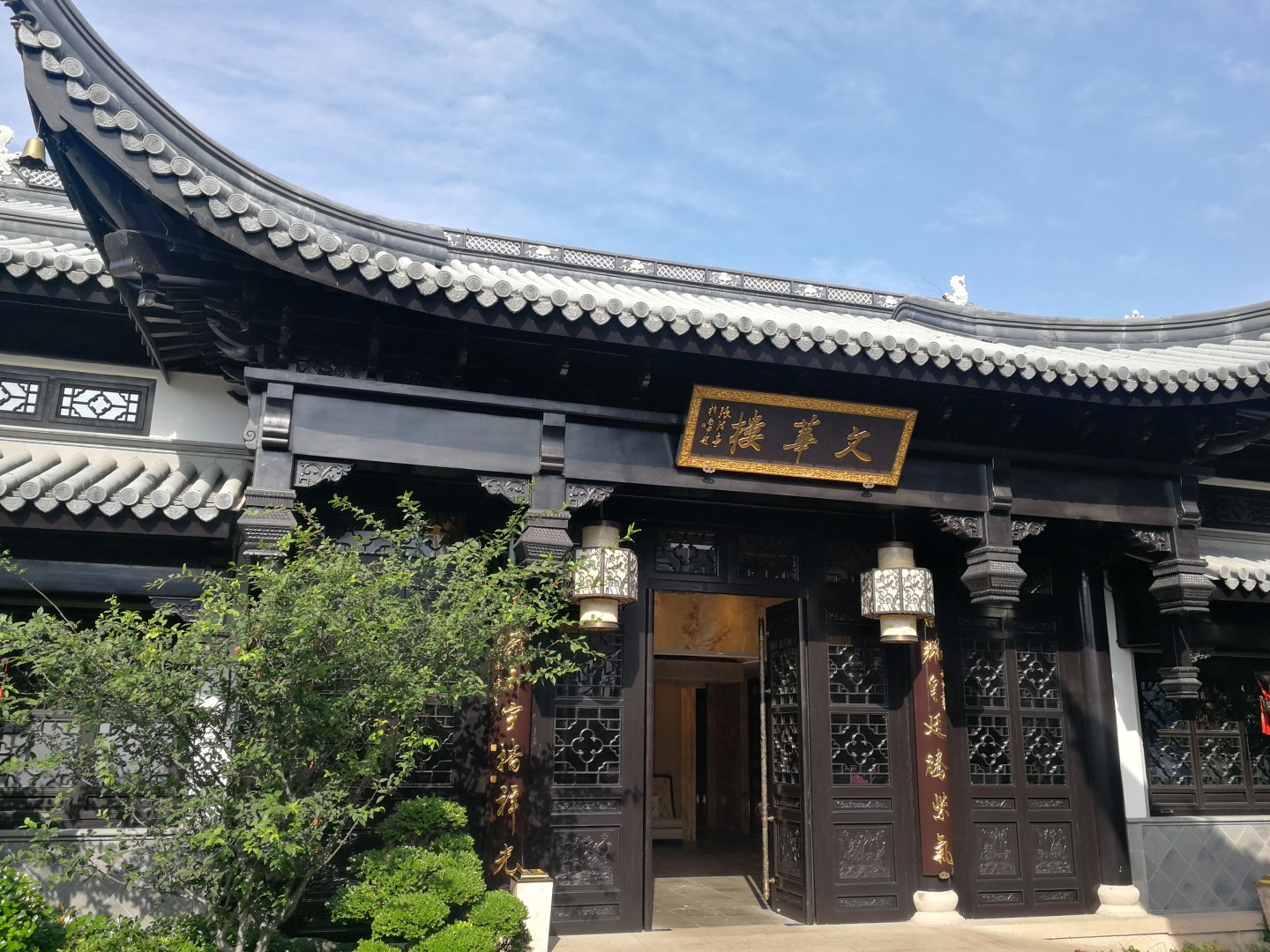 This is where the venue was held, reflecting the Chinese culture

In the evening event, we were able to talk about many technical details and had a good time. The "Twelve Girls Band" made up of Chinese women sang this song, which they called Freedom, at this event that evening: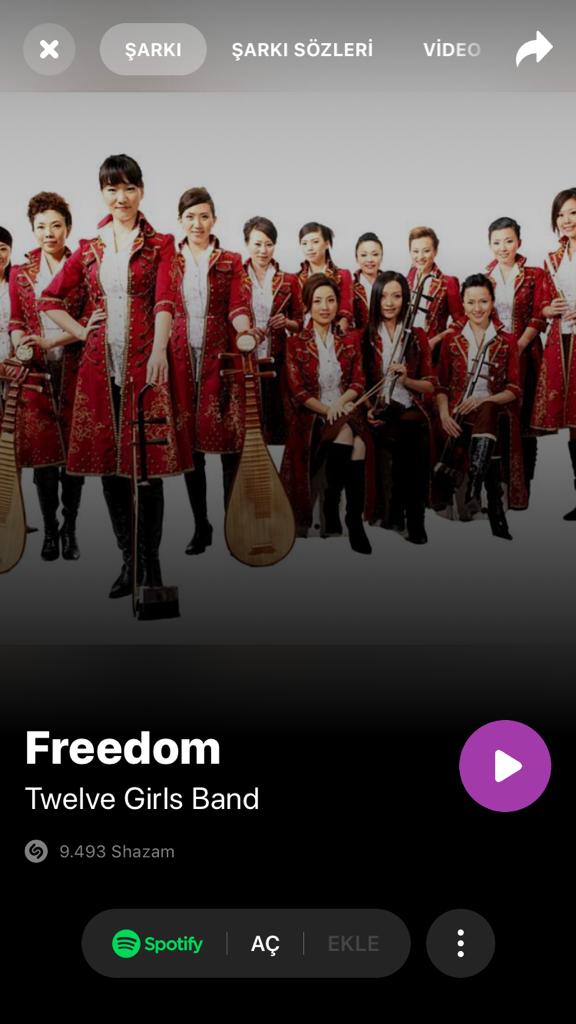 A Turkish song in the Chinese group repertoire!
I couldn't believe my ears when I heard this song. As many Turkish readers will remember, this was the soundtrack of our famous Tosun Paşa movie. I couldn't remember it at first. I asked my friends and confirmed that this song is essentially our famous "Nihavend Longa". You can listen to the whole song at https://open.spotify.com/album/2qtWzajxpYgaH0OwKnetIB
Then I went over to the girls and told them about the facts, that is, where this song originates from and that it was actually Turkish. To confirm this, we made them listen to the original song (they were very surprised) and then took the following commemorative photo: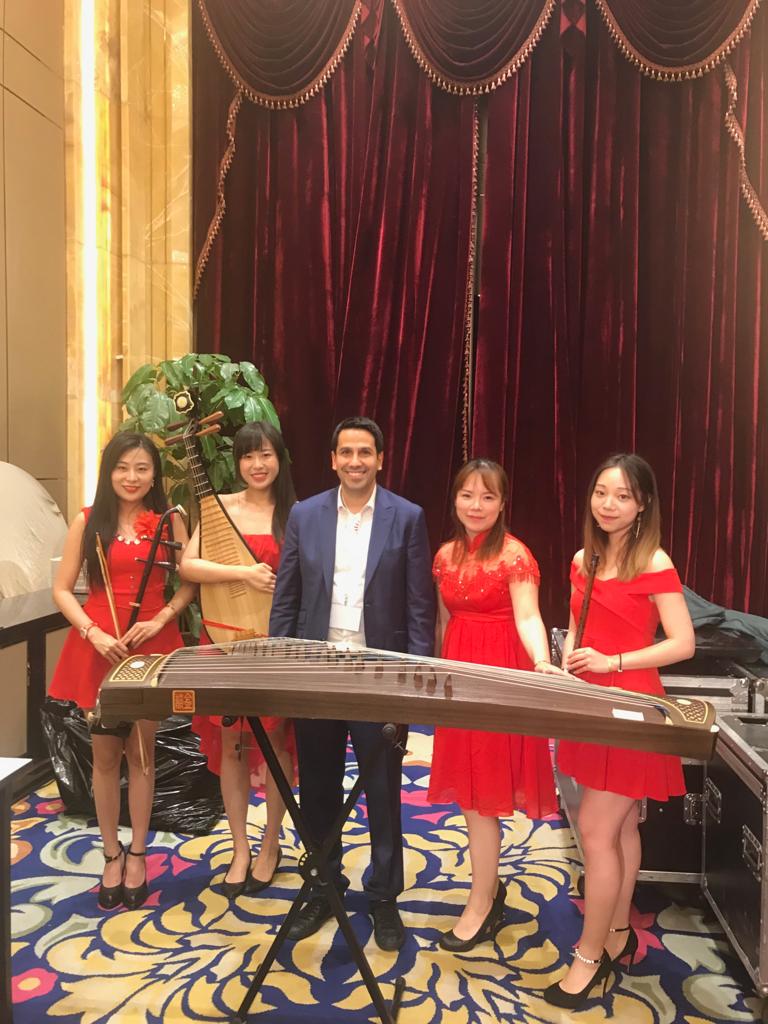 After this event, we returned to the hotel in the evening before it was too late. The next day (Tuesday) the SNEC event was to officially begin. That's why we were taken to our rooms relatively early. So far, everything was normal.
The nightmare started the next morning. Zineb could not go to breakfast in the morning. Zineb, who normally has German discipline and punctuality, felt strange. I called her half an hour after we were supposed to meet, her voice sounded very bad. The following dialogue took place between us:
- Zineb, are you okay? You don't sound good.
- I'm not well. I got very sick last night. I had cold sweats all night and could not sleep. Now I have a headache, I cannot lift my head, I am very weak.
- Oh no. Should we take you to a doctor? Let us help you.
- Not necessary. I'll get myself together and come downstairs soon.
- All right, we will wait for you. If you need anything, let us know.
- Thank you.
After this conversation, Zineb could not come down. We called her again 45 minutes after our last conversation. On the phone, she said to us, "You go to SNEC, and once I can get myself together, I'll come too, we'll keep in touch". So, we went to the opening of SNEC.

Keeping track of Zineb
We called her again during the day but we could not reach her. Her mobile phone was off, and she wasn't answering the phone in her hotel room. We started to panic. After having many meetings during the day, we returned to the hotel in the evening and called her room again, we could not reach her. Then we talked to the reception and the concierge and gave Zineb's description; We learnt that she jumped into a taxi at noon and left the hotel. We were able to get in touch with the taxi driver who picked her up and finally found out that Zineb was hospitalized and was in a hospital outside the city.

We cancelled the evening programs and went to find Zineb. After a 1.5-hour journey from where we were, we arrived at the hospital where Zineb was in and entered her room.
She was seriously ill and had all kinds of serums attached to her arms while lying there on the bed. She was delighted to see us. Can you imagine, a European citizen who came to China for the first time in her life, a professional expert in solar energy, who was infected with a virus on the first day in China and was trying to talk to us by forcing herself, unable to move her arm.
After talking to us, Zineb got into a taxi on her own after she almost passed out, and on the advice of the concierge, she told the driver that she should go to the "Shanghai International Hospital". The trip which would only take 10 minutes, took 1.5 hours as the taxi was a fraudulent unlicenced one and instead took her to the "Shanghai Jiahui International Hospital", which was outside the city, close to Hongqiao airport. Unfortunately, there are dishonest taxi drivers all over the world who take the long road to make more money.

A warning from the doctor to use masks
While Zineb was talking to us with much exhaustion, a nurse came in. She came out after changing her serum and making a general assessment. 45 minutes later another doctor, which I guess was of Indian origin, came in. The doctor immediately asked us "Why didn't you wear a mask?". Both the nurse and the doctor who entered were in masks. I said, "Nobody told us to wear masks." The doctor immediately told us to get a mask from the ground floor at the end of the corridor outside and said, "Never enter this room without a mask again." I said curiously, "We are not used to wearing a mask, why should we?" "We do not know how this lady fell into this situation and which virus caused it, so it is compulsory to wear a mask when entering the room where there are such diseases," she said. Then we left the room and put on our masks and entered the room again.
After discussing all the details with Zineb and deciding what to do and how to help her during her illness, we left and returned to our hotel after a long journey.
We completed the week with a busy agenda by going in and out of at least 10 meetings a day. According to our program, we were to go to Jiangsu province on Friday and arrange a technical visit to an AgroPV plant (a model with agriculture at the bottom and solar power plant at the top).

This time I start to feel unwell
I started feeling unwell, especially on Thursday afternoon. I started to get cold sweats. This was not good news, because we were to travel on Friday to the Shajiabang Industrial zone in Changshu, Jiangsu province, and fly to Xi'an from there to attend an important investor meeting on Saturday. We regretfully cancelled the AgroPV visit the next day. On Thursday evening, I went to the hospital close to our hotel for examination. We organized a direct flight to Xi'an on Friday evening. I couldn't cancel the investor visit.
In the hospital, they tested me for the influenza virus just incase. Strangely, nothing came out. I continued to get cold sweats; I also had a fever. They advised me to go to the hotel and rest, and they gave me medications to alleviate the symptoms. We returned to the hotel.
We visited Zineb one more time before going to the airport the next day. Of course, this time we followed the rules from the beginning and wore a mask. She wouldn't have been able to catch her flight the next week because she was also taking longer than expected to recover, so she was upset. We could not be with her, but thanks to Simay, we packed all her luggage and brought it to her. We also got what she needed. After conveying our nice wishes, we left the hospital and went to the airport.

My symptoms gradually increased in Xi'an
When we arrived in Xi'an on Friday night, I was getting worse. That evening I could barely throw myself into bed. The next morning, I woke up again in cold sweats and went to breakfast exhausted. Later, the potential investor picked us up from the hotel.
I was trying not to make it obvious but there were times when I even had trouble walking, especially when we took a 3-hour factory tour together. Occasionally I managed by going out for air. The meeting was successful. Then they took us to dinner. At dinner, I ate a lot of chilli things and drank the drinks they gave me.
We ate a lot of everything except for eccentric things like chicken legs. The men liked that we ate our food with chopsticks like them and with much pleasure. We were able to communicate comfortably. Then we went to meet with another Chinese official who organized that meeting. Anyway, after that meal, I sweated a lot again, but I started to feel good towards the evening.
I was even able to take a tour of Xi in the evening. The next day, we made a touristic visit to the ancient city of Xi'an. I would like to remind you of my blog post about this visit: https://www.serhansuzer.com/en/yer-alti-ordusu-efsane-ve-ikonlariyla-antik-kent-xian
These are some of the scenes from the touristic visit: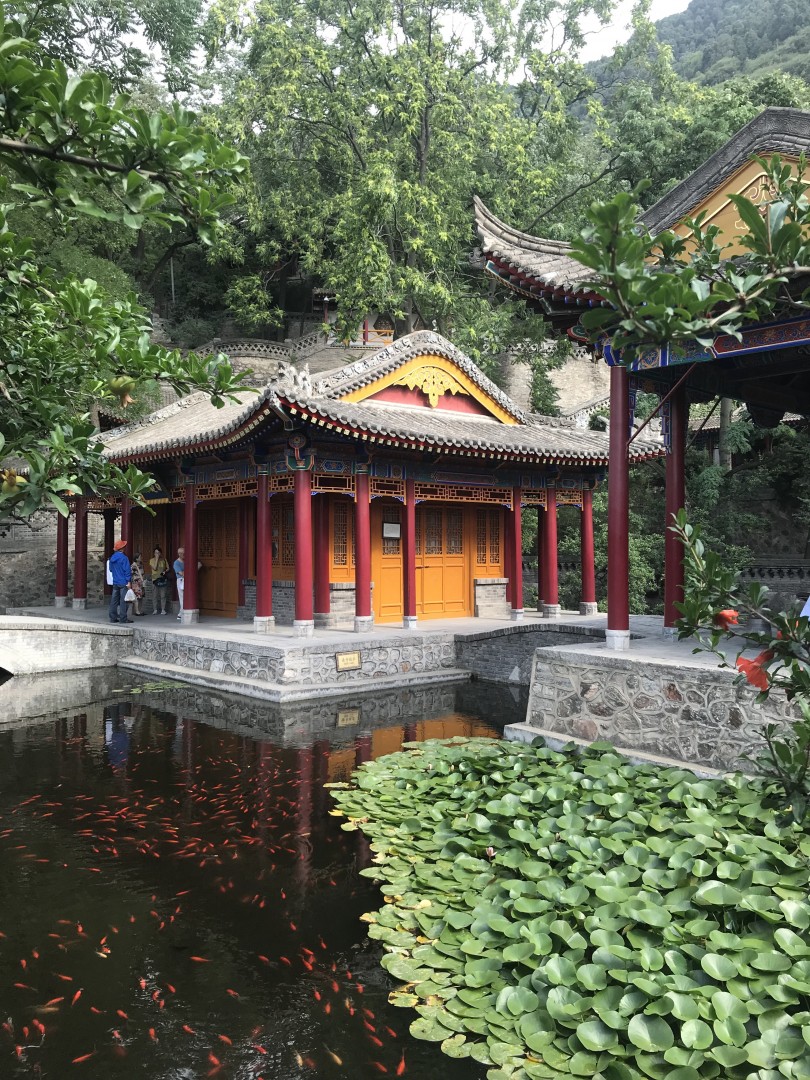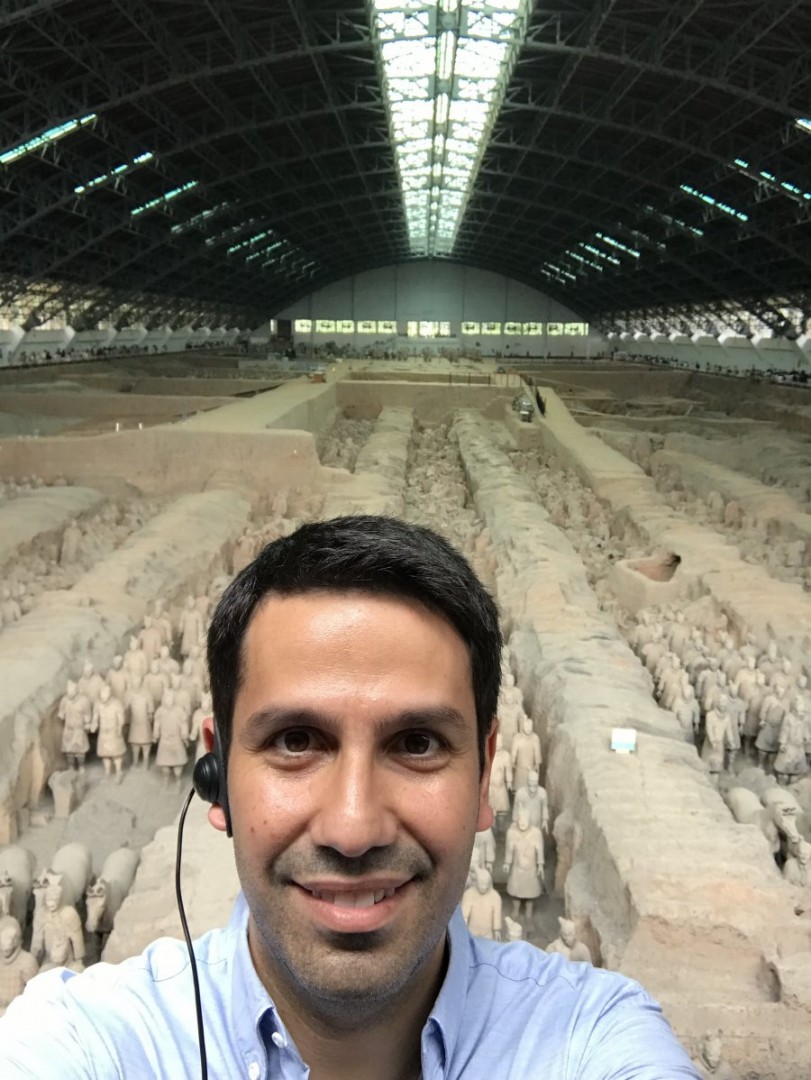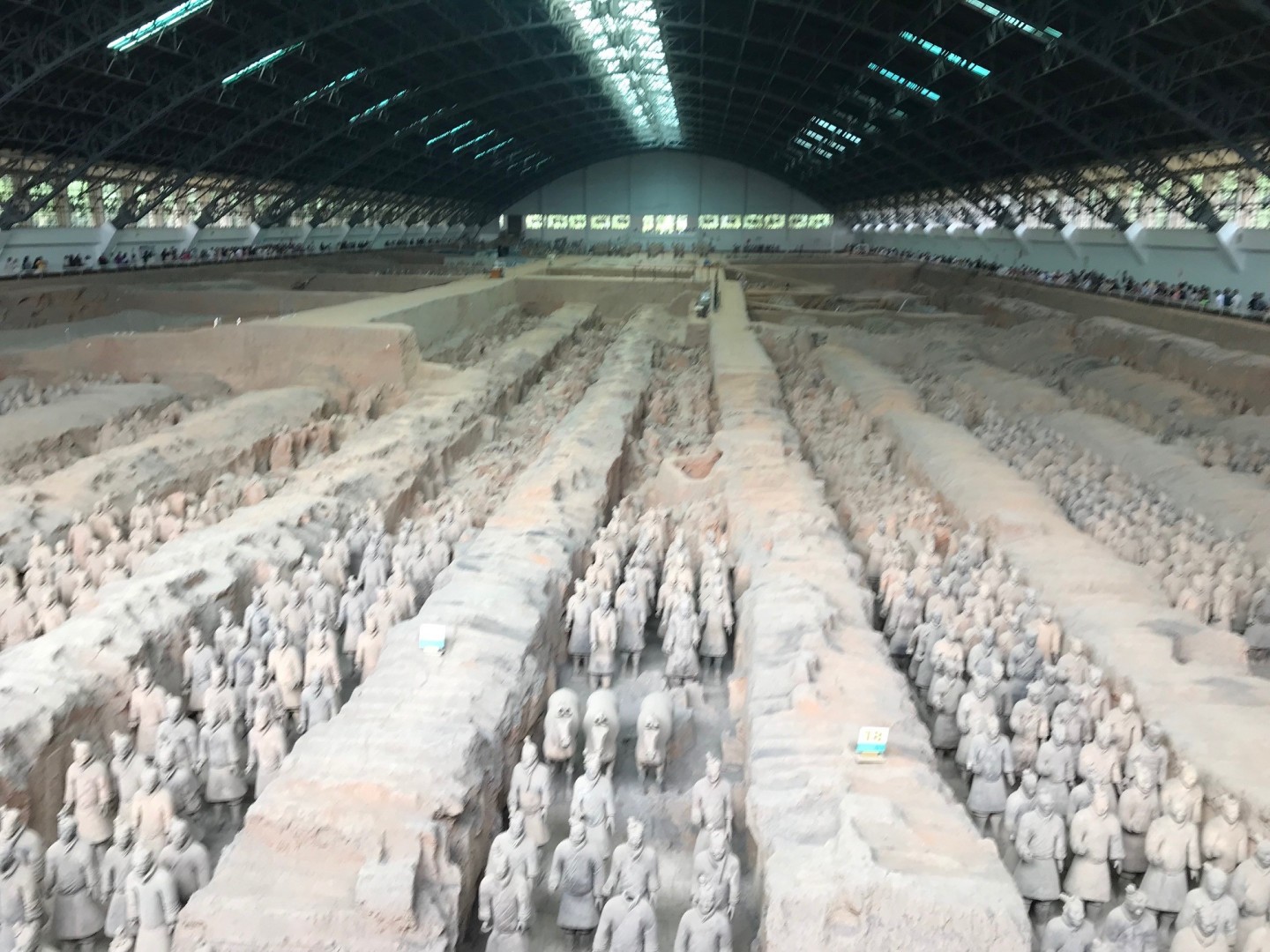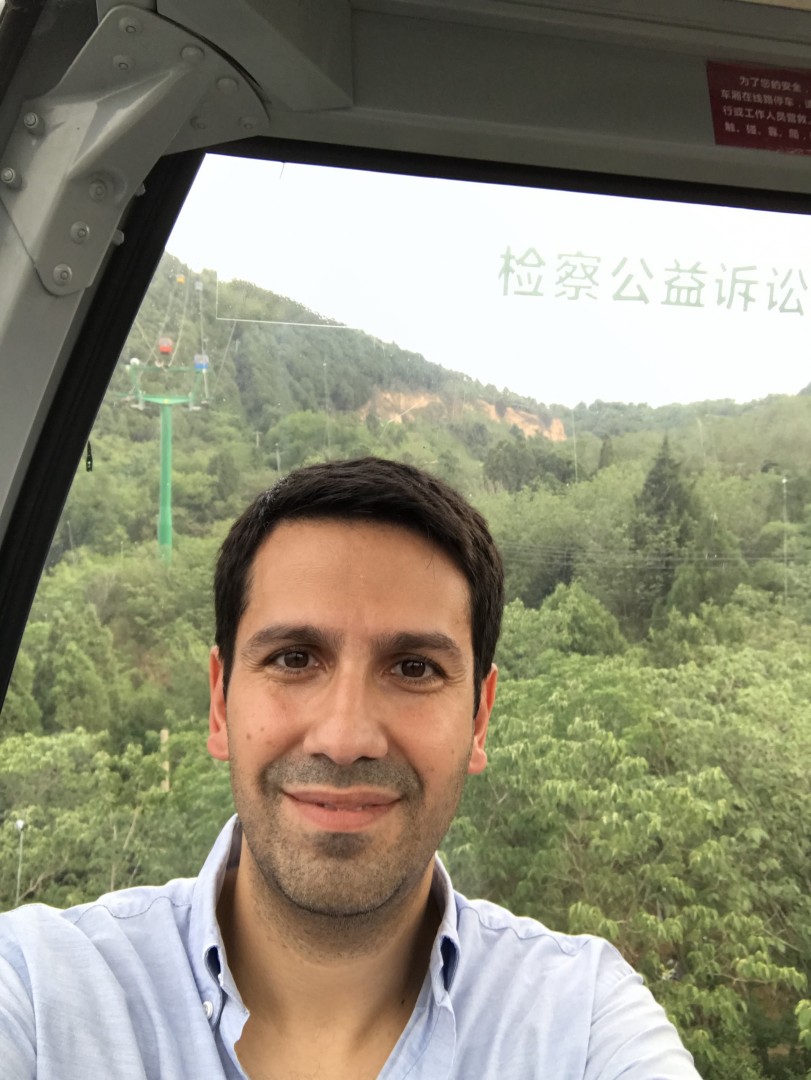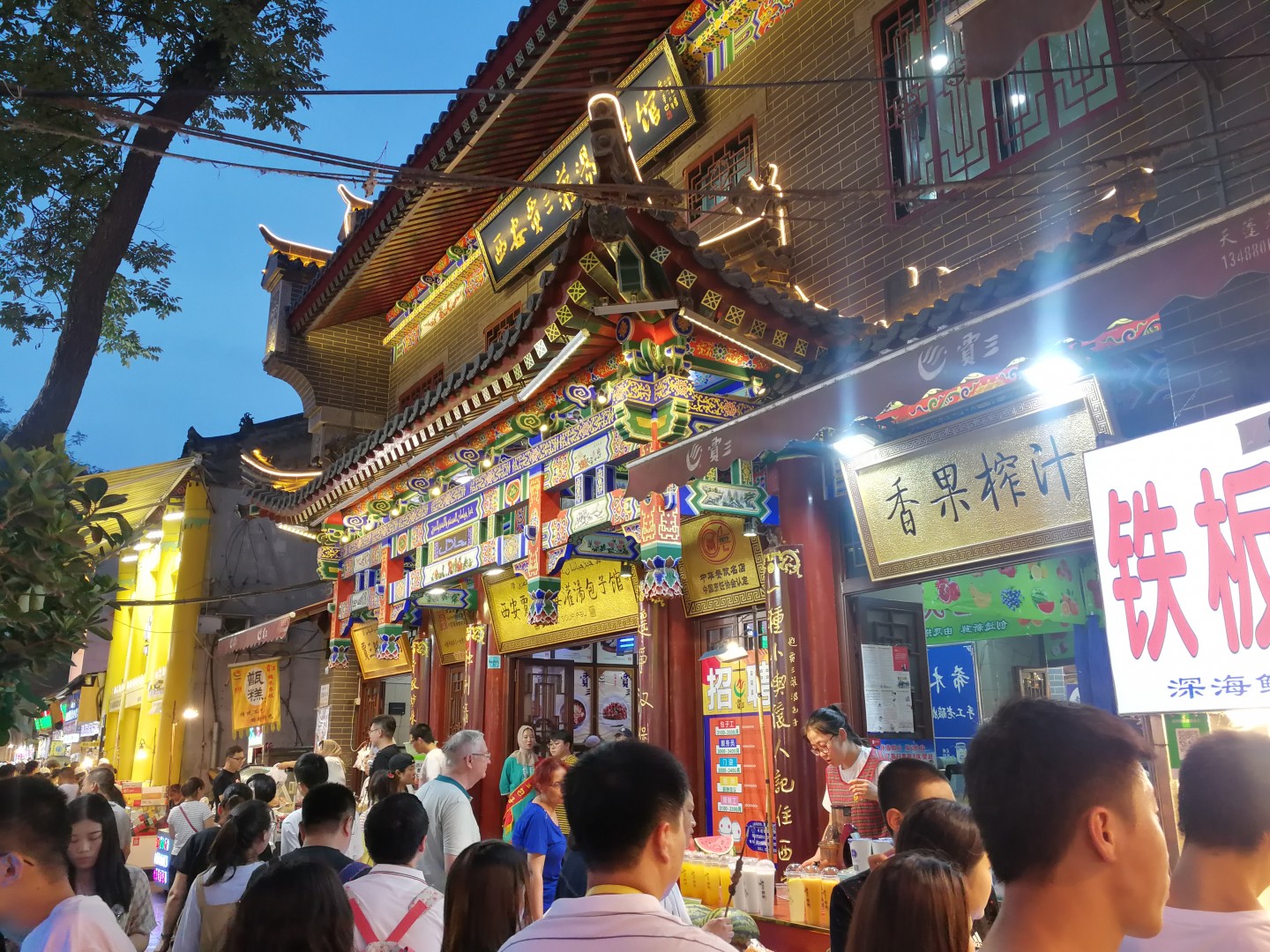 During our visit to Xi'an ancient city on Sunday, I was well recovered. I entered the week like I was on fire. I returned to Turkia fully healed. Zineb was able to return home, to Europe, with a delay of 3-4 days towards the end of the week. Unfortunately, she could not attend any events or meetings due to staying at the hospital for 10 days. The disease we had in China that week was caused by some kind of virus. We couldn't understand what was happening. This situation, which we didn't overthink, has become even more meaningful while experiencing the Covid-19 outbreak.
By the way, Simay was the only one in the team unaffected. She organized all the meetings without a worry and actively participated. I remember joking with her and saying "During the 3 years you lived in China, you got immune to viruses here?".

Allegations about the emergence of the coronavirus
So, are we saying that China is the only one responsible for this virus which stemmed from Wuhan?
Various claims have been made regarding China. The first claim was that this virus came out of a wet market. The Chinese government closed some wet markets because of speculations about this. Here is an article published in National Geographic on this subject: https://www.nationalgeographic.com/animals/2020/04/coronavirus-linked-to-chinese-wet-markets/

Another claim was that the Covid-19 virus was produced in a virology laboratory in Wuhan. Obviously, there are those who have put these allegations forward and allowed this claim to spread rapidly amongst people; I've heard from many places that the characteristics of known coronaviruses have been tampered with and that it may originate in China or America, or even influential people or families such as Bill Gates may be behind this. I would also like to share an article on this subject: https://www.hurriyet.com.tr/galeri-cnn-abd-istihbarati-koronavirusun-vuhandaki-viroloji-laboratuvarinda-uretildigi-iddialarini-arastiriyor-41496171/7
I would also like to share another related news article published today: https://www.hurriyet.com.tr/galeri-dikkat-ceken-rapor-sizdi-tum-oklar-cine-cevrildi-41508990/15
Today, there has been an accumulation of anger towards people of Far Eastern origin all over the world. There are reports that even in developed countries such as America and Canada with a serious Far Eastern ethnic population, hate crimes are being committed against these people. This is really sad and embarrassing. Here is an example. I am ashamed to share a video about hate crimes committed in Canada, a country where I studied university and I always liked and was proud of: https://www.instagram.com/tv/B_5m6M1DX4I/?igshid=108ygspq109cf
None of us know the starting point of the Covid-19 outbreak. As suggested by conspiracy theories, if there are certain intelligence or influential people and families behind it, there is hardly any possibility for anyone else to know about it. Or if it's really out of an wet market in China, we can't go back and detect it 100%. The subject I want to draw your attention to in this article is different.

What could have been done?
Since this epidemic has spread so much and still hundreds of thousands of people die every day, everyone here needs to look at themselves and account for what we have done wrong or are missing. Tending to call it the "Chinese virus" and throwing the responsibility only on the Chinese, as some say, is a weakness. Because this coronavirus epidemic, which has originated in China, could have been prevented with certain reactions and preparations of countries. Unfortunately, countries have not been proactive. According to this:
R&D studies could be continued without slowing down and a large budget could be allocated to find vaccines or drugs that could overcome the coronavirus family or other virus types. For thousands of years, different types of viruses continue to plague humanity by mutating. Modern medicine is helpless regarding viruses and they make non logical declarations like, "What shall we do, do we need to take care of viruses that have existed for thousands of years?". However, if the target of destroying viruses is determined as a priority, these viruses can be overcome. No matter how much it mutates, different systems to be determined can quickly overcome the mutated viruses. All countries, governments, private sector and NGOs should contribute to this goal collectively and individually. Because the enemy that threatens humanity is everyone's common enemy.
When the news of such an epidemic beginning in China was heard, flights of the airlines to China could have been temporarily stopped.
As soon as the news that such a rapidly spreading epidemic started in China was received, essential products such as medicines, disinfectants, artificial respirators, masks, gowns could have been stocked by countries and the administrations could create production and distribution systems that would provide instant access to these products.
As soon as the epidemic was spreading in China, simple solutions could have been put forward, such as making it compulsory to go out with a mask. The Czech Republic has successfully passed the test in this regard, and Czech citizens have managed to keep the Covid-19 cases in their country to a minimum by wearing masks every time they go out in a disciplined manner.
As soon as they got the news that the epidemic had spread to their country, the administrators could have applied the curfew strictly from the very beginning without compromise.
Economic measures could have been taken proactively when the danger of a pandemic (global epidemic) emerged.
As soon as they got news that the virus had spread out of China, everyone should have been guaranteed access to basic needs such as food, water, cleaning products and energy.
If all this had been done, we would have prevented this epidemic from reaching such a large global scale today. Almost all of the countries were caught unprepared for this pandemic. Of course, it is necessary to look at the basics. This is that people despise all living things in the world we live in except themselves and do not recognize the right to life; they plundered the world and nature ... I would like to share with you a video about it: https://www.instagram.com/p/B-9FsebFVCy/?igshid=mcudfobupvy2
The slap of nature and humanity's choice
The increasing world population is accelerating this plunder. Even if the starting point of this epidemic was a virus that was genetically modified in a laboratory environment, this only allowed an epidemic to spread faster. Otherwise, nature would protect itself by not allowing these viruses to emerge, as has in the past. Two of the dangers of the epidemic, climate change and nuclear war that could bring the end of humanity, namely, epidemic and climate change, are the self-protection mechanisms revealed by nature. Nature first warns, draws attention, then starts slapping (which has started) and finally strikes the fatal blow. We humans, on the other hand, are surprised at what we are going through especially when we think we are very powerful, and we cannot prevent what will happen in any way, but we can delay it.
That is why, as humanity, instead of blaming the Chinese on the crime, we all need to account this within ourselves and at least do what is necessary from now on. Life is short. Whether we will contribute to the world, humanity and the society we live in throughout our life, or will we continue our selfishly indifferent and harmful lifestyle, this choice is in our hands. The decision is ours, all of ours!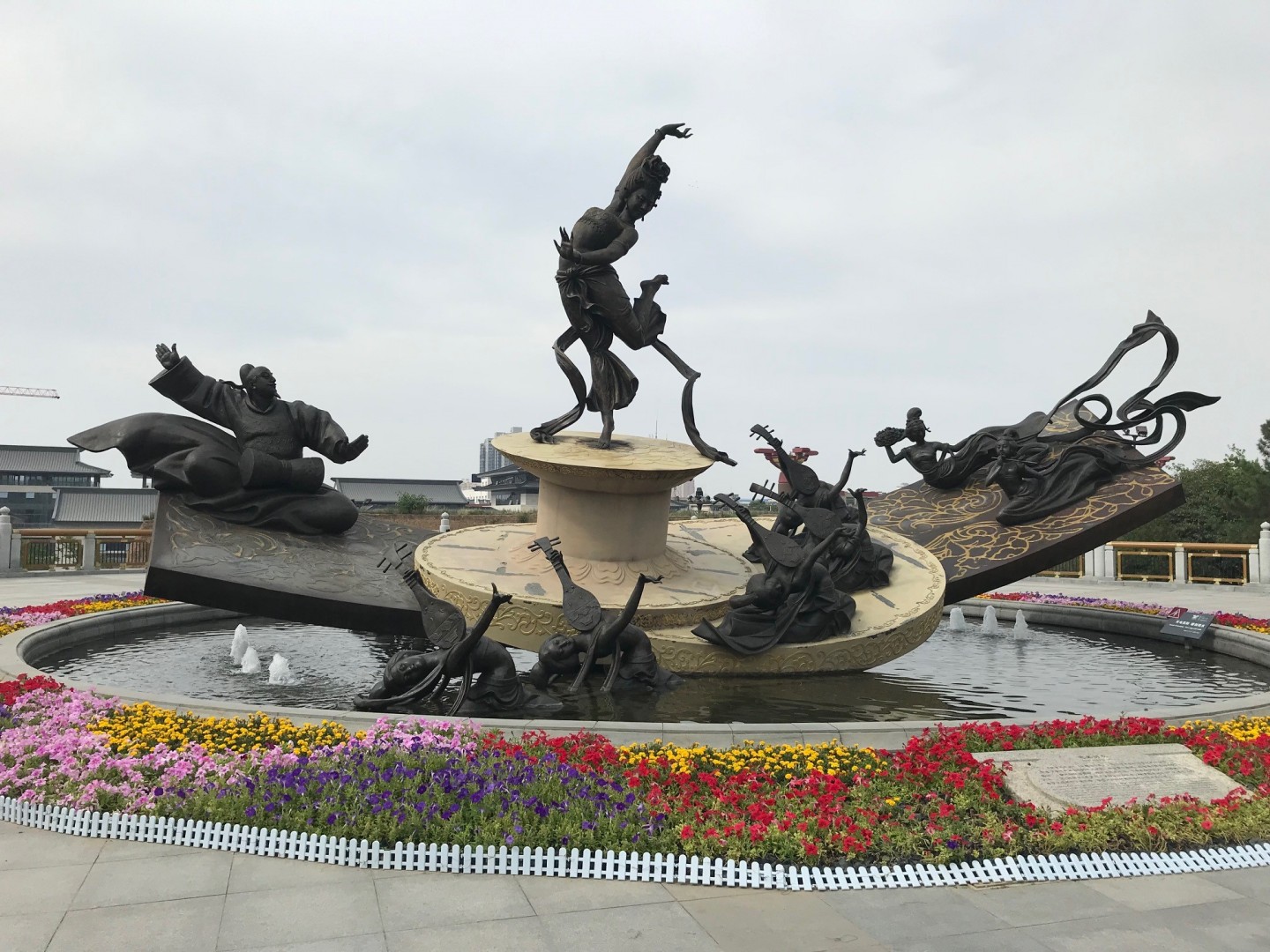 Tag: ekoloji