More than just a run…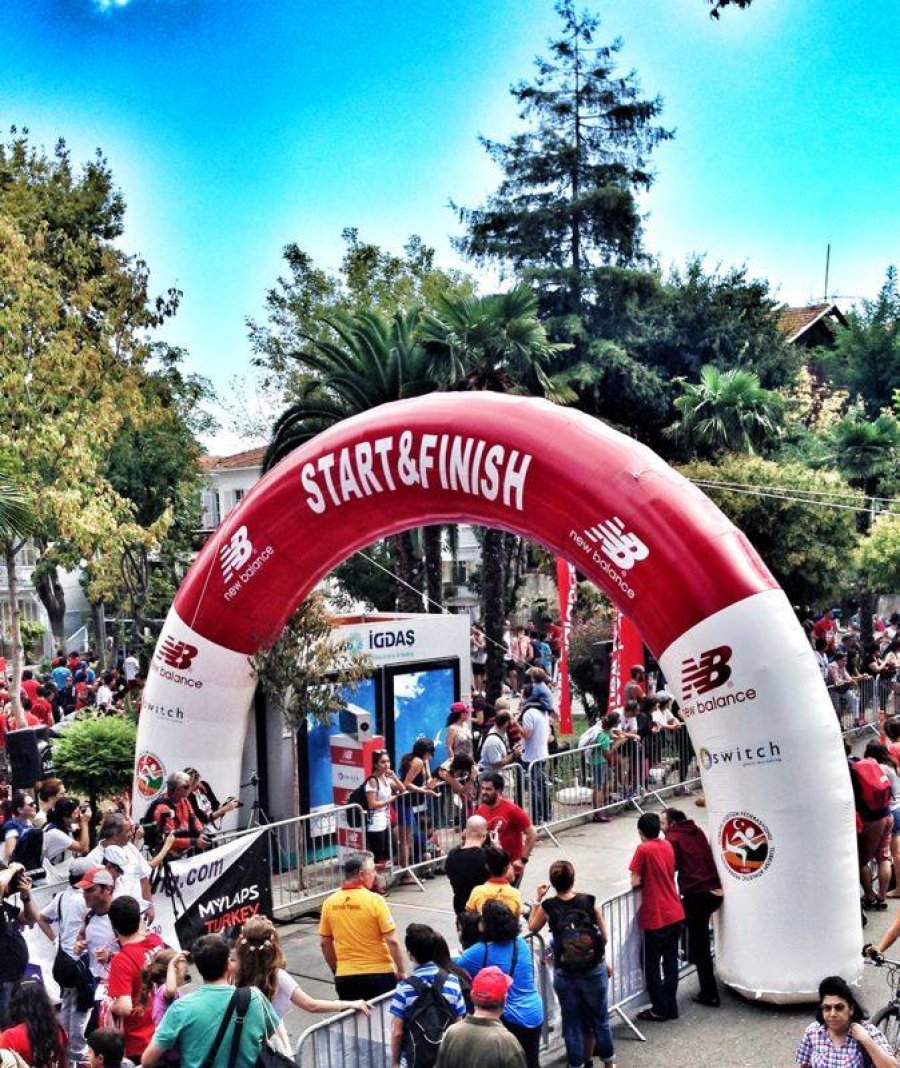 Ever since I realized that the sport of running is more than simply a run, that it means much more, in so many ways, I have been participating in races. There are times I do it just for pleasure and to socialize, times I do it to push my limits and times I do it for a very special cause. In this piece, I evaluate different runs I have joined since the year since I embarked on the adventure of running.
I participated in my first run, the Eurasian Marathon, in 2011, at the invitation of my classmate Youseff. This Moroccan friend of mine joined the run, which is now known as the Istanbul Marathon, with his wife. I remember finishing the first 15-kilometer leg of the run in high spirits and in 1 hour and 22 minutes despite not having done any special training. In fact, after getting a little carried away and running with the professional athletes for the first 8 kilometers, in 37 minutes, I ran out of breath. I had a lot of fun in my first run and knew that I would do it again.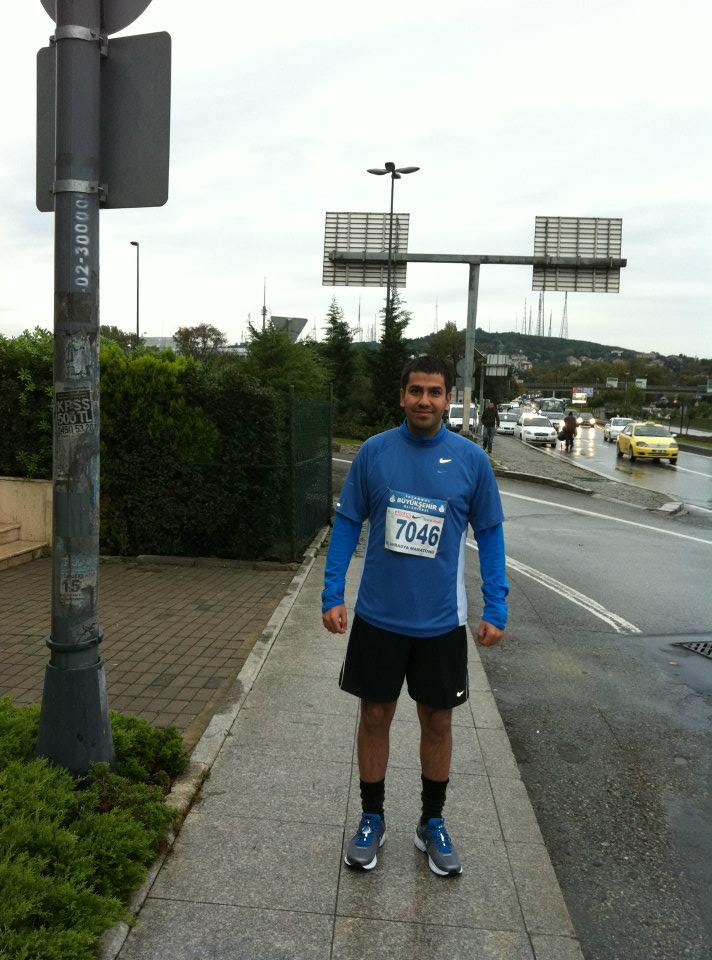 Just before the start of my first run, the Eurasian Marathon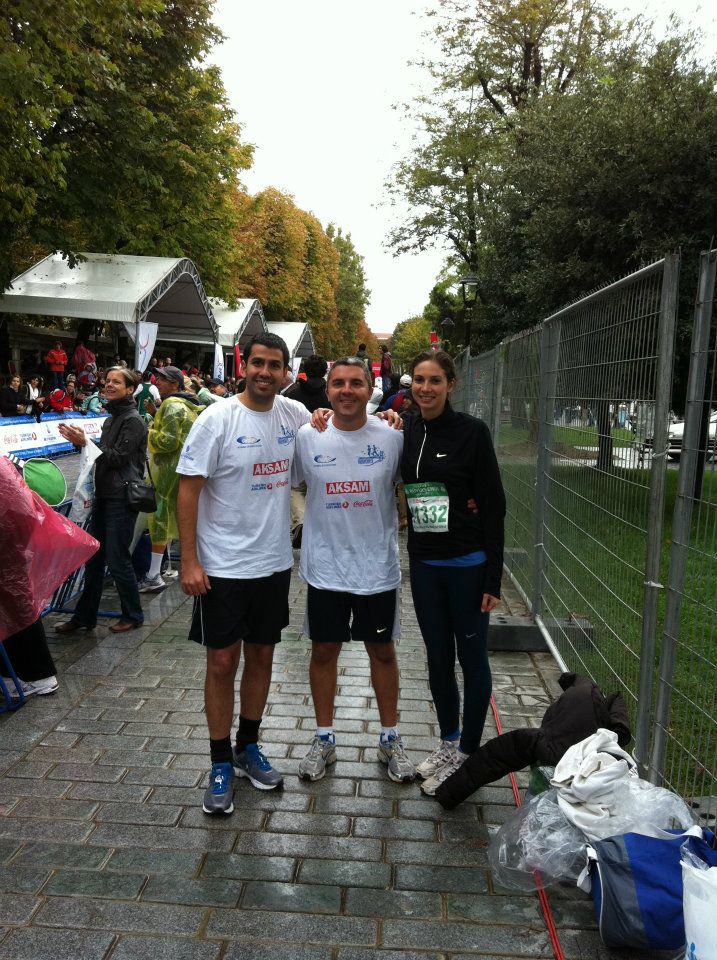 A photo taken with Youssef and his wife to remember the Eurasian Marathon
I later participated in various runs when I had the time. Sometimes I wrote about these runs, such as in the links below:

http://www.serhansuzer.com/tr/sporcunun-zeki-cevik-ve-ahlaklisi
http://www.serhansuzer.com/tr/bozcaada-maratonu-2013

I'd like to summarize for you some of these runs, which I joined without any special training:

The most enjoyable run: Büyükada
Nothing was more fun than running along this 11-kilometer course. The mystical atmosphere of the island, amazing views of the mouth of the Bosphorus and Istanbul, good-humored participants and friends who live on the island, and a mouthwatering breakfast or fresh fish after the run: these are the things that made this run so much fun for me. I joined the run twice, and would participate every year if I had the chance.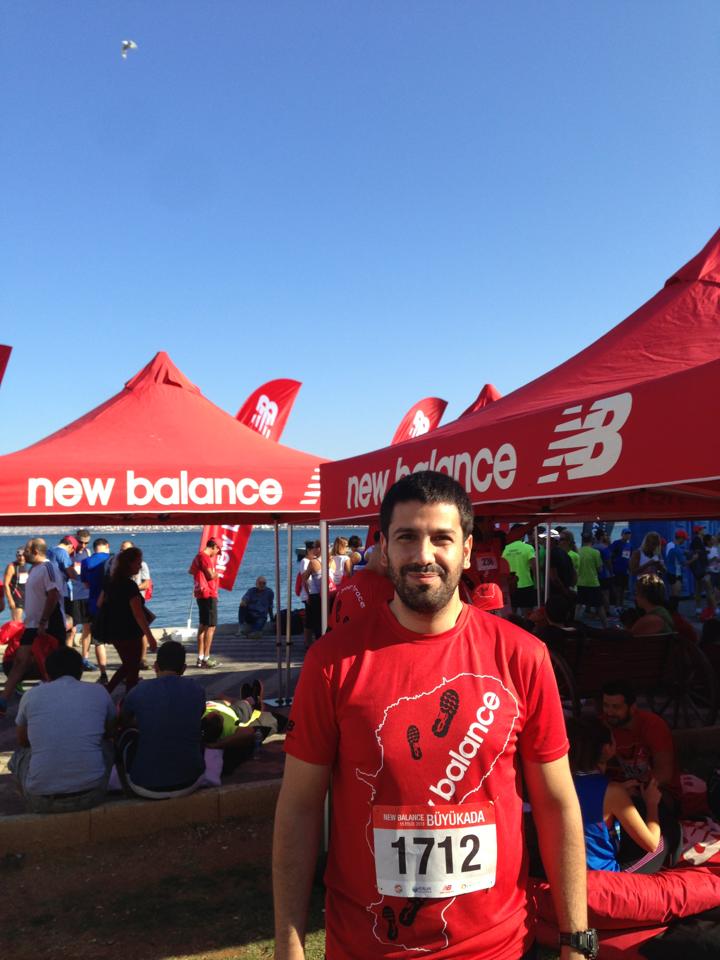 Just before the start of the Büyükada Run. It coincided with the only time in my life that I've had a beard for 2 months.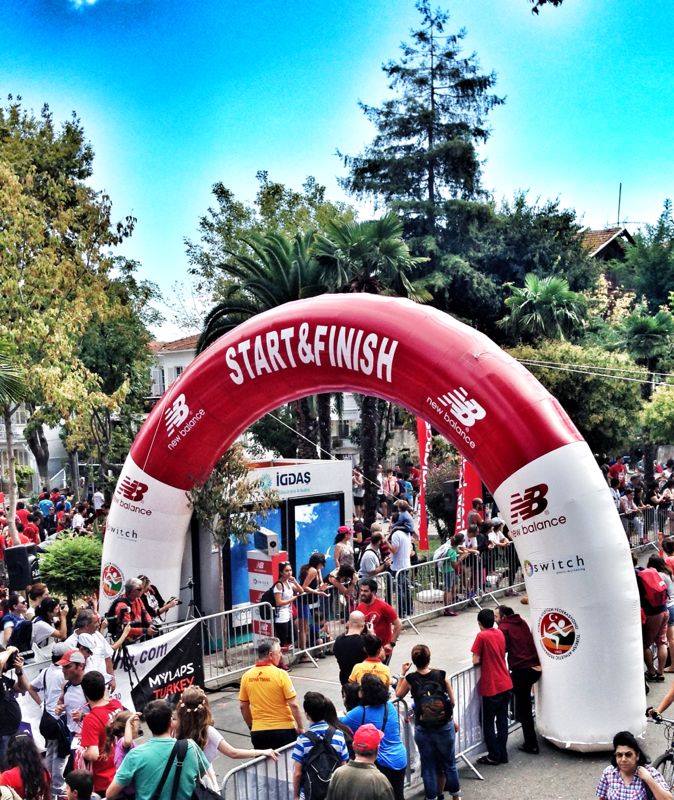 Crossing the finish line on Büyükada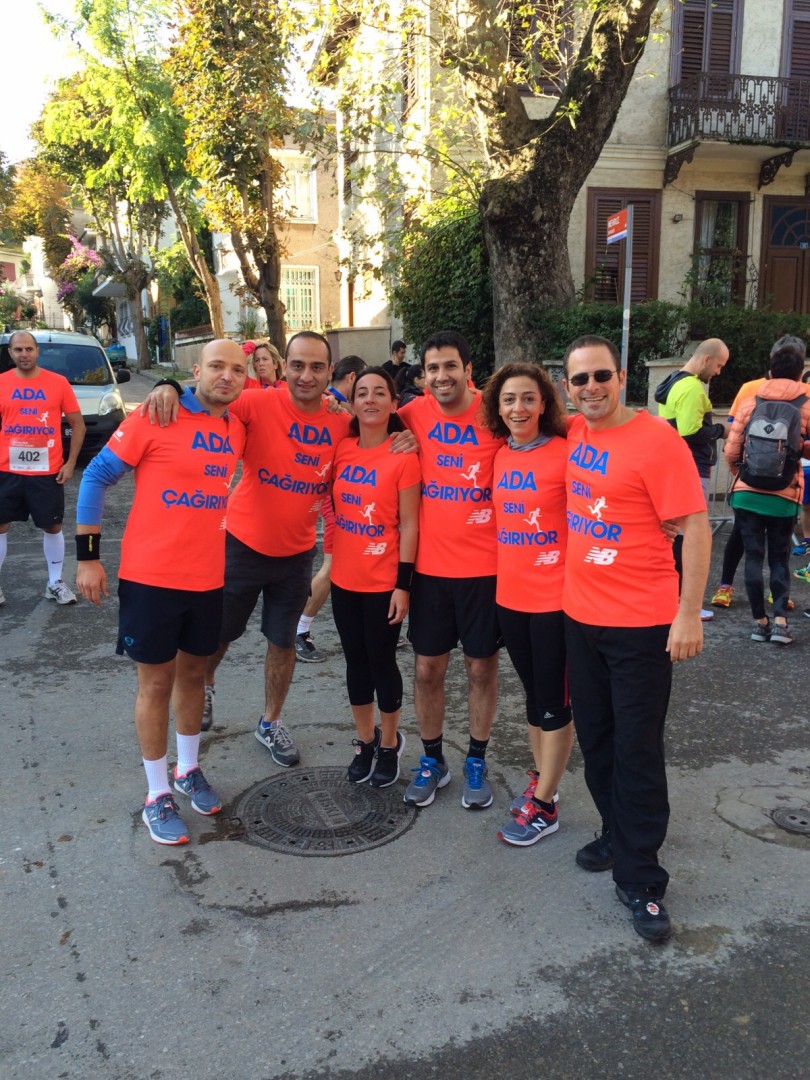 A photo taken with friends on the island the second time I joined the Büyükada run
The toughest run: Deer Run, Belgrade Forest

This was the only run that made me think afterwards: "Good Lord, and I thought I was a good athlete." More difficult than commando training. Don't get me wrong. When I'm in Istanbul I go running in Belgrade Forest about once a week, but I stick to the 6-kilometer course. This race wasn't on a flat track; it was right in the middle of the forest. There was no path of any kind. Mostly, it was uphill among trees on uneven dried mud. It was more of a climb than a run. I nearly sprained my ankle twice. I normally run from start to finish, but in this run I stopped three times. You can only get so far up a hill before you start walking. I also had a cramp in my leg. Somehow, I don't know how, I managed to complete the 14-kilometer run. My only consolation was getting a T-shirt whose color and design I liked a lot. Would I do it again? I ran it during the heat of summer, which made it tough. I wonder what it would be like in the winter. I'll probably participate again. Let's see what my enthusiasm gets me next time…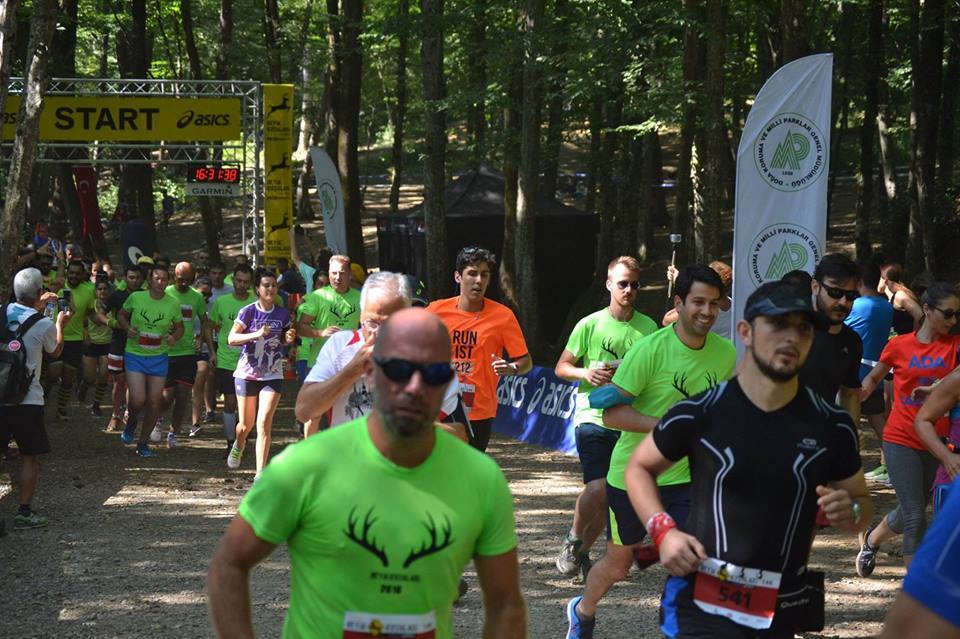 Taken at the start of Deer Run
A run that was no fun: Run Istanbul, Caddebostan

This run is overly crowded every single year. When, two years ago, I found myself surrounded by thousands of people before the start of Run Istanbul, I came up with a strategy: The 7-kilometer course was relatively short and I got off to a quick, steady start and maintained a fast pace so I could leave the crowd behind and run in peace. I kept an eye on the chronometer I was wearing and the signs marking the intervals of the course. I'd noted I had run 6 kilometers in 23 minutes just before I injured myself and had to drop out. It bothered me so much to end my run with only a kilometer to go that I participated again the following year. This time, I finished the 7 kilometers without pushing myself too hard. Naturally, I was still unhappy about running in the middle of a great pack of people. The course is smooth and easy going and it's fun to run along Bağdat Caddesi, but I don't think I'll join this run in the future.

The most fun run: Color Sky 5k

It truly was a lot of fun. This 5-kilometer run is held solely for entertainment and for the benefit of non-governmental organizations. At each 1k mark you're blasted with brightly colored powder. You finish the 5 kilometers covered with a kaleidoscope of color. As if that weren't enough, after the finish line they keep flinging clouds of powder with you as you dance to the music. The looks our fellow passengers gave me and my friend as we returned on the metro (we were too dusty to sit down, of course) really made us laugh. Some of them even came up for selfies or to pose for photos with me.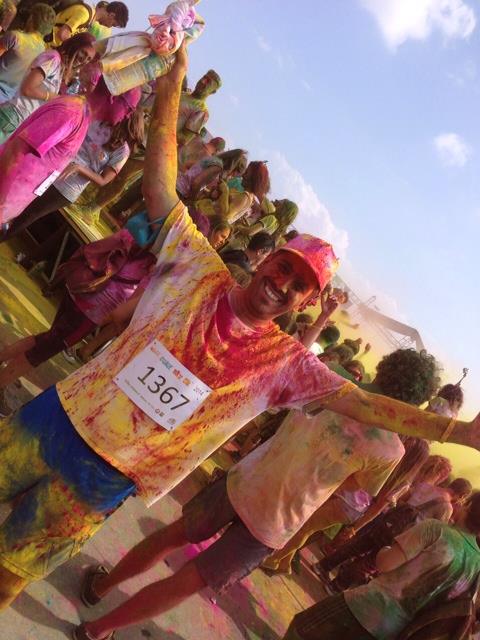 A Serhan painted to the gills after the Color Sky 5k
The most fun, hot run on a weekend: Bozcaada

Being on Bozcaada is always special. The run held on the island on a Saturday was great fun. Music, sweeping views, colorful characters, the chance to swim in the sea after the run, Saturday night entertainment… I had so many good reasons to participate in the run.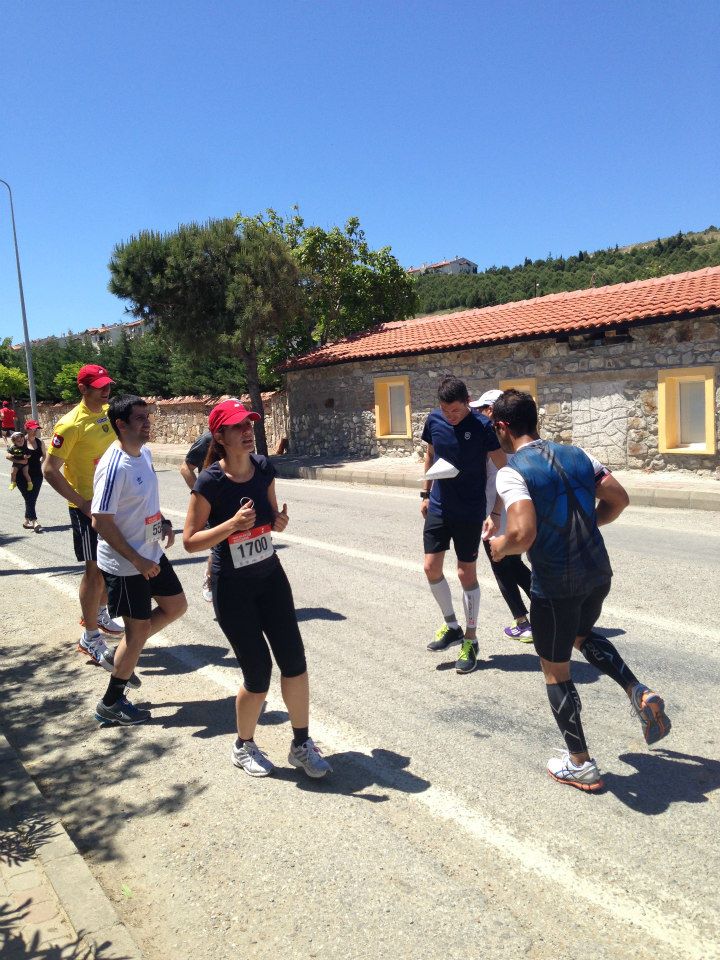 Warming up with friends before the Bozcaada run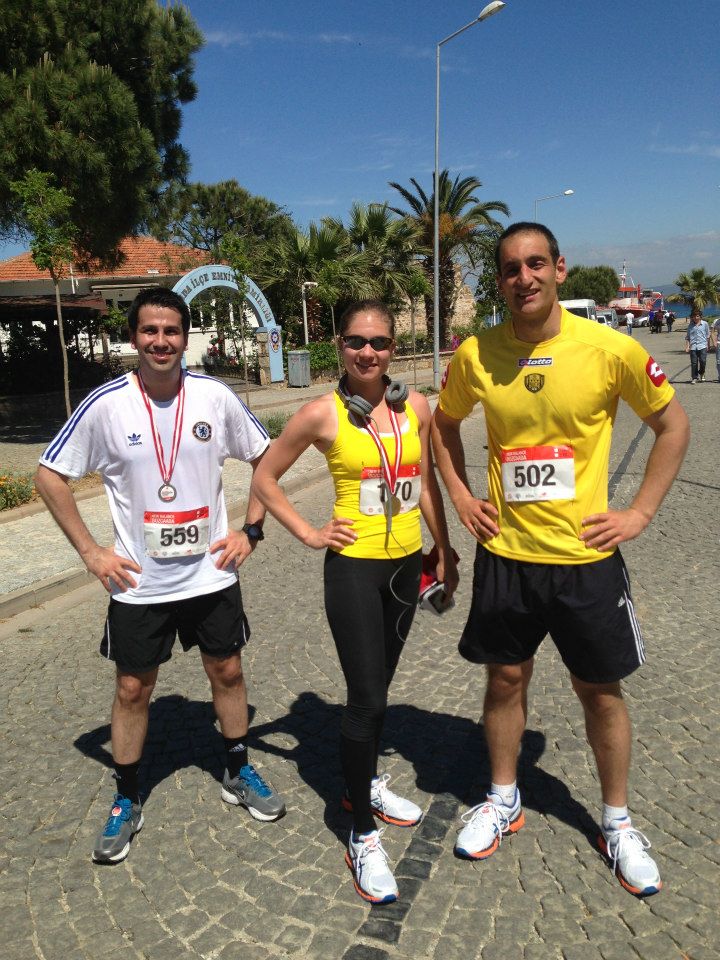 A snapshot with my friend (the speaker) Nevşin Mengü and her boyfriend after the run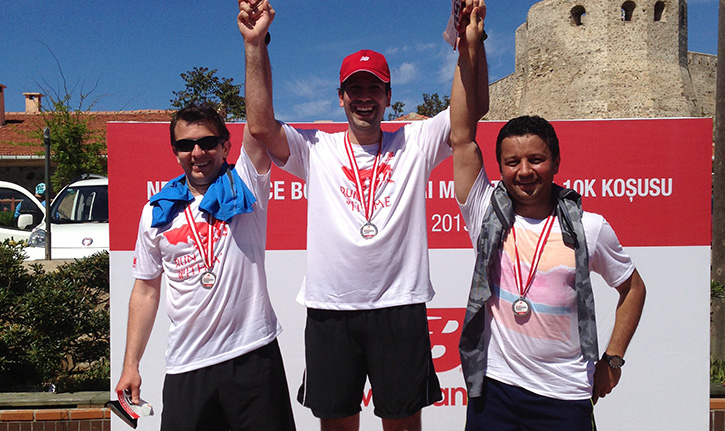 A lighthearted picture taken with other runners after the Bozcaada run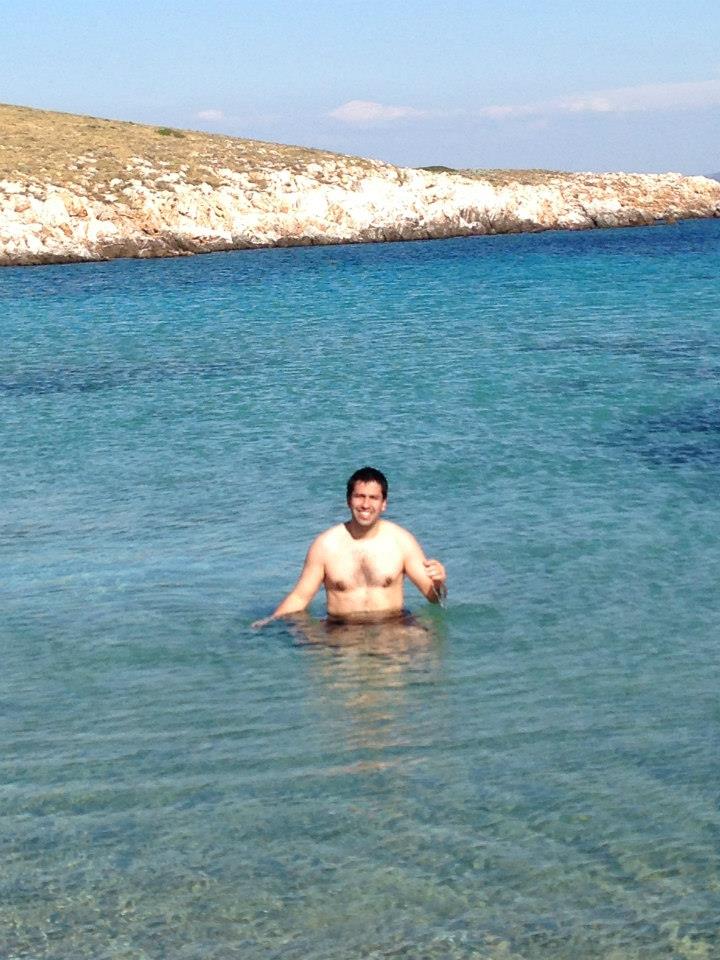 The best thing of all was cooling off in the sea after the run.
Naturally, there were some difficulties. It isn't easy to get to the island. The race was scheduled to start at 2 in the afternoon. It was hot and humid, and the many hills on the course challenged the participants. I'd recommend that you not enjoy your fish and rakı on the Friday evening before the race. Wait for Saturday evening and have a true fiesta!


The smoothest run: Runtalya

Not only is the course a flat and easy 10-kilometer stretch, it is never a problem to get to Antalya, or to find accommodation and a decent restaurant. I return to Istanbul relaxed and rested from a fun run in Antalya.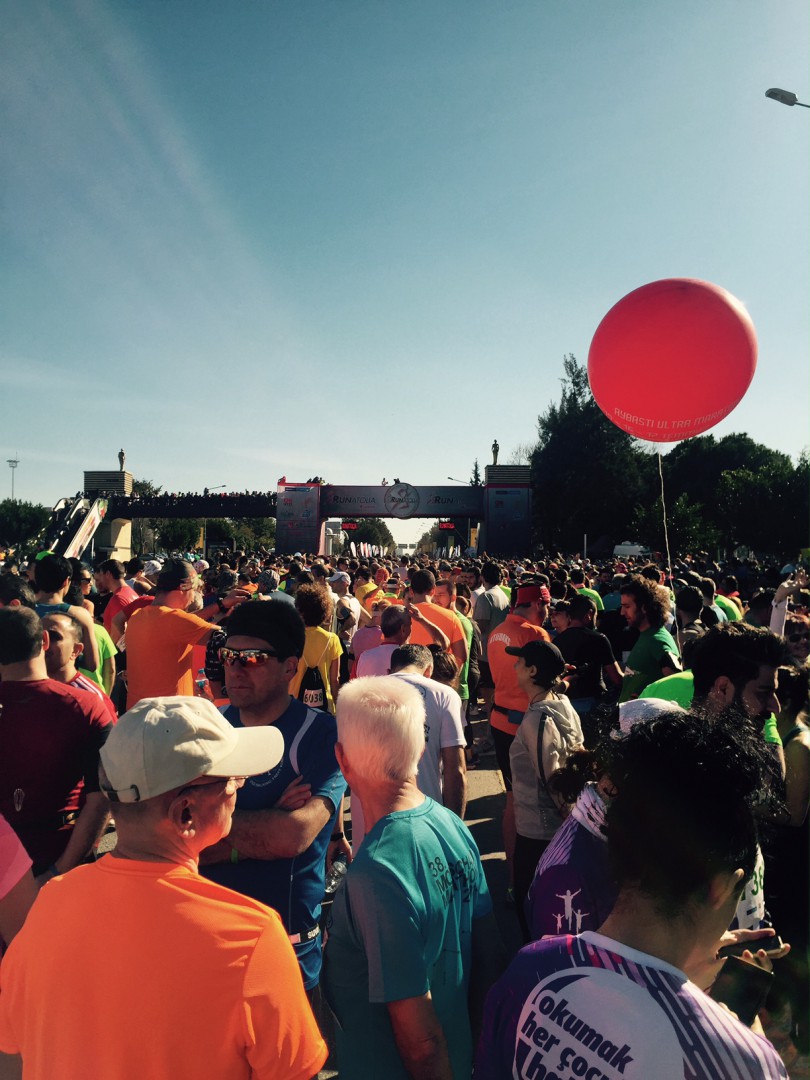 Just prior to the start of Runtalya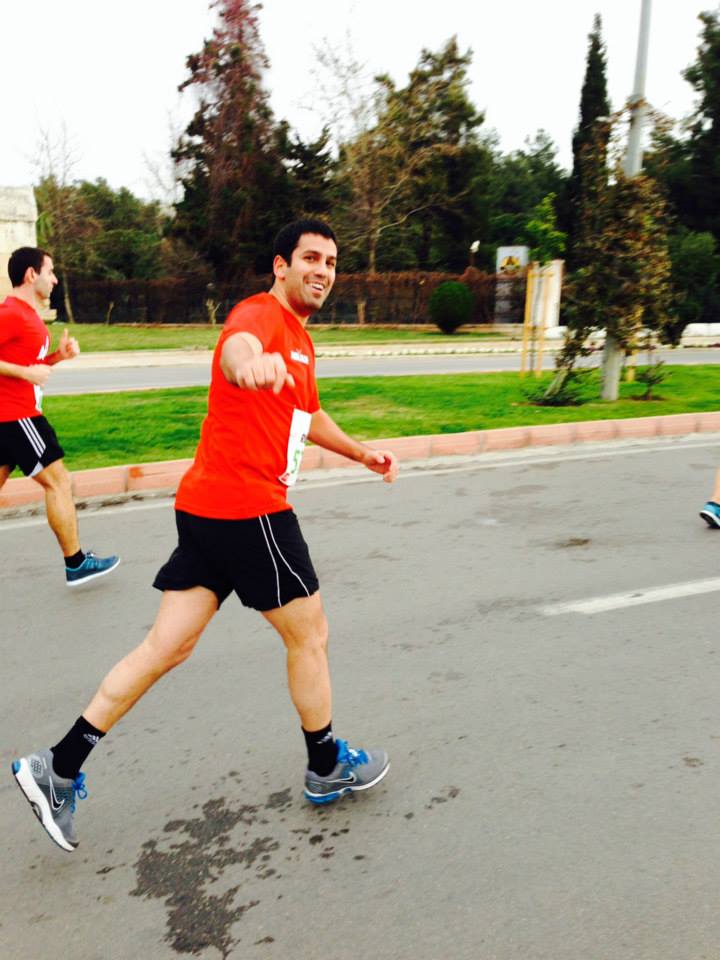 Snapped by a friend during the run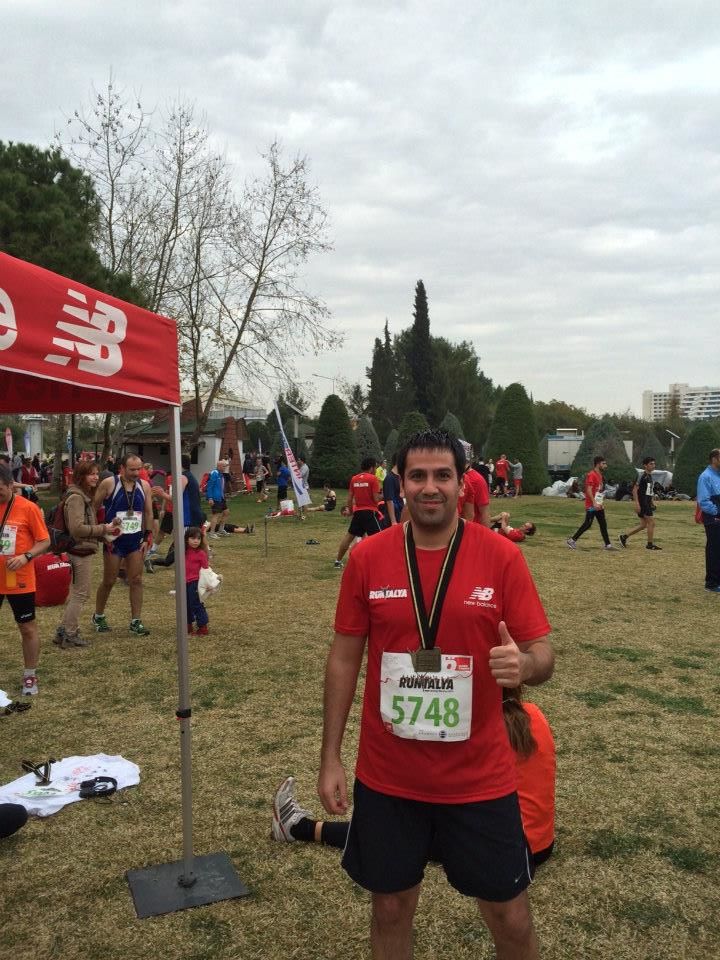 Taken just after the run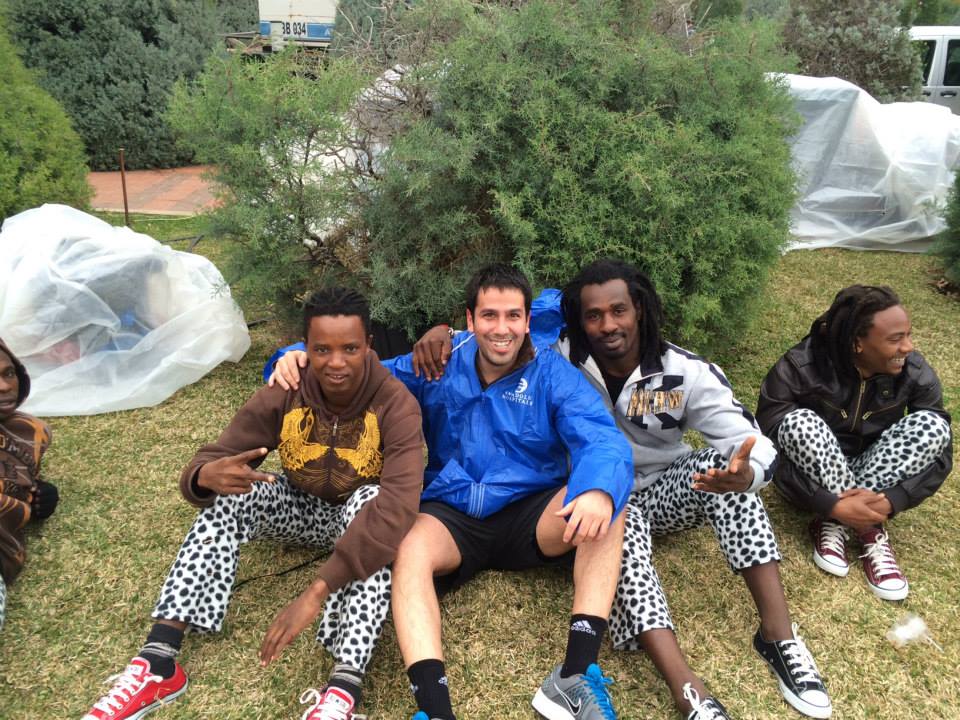 A photo taken with the members of a black band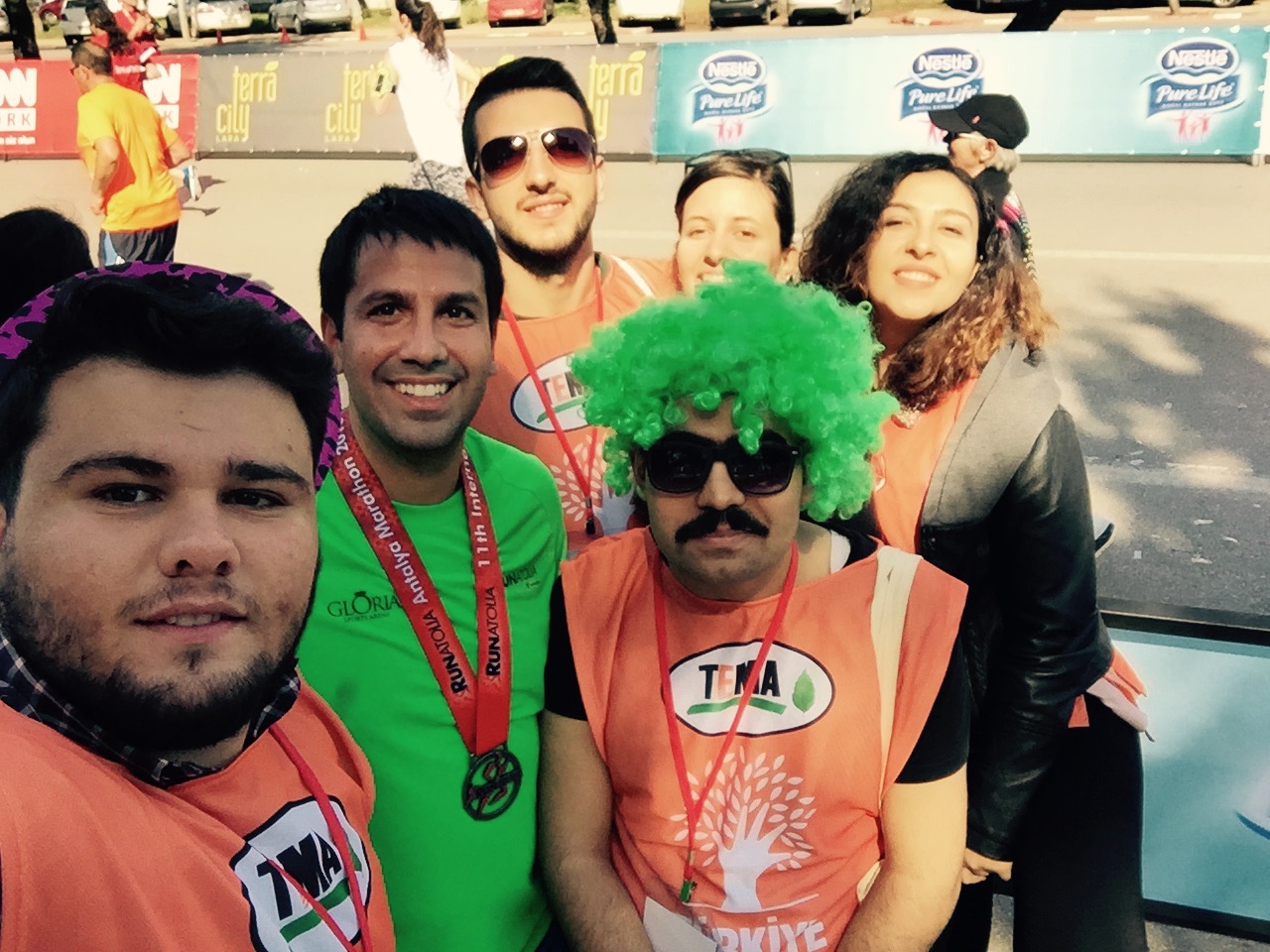 A photo taken after Runtalya with university students who volunteered to work for TEMA Foundation

The next runs I intend to join are: Gelibolu Run, İznik Run and Eskişehir Run.

The most meaningful run:

The most meaningful of the runs I've joined is bound to be the one in Istanbul coming up on the 13th of November. I will be running on behalf of the new Support Market that Tider (the Basic Essentials Association) is setting up in the district of Bağcılar. For more details, check out http://www.serhansuzer.com/tr/adimgibibiliyorum-degistirebiliriz-cogalabiliriz.
Along with Mert Fırat, who I've invited, and over 100 volunteers who have pledged to run for Tider, I will be participating in the Istanbul Marathon. I'm already excited about it. Let me mention here that even though I'm referring to all these events as "runs," you can walk the course if you want to. All that matters is that you show up, have fun and help support our Association, which provides basic foodstuffs and job placements for thousands of people.
This is the last week to register, so if you haven't done it yet, go and sign up for the Istanbul Marathon at: http://www.istanbulmarathon.org.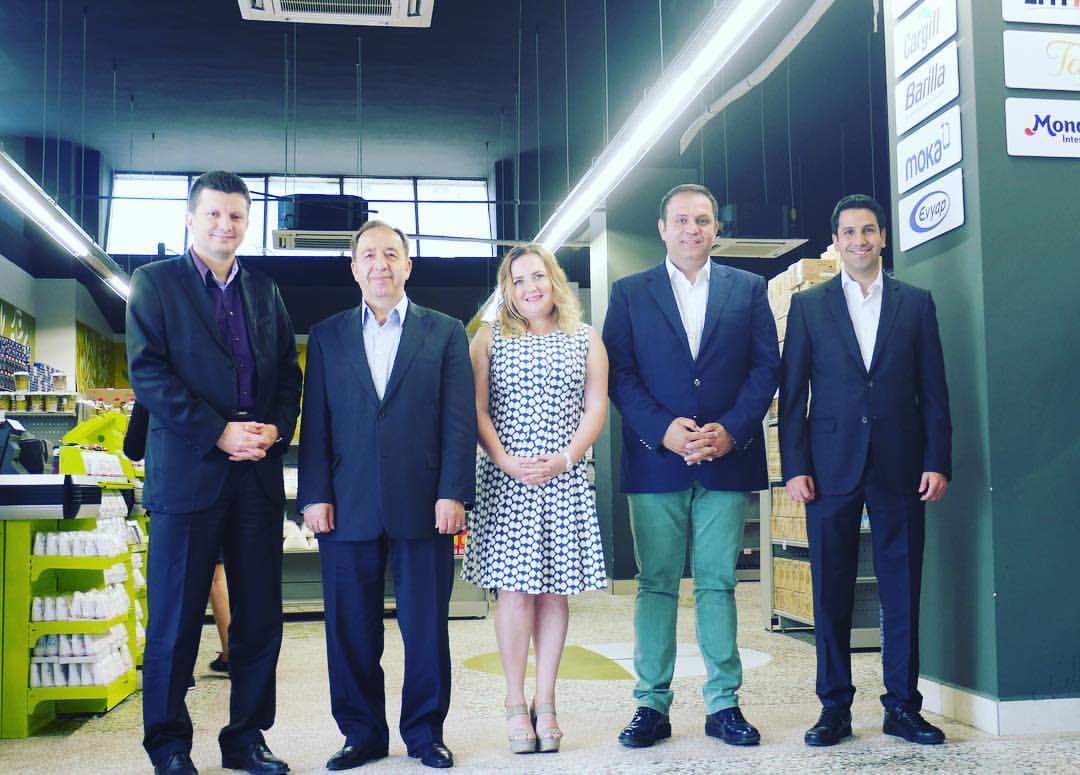 The Executive Board of Tider will also be participating. From left to right: Serkan Başöz, Aziz Akgül, Nigar Uçar, Alp Armutlu and me.
I know for sure that more of us can make a difference…
Tag: sosyal sorumluluk