My "bad connection" with Cape Town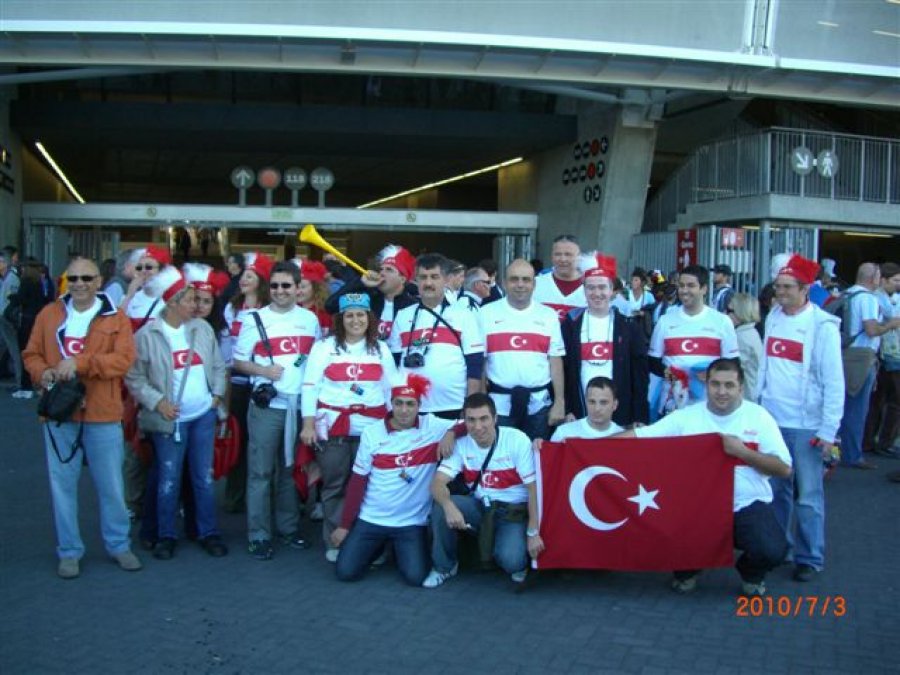 Last week, I wrote about audio issues with Cape Town during the Climate Reality live broadcast held in Paris. It wasn't my first unfortunate experience concerning Cape Town. This week, I'd like to share my earlier tension-filled adventure in that South African city and the lessons that can be drawn from it.
My last post (http://serhansuzer.com/en/creation-vs-destruction-the-battle-for-a-better-world) was an account of how I, as a participant on the Climate Reality program panel in Paris, had assumed we were linked to a studio in the U.S. when I was in fact responding to questions from a presenter in Cape Town. I was not able to speak to the presenter in Cape Town until nearly the end of the program and for less than the allocated time due to audio issues that emerged when the Turkey section of the program was kicked off by former Vice-President Al Gore.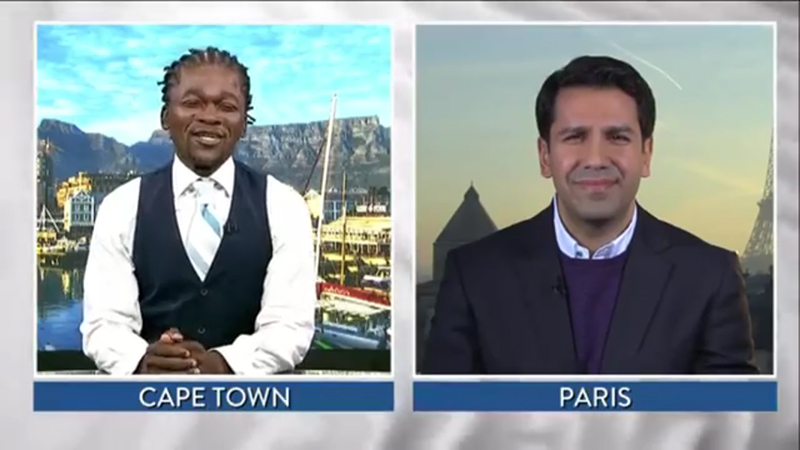 When the studio chief came up to me at the end of my talk and explained that there had been audio issues with Cape Town, I said to myself: "Not Cape Town again!" Then I remembered the events of 2010 as though a movie was playing before my eyes.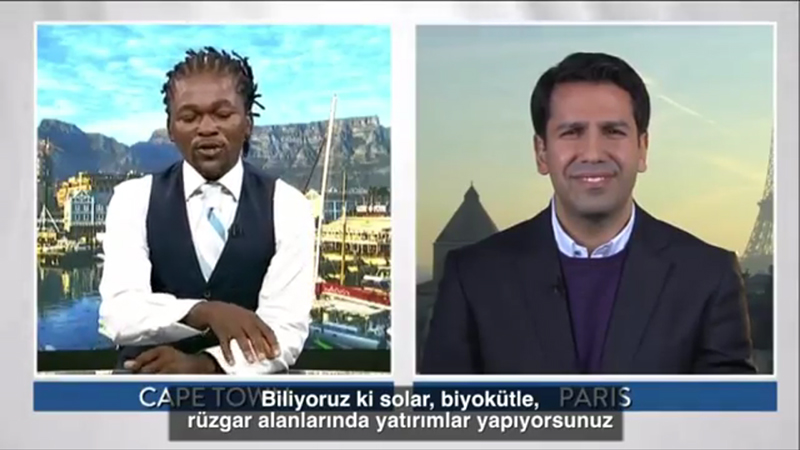 Let's travel back in time. In 2009, after taking over the stake of our Qatari partner in KFC and Pizza in Turkey, franchises we have owned for 20 years, we launched a major restructuring. As the head of the firm I was working nonstop during the demanding process of overhauling the entire infrastructure of the franchise, which resulted in adding an additional 25 restaurants to the existing 81 in a record period of about 6 months. We did this without taking out any loans and while making a profit on the existing restaurants. (I'll write in more detail later about KFC and Pizza Hut.)
In 2010, Coca-Cola announced that they were organizing an Incentive Trip to the FIFA World Cup in South Africa, and I was asked to provide a list of potential participants from our firm. Perhaps you already know that Yum!, the fast food company that operated KFC and Pizza Hut, was owned by Pepsi. Yum! then became a spin-off of PepsiCo and a restaurant company in its own right. Although we operated under the Pepsi umbrella, we had preferred to serve Coca-Cola at our restaurants for many years. There were a number of reasons for that. Other than the fact that we have a close relationship with Coca-Cola's regional partner, Anadolu Group, we found that Coca-Cola always offered better financial terms than Pepsi every time we held a tender a few months before the expiration of our 4-5 year contracts. In addition to bidding lower prices, Coca-Cola had also provided us with substantial cash flow. That was the main reason we preferred Coca-Cola. Another factor, of course, is that Coca-Cola is the preferred brand of Turkish consumers. Were a survey held on that subject today, the overwhelming majority of Turks would choose Coca-Cola. We responded to the people's choice and found the same results in our surveys of our customers. As a result, we worked with Coca-Cola for many years.

The invitation to the World Cup in South Africa
A global giant with the resources to provide motivation and rewards to the companies it prizes, Coca-Cola periodically arranges trips for executives and managers. As one of their best retail clients, we received such an invitation. At our meeting that week I asked my executives who wanted to go to South Africa. Our Business Development Director, Haluk Bey, expressed interest. I was personally interested both in attending a World Cup match and in seeing South Africa, so I put my name next to Haluk Bey's on the list of those travelling with Coca-Cola.
They later notified us of the exact travel dates. When I found out we would be attending the Germany-Argentina match, I was even keener to go. We would be watching one of the most exciting matches.
Our departure date finally arrived. Executives from over 30 retail and tourism firms arrived at the airport. Due to my experience in both sectors, I knew most of them.
For some reason – most likely to obtain the cheapest tickets – we were placed not on a direct flight but on a circuitous route that took us from Istanbul to Abu Dhabi to Johannesburg to Cape Town. We would be flying for nearly the entire day. The upbeat mood of our group was not diminished in any way, though. We joked and discussed our sector during the tiring, but enjoyable, trip. After transferring in Abu Dhabi we arrived in Johannesburg and waited on the plane as instructed. Half an hour later, the same plane transported us to Cape Town. Despite the long journey, I wasn't at all tired. The excitement must have kept me on my feet. However, that would soon change.


A smudge grows into a nightmare
When we got to passport control I chose the agent on the far right with the shortest line. The young agent took my passport. Behind him was an older official I assumed was his superior. I had a pleasant chat with both of them. We joked and laughed. Everything was fine until I was asked, "Where is your empty page?"
I took back my passport, leafed through it and found one. The young agent was just about to stamp it when the older one said, "You can't stamp it. There's an ink smear on that page." The nightmare had begun. I pointed out that an ink smudge didn't mean the page had been used. The older official cut me off with, "We can't use that page. Find another one." I leafed through my passport again, but as I'm a frequent traveler there weren't any other empty pages except the ones marked "Not for Visa". The official said, "We have to deport you." At first I thought he was joking. When I realized he was serious I said, "I'm here to watch the World Cup at the invitation of Coca-Cola. I'm also the honorary consul for Costa Rica and I know a thing or two about visas. You can use this page. It's empty."
In the same severe tones, the official said, "We absolutely cannot use that page. I don't care what you came here for. I have to follow the rules. I'm calling security." And he really did call security. I said, "What you're doing is wrong. Deportation is used only for serious offences, not for someone arriving to watch the World Cup." I added that South African tourism would never thrive if they treated people this way. He shrugged. Then he said, "There's something we can do. If the embassy calls and says I can use the 'Not for Visa' page, I'll agree."
Security arrived. The official look at me and said, "The plane leaves in 15 minutes. We'll let you proceed if the embassy resolves this. Otherwise, you have two choices: you can stay here and face imprisonment or you can get on the next plane to your country." I said, "I've been flying for about 20 hours and this is how I'm treated. It's unbelievable." I grabbed my phone and called the embassy about 50 times over the next 15 minutes. Even though the Turkish Embassy was open at the time, nobody answered. I was losing my mind and muttering to myself about how the embassy was unavailable when I needed them most. Meanwhile, one of the directors of a company that plans events for the Coca-Cola group came over to me. I explained what had happened. He told the official that I was a leading businessman in Turkey and had traveled with the Coca-Cola contingent, but to no avail. We both tried placing calls to the embassy but neither of us was successful.


It can't end like this
I don't wish to put into words the frustration I felt over being unable to contact the Foreign Ministry. In the end, a security official told me, "Time's up. You have to get on the plane." I had no choice but to do so after saying goodbye to the events director. Nobody could believe it.
To myself, I kept saying, "This is so unfair. It can't end like this." My adrenalin levels hit the ceiling. The moment I stepped onto the plane I asked the flight attendants who the purser was. They pointed to a male attendant. I went up to him and summarized my situation in a couple of minutes. Explaining that I had been unfairly blocked from entry, I asked if he could help me by showing me a place I could comfortably make calls as soon as we arrived in Johannesburg. I knew the plane would stay on the tarmac there for about half an hour. I intended to evaluate that half hour as best I could. The flight attendants and the purser were very understanding. They assured me they would help me out. The moment we landed in Johannesburg they showed me an area near the restrooms where I could speak on the phone until the plane took off.
I'd already decided that I would place my first call to Selma Hanım, my father's assistant of 30 years. I quickly explained the situation, telling her I needed them to reach the South African Embassy within half an hour for me to be allowed to disembark from the plane. Then I called the Turkish Embassy again, and once again nobody answered. Finally, I called an acquaintance at the Turkish Foreign Ministry. The flight attendants and purser came up to me twice to ask how it was going. In both cases, I told them I hadn't made any progress. I was just saying to myself that it was hopeless when a miracle happened.


İzzet Garih works a miracle
The experienced Selma Hanım first checked on the Internet to see who Turkey's honorary consul to South Africa was. When she learned that it was İzzet Garih, she called and asked for his urgent help. I was lucky he held that position. İzzet Garih and Esat Edin are two businessmen from the generation preceding mine, both of whom I respect and like greatly and who have passed on their knowledge and experience to me without ever expecting a thing in return. (It grieves me still to remember the tragic accident that took Esat Edin's life, along with those of his wife and children. I plan to write more about him in future. For now, let me say: May he and his family rest in peace.)
İzzet Garih immediately called the South African Embassy. Then another miracle happened. The South African Ambassador in Ankara had previously been the director of VIP services at Johannesburg Airport. He immediately called his replacement there and ordered her to allow Serhan Süzer to disembark from the plane. I let out a whoop of joy when Selma Hanım called me to explain what had happened and to tell me that they would soon be escorting me off the plane. I told the purser what had happened. He said, "There's still a risk. Let's make certain the door to the plane isn't closed." We went to the door together and explained the situation to the officials there. They called in for confirmation on their wirelesses. We then waited. The VIP director herself arrived shortly afterwards along with two men. I was escorted off the plane and my baggage was also removed from the hold.
As we walked to the VIP section, they repeatedly apologized. I assured them I had put the whole thing behind me. Once we got to the VIP section they took my passport for processing and arranged a domestic flight back to Cape Town. When my passport was returned, I quickly scanned it to see where the visa was. Unsurprisingly, the page with the smudge had been stamped. With a wry smile, I said to the VIP director, "This page was the cause of the whole problem." I explained what had happened. She nodded sympathetically and apologized yet again.

The talk of the evening
I returned to Cape Town on the next available plane. Once I'd settled in my hotel and showered, I went to the restaurant where our group dinner was being held. As I entered the event, the 30-40 people in the Coca-Cola group were chatting away. Silence fell and they all began clapping when they saw me. Nobody had believed I would be able to return. One of them said, "Serhan Bey, you're probably the only person in this group who could have managed to return even after being deported on a plane." Jokes few fast and furious and everyone made me tell the whole story from the beginning. It was the talk of the evening.

Once I'd sorted out my visa, the fun started. We all enjoyed visiting Table Mountain, Cape Town Marina and some other out-of-the-way sites. Here are some of the photos we took during our travels: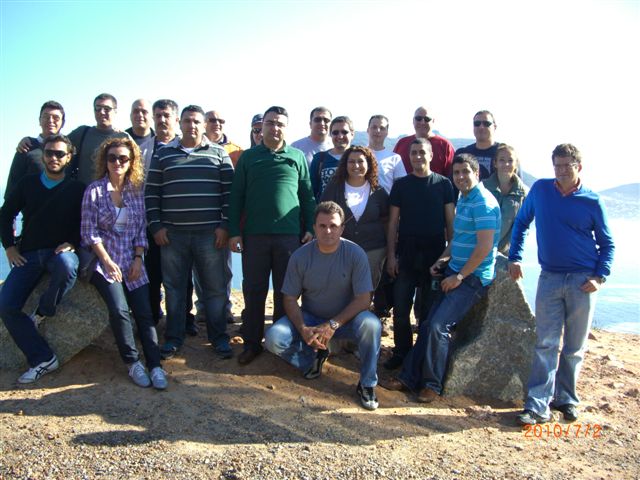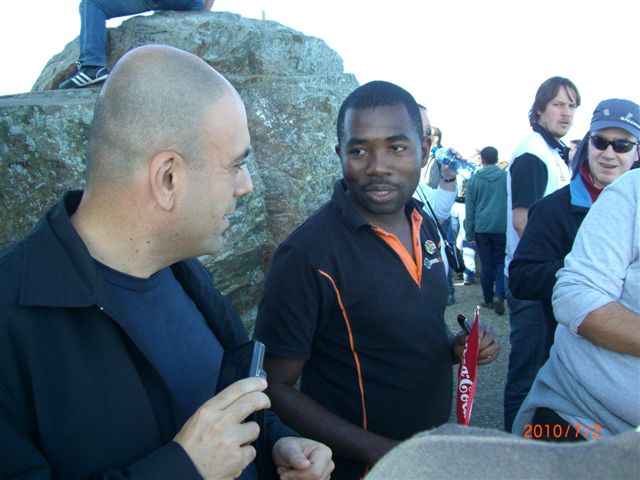 Two days later, we were excited to watch the Germany-Argentina match. For some reason, everyone in our group was supporting Argentina. When a group of Germans sitting near us in the stadium heard us cheering for Argentina, they asked, "Why are you rooting for Argentina?" I explained that even though 3.5 million Turks live in Germany, a country with which we have close relations, the Argentines possess Mediterranean characteristics typical of Turks and we have a special affinity with them. When a German pointed out that Mesut Özil plays for the German team, I said, "We Turks support Mesut. In fact, even though everyone wants Argentina to win we also want Mesut to score a goal. And besides, Argentina has a player like Messi." The ribbing and joking continued throughout the match. We were also near some Argentinian fans and we jumped up and down and chanted with them. They were animated and full of energy. Most of them were of Italian descent, and they were even more outgoing and high-spirited than we Turks. Here are some photos from before and after the match: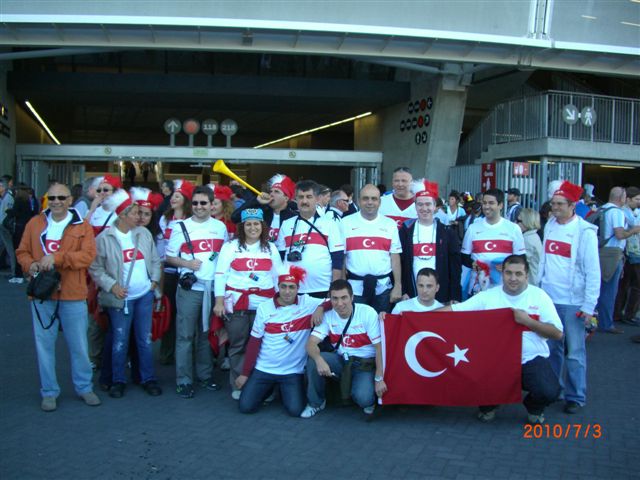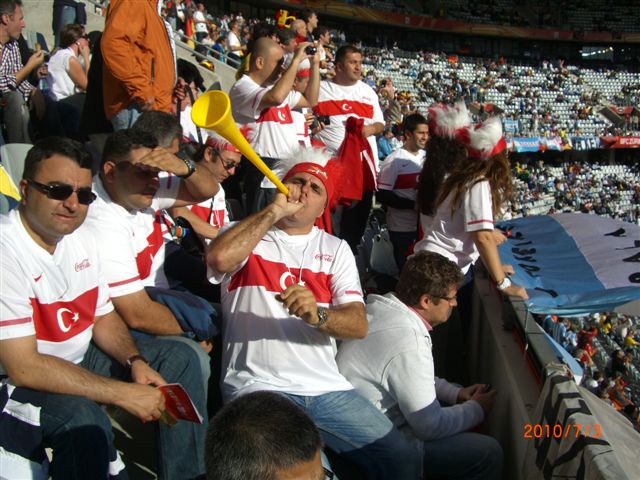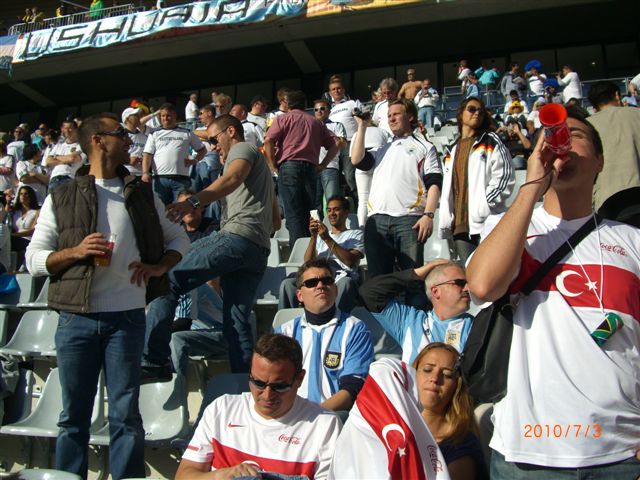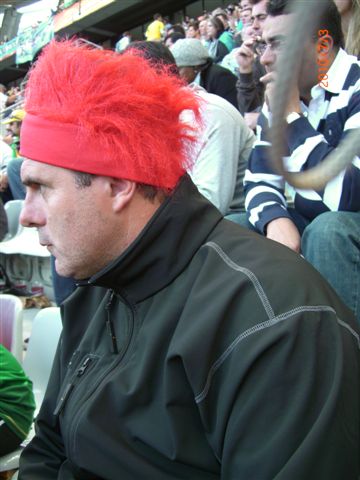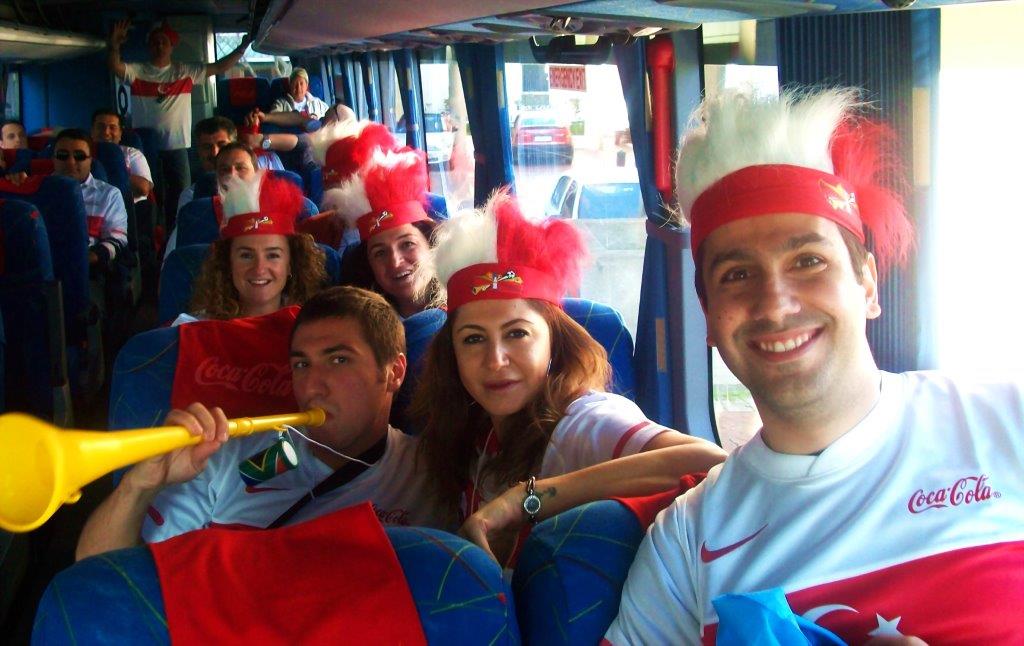 The match unexpectedly ended with a 4-0 German win, disappointing us all. The Argentinians left the field with their heads bowed. We returned to the hotel, still in high spirits, to plan that evening's program. I can honestly say that I never sensed danger of any kind in Cape Town, by day or night. I didn't witness any of the terrible crime incidents others have related. In fact, I walked through one of the most dangerous neighborhoods at 1 o'clock in the morning. .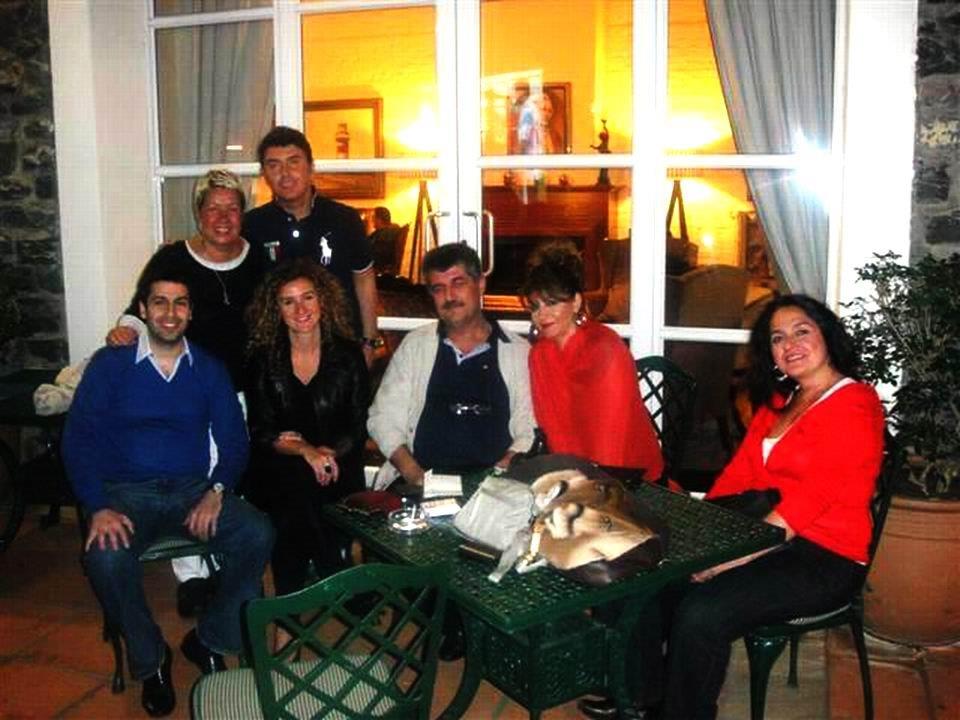 There's something else I need to point out. In 2010, black South Africans had only recently acquired their democratic rights and begun to gain power, and there were reports of the white population being under pressure. Some of my friends even commented that my experiences at passport control were a result of that. The official who had me deported was black. The young passport agent following his orders was black. The security official was white. But the Ambassador who ordered my release from the plane and the VIP director were also black. It's obvious to me that discrimination was not a factor in what happened.
A well-deserved rebuke

The final chapter of this story took place in Cape Town as I was returning to Turkey. As I made my way to the airport, I was hoping for a chance to confront those who had had me deported. After the first security check, I saw the security officer who had escorted me onto the plane. I went straight up and tapped him on the shoulder. He turned around and was startled to see me. This is the dialogue that took place between us:
How did you get in here?
The VIP director at Johannesburg Airport let me get off the plane. As you know, VIP doesn't do that for just anyone.
How did it happen?
We tried to explain that I have a certain standing in my own country and that you were making a mistake. But you wouldn't listen to us.
I'm sorry. I was just following orders.
Well then, could you tell whoever gave you that order that, despite his instructions, I managed to visit your country and have a wonderful holiday. Oh, and tell him to f..k himself.
He laughed and said, "I'll pass that on."
Now, having read the story above, perhaps you can understand why I wasn't at all surprised in that TV studio in Paris when there was a problem with Cape Town. And I also wanted to share my experiences with Fulya, a friend from primary school who settled in Cape Town just last week.
There's a moral to this story and some lessons to be drawn. I'd like to list them for my younger readers, especially:
Never give up.
During a crisis, maintain focus and don't panic.
No matter what happens, keep your spirits high and make the most of it.
Tag: iş dünyası