On the Final Four of Euroleague Basketball Championship Being Held in Istanbul and on Beşiktaş's Championship After 37 Years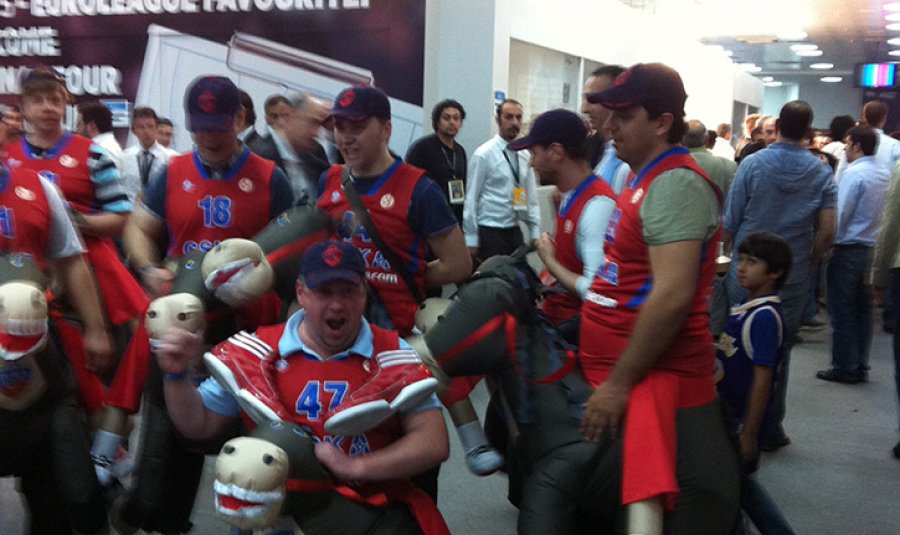 Last month, Istanbul hosted a very important championship once again. The Final Four (a quadruple final or exactly semifinals and finals played together) of Euroleague, which can be defined as the peak of basketball in Europe, took place in Istanbul.​
I went to the first round of this quadruple final (meaning the semifinal matches). When my university friend from Canada, Yanni, called and told me he wanted to come to this quadruple final, I arranged three tickets (Thanks Izzet). Yanni's friend from his first year in Michigan University, Uğur, joined us as well. The team was ready. It was an interesting night for me. Frankly speaking, watching two matches one after the other can be a bit tiring, but there were some factors that made this night entertaining.
For instance, the Greek fans were worth seeing. Especially how the fans of Panathinaikos, who were right above us, hectically watched the game and how they reacted were a lot like us (As we don't know Greek, we don't know whether if they swear or not). The reactions of the fans and the quarrel of the Panathinaikos and Olympiacos fans were worth seeing. Of course, these two groups were consciously located on two opposite ends of the hall and their contact with each other was tried to be prevented. Nevertheless, we witnessed two events.
Among the fans, the Russians were also alright. The interesting costumes of some of them added a spice to the night. Among the groups, the quietest ones were the Barcelonans. They were very few and they didn't cheer much (Or I didn't hear much due to the Panathinaikos fans).
When it was halftime, we went to one of the stands in the hall. As dinner wasn't ready yet, we started eating the olives and the plums which were put on the stands, and just then, I witnessed an interesting situation. First, I witnessed to it on Yanni. He ate one of the plums and making a wry face, asked me what it was. I described: "This is a plum, it's not like the ones you know, it tastes better if you eat it with salt." Then I showed it to him and after he ate it with salt, he said that it was really better that way and he continued eating. Afterwards, a couple of other foreign fans came over to our stand. Automatically (and also to joke a bit), I offered them plums. The three of them ate the plums and when they reacted the same way Yanni did, we all laughed a lot. Later on, I gave them the same lesson: "This is a plum, but it's not like the ones you know. Eat it with salt, it tastes better that way. You can't find it anywhere else, but in Turkey." Two other groups of foreigners came over and we experienced the same with them as well.
This "plum issue" ended when I saw İbrahim Kutluay, whose sportsmanship and personality I appreciate and who, to me, perfectly fits the definition of an upright man. We didn't see each other for a long time. I met him first time twelve years ago in Çeşme. Since then, although we couldn't meet a lot, we have nice conversations whenever we see each other. He became my neighbor in Süzer Plaza for one year when he was moving to another house. After I said goodbye to İbrahim, Yanni, a very big Panathinaikos fan, asked me: "Isn't this İbrahim Kutluay?" While Yanni was telling me how, as Panathinaikos fans, they liked İbrahim Kutluay, İbrahim heard what Yanni was saying and he immediately turned back and shook Yanni's hand. It is truly praiseworthy that a Turkish basketball player wins the heart of the most fanatic basketball fans of Greece, the fans of Panathinaikos. After all, the Panathinaikos team with İbrahim Kutluay won the European Championship.
This year, the situation was a bit different. The first match ended with the defeat of Panathinaikos. In fact, they were ahead from the start, but in the last period, they somehow fell behind during the last minutes and lost the game. While waiting for the second match to begin, we went out for dinner. After dinner, we were chatting while waiting at the entance, and suddenly, Oktay Mahmuti, the coach of Galatasaray, and Ergin Ataman, the coach of Beşiktaş, together, passed by. I told Oktay Mahmuti: "We had to play instead of Olympiacos this year. In fact, we managed to beat them in the first match." With a sad face, he answered "as God wished so" and right after, the witty coach of Beşiktaş, Ergin Ataman said: "You'll watch us when we are in the Final Four next year." I told him that I would like to watch both teams and that I really sympathized with Beşiktaş as well. After laughing about this, we went back to our places.
I wanted to share this with you after Beşiktaş became the champion this week, because coach Ergin is really a self-confident man and I'm sure he passes this on to the team. When Derek Williams, the world-famous player of Beşiktaş, returned to NBA, lots of people commented that the team will drop from the league. In the case of Beşiktaş, the team got better and better after this legendary player left the team. The results are clear: Beşiktaş achieved the impossible and ended the season with three cups. Other then winning the Turkish Cup, the team won Europe's second best cup and went down in the history of Turkish basketball. Finally it became the champion of the Turkish Basketball League after thirty seven years. If Beşiktaş makes the right transfers this year, it will definitely play in the Final Four next year, just like coach Ergin told me. I also expect coach Ergin to lead the way for something else. I would like to see him in NBA. Imagine a Turkish coach, training an NBA team. It would be amazing. Here, of course, we have to mention Erman Kunter and Ergin Ataman, who achieved important successes in Europe.
Finally, I would like to say the following: In my previous article, I had written about how well-trained the coaches of our athletes and those who train the coaches should be. Aren't there well-equipped coaches in Turkey? Of course there are. Especially in basketball, there are such coaches: Aydın Örs, Engin Ataman, Erman Kunter, Oktay Mahmuti and many others. Basketball and volleyball in Turkey are way ahead of other sports branches. However, I think the sports in Turkey is way behind where it should be. I think, all sports disciplines should take basketball and volleyball as an example and their quality of education should be lifted in terms of both the education of coaches and of athletes.
The advancing Turkish sports will keep the Turkish youth away from problems, will make an advertisement, which is beyond price, of our country and will have direct and indirect contributions to the Turkish economy.
Tag: spor