Remembering the remarkable Hasan Süzer…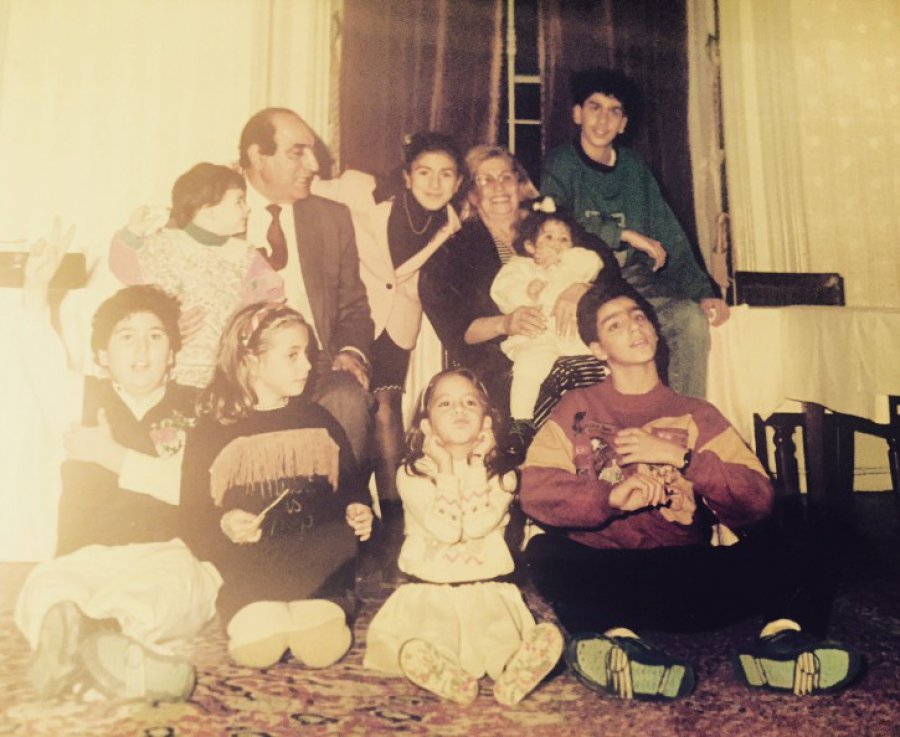 I talked about my grandmother in my previous post and promised to write about my grandfather in this, the next one. Last November I gathered with family and friends to commemorate the 10th anniversary of Grandad Hasan's death, and I'd like to share some of those memories with you.​
My grandfather was born in 1926 in the Akçadağ district of Malatya province. He was two years old when his parents, Ali and Cennet Süzer, his big sister Zöre and his little brother Haydar moved to Gaziantep province. There, having worked his way up through all levels of commerce starting at a young age, Hasan Süzer went into business on his own in 1953. Each year, he built up his glassware, cologne production, carpet, white goods and fuel businesses. At the end of 1977, he acquired the shares of Istanbul Hotel Management and Tourism Inc., whose portfolio included the Pera Palas Hotel. He operated the Pera Palas until his death in 2005. Additionally, he contributed to Turkish tourism through the Altın Kayısı hotel in Malatya and the Süzer hotel in the Alçatı district of İzmir. He had 12,000 trees planted in Malatya. He purchased an old mansion in Gaziantep, furnished it and donated it to the Ministry of Culture and Tourism as an Ethnography Museum. Furthermore, my grandfather Ali Süzer built the school for the hearing impaired that now bears his name in Gaziantep and had a primary school built that is named after his mother (and daughter), Cennet Süzer, in that same city. He also had a primary school named after his wife, İsmihan İsmet Süzer, built in the Ümraniye neighborhood of Istanbul. In addition to being a founding member of the Malatya Education Foundation and the Malatya İnönü University Foundation, he was also the chairman of the Joy of Life Sports Club for the Disabled and the Association of Gaziantepians. All through his life, each and every year, he provided scholarships for thousands of students.
The cover of a book compiled by my grandfather. He loved to share his sage advice and his experiences, and he finally collected many of them in a book.​
There are two special characteristics that defined my grandfather: his foresight and his unconditional and unending philanthropy. He was truly a self-made man with an unerring ability to anticipate the future. At a time when Gaziantep was not nearly as developed as it is today, he struggled to ensure all 6 of his children got a good education. Way back then, he urged all of his children to learn foreign languages and encouraged them to study at American high schools. Far more often than not, his assessments and advice on a wide range of topics proved, sooner or later, to have been prescient.
He strained his financial resources as he tried to help those around him. And that is why he was always so beloved. Today, whenever I go out for a meal anywhere in Gaziantep or Malatya, the memory of my grandfather is still cherished and they have only words of praise of him. Back in the day, in Gaziantep, he provided support for any number of small enterprises that have grown into the major companies of the present.
Following prayers at the memorial service for my grandfather, my father took the mic and recounted some memories. His first story happened when he was 13, and begins with a bus trip to Hatay to visit some family friends from Gaziantep. It was a stormy day and the forecast was for heavy snow. Ignoring my grandfather's warnings, Dad jumped on the departing bus. The Gavurdagı stretch of highway between Gaziantep and Hatay is famously treacherous. Not only is it windy, but when the weather is bad it becomes impossible to proceed. The bus got stuck in heavy snow in Gavurdağı and there was no turning back. The passengers spent the night on the icy cold bus, in danger of freezing to death. These were my father's words as he continued with the story: "The following day I opened my eyes early in the morning and what do I see? Sitting inside a snow plower is my father. I couldn't believe it. When my father realized I would be snowbound he called everyone – and there were no cell phones back then – until he was finally able to get a snow plower from the governor's office. He set off to find us. That morning, my father saved not only me but an entire busload of passengers." Once my father had shared this anecdote, the other members of the family and my grandfather's friends took turns with the mic to share their own memories and emotions. But the real bomb at the memorial service was dropped by my grandmother. Someone teased her by saying, "Did you really love Hasan all that much?" In all her artlessness, Grandmother spontaneously replied, "Not love him, my girl? Would I have made 6 kids with him if I didn't love him?" Naturally, everyone burst out laughing.
A snapshot of a happy day for my grandfather and grandfather, who were greatly in love when they married and stayed that way up until his death, 60 years later. The year is 1965; the place is Izmir. My grandparents are the guests of Sümer Bey and his wife. My grandfather helped commercialize a cutting edge Dough Mixer invented by Sümer Bey, who also owned the company.​
When it was my turn to share a memory, I talked about the special relationship between grandfather and grandson. For those who don't know, let me first say that my middle name is Hasan. Middle names often come first in Turkey, for which reason my full name is Hasan Serhan Süzer. Grandfather was also proud that I carried his name. Many a time he'd joke, "I'm going to report you to the police. You stole my name!"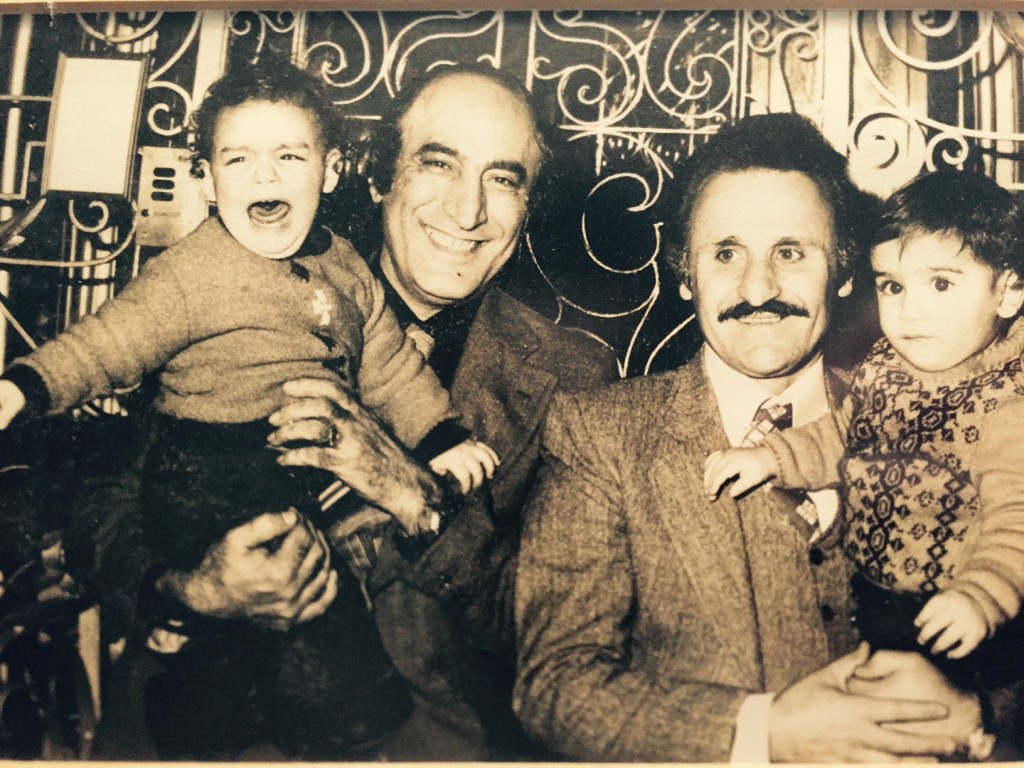 Posing with my twin brother Baran and both our grandfathers in front of the famous Pera Palas elevator, the first elevator in Turkey. On the left, my paternal grandfather Hasan is holding Baran; on the right, my maternal grandfather, Ali, from Trabzon, is holding me. (I'll write about Granddad Ali, a veteran of the Korean War, at another time.)​
One of my most striking memories happened during my first visit to Alçatı. My grandfather had bought land there in the '90s, and these were his exact words as he told me of his plans to build a hotel: "Listen, son. This is going to become one of the most popular places in Turkey. You'll see. It will one day compete with Bodrum as a holiday spot." At that time, Alçatı was nothing like it is today. It was a windswept place of neglected stone houses and beautiful but inaccessible beaches. Everyone, particularly those living in Izmir, would go to their summer houses in Çeşme. Alçatı was spoken of only as "that place with the abandoned Greek village." When Grandfather told others of his plans they'd snicker behind his back. I even heard some say: "Hasan Bey must be getting a little senile now that he's over 70. Who would invest in a deserted spot nobody ever goes to? Such a pity to waste so much money." Even within our family there were those who asked if it was wise to take such a risk at such an advanced age.
Now I look at what Alçatı has become. My grandfather was right. In fact, Alçatı has flourished beyond even what he imagined, and today is arguably Turkey's most important tourist destination. Alçatı is busy every month of the year, with crowded streets and an influx of people moving there from Istanbul.
Another memory I cherish is my last meeting with my grandfather. He didn't often call me, but on a Tuesday in the first week of November 2005 my cell phone rang and it was him:
What are you up to, son?

I'm working, grandad.

I haven't see you in a quite a while. Come by for a chat tomorrow. I miss you.

Sure. When shall I come?

Let's have lunch together. I'll expect you at the hotel at 12:30 tomorrow.

Okay. See you at lunch tomorrow.
I joined him the following day. Greeting me in the large hall, he said, "Let's go eat." Next to the large restaurant in the Pera Palas was a smaller, more attractive room. We were deep in conversation while we ate. I was telling him about what I was doing when he suddenly said, "I'm tired, son. I don't know how long I'll live and I'd like to hand over some of my responsibilities. You're the only person in the family I consider to be ready for those responsibilities." He then explained, one by one, his views on life, his take on the members of my family and how to treat them, and the people he thought I should support. He talked as though he was conveying his last will and testament.
I was astounded, and couldn't help saying, "Grandad, for goodness sake don't talk like this. There is still so much we're going to do together." He replied, "No, son. There's a time for everything. My time has come and I need to hand over some of my responsibilities." I kept telling him to stop it. I interrupted at one point to say, "Grandad, do you realize you're skipping a generation. What about my father?" "This is how I want it," was his answer. "In fact, I'd like to reinforce my decision by giving you my gun." We went up to his office. He opened the safe and as he handed me his gun he said, "Ah, how did I forget? I need to transfer the license to you first." He summoned his two most trusted men (they are my witnesses) and instructed them to register the gun license in my name immediately.
I made my farewells to my grandfather that Wednesday. We lost him the following Sunday at about 4 in the afternoon. In the house in Bebek in which I too had grown up, he had a sudden turn for the worse and breathed his last. We as a family decided not to have an autopsy performed. A doctor acquaintance of ours told us that the official cause of death was most likely a lung embolism.
I couldn't believe what had happened. Grandfather had somehow sensed that the end was near. In one of his last conversations, he had told me some important things and expressed his last wishes before passing away just days later.
The funeral at the Teşvikiye mosque was probably one of the best attended in its history. Tens of thousands of people came from across Anatolia. The crowds who had come to pay their last respects to my grandfather filled not only the courtyard of the mosque but the adjacent street as well.

A family portrait. From left to right, my grandfather holding my sister Nazlı, next to them my cousin Enci, my grandmother holding my cousin Helin, and me next to them. Waving his hand in the front is my cousin Evren, and next to him are his sisters, my cousins Bahar and Zeynep, and my brother Baran.​
This has given me the opportunity to cherish once again the memory of my beloved Grandad Hasan. May he rest in peace. I have already begun doing some work that would please him. Expect more about that in my next post.
Tag: anı