Human values unite in Runatolia!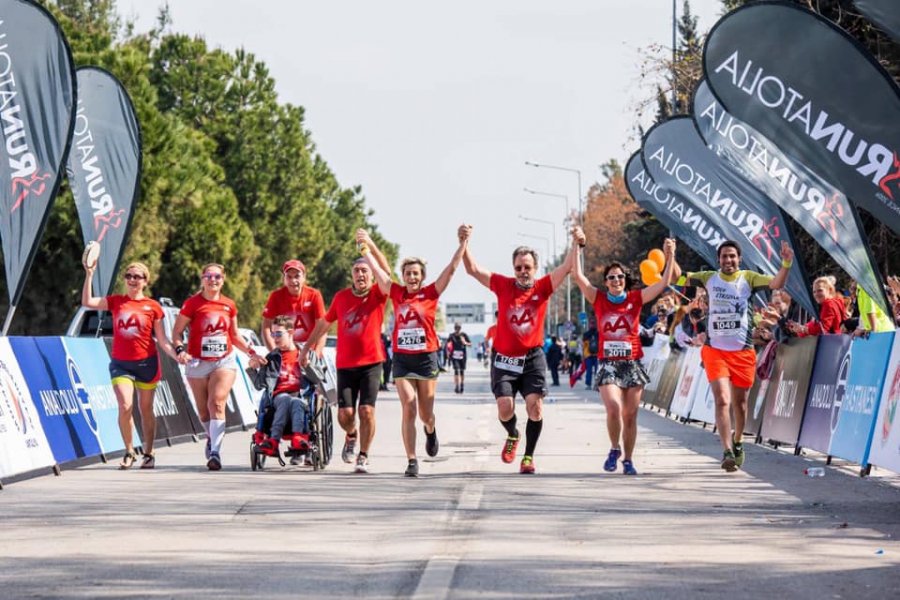 This has now become customary every year. At the beginning of March, we ran in Runatolia together with all of our volunteers along with our donation campaign on behalf of TIDER and the participating Adim Adim organization. However, this year we had different experiences compared to the previous years: It was a great organization in every sense, where charity, education, friendship, personal development and sports were all together.
I landed back in the country from a trip abroad on the night of Thursday, 28 February. The next morning, without wasting any time, with only 2 hours of sleep, I flew to Antalya. I couldn't sleep on the plane because of how full my mind was. When I saw my friends from Adim Adim and the TIDER volunteers at Antalya Airport, the fatigue disappeared. With the adrenaline of happiness, my energy suddenly rose to high levels.
As an Adim Adim classic, I boarded a minibus organized by Ali. We couldn't come together like this even if we tried. Besides seeing some of the TIDER professionals on the bus, which was Bengü and Burak, I also saw Itır, Gözde and Kıvanç from Adim Adim. While chatting with Gözde, she said that they would push Deniz's wheelchair on a 21km track which then suddenly prompted her to ask me "Would you like to join us, Serhan?"

The 21km surprise!
I told Gözde that I was enrolled to run 10km but I could push Deniz's wheelchair to the 21km mark with them. There were two factors that motivated me. First of all, I know Deniz from many years ago. He is a very sweet and intelligent child. I liked the idea of ​​making him happy and having a chat with him. The second reason was that it was a good idea to have fun with our Adim Adim friends, whom I have known, loved and respected for years.
However, I approached cautiously and said, "Let me see if I can change my course". The minibus that picked us up from the airport went directly to Terra City Shopping Mall, where we were to pick up our running kits.
We went up to the top floor where we normally pick up the running kits from and I started talking to the authorities about getting my own running kit. Interestingly, they couldn't find my name on the records. I had to then re-enrol and pay for it again and this time I enrolled for the 21km registration. Then I saw Gozde again on the way to get my jogging chip and bag in the courtyard, and while smiling I said this to Gozde "They couldn't find my original registration, so I signed up for 21kms. I was destined to run with you". J

My message to my Adim Adim friends
By making use of being at the shopping center, I bought some things that I needed and took the minibus which was waiting for us and we hit the road to the hotel.
The Akra Barut Hotel in Antalya which participates in this event year on year gives you the sense of returning home. The atmosphere created by the Adim Adim crowd as we enter the lobby, the presence of many acquaintances and the approach of the hotel's hospitable staff make us feel at home. So, for that reason, when we entered the lobby, I felt my joy increase. My fatigue had completely gone.
As soon as I entered the room, I unpacked my luggage so that I would not have to bother to do it later. I then sent the message I had in mind to the Adim Adim group with the following email:

Dear Adim Adim friends,
I had given you good news of two things in my last e-mail. Since then, TIDER (Basic Needs Association) had organized the 1st Food Banking Summit in Turkey on February 21. It was wonderful in every sense! Don't worry if you missed it, as we will have the second summit on February 20, 2020. We'd love to see you there J For more information about the event and for further details you can read my blog post at: https://www.serhansuzer.com/tr/turkiyenin-ilk-gida-bankaciligi-zirvesi-ile-muhtesem-baslangic
And today at 4pm and tomorrow at 2.30pm I will make two speeches on "Zero Waste' in the Akasya Hall (M Floor) of the Akra Hotel. I would like to share with you two images below in terms of the 'teaser' of this speech. The first is TIDER's vision of preventing waste since 2014. The second is a photo that tells the story of our waste demonstration in Bozcaada.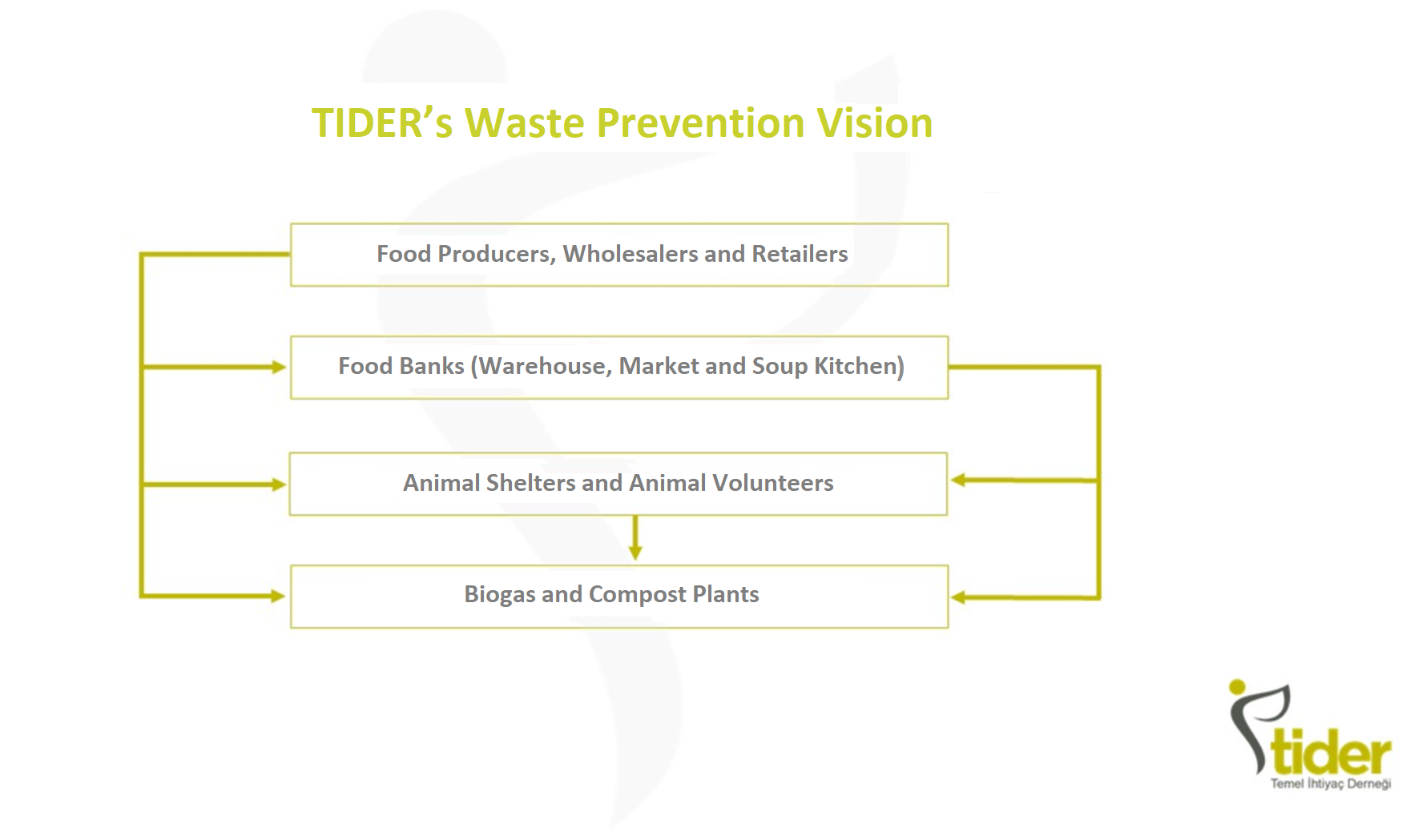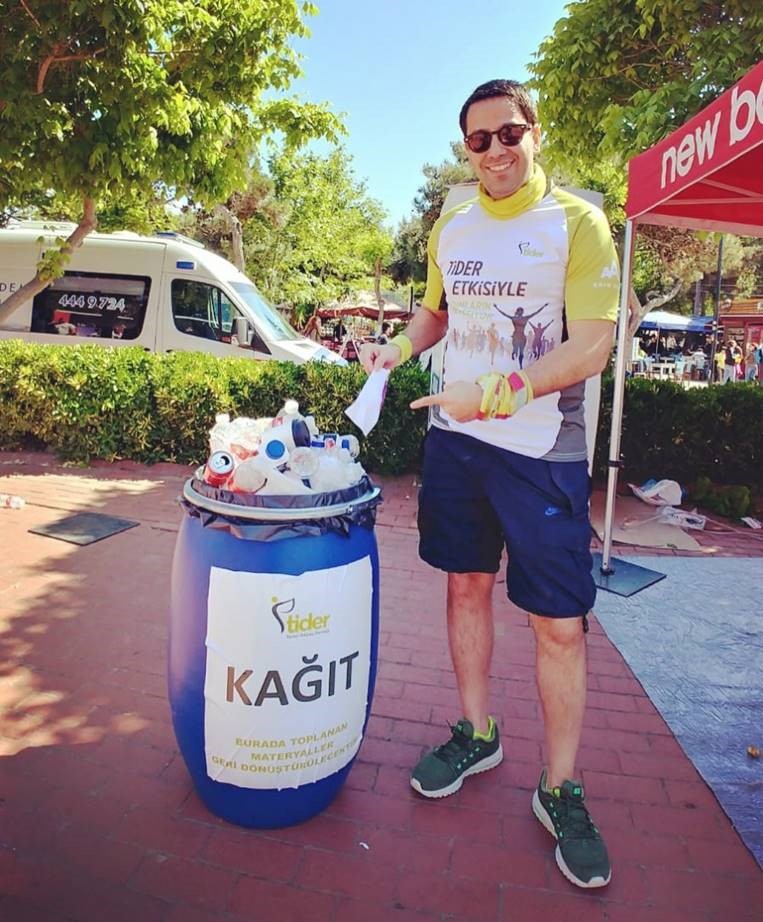 If you are interested in "Zero Waste", we look forward to seeing you

I would like to take this opportunity to wish all our CSO friends a good campaign period in Runatolia.
Stay with love and health…
H. Serhan Süzer
TIDER Founding Director

Note: As TİDER, our ultimate goal is to be able to form our 'Stop poverty by preventing waste' model in cooperation with public, private sector and NGOs. In this sense, we attach great importance to NGO solidarity.
The talk on 'Zero Waste' and its presentation
After sending this message, I went down to the lobby and went to one of the cafe-restaurants across the road for lunch with our friends. After dinner, I returned to the hotel to complete the preparations for my speech at 4pm. To give you an idea, I would like to share the Adim Adim image of the Runatolia organization: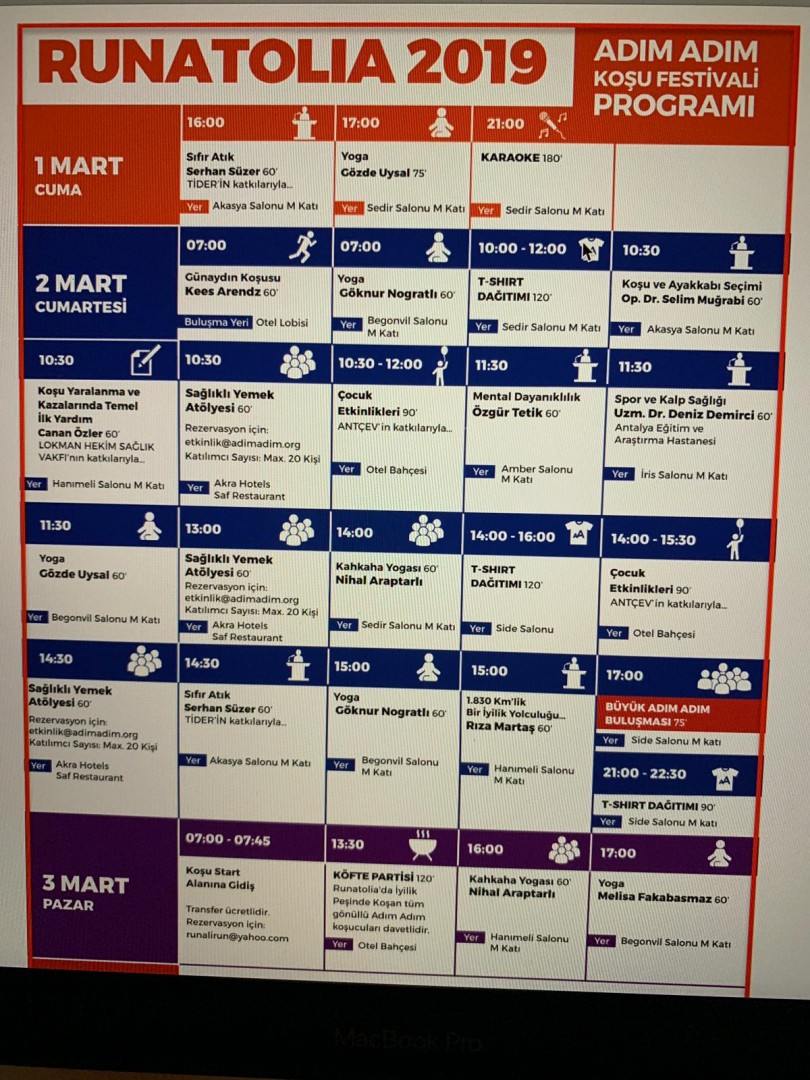 After completing the preparations with the support of the TIDER professionals and volunteers, I gave my 1-hour speech. Obviously 2 hours of sleep and despite all my tiredness, it was a conversation that exceeded my expectations. When you enter that room, you become alive with that live interaction. I would like to share with you the visuals that I used in the presentation.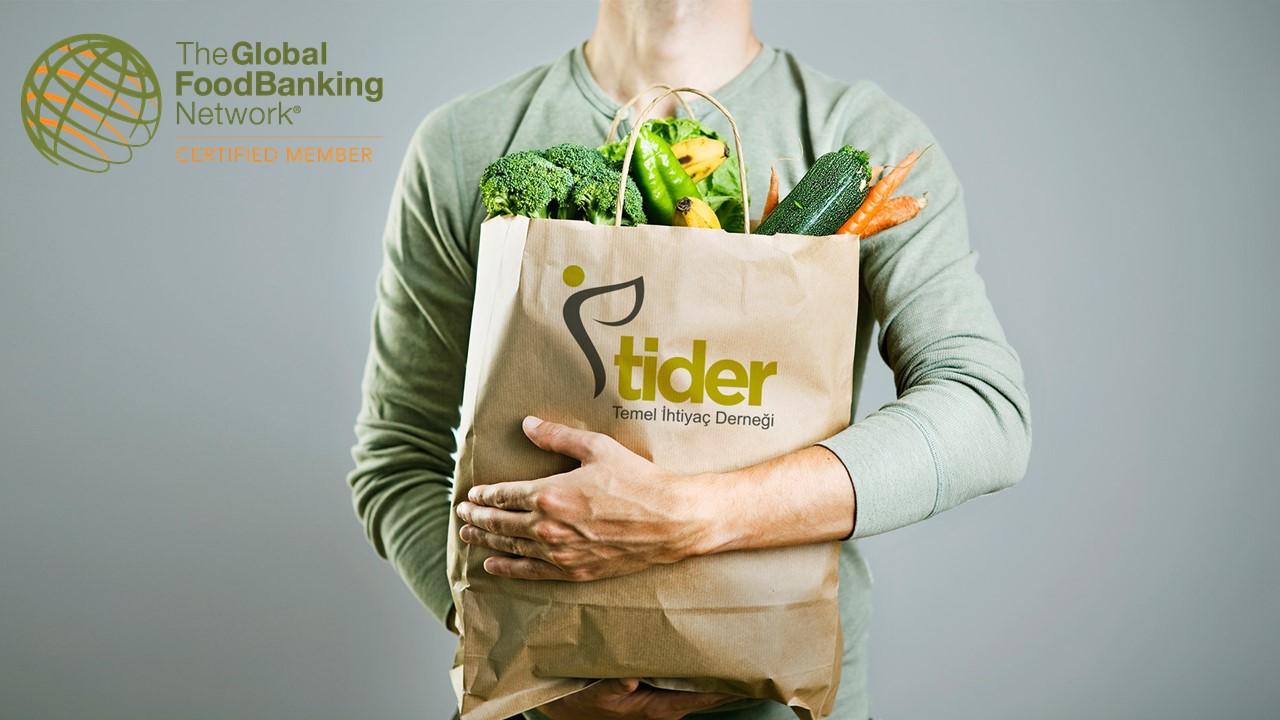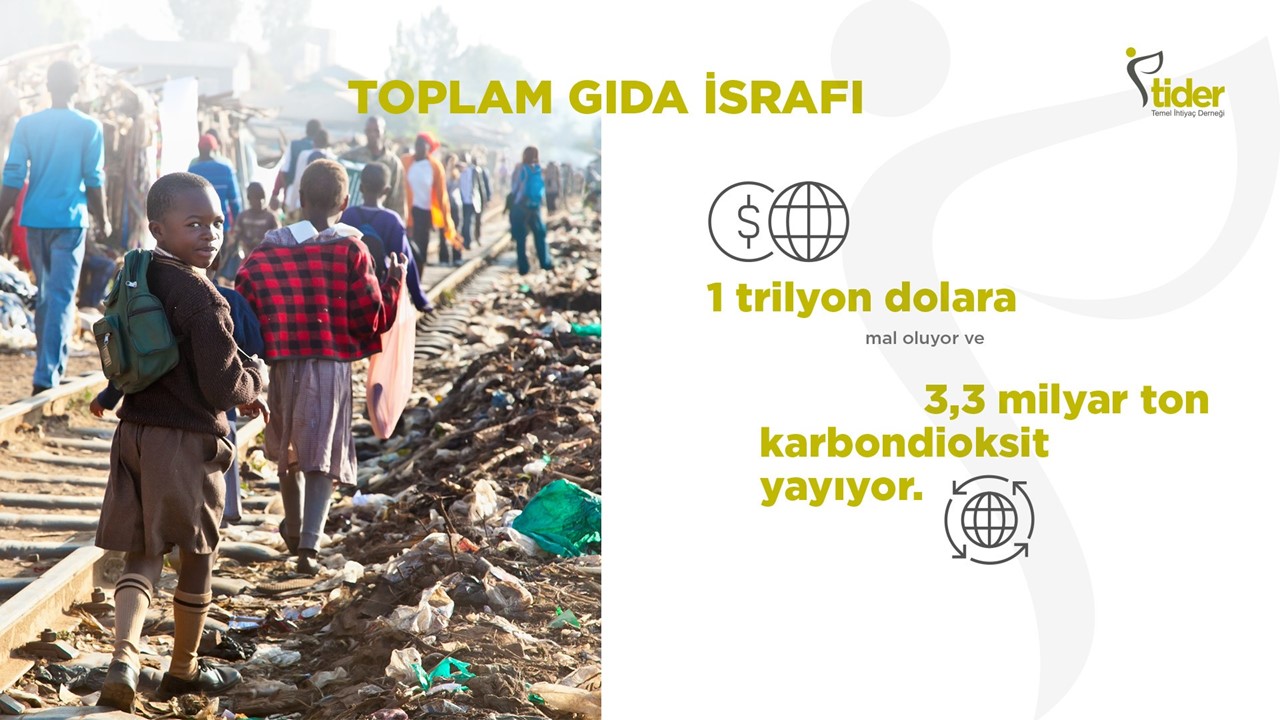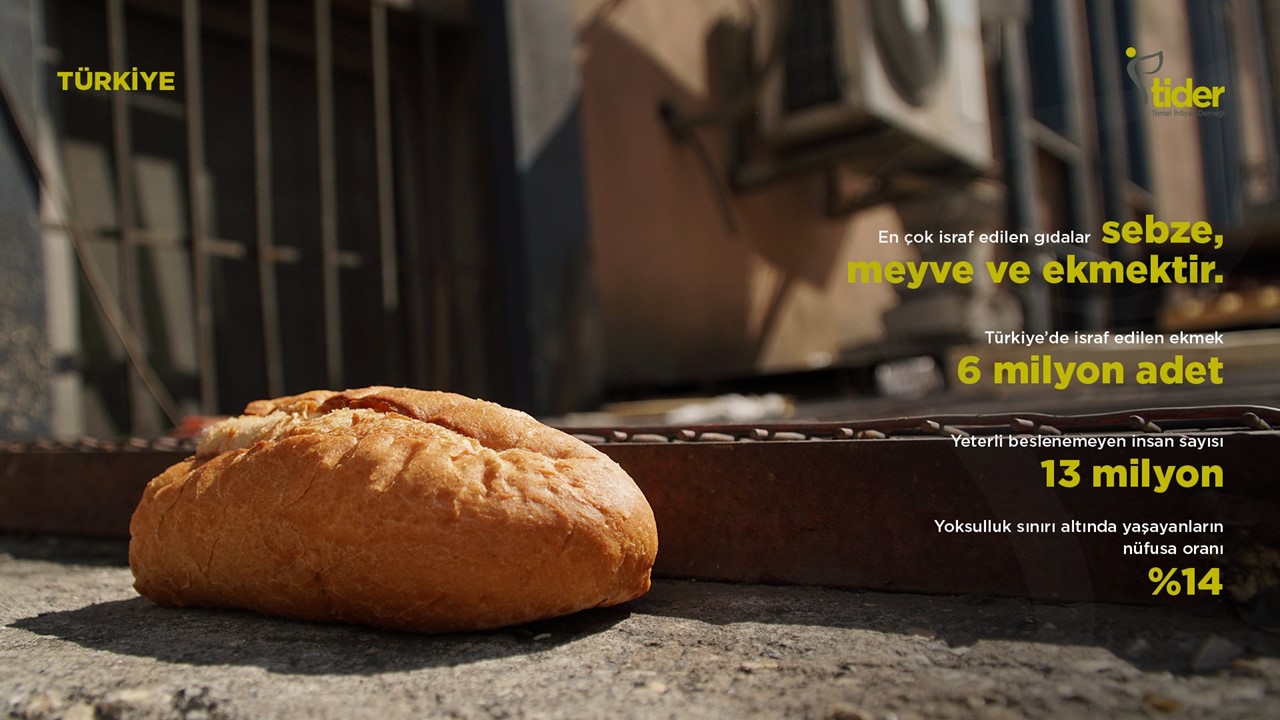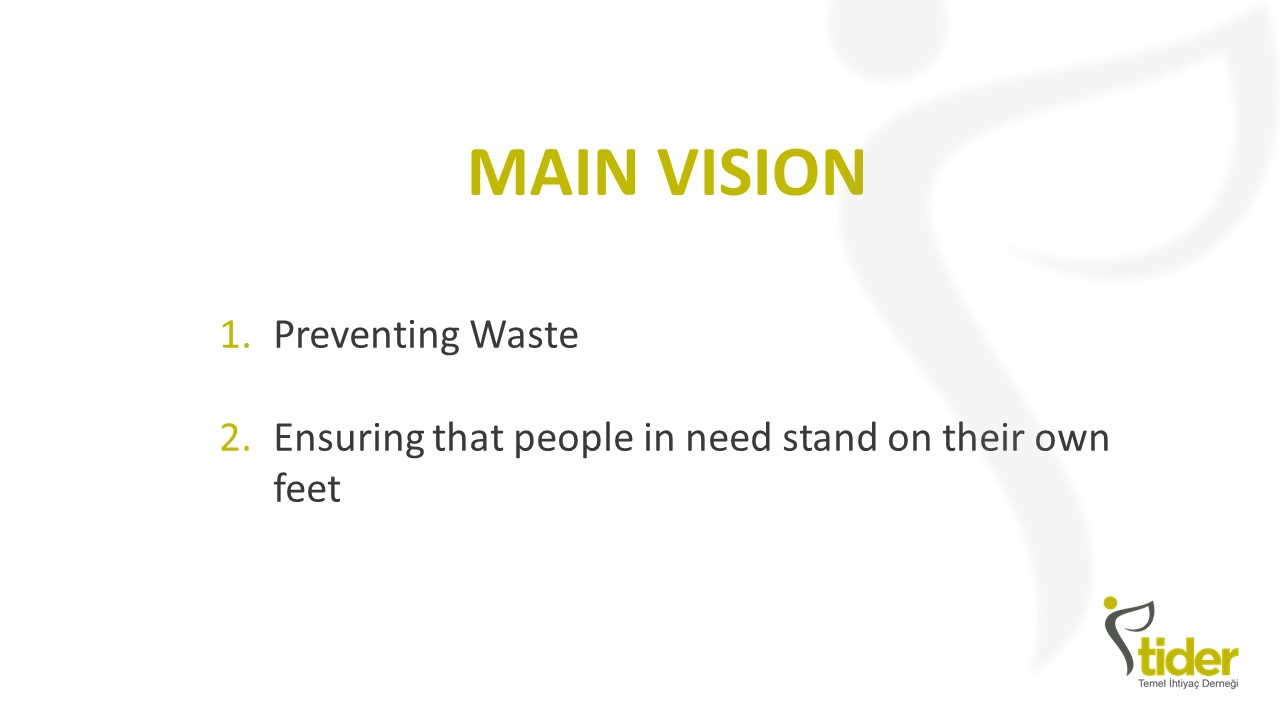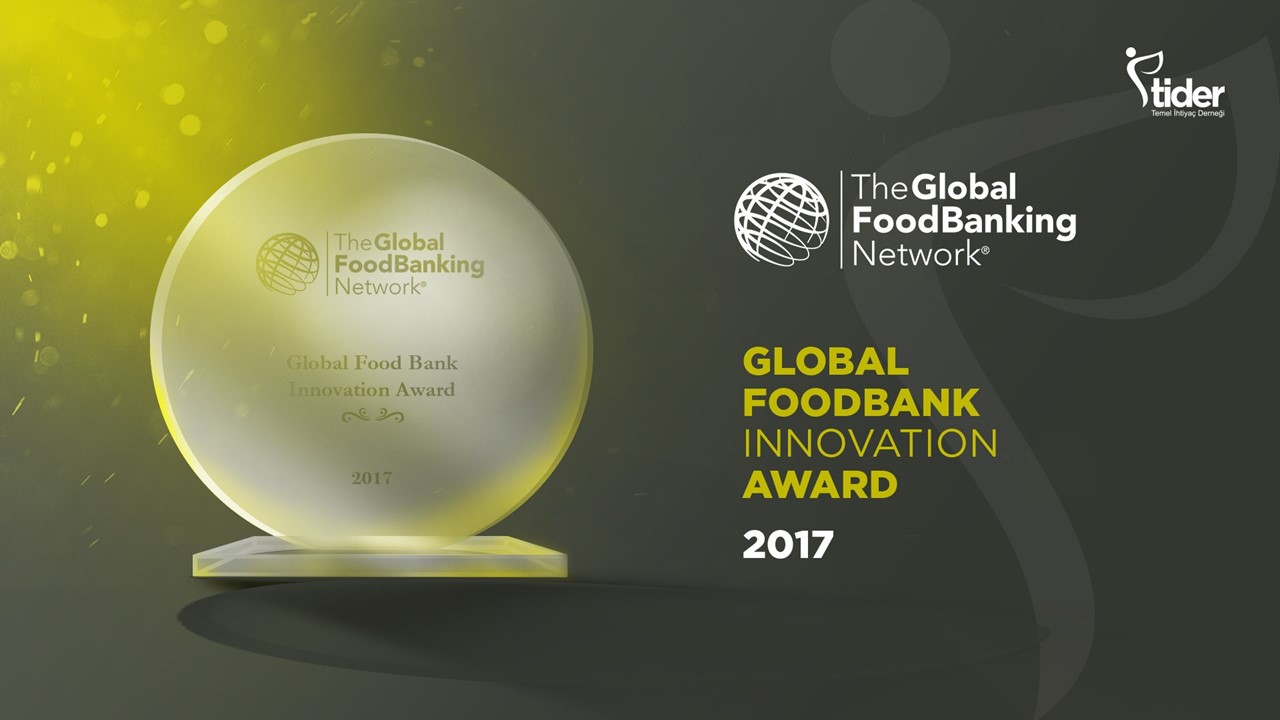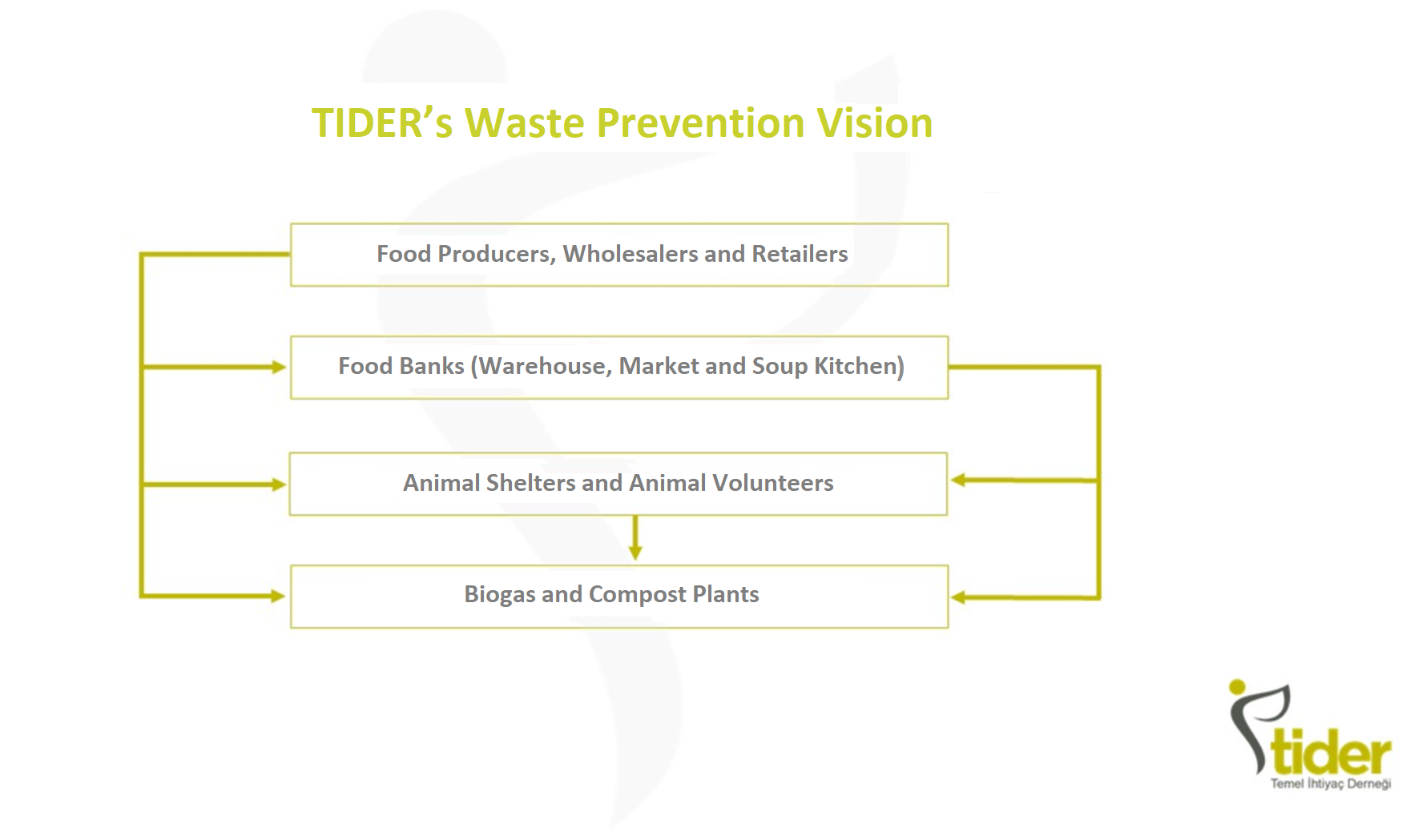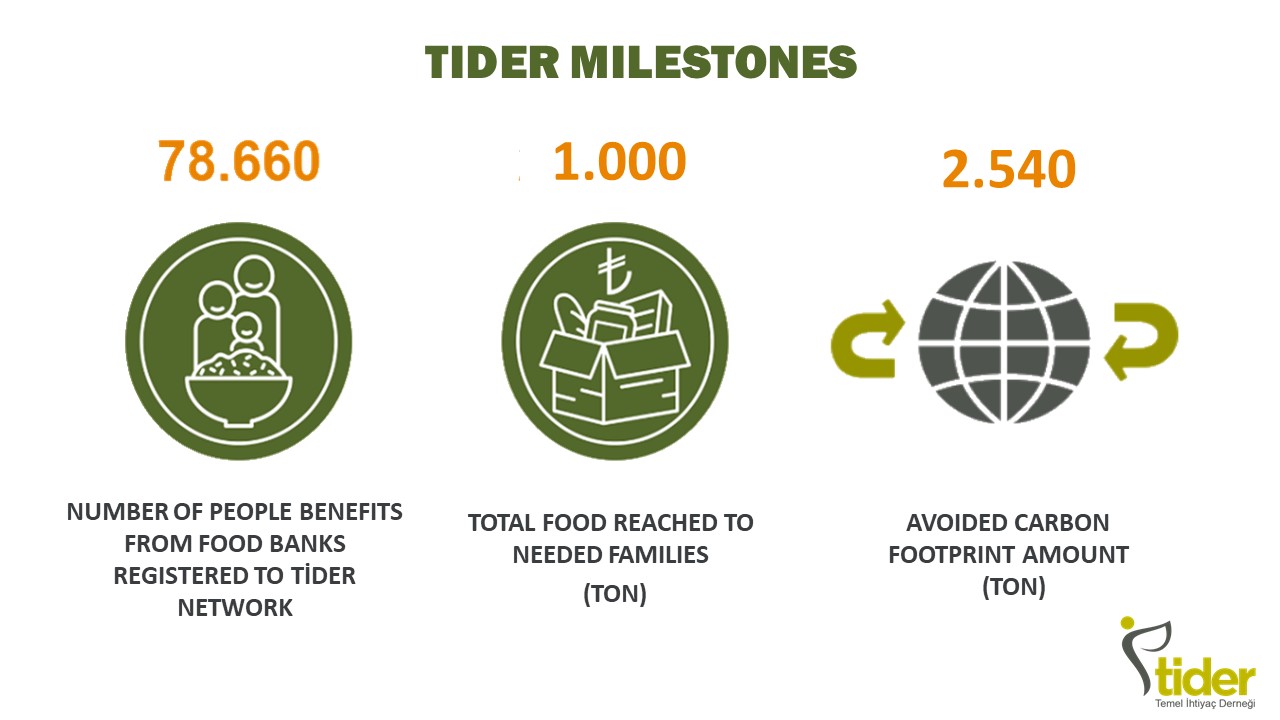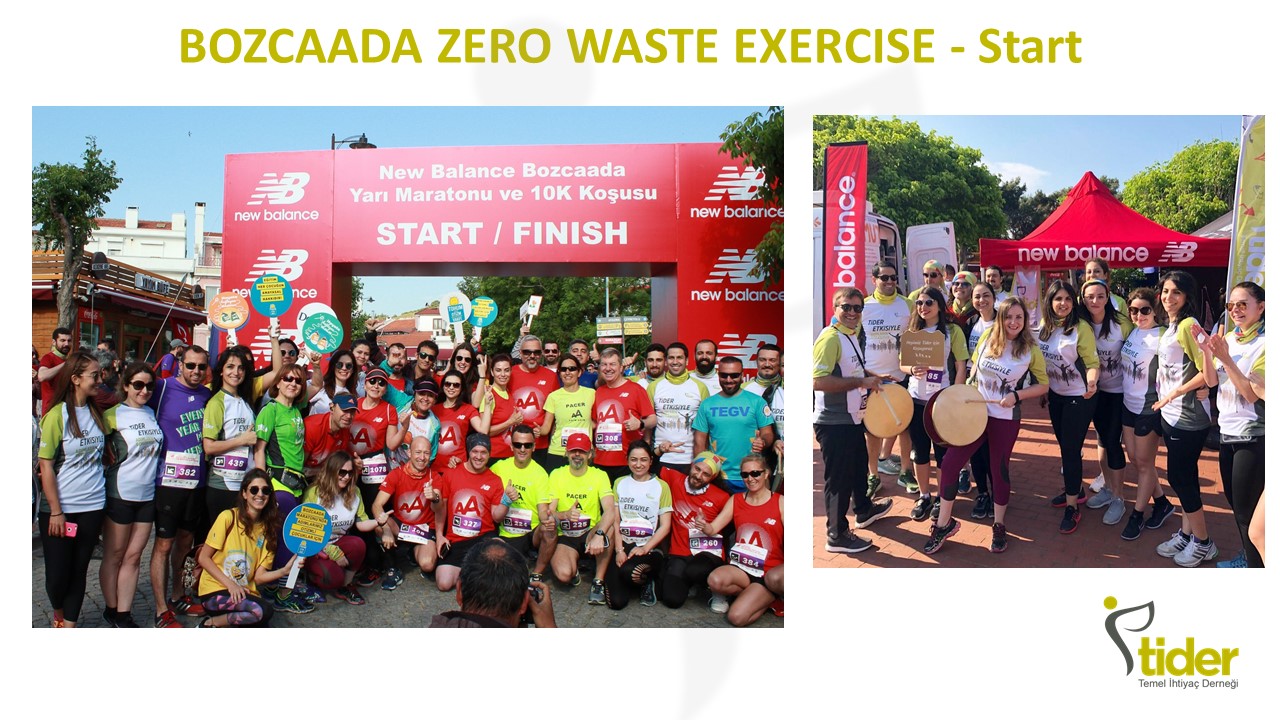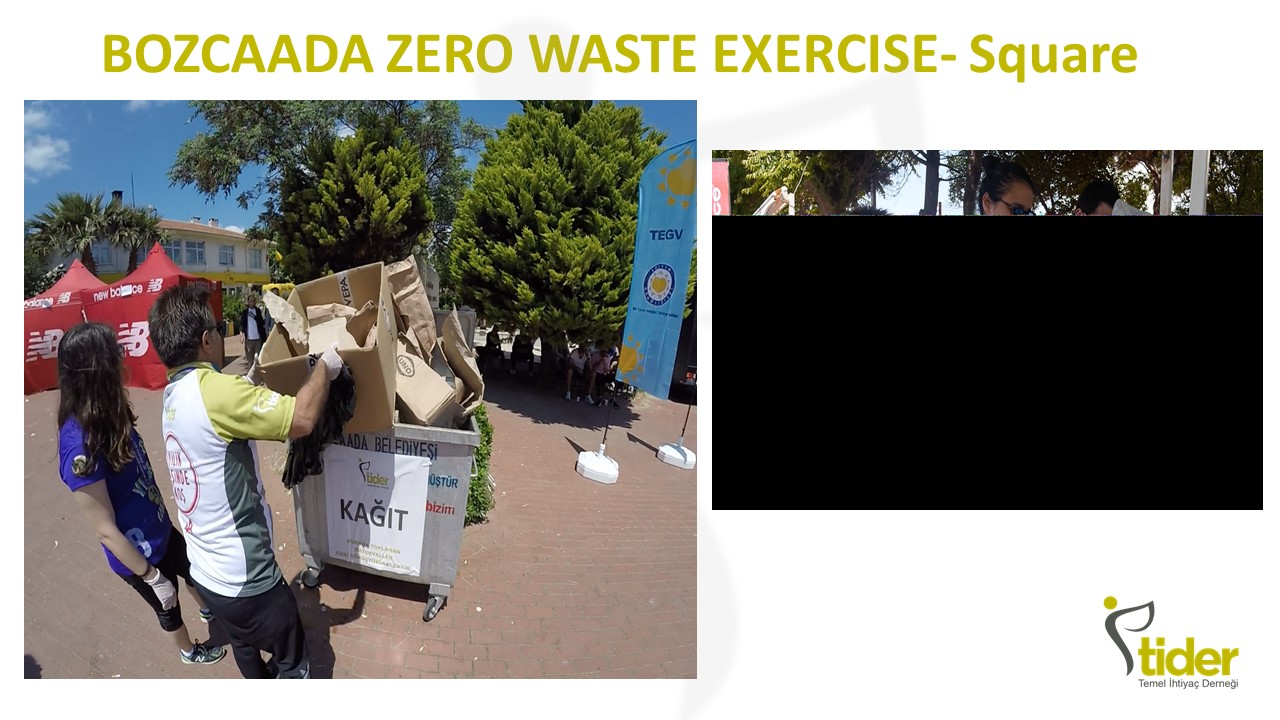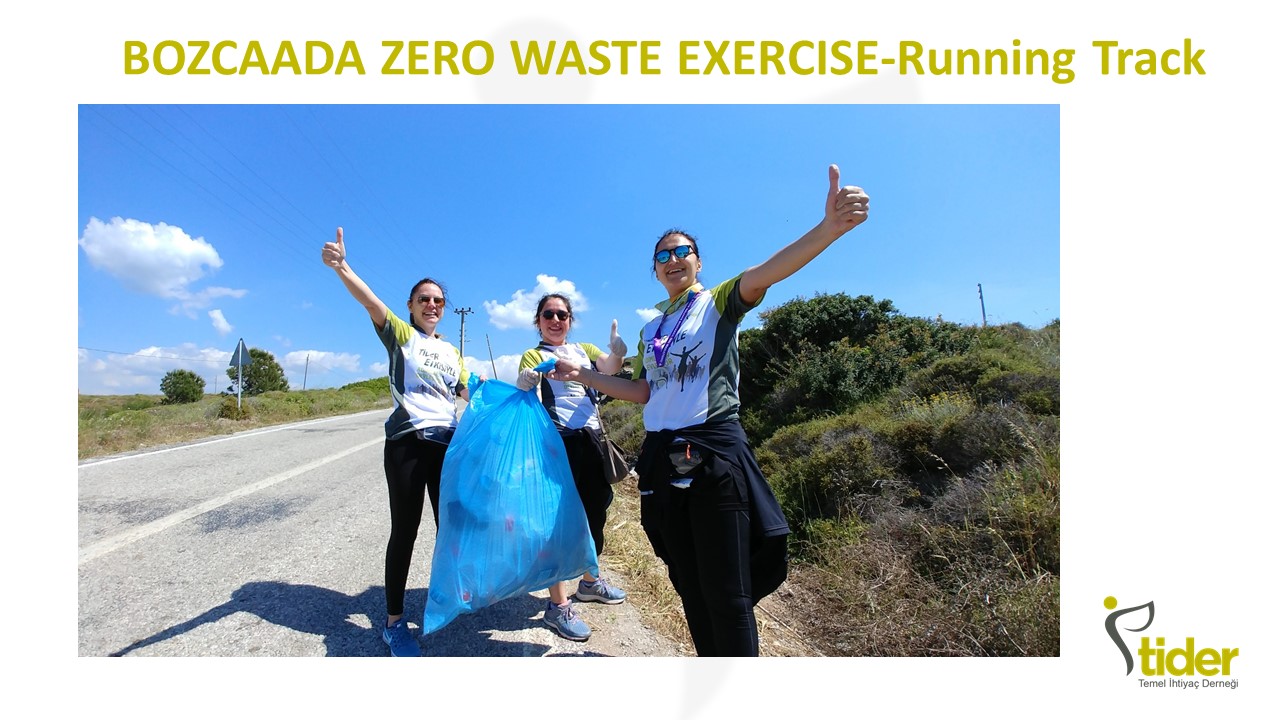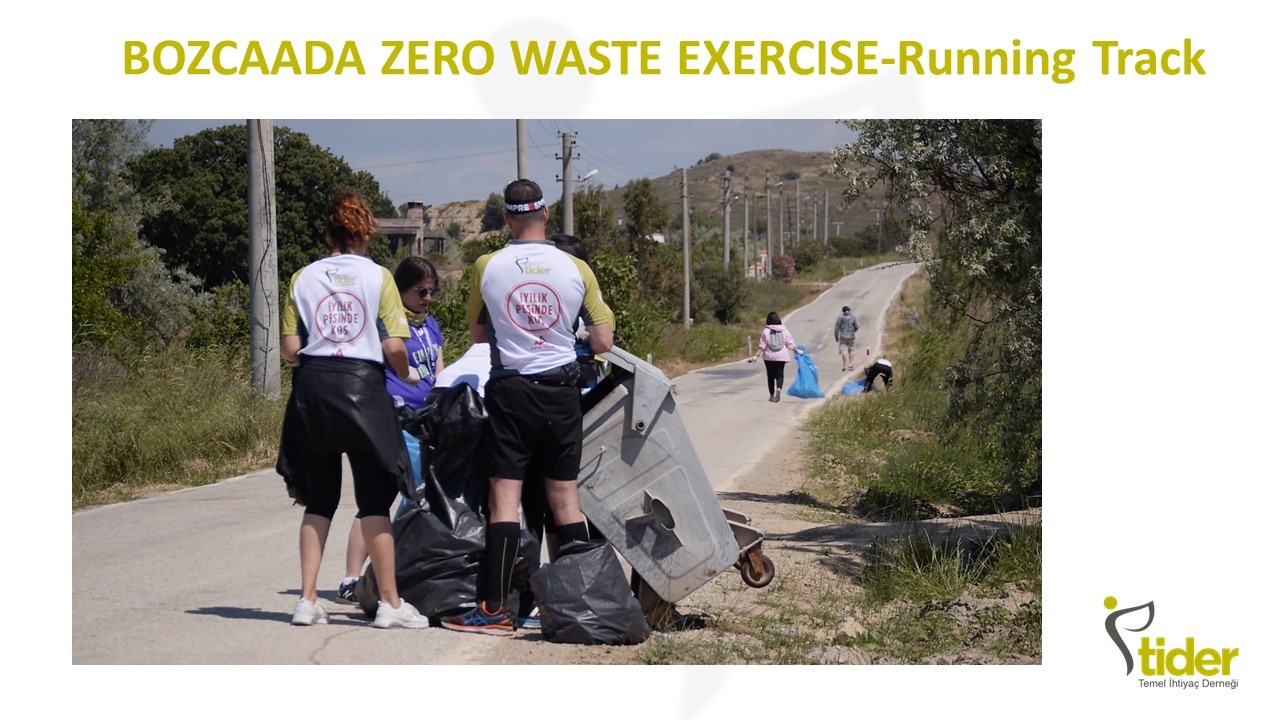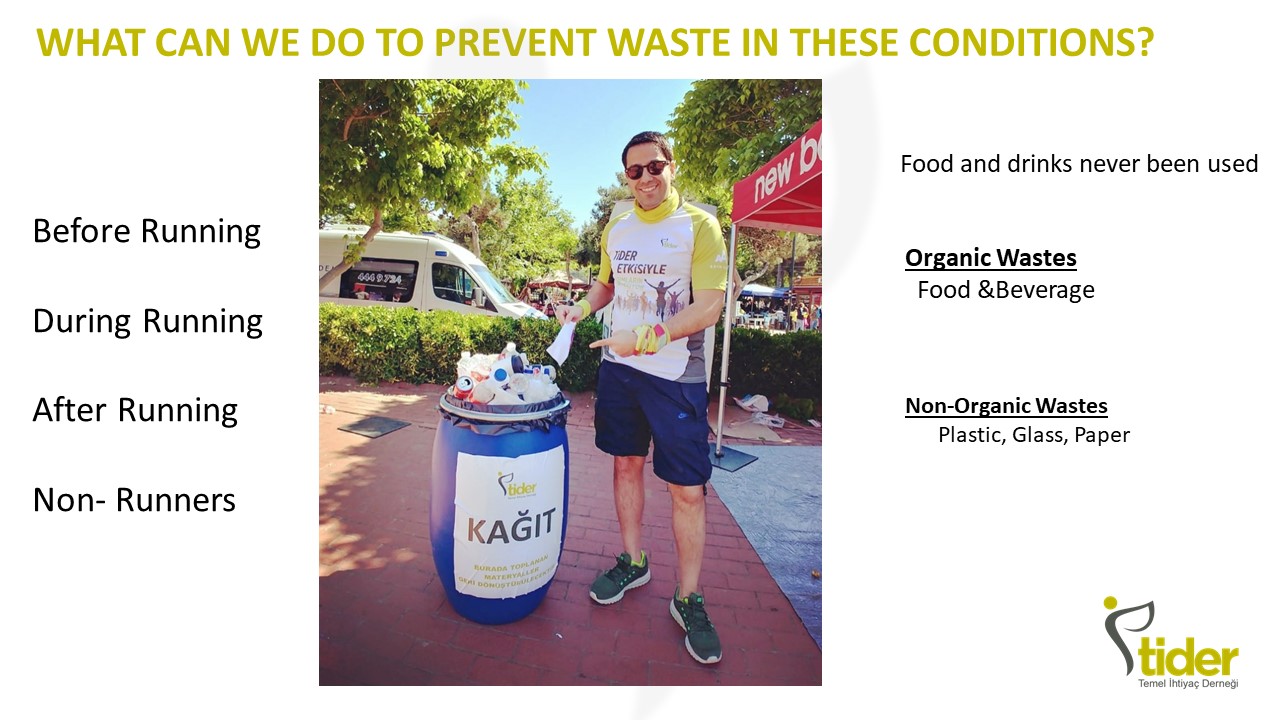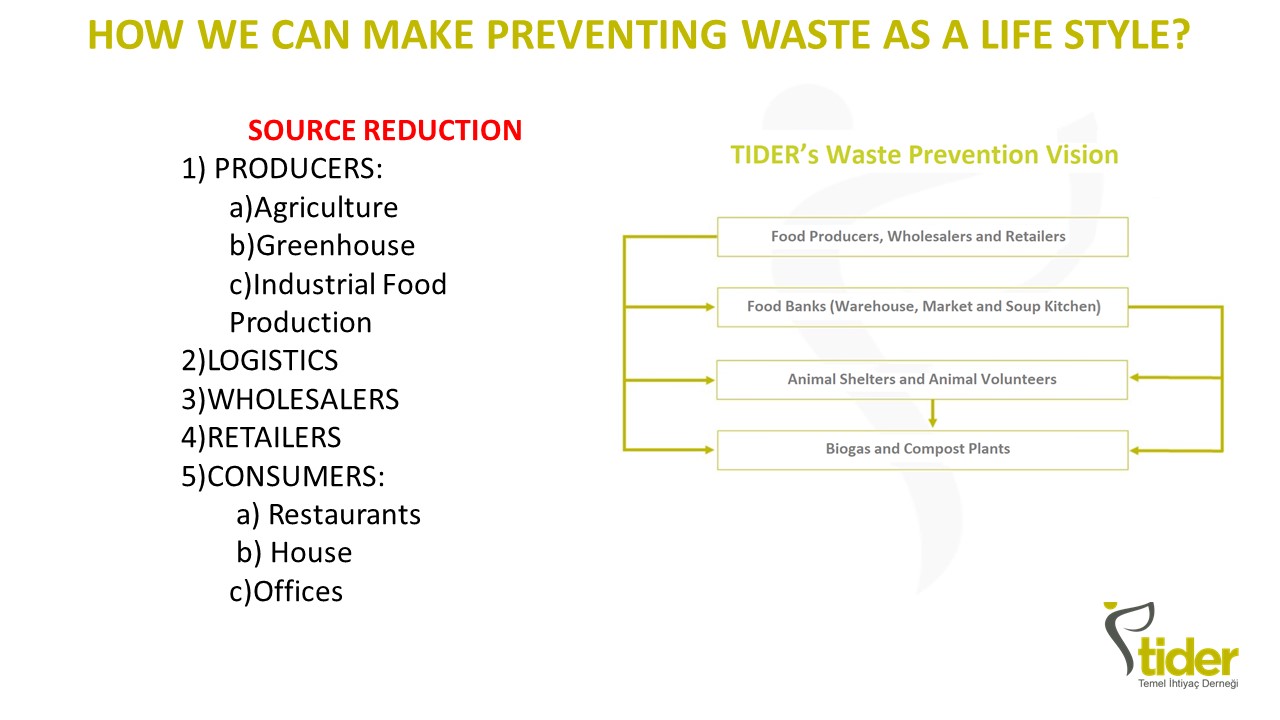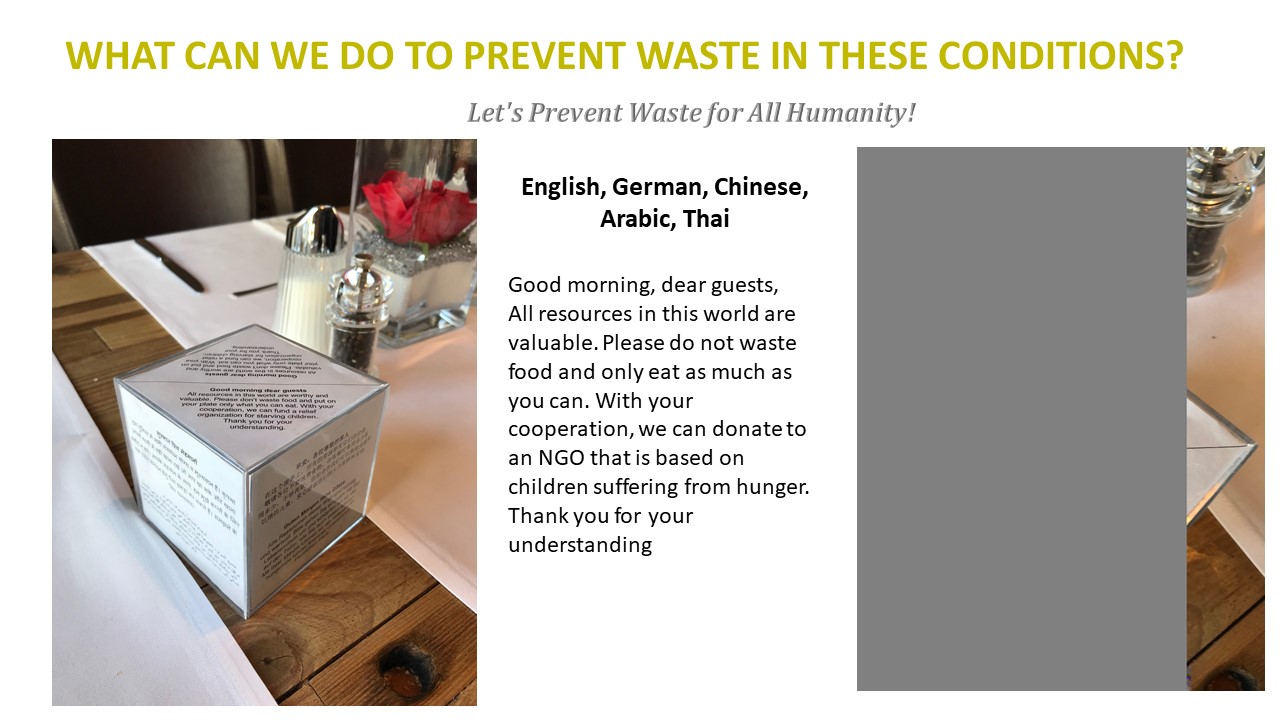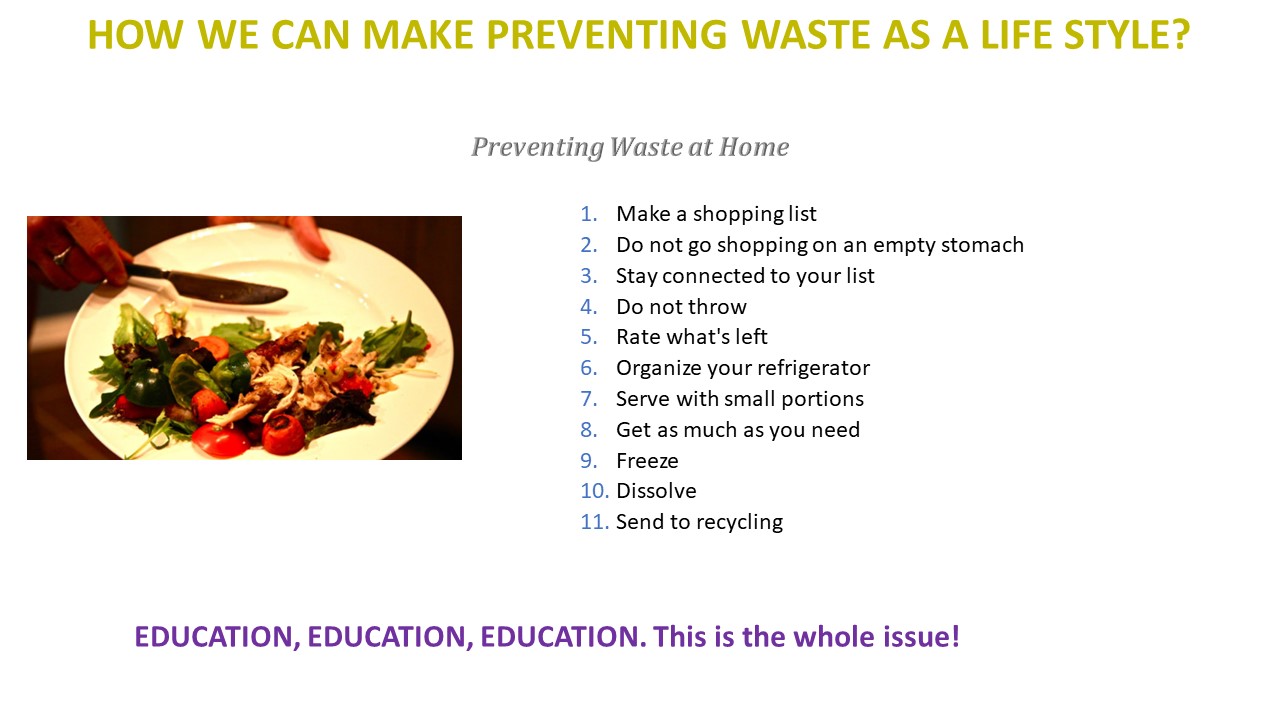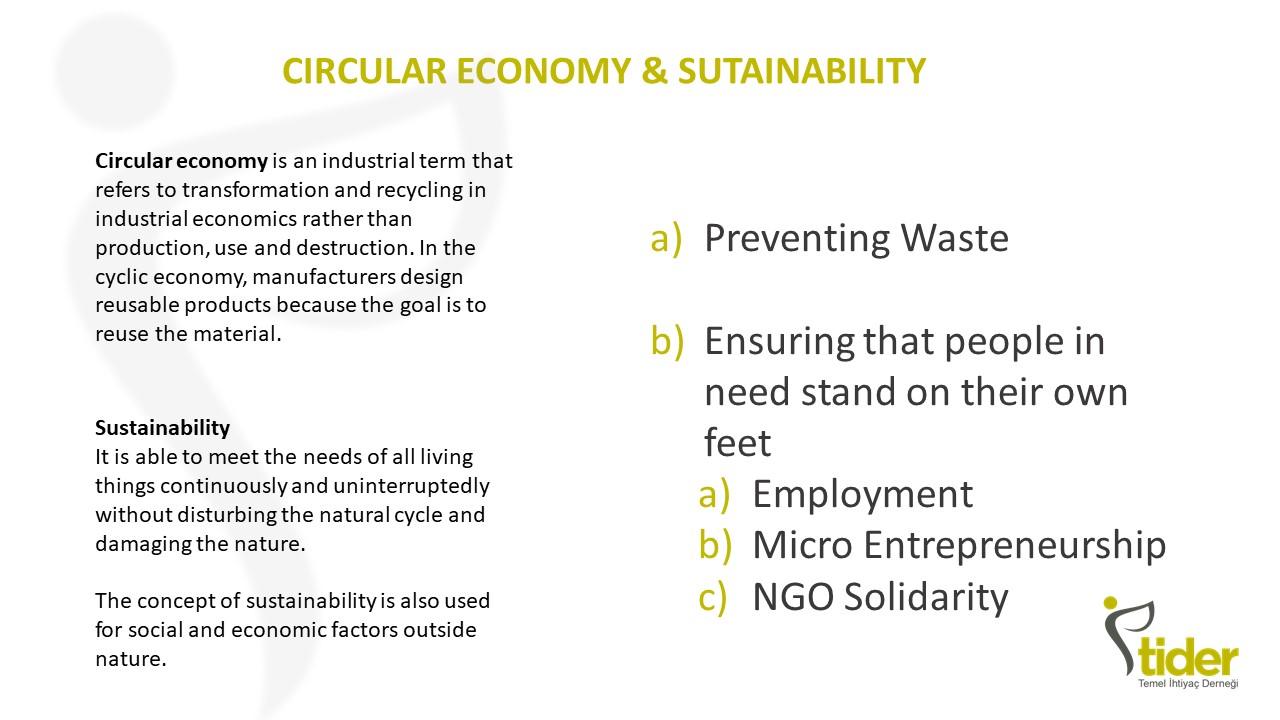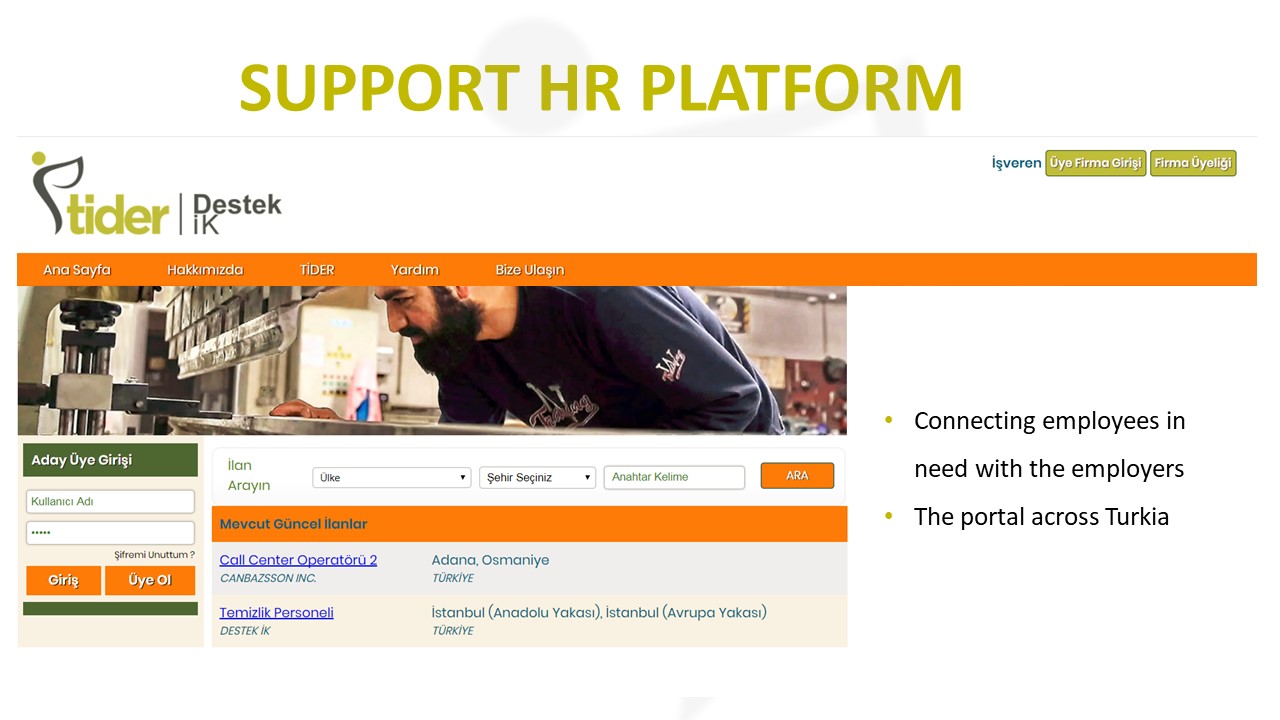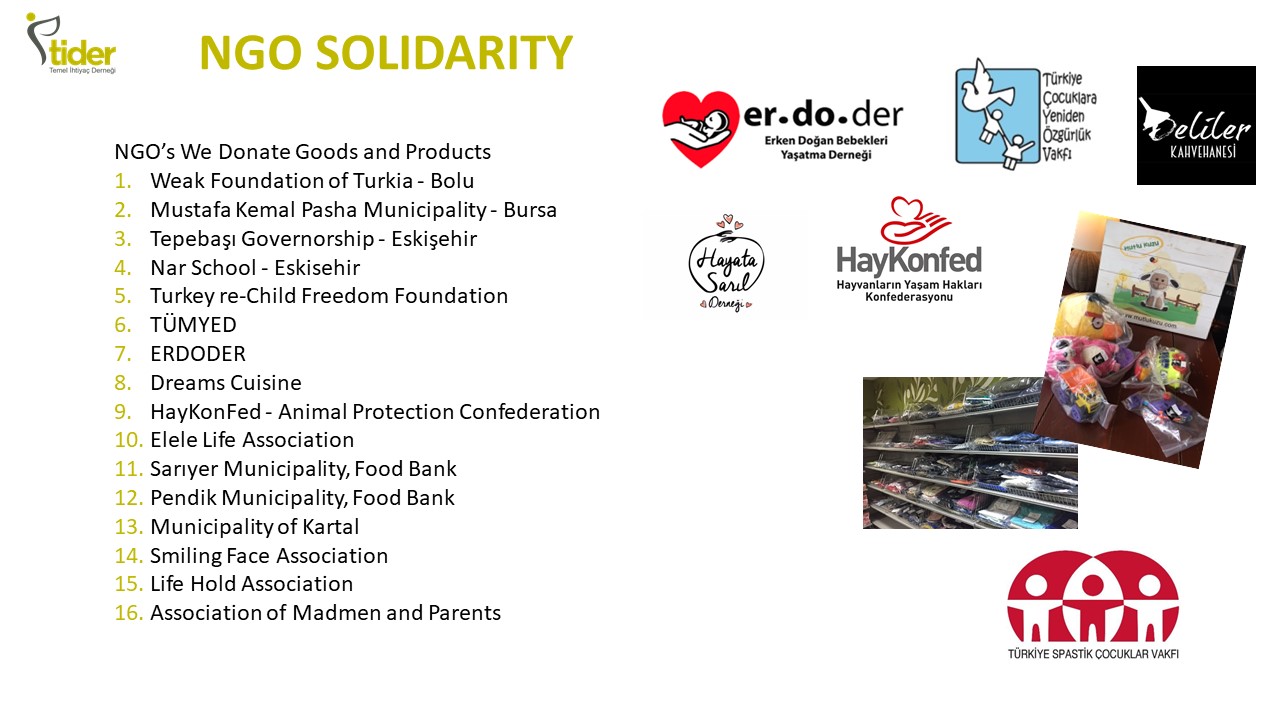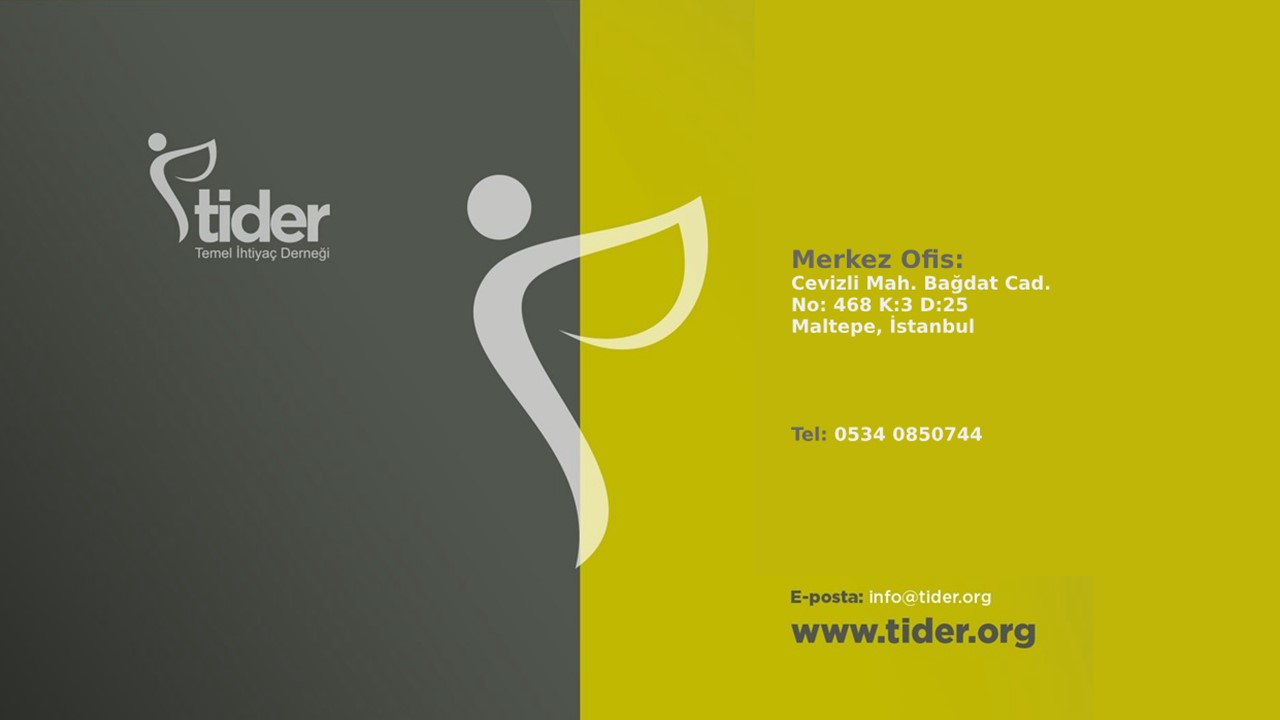 An hour went by too quickly because there were many questions. I liked the questions and comments of Ms. Suzan Bayazıt who is the co-chairman of the board of directors at TOG, and one of the founders of Deniz, the boy in the wheelchair who I was to push in two days' time. After the presentation, I quickly went to my room. Then I participated in Gözde's yoga session which was right after my presentation. Frankly, this wasn't something I planned, but I promised to attend, albeit late.
Then I went out to my room, took care of some of my work and then went to dinner with friends from Adim Adim at Antalya's famous restaurant 7 Mehmet.
A 'sour' yoga experience :)

The next day, after a good night's sleep, I woke up somehow in a very good mood. The first thing I did was to go down to the fitness salon. Because I hadn't done any training for some time, this was a way to get rid of the rust that accumulated. After the gym session, I had a shower and went to breakfast. There I met our friends from Adim Adim. After having breakfast together, I went to the TIDER stand in the ballroom. Immediately afterwards, as promised, I was able to attend Gözde's yoga session, albeit late. It was very funny. Because the room was so packed and my fitness levels weren't up to scratch, so they put me in the middle of four men who were much worse off in terms of flexibility than me. And because the room was full of people that were either hissing, some of them with smelly feet and some with sweaty feet made this yoga session not very fun for me. Still, looking at myself, I realised I wasn't all that bad and made fun of the situation by laughing and chatting with some friends. Of course, seeing the men who were in a much worse position than I in terms of yoga, encouraged me even more. My non-existing yoga career may have just taken off :)

Then I quickly stopped by the TIDER stand in the ballroom again. After seeing that everything was going well, I went to lunch with Mr Hasan and Miss Işık, journalists from the energy sector. We went to one of the restaurants opposite the hotel. After a nice conversation about the sector, I returned to the hotel. After the final preparations, I gave my second Zero Waste speech. This time we had an audience containing more of the TIDER volunteers. Of course, there were many other valuable guests in the hall listening to my speech. After an interactive conversation and plenty of chatting, I shared my presentation.
Great stories from friends

As per the day before, many people came up to me after this presentation where I answered their personal questions. Then I found myself at the Adim Adim cocktail party which started at around 4:30 pm. After chatting with a lot of friends, I joined the program which started at 5pm.
In the program which lasted about 1.5 hours, we witnessed unforgettable moments under the leadership of Renay, Itır, Tanyar and Kıvanç. We heard some great stories. After this hope filled evening, we went back our rooms, had our showers and then met with our volunteers at 7.30pm. As a group of 25, we headed to the fish restaurant close by.

While eating delicious fish and appetizers, there was a very interesting conversation at the table, everyone was cheerful. At around 11pm, we got up and went back to the hotel. We all went to the jazz bar in the hotel. Since I was already pretty tired from the past week, I left the group early that evening and went back to my room to rest.
The next morning, I went down for breakfast at 6.45am. As we agreed the night before, the volunteers were able to secure the largest table. After having our breakfast and sending off all our volunteers, we met with Deniz and our Adim Adim friends at 8am.
The shot we took before getting on the minibus with Deniz
I will give you an insight in the correct order of the people in our group:
Kıvanç Ergun, Itır Erhart, Gamze Erdemir, Gözde Uysal, Celal Sümer, Savaş Arson, Nihat Diler. We then all proceeded to go to the event grounds with the minibus.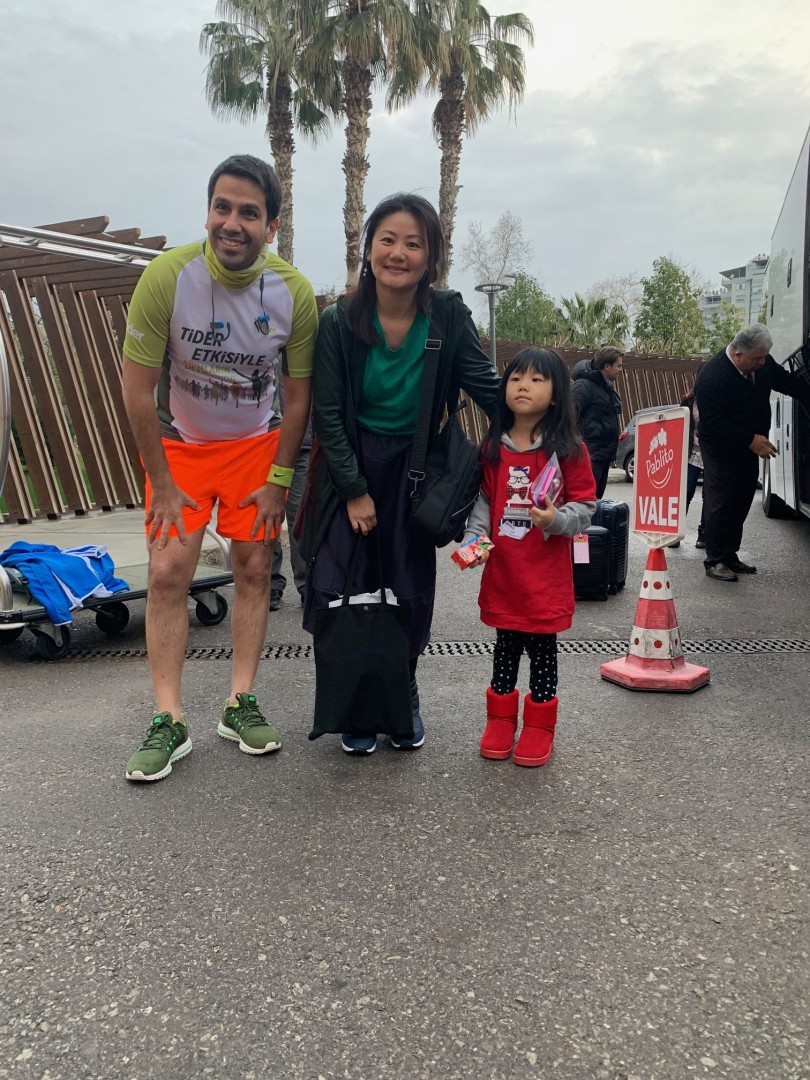 Before I got into the van, I couldn't resist seeing this sweet little girl who was from the Far East.
I went up to them and I took this picture with her and her mother.
The birth of a new career idea during my run
After spending time with our TIDER volunteers and Adim Adim friends in the running arena, we took our starting positions at 9.15am.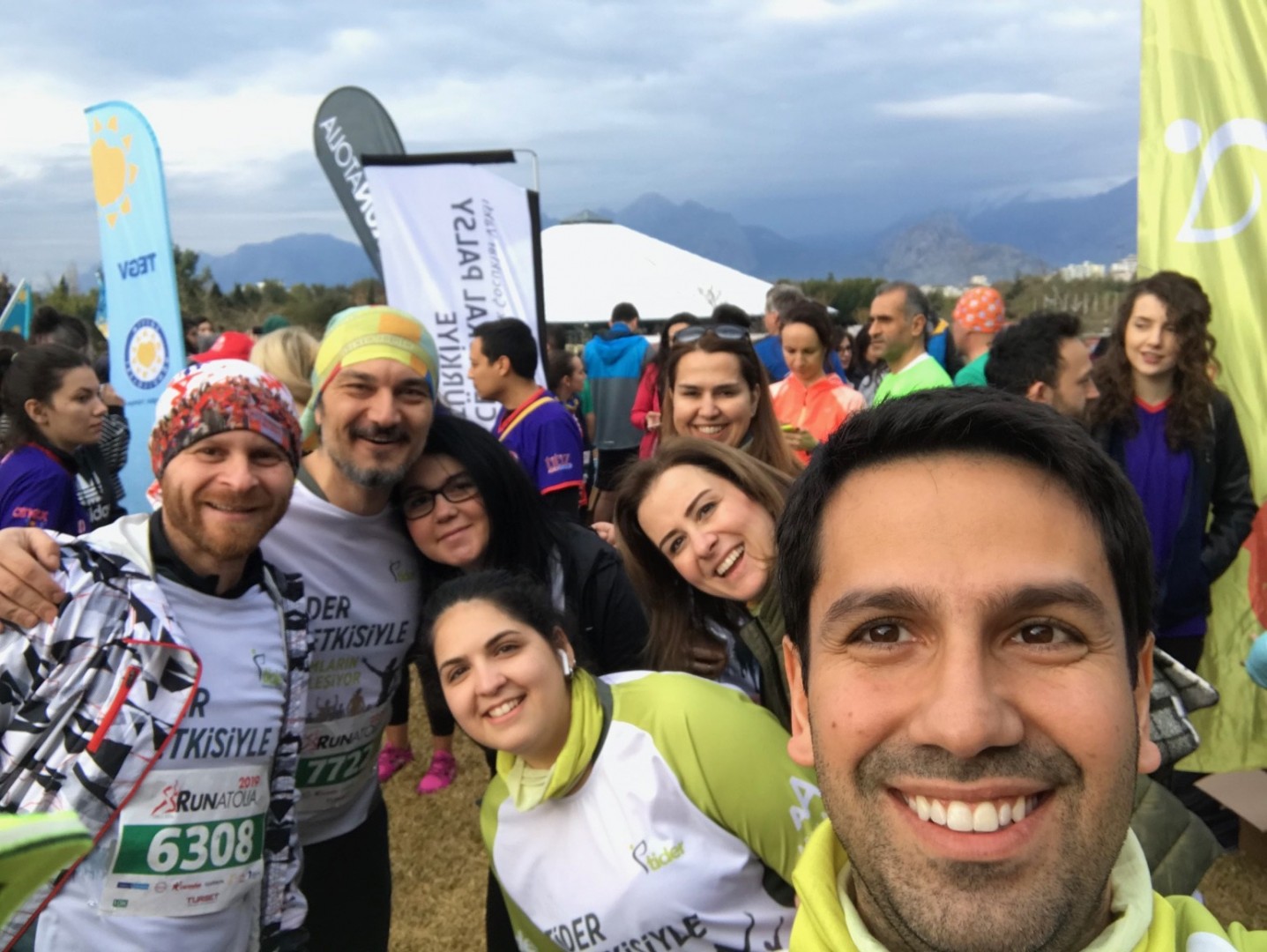 A pre-run picture taken with the TIDER professionals and volunteers. Everybody was in great spirits.
We started in an exuberant mood. This enthusiasm continued from start to finish. During the run, there was a constant banter going on. Everyone continued to chat cheerfully in groups of two, three and five. The other runners who passed by were always cheering us on. While I was pushing Deniz's wheelchair during a part of the run, Deniz raised his head and asked me, "Serhan, what do you do for work?". I then directly said "solar energy." Deniz's eyes suddenly lit up. He asked me questions about solar energy. He was particularly curious about the applications of solar energy, and even asked about the operation of a cordless wheelchair with solar energy. Then he told me about the special design of a disabled citizen of Bursa. When I was talking to Deniz about this, I immediately got an idea. I imagined Deniz as a scientist specializing in product development. After the run, I talked to him about it. Let's see where it takes us.
Another interesting event was coming across some 'transformers' during one part of the course. Those who have watched the movie "Transformers" know that the famous film series is based on the transformation of vehicles into warrior robots and their combat against evil. Of course, the fact that the person in the transformer animation clothes, mask and platform boots having a seriously long beard caused us to make jokes about him being a "bearded transformer". After taking photos with them, we continued on our way.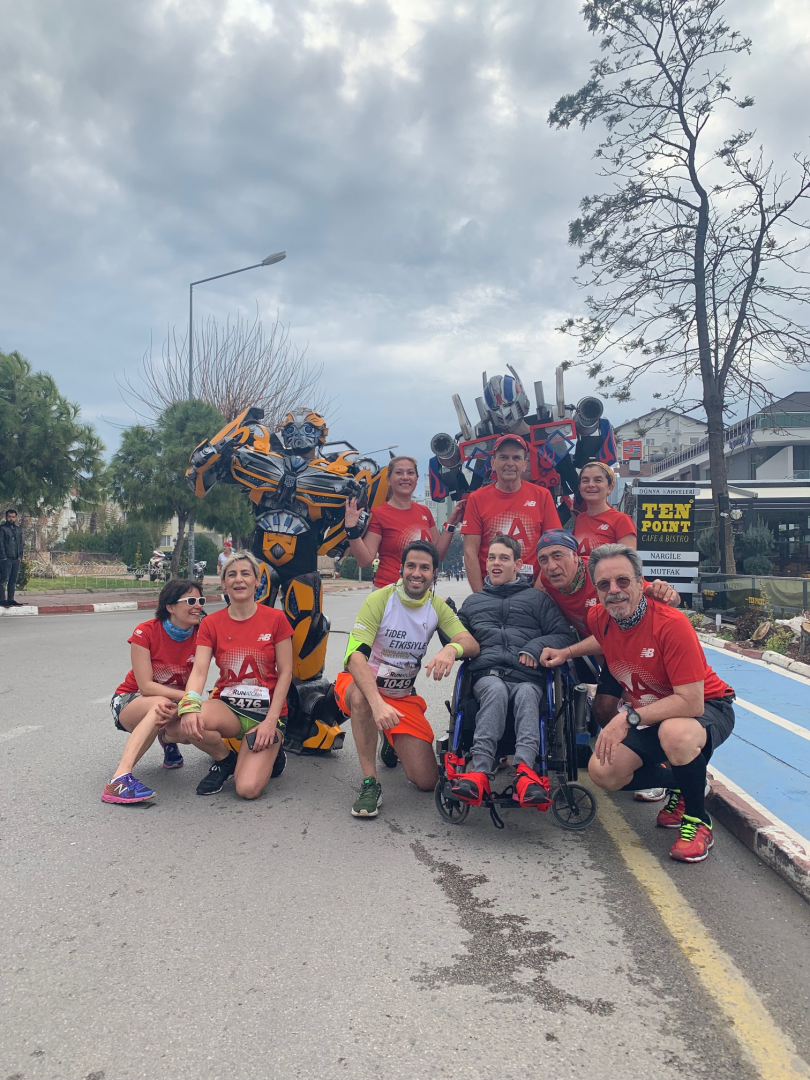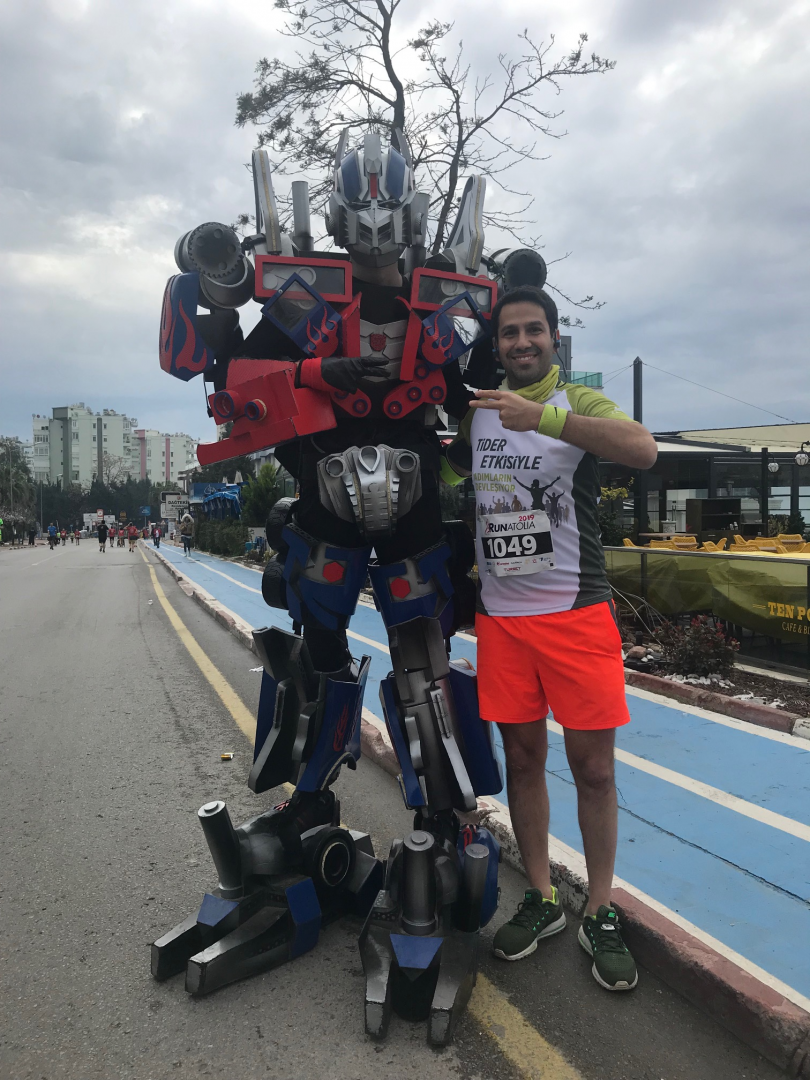 Somewhere along the way, I found myself joining in on a tradition Turkish circle dance which is called a 'halay'. Dancing along with our Adim Adim friends, these joyful moments were reflected on the camera as follows:


Tempo setting with a professional runner
When I was chatting with Itir, he asked me if I wanted to adjust my running speed to the one of the marathon runners which will pass us any minute. At this point, the first African marathon runner passed us. Just when we thought 'damn we missed the chance', the second runner came from behind. I then said to Itir "Let's run" so we then began to run by him. After running for 15 seconds, Itir quit, but I continued to run alongside the man. After running with him for about 2 minutes, I had a chance to chat to him. The professional runner, who was out of breath, chatted with me and said, "Good thing you came and chatted with me, it gave me a chance to adjust my breath". I then wished him good luck, shook his hand and started running back. When I came back, my friends were applauding me. They couldn't believe that I ran at the same pace as a professional runner for 2 minutes. One of them jokingly said, "Wow, we didn't realize what talent we had amongst us!". Another asked, "Where does this explosive power come from?". After sharing this joke, we went on laughing and continued on our way. Of course, what I was surprised about was how I wasn't out of breath even after two minutes of running together. I mean, I could have run like that for another 5 minutes. Of course, considering that I didn't do any training beforehand, I said to myself that I am not in a bad situation for a 41-year-old.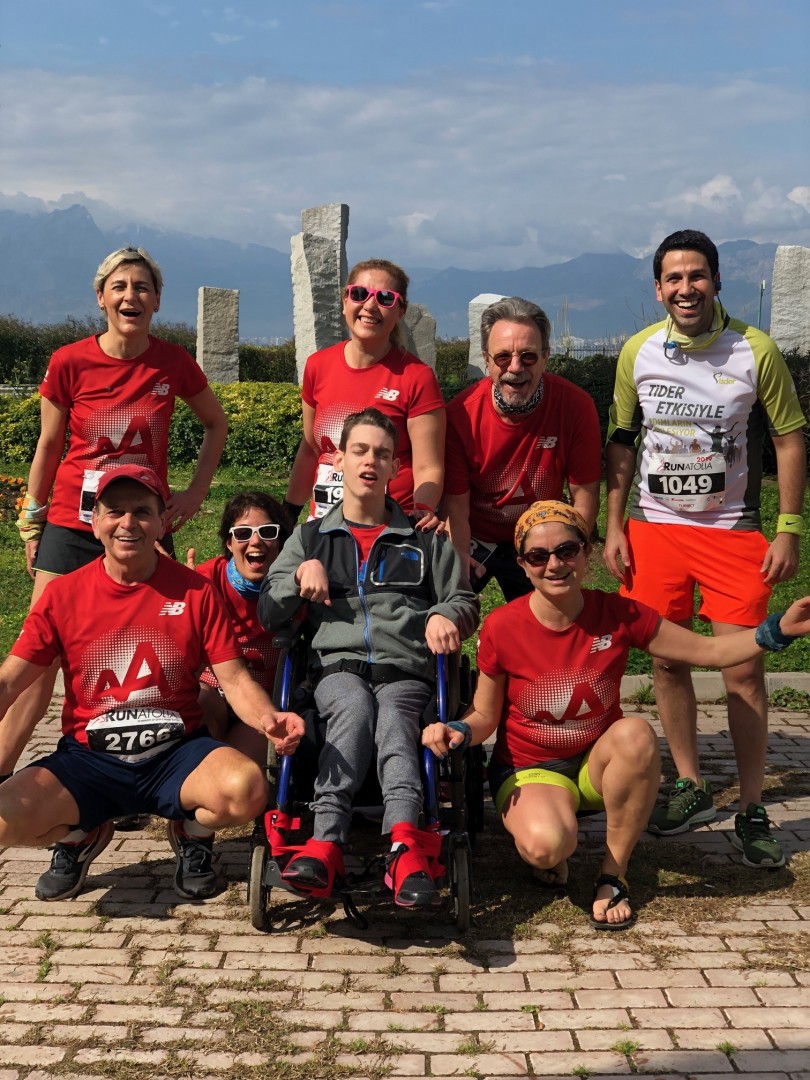 One of the shots we took while taking a breather while running with Deniz.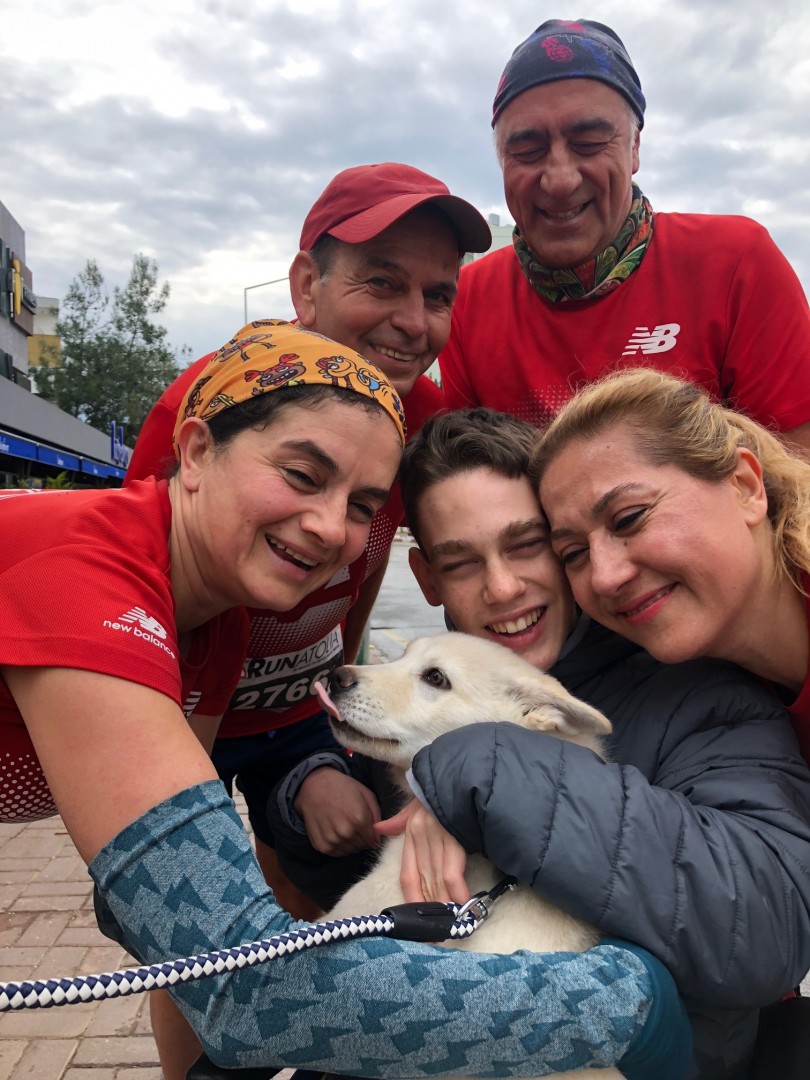 A great shot displaying animal love and human love all in one.
The dogs accompanied us constantly during the run. We love them, they love us. The love is mutual

The finish line was the crowning moment of such a pleasant race. We all finished running, while holding hands together among a wonderful crowd being welcomed and cheered on with confetti.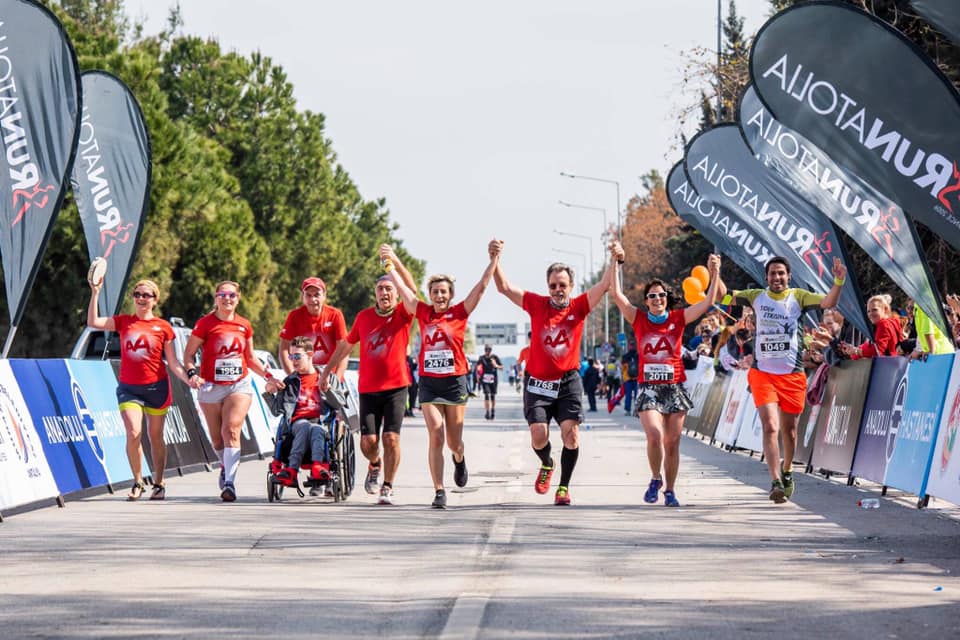 The photo we took with our Adim Adim friends and TIDER volunteers after we finished the race.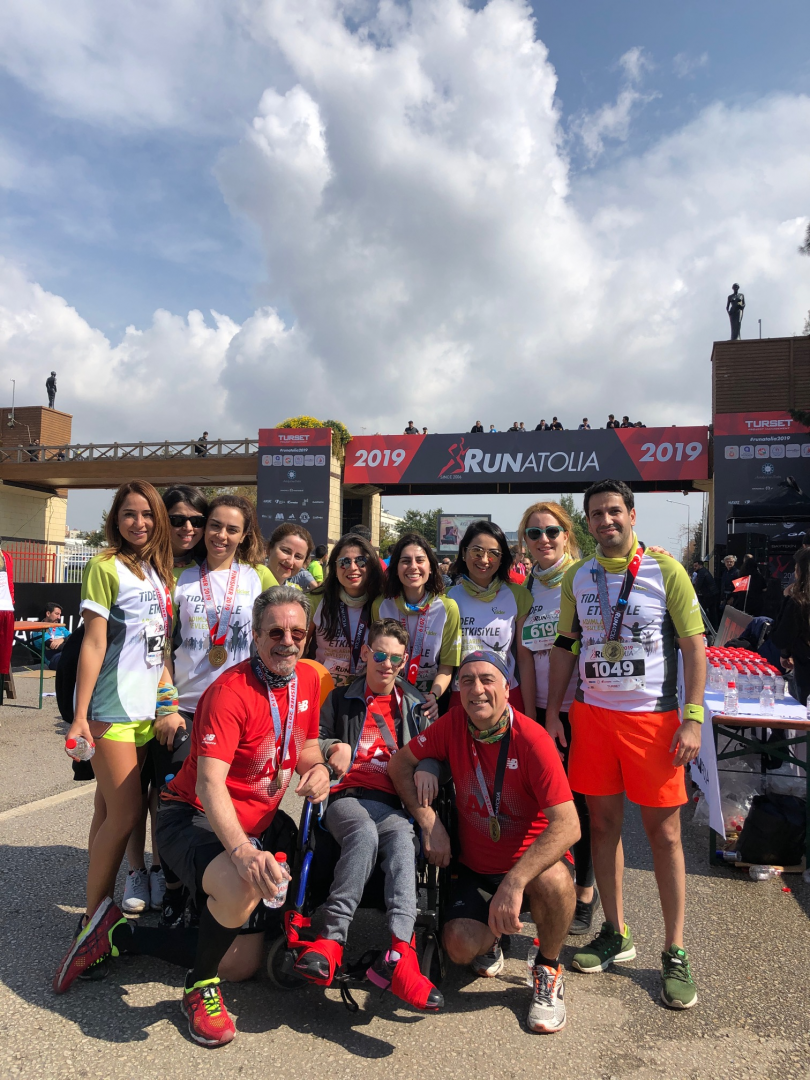 One of the things that made me happy during the finish was that our TIDER volunteers welcomed me. Some accompanied the run at the end of the race, some cheered. I was able to 'high-five' them all.
After the run, we went to the place where the vehicles would pick us up from. We got in our minibus and went back to the hotel. We agreed to meet at 2pm to go to the beach and swim. Just as I was saying goodbye to Deniz, he said to me, "Serhan, I want to tell you something. Then he turned to his mother and said "Can you turn on the camera? I want to say this to the camera" he added. Then this vide was recorded:


We then said goodbye, I went up to my room, put on my swimsuit and met our friends from Adim Adim and went down to the beach. After descending to the ice-cold sea together, we went to the kofte party with our towels. After that tiredness and swimming in the sea, the meatball, bread and ayran went down a treat. I then said goodbye to the TIDER volunteers and my Adim Adim friends and went to my room, quickly took a shower, and prepared my suitcase, and then went down and checked out of the hotel, and met with the first of the three meetings I had organized beforehand at a cafe opposite the hotel.
An adventure full of mindful thinking

I completed my meetings and got on the road to the airport at around 9pm.
I met our chairman Hande Tibuk and our board member Yasemin Ahıskalı in the CIP
department of the airport when we got told of the delayed aircraft.
After a short chat with them, everyone left for the plane.
With the pleasure of having a great weekend, I had these thoughts in my head on the plane:

The Runatolia organization in Antalya was great for me in every respect.
I was able to inform people twice about an important issue which was 'zero waste',
Spent time with all TIDER volunteers and our Adim Adim friends,
got to know a great kid like Deniz and saw the way he was happy on the 21km track,
the participation of TIDER in such an event and to be able to express and prove myself on
the Adim Adim platform, to be able to exchange ideas with great friends,
to be able to trust in my own mind and instincts, to learn about my running potential,
sleep for two nights comfortably, to be able to take my first swim of the season in Antalya
and finally, to be able to add strength to TIDERS donation campaign. What more can I want?

Before I forget, let me give you the details of my donation campaign at Runatolia:
Dear Friends, if you want to support TIDER's poverty-reducing model by preventing waste,
support my donation campaign at Runatolia.
For donations, you can visit https://ipk.adimadim.org/kampanya/CC42959.
International Women's Day

Finally, with this opportunity, I want to convey another message: I read on social media last Friday that everyone made good comments about International Women's Day. As the Eko Group and TIDER, we are in support and behind women's participation in the labor force 365 days a year. Here is an example; a message from our entrepreneurs at EkoCCS:



Once again, Happy International Women's Day!
Tag: sosyal sorumluluk