The ideal model to deal with poverty: The Support Project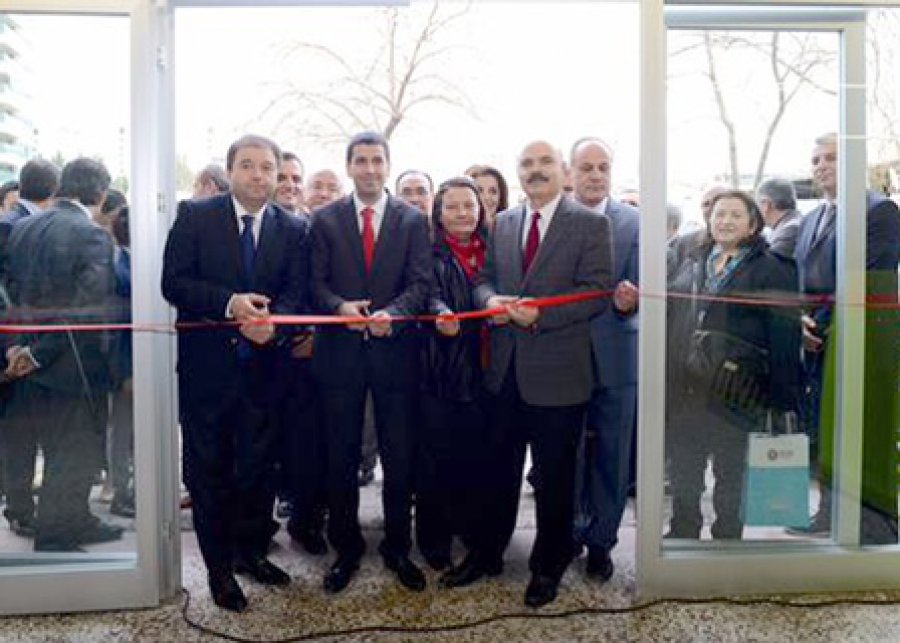 Parallel to the progress in my career, I always had the desire to take role in a social responsibility project. In the wake of its progress, with its name today, TIDER (Basic Needs Association), we have put into action helping those disadvantaged free of charge with the support of the Support Market and not only being limited to this but to also finding a long-term solution with employment opportunities which has been made possible with the Support HR project. In this article, I will talk about the point and goals that we have reached which I am sure you will equally share the excitement with me as you read along.
When I was the CEO of the franchise of KFC and Pizza Hut chains in Turkey, I always had the desire to sign onto a social responsibility project. I was managing a 106-restaurant firm, but there was always something missing. I just wasn't sure about which social responsibility project I wanted to undertake. I then started to research this. In the end, my luck turned to chance and I got an invite to an event which was mutually organized by the then member of parliament, Mr Aziz Akgul and the firm, Metro. The event which was held at the Hyatt hotel saw many guests from food and retail chains attend.
I was able to for the first time be enlightened about the food banking concept at this dinner held in honor of the President of the Global FoodBanking Network, Mr Bob Forney. The food banking network which commenced its facilities in the 1960's, and established in the year 2000, the Global Foodbanking Network accelerated its success by being run by its leader, Mr. Bob Forney. You know how they say how someone's character is resembled just by looking at their face; Bob Forney was a great example of this as he had this delightful and luminary look, a look which gave you trust, and he was overall a genuinely good person. Unfortunately, we lost Bob Forney in August of 2010. May he rest in peace.
If I need to summarize Food Banking, it is a collection of items which are nearing their "use by date" or "best before" date (the work 'bank' is used here to describe a collection facility) and distributing these to those in need via many different channels. I had stated at the start that I would leave the dinner early (as I was going to the Galatasaray European League game). I generally make decisions quite quickly; after listening to the concept for 15 minutes, I made my decision and stated that "we were in on this" and that I'd follow it up. I then thanked Bob Forney for making his presentation and excused myself from the event and left.
The establishment period of the association
After this, we followed up the process. Along with us, there were 6 other food companies which noted their interest and in the next meeting which we all joined together at the Metro headquarters. We must pay our tributes to Nurdan Tumbek, which took the lead at Metro at the time. Miss Nurdan was the first to take lead and put this project into place. Along with her, another said architect of the Turkish Food Banking network was the member of parliament who in 2004 brought in the law to allow for companies to receive incentives for donating goods relief, who was at the same time the founding member of TISVA (Turkish Foundation for Waste Reduction), Mr Aziz Akgul. The beginning of this all started with Bob Forney coming to Turkey. Later on, they came up with the idea to establish a 'Food Banking Network' with all the other food companies. I remember that towards the end of the meeting someone said to me "Mr. Serhan, you should be the president". While I was "umming and arghing", I noticed that everyone was looking at me with an expectation, and to be quite honest, at the very beginning I wasn't planning on being under so much light, but I believed I had no other choice and agreed to do it. With this opportunity, my entrance into this role was officially registered. Later on, we established the association. Here are the founders of our association:
1. Aziz Akgül (former member of parliament, TISVA Founding President)
2. Timur Bayındır (President of the Hotel Association in Turkey)
3. Can İkinci (former Starbucks General Manager, currently manager at an investment company, Actera)
4. Celil Ömer Görener (CEO of Banvit)
5. Melih Ödemiş (co-founder at yemeksepeti.com)
6. Emine Feyhan Yaşar (Yaşar Holding Board of Directors Member)
7. Mustafa Ayman (former owner of Beşler Sucuk
8. Hasan Serhan Süzer
After the founders were designated, we took on a general secretary based on my suggestion. Ugur Uralcan was our first general secretary. In the next 4 years, we were successfully able to implement the food banking model. We were working with companies who were able to distribute the products that were donated to those in need. For example, we donated to a school in Mecidiyekoy for those mentally disabled. We also made many millions of TL donations to institutions just like this.
Sustainability solution: teach them how to catch fish
At the end of the fourth year, in a board of members meeting, I announced that I will not be a candidate for Presidency and that I would like to hand over this role. The reason I used for this was that I would no longer be in the food retail industry and that I will change sectors and enter into the renewable energy field. When the members insisted I continue in this role, I then told them of my other reasons. I stated that the current Food Banking model was not satisfying enough for me. When the members of the board asked me "what is it that is not satisfying you about it?", I answered that "we need to bring this to a more sustainable position and not just teach them by 'giving them the fish' as we are only degenerating the sustainability". Instead of this, we needed the "'while giving fish, teach them how to catch fish' model as I continued to explain what I had in mind.
The members of the board supported this idea. During this time, our first general secretary resigned from his position, and Selen Gokdeniz who was already working as a director took the role. From this stage onwards, we went into planning. Firstly, we revised our vision as "allowing people to stand on their own feet". Later, we set the ideas in my mind into a strategic plan, we designed an investment plan, we revised our code of conduct and got into touch with all the important players in this area. Firstly, we went to the district governor. We got in touch with the relative food retailers. I can say that the Maltepe District Governor and Carrefoursa were the ones who especially liked this model and helped open the gates to this project. Once we got the district governor approval, we then decided to strengthen our human resource and because we had planned to open up a supermarket, we brought in Burak Kaya to lead the operation, who comes from a Migros background. We gathered the construction materials from the local supply stores for the building of the market. The missing pieces were also received via donations. From my previous roles at KFC and Pizza Hut, I had worked closely with the architect Miss Dilek who was kind enough to take on the role of project co-ordinator. During this time, Carrefoursa was a huge support to us and asked one of their builders to volunteer and help us build. This way, with everyone's support, we opened up our first 'Support Market' to the standards of a 'Carrefoursa Mini'. It was amazing.
We had our grand opening on the 25th of February 2015 which saw the Maltepe District Governor and Council attend, along with our benefactors and members. It was a fantastic opening. Here are some images from the day: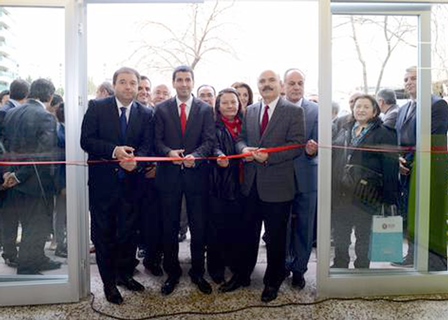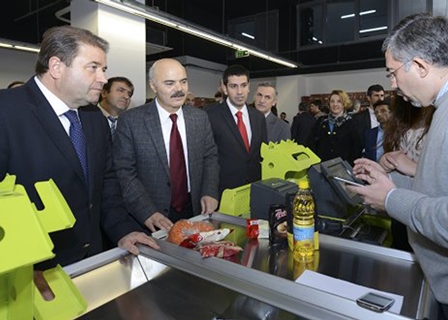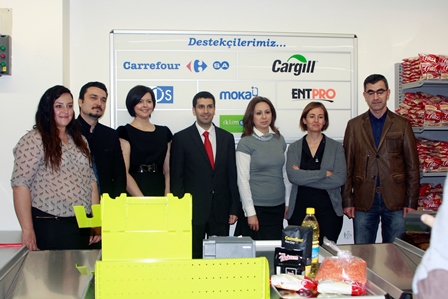 An environmental approach to waste prevention
From the time we opened our Support Market in February, with the contribution of our shareholders, we have been able to assist over 2000 families living within the Maltepe district. In the first year, by reaching approximately 900 thousand in donations, we were able to donate products to those in need, avoiding these to be thrown away or to be destroyed. This is one of the most valuable topics of food banking around the world. It is very important to avoid and prevent waste and other environmental wastes. We started this model in 2010, and today we have come to a point where countries like France and Italy have been forced to enact waste prevention methods and ways to help fight poverty in their own countries. I believe other countries will follow suit and bring about new laws to combat this. Here is the related news: http://www.hurriyet.com.tr/dunya/artik-yiyecekleri-cope-atamayacaklar-40050010
There is another topic which is making me extremely uncomfortable. In the recent week, there was a game against Holland PSV and the Spanish team, Atletico Madrid and for fun, the Holland crowd made fun of the beggars at the Madrid stadium by throwing money at them and making them run around for coins and celebrating by screaming out "oley" each time. And like this wasn't enough, the Holland crowd made some of the refugees do push-ups for money and pour beer into the cups that they were collecting money in. For something like this to happen in the center of Europe was an absolute disgrace, which was completely opposite to our Support Project which aimed to "help those in need with their basic fundamentals without damaging their honor" and "to help assist those to stand on their own feet" concept. You can read about this embarrassing news at this link: http://www.hurriyet.com.tr/a-madrid-psv-maci-oncesi-insanlik-ayibi-40069880. I also got in touch with my friends from Holland, so they could do something about this disgraceful situation
Coming back to our topic; there is another important value-add concept of the Support Market which is a strong working unity. Sustainability is an attempt to bring together the civil, public and private sectors together in order to help progress and develop; because the aim is the same: to help prevent hunger and poverty, to get in front of waste prevention, to create employment and this way, help those disadvantaged to integrate.
We can say that the Support Market is like having two legs. Our working model is made up of by the Support Market and Support HR (Human Resource). The Support Market helps to assist people with goods relief while the Support HR helps those in need to find a job and allow them to at the same time stand on their own feet. Here, the ultimate aim is to not leave them with just support from the Support Market. It is also to help them get into a job to earn their own money and to bring them to a level where they no longer require assistance from the Support Market.
How does the model work?
Firstly, our Support Model works with the district governor using the channels of the Social Cooperation and Solidarity Foundation to distinguish the people who require assistance and ascertain the limits of help that is required for them. We then send messages to these people on the list and invite them to the Support Market. Those who come in can show us their Turkish National ID Card and the SMS they have received in order to confirm their identity and then they are free to shop in our store at no charge at a specified limit. At this stage, we also meet these people and invite them to job interviews. We have these meetings with people in the family that have the capability to work. We can find them work within the companies who have made the donations or from other companies willing to provide jobs for these people and as a result, we then make the connection between the two parties. Sometimes they can be sent off to further education and training and then commence employment.
Besides all of this, we also voluntarily prepare many activities. We organize these days with those who are volunteering to work either individually or from other corporate companies to promote awareness and contribution. Sometimes companies like to share their services with us voluntarily as a means of support. This way, we have an extensive voluntary work environment and with way of the Support Market, we are contributing to the region and taking ownership.
In this capacity, Istanbul's Maltepe region is a summary of Turkey. It has a notion of extensive highways and freeways. Whilst below the freeway there is an increase in the richer class, above the freeway there are people who struggle to find bread and think about what they will eat that day. So, we are therefore reaching out to the richer side of the district and asking them to 'take ownership of your region and help contribute to the Support Project to help those in need who are just kilometers away from you'.
Goals & Principles
We aim to increase the amount of these Support Markets and spread them in many areas of Turkey as we can as of 2016. Our speed of growth is going to get faster. We are going to achieve this by opening these food banks based on the highest of standards (in our words Support Markets). Also, we are going to provide accreditation to those firms and companies who are willing to work within our principles of transparency, impartiality and honesty. This way, we will be able to provide the basic food, cleaning products and clothes to the ever-increasing amount of people in need. We are going to include our Support HR program in all the Support Markets that we open. In other words, there will not only be goods relief donations. We are going to the apply our mission of "allowing people to stand on their own feet" in all the markets we have opened or the places we have given accreditation to.
Helping those in need is just a vehicle to actually remove the need for help in the first place which is a philosophy of the Support Project. For this, with the Support Market we have built the structure to provide those in need with employment and those requiring further training and education from the Support HR structure, which we were able to ascertain the licence for employment from the private employment bureau in October. With receiving the employment bureau certificate, the Support HR, which is the associations economic management, found employment for over 70 people in need. In short, our main model is to help support those in need to stand on their own feet and to provide them with their basic needs within this time frame.
Of course, there are exceptional times which we go beyond our main model. For example, there are elderly people that cannot work or ones that are disabled. For them, and as approved by the district governor, we have an unlimited timeframe to provide them with these basic needs. On the other hand, there are some that advise that they do not require goods relief and only require employment, so therefore we help settle them into employment. Three birds with one stone!
In Summary, our Support Project hits three birds with one stone. Firstly, we prevent waste by providing products that are reaching their use by date to consumers (the majority of the products in the market are very close to their use by date). Secondly, by providing goods relief to those in need, we are taking care of their basic needs and requirements. Thirdly, by providing them with employment, we are giving them a chance to stand on their own feet.
In the upcoming period, we are looking at increasing our communication and partnership facilities. By reaching more people and more firms, we are enabling more support. There was a recent event which made us really happy. Our Basic Needs Association received the 'Change Makers' award given by the Sabanci Foundation. To receive an honor like this for the work we have been doing made us immensely happy. We thank the managers and workers of the Sabanci Foundation from the bottom of our hearts for seeing us worthy enough for this award. Here is the change makers video:
https://www.youtube.com/watch?v=UJtsDRvEGz0
Lately, there has been a lot of news in the media regarding the work we have been doing. Here are some of those: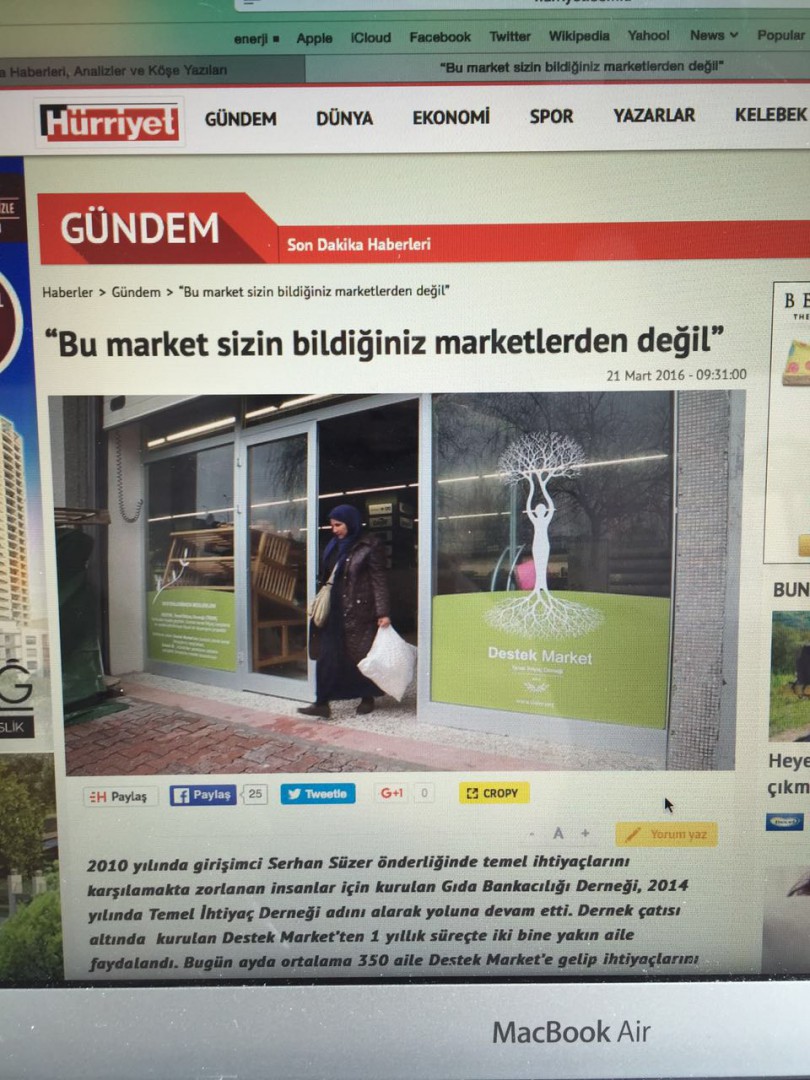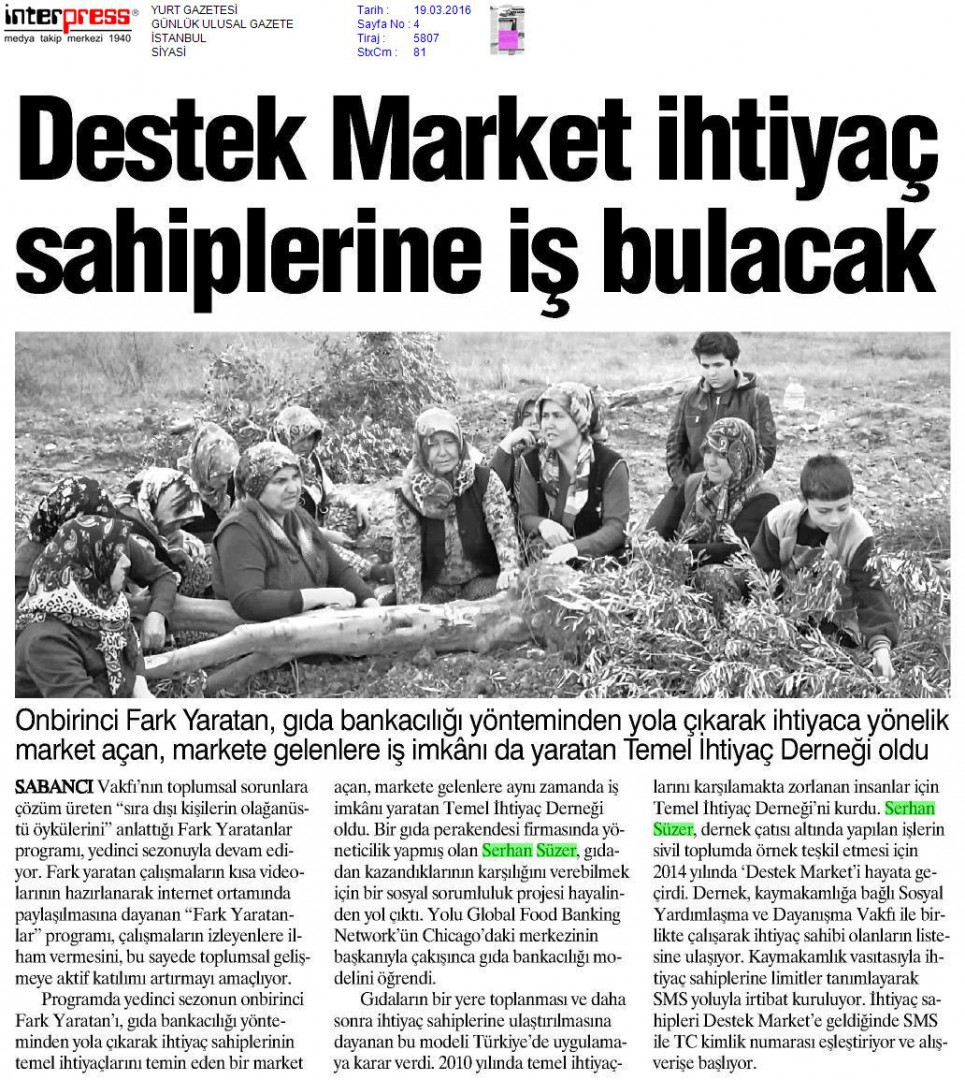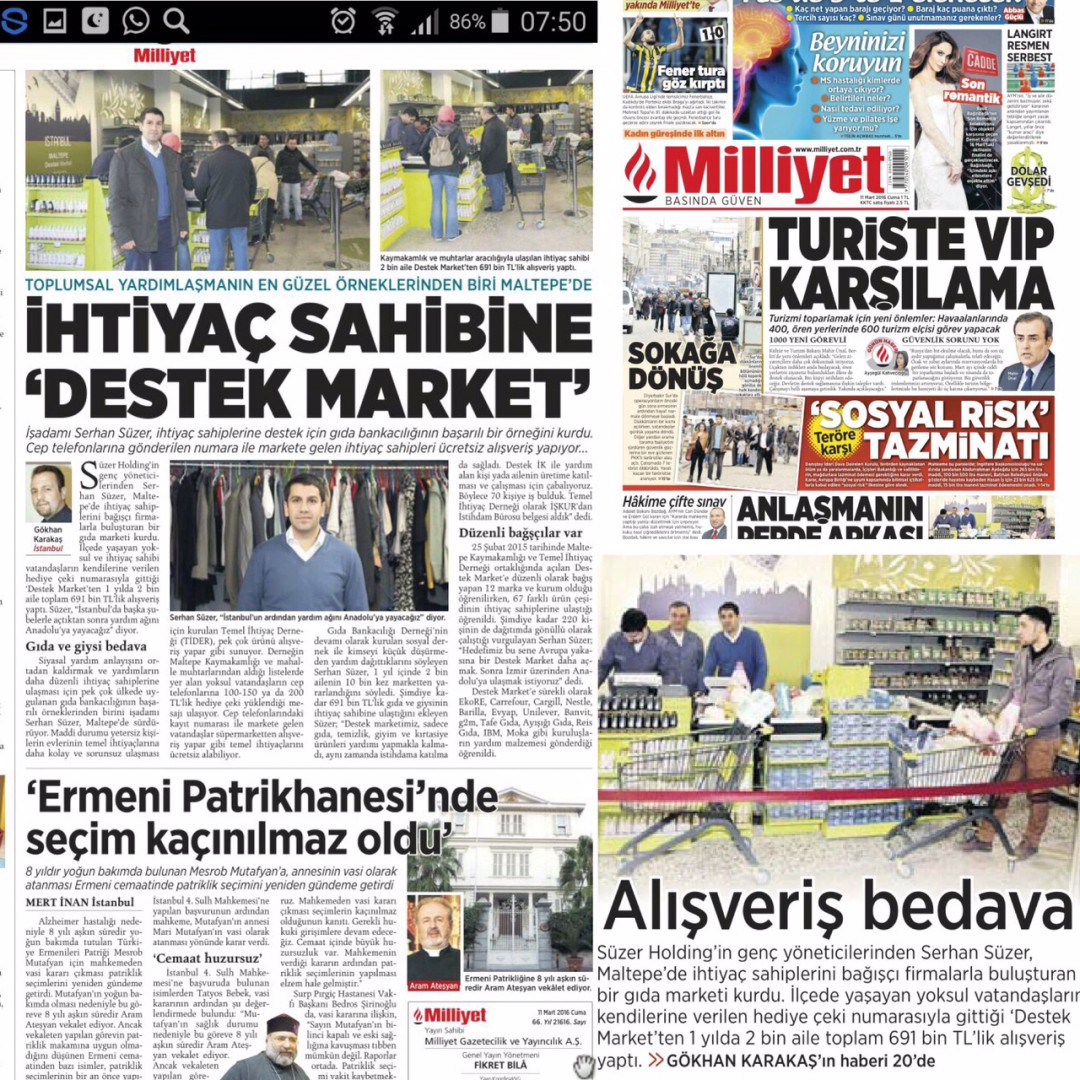 Star News:
https://www.youtube.com/watch?v=cvZ_5Y76zkE
NTV News:
https://www.youtube.com/watch?v=X6vtLrsDxG4
From the news that came out, a lot of citizens made comments and asked questions like "Who are they? Who are they connected to?". Unfortunately, these days everyone is suspicious of one another. Therefore, I want to answer these questions with this opportunity (I will answer it here in big bold letters to show how sensitive we really are about this topic):
WE HAVE NO CONNECTION WITH A GROUP, CORPORATION OR FIRM. AS TURKISH CITIZENS, WE HAVE ONLY ONE PURPOSE, AND THAT IS TO PROVIDE THE PEOPLE IN OUR COUNTRY WHO ARE IN NEED WITH THEIR BASIC NECESSITIES AND TO HELP THEM STAND ON THEIR OWN FEET. OUR 3 PRINCIPLES ARE TRANSPARENCY, IMPARTIALITY AND HONESTY.
You can read further regarding our associations on the links below:
Website: www.tider.org
Facebook: https://www.facebook.com/tidersosyal/
Twitter: https://twitter.com/tidersosyal
Also, I would like to thank all our benefactors for their donations made to our association. With their help, we are helping thousands of people with their basic need's requirements. Here is a list of our benefactors (as of today's article period):
Carrefour

Cargill

Evyap

Unilever

Banvit

g2m

Tafe Gıda

Ayışığı Gıda

Reis Gıda

IBM

Nestle

Barilla

Moka

Mondelez

EkoRE
I hope from here onwards, we will have an increasing number of benefactors going forward.
A world first
Finally, I'd like to make a point. The social responsibility model which we have formed as 'Support Market' and 'Support HR' are first in the world. We aim for this model to spread beyond our country and for this, we are in touch with other food banks around the world which we are advising that goods relief is not enough, and we are recommending that they take on board a model like ours which allows for employment opportunities and integration. We are trying to enable a similar system to be built in other countries. We will continue to make the world a more fair and better place to live.
Whether it be regarding the Support Project, or renewable energy or otherwise the other things I do, I receive many questions via the blog and via other channels. I will answer the frequently asked questions in my next article.
Till then, see you next week…
Tag: iş dünyası