The Marathon Of Bozcaada, 2013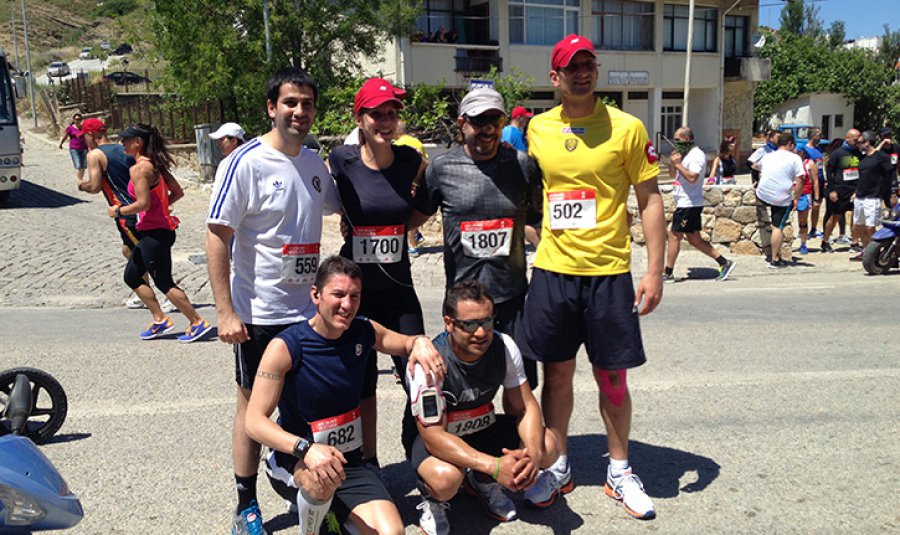 Many of my readers have been asking why I haven't written anything for a long time. They are right, because I haven't written for over a month now. One of the reasons of this was that the companies I'm in charge of were restructuring themselves. What the phrase "hardly having time to breathe" means should certainly be something like this.​
Thank you for all the supporting messages you have written me.
I can't go on without mentioning what happened to me in the last week. Instead of developing its service quality after buying our web hosting company Borusan, Vodafone worsened its service quality and managed to destroy my blog. No, you didn't get me wrong. Because of a new regulation they applied internally, my blog was destroyed. This is such an irritating situation. It's a pity to all the work that was put in it. We had to find the solution in making a deal with another web hosting company and uploading all my articles again. I can say that we now have my blog back. I would like to take this opportunity to announce this as well: We're planning to change the format of my blog towards the end of this year by adding new sections to it. Let's hope the best!
Let us begin now. I will talk about a rewarding activity in this article: Playing sports. As long as I've known myself, I have always been into sports. I have played in my high school's football team, went to TED Tennis School (I was so close to becoming a professional. You can read my article about it from the following link: http://serhansuzer.com/eng/a-weekend-of-going-back-to-my-university-days-and-my-tennis-carrier-that-ended-before-it-started/), to ENKA Tennis School (I was little and it's the first place I started playing tennis), Galatasaray Basketball School (I went there for fun, the school was in the facilities in Beyoğlu and I was always on the guard position of course) and to Galatasaray Swimming School (The facilities in Kalamış is where I learned how to swim) and I've been engaged in skiing since I was 5 and all kinds of water skiing (mono, wakeboard, etc.) since I was 8. It was always a big advantage to have my twin brother, who's bulkier, with me since I was little. Naturally, we could always practice together. We had a basketball hoop in our garden and a ping pong table inside our house. We also played football in our garden and in our neighborhood.
We used to play sports for fun all the time.
In McGill University, Canada we lost the cup during the finals of the biggest tournament where 200 teams were playing in (It was a very bitter experience for me). I have played in many football matches, basketball tournaments, water polo games and I have won tournaments of table tennis, billiard and foosball which I joined for fun in hotels and holiday villages. I've also done kick boxing for a while. I've also enjoyed playing bowling a lot. As you can see, sports has always been a part of me. In fact, it's been such a part that I've brought democracy to my body by 'dividing' my two hands and two feet into different sports branches. How? I play basketball, volleyball, water polo, handball, billiard and bowling with my left hand; tennis and table tennis with my right hand; football with my right foot, water skiing based on my left foot. This may sound complicated and I don't know why this is the case either. Actually, if I push myself, I can play all sports with both hands and feet.
For example, I first started to write with my left hand and then I started using my right hand. I use both hands and feet in kick box.
These days, I found a new sports branch for myself: Running. Of course I was running, which is the most basic cardio activity and is very efficient in burning calories and speeding the metabolism, in all sports branches except swimming. However, I gained my first racing experience with the suggestion of my friend Youssef in the Eurasia Marathon in 2011 by running 15 km (You can find my article about this in http://serhansuzer.com/eng/istanbul-eurasia-marathon/). After this event which I enjoyed a lot, I continued to run as much as I found time for it. I really wanted to attend the Bozcaada Marathon I missed last year because of my trip to USA.
However, everything that would prevent me from going there happened right from the start. Since I don't like driving long-distance (unfortunately there are many people on the road who don't know how to drive well or who are inclined to vent their anger on the traffic), I decided to go there by a hydroplane. With the suggestions of Mehmet Hoca, the coach of MAC (Mars Athletic Club) G-Mall team, I bought tickets from a company named Sea Bird. When I went to Haliç (Golden Horn) to board on the plane that would take off at 14.00, I encountered a bad surprise. It was said to the group of 15 people waiting there that there was a delay and that the plane would take off at 16.00. Not to wait there for 2 hours and to get some of my work done, I went from Haliç back to Dolmabahçe where our office is and returned there around 15.45. The group was around an officer, gathering information. The following words came out of the officer's mouth: "We're sorry, but unfortunately our plane will take off later due to wrong refueling. The plane will be here towards the evening but since it will be dark by the time it will arrive, our plane will not take off tonight. It will take off at 5.30 tomorrow morning."
Serhan: What does wrong refueling mean ma'am?
Officer: They brought dirty and wrong fuel. They waited too long to change it, they couldn't receive the right one yet, however it's on its way.
Serhan: Pardon me, but I haven't heard such an excuse in my life. In the politest way I can put it, this is absolutely amateur. You could have told us something about the weather, but talking about wrong refueling and dirty fuel sounds ridiculous.
The other passengers: Yes, he's right, we couldn't understand it either.
Officer: We're very sorry; however these kind of misfortune can happen. The best suggestions we can give you is to arrange a car for you to go to Bozcaada tonight or to send you there with the 5.30 flight in the morning.
A passenger: What if the plane doesn't take off tomorrow?
Officer: It certainly will.
Serhan: We had hotel reservations in Bozcaada for tonight. Thanks to you, we'll be losing it. What is to be done about that?
Officer: Send us the bills, we'll make the payment.
At the end of this conversation, only two of the 15 passengers accepted to go to Bozcaada that night with the hydroplane company's car. 13 passengers, including me, decided to go the next morning with the 5.30 flight.
I took two of the passengers with me on my way back home. We went back to Nişantaşı together. One of them told us that this happened to him, before, that he bought tickets from Sea Bird company 13 times, but that he could only fly in 9 of them. I answered that he was luckier than me relatively, since I was 0 out of 1 and everyone laughed bitterly. We parted to meet back again at 5.30 the next morning.
At around 9 pm, my phone rang. My assistant Fulya told me that an officer from Sea Bird called her and told that the plane will not take of the next morning due to bad weather conditions. I thought to myself that they were giving us the excuse that I told them. After that phone call, I dialed Mehmet Hoca, who was at Bozcaada and asked him how the weather was. I was really mad when he answered: "The weather is great today. It will be like this tomorrow as well."
I have the habit of not submitting to my ill fate, so I decided right at that moment: I called Mehmet Hoca again and told him that I was coming. I left the house at around 10.30 pm. I called my friend Hakan, who is from Çanakkale, and asked him if we could arrange a hotel around Çanakkale for that night and asked him which route was the best one to take at that hour. Later on, I changed my mind about staying at a hotel that night (It didn't sound reasonable to check in and out of a hotel for just a few hours). Even though I was very tired that day, I drove for five and a half hours non-stop, except for stopping once in a gas station. I caught the Gelibolu-Lapseki ferry at 2 am and arrived at the Geyikli port around 4 am. Let me remind for those who don't know: The Geyikli port is right across Bozcaada and it's the closest port to the island. For you to picture it in your mind, I would like to share GESTAŞ's, the ferry company's, map with you: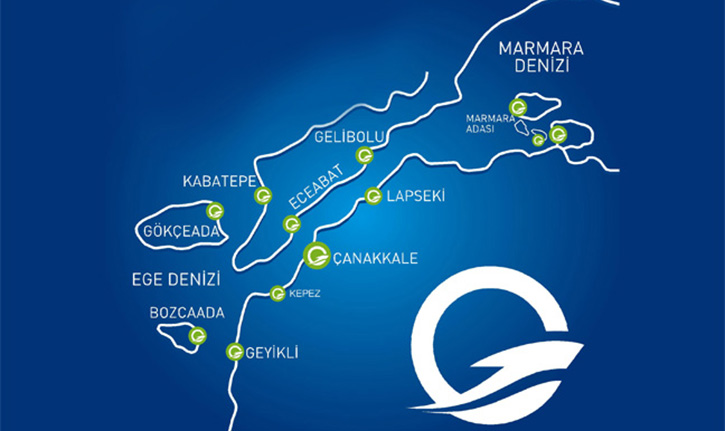 What did I do when I arrived at Geyikli at 4 in the morning? I looked around and there were 2 cars in front of me. When I saw two tents on the shore next to me, I thought to myself: "OK, this is my place." I pulled over, reclined the seat and slept. I almost woke up at 7 am with the sun rising.
Around 7.30, a school bus came and the silence turned into a high school garden atmosphere, so I had to wake up. First, I bought my ticket, then I asked for the officer there if I could charge my phone which ran out of battery, and then I went to the cafe near the port to drink tea and eat a toast. The cafe got really crowded all of a sudden and it took a while for my toast to be prepared, so I gave up on the tea, grabbed my toast and went to the ferry. The ferry set off at 9 am. By the way, I only saw one of the 13 'victims' of the Sea Bird customers who stayed in Istanbul in this last ferry that was setting off before the Bozcaada Marathon. He did the exact same thing with me as soon as he learned about the situation. The other 11 customers had to cancel their trips (he confirmed that those 11 people stayed in Istanbul).
Before arriving at Bozcaada, I called Mr Taner, the owner of the boutique hotel. Thanks to him, he came with his motorbike and took us to his hotel from the port. When we arrived at the hotel, Nevşin and her brother Burak were having breakfast on the terrace. When they saw me, they asked how I was able to come. I went up and joined them at breakfast. Later, the others in our MAC group started coming for breakfast one by one. After having a light breakfast, I excused myself to go up to my room and I took a nap for about an hour. That felt very good. Afterwards, I got up and made my preparations for the marathon. We met with the group at 13.00 and went to where the marathon was being held. We were ready after warming up and stretching.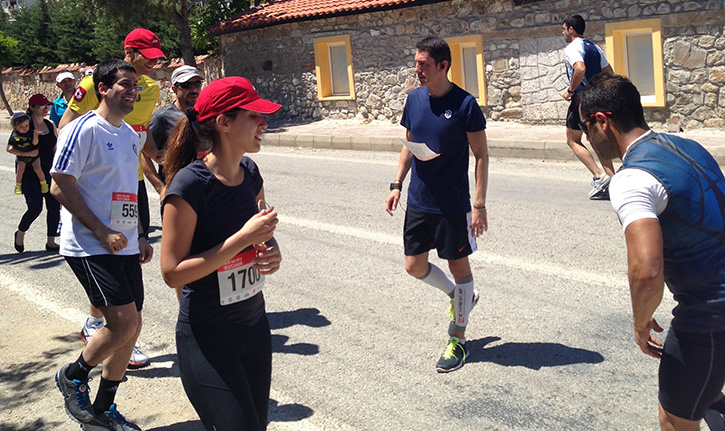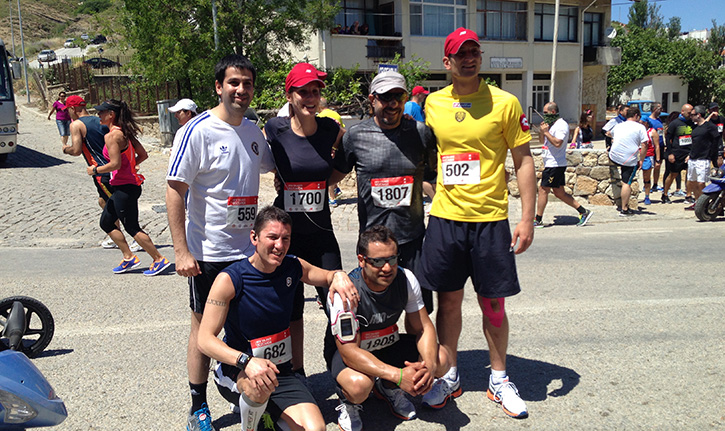 Here's a video for you that shows the beginning of the marathon:
https://www.youtube.com/watch?v=5bte06FL-6Q
It was really crowded. The marathon began but I wasn't able to run. Everyone was trying really hard not to stumble on each other. I slowly passed by the crowd; I was speeding up as the distance between people increased. People in our group had warned me about the number of ramps in Bozcaada's racetrack. This really was the case. It was as if the ramp in Maçka was continuous. I stayed cool up to the 5th km. Even if it was uphill, I always ran at a high tempo. Actually I overtook everyone in front of me in the first 5 km. Afterwards, I felt tired, started slowing down and many people went ahead of me. Besides being sleepy, it was really hot (normally, these type of races start early in the morning) and I wasn't able to attend the trainings properly because of my workload (I tried not to miss the runs in the Belgrade Forest at 7 am on Saturday mornings, because the fresh air felt very good and the time fit me). At the 7th km of the run, Fatih from our group came near me. Because we attended the trainings together before, he told me: "Come on Serhan, raise your tempo a little bit, run with me." I raised my tempo to his and we started running together. We started going ahead of others together. Everything happened on the last kilometer. All of a sudden, I felt that I had restored my energy and asked Fatih if he wanted to make a sprint. He told me that he couldn't raise his tempo any higher and that I should go for it if I wanted to, so I made a sprint. I made a huge sprint until the finish line and ran 10 km in 50 minutes and 57 seconds. When I crossed the finish line, I was of course out of breath and all in sweat. However, I was happy. Before the race, I told the people in our group that I would be satisfied if I finished the track under one hour and I had reached my goal. It was a surprise to me that I came 12th in my age group.
When the race ended, they gave medals and t-shirts to everyone. After I changed my t-shirt, I joined the entertainment around. Here are some pictures: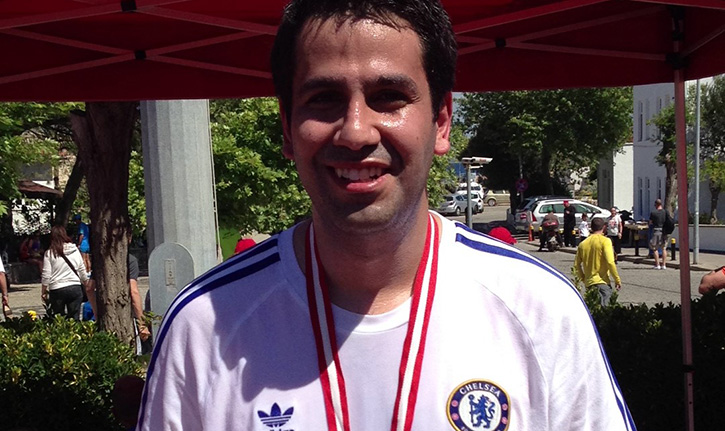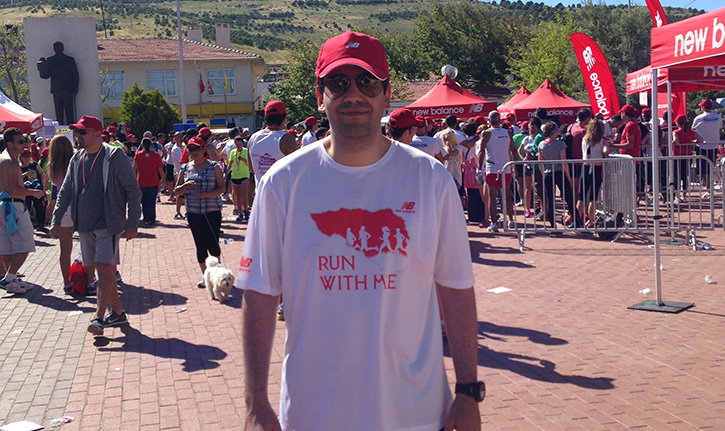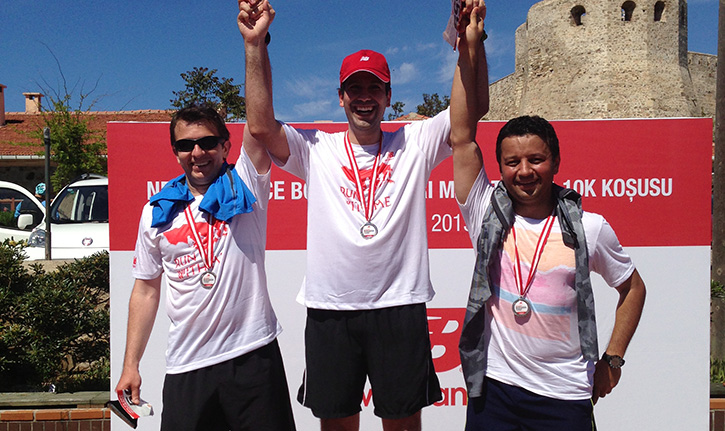 While walking around, two people that I didn't know came by and asked me to take this picture so that it would have a memory.​
After Mehmet Hoca finished the half marathon (21 km), we went up to our hotel and after a short preparation, we went to the Aquarium Bay to swim together. I was following Mr Taner, the owner of the hotel with my car (Since it was a boutique hotel and because of the warm atmosphere on the island, the owner of the hotel took great care of us). We all swam in this truly amazing bay. The water was very cold and it's not easy to dive into such cold water. You get used to it once you get in and you enjoy it a lot.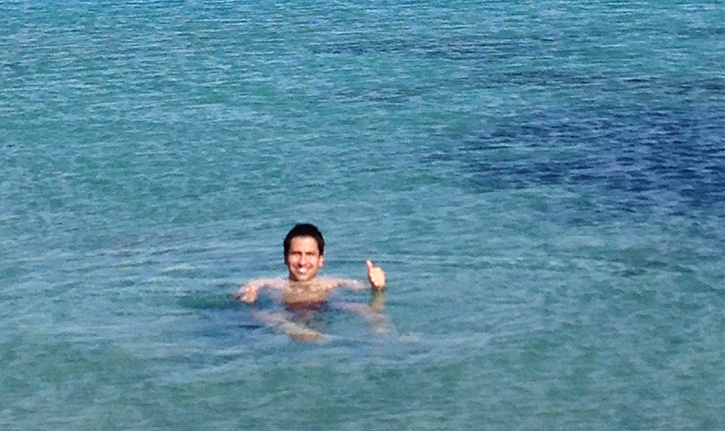 Then we went back to our hotel. After taking a shower and getting ready for the evening, I found time to work between 6 and 8 pm on the terrace, enjoying tea and coffee along with the wonderful Bozcaada view. Believe me, one works more efficiently in such an environment.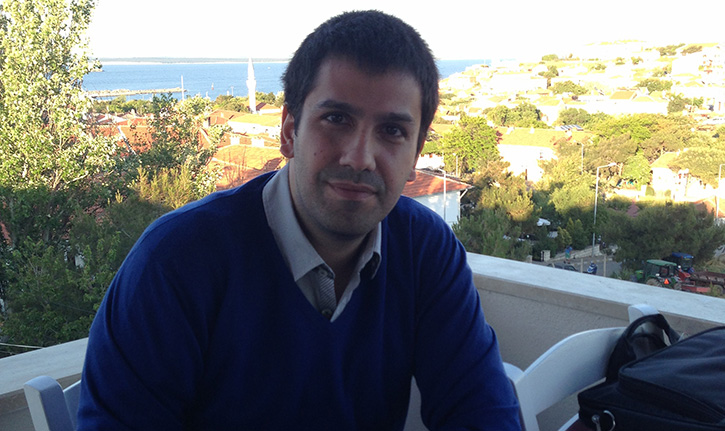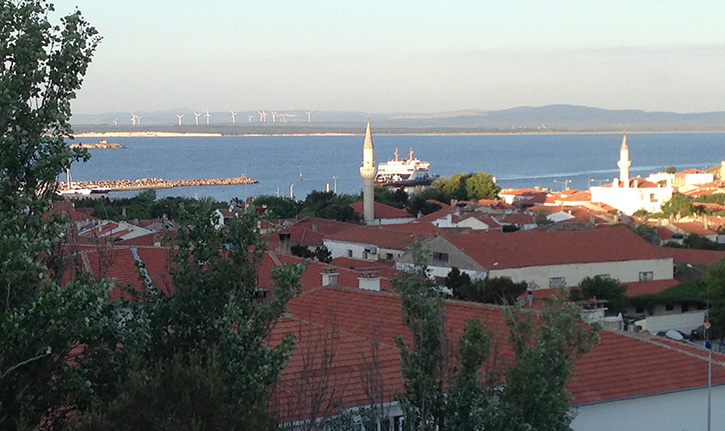 At 8 in the evening, we went downtown to Asmalı Restaurant. It was a surprise to see my elementary school friends Fulya and Nevra near the restaurant.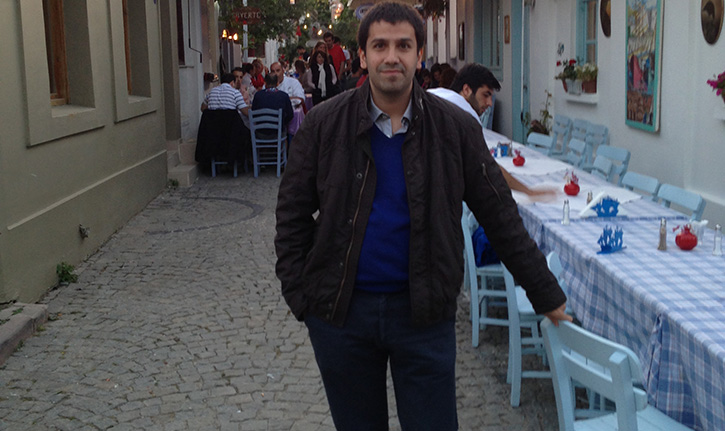 After enjoying fish with our MAC group (the food was tasty but it was as expensive as in Istanbul), we went to Polente to have a few drinks.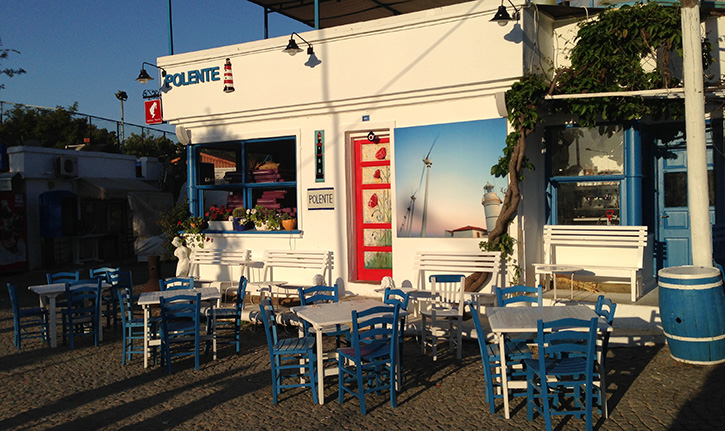 After an hour, I excused myself and left the group, because the first ferry the next morning was to set off at 7.30. I had a flight for Dubai Sunday night and I didn't have another choice but to take the first ferry. We set off early in the morning, complaining.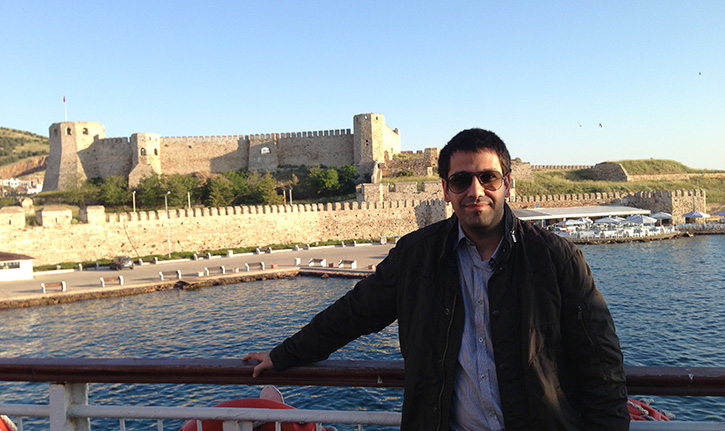 We were complaining, because this hydroplane company had cancelled the flight at 12.00 also. Frankly, I would like to tell the officers of this so called Sea Bird Company the following: "It's a good idea to arrange flights with a hydroplane for such distances. However, if you keep on carrying out this operation in such an amateur way and put your customers in such hard positions, the first professional company to stand against you will take all your customers from you. Just to let you know."
I arrived to Istanbul at 13.00 with all the waiting and lunch. In fact, we arrived to Beylikdüzü at 13.00. It was 15.30 when I arrived to Nişantaşı. It's very hard for me to explain how I felt about the traffic after such a long trip. After a quick preparation, I left the house at 17.00, picked up my friends at work and we continued for the airport.
I went to my Dubai trip very tired. However, I was happy. I had a good weekend. Of course, this was reflected on my performance at work. It's a good thing that one combines sports and travelling by attending to such organizations. I recommend it to everyone. I will continue to attend these organizations as much as I find the time for it.
Take care…
Tag: anı