The massive YEKA tender and EkoRE expertise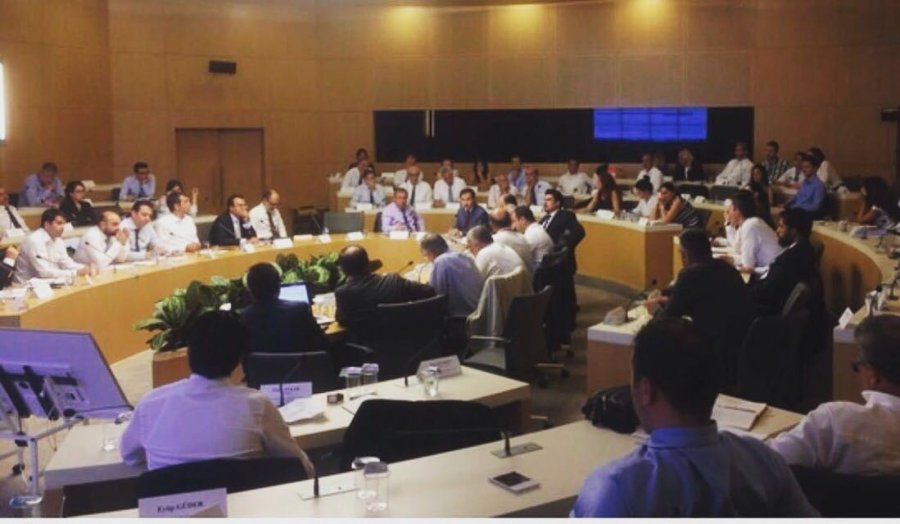 In this week's post, I'm writing about the exciting aspects of and examining the framework of the upcoming YEKA tender, which has caught the attention of the Global Renewable Energy Markets. I'd also like to point out that we at EkoRE are not only strong contenders for the tender, but are also ready to support with our expertise all relevant companies and organizations.
For those unfamiliar with the sector, let me begin by explaining what is meant by "YEKA", which is the Turkish initialism for Yenilenebilir Enerji Kaynak Alanları, or 'Renewable Energy Resource Areas." YEKA amounts to a large tract of land dedicated to renewable energy and allocated through a reserve auction. In much the same way an industrial zone operates, certain zones will initially be reserved for Solar Energy and then other zones will later be allocated for Wind Energy, both of them wonderful developments for the renewable energy sector. The first YEKA tender is for a solar field in Konya province's Karapinar district, with Wind Energy zones also planned for various locations across Turkey. Let me share some more information about the initial YEKA in Konya-Karapınar, which is currently making headlines:
The historic announcement of the tender was made by Minister of Energy Berat Albayrak:

http://www.sabah.com.tr/webtv/turkiye/berat-albayraktan-gunes-enerjisi-mujdesi

The slide presentation prepared by the team members of the General Directorate for Renewable Energy, who came together at the World Energy Congress, can be find at the website of GÜNDER (International Solar Energy Society – Turkey): http://gunder.org.tr/karapinar-yeka-ihalesi/

All of the details of the tender can be found in the Official Gazette under "Notification of Tender Concerning Karapınar Renewable Energy Resource Area (YEKA) Allocation in Exchange for Domestic Production":
http://www.resmigazete.gov.tr/ilanlar/eskiilanlar/2016/10/20161020-4.htm#Ç03

First, I would like to commend all the organizations, starting with the Ministry of Energy and Natural Resources, that planned and prepared this tender. The ideas and vision behind it are spot on. When you consider that we have fallen behind other countries when it comes to investments in solar energy, the announcement of solar capacity of 1 GW is a huge development. Furthermore, this zone in Konya will become the biggest Solar Energy Plant in the world.
When we also consider this tender in terms of industrial development in our country, the fact that this tender will be awarded only to a company that invests in industry is another important development. It is a move that will reduce our dependency on foreign energy. It will also create jobs and boost investment in technology.

All of this sounds great.

Points that should be debated

However, this tender, which will lead to an enormous and strategic "billion dollar" investment raises certain questions and points, which I would like to analyze here:

Ingot Production: Companies that will undertake industrial production are being asked to direct their investments to the "ingot" phase if they are investing in Crystal technology. In fact, it would be more practical to start off producing "wafers" rather than "ingots." The reason for this is that ingot production requires massive electricity consumption. To cite some figures, the 500 MWp facility stipulated in the terms of the tender would need installed capacity of 100 MWe (approximately 350 GWh annually).
Globally, companies that produce ingots are primarily based in Norway, the U.S. and China. These companies are state-supported in the sense that their energy costs are next to nothing and uninterrupted. Unless there is similar support in Turkey, once the YEKA process is completed companies will find that their operating costs are too high compared to their global competitors and they will be forced to closed their production facilities. In other words, once the YEKA process is complete, production companies will choose to import lower-cost ingots from other countries unless electricity incentives are offered.
There's another important point to be made about the production of ingots: an uninterrupted supply of electricity is essential. The interruption of electricity, whether due to natural disaster or other factors, will result in the permanent malfunctioning of machinery and equipment.
The difference between "Technology Provider" and "Panel Producer": It is the equipment producers that develop and provide technology. Other producers purchase this technology and employ it to manufacture panels, which they sell to certain markets. Generally speaking, the companies that provide the technology for the machinery and equipment used in solar panel factories are located in Europe. The actual production of panels has shifted to the Far East. During the presentation at the World Energy Congress, we noticed that these two concepts have become conflated. There is actually no reason for Turkish producers of panels to enter into partnerships with Far East firms. By purchasing the machinery to produce panels from Europe, production facilities with standards superior to those in the Far East can be established in Turkey.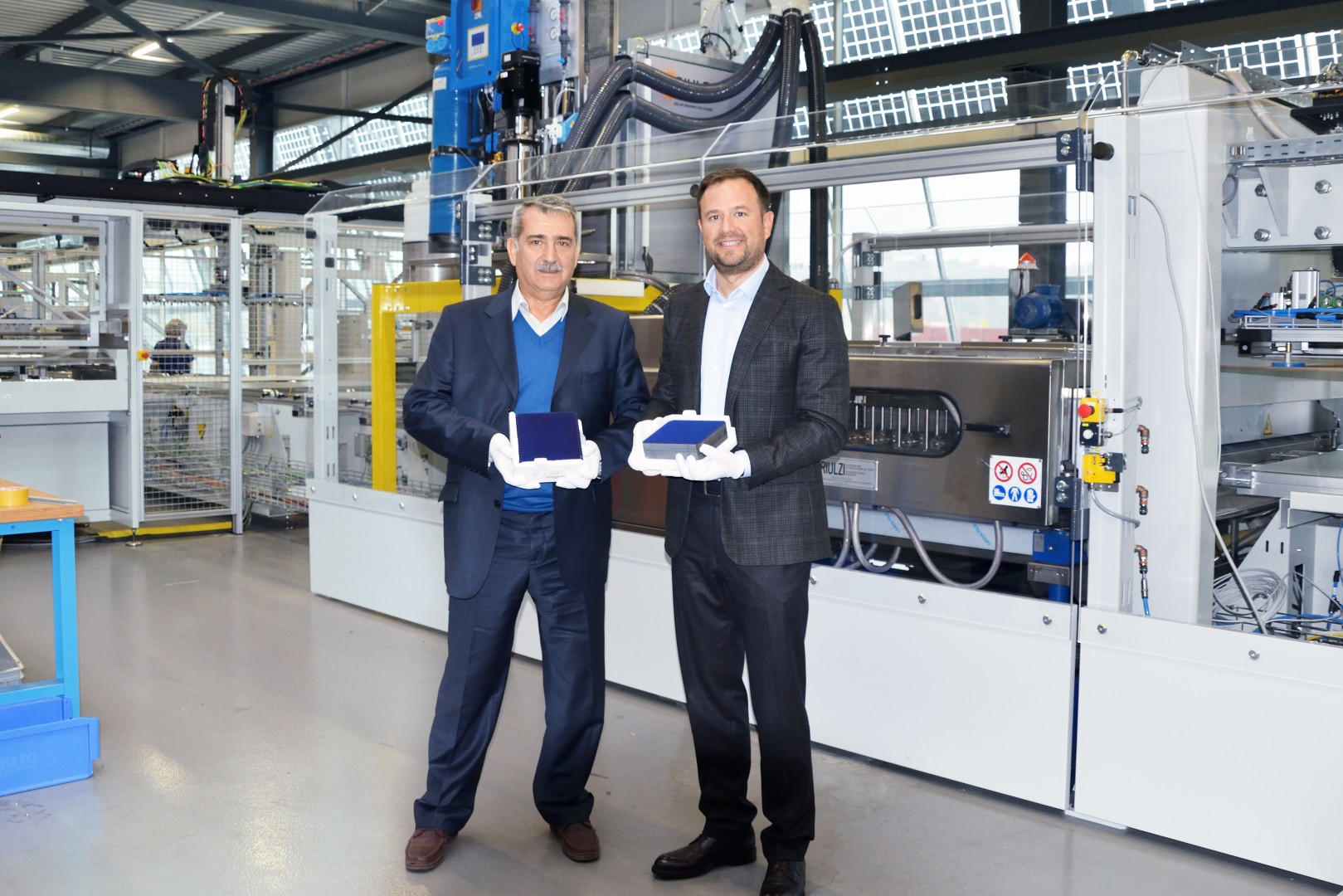 On the right is EkoRE Solar Industry's general manager, Zorlu Yalnız. On the left is Ömer Hayyam Özgüven, who is currently our project manager and who will be in charge of the factory once it is operating. The high efficiency cells they hold in their hands will be produced at the plant and are a harbinger of the bright days awaiting Turkey.

The requirement that Technology Providers hold a 25% stake: Arrangements whereby technology providers partnered with producers have been tried and found lacking. All the stakeholders in the energy sector have turned to models in which "everyone focuses on their own business." That's why technology providers do not wish to become partners. If by "technology providers" a reference is being made to manufacturing firms, we think there should not be a requirement that they become partners. The reason for that is high efficiency solar panel facilities can easily be established using the technology of European technology providers. In other words, manufacturers that are largely based in the Far East have nothing to offer our country in terms of advanced technology

1000 MW granted to a single firm: This approach is what is meant by putting all one's eggs in one's basket. Better results and greater competitivity would be ensured by having two or more different technologies and projects, particularly considering that this kind of production will start from zero in our country and in light of the future phases of YEKA.

The lack of superior standard, reliable domestic inverters: The invertor is the heart of the system and must be taken very seriously. The production of invertors is something that will no doubt interest our subsidiary industry over the mid- to long-term. However, it appears highly unlikely that an inverter of sufficient quality will be produced in our country in sufficient time in accordance with the terms of the YEKA contract. When we consider that a high installed capacity of 1000 MW is foreseen, the lack of availability of a reliable invertor could cause serious problems.
Environmental factors: This is an issue that hasn't even really been debated. Attention must be paid to environmental factors technology is produced. For example, technologies that are banned in Europe for creating toxic and cancerogenic materials should be banned in Turkey as well. Guidelines and regulations for waste disposal and the protection of underground water reserves should be enforced, not simply appear on paper.
The production of Solar Panels requires serious know-how. We at EkoRE are one of the most knowledgeable groups in Turkey when it comes to this subject. We are also relatively experience in the Solar Energy sector in Turkey. In my previous blog post I wrote about how far we have come: http://www.serhansuzer.com/tr/onur-duydugumuz-bir-yukselis-oykusu-ekore
We are prepared to share our know-how concerning the solar panel manufacturing process and to support in any way we can any organizations and companies that can benefit from our experience.
The YEKA Tender was thoroughly debated by all the sector stakeholders throughout the planning stage at two meetings, the first one held in July at the Ministry of Energy and Natural Resources and the second one at the World Energy Congress in the second half of October. It is our fervent wish that the points brought up at the two meetings, as well as the ones I touched upon, are taken into consideration and lead to revision.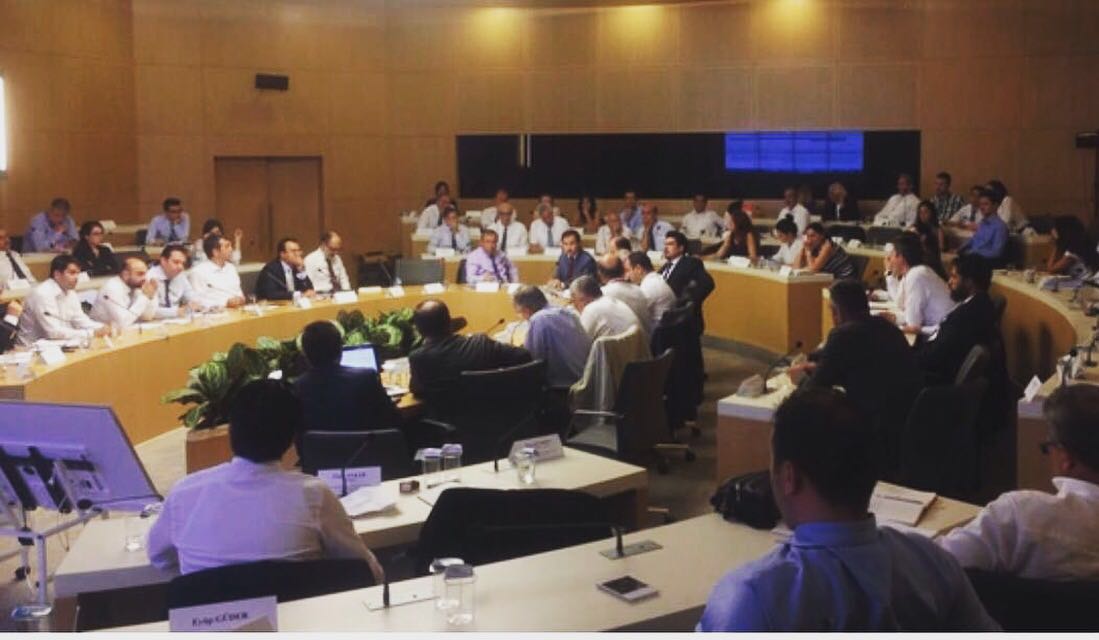 At a heavily attended meeting in July with all the sector stakeholders. You can see me in the bottom left corner.
The most advanced technology and highest output

Perhaps you already know this: before the YEKA process was announced, we had already held a groundbreaking ceremony at the Niğde Bor Organized Industrial Zone for a high efficiency Solar Panel Production facility incorporating Wafer-Cell-Module processes. Our investment process is still underway. Located on a 40,000 m2 site, our factory will employ the most efficient and advanced technology. The factory, which will be up and running in about 15 months, will create employment for 120 people, a figure that will increase significantly over time. It will adhere to a target of 100% domestic production. Through R&D programs that will go into effect once production is underway, productivity, equipment optimization and the made-in-Turkey ratio will increase to higher levels daily.
Additionally, the first stage in our 31 MW renewable energy investment took place last week with the opening of our 4 MW facility in Konya Kulu. Next up are projects in Akören and Osmaniye, which we plan to complete this year. It is a wonderful coincidence that our first large facility s located in Konya. May things turn out equally well for YEKA.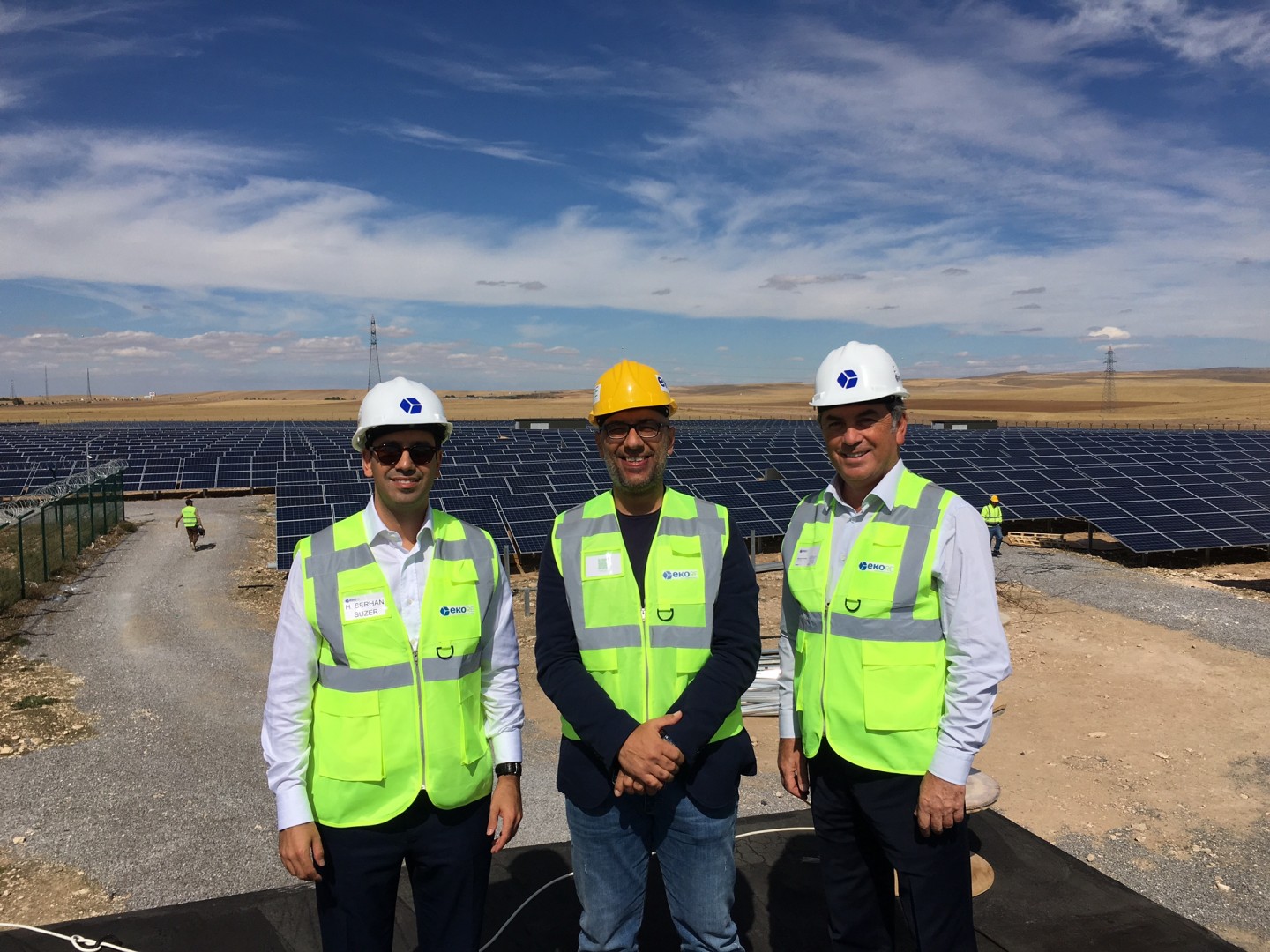 A visit to a facility at Konya Kulu. From right to left, EkoRE Solar General Manager Oğuzhan Haznedar, the person responsible for securing financing for the project, TEB Kozyatağı Branch Manager Murat Ersensoy, and me.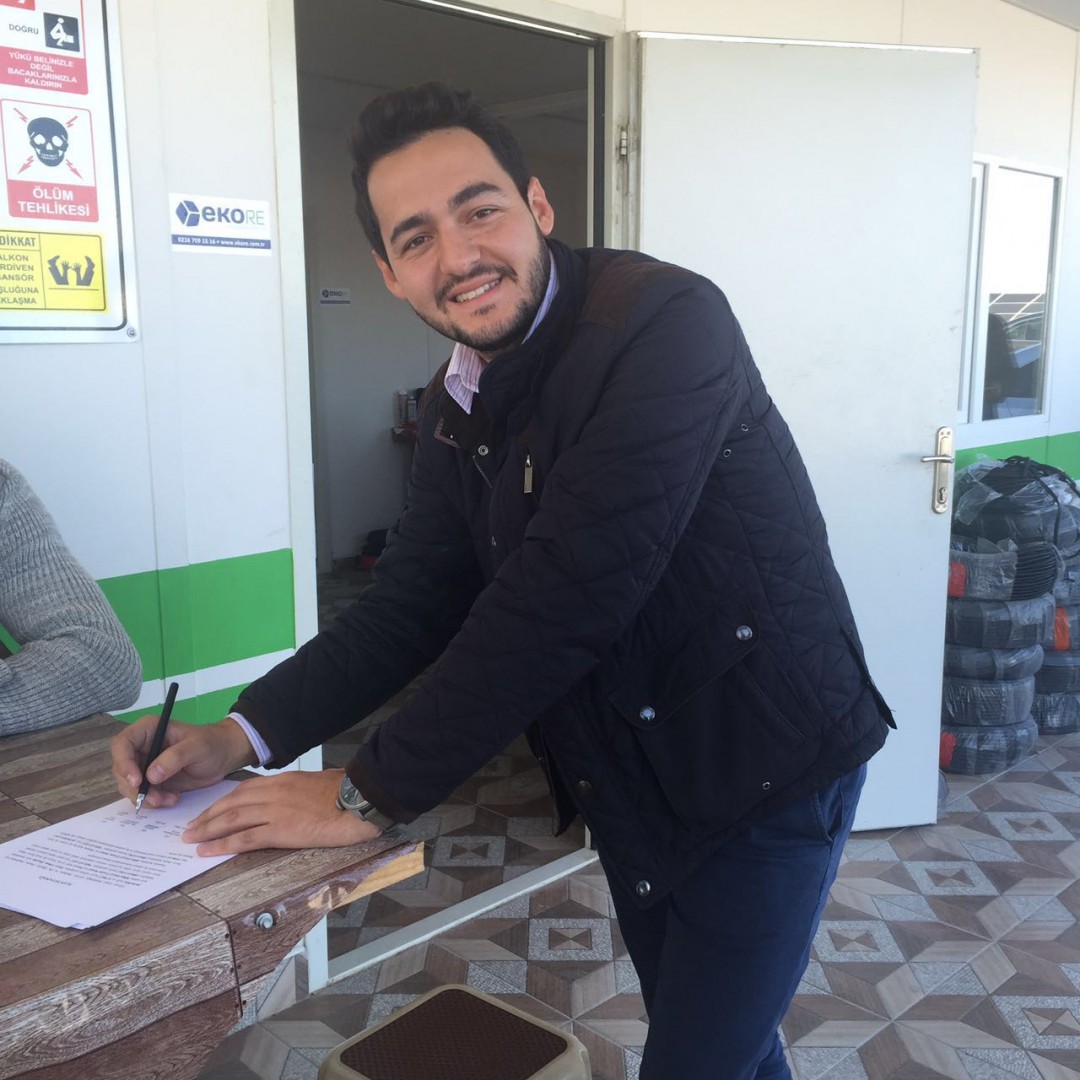 Interns who will go on to become engineers form the backbone of our company. This is a photo of Alaattin from İTÜ as he signs his "commission" papers on behalf of EkoRE at the Konya Kulu project.
We at EkoRE have ambitious targets, such as producing high-efficiency panels in Turkey, selling them on global markets and helping to install them in various countries. In other words, we at EkoRE aim to become a global brand in renewable energy. Being awarded the YEKA tender would hasten the process by which we become a global player.
Stay well.
Tag: ekonomi