Those running towards wellness worked wonders once again!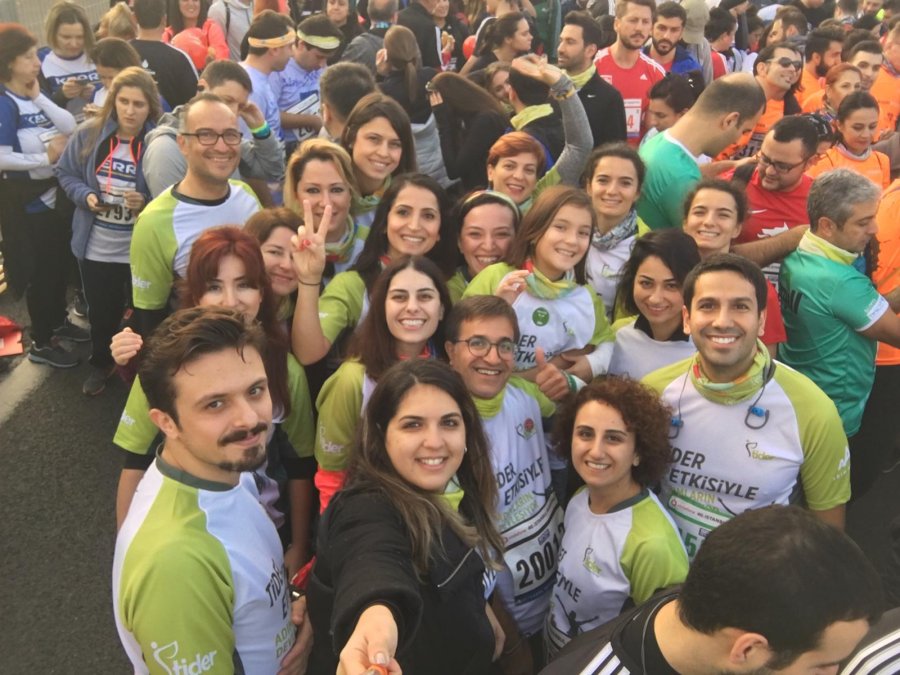 Last week, I wrote about the new campaign we launched for the Basic Needs Association for the Istanbul Marathon. This week I will share the joyful and interesting moments I experienced during and after the run on Sunday, November 11, and will also share the link of our donation campaign.
For those who do not know about the Istanbul Marathon and our campaign, you can visit and read about it at this link: https://serhansuzer.com/en/were-running-together-towards-wellbeing-at-the-istanbul-marathon
On the morning of the run that took place last Sunday, living on the Asian side meant it had its advantages and I was able to leave my house at about 07.15am. I got dropped off near Altunizade. The police had cut the road off before we could come to the Altunizade turnoff which meant no runners could get through. We waited 15 minutes for them. Then the crowd started to get a little rowdy and were screaming out "Why aren't you letting us through?" and after the crying and complaining, the police opened up the road and we all quickly went to the arena. Soon after, I found the TIDERIANS. The chats we had before the run was as fun as always. These are the photos we captured: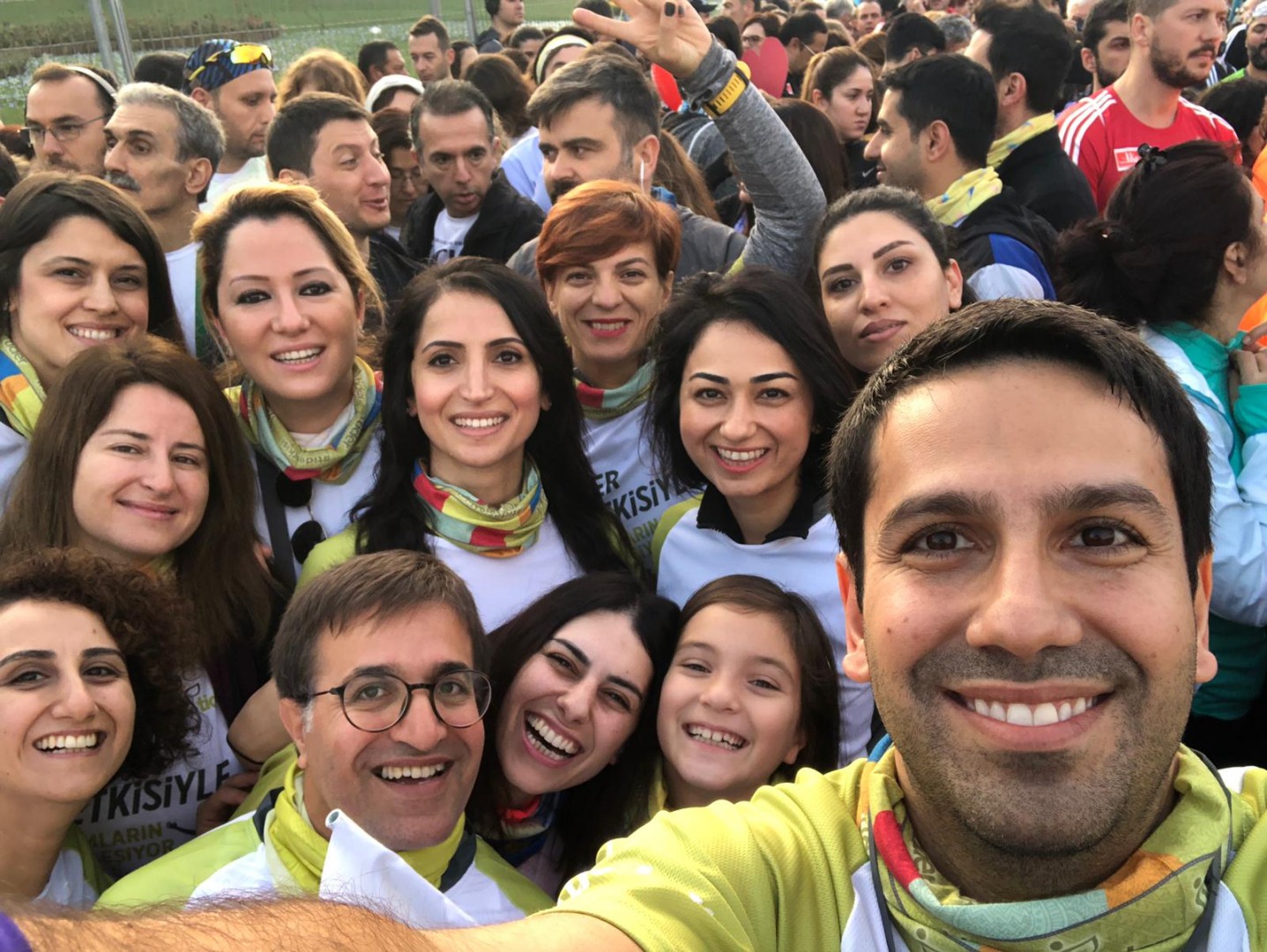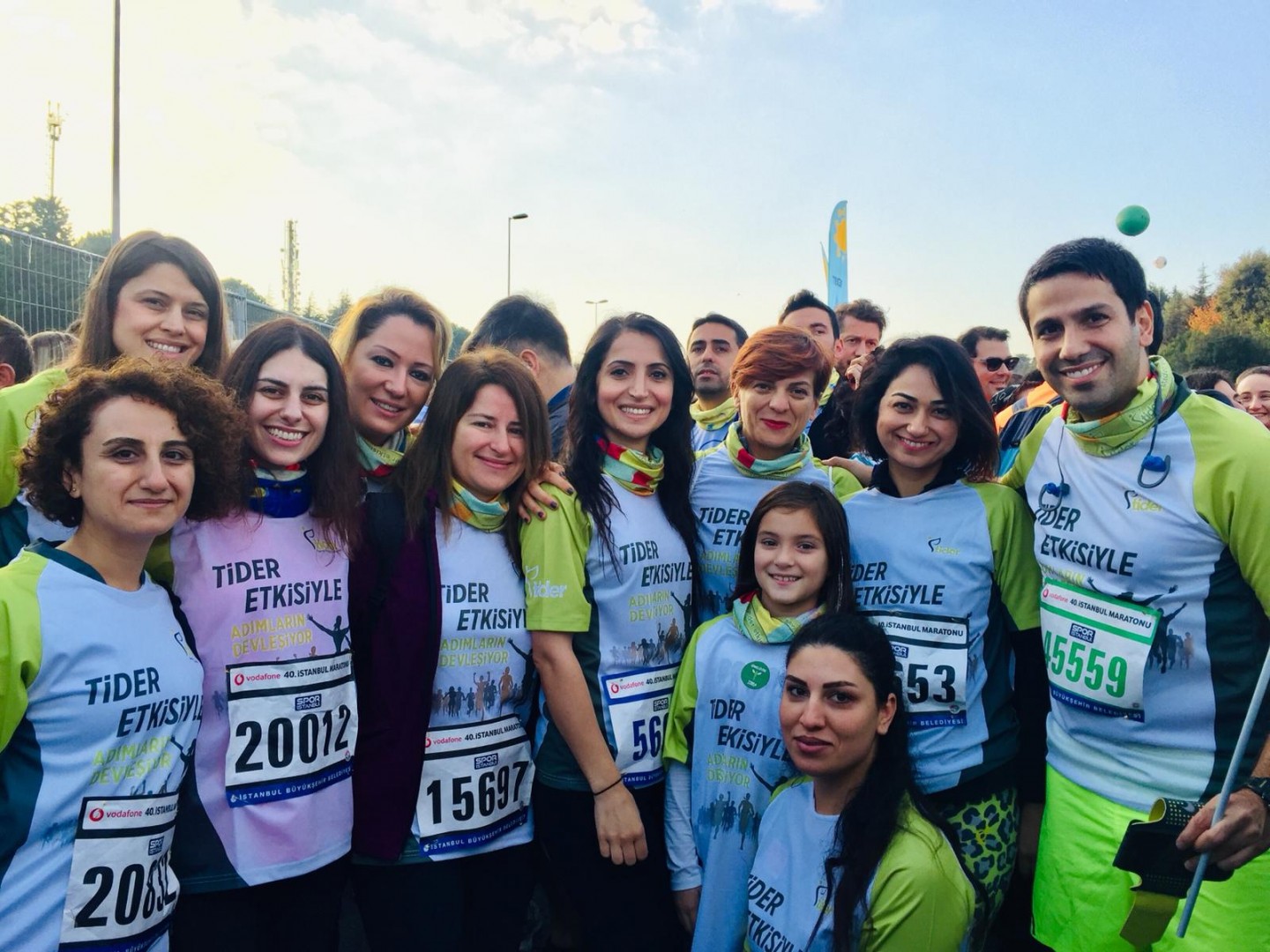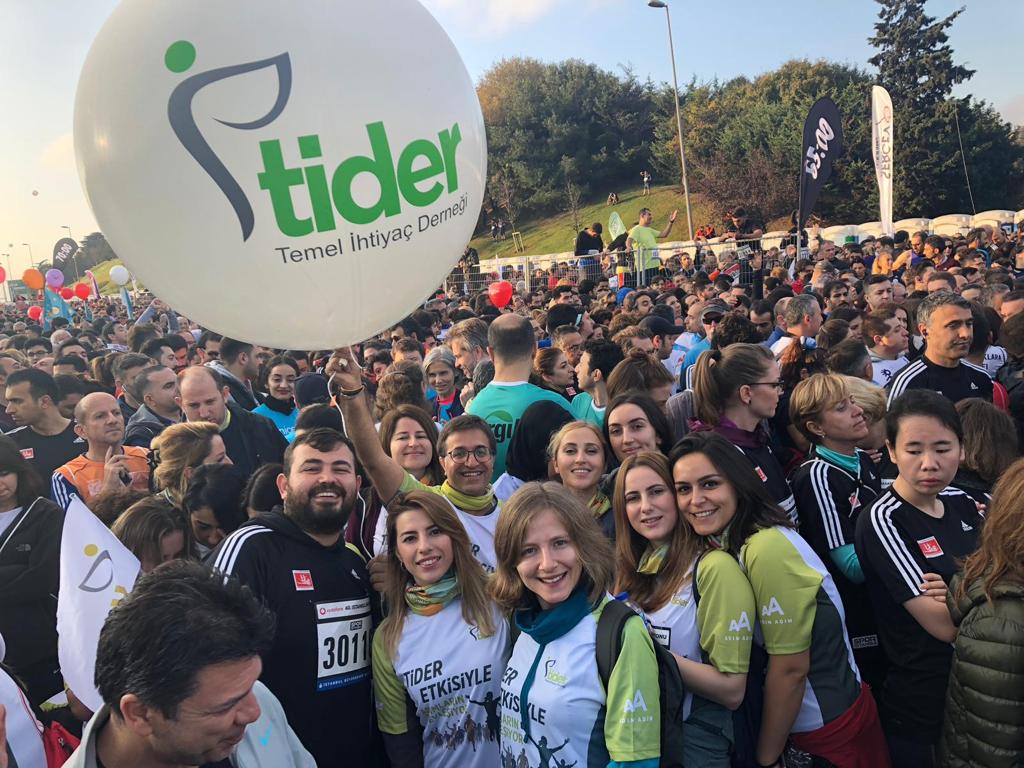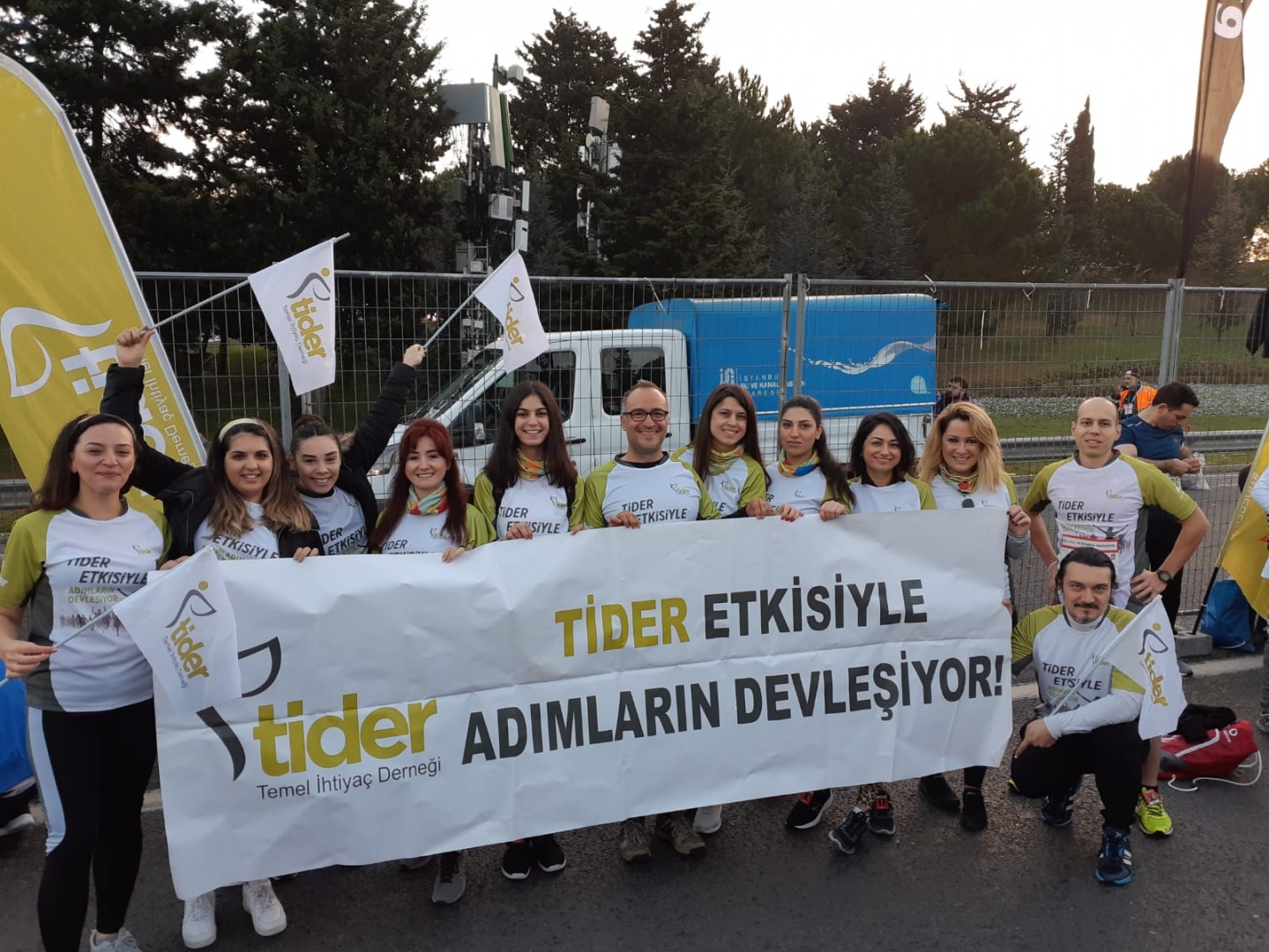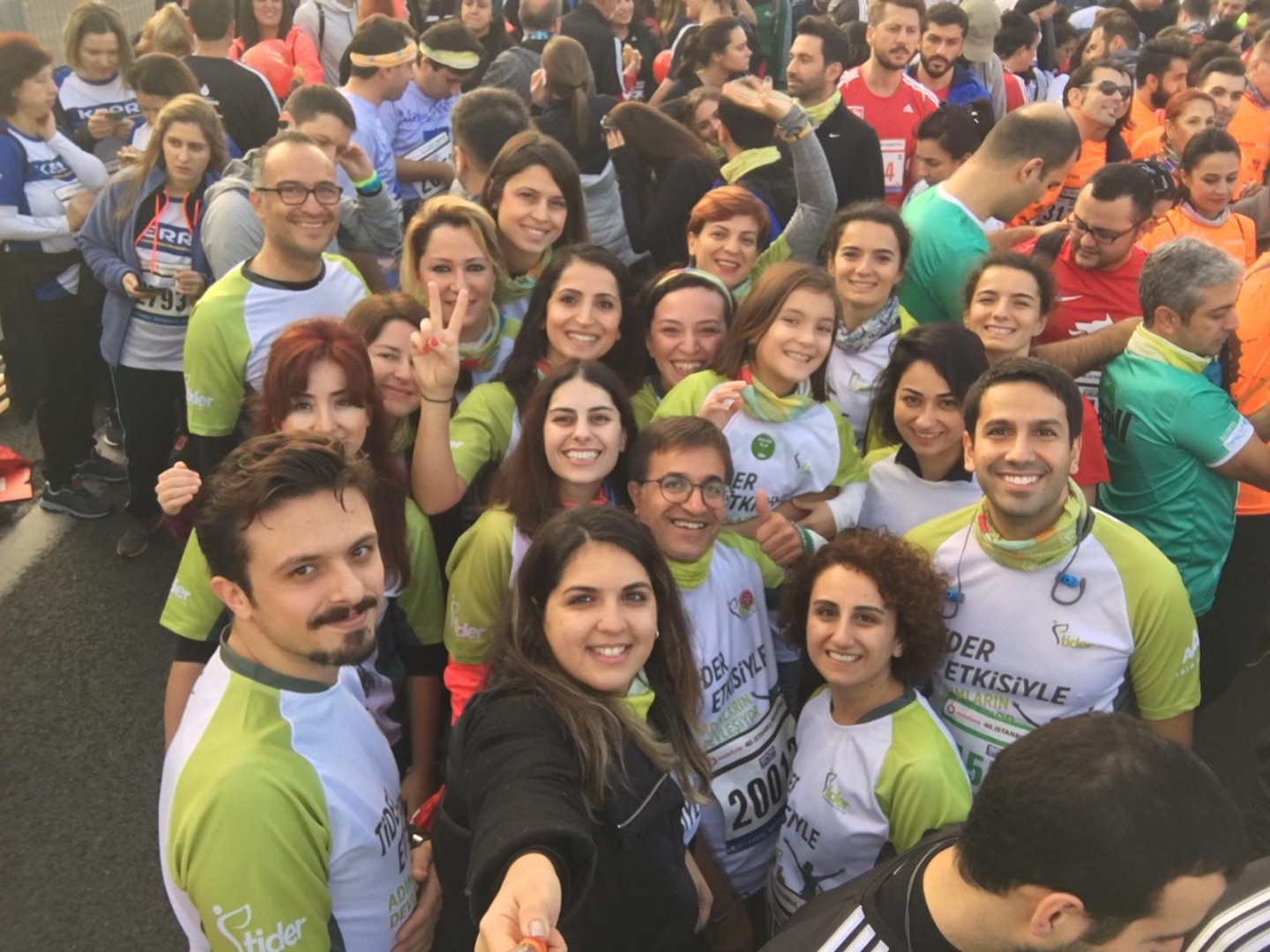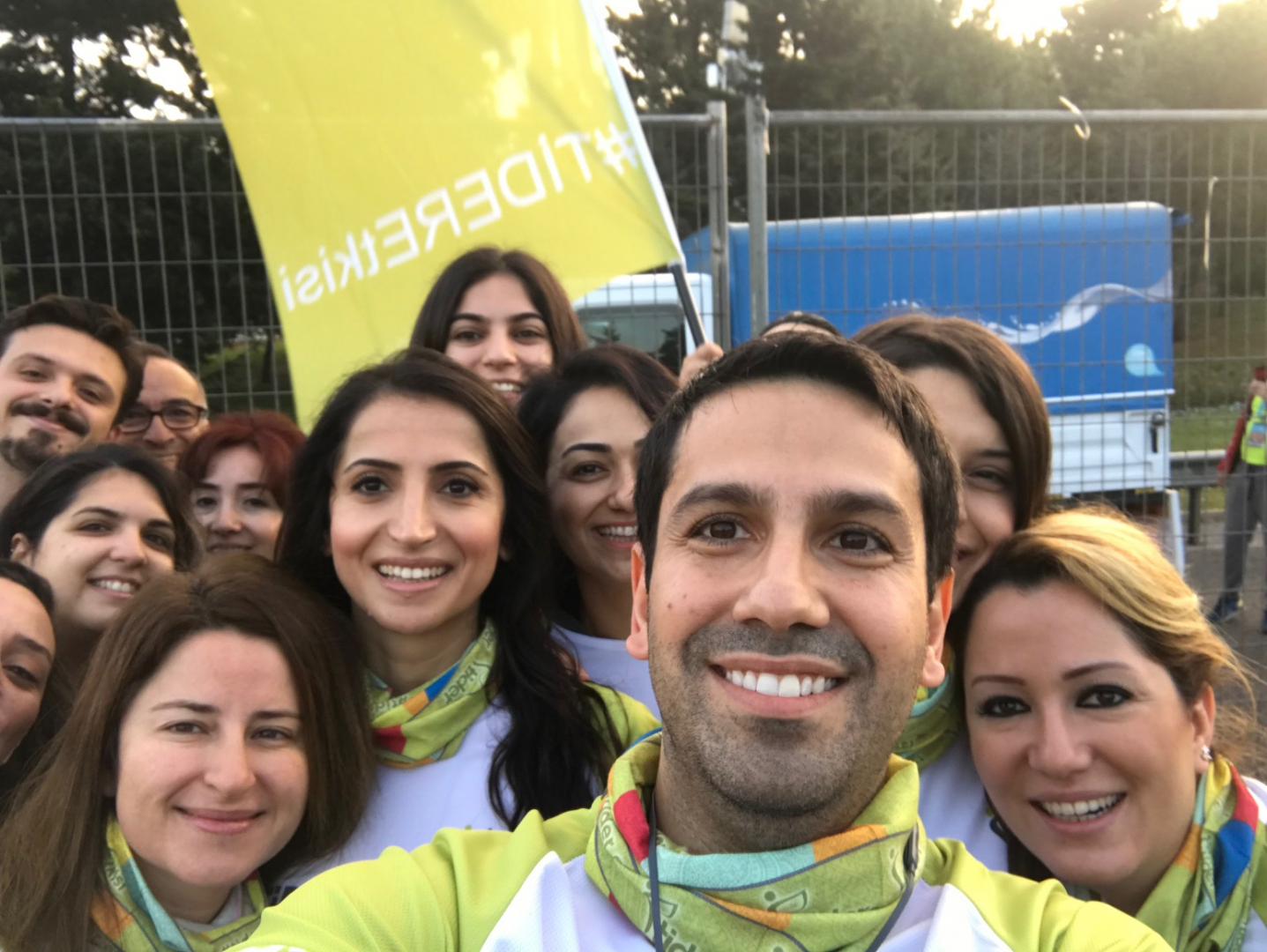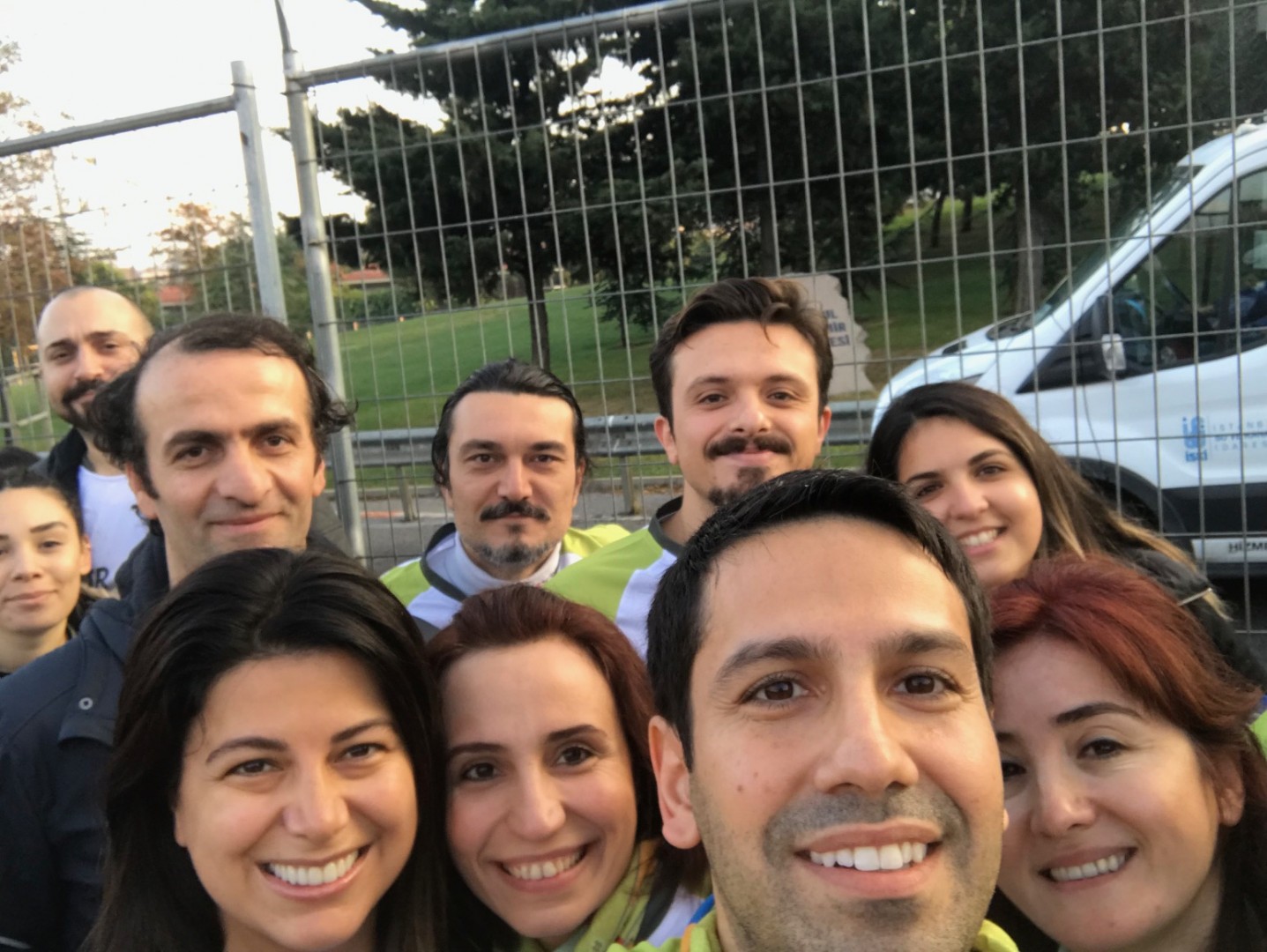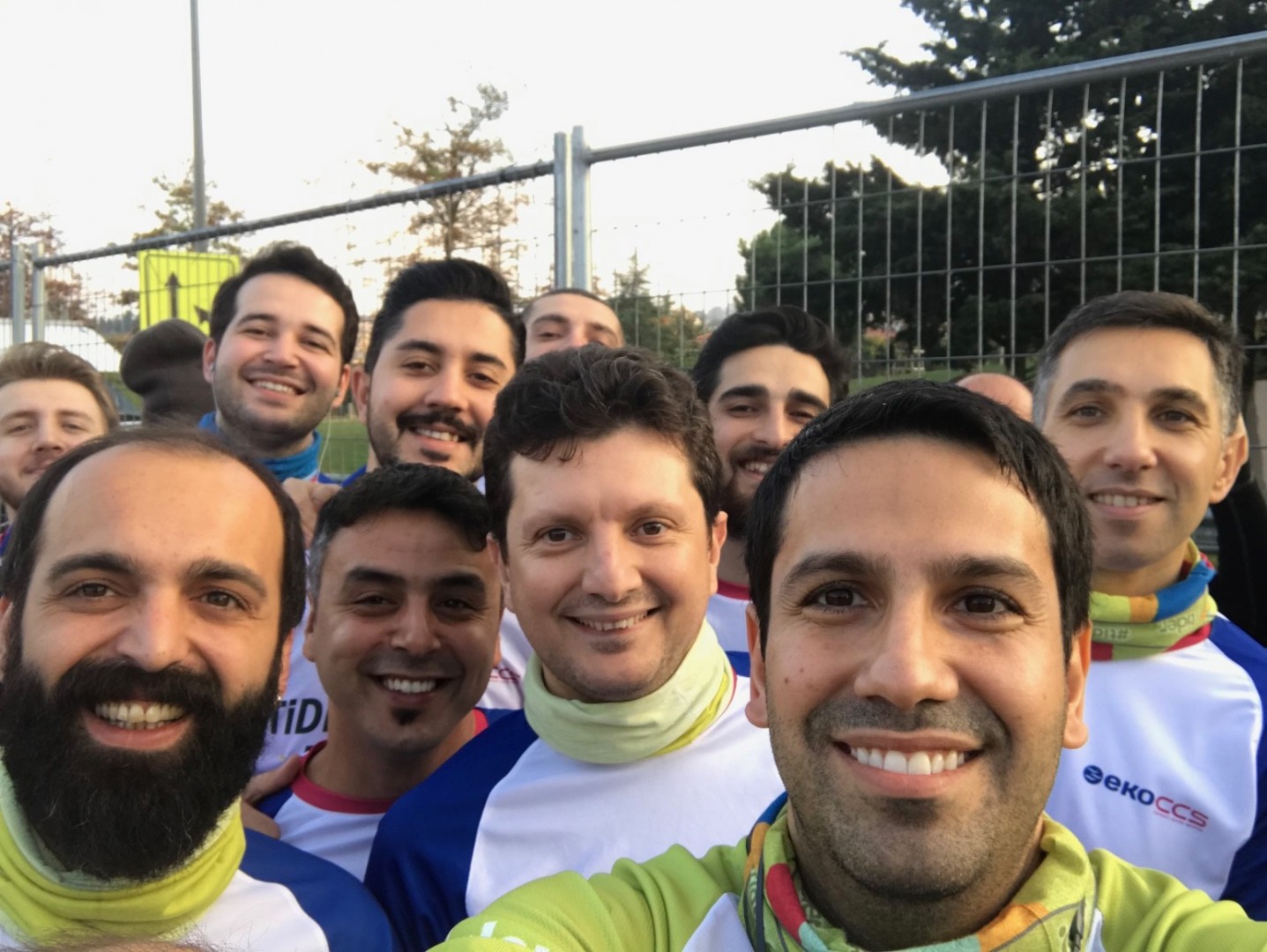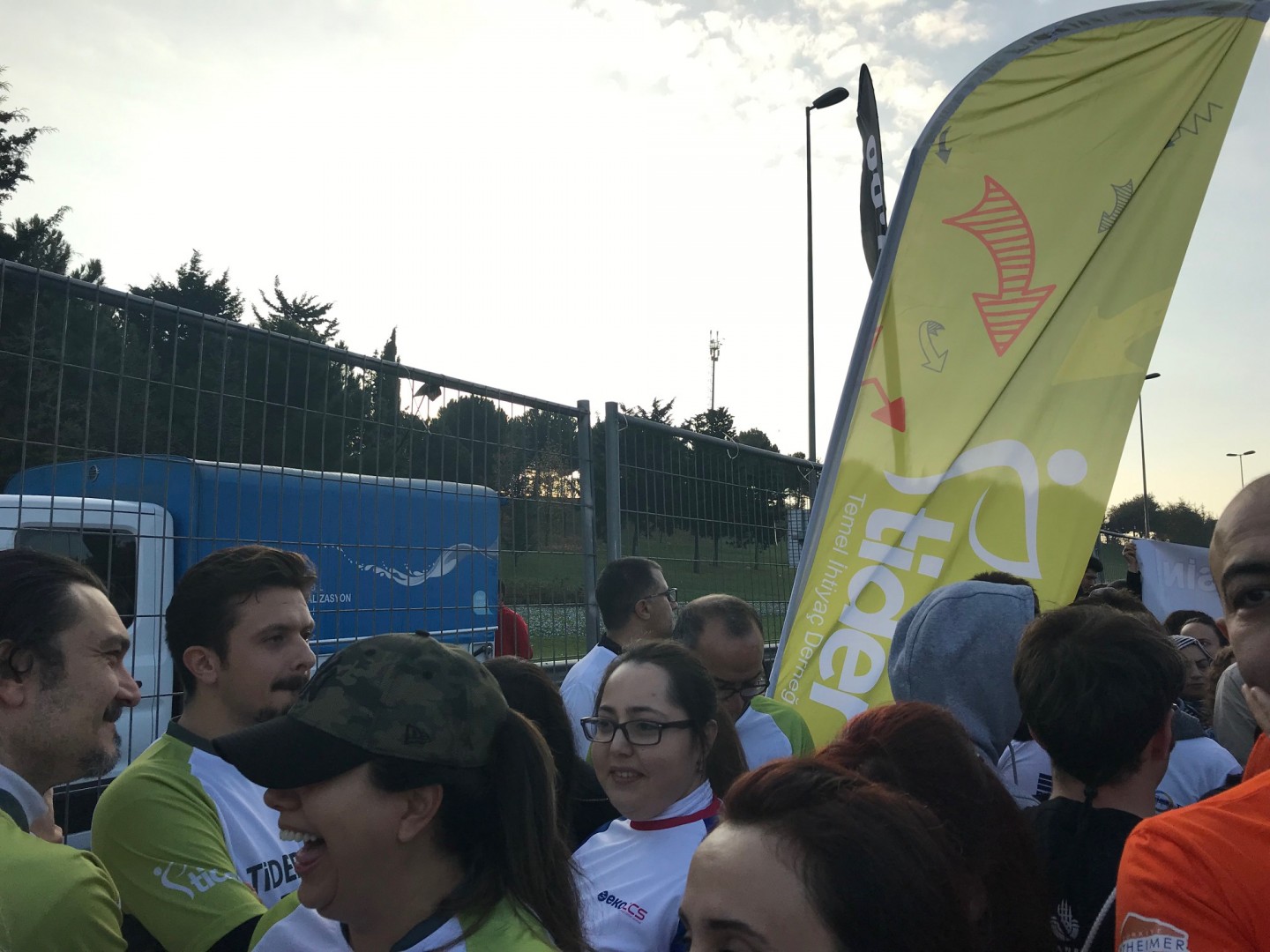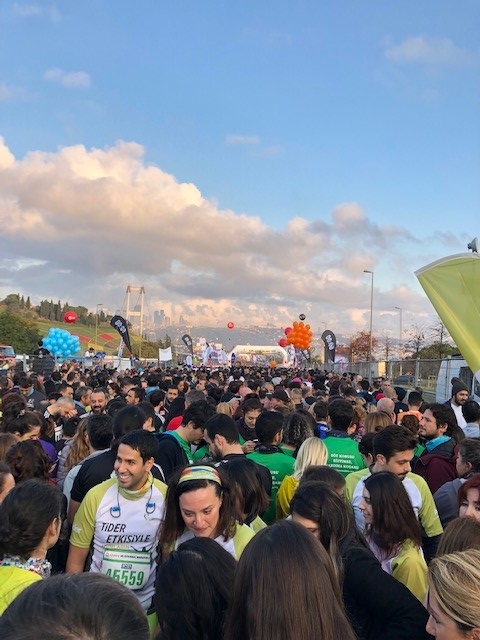 This photo was randomly taken by my neighbour who raised their hands up to get a photo of the crowd. Noticing I was in the photo, they then sent it to me.
Meanwhile, the Anatolian side of the bridge was getting crowded very quickly. The marathon runners started when the clock hit 9am. I then left the cheerful crowd and chatter and resumed and headed towards the start line of the 15km run. Of course, it was impossible to walk where I was. The road was chock-a-block. Someone who saw me trying to reach the area of ​​15km runners from the 10km starting point screamed out; "It's impossible to proceed from here. The only way you can get to the 15km area is by the side of the road".
Getting past the barriers…

I looked up and realised that the man was right and said to him, "sounds logical" and instead of going ahead, I began to walk towards the barriers. There was one problem though. I had to cross about 3 meters of barriers to get to the other side of the road. What do you think an entrepreneur like me did?
Of course, I had to find a way to cross the barrier. And I did. When I got closer to the barrier, I realised that there was a structural problem and if I tried to jump over it, I wouldn't make it, so I asked the runners on the other side to hold both sides of the barrier. They said, "No worries we'll help you, but make sure you're careful, the distance is quite high and there is no place to climb". And I just told them to, "Hold the barrier and leave the rest to me." When they replied with "sure", I started to climb.
Although I wasn't fit like I used to be, I was confident to climb as I had a lot of experience climbing mulberry trees in my childhood. There was nowhere to put my foot on, so I pushed my hand to the top by pressing and jumping sideways and I pulled myself up. When I got to the top of the barrier, all the runners in the area were looking at me. Every climb has a descent. I turned myself over the barrier and then I jumped down. "Voila!" I managed the whole process successfully without any injuries. After I thanked the athletes behind the barrier that held it for me and I went to the 15km area.
At this point I realised I had progressed quite a bit. When I turned to the entrance from the side, the woman there looking at the colors of our numbers pinned on our t-shirts said, "Sir, this is the area of ​​the marathon runners, yours is the public fun run" (instead of the 15km running area, I came to the area of the marathon runners). My assistant had bought the 15km run for me long before, however somehow, I was accidentally given the kit for the public fun run. I had however set myself up for 15km run. So, I found the entrance to the 15km area at the back. Right before entering the area, I came across some friends from Adim Adim. We took a selfie together.
Then I took my place within the crowd of the 15km run area.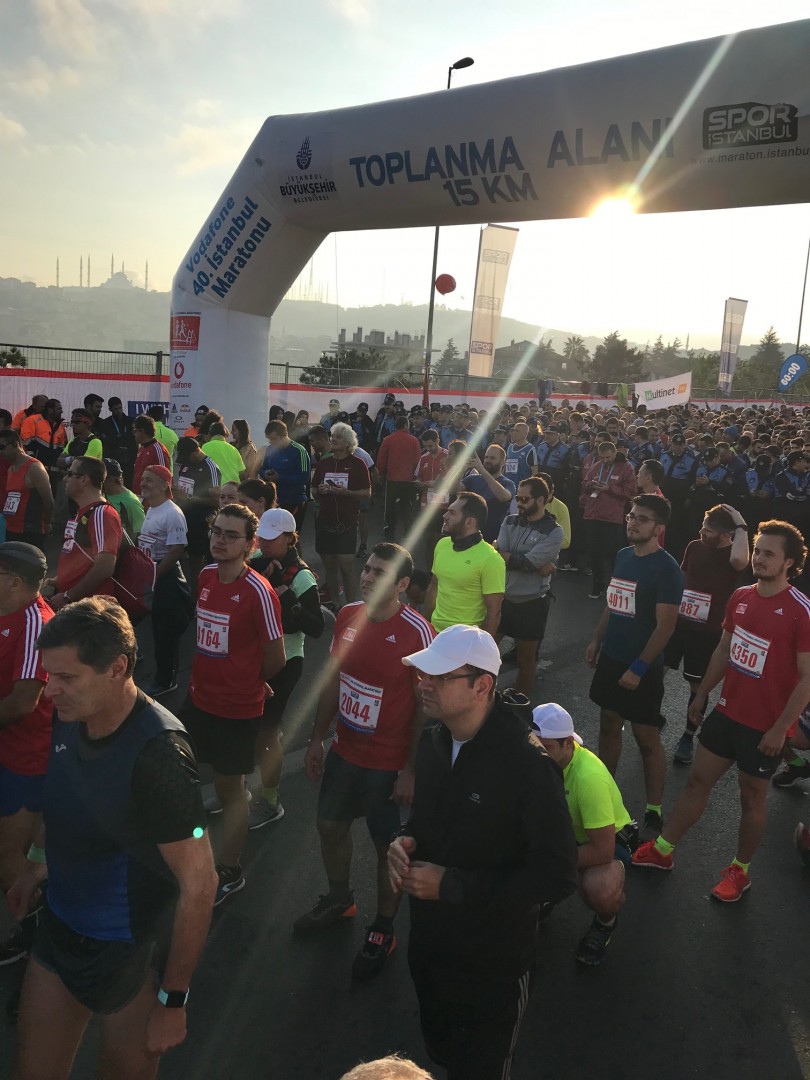 Then the race started…
Making foreign runners feel at home
I was able to hold my tempo. I met some very interesting people during the run. I first came across the Spaniards. I asked them in Spanish "Where are you from?" and they replied, "from Madrid". They then said, "We were actually going to run among the marathon runners, but it was too crowded, we couldn't move, therefore we started at the 15km area" and continued to ask, "Would this be a problem?", to them I replied, "It doesn't matter how you start the race, it's important to start and actually finish the race, so it won't be a problem". They said thank you. They asked me where I learnt Spanish. When I said that I was Honorary Consul for Costa Rica, they said "Pura Vida!". I smiled and replied with the same "Pura Vida" and wished them a nice day. After I thanked them, I sped up my tempo and broke away from the crowd.

Further up, I met a Jamaican. When I saw the flag of Jamaica on him, I asked "Everything irie man?". In Jamaican jargon that means "Is everything okay, everything all good?" When he replied, "Yes, everything irie man," I replied with more Jamaican jargon and said "Ya man.". This surprised black runner, looked at my face while smiling and said, "Thank you brother". Whilst enjoying the happiness of making guests feel at home, I wished him well and accelerated further.
Again, ahead of me, I met the South Africans. Two white runners were running with the flag of South Africa. To them I said with a smile, "This isn't anything like Table Mountain, is it?". They were really surprised and replied with laughter "Not at all". I then continued to say, "But there are so many good things about this place" and then added "For example you started this run on the Asian and now you are on the European side. How delightful, isn't it?". They answered with, "Absolutely", and continued to ask, "Where do you know our country from?". I replied that "I visited Cape Town in 2010 for the World Cup". They were quite excited about this. "The World Cup was a fantastic event, wasn't it?" they asked and I replied with, "Yes, it was very pleasant and you have a very beautiful country". After wishing each other mutual best wishes, I increased my tempo and broke away from them too.
CSO Solidarity at the Istanbul Marathon…
The thing that I liked most during the run was that all kinds of CSOs gathered near the running track and supported the runners. In fact, some CSOs and companies even incorporated music bands at the event. There was a carnival like environment. During the run, I tried to run mostly from the right side. I celebrated with every CSO I saw and gave them all "High fives!". To be honest, I was really delighted to see that everyone knew who TIDER was and how they embraced it. The efforts we made since 2010, had started to come to fruition. Moreover, this was the reflection of the cooperation of TIDER and other CSOs solidarity that we started at the beginning of this year.
Here is a photo and video to show you this: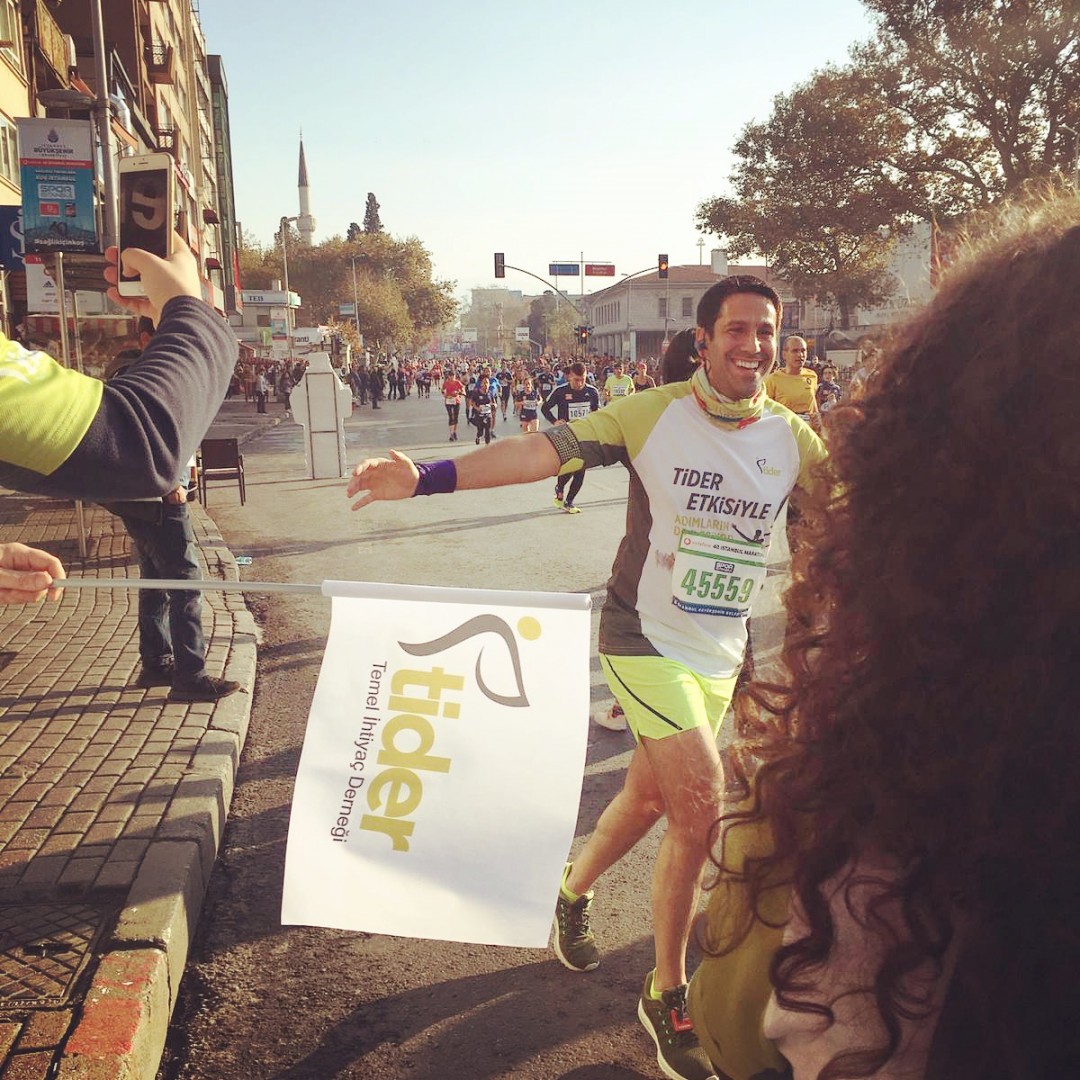 A Tesla conversation with Serbian runners
This time I came across three women who were wearing T-shirts that wrote "Tesla" on the back. I asked them in Turkish "Has Tesla come to Turkey?". They looked at me all weird and then advised that they don't understand Turkish. Then I repeated my questions in English. They said, "We're from Serbia, and are wearing these t-shirts because Tesla is from Serbia". Then they started to tell the story. But I interfered before they continued and said, "I already know the story, you don't need to tell me". I said that Tesla has accomplished many great things for humanity and that I appreciated him very much, and that he was a very precious personality and that they should be proud that a genius like him has come out of their country. They smiled and thanked me. It was time to part from them. I said good-bye again and increased my running tempo.
These were a few examples of as many as ten foreign runners I chatted to during the run. As a result, without losing my tempo, I experienced a comfortable rate of running whilst having conversations with other people (of course I was resting at those lower speeds). I finished the 15-kilometer race at a comfortable pace in 1 hour and 15 minutes.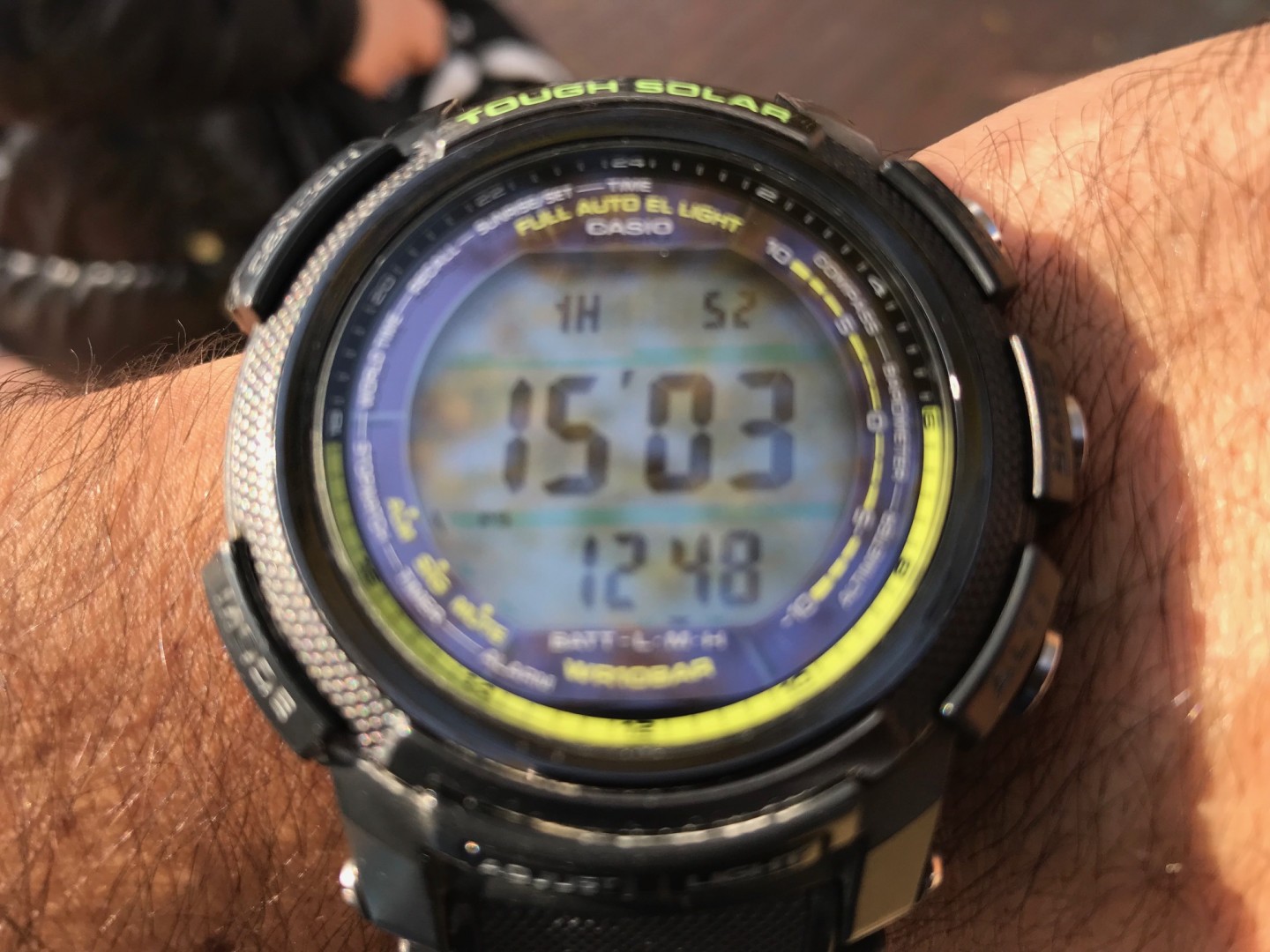 The image of my chronometer watch right after the run
A bagged runner and medalist amongst the marathon runners :)
The finish line of the race was this time further down Yenikapı. In previous runs, Eminonu was the point where you'd pass, do a round and come to as the finishing line. The 15km finish line was generally close to the 10km finish line. But because our TIDER volunteers and professionals were waiting at the 10km finish line, I had to run back another 6 kilometers in order to meet them. So, after I received my medal and my backpack at the finish line, I was on my way back. But this journey felt like it was not going to end.
That's why I started running at a light pace with my bag in my hand. At that moment, the marathon runners began to pass me by. After a while, as I was curious to see the speeds of the marathon runners, I began to run alongside them. The funny thing was that I had already had a medal around my neck, and a bag in my hand which had bananas, water, chocolate and a raincoat. So, I was running with marathoners on the other side of the road with a back pack. After running this way for about 1 minute, I noticed a photographer who jumped over the roadside barriers coming towards me. He was obviously trying to capture the person who was running with the back pack alongside the marathoners and was going to do anything to get the photo. Although I insisted and said, "don't take it, don't take it", they didn't listen to me and just as they crouched to take the photo, I quickly put my back pack on my back and simple smiled. The photo was very funny. Then I stopped every now and then and took selfies with the beautiful backdrop.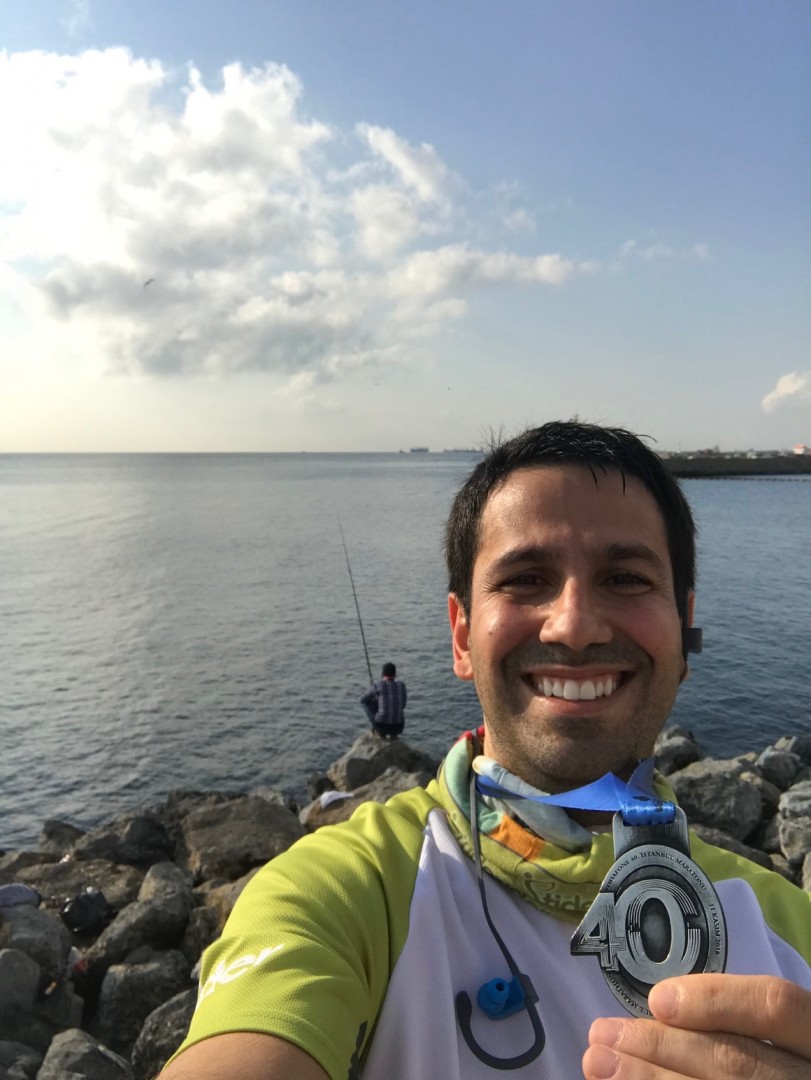 The joy of fish bread

I had also taken some drinks from the Redbull stand which I was sipping while I was running. Those who watched the race were looking at me with a smile. I came across some acquaintances on the way back. As a result, I ended up running more than 15km as I had ran a further 6km to return to the 10km finishing line.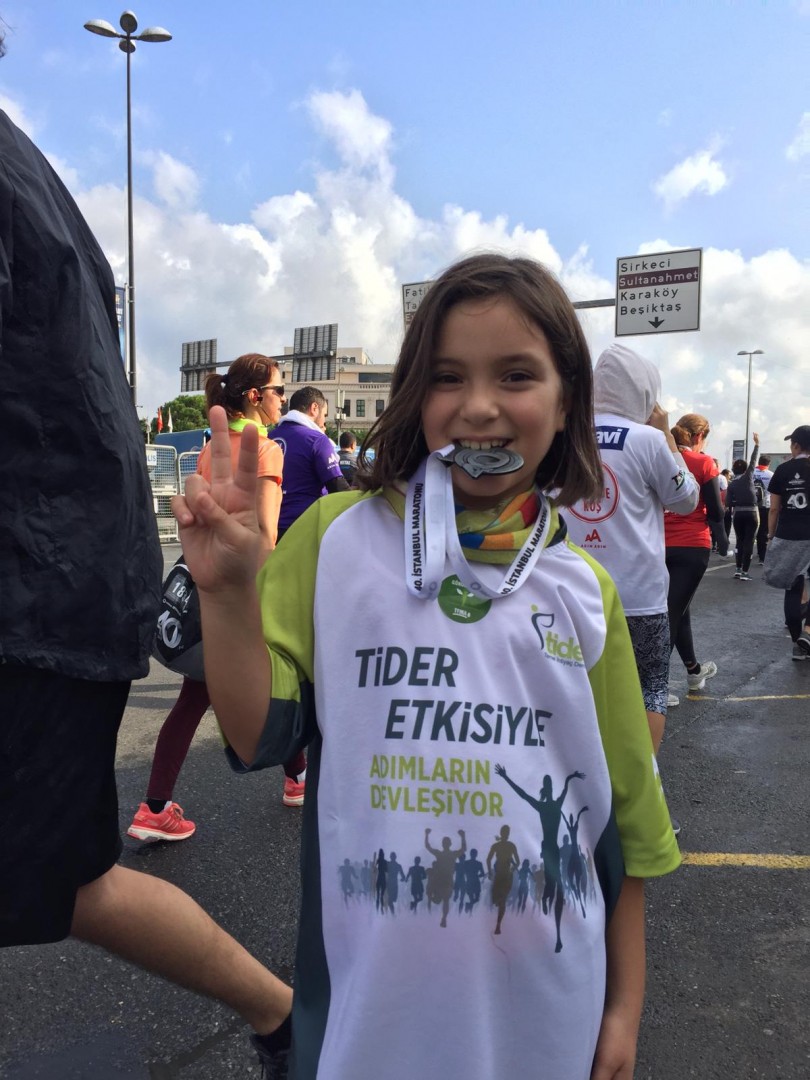 This is Pinar's daughter Defne, who is TIDER's representative from Adim Adim . This cute and athletic girl like her mother, was very happy with her medal after completing the 10km run.
I saw the TIDER volunteers and professionals who were waiting at the finish line and said "We've come to the end of the race, let's go and eat fish bread. After the last volunteers arrived, the group was divided into two groups. Some of them joined me to eat fish bread and the others went to Karakoy.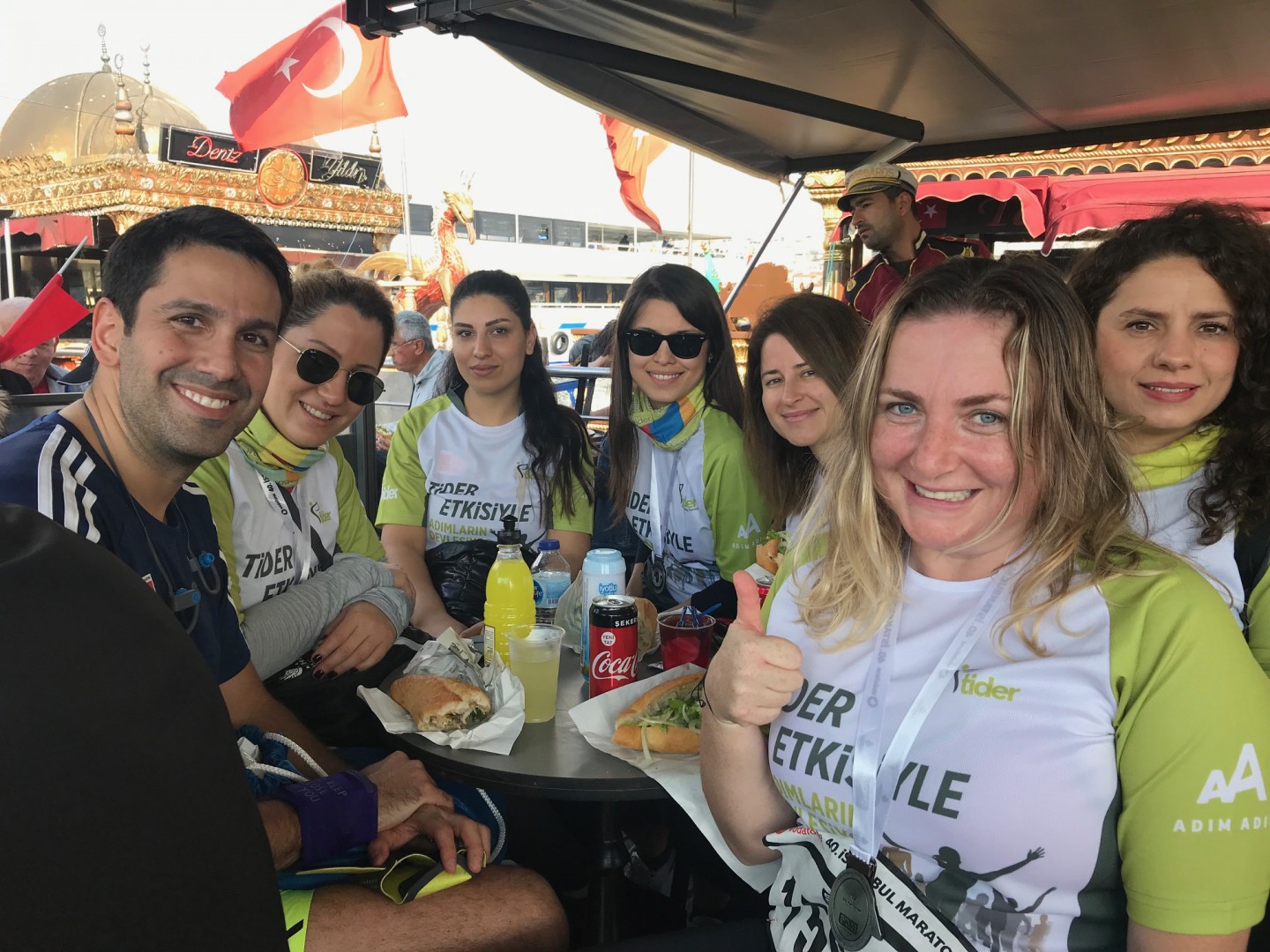 After eating our delicious fish bread, we headed to the metro station. I would like to share some photos we took on the bridge where the metro is located.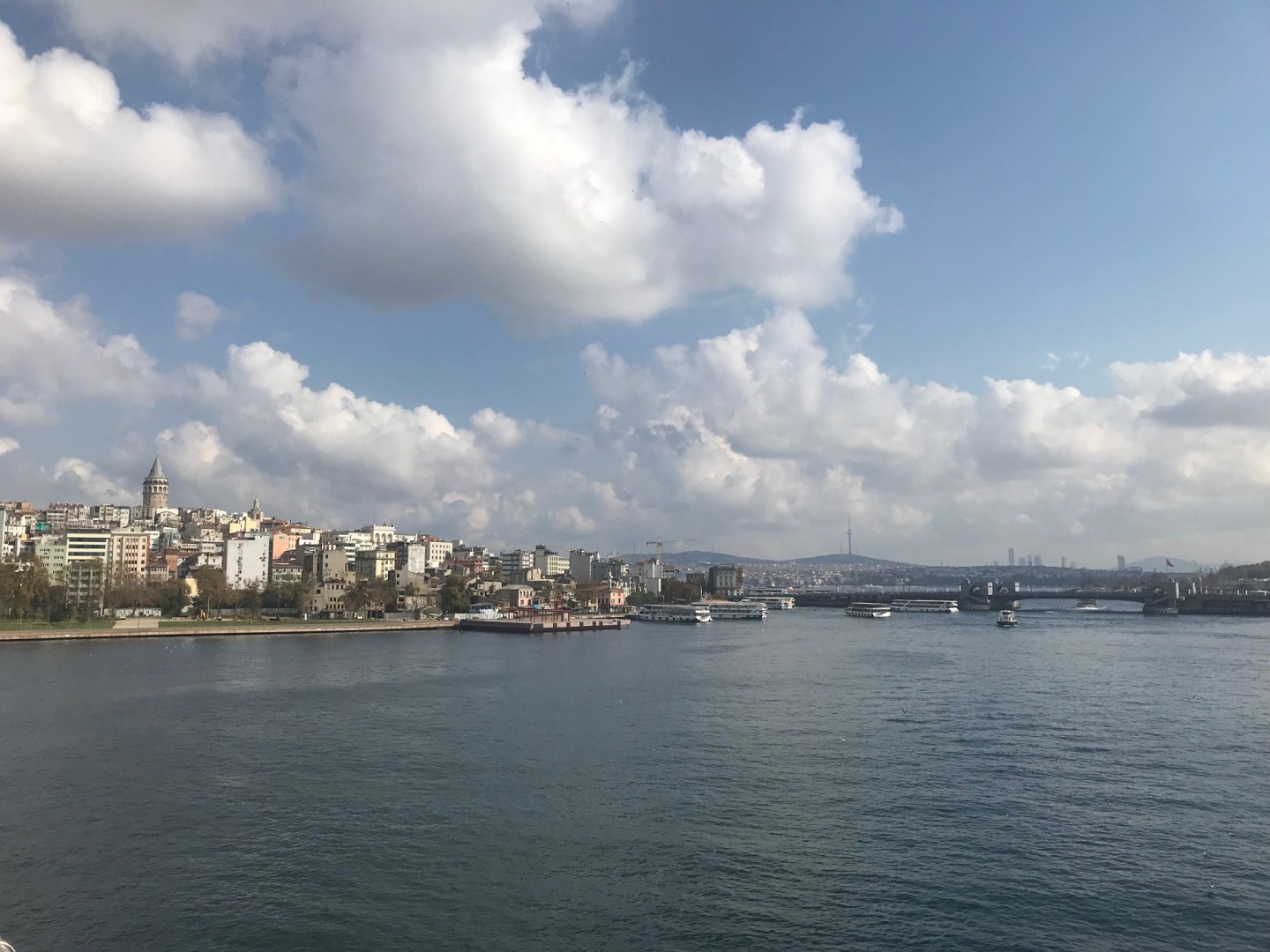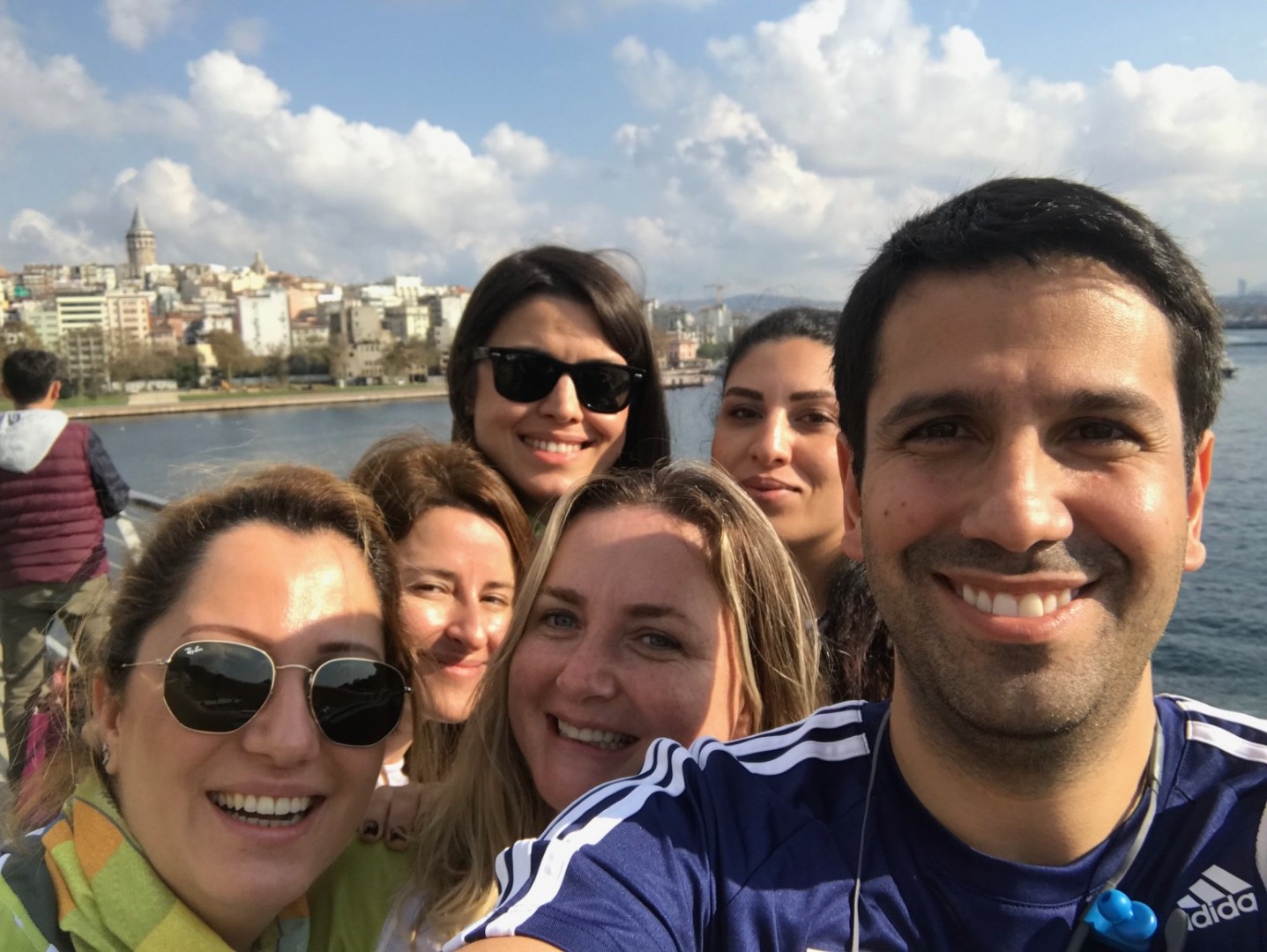 Another thing I liked on the way back was that there was no charge for tickets on the metro for the runners. The authorities there let us all in for free. I got off at Taksim station and went to do stretching and strength training in the Ritz-Carlton's gym. I had my shower and continued my day.
The main aim of our campaign
All this effort was for one purpose. We had a really nice time with some very nice people. I ran the 15km and 6 extra kilometers without any training, but the main purpose of this was to take another step towards spreading TIDER's model all over Turkey. We are doing the best we can and invite you, our friends for support.
If you still don't know about TIDER, I recommend you read the article at this link https://www.serhansuzer.com/en/basic-needs-association-understanding-tider
You can also support us through this link: https://ipk.adimadim.org/kampanya/CC35484. I would like to thank you in advance from the bottom of my heart.
Take care.
Tag: sosyal sorumluluk