To love animals and all living creatures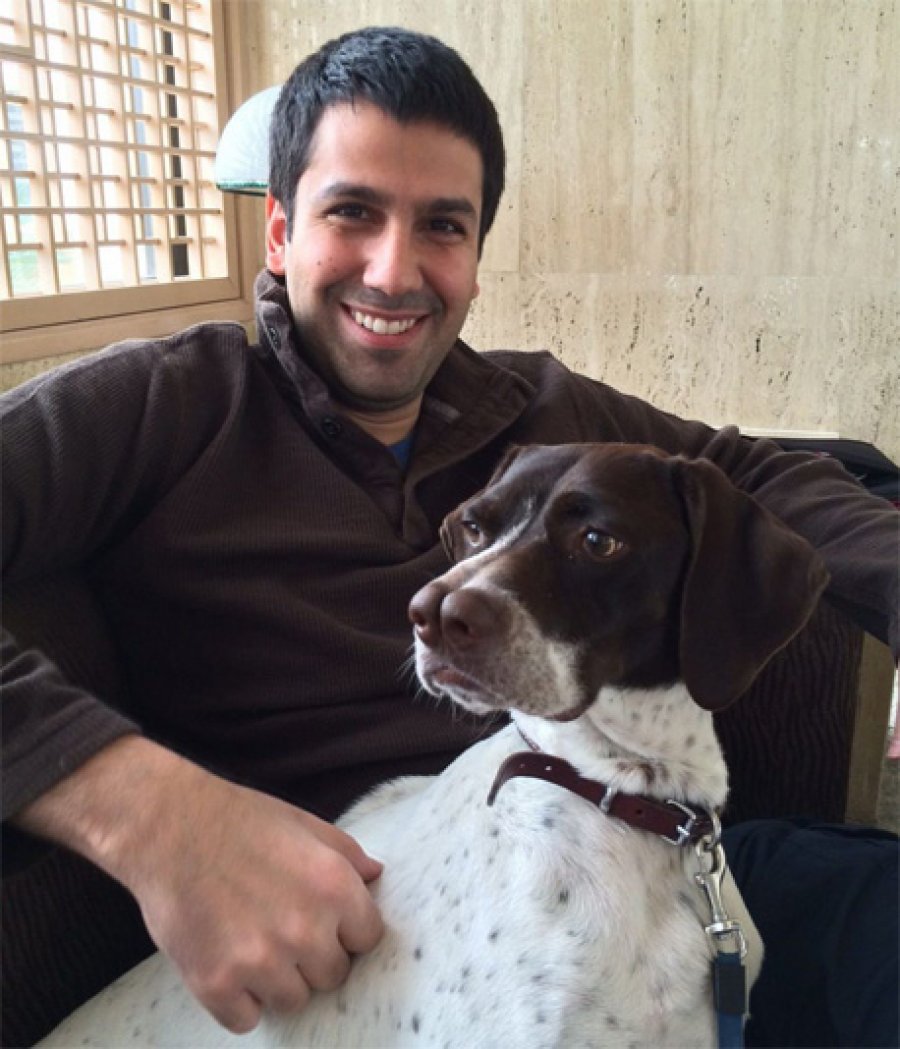 On the 4th of October, we celebrated World Animal Day and subsequently, whether it be for personal reasons or in my work-related life, I adopt an environmentalist approach with much sincerity and wanted to share with you my thoughts of the importance of protecting our green, along with animals and the importance of loving all creatures.
You can find the related content regarding Word Animal Day with further information on the WWF website:
https://www.worldanimalday.org.uk/about_us
At this link, you can find the below information regarding World Animal Day:
4 October World Animal Day and why it's important?

We need nature and its diversity in meeting everything necessary for life. Our life depends on the extraordinary variability of plants and animals, the places they live and the environments in which they live. However, this diversity is under threat as our demand for natural resources is constantly increasing.
Today, 7 billion people live on earth. In 2050, this figure is expected to be close to 10 billion. People are multiplying, but the situation for living species outside us is the opposite. Rapidly growing population, construction, destruction of natural areas, illegal hunting and trade disrupt the balance of wildlife, and the creatures of wildlife are drifting into a disappearance. In summary, as we multiply, the number of other living things we share in our world is rapidly decreasing.
There are many other species that have not yet been explored about our planet and the diversity it hosts. But one thing is clear: we are losing our current values ​​rapidly. Therefore, the 4th October World Animal Protection Day is very important for us to remember that not only the animals we see, but all the animals that exist on the earth have the right to life.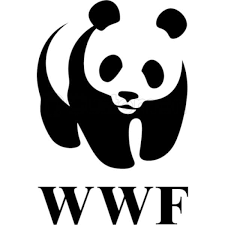 What is the status of species in the world?

WWF; The Living Planet Report uses the Living Planet Index to monitor biodiversity. The Index, which has examined more than 2,500 species, shows that biological diversity has decreased by 28% since 1970.
By fulfilling an important mission worldwide, WWF is undertaking the leadership of Asli Pasinli, who is also part of many successful projects in Turkey. Their vision particularly coincides with TİDER's "Waste Prevention Vision" which I have shared with you before.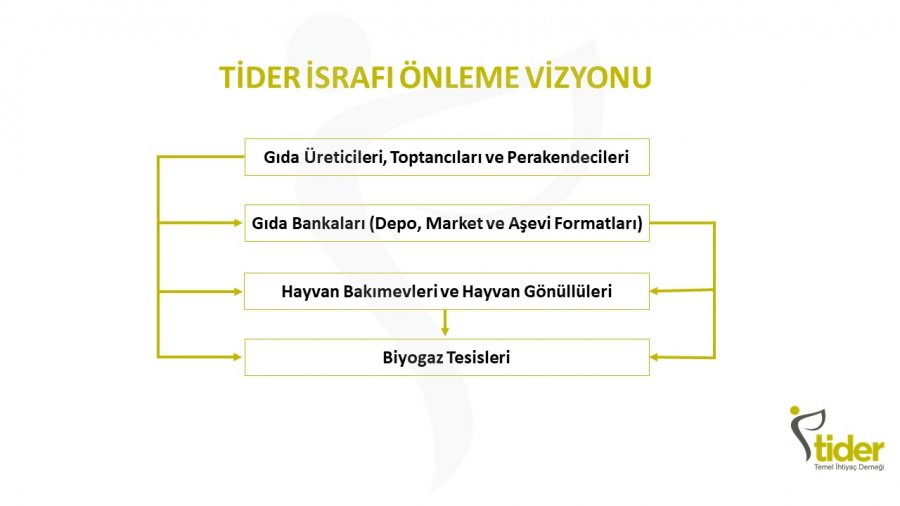 From the beginning of this year, we are happy to include the WWF in the CSO solidarity. I think we will sign onto many important collaborations with WWF in the future as we share a passion for protecting our world.
I would like to reiterate that the Day of Animal Protection is not only for animals we see, but for all animals, and therefore we must protect our nature for the living rights of all living things on earth and repeatedly stress that we need to stop climate change. For this, I am and will try to do everything I can to protect the environment.
Green energy and waste prevention
For example, as you know, renewable energy is the most effective tool in our fight against climate change. I am a huge advocate that we must stop burning fossil fuels and switch to renewable energy. Infact, in 2013, I had written an article in the Turkish Policy Quarterly titled, "why Turkey should target to use 100% renewable energy?" :http://turkishpolicy.com/article/632/why-turkey-should-aim-for-100-renewable-energy-summer-2013. I am one of the initiators and leaders of solar energy in our country. Additionally, I also work in the fields of wind and biogas.
As the founding president of TIDER, I have a very important waste prevention vision. I am also the one who laid the foundation for this strategy. If we can avoid waste, we're going to make a huge contribution to nature. After all, everything is essentially in a natural cycle. By preventing waste, we try to keep organic foods and wastes in the natural cycle. To do this, we need to establish a system of food banks, animal care centres and biogas/composting facilities. We also need to make sure commodities such as paper, plastic and metal are subjected to recycling.

A sincere environmentalist, not just for show
I'm not one of those people who plant 3-5 trees and then brag about being an environmentalist. I have always had the kind of trait and character, that if I say something I sincerely express, I will stand by it. When I say I am a proud "environmentalist" and when I suggest others around me to be an "environmentalist", I am pretty serious and I'm not just saying this because it sounds appealing.
Since my university days, I have been a member of Greenpeace for nearly twenty years. Everyone in our energy company knows how sensitive I am about this topic. They know and have heard me say "I will dismiss anyone that cuts a tree". We don't cut trees.
At its worst, we may transport trees and plant another tree near the tree we transported. This is an unchanged rule at our energy company. By the way, I would like to mention that I grew up with the most beautiful Magnolia tree in Istanbul.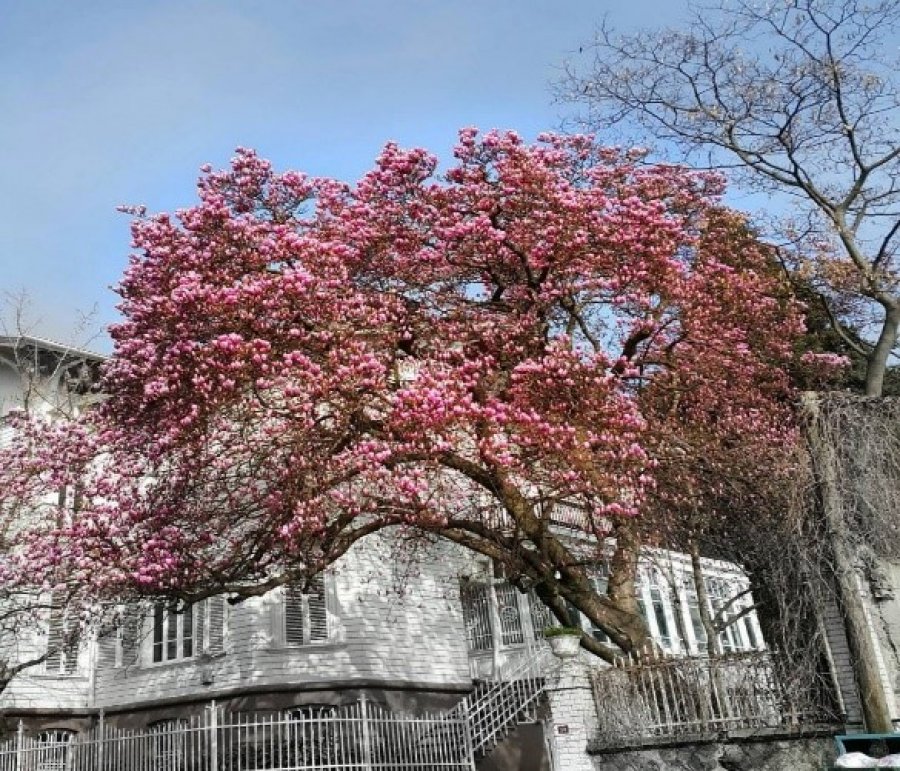 The house in Bebek where my twin and I grew up. This tree in the home we grew up in is one of the symbolic Magnolia trees in Istanbul.
I have worked on projects in organic agriculture, ecological building and water technologies. I will share them with you in the future. At this stage, I can say that we are working on solar power plant fed agricultural irrigation projects.
In order to remind you, I would like to share a video of an agricultural irrigation project we executed in Şanlıurfa: https://vimeo.com/127075546
The love for animals and living creatures
In addition, environmentalism is not just about having 'love for trees'. It is to love all living creatures. For example, animal love is equally important. Also, I don't think I need to say this, but of course I love all animals. Animals are beautiful and simple beings. They are pure, sincere and don't have any intentions of being sneaky.
The affinity I have with animals goes way back to my childhood years. I've even had unusual animals enter my life.



From left to right: my cousin Evren, my twin Baran and me hugging the monkey



For example, we had a wolf-dog in our Bebek home where we grew up. My father had found this dog named Charlie in the street and adopted him. It lived with us and had a kennel in the garden. Although its kennel was located up high, Charlie would always find a way to get out and head down to Bebek to meet up with his girlfriend. Sometimes when we'd walk along the Bebek shore, Charlie would come and walk with us and accompany us all the way home. Then he would go into his kennel in the garden.
The instincts of animals are very strong, so much so that one day on one our walks, Charlie first barked and then attacked a man in which he obviously didn't get a good feeling about and thought would attack us. My father had to step in and break Charlie away from the man.

Our funny and jealous monkey Boncuk
Another example is my aunt's monkey Boncuk which came from India. Boncuk was truly an incredible animal. Like a human, she'd hang out with us, show great affection to the ones she loves and keep distance from ones she didn't favour. She was very agile and jumped incredibly high. She would react immediately when she got excited about something or disliked a situation. Because of her female nature, she was very fond of personal care. She was also very funny. Unfortunately, we lost Boncuk to cervical cancer.
These days because I travel a lot and because I'm always busy, I cannot keep animals at home. I love my parents' dogs. Both of them are very fond of me. Each time I go to visit my mum, I call her in advance. She then lays newspapers at the entry of the door because every time I touch or pat Karino the Volpino (Italian breed) he urinates. It has been doing that since it was little. I consulted veterinarians regarding this matter, and they have all said to me, "When animals are very fond of some people in particular, they let themselves go like that." We haven't found a cure, but when it comes to love, it doesn't even matter, so we've let it go. I always continue to show love regardless.

Karino and me


My father's Cotton Tulear (French breed) dog Betsy is quite the character! Whenever I come home, it starts to spin around itself. When I used to work in the family business, it used to come to the office and knew where my room was and the first thing it would do was to run directly in to see me. Now she has aged and sees very little but whenever she hears my voice she starts to spin around herself. She's an amazing dog.

Betsy and me

Additionally, while on the topic of dogs, I would like to share with you the story about Moka the Catalburun breed, which although I have known for a little time, has had a significant impact on my life:
http://www.serhansuzer.com/en/charting-a-path-from-moka-to-bonbon



Hanging out with Moka in the hotel lobby
Then there's our beautiful office dog Kontes that I'd like to introduce you to. In 2016 when we merged with Vodasoft who had adopted Kontes, after the merger, she took her seat comfortably at the entrance of our new office (inside). As a dog of more than 700 employees in the office, which became part of our lives, Kontes continues to live happily ever after receiving all the love and attention it needs.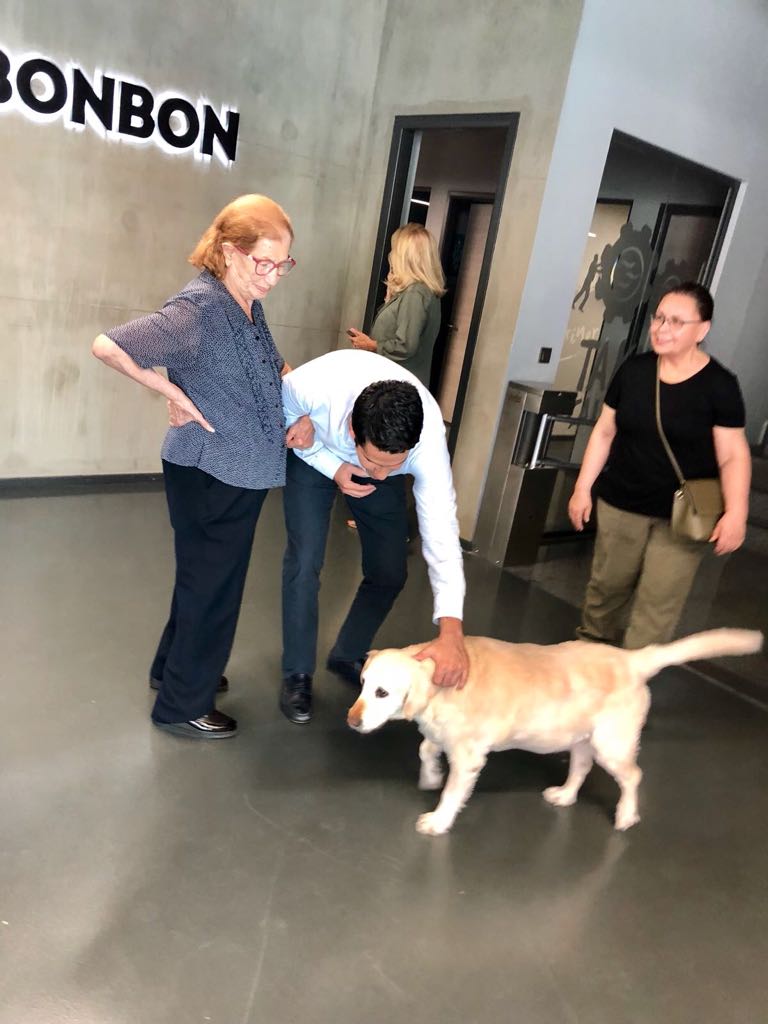 My grandmother in my arm, my mother on my left and behind me is my Aunt Gulten. With all its love, she greets us at the door.
Dogs are life. These colourful images appeared in the Wuufbox Cafe in Arnavutköy, which serves dogs and owners which I visited with a friend:


I also feed cats in the residence block I live in. Currently, a mother and her four puppies have shacked up in my garden. Every morning I give them the food that I have bought and keep in the house for them. Of course, the other cats of the neighbourhood also come into the garden which I also try to feed as much as I can.



The cats in my garden
Whilst on the topic of cats, we never have a shortage of cats or dogs in our lives. The latest was when we were in Bozcaada for a marathon, when the night before, we had a little visitor come to our table: :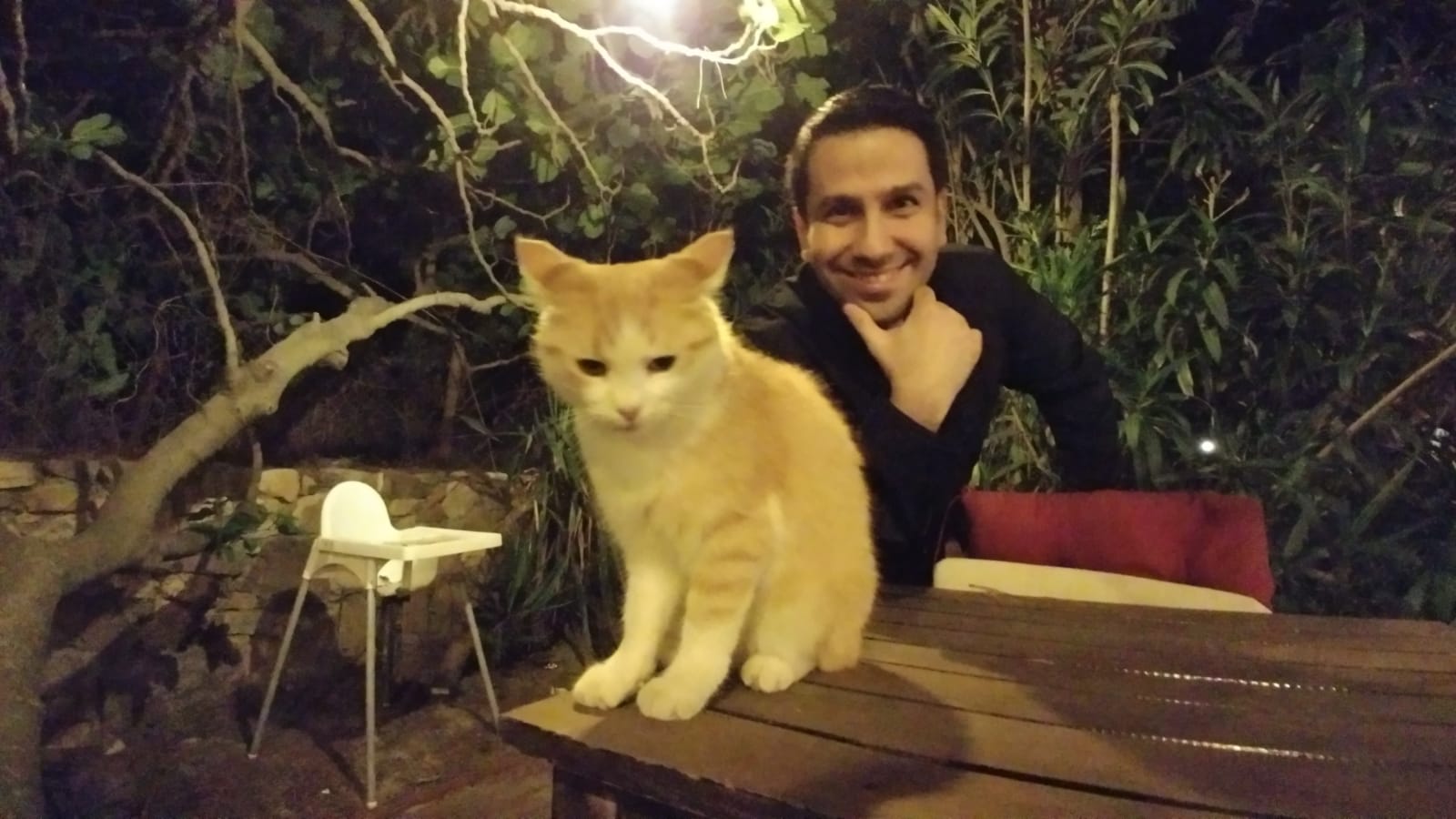 Finally, I would like to share what I have done for animals. Within the scope of our vision to prevent waste, we try to deliver the products we save from waste to the animal volunteers for distribution. In this regard, we have partnered with Haykonfed (Confederation of Animal Rights). We are also open to collaborate with other animal associations.

The tragedy of abandoned animals
To be honest, I don't like animals living on the streets. I wish they were all owned and were given the necessary attention and care they needed. I have been told that the average life of an animal living on the streets in Turkey is 3 years. This is really sad.
On the streets however, it is possible to find all kinds of animals. I live in Çekmeköy. The number of animals left in the forest here can not to be justified. There's dog and cat breeds of all sorts. There are now flocks of them running around. Not only are they being left in the forest, they are also being left in the city centre.
The unconscientious relationship and manner of our people with animals is as follows: they are appealing and cute when they are young and therefore purchased from a Pet Shop. As the animal grows, it becomes more difficult to maintain, or the responsibility and constant attention the animal needs becomes arduous. On top of that, these heartless people then dump them on the street. In fact, a friend of mine told me about a situation he witnessed: a luxury Mercedes pulled over right in front of his eyes in Nisantasi, the door of the car was opened, and a wolf hound dog was left in the middle of the street and then the car sped off. When my friend, who is also an animal lover saw the dog with her legs trembling and not knowing what to do in fear, my friend took the animal to his nearby home and adopted this dog. He's a lucky dog. The majority are nowhere near as lucky as him.

The importance of animal care homes and veterinarians
What needs to be established are fully equipped animal care facilities on real farms. In order for the animals in these care facilities to be adopted, a lot of effort must be made to arrange for communications campaigns of all sorts. I also believe that the sale of pets from pet shops should become prohibited. Instead of buying from pet shops, people should go and adopt cats and dogs from animal care homes.
Veterinarians are very important in this context. There is a serious lack of veterinarians in Turkey. From what I've been told, the majority of veterinarian's work on sacrificing of animals. This is because they do not have the capability to healthily desex or have the compassion to look after animals when they get ill. Of course, we're talking about the majority; especially those working in municipality councils

The origin of all beauties…

In fact, an animal lover once said to me "Why would a veterinarian who has learnt to slaughter animals try to cure a dying animal?" Actually, you know what, it makes sense. Therefore, what we need are veterinarians who truly love and care for animals. In order to work in public, private sector organizations and CSOs, we need to close this veterinary gap quickly. This is a formal announcement for those interested.
The love for animals is one of the purest and most beautiful ones. It is not one that expects return and is a representative of crude love. If I need to be clearer, it simply means love for animals is love for humanity.
It is much easier to achieve prosperity in a society that loves animals and gives them the necessary importance. Because the origin of all beauties and a harmonious life is love.
Stay with love and take care of all living things around you…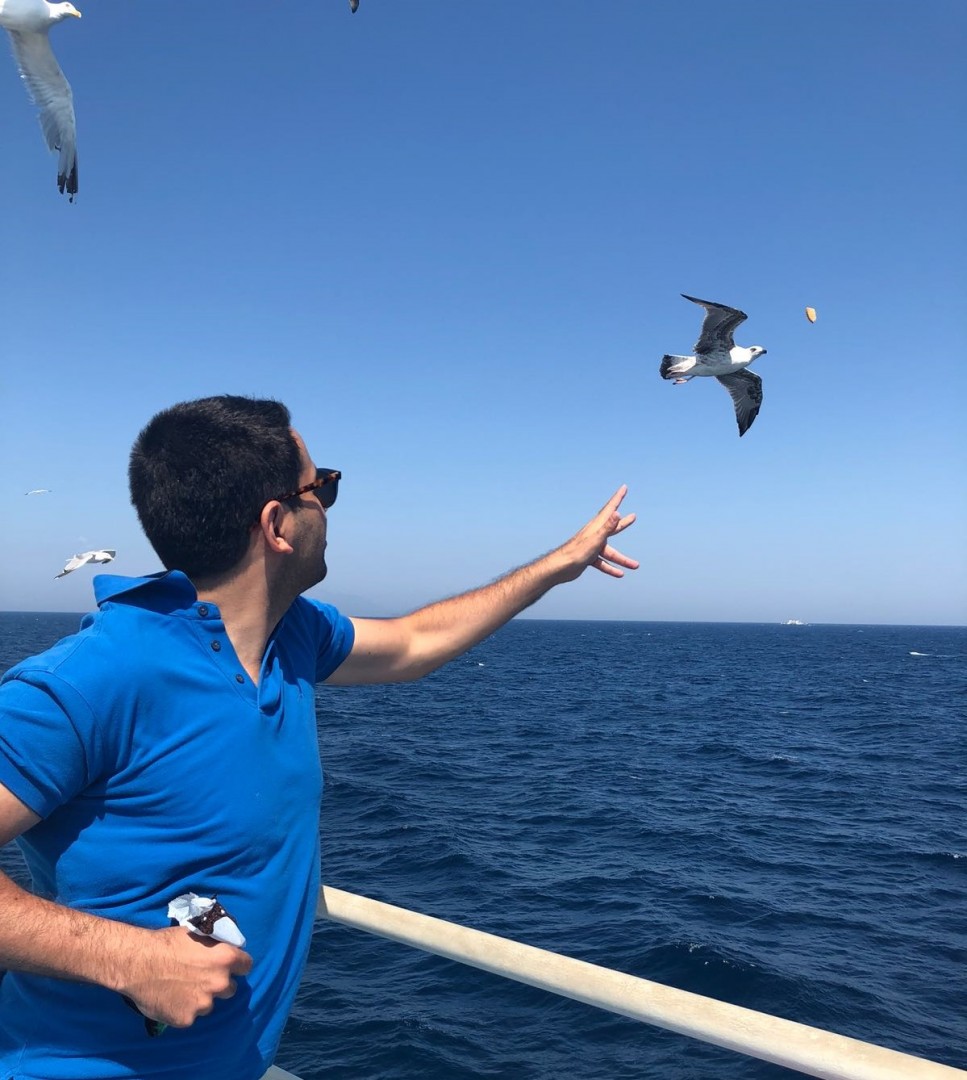 Feeding the seagulls on the ferryboat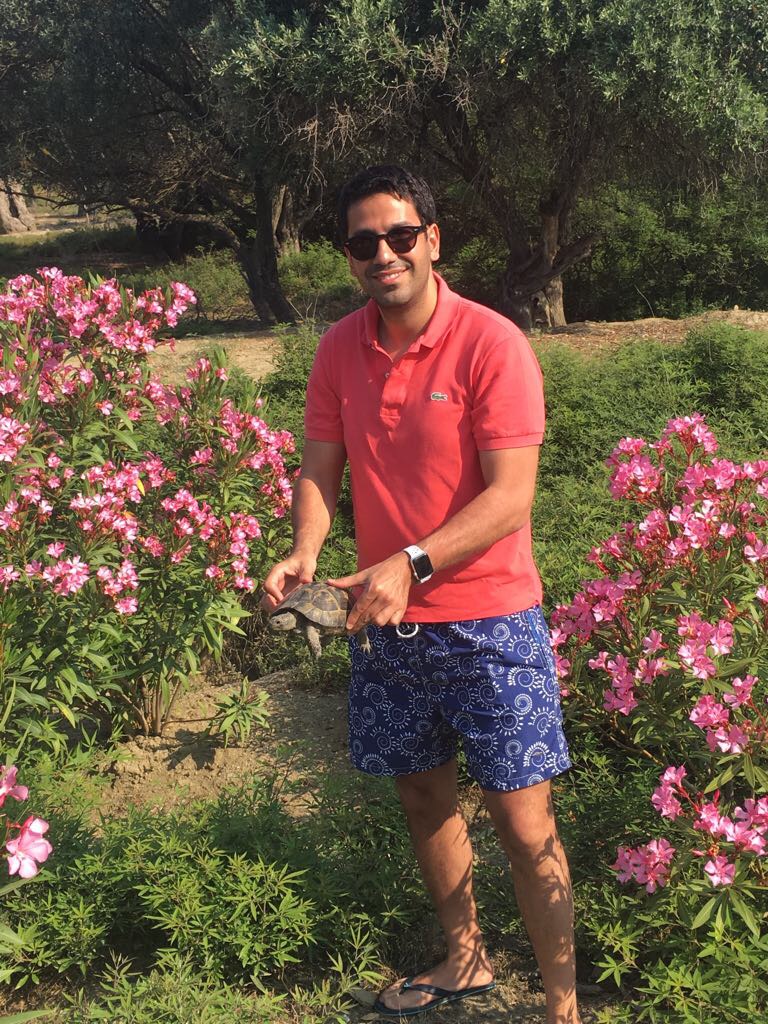 Moving the turtle from the middle of the road to a secure place on the island
Tag: yaşam