The pulse of the solar industry in Turkia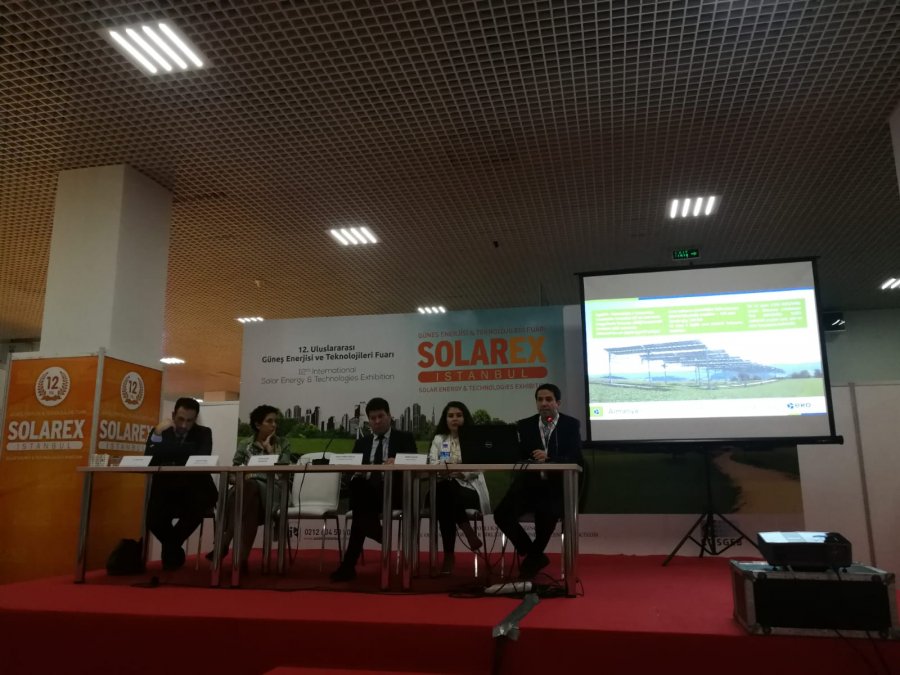 In the first week of this month, the SOLAREX solar exhibition was held at CNR Expo Centre in Turkia between 4 - 7 April. At an event where important people from this sector came together, I made 2 speeches, and in the following week made one speech at TUBITAK. The experiences of these events and the contents of the speeches shed light on the current situation and the future of the sector.
I made three speeches at this event and the first one was about financial, the second about technology and third about innovation. I made both speeches at SOLAREX in Hall 11 conference area. It was interesting to make two speeches a day apart in this hall, which was created by framing an empty area with screens and domes of tents built up for the event.

The speech I made in the panel, which was held on 4 April Thursday, between 4.30-6.30pm, was the speech about GÜNDER. For those who do not know about GÜNDER, in short, they are one of the few associations in Turkia that are involved in solar energy. GÜNDER, headquartered in Ankara, continues to work towards the development of science and technology in the application of solar energy, encouraging basic and applied research and development on solar energy, promoting the use of solar energy, and encouraging education in the fields related to solar energy. For more details, please visit the website: ttps://www.gunder.org.tr/
Sustainability of solar energy
"Ensuring the sustainability of solar energy: future projections (legislation, production technologies, financing, roof-type applications)" was the title of this session.
Moderated by Dünya Newspaper, joining the Energy Günlüğü columnist Mehmet KARA, Dilan KAVRUK (General Directorate of Energy Affairs), Seyran HATİPOĞLU (TurSEFF Bank Relations Manager), Başar YILMAZ (Deniz Leasing Project Finance Department Manager), Deniz Selkan POLATKAN (Photoelectron, Founder) and myself.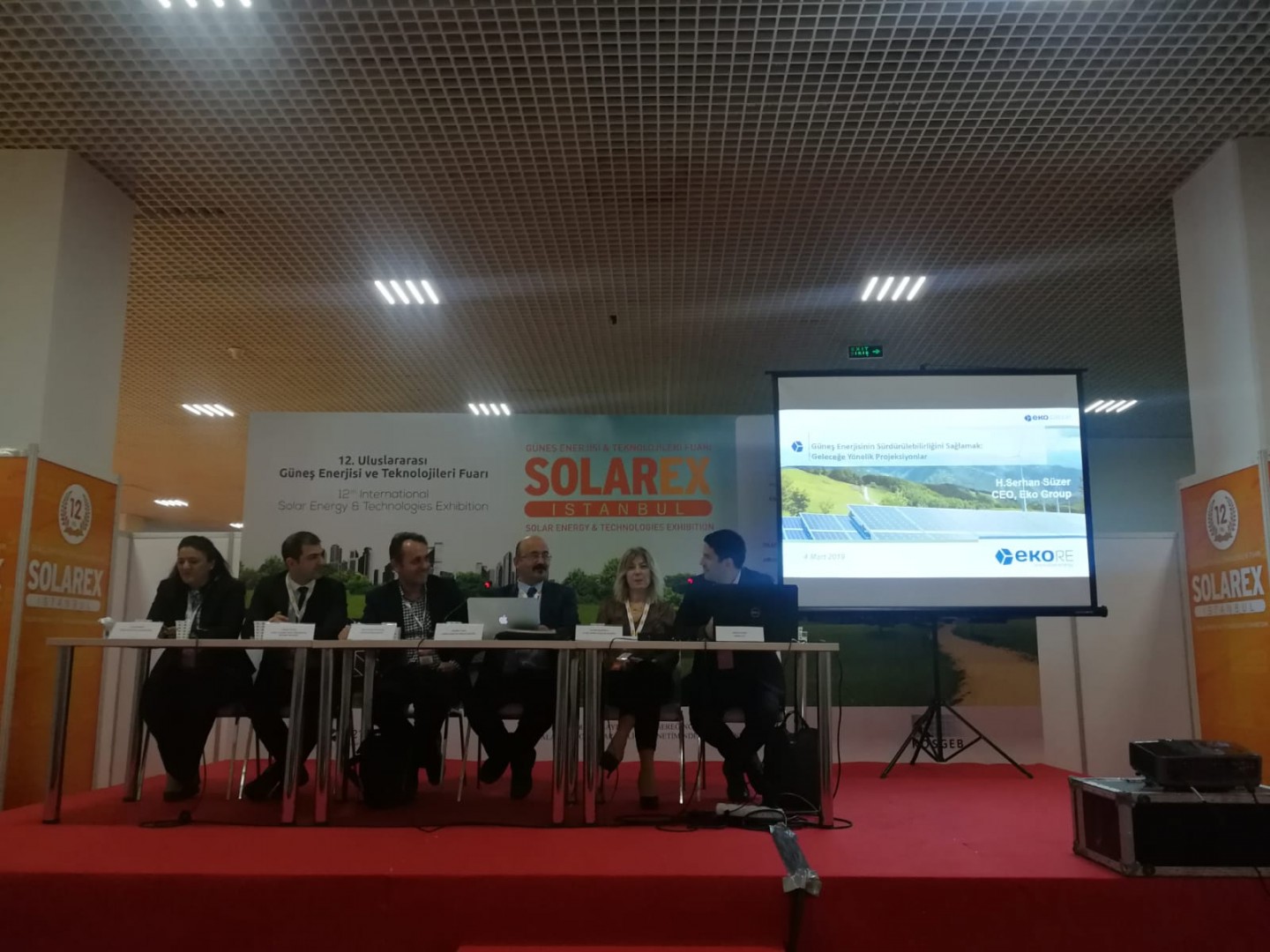 In this session, everyone first introduced themselves and talked about the work being done. Afterwards, we talked about the financial aspect of the business, the difficulties faced by the sector and the legislation needed today. Both financial institutions, TURSEFF and Deniz Leasing explained how they manage risk and how important it is to prepare financial statements, especially cash flow statements.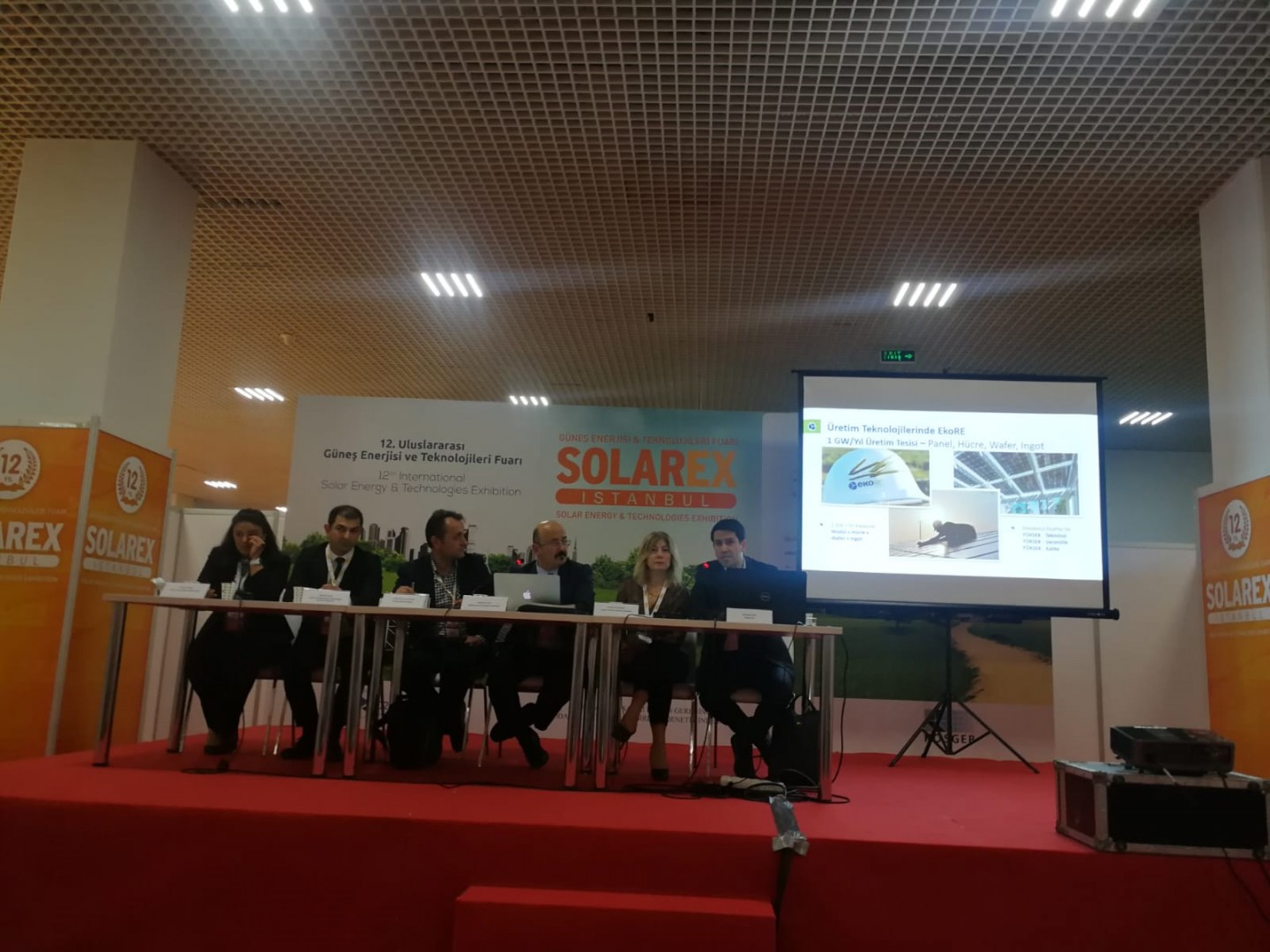 The main emphasis of my speech
When it was my turn to speak, I pointed out that project financing in Turkia isn't really project financing, and that returns on Turkish business projects that are financed are never enough, and all kinds of surety and assurances were taken from companies and shareholders in the sector.
I understand the impulse of banks to secure themselves, but I think they are destabilizing their excessive demands from the investor. Sometimes they make such speeches that I feel like they're staring at all the assets of investors. This is really uncomfortable. It is a pity that there are not many projects that will be financed easily and will only create problems if banking is carried out with this logic. This logic needs to change.
In my speech at the conference, I emphasized that this structure should be changed in order to increase solar energy projects. In addition, I said that it is not enough just to ease the use of loans, to provide facilities for attracting foreign capital to the country, to ensure stability and confidence in the country. In short, some arrangements should be made in order to make the foreigners feel safe.
In addition to this, in order to attract capital in umbrella organizations, I said that the PPA (Power Purchase Agreement) format should be legalized and cleared. I also emphasized that in addition to the financing received from banks, supplier loans are a valid method and the variation should be increased. I stated that in order for IPPs (Independent Power Producers) to invest more in the country, tenders should be made simple and financially attractive.
The "On-site production, on-site consumption" logic

Finally, they spoke about the "offsetting" regulation, which is expected to come into play soon, which the whole sector cannot wait for as it will liven up the sector for the umbrella organizations. I'd like to share a story on this topic:https://www.aa.com.tr/tr/turkiye/enerjide-catilari-gunese-dondurecek-duzenleme-hazir/1446469
Others commented that the monthly offsetting is nice, but an inadequate development and that annual offsetting should take place for real development of the sector.
In the question and answer section, I stated that distribution companies do not stand as an obstacle to the umbrella organization market established with the logic of "on-site production and on-site consumption", on the contrary, they are the pioneers of this market and can provide transformation themselves. I praised EnerjiSA for its pioneering work in this field and told them that all distribution companies should implement the model that EnerjiSA acquired from its German partner Eon.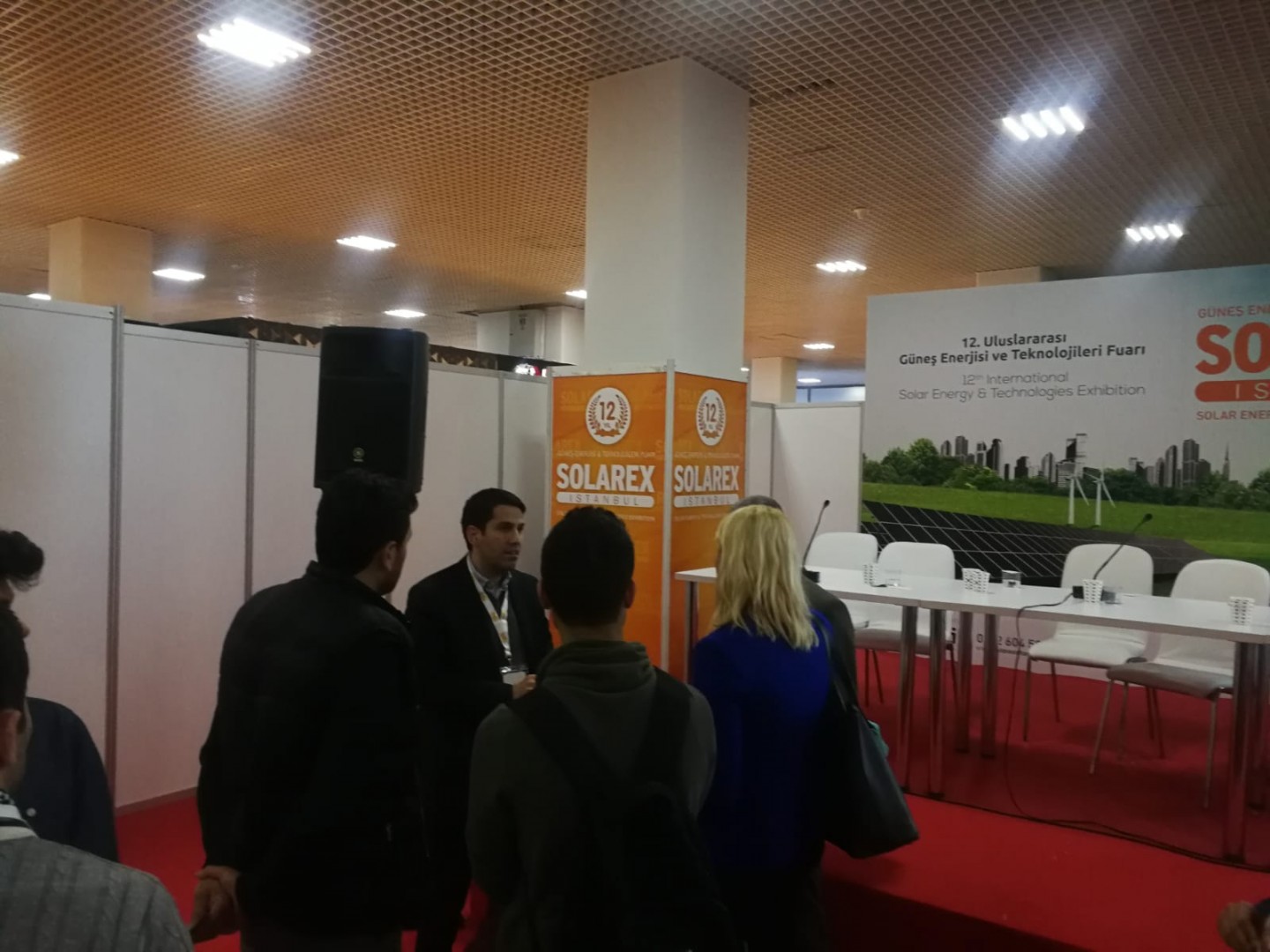 I don't know why, but in most cases, the majority of the questions come to me at all conferences. Even after the end of the conversation there are plenty of people who come and ask me questions. I'm not complaining about it, I actually like it.

My second speech and the report presented to the panel

My second speech was held on Friday, April 5th between 2pm-4pm at a panel organized by the Shura Energy Transformation Center. For those who do not know; The European Climate Foundation (ECF), Agora Energiewende and the Istanbul Policy Center (IPC) under Sabancı University have all formed partnership with the SHURA Energy Transformation Center which aims to contribute to decarbonization of the energy sector as an innovative energy conversion platform. For details, please visit https://www.shura.org.tr/ .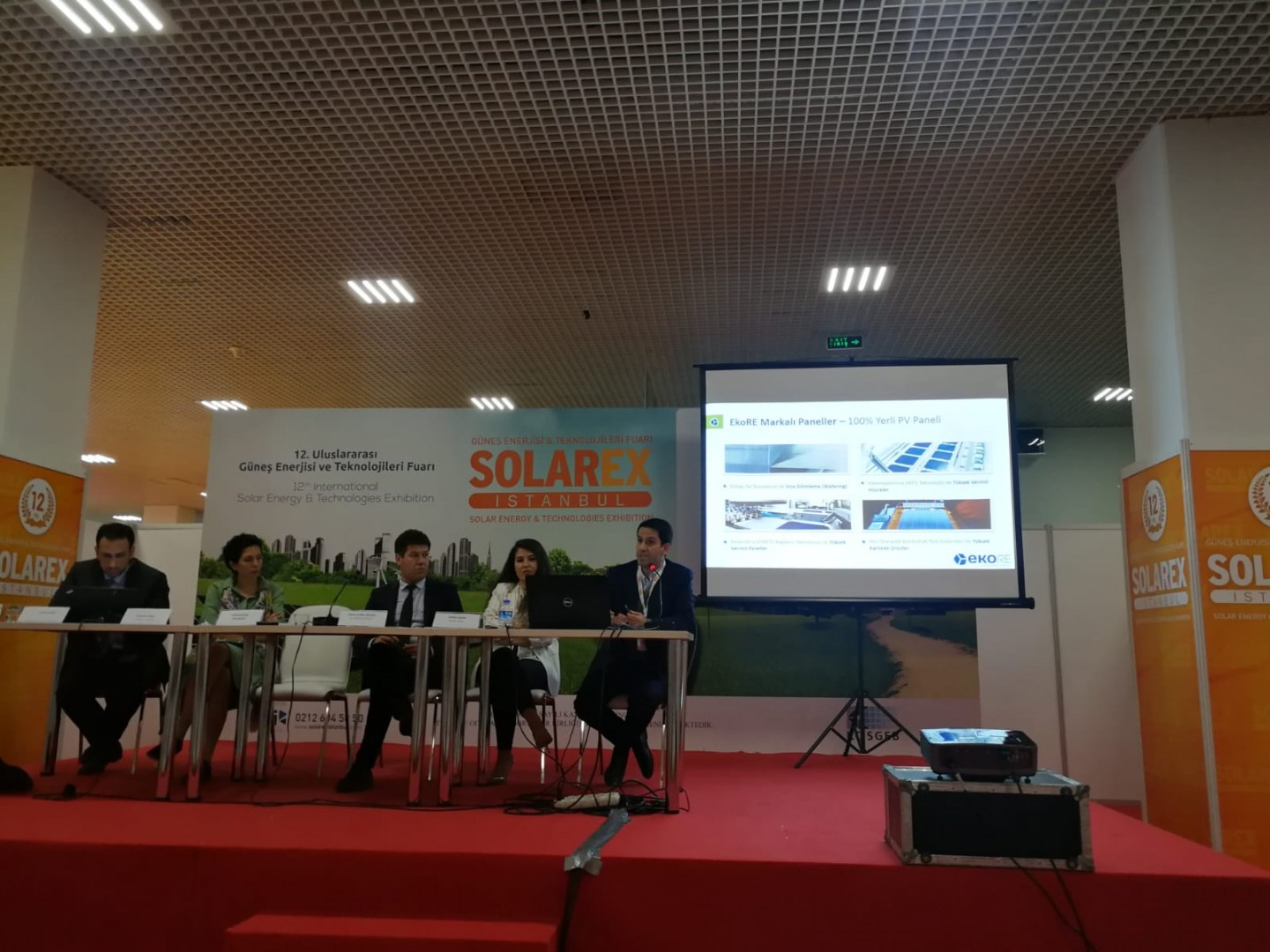 The participants of the panel titled "R&D and Innovation in Transition to Value Added Generation in Central Renewable Energy" were: Moderator: Dr. Değer Saygın, Bengisu Özenç (Economist, Consultant), Melih Soner Çeliktaş (Ege University, Associate Professor), Serhan Süzer (Chairman, EkoRE CEO), Gamze Akgün Bereket (Energy Ges Purchasing and Logistics Manager).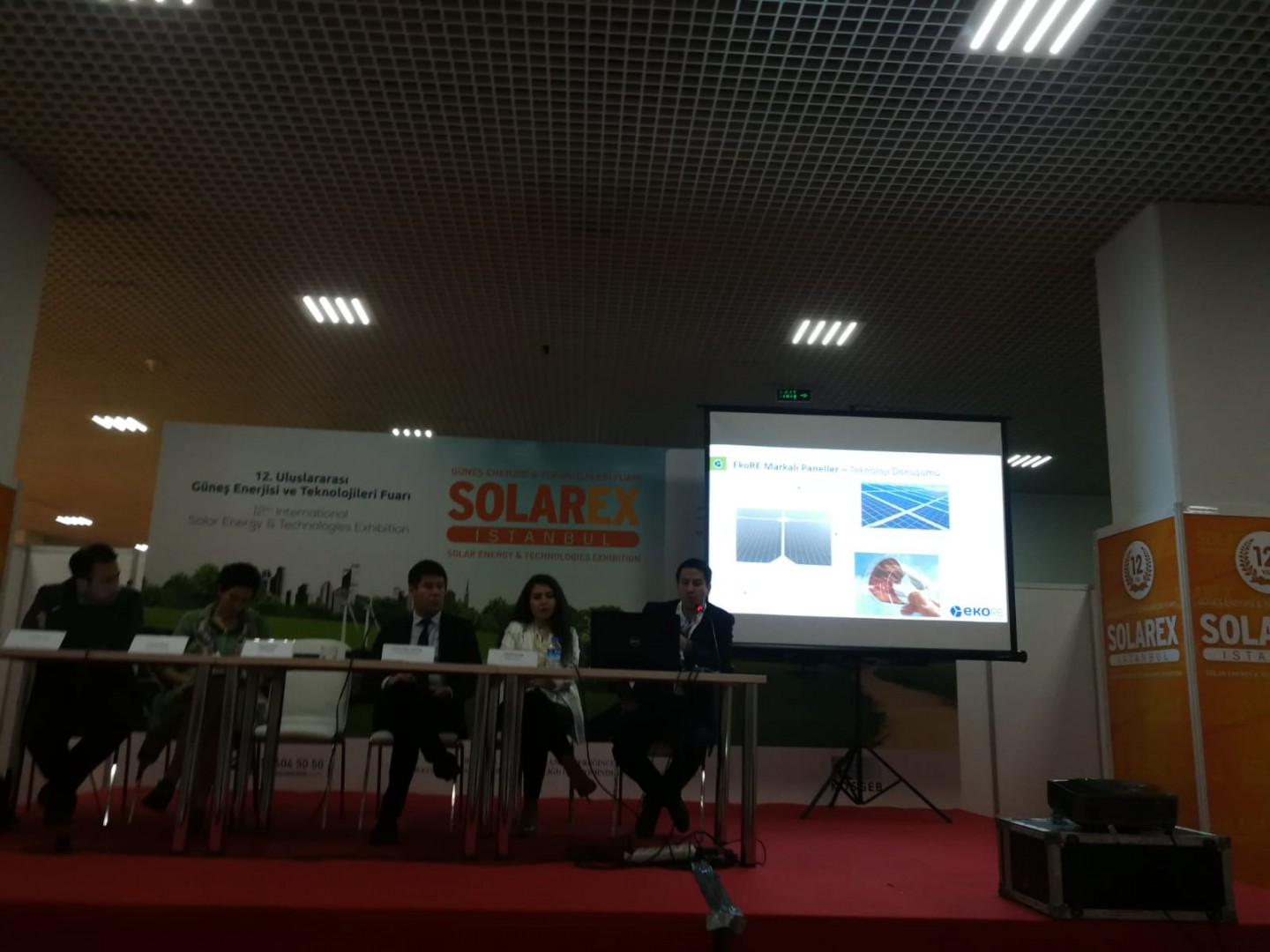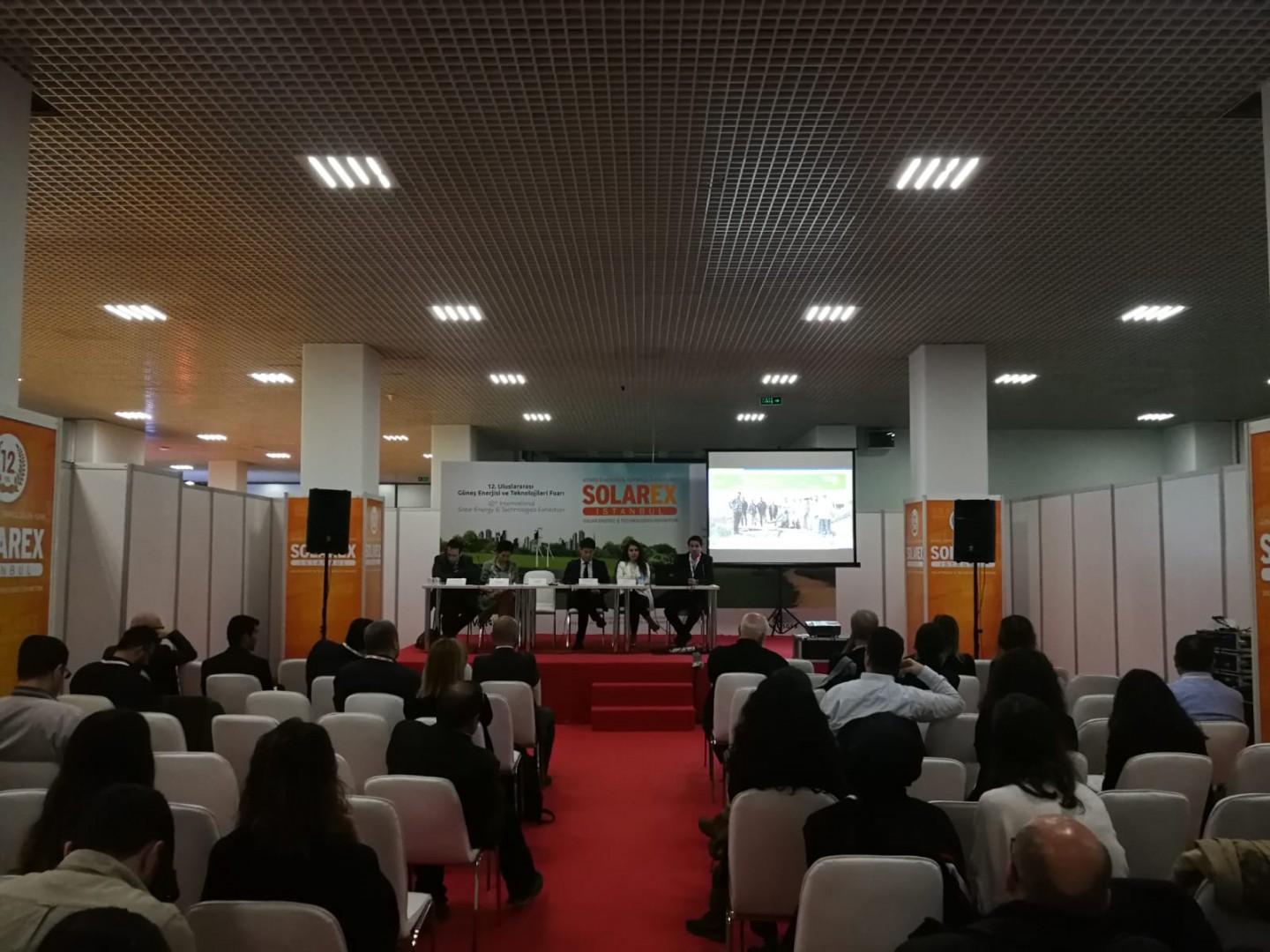 In this panel, the moderator Mr. Değer made a report out of what was said. I share the report he prepared:
In 2018,12-month foreign trade deficit was realized as USD 45 billion. 75% of this amount was related to energy imports. One of the less discussed but important issues regarding the foreign trade deficit is the foreign trade of energy equipment. 5% of global trade is related to equipment. In 2017, net imports totalled 2 billion US dollars in solar energy equipment in Turkia. In wind energy equipment, we have a foreign trade surplus.
The value added of renewable energy equipment is high. Therefore, it provides an important opportunity for countries to develop their own technologies. In Turkia, it seems that the R&D budget is on the increase in this context. R&D expenditures and patents are expected to increase in parallel to this. In order to increase competitiveness in the solar energy sector, opening the domestic market and making export markets accessible are very important. For this, we must evaluate the strong areas for Turkia so that action may be taken in those areas. It is seen that niche products and markets are very clear in the development of new technologies.

In addition to industrialization, it is also important to capture technology and innovation. When you look at the history of Turkia's R&D and technology, we see that it has become a country which has imported technology over the last 30-40 years. You also see that in Turkia's renewable energy targets there is employment and R&D, however this has not yet been fully accessible. Although Turkia's OECD competitive power and capability index takes place at low levels, in the private sector there are exciting developments. The number of patents in the field of renewable energy is higher than in other sectors and startups are very important in this innovation environment. 'Start-ups' contribute to the economy by growing logarithmic in terms of technology development and creating new jobs for the young population.

In order for new technologies to transfer to Turkia, long-term policies and planning are of paramount importance. Human resources have a special importance in this planning. Of the whole process, talent and skill development should also be considered. In order to achieve the goal of rapidly changing technologies, it is necessary to create environments in which international experts can work. For these, it is necessary to provide financing, to create income by creating demand for the product to be produced and to make it possible to invest a certain percentage of this income in R&D. It is also important to be aware of the complementarity between sectors and technologies, and to work on the integration of R&D with other product groups outside the energy sector (eg transport, buildings, agriculture and storage).

Besides trying to bring cell production technologies in the renewable energy sector in Turkia, it is also important to have a regulatory framework for it to stand out. For this, it is important to overcome the financial difficulties in the sector and to support the team play between universities and different sector actors.
MAIN TOPICS OF THE SESSION

-Preparing an inclusive roadmap for domestic production, innovation and R&D
-Long-term policy and planning requirements for the provision of the transfer of new technologies to Turkia
-In order to increase competitiveness in the solar energy sector, opening the domestic market and making export markets accessible are important
-The importance of bringing cell production technologies to the renewable energy sector in Turkia and its technology transfer and innovation importance
-The number of patents in the field of renewable energy is higher than in other sectors
-'Start-ups' contribute to the economy by growing logarithmic in terms of technology development and creating new jobs for the young population
-Awareness of complementarity between sectors and technologies
-Consideration of the human resources development part of the whole process
-In order to reach the goal of rapid change of technologies, it is necessary to create environments where international experts can work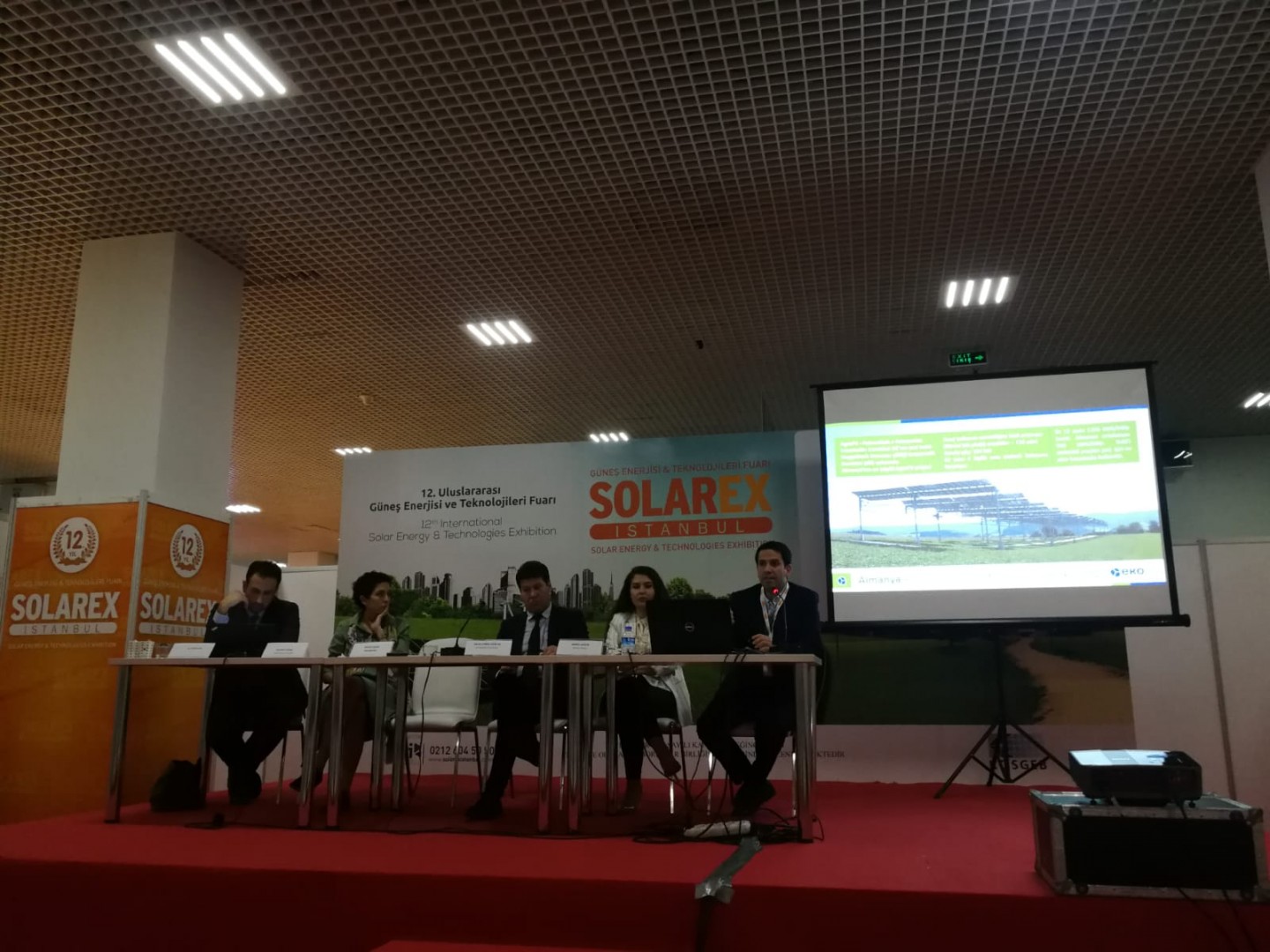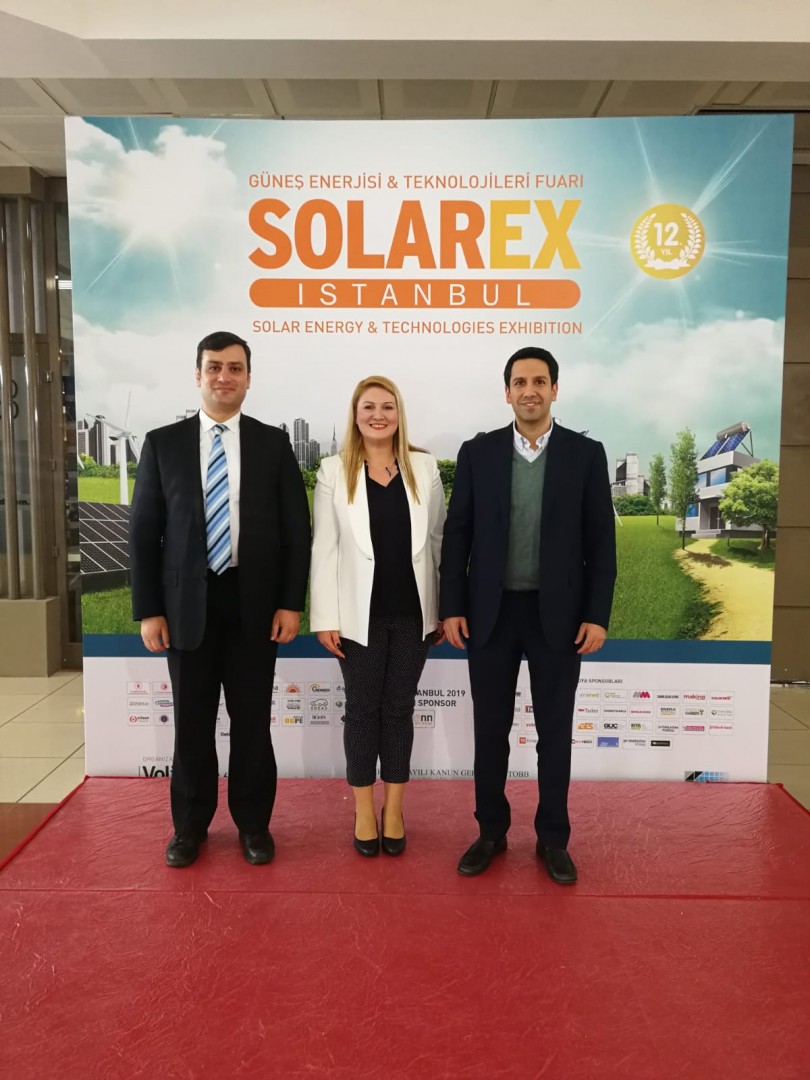 A photo from the end of the Solarex fair, our factory manager Mr Murat and our Sales & Marketing Director, Mrs Simay.
On Friday, April 12, 2019, Photovoltaic (PV) Performance and Safety Test Services Workshop was held at TÜBİTAK National Metrology Institute (TÜBİTAK UME) with the participation of managers, academicians, researchers, manufacturers and users interested in solar energy technologies.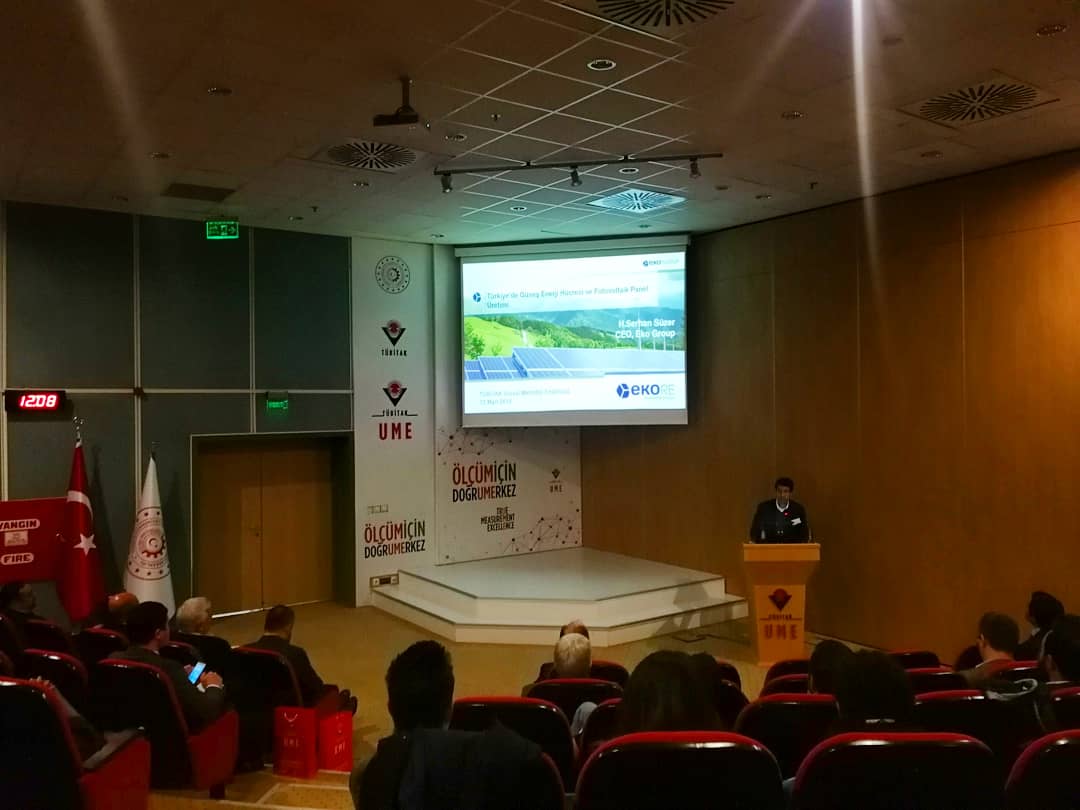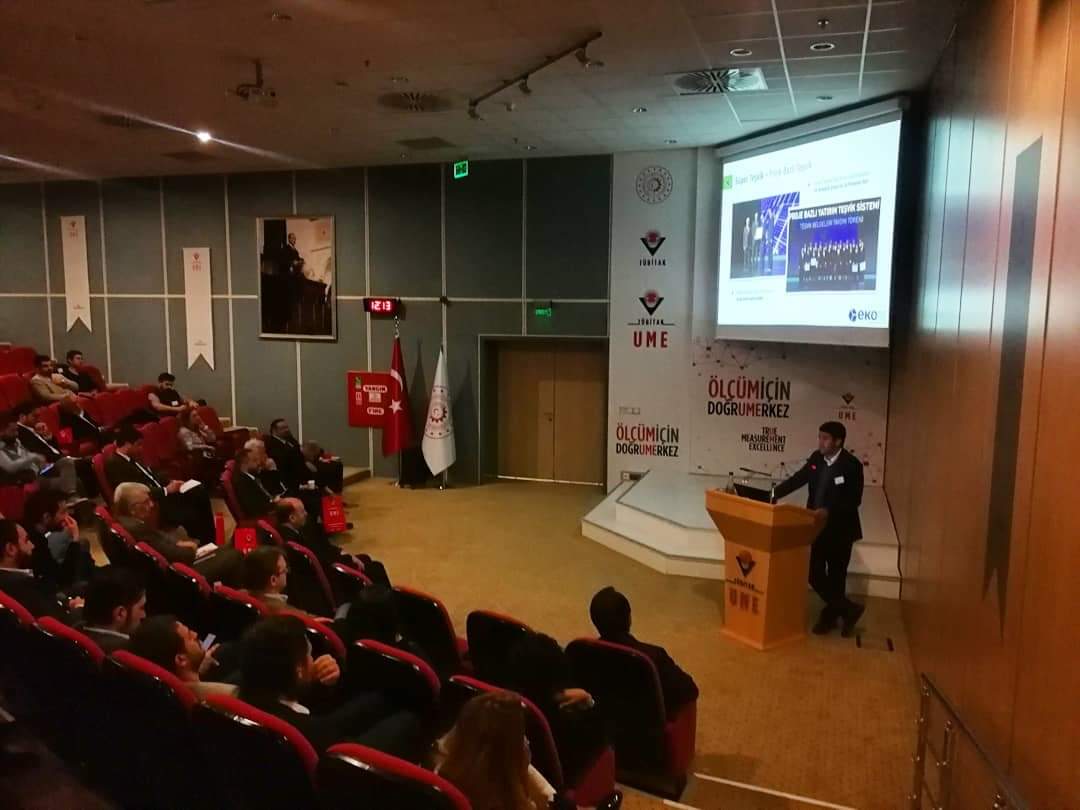 I would like to share the slides of my presentation that I did in the afternoon below: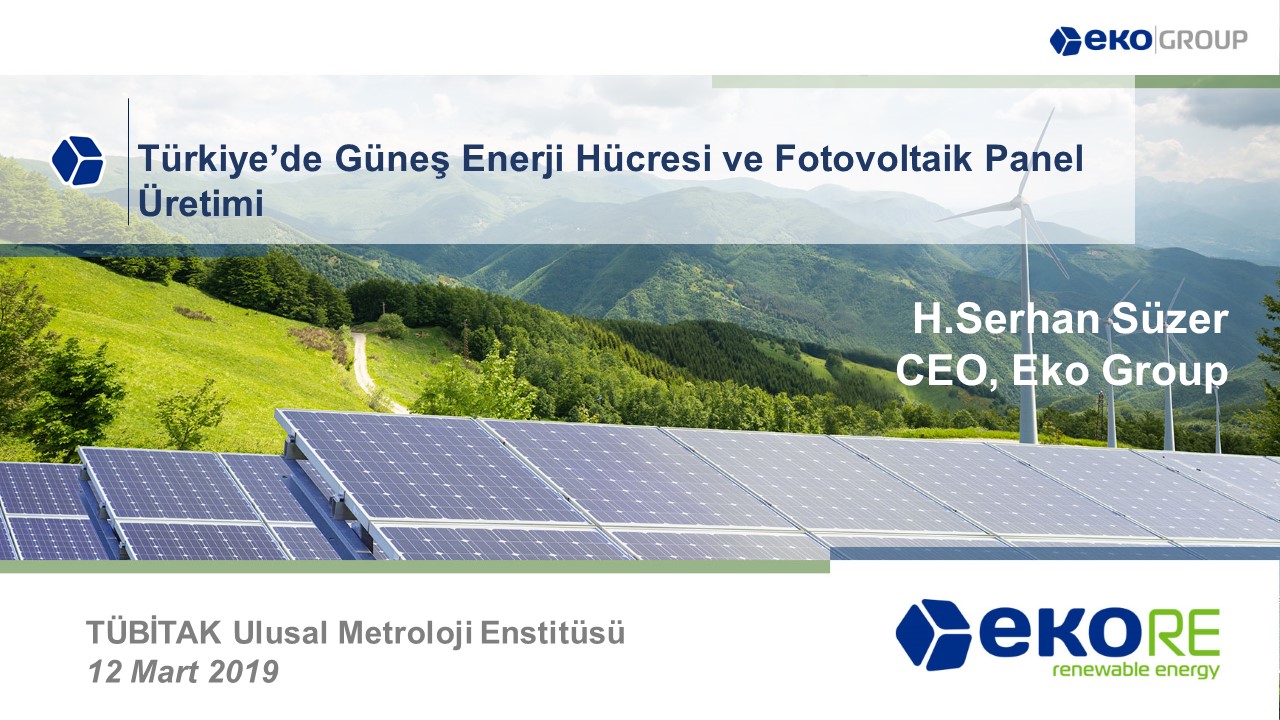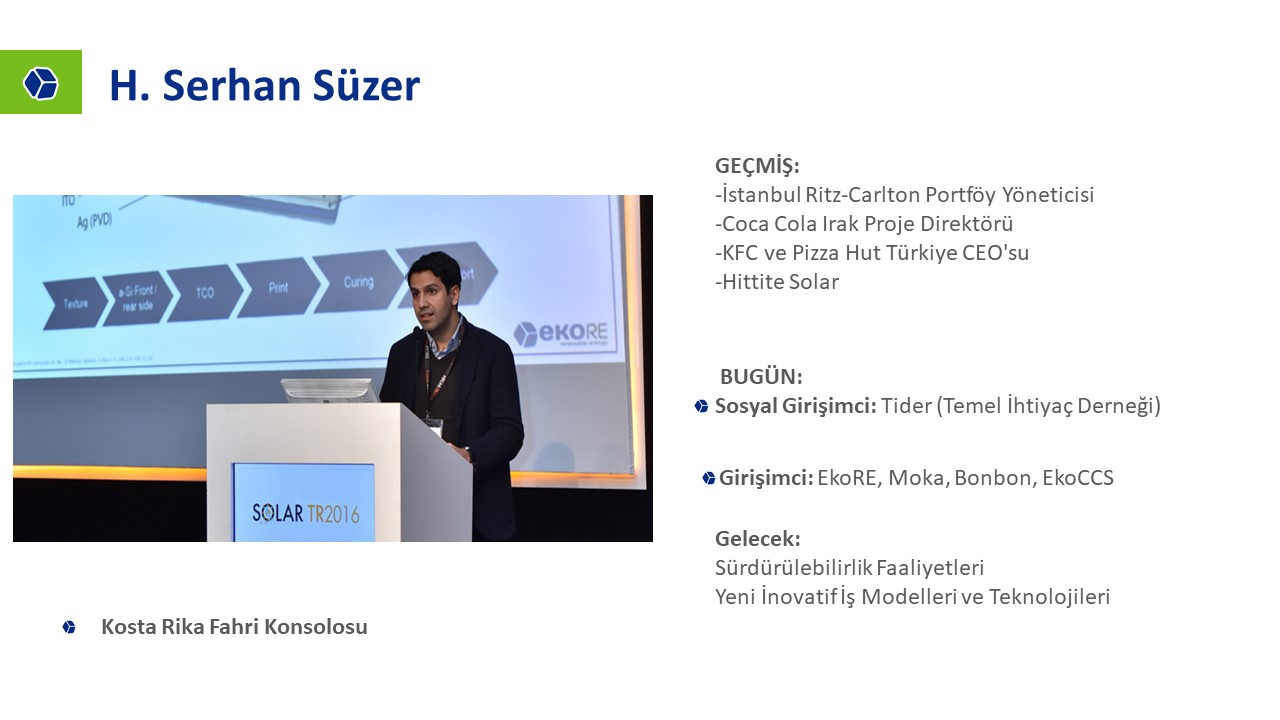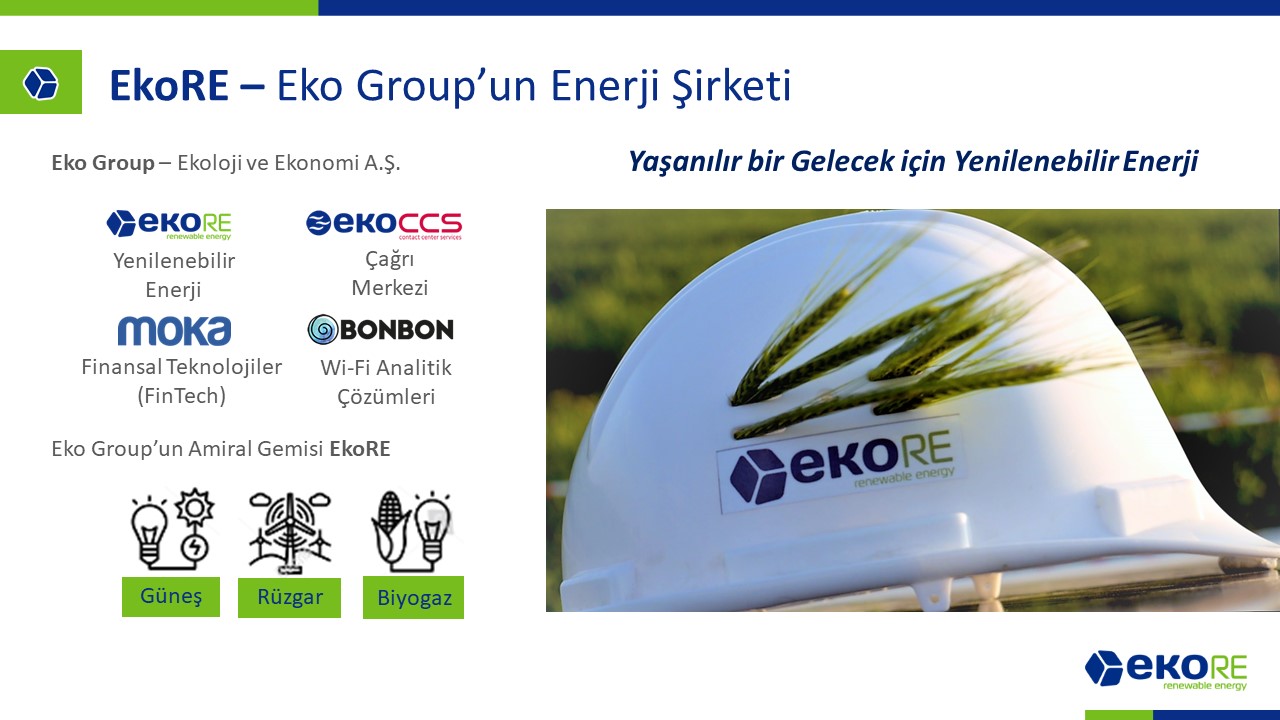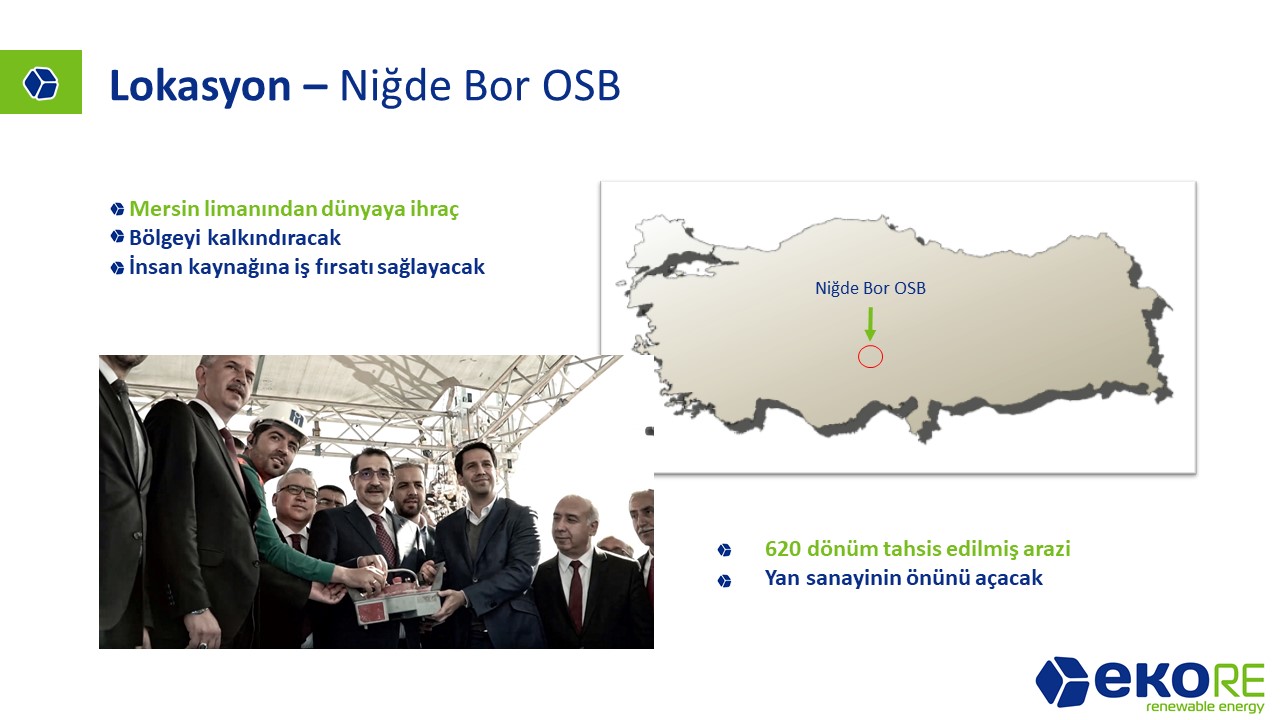 During the presentation, I noticed that a significant portion of the audience's eyes were shining, especially when talking about alternative models and technologies. As a result, I emphasized that we should not sit on our hands and that EkoRE as a company will be the leader of change and transformation.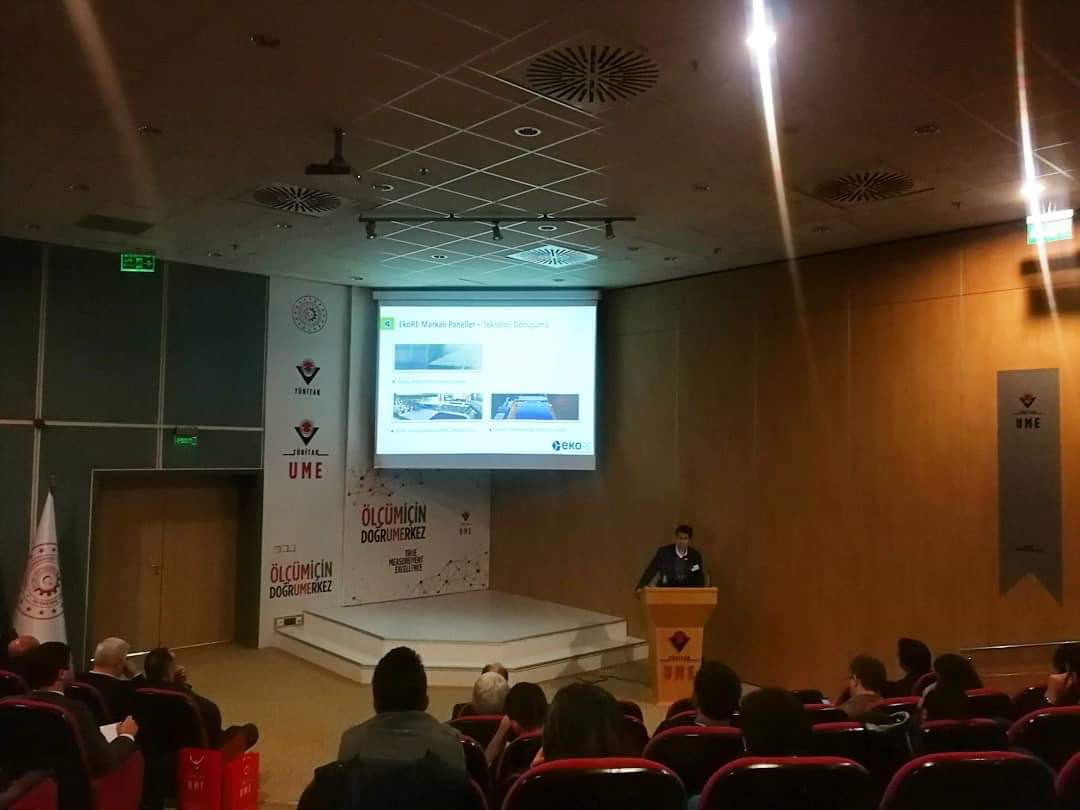 Our goal of being a global brand in innovation

In addition, some of the speeches made before me was an issue that attracted my attention. I would like to underline the need to talk about technology and everything else based on science and research and not things like supporting your favorite football team. No matter how much their career comes to the forefront, the universal values ​​such as honesty, sincerity and openness should not be forgotten.

When the final declaration of this workshop is officially published, I will share it in the "Note" section at the end of the article. I would like to emphasize that we are far behind in innovation for the time being, and that we have to change our mind structure in order to have a say in this field.

It is very important to support the people who have like me, not only put their hands under the rock, but under the rubble. If you can't do that, don't shade over it. We'll take care of the rest.
Contrary to popular belief, I would like to demolish some taboos and show our citizens that there is no such thing as "impossible" and that a world brand can emerge from this country through innovation.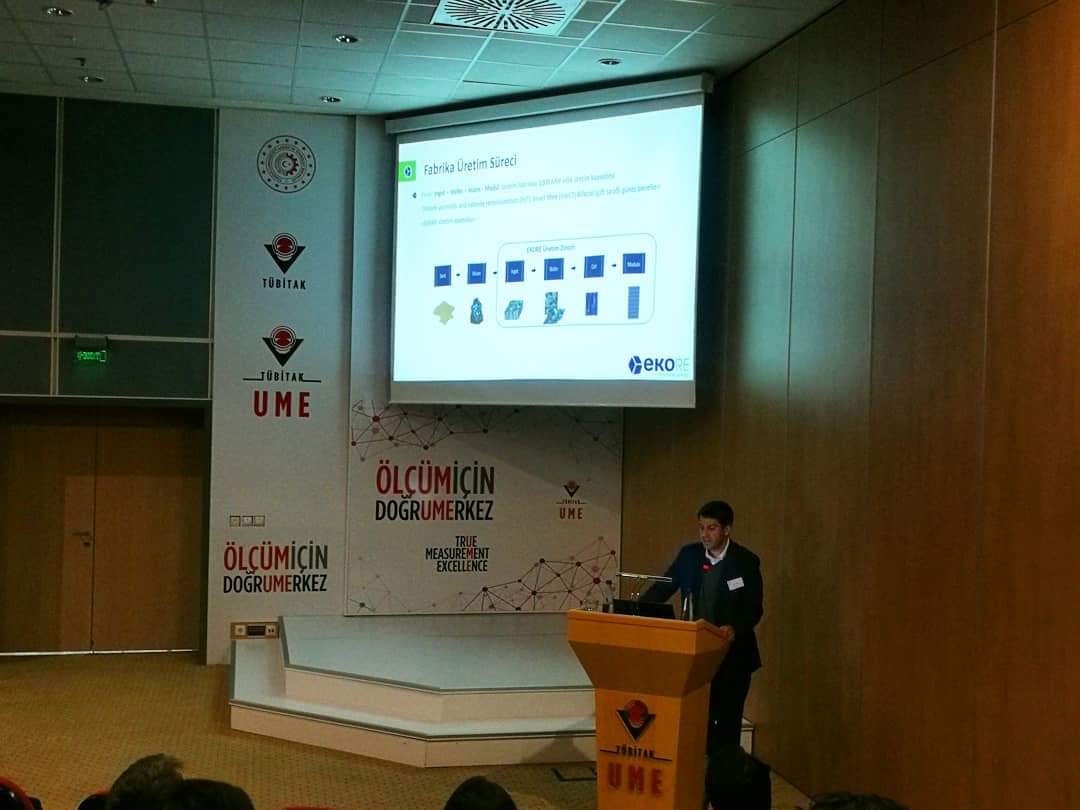 Bonus: I would like to share my interview with you as the bonus of this article in the official magazine of GÜNDER, the NGO of the Solar Energy Sector. Stay healthy and take care.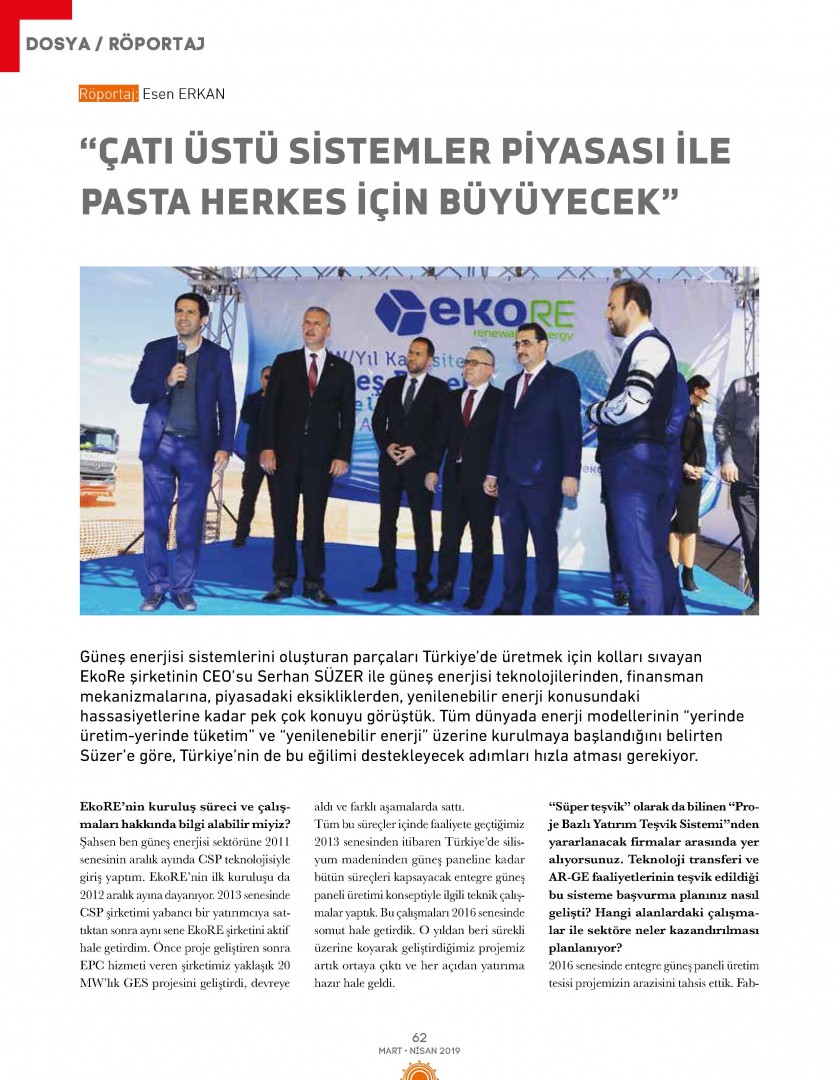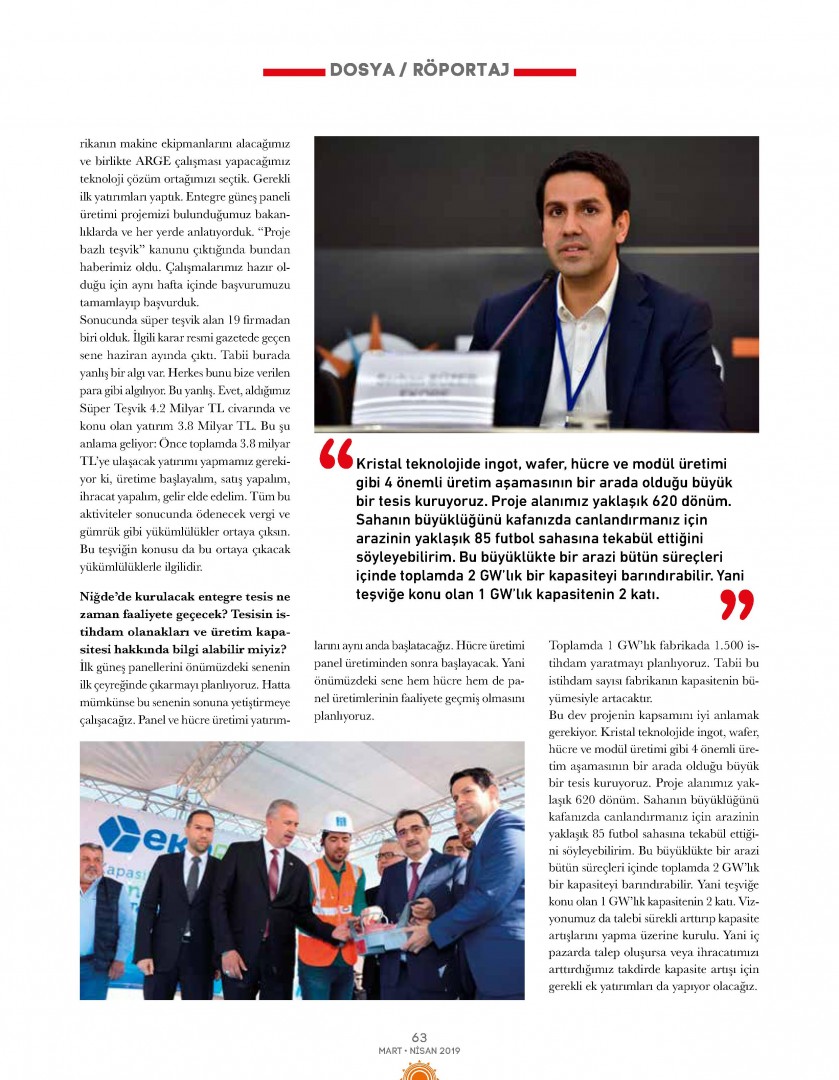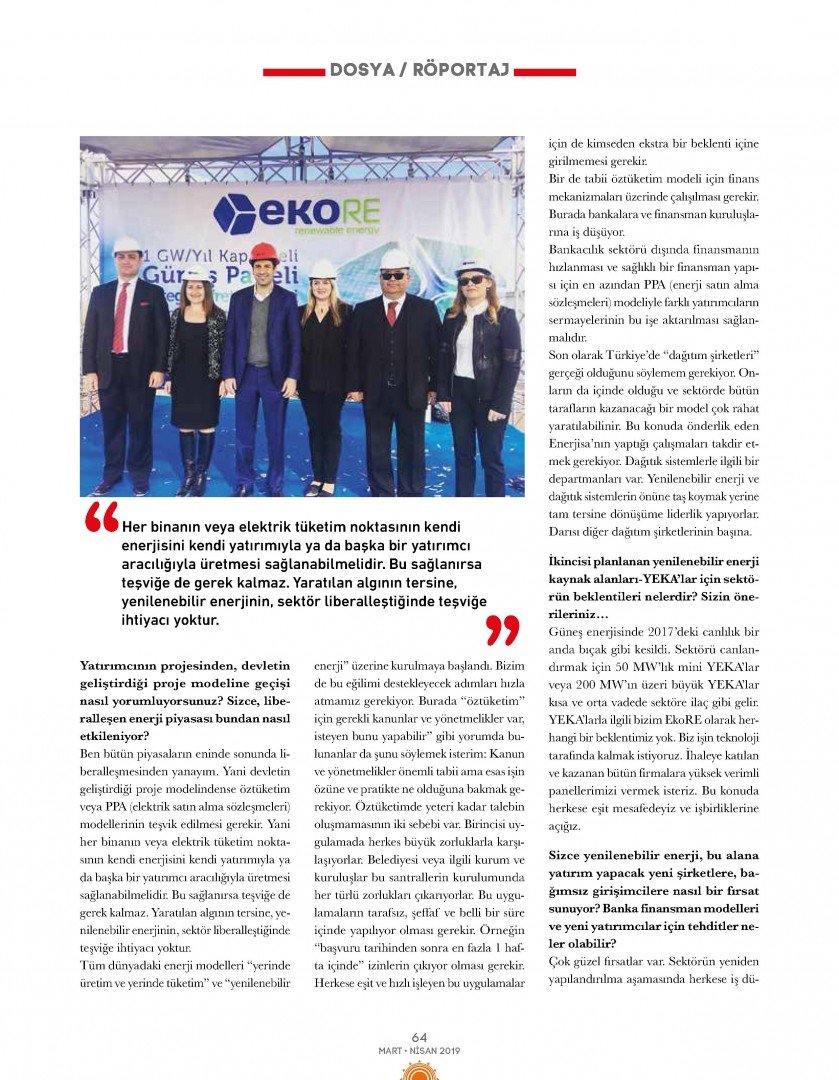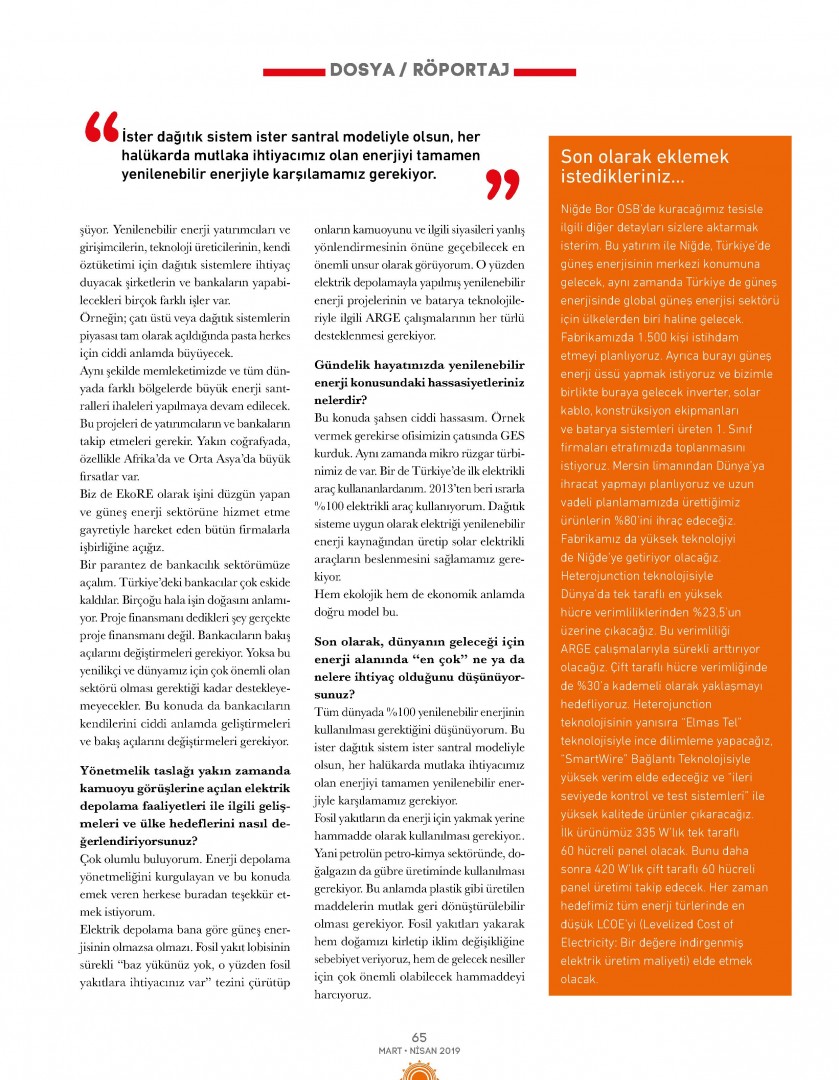 Tag: iş dünyası